Dallas Cowboys:

Davin Joseph
April, 21, 2014
Apr 21
1:00
PM ET
IRVING, Texas -- With last week's chat pushed back a day, the chat-leftover post was also pushed back to today.
Quick leftover question: pulled pork or ribs? For lunch today, I'm going with a leftover pulled pork sandwich.
Now on to the chat leftovers in which we discuss the thought that the Cowboys might have too many picks, a receiver possible in the first round,
Davin Joseph
and
Jackson Jeffcoat
playing for his dad's team.
If you want to read the chat,
click here
. We'll be chatting again on Wednesday at Noon ET.
Away we go:
Miles, Columbia, Mo.:
I keep reading Dallas has too many draft picks(11), and not all of them can make the team; so we should trade them to move up. This is flawed logic. The more picks, the better chance you have of finding quality pieces. Would you agree?
Todd Archer:
Totally flawed logic. Cowboys fans should remember Jimmy Johnson did his best work with more picks, not less. He could miss on third-rounders almost yearly because they would find some hits later in the draft thanks to more picks. The Cowboys can't trade three of their picks because the seventh-round compensatory selections are not allowed to be dealt. But the reason I'd want more picks is because this team lacks depth. They are top heavy against the cap because they have had to sign free agents to fill in for draft picks that did not work out. Think
Mackenzy Bernadeau
for
David Arkin
, and Bernadeau is reasonably priced but still has a bigger stake in the cap. If the Cowboys aren't enthralled with what's left at No. 16, I'd trade down if they have a team willing to give them more picks. This roster isn't so stacked with talent that the Cowboys can be so cavalier with their selections. They can use help just about everywhere.
Will Kershner, Rochester, N.Y.:
Is there any chance the boys take
Mike Evans
in the first round if he falls to us at 16?
Todd Archer:
Absolutely. I think a receiver could be the pick in the first round, be it Evans or Odell Beckham or
Marqise Lee
. I need to pick more brains over at Valley Ranch on the receivers, but if a guy slipped and they don't like the defensive players available but I see receiver as a possibility.
Dez Bryant
has a back issue that hasn't resolved in two years.
Terrance Williams
has the look of a player but is hardly a given. The backups are solid but limited.
Shaun, Texas:
I would love if the cowboys could get Davin Joseph, he would bring depth and experience. And now the Cowboys are not locked to a guard in the draft. What's the likelihood he signs?
Todd Archer:
I would put it at less than 50 percent chance he signs before the draft. It will come down to price and the health of his knee. He did not play well in Tampa Bay last year, which led to his release. That and the $6 million price. If he is willing to take a lot less – a lot – then the Cowboys would be open to him. They don't have much veteran depth on board right now and Joseph could push Bernadeau or
Ronald Leary
. He could serve as the swing guy on game day if he doesn't win a job. But I don't think the expectations should be too high if he comes on board.
Brent, Sherman:
Obviously pass rushers are a big need, and many of the questions have been about Barr, Ealy, etc., but would a player like Jackson Jeffcoat be a good be worth a look in the second round to add even more depth?
Todd Archer:
People who know more about this stuff than me say the second round would be a little rich for Jeffcoat. Maybe the third would be a good spot. But I'd take a bet on his genes. His dad played forever and is one of the more underrated Cowboys. Jeffcoat had some health problems at Texas (torn pectoral) but showed up well at the combine and had a good senior year. He is active. He can get to the passer. He's something of a tweener, but he could be a situational pass-rusher if the Cowboys don't get a guy in the first two rounds.
April, 16, 2014
Apr 16
3:31
PM ET
IRVING, Texas -- With the NFL draft at the forefront of their minds, the
Dallas Cowboys
are not ignoring free agency.
Two-time Pro Bowl guard
Davin Joseph
visited with the club earlier in the week, and wide receiver
LaRon Byrd
will work out for the team on Thursday, according to sources.
Joseph was cut by the
Tampa Bay Buccaneers
before free agency began, saving the team $6 million in cap space. A first-round pick in 2006 out of Oklahoma, Joseph started 89 games for the Buccaneers and made the Pro Bowl in 2008 and '11. He missed the 2012 season with a knee injury and struggled last season.
The Cowboys have little depth behind starters
Travis Frederick
,
Mackenzy Bernadeau
and
Ronald Leary
. Joseph, 30, could push for a starting spot or serve as a backup at both guard spots. If the Cowboys sign Joseph, then it would seem to end the chances of
Brian Waters
returning. Waters has not decided whether he wants to play or have surgery on a torn triceps injury that ended his 2013 season.
Byrd, 6-foot-4, 220 pounds, spent last year on injured reserve with the
Arizona Cardinals
because of a concussion. He was released earlier in the month and worked out recently for the
New York Giants
.
The Cowboys will host local draft prospects at Valley Ranch on Thursday as part of their Dallas Day workouts. Texas wide receiver
Mike Davis
(Skyline), SMU quarterback
Garrett Gilbert
and TCU quarterback
Casey Pachall
are among the players scheduled to work out. Texas outside linebacker/defensive end
Jackson Jeffcoat
is not among the group despite attending Plano West. Because his family moved to Colorado with his dad, Jim, coaching in Boulder, he is not allowed, per league rules.
December, 16, 2011
12/16/11
11:00
PM ET
By
Bryan Broaddus
| ESPNDallas.com
Cowboys' run defense vs. Buccaneers RB LeGarrette Blount:
The run defense for the
Dallas Cowboys
has been very up and down this season. After a week where they struggled against the Giants'
Brandon Jacobs
, the Cowboys get a similar challenge with another physical back in Blount.
There is no doubt in my mind that the
Tampa Bay Buccaneers
will try to run the ball on the Cowboys' front seven to take the pressure off quarterback
Josh Freeman
. Freeman has struggled the most with his accuracy. Having success with Blount running the ball would create better down-and-distance situations for Freeman. It sounds simple, but it's true: When a team is ahead of the chains, it makes the offense work that much better. When teams have been able to keep Freeman in long down-and-distances, he has had his most difficulty.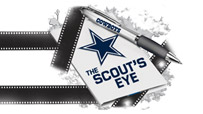 Blount is a punishing runner who pinballs his way through tacklers. He is not explosive or fast, but he is powerful. In the Green Bay game, I counted seven tackles that he broke on his way to a rushing touchdown. It will take more than one man to bring Blount down.
If the Cowboys struggle to get off blocks and don't get defenders to the ball, it will be a long night for this defense, much like it was against the Giants. Look for Rob Ryan to commit early to trying to stop the Buccaneers from running the ball with Blount. If he doesn't, that will take a great deal of pressure off Freeman.
Cowboys WR Miles Austin vs. Buccaneers CB Ronde Barber:
I am looking for this matchup to be a battle out of the slot when Jason Garrett puts three receivers on the field.
Barber is a veteran corner who has had his share of big plays, whether it is in coverage or blitzing out of the slot to make a sack. Barber doesn't have the physical skill to shut down Austin, but he has an advantage because he is very smart and has an outstanding feel for how to position himself en route to defend the ball.
Barber has struggled the most this season with his tackling.
Tony Romo
needs to find ways to get Austin the ball on the move and force Barber to play a physical game. Barber is not a big guy, and when he has to play against a physical receiver, he struggles to match that style.
PODCAST
What's wrong with the Cowboys? Who's to blame? Is Rob Ryan falsely confident? Is it time to mix up the core? Tim MacMahon, Bryan Broadddus and Calvin Watkins discuss the state of the Cowboys.

Listen

The biggest weakness of the Buccaneers' defense is that the secondary struggles to tackle.
Aqib Talib
is the most talented of the cornerbacks and safety
Sean Jones
is physical player, but Barber and safety
Tanard Jackson
struggle to get guys on the ground.
Next to the St. Louis Rams, this was the poorest tackling secondary that I had studied. When you are a poor tackling defense, it leads to big plays. Look for Garrett to use Austin a number of ways out of the slot and on the outside to take advantage of a secondary that will give up space to work.
Cowboys OLB Anthony Spencer vs. Buccaneers RT Jeremy Trueblood:
The Giants visited Cowboys Stadium with an offensive line that was banged up and struggling to protect
Eli Manning
but managed to keep him upright against a Cowboys front that did not do a good enough job of applying any type of pressure or getting off blocks in the running game.
The Cowboys will face a Buccaneers offensive line that is solid at left tackle and right guard but tends to have problems everywhere else. If the Cowboys are going to make any type of real playoff push, they are going to have to get players outside of
DeMarcus Ware
to step up and play at a higher level.
This week, the Cowboys have a winnable matchup on the outside with Spencer against Trueblood, who is a straight-legged player who struggles to move or adjust. Trueblood plays way too tall, and you see defenders drive him back off the ball in the passing game. You also see him playing with little or no power in the running game.
The one player that saves the Buccaneers on the right side is right guard
Davin Joseph
, who in my view is an outstanding player. If the Cowboys are able to attack the middle of the pocket and force Joseph to have to focus inside, it leaves Trueblood on an island with Spencer or whomever Ryan puts to that side. The Cowboys need to have someone step up and this is the side where some success could be had.