Dallas Cowboys:

DeAngelo Williams
October, 19, 2012
10/19/12
1:39
PM ET
IRVING, Texas – Give Cowboys defensive coordinator Rob Ryan credit for coming up with an interesting way to address the unit's inability to create turnovers.
PODCAST
Ben and Skin take you inside the numbers and evaluate the job Jerry Jones has done fives game into the season.

Listen

"Obviously we're not good at getting turnovers, so we're going to get takeovers this week," Ryan said. "We've changed the game and I think we're going to do much better. So we're getting takeovers and we're ready to go."
In the first five games, the Cowboys have generated only four turnovers, including a league-low one interception. Only Indianapolis (three) has created fewer than the Cowboys. New England leads the NFL with 16 takeaways (six interceptions, 10 fumbles).
Sunday's foe, Carolina, has turned it over 11 times on the season with five interceptions and two lost fumbles from
Cam Newton
, two lost fumbles from
Joe Adams
and one each from
Steve Smith
and
DeAngelo Williams
.
The Cowboys have emphasized the importance of creating turnovers every possibly way through drills and video without success.
Maybe the name change works.
October, 17, 2012
10/17/12
2:52
PM ET
IRVING, Texas – The Cowboys have faced quarterbacks over the years that can run the football.
Michael Vick
comes to mind first, but
Cam Newton
is different, according to
DeMarcus Ware
.
"He's a whole different breed," Ware said. "He's a running back, a guy that can play quarterback. The thing is he doesn't make a lot of decisions. They're one of the least penalized teams in the league, so they're fundamentally sound and they run the ball well. I don't know the ratings, but they've got three running backs in
(Jonathan) Stewart
,
(DeAngelo) Williams
and then you got Cam Newton. It's a three-headed (monster). They'll stick all three of them in there."
Newton leads the Panthers with 209 yards on 40 carries. Williams has the most carries, but he's averaging just 3.6 yards a run. Stewart has 107 yards on 25 carries.
The Panthers will use the read-option that Newton perfected in leading Auburn to a national championship.
"He can read all he wants to," Ware said. "Just got to figure out who's got the ball and make the tackle. This game here is going to come down to what team can handle that circus offense, but secondly, can we tackle? Can we come down and tackle; the basic fundamentals of defense and that's making plays and getting turnovers?"
Newton's size (6-foot-5, 245 pounds) makes him one of the bigger quarterbacks, but he is also elusive. Ware, who leads the Cowboys with six sacks, said the pass rush has to take a different approach.
"You sorta got to know what you're getting into," Ware said. "You're not just going to rush him unfundamentally. You're going to have to cage him up because he's going to look around. If nobody's there he's going to beat you with his feet. You've got to sort of corral him a little bit and get a lot of picket push up the middle, and then the outside guys got to not let him get out and run because he'll do that and beat you for 30 yards, 20 yards, get big chunks."
August, 13, 2012
8/13/12
1:38
PM ET
FREMONT, Calif. –
Carolina
's decision to sign running back
Jonathan Stewart
to a five-year, $36.5 million deal that includes $22.5 million in guarantees is curious on a number of fronts, starting with the fact that the Panthers signed their other runner,
DeAngelo Williams
, to a five-year, $43 million deal with $21 million guaranteed last summer.
But it got me to thinking about the
Cowboys
and I understand I'm not comparing apples to apples when looking at the cornerback spot.
Owner and general manager Jerry Jones has said constantly that the Cowboys have enough money to sign
Mike Jenkins
to a healthy contract extension in the future -- provided Jenkins is healthy in 2012 -- even after shelling out for
Brandon Carr
,
Orlando Scandrick
and
Morris Claiborne
in the last 12 months.
Carr received $25.5 million guaranteed, Claiborne will get $16.26 million and Scandrick's deal calls for $10 million guaranteed. That's nearly $52 million in guaranteed coin.
The Panther committed $43.5 million in guaranteed money to guys who will be on the field together for only a handful of snaps a game.
It seems a little odd to pay running backs that kind of money, especially with
Cam Newton
as the quarterback, but cornerbacks are a different story.
You need all of them you can get with the way the game is played right now, so maybe Jones is correct.
Now it's up to Jenkins, who has yet to practice because of January shoulder surgery and might miss the season opener, to play well enough in 2012 to force Jones' hand.
February, 15, 2011
2/15/11
7:45
AM ET
Players:
Felix Jones
(signed through 2012),
Marion Barber
(signed through 2014),
Tashard Choice
(signed through 2011),
Lonyae Miller
(signed through 2011)
[+] Enlarge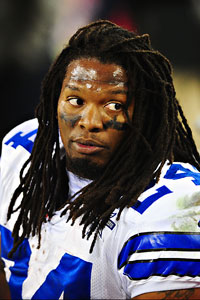 Mark J. Rebilas/US PresswireWith no guaranteed money left on his contract, it makes sense for the Cowboys to release running back Marion Barber, who butted heads with coach Jason Garrett last season.
Top free agents:
DeAngelo Williams
,
Carolina Panthers
;
Ahmad Bradshaw
,
New York Giants
;
Cedric Benson
,
Cincinnati Bengals
;
Joseph Addai
,
Indianapolis Colts
;
Darren Sproles
,
San Diego Chargers
Top draft prospects:
Mark Ingram
, Alabama;
Ryan Williams
, Virginia Tech;
Mikel Leshoure
, Illinois;
Daniel Thomas
, Kansas State;
Demarco Murray
, Oklahoma
2010 review:
Felix Jones failed to wow after becoming the lead horse in September. He finished the season with a respectable 1,250 total yards (800 rushing and 450 receiving), but he wasn't the gamebreaker he had been in a lesser role. He averaged 4.3 yards per carry – down from 5.9 as a change-of-pace back the previous season – and scored only two touchdowns. Marion Barber had the worst year of his career while cashing $7.8 million of Jerry Jones' checks. He had career lows in every major rushing and receiving category. His average of 3.3 yards per carry ranked 45th of 47 backs who had enough carries to qualify. Tashard Choice didn't make much of an impact other than his terrific performance in the road win over the Colts, when he rushed for 100 yards and a touchdown on 19 carries. Lonyae Miller did a solid job on special teams when promoted from the practice squad late in the season.
Offseason preview:
It's time to bid farewell to Barber. His production hasn't come close to justifying his seven-year, $45 million contract and continues to trend down. He has butted heads with head coach Jason Garrett, most notably by his defiant refusal to adhere to the travel dress code before Garrett's interim coaching debut. And there's no more guaranteed money left on his deal. It would make no sense to pay him his $4.25 million salary next season. Even with Barber's departure, running back isn't a pressing need. Jones and Choice should be able to form a respectable tandem, especially if the Cowboys can address the issues on the offensive line. Maybe the Cowboys use a mid- to late-round pick on a back to challenge Miller for the No. 3 role, but it'd be surprising if they invested heavily in this position this offseason.
Need meter (1-5):
2
March, 19, 2010
3/19/10
4:24
PM ET
NFC South blogger Pat Yasinskas
has an interesting blog post
concerning
Carolina Panthers
running back
DeAngelo Williams
.
It seems Williams, who shares carries with
Jonathan Stewart
, is cool with getting fewer touches to prolong his career.
"I think the front office and coaching staff are single-handedly prolonging my career and [Stewart's] career,'' Williams said. "Thirty is like the new 50 in the NFL, especially when it comes to tailbacks."
Which brings us to Cowboys running back
Marion Barber
.
Barber has slowed down since he became the full-time starter in 2008. His physical way of attacking defenders might lead him to start breaking down. He turns 27 in June. He's missed time with toe and knee injuries and played with a busted hand for the bulk of 2009.
The Cowboys want
Felix Jones
to have an increased workload in 2010. This could mean several things for Barber:
* He could get upset and sulk.
* He could thrive in the role and produce solid numbers like he did in 2007.
* He might lose his starting job if Jones excels.
Barber is still young enough to become a productive back in the NFL. Yet his breakdowns the last two seasons raise questions about his ability to remain the starter.
If 30 is the new 50, like Williams says, expect the 27-year-old Barber to thrive this year.