Dallas Cowboys:

Dixon Edwards
April, 9, 2014
4/09/14
12:00
PM ET
IRVING, Texas -- There was a time when the way the
Dallas Cowboys
ran their draft room was the envy of the league.
One of those years was back in 1991 and
Mike Tanier of Sports on Earth
ranked the Cowboys selecting Russell Maryland and Alvin Harper that year as ninth best on the all-time list of teams with two first-round picks.
The Cowboys actually had three first-round picks that year thanks to a deal with the
Washington Redskins
, but traded Kelvin Pritchett to the
Detroit Lions
for picks in the second, third and fourth rounds.
In Maryland, the top overall pick, the Cowboys got a vital piece to their vastly underrated defensive line. In Harper, the No. 12 pick, they got a complement to Michael Irvin who Norv Turner knew how to maximize.
In trading Pritchett, who had a solid career, the Cowboys got linebacker Dixon Edwards, guard James Richards and defensive end Tony Hill. Edwards was a starter, but Hill lasted two seasons and Richards didn't make the team.
The Cowboys had two first-round picks in 1992, 2005 and 2008 as well.
In 1992, they took cornerback Kevin Smith (No. 17) and linebacker Robert Jones (No. 24), who became starters on Super Bowl teams. In 2005, they took outside linebacker
DeMarcus Ware
(No. 11) and defensive tackle
Marcus Spears
(No. 20). Ware became the franchise's all-time leader in sacks. In 2008, the Cowboys selected running back
Felix Jones
(No. 22) and cornerback
Mike Jenkins
(No. 25). Neither signed a second contract, although Jenkins had a Pro Bowl season.
February, 27, 2014
2/27/14
10:00
AM ET
IRVING, Texas -- Tuesday marked the 25th anniversary of Jerry Jones' purchase of the
Dallas Cowboys
and Texas Stadium for $140 million.
The highs have been high, but the lows have been low, especially since the Cowboys last won a Super Bowl in the 1995 season.
Here we will look at Jones' top five moments as the Cowboys' owner and general manager while realizing that a large segment of the fandom will not give him any credit for what happened in the early years when Jimmy Johnson was around.
1. How do you like those Super Bowls?
[+] Enlarge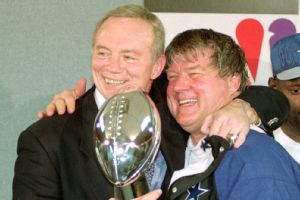 AP Photo/Charles KrupaOwner Jerry Jones and coach Jimmy Johnson celebrate their 30-13 win over Buffalo in Super Bowl XXVIII on Jan. 30, 1994, in Atlanta.
The Cowboys won three titles in Jones' first seven years as owner. They became the first team to win three Super Bowls in a four-year span, becoming the team of the 1990s with the Triplets -- Michael Irvin, Troy Aikman and Emmitt Smith -- becoming household names. The Cowboys beat the
Buffalo Bills
in Super Bowls XXVII and XXVIII by a combined score of 82-30. They claimed Super Bowl XXX with Barry Switzer as coach by beating the
Pittsburgh Steelers
27-17, exacting some revenge for the '70s Cowboys who could not beat Terry Bradshaw & Co.
2. Hiring Jimmy Johnson
Jones expressed regret Sunday about the rushed nature of firing legendary coach Tom Landry, but there is no doubt he made the right decision in bringing his former college teammate Johnson with him to the Cowboys. Johnson was the best coach in college football at the time at the University of Miami and brought a brashness that took the NFL by storm. The Cowboys suffered greatly in 1989 by going 1-15, but by Johnson's second year they were competing for a playoff spot in the final week of the season and winning a playoff game by the third year. By Year No. 4, Johnson had his first of two straight Super Bowl wins. It ended badly between Jones and Johnson, wrecking what could have been a history-making era because of the egos of the owner and the coach.
3. The trade of all trades
This is where the Jimmy and Jerry camps will always be divided. If you were a Jimmy guy, he engineered the trade of Herschel Walker to the
Minnesota Vikings
. If you were a Jerry guy, he had the final say. Regardless of who you want to credit, the moment is in Jones' era as owner and is among his biggest moments. The Walker trade brought about the formation of the Super Bowl teams. The Cowboys received five players and eight picks, turning those picks into Smith, Alvin Harper, Dixon Edwards and Darren Woodson. It might be the best trade in NFL history.
4. A new home
At $2.1 billion, there is no stadium like AT&T Stadium. This will be the monument Jones leaves whenever he is no longer the owner and general manager of the team. To get the stadium built, Jones acquiesced to a degree by bringing in Bill Parcells as coach in 2003 after three straight 5-11 finishes. With Parcells and the coach's two Super Bowl wins, Jones could show people he was serious about winning and changing his ways. The stadium is unmatched in the NFL, if not the world, with its nightclub-type feel, center-hung digital board, retractable roof and sliding doors. The Cowboys might not have the same home-field advantage they had at Texas Stadium, but the stadium has delivered a Super Bowl, an NBA All-Star Game, numerous concerts and the upcoming Final Four.
5. Trading for Charles Haley
Again, this will divide the Jimmy and Jerry camps, but Haley was the piece to the puzzle who got the Cowboys over the top. It weakened the Cowboys' biggest rival at the time, the
San Francisco 49ers
, and brought the Dallas defense an attitude it lacked. The signing of Deion Sanders in 1995 also weakened the Niners, but Haley brought two titles -- if not the third, as well. The drafting of Smith, No. 17 overall, was another top moment with him becoming the NFL's all-time leading rusher. But Haley's arrival brought to Dallas what the fans want most: Super Bowls.
April, 24, 2013
4/24/13
2:17
PM ET
IRVING, Texas – Jerry Jones basically bought an ad in the NFL classifieds during Monday's pre-draft press conference, sending out the message that the Cowboys could be in trade-down mode when they get on the clock with the 18th overall pick.
PODCAST
Randy Galloway, Matt Mosley and Glenn "Stretch" Smith discuss some of the players the Cowboys should be looking at in the upcoming NFL draft.

Listen

That news was met with a lot of moaning and groaning from Cowboys fans.
How can you be adamantly against trading down if you have no idea what the offer might be or which players might be available? Folks just don't trust GM Jerry.
Should they in this situation? Let's look at the Cowboys' history of trading down in the first round during the Jerry era.
1991 -- No. 14 overall (obtained from New Orleans – RB Leonard Russell) to New England for No. 17 overall (traded to Washington – DT Bobby Wilson) and No. 110 overall (DE Kevin Harris).
No. 17 overall (Wilson) to Washington for No. 20 overall (traded to Detroit -- DT Kelvin Pritchett) and No. 132 overall (Darrick Brownlow).
No. 20 overall (Pritchett) to Detroit for No. 37 overall (LB Dixon Edwards), No. 64 overall (G James Richards) and No. 108 overall (DE Tony Hill).
PODCAST
How close were the Cowboys to getting John Elway in 1983? Fitzsimmons and Durrett discuss what could have been if John Elway got his wish and was traded to Dallas.

Listen

These three deals have to be judged essentially as one. After all the wheeling and dealing was done, the Cowboys turned the 14th overall pick into a second-round linebacker who started for two Super Bowl title teams (Edwards), a third-round guard who never played an NFL game (Richards), a fourth-round defensive end who played 13 games in two NFL seasons (Hill) and a fifth-round linebacker who made 11 tackles in two separate one-year stints in Dallas (Brownlow).
This was a case of great value on Jimmy Johnson's trade chart and essentially a push in reality. Russell ended up being a decent running back, rushing for 3,973 yards and 29 touchdowns in his career, and it's not as if the Cowboys passed on a Hall of Famer who went later in the first round. Edwards contributed to three title teams, starting for two.
This deal would have been a steal if the Cowboys selected offensive tackle
Erik Williams
at No. 64 overall. They ended up drafting him six picks later.
1993 -- No. 29 overall (S George Teague) and No. 112 overall (Albert Fontenot) to Green Bay for No. 46 overall (WR Kevin Williams), No. 54 overall (LB Darrin Smith), No. 94 overall (RB Derrick Lassic) and No. 213 overall (LB Reggie Givens).
PODCAST
Nate Newton went undrafted in 1983, but he still feels like he was part of one of the greatest draft classes in league history. Newton joins Fitzsimmons and Durrett to discuss his draft experience from 30 years ago and his journey to three rings.

Listen

Both of the second-round picks the Cowboys acquired contributed to two Super Bowl title teams. Williams was a quality punt and kick returner who started at receiver for the Cowboys' last championship team, setting career highs with 38 catches for 613 yards and two touchdowns that season. Smith started all four of his seasons in Dallas.
Teague had a solid nine-year career, but he ended up spending most of that in Dallas anyway. Fontenot also lasted nine NFL seasons, making 81 starts. Lassic lasted 10 games, and Givens never played for the Cowboys.
Give the Cowboys a win for this deal, but it wasn't lopsided by any measure.
1995 -- No. 28 overall (LB Derrick Brooks) to Tampa Bay for No. 41 overall (traded to Atlanta – DB Ron Davis) and No. 63 overall (OG Shane Hannah).
All Brooks did in Tampa Bay was go to 11 Pro Bowls, be named first-team All-Pro five times, win a Super Bowl and establish himself as one of the best linebackers of his generation.
Hannah started the Cowboys' tradition of early-round offensive line busts, getting hurt in training camp and never playing a game in the NFL. They flipped Davis for a second-rounder (RB
Sherman Williams
) and fourth-rounder (TE
Eric Bjornson
), a couple of backups who combined for 10 career touchdowns.
This might be the worst draft-day deal the Cowboys ever made.
1996 -- No. 30 overall (Andre Johnson) to Washington for No. 37 overall (DE Kavika Pittman) and No. 67 overall (C Clay Shiver).
Pittman made 18 sacks in eight NFL seasons (10 in four seasons for the Cowboys). Shiver started 25 games, but that was evidence of how weak the Cowboys were at center, as he was out of the league after three years.
Johnson was a huge bust for the Redskins. He never played a game in Washington.
The Cowboys would have been better off staying put and drafting Texas product
Tony Brackens
in the first round. Brackens, picked No. 33 overall by Jacksonville, had 55 sacks and 27 forced fumbles in his eight-year career.
2002 -- No. 6 overall (DT Ryan Sims) to Kansas City for No. 8 overall (SS Roy Williams), No. 75 overall (CB Derek Ross) and a sixth-round pick in 2003 (WR Zuriel Smith).
A couple of Williams' five Pro Bowl berths were reputation selections after his performance fell off, but he was a dominant force as a playmaking intimidator early in his career. That's much more than you can say for Sims, who only had one more sack in his career than Williams did.
Ross looked like a steal when he had five picks as a rookie, but the character red flags that caused him to drop into the third round proved true. Bill Parcells got rid of him midway through Ross' second season. Smith played nine games for the Cowboys, contributing primarily as a return specialist.
This was a good deal for Dallas, just not nearly the steal it seemed destined to be during the rookie seasons of Williams and Ross.
2004 -- No. 22 overall (QB J.P. Losman) to Buffalo for No. 43 overall (RB Julius Jones), No. 144 overall (TE Sean Ryan) and a 2005 first-rounder (DE Marcus Spears).
Spears was a serviceable player for the last eight seasons. Ryan was a nonfactor during his two years in Dallas.
But this deal comes down to
Steven Jackson
vs. Julius Jones.
The Cowboys decided, based strongly on the input of running backs coach Maurice Carthon, that there wasn't much difference between the top back on the board and the backs who would be available in the second round.
Jackson has rushed for 10,135 yards and counting, more than twice as many as Jones ran for during his career. Jackson has accounted for 64 touchdowns, almost three times Jones' total.
Oops.
2007 -- No. 22 overall (QB Brady Quinn) to Cleveland for No. 36 overall (traded to Philadelphia – QB Kevin Kolb) and a 2008 first-rounder (RB Felix Jones).
The Cowboys were tempted to pick Quinn, who they had in the top 10 on their board, but they opted to fully commit to a quarterback with 10 starts under his belt named
Tony Romo
. Considering that Quinn is with his fourth team and Romo just got $55 million guaranteed, it's pretty clear that was the right call.
The Cowboys moved back into the first round to select OLB/DE
Anthony Spencer
, giving up third- and fifth-rounders to do so. No regrets there, with Spencer a solid player coming off his first Pro Bowl appearance and Kolb failing to make an impact in Philadelphia.
This deal would have looked like a stroke of genius if the Cowboys picked
Chris Johnson
,
Matt Forte
,
Ray Rice
or
Jamaal Charles
the next year. Alas, they selected an Arkansas alum to be a change-of-pace back.
Felix Jones
had some flashes of brilliance, but his Dallas tenure was a pretty big disappointment given the quality of backs picked behind him.
This was still a solid deal for Dallas.
January, 25, 2010
1/25/10
9:18
AM ET
There are a lot of similarities between the 1991 Cowboys and the 2009 Cowboys, as
presented by ESPN Stats & Information's Alok Pattani.
However, there are some significant differences between the Cowboys of those days and today that you should consider before making Super Bowl parade plans.
Start with the drafts of those years.
Four players from the class of '91 -- DT
Russell Maryland
, WR
Alvin Harper
, RT
Erik Williams
and CB
Larry Brown
-- were full-time starters by their second seasons. LB
Dixon Edwards
and DT
Leon Lett
were significant contributors who developed into starters.
Will the class of '09 produce any starters? Kickoff specialist
David Buehler
and TE
John Phillips
were the only significant contributors as rookies.
The Cowboys also had a strong draft in 1992, when they selected three players who started for Super Bowl champions: CB
Kevin Smith
, LB
Robert Jones
and S
Darren Woodson
. But the biggest immediate impact move they made that offseason was trading for Pro Bowl DE
Charles Haley
.
Those moves helped the Cowboys go from the second round to three Super Bowls in four seasons.