Dallas Cowboys:

Don Meredith
January, 29, 2014
1/29/14
12:00
PM ET
IRVING, Texas -- When
Dallas Cowboys
coach Jason Garrett talks to his players for the first time, he tells them to be brief and boring with the media.
It's something the coach has mastered, although he is more forthcoming when the television lights go off.
Hatcher
For a team that has had colorful characters since forever, from Don Meredith to Thomas "Hollywood" Henderson to Michael Irvin and Deion Sanders, the current version of the Cowboys lacks a true trash talker.
Irvin could verbally taunt defensive backs with the best of them. Sanders could do the same with wide receivers. They felt they were the best, and they let everybody know about it.
Dez Bryant
might be viewed as the closest, but he does not instigate the talk. He reacts to it. And as we found out after the
Detroit Lions
game, his actions on the sideline are not always as dastardly as they come off.
When the Cowboys played the
New York Giants
at MetLife Stadium in 2013, they listened to their NFC East rivals chirp all week.
Jason Pierre-Paul
said "blood would be shed."
Antrel Rolle
said the game was the Giants Super Bowl.
Terrell Thomas
guaranteed a victory.
And the Cowboys won 24-21.
The Cowboys talking came after the game, which is just how Garrett would want it.
Jason Hatcher
spread fake Vampire blood on his face.
"I just finished eating a Giant," said Hatcher, who had two sacks of
Eli Manning
. "Y'all didn't see me out there? That's some leftover blood. They said blood is going to be shed, right?"
Later he added, "Action speaks louder than words, so we went out there and did what we were supposed to do tonight. They talked the talk. They had to back it up, and they didn't. We came out with the victory. We came into their house and took it from them."
July, 6, 2013
7/06/13
11:30
PM ET
By
Richard Durrett
| ESPNDallas.com
There are plenty of choices for the
Dallas Cowboys
Mount Rushmore, but we can only pick four. It wasn't easy, but we've narrowed down our list. Does it look like yours? Here's ours:
Tom Landry:
He's the George Washington of our Cowboys Mount Rushmore. Landry, with fedora of course, has to be on any monument dedicated to all-time Cowboys greats. One of the greatest coaches of all time, Landry roamed the sidelines from 1960 to 1988 and won two Super Bowls, five NFC titles and 13 division titles. He was an innovator, creating defensive systems that are still mimicked.
Roger Staubach:
He led the Cowboys to two Super Bowl titles (and four Super Bowl appearances), won a Heisman Trophy and engineered some memorable comebacks. Staubach set the standard by which all quarterbacks of America's Team are measured.
Jerry Jones:
Probably the most controversial of our choices, especially if you consider this club's run of mediocrity since the mid 1990s. But do the Cowboys win three Super Bowls in the 1990s without Jones? He botched the handling of Landry's firing, but he hired Jimmy Johnson as his replacement and watched the team transform back into a champion. He isn't on here as a GM. He's on this monument as an owner.
Emmitt Smith:
An argument could be made for any of the "Triplets" and maybe even more than one being on this Cowboys Rushmore. But we chose Smith, the NFL's all-time leading rusher. The Cowboys' ground game was nearly unstoppable during Smith's prime and he was an iron man, playing through injuries and leading by example.
Others considered (in no particular order):
Troy Aikman:
Won three Super Bowls and led the club's productive offense. He's one of the greatest QBs in franchise history.
Bob Lilly:
The former TCU defensive tackle was the first draft pick in Cowboys history. And it was terrific pick. Lilly was an All-Pro seven times and anchored the "Doomsday Defense."
Michael Irvin:
The wide receiver made big plays, clutch scores and certainly fired up his teammates. A part of the "Triplets," Irvin was dynamic.
Tex Schramm:
The first GM in Cowboys history helped put together a winning franchise -- hiring Tom Landry and Gil Brandt -- not to mention adding the Dallas Cowboys Cheerleaders and adding many key rules to the NFL. He did a lot for not only the Cowboys, but the league.
Tony Dorsett:
If not for Emmitt, he'd be the top running back on this list.
Randy White:
The Hall of Famer played in Dallas for more than a decade as one of the best linemen in league history.
Drew Pearson:
He's the reason No. 88 carries so much meaning for the Cowboys. He made the big catches and was reliable.
Don Meredith:
Dandy Don spent nine seasons with the Cowboys after playing for SMU and was an important leader during the Cowboys' early years.
Jimmy Johnson:
Rebuilt the Cowboys into a champion and won two Super Bowls. Barry Switzer won another Super Bowl with the team that Johnson assembled.
Herschel Walker:
Seems strange, doesn't it? But without the haul the Cowboys received from Minnesota, do the Cowboys win three Super Bowls?
December, 7, 2010
12/07/10
11:31
AM ET
The tributes continue for former Cowboys quarterback and former broadcaster Don Meredith.
Former Cowboys coach Wade Phillips speaks fondly of Meredith.
His father, Bum, knew Meredith well. The former coach of the old Houston Oilers played on Monday Night Football a few times.
"As a Texan, overall, gee ... Dallas Cowboys was started with Don Meredith," Phillips said.
Meredith played from 1960-1968 and is currently fifth all-time in passer rating in franchise history. He still holds the team record for the most yards gained in a game (460). He set that on Nov. 10, 1963 against San Francisco. He also holds the longest pass completion in franchise history, a 95-yarder to Bob Hayes in 1966. (Editor's note:
To rank the Cowboys' all-time QBs, click here
.)
"He was special, especially to that group he played with," Phillips said. "I've been around a lot of those guys and they thought the world of him, and rightfully so."
Former Cowboys Hall of Fame running back Tony Dorsett said Meredith left the game too soon.
"When they were first starting the Dallas Cowboys, they were kind of like the doormat," Dorsett said. "They were getting their butt whipped, and Dandy Don took a lot of that punishment and he became an All-Pro. I guess the sad thing about it is he didn't play long enough. He retired at a early age and did something else. He was going to do things his way and have fun with life."
December, 7, 2010
12/07/10
9:53
AM ET
Reaction from Cowboys
-- past and present -- to the death of Don Meredith:
Former Cowboys executive Gil Brandt:
"This is a guy who was the real face of our organization to start with. He was very responsible for the organization being what it is today because of not only what he brought as a player, but what he brought as a broadcaster.
PODCAST
Cowboys great Walt Garrison joins Galloway & Company to remember the life and times of his good friend, Don Meredith.

Listen

"Monday Night Football was extremely beneficial to him and pro football because I think Monday Night Football with the three of those people really opened up new avenues to a TV viewer to pro football."
Former Cowboys running back Calvin Hill:
"When it was Dandy Don to Bob Hayes, it was those two as much as anybody that put the Cowboys on the map just because of the explosiveness of the offense, and now both of them are gone."
Cowboys interim head coach Jason Garrett:
"My dad is a big football guy, and he obviously coached for a long time in this league, so when you're a kid and you're watching Monday Night Football and you start talking about Don Meredith and Frank Gifford and those guys, he has some real strong recollections and feelings about those guys. So we grew up with Don Meredith stories more than anything else."
For more on the Cowboys' reaction,
click here to read Calvin Watkins' story.
December, 6, 2010
12/06/10
2:30
PM ET
Don Meredith was part of the "Monday Night Football" booth beginning with the first season on ABC in 1970, when he paired with Keith Jackson and Howard Cosell. Meredith spent 12 seasons working on sports television's signature series (1970-73 and 1977-84). Frank Gifford (1971-97) and Dan Dierdorf (1987-98) are the only former NFL players or coaches who have called more MNF games in the 40-year history of the show.
[+] Enlarge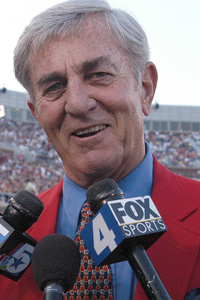 PepperDon Meredith, alongside Keith Jackson and Howard Cosell, was one third of the inaugural "Monday Night Football" broadcast crew.
Chris Berman will voice a tribute to Meredith tonight that will air on "Monday Night Countdown" (approximately 6:10 p.m. CT) and during the MNF halftime. Also, Mike Tirico will have an interview with Meredith's longtime booth-mate and friend Gifford during the MNF halftime.
Here is some of the reaction from company officials to Meredith's death:
Bob Iger, president and CEO of Walt Disney Company:
"Many deserve credit for making Monday Night Football into an incredible fan experience that has endured for decades and Dandy Don Meredith is one of them. I was privileged to work with him and will miss his humor, insight and charm."
George Bodenheimer, president of ESPN Inc. and ABC Sports, co-chairman of Disney Media Networks:
"Don Meredith was a true legend, whose disarming style and quick wit helped him successfully transition from star NFL quarterback to broadcasting legend. He helped launch Monday Night Football on ABC in 1970 and his contributions over the next decade helped transform sports television's signature series into a cultural icon. Our thoughts and prayers go out to his wife, Susan, and the entire Meredith family."
"Monday Night Football" play-by-play voice Mike Tirico:
"Don Meredith was a huge part of what has made Monday Night Football so special. His approach, attitude and love of football came thought in every broadcast. Just the phrase, 'Turn out the lights, the party's over' makes any football fan watching in the '70s and early '80s break out in a smile. He was one of a kind and helped make Monday nights magical. For any of us who have had Monday Night Football as a part of our life, it is a sad day."
Analyst Ron Jaworski:
"I had the pleasure of meeting Don a few times. He was a guy I admired as much as anyone, both as a player and as an analyst. His great work inspired me to always be prepared and to have fun doing it. He loved what he did and it always showed. We're going to miss him."
Analyst Jon Gruden:
"I used to sneak downstairs and watch Don and Monday Night Football when I was supposed to be asleep in bed growing up. He was special. Those crews had a lot of fun together and I always loved hearing him sing, 'Turn out the lights, the party's over.'"
ESPN NFL studio host Chris Berman:
"Don Meredith was a television pioneer who made pro football real, even for non-football fans. I can't remember watching a Monday Night Football telecast, and I've seen a few, where Dandy Don failed to make me smile."
December, 6, 2010
12/06/10
11:28
AM ET
IRVING, Texas -- The Cowboys have released a statement from owner and general manager Jerry Jones regarding Don Meredith's passing:
"Don Meredith was a
Dallas Cowboys
original. His wit, charm, and strength of personality were matched only by his wonderful leadership, toughness and athletic skill. His persona defined the Cowboys of the 1960s and set the course for what the franchise became. Throughout 50 years of history, the Cowboys legacy has been built by dynamic and colorful personalities who could also compete at the highest level. No one fit that description better than Don Meredith.
"After guiding this team from expansion franchise to title contender, his charismatic style helped build Monday Night Football to a level of popularity that was unprecedented for sports television in America. Few men have contributed, both on the field and as a broadcaster, to the impact that the NFL currently has on our country today more than Don.
"Our thoughts and prayers are with his family and friends, and his spirit will be with Cowboys players and fans forever."
December, 6, 2010
12/06/10
10:52
AM ET
Here's a look at the career of former Dallas Cowboys quarterback and "Monday Night Football" announcer Don Meredith, in pictures.
Click here for the photo gallery.

December, 6, 2010
12/06/10
10:04
AM ET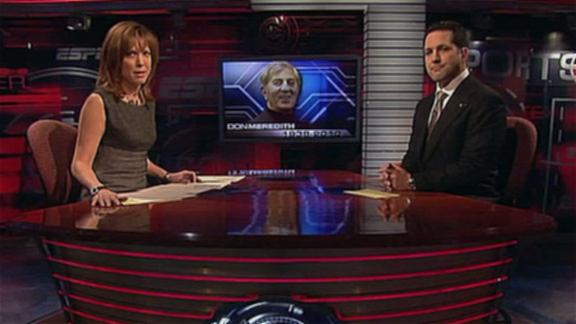 Here is where Don Meredith ranks statistically among Dallas Cowboys quarterbacks:
Cowboys All-Time Passing Rankings: Don Meredith
Completions: 1,170 (5th)
Pass yards: 17,199 (4th)
Pass TDs: 135 (4th)
Interceptions: 111 (3rd)
Most Games Played -- Cowboys QBs, Franchise History
Danny White: 166
Troy Aikman: 165
Roger Staubach: 131
Don Meredith: 104
Most Passing TDs, Cowboys History
Troy Aikman: 165
Danny White: 155
Roger Staubach: 153
Don Meredith: 135
Tony Romo: 118
December, 6, 2010
12/06/10
10:00
AM ET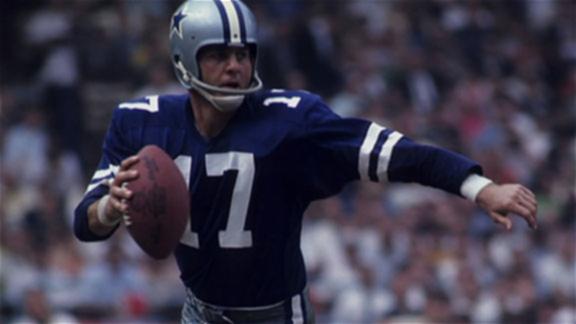 Don Meredith playing and broadcasting career notes of interest, courtesy of ESPN Stats & Information:
[+] Enlarge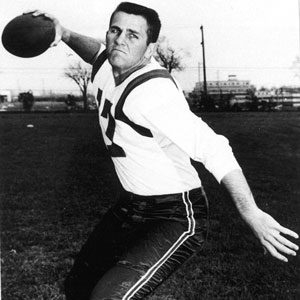 All-American at SMU in 1958 and 1959
Third-round pick in 1960 NFL draft
Member of inaugural Cowboys team in 1960
Played nine seasons, all with Cowboys
Became full-time starting QB in 1963
Three-time Pro Bowler (1966-68 seasons)
Led Cowboys to NFL championship games in 1966 and 1967
Top-5 in Cowboys history in passing yards, TDs and completions
Inducted into Cowboys' Ring of Honor in 1976
Said to be the only player to play his high school, college and pro football all in Dallas area
Became color commentator for ABC's "Monday Night Football" in 1970
Spent three seasons (1974-76) with NBC; analyst for Super Bowls IX and XI
Returned to ABC as part of broadcasting team until end of 1984 season; analyst for Super Bowl XIX (ABC's first Super Bowl)
Received Pete Rozelle Radio-Television Award from Pro Football HOF in 2007
Known for singing "turn out the lights, the party's over" when game was in hand
Other notes on a well-rounded life:
Also had an acting career, appearing in multiple movies and TV shows
Recurring starring role on NBC show "Police Story"
Recorded a single in 1966, covering Ricky Nelson's "Travelin' Man"
December, 6, 2010
12/06/10
9:40
AM ET
Don Meredith, the former Dallas Cowboys quarterback who became a staple of "Monday Night Football," died in Santa Fe, N.M., on Sunday.
Meredith, 72, died at Christus St. Vincent Regional Medical Center, a hospital spokesman confirmed Monday morning.
For more on this developing story,
click here.