Dallas Cowboys:

Drew Bledsoe
April, 18, 2014
Apr 18
10:30
AM ET
IRVING, Texas -- We had another solid chat on Wednesday with a lot of draft questions.
We talked about trading up (I don't see it happening), selecting
Anthony Barr
or
Kony Ealy
if both are available at No. 16 (Barr), taking a chance on
Dominique Easley
, the extra time leading up to the draft (hate it) and my all-time favorite Cowboy.
If you want to read the whole chat,
click here
.
I was also asked about drafting a quarterback.
R Lank, Md.:
With romo 1 bad hit, and he's finished along with the uncertainty of orton why not draft a decent qb. at romo's age along with his injuries would u say that a high risk paying him that kind of money. I mean like u and (Jacques) said why pay age?
Todd Archer:
When it comes to quarterbacks and left tackles, paying age doesn't seem as problematic for a lot of teams. I understand what you're saying about drafting a quarterback, but I don't see them going after a guy in the first two rounds. Maybe the third but more likely fourth or fifth. When you're picking a guy there, it's a projection more than a known commodity. Honestly, I think when Romo is done, whenever that is, the Cowboys will draft his replacement the following year and go with the guy.
Let me go a little deeper. For the last three or four years this has been a common question either because fans want the Cowboys to move on from
Tony Romo
or start the process of finding his replacement before it's too late.
I've been a fan of selecting a quarterback every year, similar to the way Ron Wolf worked the draft with the
Green Bay Packers
. Clearly the Cowboys don't share that belief, and I've just now come to the realization that when Romo's career is over, then they will go ahead and find their next starter.
They don't believe it makes sense to draft a quarterback, give him time to develop and then hand him the keys, say, the way the Packers did with
Aaron Rodgers
when they decided to move on from Brett Favre. It's a risky strategy, but it's what the Cowboys did after
Troy Aikman
retired.
They drafted Quincy Carter in the second round, surprisingly, and he won the job. They cut Tony Banks in camp so as there was no doubt Carter would be the guy. It didn't work, although Carter did help the Cowboys to the playoffs in 2003.
Finding the next franchise quarterback took time for the Cowboys, and they got lucky in Romo. They looked to baseball and got Carter, Chad Hutchinson and Drew Henson. They looked at vets like Vinny Testaverde and Drew Bledsoe.
If you look at quarterbacks now, teams draft them and play them.
Andy Dalton
was a Day 1 starter with the
Cincinnati Bengals
after he was picked in the second round.
Russell Wilson
won the starting job with the
Seattle Seahawks
as a third round pick.
Cam Newton
,
Sam Bradford
,
Matthew Stafford
and
Andrew Luck
were No. 1 picks and starters from the beginning.
Ryan Tannehill
(
Miami Dolphins
),
Robert Griffin
III (
Washington Redskins
), E.J. Manuel (
Buffalo Bills
),
Geno Smith
(
New York Jets
) and
Matt Ryan
(
Atlanta Falcons
) have been walk-in starters.
So whenever Romo is done – two, three or four years from now – that's when I think the Cowboys go all in for a quarterback in the draft. And if (remember it's still an if) that is the case, then there is a strong argument to take another offensive lineman at No. 16 next month.
With
Tyron Smith
,
Travis Frederick
and Offensive Lineman X, the Cowboys would have three first-round picks to protect an early-round quarterback. That would be a good way to break in a young quarterback. He would not be under siege behind a bad line.
Will this happen? Who knows, but it's what I think could be the case.
October, 18, 2013
10/18/13
10:00
AM ET
IRVING, Texas -- Jerry Jones knows firsthand how quickly
Tony Romo
can think on his feet.
The
Dallas Cowboys
owner and general manager remembers standing in a small coaches' locker room at Texas Stadium with Bill Parcells and Romo before a preseason game in 2006 against the
Minnesota Vikings
. The Cowboys wanted Romo to sign an extension, but Romo wanted the team to make a financial commitment to him that would force them to play him at some point if
Drew Bledsoe
faltered.
[+] Enlarge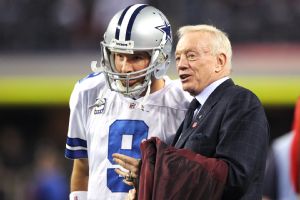 Richard Rowe/USA TODAY SportsCowboys owner Jerry Jones is familiar with Tony Romo's ability to look at the big picture.
Jones said he and Parcells were "stepping on his toes pretty good."
"It had a little shakedown feel to it," Romo joked.
Romo told them he would sign if incentives in the offer were turned into base salary. Jones said yes. Parcells smiled.
"We got us a quarterback," Jones recalled Parcells saying after Romo walked out of the room.
Romo would not make his first start with the Cowboys until the seventh game of that season. He will make the 100th regular-season start of his career Sunday against the
Philadelphia Eagles
. And Jones still believes the Cowboys "got us a quarterback."
Last March, Jones affirmed his commitment to Romo with a six-year extension worth $108 million and $55 million guaranteed. He also saw the quarterback think fast on his feet again, calling for more involvement in the game-planning process with the coaches before signing the deal
"He sees the whole picture," Jones said, "and I'm not just talking about an open receiver."
Only Hall of Famers Roger Staubach (114) and
Troy Aikman
(165) have started more games for the Cowboys at quarterback than Romo.
Staubach was a Heisman Trophy winner. Aikman was a No. 1 overall pick. Romo was undrafted.
Yet Jones knew there was something about the quarterback almost immediately when he heard complaints from the Cowboys' defense in practices.
"They'd all holler, 'He's not playing it the right way. We're not going to see that in the game,'" Jones said. "You saw his point guard mentality and his ability to make it up. There's no question that his natural awareness and his ability to see things, you can't teach that. None of this is coachable. None of what he does is coachable. It can be supervised differently than your traditional coaching."
His first start came Oct. 29, 2006, at Carolina. Romo got a bad haircut the week of the game and told NBC before the game his girlfriend broke up with him the previous week. His eighth pass of the game was intercepted, but he finished completing 24 of 36 throws for 270 yards with a touchdown in the Cowboys' 35-14 win against the Panthers.
"Anybody at any level in the organization really knew we would get some juice from Romo offensively," Jones said.
The Cowboys won four of Romo's first five starts, a season was saved and a quarterback was found.
As he enters start No. 100, he is the franchise leader in touchdown passes (191) and second to Aikman in attempts, yards and completions. He owns the Cowboys' season marks for attempts (648), completions (425), yards (4,903) and touchdowns (36).
"Start 1 you don't really know," Romo said. "You're excited about the opportunity to go out and prove to yourself if you can actually do this. Start 100, it's all about getting your team to where you want to go and leading a group of men and trying to take them there, and that would be one difference. It's a little more individual related starting off to prove to yourself that you can play, and start 100 it's about bringing the team there and winning and accomplishing team goals and that's really what it's all about, accomplishment."
As Jones went through the process of extending Romo's contract, he studied how quarterbacks fared after their 100th start, knowing Romo would get there this season. He does not view Romo as the traditional 33-year-old quarterback because Romo did not play in his first three seasons. Aikman was 34 when he retired from the Cowboys. Staubach was 37.
"I see a player who's evolved and grown," Jones said. "You have a lot better chance to win now than at when he started his career. We feel there's plenty of quality games remaining not only with his ability but with his experience that will put us in a position to win it all. If you really look at it, there are only a handful of those guys in the NFL."
It's something Jones and Parcells found out about Romo inside Texas Stadium in 2006.
December, 8, 2012
12/08/12
10:00
AM ET
»
NFC Final Word
:
East
|
West
|
North
|
South
»
AFC
:
East
|
West
|
North
|
South
Five nuggets of knowledge about Week 14:
Rookies making history.
The
Washington Redskins
are the first team in NFL history to feature both a 2,000-yard rookie passer (
Robert Griffin III
) and a 1,000-yard rookie rusher (
Alfred Morris
). Griffin is poised to join Morris as a 1,000-yard rusher if he can average 71.5 rushing yards per game the rest of the way. Griffin already is just the fourth player in league history to pass for at least 2,500 yards and rush for at least 700 yards in a single season, joining
Cam Newton
(2011),
Michael Vick
(2002) and
Randall Cunningham
(1990). The Redskins are 6-6 and pushing for a playoff spot, and the success or failure of the rookie engines of their offense over the final four games could determine whether they can get in.
[+] Enlarge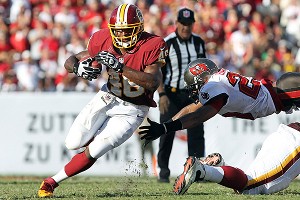 Kim Klement/US PresswireRookie running back Alfred Morris has rushed for 1,106 yards and six touchdowns this season.
Outside the numbers.
Per ESPN Stats & Information, the top two wide receivers in the NFL this season on passes thrown outside the painted numbers are the
Dallas Cowboys
'
Dez Bryant
and the
Cincinnati Bengals
'
A.J. Green
, who will be on the same field Sunday in Cincinnati. Green leads the NFL with 49 receptions and eight touchdowns on such throws, and is averaging 13.8 yards per reception outside the numbers. Bryant has 42 catches and six touchdowns, and is averaging 14 yards per reception on throws outside the numbers. These two are going to be a nightmare for the opposing cornerbacks in this game if they're trying to cover them man-to-man.
Flipping the rookie script?
Philadelphia Eagles
rookie running back
Bryce Brown
has been more impressive since taking over for concussed starter
LeSean McCoy
than rookie quarterback
Nick Foles
has been filling in for concussed starter Vick. But that could change this week in Tampa Bay. The Buccaneers are allowing just 82.3 yards per game on the ground this season, the lowest figure in the NFL. They are allowing an NFL-high 309.4 yards per game through the air, which could turn out to be historically bad. No team in NFL history has allowed an average of 300 or more passing yards per game over a full season. So Foles has a chance for his best game yet, while Brown is likely to find the going tougher this week.
Not going to be a Brees.
New Orleans quarterback
Drew Brees
is 4-0 with 11 touchdown passes and no interceptions in his four career games against the
New York Giants
, who host the Saints on Sunday in New Jersey. ESPN Stats & Info tells me the 11 touchdowns are tied for the most any player has had against a team that has not intercepted him.
Drew Bledsoe
had 11 touchdown passes and no interceptions in his career against the Cardinals. Of course, the Giants could be catching Brees at the right time. He threw five interceptions and no touchdowns in Week 13 against the Falcons in Atlanta. It broke a league-record streak of 54 consecutive games in which Brees had thrown at least one touchdown pass.
On the ground.
Neither the Saints nor the Giants have been very good at stopping opposing runners in the backfield. New Orleans is allowing an average of 3.4 yards per rush before initial contact, which is the second-highest figure in the league, while New York's 3.2 yards allowed per rush before initial contact is third worst in the league. So
Ahmad Bradshaw
and whichever Saints running backs are active this week could have an easier time than usual making it to at least the line of scrimmage.
October, 29, 2012
10/29/12
8:00
AM ET
February, 2, 2012
2/02/12
10:00
AM ET
IRVING, Texas -- On Saturday Bill Parcells will learn whether he will be inducted into the Pro Football Hall of Fame.
There will be some debate in the room because that is the duty of the voters but in the end Parcells should be in Canton, Ohio, this summer as part of the Hall's Class of 2012.
[+] Enlarge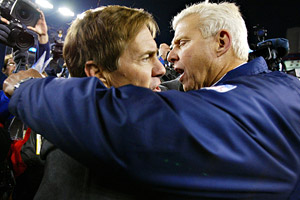 Al Bello/Getty ImagesBill Parcells (right) laid foundations for Bill Belichick's Patriots, the Jets and the Cowboys.
He deserves to be enshrined for his two Super Bowl wins with the
New York Giants
. He also deserves it because he made three franchises relevant. He is the only coach to take four different teams to the playoffs. He even oversaw a turnaround in Miami from 1-15 joke to 11-5 playoff team, although the Dolphins never contended again before he walked away.
When he came to New England in 1993, the Patriots were terrible. The team was close to moving to St. Louis. In fact, I remember attending the season-finale that year against Miami thinking this would be their final game at Foxboro Stadium.
Drew Bledsoe
hit
Michael Timpson
with a game-winning touchdown pass in overtime to beat the Dolphins and one of my friends thought about rushing the field. Then he saw the German Shepherds barking back at him.
The Patriots would not be the Patriots of today without Parcells.
From New England he went back to Giants Stadium, this time to coach the
New York Jets
, who were also laughable. In his second year he took them to the AFC Championship game, losing to
John Elway
and Denver. But the Jets' success continued after Parcells left with Al Groh and Herm Edwards coaching the team.
The Jets would not be the Jets of today without Parcells.
His final coaching stop came in Dallas. He wanted to play the big room, as he called it, and the Cowboys were the big room even after three straight 5-11 finishes from 2000-02. With
Quincy Carter
as his quarterback Parcells took the Cowboys to a 10-6 record and the playoffs. Pause and re-read that sentence again. With much of the same talent that went 5-11, he turned them into a 10-6 team.
He finished with a 34-30 regular-season record with the Cowboys. They lost in the wild-card round of the playoffs twice, including 2006 at Seattle when a field goal snap slipped through Tony Romo's fingers.
As he flew back he knew he was done coaching. As he told me a couple of weeks ago, he just didn't have the energy to do it anymore. It wasn't how the Cowboys lost, he said, it was that the Cowboys lost that sent him away. To this day he believes, as do a number of his assistant coaches and players that remained on the team in 2011, that if the Cowboys beat Seattle they would have gone at least to the conference title game.
The Cowboys went 13-3 in their first year without Parcells and Wade Phillips as head coach, and had the best record in the NFC. They lost in the divisional round at Texas Stadium to the New York Giants, who went on to win the Super Bowl.
Had Parcells remained another year, I firmly believe the Cowboys would have made their playoff run. He finally had a quarterback in place in
Tony Romo
. He had a defense that was coming around and an offense that could score points. Would they have been 13-3? Probably not, but they would have been a tougher team for sure.
The Cowboys would still be the Cowboys without Parcells coming to town, but would Cowboys Stadium be Cowboys Stadium?
Jerry Jones hired Parcells because he needed to get out of 5-11 rut and he needed to get a stadium vote passed. Parcells helped deliver.
And now Jones attempts to win with a core group of players brought in during Parcells' time from Romo to
Jason Witten
to
DeMarcus Ware
,
Jay Ratliff
,
Miles Austin
,
Kyle Kosier
,
Marcus Spears
and
Jason Hatcher
.
Terence Newman
had a nine-year run as a starter but now his future is dicey at best.
Bradie James
lasted nine years.
Mat McBriar
came in as a practice squad player in 2003. L.P. Ladouceur was signed in 2005 after a tryout at San Jose State.
Parcells' time with the Cowboys wasn't perfect but it was lasting. And it should be part of his biography at the Pro Football Hall of Fame this summer.
November, 10, 2011
11/10/11
12:53
PM ET
IRVING, Texas -- Generally speaking, wide receivers that join teams in the middle of a year with little attempt to learn the playbook or the quarterback tend to struggle.
As Calvin Watkins pointed out today,
Laurent Robinson
is
proving that rule wrong.
In six games, Robinson has 24 catches for 368 yards and two touchdowns. He has two 100-yard games as well.
Tony Romo
has come to trust him quickly and Robinson's numbers figure to improve if
Miles Austin
misses the next 2-4 weeks with a hamstring injury.
Since 2004, the Cowboys have added some big-name wide receivers to their roster either via trade or a free agent signing.
In 2004, they traded
Antonio Bryant
to Cleveland for
Quincy Morgan
, who had 22 catches for 260 yards and no touchdowns in nine games.
In 2005 they signed
Peerless Price
in hopes his reunion with
Drew Bledsoe
would push him back to prominence. It never happened. In seven games he had six catches for 96 yards.
And then there's the Roy Williams trade of 2008 with Detroit. Williams had 19 catches for 198 yards and a touchdown in 10 games.
In fewer games, Robinson has better numbers than any of those guys.
December, 19, 2010
12/19/10
9:00
AM ET
We have an early game on Sunday between the Cowboys and the Redskins, and it's the last home game of the year for the Cowboys. It's also the last NFL game in the $1.2 billion palace until the Super Bowl.
We've decided to open the mailbag and get around to some of the best questions of the weekend.
Q: I have been a loyal fan of the Cowboys since the days of Roger Staubach. Am I the only one that is hoping that Jerry Jones will get rid of [Tony] Romo? He is by far the most inconsistent quarterback that Dallas has ever had. He does not have control of the huddle, and he does project the leadership qualities that quarterbacks must have in order to be a leader of the offense. Romo averages at least one interception a half. If Dallas wants to truly improve their offense and contend for championships they need to take a hard look at QB and the defensive line. -- Matthew Ramage (Norfolk, Va.)
A:
Matthew why are you so negative on Romo? Your memory is lacking.
Chad Hutchinson
,
Quincy Carter
,
Drew Henson
,
Vinny Testaverde
and
Drew Bledsoe
all threw passes for the Cowboys after
Troy Aikman
. You can debate if Bledsoe is better than Romo in his prime, but it's clear the Cowboys got Bledsoe when he was past his. Romo is the best thing the team has going right now at quarterback. If you want to say he's not a better leader than
Jon Kitna
, that's fine, but long-term Romo is the best option for the Cowboys at this position.
Q: Calvin, How do you see Felix Jones performing vs. Washington? Do you think he might be set up to have a big afternoon, or will [Tashard] Choice and [Marion] Barber rob him of touches and goal line carries? -- Lou (Round Rock, Texas)
A:
I don't believe
Marion Barber
is going to play Sunday due to his calf injury. So that means Jones, who has averaged 5.2 yards per carry in four career starts, will start and get another chance to prove he can become the full-time starter in 2011. One of the ways the Cowboys can use Jones is on screen passes, which he's had success at. But Jones struggles in small spaces, and the Cowboys need to get him room in larger area so he can make defenders miss. If this happens Sunday, Jones has an opportunity to have a good game.
Q: I have been a major Cowboys fan all of my blessed life. So what, if any, are the plans to correct the HUGE problem in the secondary. Going into the season that was supposed to be one of our strongest areas, but turns out one of the worst, I think, in the NFL. Horrible basic tackling skills, blown coverages, and finally average at best cover skills from our corners that being [Mike] Jenkins and [Terence] Newman. And let's not get to the unsafe safeties. Orlando Scandrick seems to be playing the best at the corner position. Please tell me help will be on the way. -- Shon (Atlanta)

A:
At the start of the season the secondary position had an issue at free safety due to the release of
Ken Hamlin
and how the team moved
Alan Ball
into the starting lineup. Ball has struggled at times this season, though he's played well the last few weeks. The cornerback spot wasn't a concern at the start of the year with Newman and Jenkins coming off Pro Bowl years. Orlando Scandrick and Newman played consistent but not great. Jenkins has struggled. He's not making as many plays on the ball as he did last season, and that could change in the final three weeks of the regular season. The Cowboys most likely will draft a safety, and I wouldn't be surprised if a cornerback is also taken in the latter rounds. A new safety is necessary for this team either in the draft or free agency.
April, 8, 2010
4/08/10
2:05
PM ET
My biggest memory of Texas Stadium is the changing of the guard at quarterback for the Dallas Cowboys.

It was Oct. 23, 2006 and Cowboys quarterback Drew Bledsoe was having a terrible day. The Cowboys trailed 12-7 toward the end of the first half against the New York Giants. But Bledsoe had driven the team to the Giants 4-yard line. During a timeout, wide receiver Terrell Owens told Bledsoe he had one-on-one coverage against a cornerback and that he was open.

Bledsoe, according to Owens, said, "I'm throwing to Terry."

Terry meaning Terry Glenn, the other wide receiver and a trusted offensive weapon for Bledsoe. On the play, Bledsoe directed a pass to Glenn that was intercepted by Sam Madison.

The half ended with Bledsoe going 7-for-12 for 111 yards, no touchdowns and one interception. Bill Parcells benched Bledsoe for Tony Romo to start the second half.

We knew Bledsoe was struggling, but there was such an unknown about Romo. Michael Strahan tipped his first pass, which Antonio Pierce picked off. The Giants scored as a result of the turnover to take a 19-7 lead.

When the night was over, the Cowboys were beaten, 36-22, and Romo had thrown three interceptions. There was plenty of turmoil around the Cowboys then. Parcells said he didn't know what he was going to do at quarterback. Owens didn't care which quarterback was back there.

Then there was Bledsoe. I remember walking with him out of the locker room with another reporter. There's this tunnel outside of the Cowboys locker room that leads players to their cars. Bledsoe was looking sick. I'm sure he was thinking he was going to get benched. I'm sure his memories of how Tom Brady took over for him in New England were seeping into his brain.

We had gotten to the tunnel when Bledsoe said, "Just a bad decision."

When asked who made a bad a decision?

"Bill," he said as he walked to his car.

It was the end of the Bledsoe era in Dallas and the start of Romo's career as a starter.

That night, I left the tunnel and headed to the press box, walking across the Texas Stadium turf wondering if Romo could handle being the starter of the Dallas Cowboys.

April, 8, 2010
4/08/10
1:55
PM ET
By
Jeff Caplan
| ESPNDallas.com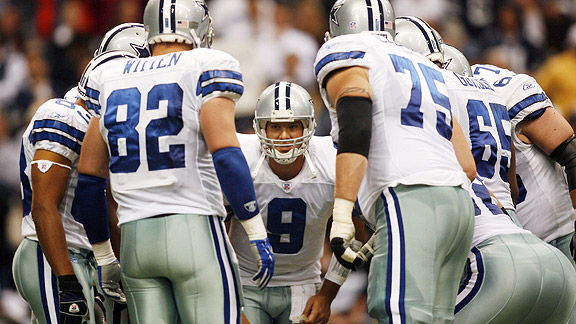 James D. Smith/NFL/Getty ImagesAfter breaking his first NFL huddle as the Dallas Cowboys' starting quarterback, Tony Romo had his pass intercepted by the New York Giants.
At Texas Stadium on Oct. 23, 2006, Bill Parcells' Cowboys weren't exactly getting their clocks cleaned on Monday Night Football by the
New York Giants
, but it sure wasn't pretty. Starting quarterback
Drew Bledsoe
resembled a standing target -- he was sacked four times in the first half -- while completing just 7-of-12 passes for 111 yards.
The Cowboys trailed 12-7 at the half and the natives were grumbling, to put it mildly.
Then the course of the Cowboys' future changed with their opening possession of the second half. Backup quarterback
Tony Romo
pulled on his helmet, jogged off the sideline and into the huddle.
Here comes my most memorable moment at the old yard in Irving.
The Giants' kickoff was a touchback, and Dallas is at its own 20-yard line. An energy not felt at Texas Stadium in some time sweeps through the building. The Cowboys break the huddle and Romo gets under center as everyone sitting in a blue seat was fully aware -- or at least hoping -- that they were finally witnessing the passing of the quarterback torch to young No. 9. Since
Troy Aikman
, the torch has been more like a hot potato, but on with the moment ...
Romo takes the snap, drops back, looks, looks, fires and ... the ball is tipped at the line of scrimmage, high in the air. Giants linebacker
Antonio Pierce
has a bead on it, swallows it and sets up the Giants at the Cowboys' 14-yard line. Three plays later, the Giants led 19-7 and the rout was on.
And with that, the Tony Romo era had begun.
Sorry, Tony, but if that's the worst thing that happens in your career, it's been a pretty good life.