Dallas Cowboys:

Duke Preston
April, 22, 2010
4/22/10
9:19
AM ET
The NFL draft is not until 6:30 p.m. but that won't stop all the rumors we're hearing regarding the Cowboys and players connected to them.
We look at a few:
1.
Cowboys trade with Miami Dolphins:
This surfaced last night that the Cowboys were shopping defensive end
Marcus Spears
to the Dolphins for possibly the No. 12 pick in the first round. Seems the Dolphins want to move down to No. 27, where Dallas is selecting.
2.
Martellus Bennett on trading block:
We're not sure if the young tight end will leave the Cowboys this season, but there is some interest in his untapped potential.
3.
Teams interested in Alan Ball:
Last year, several teams expressed interest in the safety, but the Cowboys turned them away. So far, teams have not reached out about his availability according to his agent.
4.
Where will Dez Bryant go
? The Cowboys have some interest in Bryant, who was not invited to the NFL Draft in New York. That's a surprise. Bryant, however, will host a draft party at his mentor's house, David Wells, in DeSoto, Texas tonight. There was a report that Bryant acted like a diva on a visit to St. Louis. We've been told that's not the case. Bryant visited St. Louis after being in San Francisco. Before leaving for St. Louis, Bryant ate dinner at the airport in the San Francisco area. When Bryant got to the Rams complex he was asked to go out for dinner, but declined the invite because he wasn't hungry. So, what did the Rams do? They gave him some tokens to play at Dave and Busters. (Rams do that for all their prospective draft picks). Nice.
5.
Cowboys will trade three picks to get Earl Thomas:
Wow, we
heard that one
and were kind of shocked. We've been told that price is too much for the Cowboys.
Notes:
Backup guard
Duke Preston
, who hasn't signed his tender offer, is working out at Valley Ranch and is happy with the club and will sign it eventually. ... Jerry Jones ruled out drafting a quarterback but that might not stop the team from signing one as a undrafted free agent. ... In his three seasons as the head coach of the Cowboys, Wade Phillips has seen with the team draft 13 defensive players, including one in the first round, and 11 offensive players, one in the first round, and two kickers. ... Last time the Cowboys drafted an offensive lineman in the first round was 1981 when tackle Howard Richards was taken with the 26th pick of the 1981 draft. Jerry Jones has never drafted one in the first round. ... Jones said the team is open to drafting a inside linebacker but
Jason Williams
and
Stephen Hodge
are currently fighting for backup spots there. Jones also said
Victor Butler
is an outside linebacker but, "not imppossible in there" as well.
April, 15, 2010
4/15/10
4:37
PM ET
Here's a schedule of what's going on regarding unrestricted and restricted free agents and what it means for the Cowboys
Today is the deadline for restricted free agents to receive offer sheets.
Miles Austin
,
Gerald Sensabaugh
,
Sam Hurd
and
Duke Preston
are the only restricted free agents who have yet to sign. Austin said he expects to sign by the June 15 deadline. Sensabaugh isn't working out at Valley Ranch and might not return until the mandatory workouts start in May.
April 21 is the deadline for an old club to exercise right of first refusal to restricted free agents. This doesn't apply to the Cowboys, or to almost any team in the league. None of the Cowboys' restricted free agents have received an offer from another club. Sensabaugh's agent, Kevin Conner, said some teams were interested but nothing serious evolved.
June 1 is the deadline for old clubs to send tender to unsigned unrestricted free agents to receive exclusive negotiating rights for rest of season if a player is not signed by another club by July 22. No worries here for the Cowboys.
Also, June 1 is the deadline for old clubs to send tender to unsigned restricted free agents or to extend a qualifying offer to retain exclusive negotiating rights. The Cowboys have sent tenders to all of their restricted free agents and signed their exclusive rights free agents.
June 15 is the deadline for old clubs to withdraw an original qualifying offer to unsigned restricted free agents and still retain exclusive negotiating rights by substituting tender of 110 percent of the previous year's salary. This means all restricted free agents have until this day to sign their deals or get 110 percent of the previous year's salary.
March, 4, 2010
3/04/10
8:20
AM ET
[+] Enlarge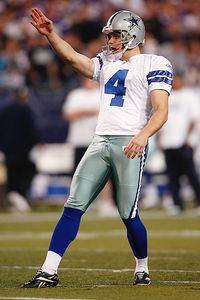 Elsa/Getty ImagesShaun Suisham, on his second tour with the Cowboys, may find himself on the outside looking in.
NFL teams have to submit qualifying offers today to restricted free agents whose contracts expired and to whom they desire to retain at right of first refusal/compensation.
The Cowboys have 13 such individuals they must take care of.
We look at which ones might not return:
Safety
Cletis Gordon
saw limited playing time and the Cowboys will probably draft a corner.
Tackle
Pat McQuistan
hasn't seen much time, and the emergence of
Doug Free
at tackle hurts his chances.
Guard/center
Duke Preston
has a shot to stick around, but
Cory Procter
gets his spot. The team likely will find a replacement for Preston.
We think nose tackle
Junior Siavii
is going to stay, but the Cowboys might look elsewhere.
Kicker
Shaun Suisham
is a good guy, but his two missed field goals in the playoff loss to the Vikings eliminates his chances.
February, 16, 2010
2/16/10
11:46
AM ET
The sixth in a series looking at each of the Dallas Cowboys' position groups:
Players:
C
Andre Gurode
(signed through 2012), RG
Leonard Davis
(signed through 2013), LG
Kyle Kosier
(signed through 2010), C/G
Cory Procter
(restricted free agent), G
Montrae Holland
(unrestricted free agent), C/G
Duke Preston
(restricted free agent)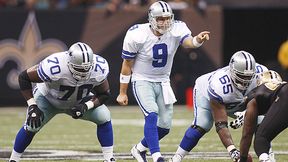 Chris Graythen/Getty ImagesLeonard Davis and Andre Gurode were two of the reasons why the Cowboys ranked second in the NFL in yards per carry up the middle.
What went right:
Gurode and Davis were Pro Bowl selections again, although neither had their best seasons.
Kosier actually performed the best of the team's offensive linemen, according to ex-Cowboys scout Bryan Broaddus of ESPN 103.3. After missing most of the 2009 season with a broken foot, Kosier stayed healthy and was a stabilizing force for the offensive line. His ability to get out in space helped spring several big plays.
The Cowboys ranked second in the NFL in yards per carry directly up the middle, averaging 5.24 yards on 144 carries, many of which were lead draws. That fueled a dramatically improved running game.
What went wrong:
This group gets some of the blame for the Cowboys' short-yardage problems.
The Cowboys struggled running the ball behind both guards. They ranked 24th in the NFL behind right guard (3.32 yards per carry) and 19th behind left guard (3.76).
The interior line's depth wasn't tested this season, which was a good thing. But Montrae Holland, who was inactive every game and played sparingly the previous season, cost the Cowboys their 2010 fifth-round pick in a trade with the
Denver Broncos
.
What's next:
Interior offensive line is near the top of the list of Cowboys draft needs.
They need to find a replacement for Kosier, who will be an unrestricted free agent at the end of the season. That might end up being
Robert Brewster
, the third-round pick who worked at right tackle last offseason but missed his rookie season with a torn pectoral.
But it'd be surprising if the Cowboys don't address the guard position early in the draft. Idaho's Mike Iupati would be a great fit, but he's expected to be off the board by the time the Cowboys come on the clock at No. 27.
The Cowboys could also draft a center to compete with Procter, who made $1.54 million last season, as Gurode's backup. This would be a good time to begin grooming an eventual replacement for Gurode, who turns 31 in March.
November, 15, 2009
11/15/09
12:27
PM ET
Inactives for Cowboys-Packers game


GREEN BAY, Wisc. -- Here are the Cowboys-Packers inactives for Sunday afternoon:
Dallas: CB Allen Rossum, S Michael Hamlin, LB Steve Octavien, LB Jason Williams, G Montrae Holland, G/C Duke Preston, T Pat McQuistan. Stephen McGee is the third quarterback.
Green Bay: WRs Jake Allen and Biren Ealy, FB Quinn Johnson, LB Brady Poppinga, Tackles Mark Tauscher and Breno Giacomini, LB Aaron Kampman and TE Jermichael Finley.
T.J. Lang starts at right tackle for Tauscher, and Brad Jones replaces Kampman at outside linebacker. The Cowboys have no lineup changes.
November, 8, 2009
11/08/09
4:24
PM ET
PHILADELPHIA -- It's official, Eagles running back Brian Westbrook has been declared inactive for tonight's game against the Cowboys.

Westbrook, who missed last week's game due to headaches as a result of a concussion, practiced twice this week but didn't on Friday and coach Andy Reid said he was OK.
LeSean McCoy will start in Westbrook's place.

Other Eagle inactives: CB Dimitri Patterson, RB P.J. Hill, LB Chris Gocong, G Max Jean-Gilles, G Mike McGlynn, WR Kevin Curtis and DE Victor Abiamiri.

Now the for the Cowboys' inactives: CB Allen Rossum, S Michael Hamlin, LB Steve Octavien, LB Jason Williams, G Montrae Holland, C Duke Preston and T Pat McQuistan.
For the first time this season, Octavien was listed as inactive. Curtis Johnson, inactive the last four weeks, is active a linebacker.
October, 10, 2009
10/10/09
9:28
AM ET
The Cowboys released center/guard Duke Preston to make room on the 53-man roster for running back Chauncey Washington.

The Cowboys signed Preston, who had starting experience with the Buffalo Bills, during the preseason. He was inactive for the first four games.

Washington was promoted from the practice squad for last week's loss against the Denver Broncos, released and re-signed to the practice squad. He'll likely be active Sunday against the Kansas City Chiefs to play on special teams and provide insurance at running back, with Felix Jones (knee) doubtful and Marion Barber (quadriceps) not completely healthy.
October, 4, 2009
10/04/09
12:50
PM ET
DENVER _ As expected running back Felix Jones is inactive with a knee injury. The Cowboys hope to get Jones back soon. His rehab next week will determine if he can play at Kansas City. If not, the Cowboys expect him to return after the bye week.
Also, inactive today is safety Mike Hamlin (wrist), Montrae Holland, Duke Preson, Pat McQuistain, Kevin Ogletree and Curtis Johnson (hamstring). Chauncey Washington, who the team activated from the practice squad on Saturday, will play some special teams today. He could carry in a pinch.