Dallas Cowboys:

Earl Bennett
April, 8, 2014
Apr 8
10:15
AM ET
IRVING, Texas -- Two veteran wide receivers went off the market Monday when
Nate Burleson
and
Jason Avant
signed with the
Cleveland Browns
and
Carolina Panthers
, respectively.
Both were linked to the
Dallas Cowboys
by the media (hello, that's me), but sources indicated the Cowboys had some interest in Burleson, who played for their new passing game coordinator, Scott Linehan, with the
Detroit Lions
. The Cowboys just were not willing to pull the trigger on a deal now, continuing their patient approach in free agency.
Could it mean the Cowboys are as content at wide receiver as owner and general manager Jerry Jones has said?
[+] Enlarge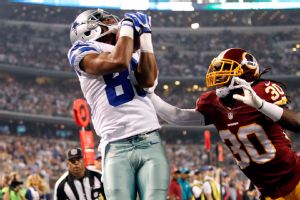 Tim Heitman/USA TODAY SportsTerrance Williams, a 2013 pick, started as the No. 3 receiver and also showed he could handle the No. 2 role. Is Dallas hoping for a repeat in the 2014 draft?
With
Dez Bryant
and
Terrance Williams
, the Cowboys are set at the top two spots.
Dwayne Harris
and
Cole Beasley
would settle in as the No. 3 receiver, splitting the job depending on role. Harris has more big-play ability. Beasley is better in the quick-game routes.
I've long said the Cowboys do not need a true No. 3 receiver over the years because they have tight end
Jason Witten
, and the running backs have always figured prominently in the passing game.
The best performance by a No. 3 receiver for the Cowboys in the past five years has been
Laurent Robinson
, who caught 54 passes for 858 yards and 11 touchdowns in 2011. But mostly the Cowboys need their third receiver to catch anywhere from 30 to 40 passes a season.
Kevin Ogletree
did that in 2012 with 32. Technically Roy Williams might not have been the No. 3 receiver in 2010, but he caught 37 passes. In 2009, Patrick Crayton caught 37 passes for 622 yards and 5 touchdowns.
So you're looking for a No. 3 receiver to catch two or three passes a game when you look at the options available in how the Cowboys have constructed their offense.
But what if Bryant or Williams gets hurt? And there will be injuries. Can Harris be a No. 2 receiver and excel outside? Maybe for a few games. Beasley is just a slot receiver because of his size. That is why I thought Avant or Burleson would have been good fits. Other options remain, such as
Earl Bennett
and even
Miles Austin
, but that would be a long shot.
However, if the Cowboys were not willing to make a play for a free agent Monday, they're not going to get into the market Tuesday.
Last week, I wondered whether
Gavin Escobar
could
be an option as the third receiver.
The Cowboys like his athleticism and saw in glimpses his ability to make plays. His touchdown against the
Philadelphia Eagles
in the season finale was an eye-opener. With the way the tight ends are used these days, Escobar has more receiver skills to him than tight end skills. He needs to get bigger and stronger to be an on-the-line tight end, but that part of his game will never be his strength. His strength will be working the seams and his ability to go get the ball.
But here is a thought: This is considered one of the deeper drafts in memory for wide receivers. Could the Cowboys be looking for their No. 3 receiver, who could be the No. 2 receiver, in the early to middle rounds of the draft?
Williams, a third-rounder last year, caught 44 passes for 736 yards and 5 touchdowns and showed he could handle the No. 2 role when Austin missed games with a hamstring injury. Williams' development played a part in the release of Austin.
If a
Mike Evans
fell, or if a
Marqise Lee
is there in the first round, could they be targets? It sure seems as if the draft is the Cowboys' preferred method to find their No. 3 receiver.
September, 27, 2012
9/27/12
3:00
PM ET
The Cowboys host Monday Night Football this week, taking on the
Chicago Bears
at Cowboys Stadium. For more on the opponent, we talk with ESPNChicago.com's Michael Wright, who has covered the Bears for the last three seasons.
Q: How are the Bears in their new offense?
A:
They're playing in a new offense, so they're going to have to deal with the inevitable growing pains of implanting their third system in four years. Offensive coordinator Mike Tice wants to play what he calls a "duh" offense. That means he wants to exploit advantageous matchups, especially when it comes to the box count which will determine what checks they make at the line. The key early on is for this team to be able to establish the run first, and then work play action off that so they can take a few shots downfield. Because the offensive line struggles tremendously, Tice will look for ways to get the ball out of Jay Cutler's hands quickly with three-step drops. He'll also employ tons of max protection in the passing game, in addition to keeping in tight ends on the left side and sending running backs over to chip block.
Q: Is Jay Cutler beloved in the locker room and in the Chicago community?

A:
He's taken a lot of heat for how he reacts on the field. There's probably about a 50-50 split in the locker room and a 70-30 in the Chicago community. Within the locker room, Cutler certainly isn't the most beloved figure. But at the same time, the team totally supports him. Ultimately in the NFL, players don't necessarily have to like one another to perform once the lights come on. In the community, there's an interesting dynamic at play. It seems that Chicago considers itself a blue-collar, working community. So Cutler's body language, aloof demeanor and tendency to shirk responsibility for shoddy performance don't sit well with a certain segment of the fan base. But there's also a segment of the fan base that recognizes that Cutler is arguably the best quarterback to ever play for a team that traditionally has endured horrible play at that position.
Q: The Jay Cutler and Brandon Marshall connection has struggled at times. Can it get better?

A:
Yes, it can improve. But they need the pieces around them to do their parts. At this point it seems that Marshall and
Earl Bennett
are the only receivers Cutler totally trusts. So obviously, they'll get the majority of looks from the quarterback. Once the Bears get the running game popping to take some of the pressure off Marshall, and allow for more diversity in the offense, you'll see the Cutler-Marshall connection become more impactful. But at this point, Cutler forces too many throws to Marshall, who already has a penchant for making the circus catch, but drops routine passes.
Q: So is Bears linebacker Brian Urlacher on the decline?

A:
He's 34, so that's inevitable. But Urlacher still possesses the physical attributes to make this team's Tampa 2 system go. Urlacher is coming off arthroscopic knee surgery performed in August, and the team has been adamant about limiting his practice repetitions so the linebacker can make it through a 16-game season. So he's still playing his way back into shape after missing about 95 percent of training camp and the entire preseason. But if you go off his performances thus far, you'll see that every game he's gradually improved and is trending toward more improvement.
Q: If Matt Forte can't play, who's the starting running back?

A:
Forte recently returned to the practice field and said he expects to be healthy enough to play against the Cowboys. But Bears coach Lovie Smith cautioned against being overly optimistic about a Forte return for Monday night's game. So if Forte can't go, they'll ride with
Michael Bush
, who they signed to a four-year contract in March worth $14 million. Bush started in Forte's place last week when the Bears faced the Rams, and Smith acknowledged he took some hard shots in that game, including one that forced him out and thrust third running back
Kahlil Bell
into action. The word around Halas Hall is that Bush suffered a shoulder injury against the Rams. But the extent of the injury at this point is unclear, and he did attend practice Wednesday. So while it appears Forte might be set for a return, look for Bush to play if he can't go. If Bush's shoulder isn't sufficiently recovered for Monday night though, you'll likely see Kahlil Bell in the lineup.
March, 12, 2012
3/12/12
11:25
AM ET
IRVING, Texas – The negotiations between the Cowboys and wide receiver
Laurent Robinson
figure to be interesting because determining market value will be difficult.
Robinson had a career year in 2011 with 54 catches for 858 yards and 11 touchdowns. He and
Tony Romo
clicked instantly and he helped a passing game that was missing a No. 3 wide receiver when the season started after
Kevin Ogletree
failed to corral the opportunity.
With
Miles Austin
missing six games and
Dez Bryant
banged up at different times, the Cowboys were able to count on Robinson.
But that's the first time Robinson has been healthy for his career and produced. His two best years prior to 2011 came in 2007 with Atlanta and 2010 with St. Louis when he combined for 781 yards on 71 catches and three touchdowns.
In his five years he has played in only 52 of 80 possible games.
Can you pay Robinson significant money when he has missed so much time? Can the Cowboys afford to not pay him considering the injury histories of Austin and Bryant?
When
Patrick Crayton
was the Cowboys' No. 3 receiver, he was signed to a four-year, $14 million deal. By 2010 the team had Austin, Bryant and
Roy Williams
, and Crayton's $2.5 million salary became too expensive and he was traded to San Diego.
Some possible contracts to look at as barometers for Robinson: Chicago's
Earl Bennett
signed a five-year deal worth $18.55 million last year. Jacksonville's
Mike Thomas
is on a five-year, $19 million deal with $9 million guaranteed.
Bennett has 124 catches for 1,659 yards and six touchdowns in four seasons. Thomas has 158 catches for 1,688 yards and nine touchdowns in three seasons. Robinson has 143 catches for 1,858 yards and 15 touchdowns in five seasons.
There is a framework there from which to work, but all it takes is for one team to blow that up.
January, 16, 2012
1/16/12
10:00
AM ET
We're a work week away from the NFC and AFC title games and it's amazing what we've learned in just two weeks of the postseason. Here are my thoughts.
1. The Giants are a mentally tough team. More so than the Cowboys. Do you really believe the Cowboys could have gone into Lambeau Field and beat the
Green Bay Packers
like the Giants did on Sunday? Really? The Giants never gave up hope during their late-season dive, and still believed they could beat the Cowboys, which they did twice in a 30-day span to close the season. The Giants have an elite quarterback,
Eli Manning
, and a pass rush that isn't centered around one player, much like the Cowboys' and
DeMarcus Ware
. Moving forward, the Cowboys need to improve the offensive line, secondary, pass rush and find depth at wide receiver. Things the Giants already have. That tells you how far the Cowboys are from the Giants.
2. It's good to see
Laurent Robinson
wants to return to the Cowboys. What do you pay him? Robinson should be a highly sought after wide receiver when free agency starts in March. You have to look at a few salaries of some No. 3 receivers and see if the Cowboys want to pay Robinson something similar.
Earl Bennett
of Chicago singed a five-year, $18.5 million deal with $9 million guaranteed. Is Robinson better than Bennett? What about
Jacoby Jones
of Houston, who signed a three-year, $10.5 million deal with $3 million guarantee with Houston?
Jason Avant
of Philadelphia inked a five-year $18 million contract with $8 million guaranteed in 2010.
Jordy Nelson
of the Green Bay Packers signed a four-year, $13.9 million deal with $5 million guaranteed including $3.5 million to sign. I wonder if the
Baltimore Ravens
are interested in Robinson? The Ravens might not pick up
Lee Evans
' $1 million roster bonus, due March 17. The Cowboys have a big decision to make here at wideout because the depth is lacking.
3. Todd Archer wrote a good post
last week
about the interior of the Cowboys offensive line. The hiring of Bill Callahan last week confirms the Cowboys think he can help younger players improve more so than previous line coach Hudson Houck. Houck's ability to work with young linemen was questioned, but you must give him credit for the development of
Doug Free
and
Tyron Smith
. While Free regressed in 2011, Smith emerged as a talented player who must play the left tackle spot in 2012. Callahan has some young talent to work with at guard/center from
Kevin Kowalski
,
Phil Costa
,
Bill Nagy
and
David Arkin
. It appears the Cowboys might draft a guard/center in the draft. If so, it should make for an interesting competition in the middle in 2012.
4. If the Cowboys don't re-sign Robinson, this is the depth chart at wideout:
Miles Austin
,
Dez Bryant
,
Andre Holmes
,
Dwayne Harris
and
Raymond Radway
. Think the Cowboys have a better group of receivers than say the Eagles? Giants? Packers? Saints? Robinson has the leverage here which could mean a contract which benefits him. If you're wondering,
Kevin Ogletree
and
Jesse Holley
are free agents and it doesn't appear they will return in 2012.
5. If the Cowboys don't re-sign
Abram Elam
at strong safety,
Gerald Sensabaugh
isn't the answer. He seemed to play better at free safety. If the Cowboys move him back to strong safety, he could have problems especially if the Cowboys have a younger player at free safety. The Cowboys tried
Alan Ball
at free safety in 2010, and were met with major, major issues.