Dallas Cowboys:

Ed Wesley
August, 19, 2012
8/19/12
6:56
PM ET
SAN DIEGO -- The Cowboys have two roster spots open after waiving safety
Justin Taplin-Ross
on Sunday.
Taplin-Ross did not play on Saturday's 28-20 loss to San Diego and was far down the depth chart. With his departure and the cutting of running back Ed Wesley on Friday, the Cowboys have 88 players on the roster entering Monday's practice against the Chargers.
The Cowboys do not have any immediate plans to fill the roster spots. Linebacker
Isaiah Greenhouse
, who has a broken thumb, is not with the team but has not been cut.
August, 18, 2012
8/18/12
9:34
PM ET
SAN DIEGO -- The Cowboys' defense forced two first-half turnovers and the offense scored a touchdown and produced a field goal. It's been a much better effort from the Cowboys than in their preseason opener as they lead the Chargers 10-0 at halftime.
First-half thoughts:
*
Brandon Carr
has two interceptions, both on great plays attacking the receiver.
Philip Rivers
' pass to
Vincent Brown
was tipped by Carr as he jumped the route. Carr tipped the ball three times before he secured it.
*
Kevin Ogletree
is a different player this year. He made a leaping 35-yard reception while taking a shot from safety
Eric Weddle
on the way down. The play, on a deep pass from
Kyle Orton
, placed the Cowboys at the Chargers 5.
* The first touchdown of the Cowboys' preseason came on a run play up the middle by someone who might not be on the 53-man roster,
Jamize Olawale
. He's doing something
Ed Wesley
didn't: producing when players go down. Wesley was cut the day the Cowboys flew out here because he was late for Friday's walkthrough.
*
Barry Church
is normally a sure tackler, but he missed Robbie Brown in the open field, resulting in an 8-yard gain. But on the next play, Brown got hit hard by Church as
Dan Connor
was bringing him down.
* Carr is what the Cowboys missed last season at cornerback: a playmaker. Rivers sent a deep ball to
Robert Meachem
, but Carr stepped in front and snagged the ball. What made the play so good was Meachem had a few steps on Carr, but Carr caught up and made the play.
* We like how rookie tight end
James Hanna
made two defenders miss while catching a sideline pass from Orton.
* Cornerback
Morris Claiborne
waited until
Malcom Floyd
caught the ball instead of attacking the receiver.
* Something we liked in first half: Ogletree four catches for 60 yards.
* Something we didn't like in first half:
Andre Holmes
,
Felix Jones
and Olawale with drops.
August, 17, 2012
8/17/12
1:01
PM ET
OXNARD, Calif. – The Cowboys made a quick roster move before boarding a train for San Diego by waiving running back
Ed Wesley
.
Wesley, a TCU-ex, was late to Friday's walkthrough, which likely sealed his fate. He had been supplanted in the backup tailback roles by
Jamize Olawale
, a fullback, and
Javarris Williams
. Wesley joined the Cowboys a few days before flying to California after he was not selected in the supplemental draft.
With the return of
Lance Dunbar
from a hamstring injury, the Cowboys did not need an extra tailback.
The Cowboys have 89 players on the roster and will keep the spot open for now.
August, 13, 2012
8/13/12
9:29
PM ET
OAKLAND --
Dan Bailey
made a 33-yard field goal to give the Cowboys a 3-0 lead.
After three, that's where we stand.
Some thoughts.
*
Stephen McGee
's first pass was a 16-yard dump off to
Shaun Chapas
.
*On consecutive plays, McGee had a pass knocked down and saw another one fall incomplete, and he took a shot from
Mike Mitchell
. Faced with a fourth-and-2 at the Oakland 40, McGee had another pass knocked down by blitzing linebacker
Chad Kilgore
.
*The first drive of the second half looked good for the Cowboys. The offensive line gave
Kyle Orton
time to get the ball downfield, including an 11-yard pass to
Andre Holmes
and a 20-yarder to
Andrew Szczerba
.
*It was a good snap from rookie
Charley Hughlett
on the converted 33-yard field goal attempt from Bailey. The Cowboys are giving Hughlett a chance to make the team over LP Ladouceur.
*In the first half, the offensive line struggled to open holes for
DeMarco Murray
and
Felix Jones
. In the second half, with the second unit,
Jamize Olawale
was able to find holes.
Ed Wesley
, a rookie from TCU, was surpassed on the depth chart by
Javarris Williams
.
*
Josh Brent
got the second-half start at nose tackle along with
Tyrone Crawford
and
Clifton Geathers
at end for the Cowboys.
Teddy Williams
started at corner with
C.J. Wilson
.
*Cowboys backups were able to get pressure on
Terrelle Pryor
, forcing him out of the pocket on a third down. Pryor got just two yards on the scramble.
*Safety
Eddie Whitley
had a chance to keep tight end
David Ausberry
short of the first down, but he couldn't hold him, resulting in an 11-yard gain.
*Center
David Arkin
played well through three quarters. He didn't have any bad snaps, just one hold and might have given up a sack.
August, 7, 2012
8/07/12
7:48
PM ET
OXNARD, Calif. -- If you want to get the offensive and defensive linemen excited, tell them the focus of practice will be goal line.
That's what happened at Tuesday's practice. The No. 1 defense gave up two touchdowns on three "live" plays, however, defensive line coach Brian Baker was adamant FB
Jamize Olawale
did not cross the goal line on the second snap.
On the first snap, Olawale, who was filling in for
DeMarco Murray
and
Felix Jones
, was stoned by
Sean Lee
and
Dan Connor
.
"We could be better," Lee said. "We weren't great. It's one of those things where it's the first time. We'll get it locked in."
Nose tackle
Sean Lissemore
was almost despondent over one play.
"One play I didn't play it well and it's bothering me a lot," Lissemore said. "Something I need to work on. I got displaced a little bit and I want to hold that point. It's pretty tough and I didn't hold it."
The second-team only scored on a play-action pass from
Kyle Orton
to
Jason Witten
.
Ed Wesley
was stopped on the first play and a poor center-quarterback exchange between Orton and
David Arkin
doomed the second play.
August, 6, 2012
8/06/12
8:30
AM ET
OXNARD, Calif. -- The Blue and White scrimmage is over, and we review.
*It's only a scrimmage, so we're trying to not go over the top here, but quarterback
Stephen McGee
struggled badly Sunday afternoon. His performance raised more questions about his status with the team. The last portion of the scrimmage was devoted to the reserves at full speed. Tackle football, as coach Jason Garrett likes to say. McGee failed to lead the offense to one first down, resulting in three punts.
Rudy Carpenter
, who doesn't have McGee's skill set, led the team down the field and showed toughness after throwing an interception. Carpenter connected on first-down passes to Donovan Kemp, Tony Benford and
Raymond Radway
. It seems McGee isn't getting the ball down the field, but Carpenter is.
*Cornerback
Orlando Scandrick
had a strong performance. He was physical, giving running back
DeMarco Murray
a love tap following a run and doing the same to tight end
James Hanna
following a reception. Scandrick should be credited with a sack on
Tony Romo
as he came on the blitz. He also had a pass breakup on a pass to
Andre Holmes
.
*We can go for days about how good
Brandon Carr
has been at cornerback. He should have had two interceptions Sunday. His first one was on a throw from Tony Romo to
Dez Bryant
. Then when Romo made a bad pass to
Dwayne Harris
, Carr couldn't hold on to the pass.
*The backup receivers struggled at finishing plays. Andre Holmes, Dwayne Harris and
Kevin Ogletree
didn't complete touchdown receptions. Holmes dropped a sure touchdown in the middle of the end zone. The Cowboys don't have the No. 3 receiver on their team right now.
*Left tackle
Tyron Smith
knocked outside linebacker
DeMarcus Ware
to the ground on a pass rush during a pass play.
*
Ed Wesley
is trying to make this team and has to take advantage with two running backs out with injuries. On his first rushing attempt, he fumbled the pitch. Yet Wesley rebounded and had some good runs, hitting the hole quickly and showing a little wiggle when challenged.
*
Sean Lee
was physical and all over the field. He attacked all the running backs, including good friend DeMarco Murray, and did a nice job covering running backs out of the backfield.
*Tight end
Jason Witten
made two nice plays. He caught a sideline pass from Romo and darted down the field for a score. On the next play, Romo, moving his feet in the pocket to give himself time, found Witten in the back of the end zone for another score.
*Ware is a powerful man. On a field goal attempt, he knocked
Pat McQuistan
on his back. It looked so easy.
*As the Cowboys were attempting a field goal, the referees penalized them for having 12 men on the field. The guilty party was
Jermey Parnell
. "Get the (expletive) outta there!," screamed special teams coordinator Joe DeCamillis.
*The left side of the offensive line did a nice job of holding
Josh Brent
,
Sean Lissemore
and Ware from rushing the pocket so Romo could complete a pass.
*Sunday's attendance was 9,008, the highest for a single practice. Actor Rob Lowe and former
Dallas Cowboys
wide receiver Drew Pearson were in attendance.
August, 5, 2012
8/05/12
9:34
PM ET
OXNARD, Calif. -- Sunday was Blue-White scrimmage day for the second- and third-teamers, but there was plenty of good situation work for the regulars to more than fill out the daily observation deck.
The Cowboys announced an Oxnard record attendance of 9,008 for the scrimmage. Fans piled in for the workout and were delayed in their attempt to get to the fields because a beehive needed to be removed.
Now on to the observations:
** In team red zone drills, TE
Jason Witten
had back-to-back touchdown catches. He ran away from LB
Dan Connor
on an out route then sprinted into the end zone. The next score was the typical Romo-to-Witten play. With the pocket collapsing, Romo moved around to buy some time. Witten also kept moving, finding a spot in the back of the end zone that was free. The throw was to Witten's back shoulder, and the seven-time Pro Bowler showed great body control in making the grab.
** With
Phillip Tanner
and
Lance Dunbar
hurting, rookie RB
Ed Wesley
will get a chance to make an impression. The first thing he must do is catch the ball better on toss plays. He dropped one in the walkthrough and one in the afternoon.
** LB
Sean Lee
was active in the first seven-on-seven period, flinging RB
DeMarco Murray
to the ground after a swing pass in which the tailback attempted to give a bigger hit that expected. Four plays later, he was able to break up a possible touchdown pass at the pylon to rookie TE
James Hanna
, covering a lot of ground.
** CB
Orlando Scandrick
gives up six inches to WR
Andre Holmes
, but he was able to knock away a jump ball from
Tony Romo
to the wide receiver in the end zone.
** It's not easy being a replacement official. They were at practice for the second straight day and heard it from players. Romo wanted a pass interference penalty on Scandrick on the aforementioned play. Witten let his feelings be known when LB
Victor Butler
held him while turning for a pass in a two-minute drill.
**
Kyle Orton
was on fire with six touchdown passes. He had three to undrafted WR
Tim Benford
and one each to
Dwayne Harris
,
Cole Beasley
and
Donavon Kemp
. He could have had two more if Harris held on to a red-zone throw and if
Kevin Ogletree
was able to get his feet inbounds by the back of the end zone.
** K
Dan Bailey
made all of his kicks during situational work in the two-minute drills and in the 20-play scrimmage. He ended the scrimmage with a 20-yard kick.
** If you're looking for two impressive rookies from the scrimmage, look no further than DE
Tyrone Crawford
, who showed exceptional burst off the ball, and LB
Kyle Wilber
. They both recorded sacks of QB
Stephen McGee
. Crawford plays stronger than most rookie defensive linemen. Wilber's best asset is his ability to bend and move, but he can get smothered when he tries to use his power.
** Tough time for rookie CB
Isaac Madison
in the scrimmage. He was beaten by Kemp on a slant and missed the tackle, allowing extra yards. He was beaten down the sideline by Kemp later and was flagged for pass interference on Beasley in the end zone.
** Beasley's return to practice was rather seamless. He returned punts in the scrimmage. He caught a touchdown pass. He worked the slot and even did a nice job as a blocker. It was as if he never left.
August, 4, 2012
8/04/12
3:14
PM ET
OXNARD, Calif. –
Phillip Tanner
needs surgery to repair a broken bone in his right hand that will knock him out of the Aug. 13 preseason opener at Oakland, but the
Cowboys
are hoping the backup running back misses only 1-2 weeks.
Tanner suffered the injury during the special teams portion of Friday's practice and was in a cast for Saturday's walkthrough. He is scheduled to return to Dallas on Monday to have the surgery.
"At first glance when I heard that I said, 'Wow, he'll be out a long time,'" coach Jason Garrett said, "but I was told
Emmitt Smith
, in the mid '90s, had a similar injury and had surgery and literally played the next week. I don't want to make any comparisons to that, but that sheds a little light on the extent of that injury. We're hopeful it goes well and he'll be back in a short period of time."
When Tanner returns, he will wear a glove that offers extra protection.
As the backup to
DeMarco Murray
and
Felix Jones
, Tanner is not Smith, the NFL's all-time leading rusher, but he has importance on the roster because of his special teams ability. On offense, Tanner's absence will give undrafted rookies
Lance Dunbar
and
Ed Wesley
more practice time, and on special teams it could open a spot for a defensive back for a bigger role.
"Injuries provide opportunities," Garrett said. "There are other guys who are backups in those spots and you've just got to make sure they get their reps and they get their chance. They'll be able to show us that in practice but also in the Oakland game certainly."
Wide receiver
Saalim Hakim
will also return to Dallas to see a hand specialist because of what Garrett called a dislocated finger. Hakim also suffered the injury during Friday's special teams portion of practice.
"We'll see how he responds," Garrett said. "The challenge for both those guys is they catch the ball and they carry the ball. A lot of hand injuries become issues for them. We don't expect [Hakim] to be back in the real near future. He'll be out a week or so."
August, 1, 2012
8/01/12
9:09
PM ET
OXNARD, Calif. -- Wednesday marked the first day of pads during Cowboys training camp, so we'll have an over-stuffed number of observations.
** You can get a better sense of offensive line play with pads finally on. Before suffering a knee injury,
Nate Livings
did a nice job sealing off ILB
Orie Lemon
for a decent gain by
Phillip Tanner
. Line coach Bill Callahan thought the line did a nice job coming off the snap for the first day in pads. The pass protection, however, was a little spotty. RG
David Arkin
did a nice job of warding off LB
Bruce Carter
on a
DeMarco Murray
run that would've been a first down.
** LB
DeMarcus Ware
was able to get a sack and a pressure of
Tony Romo
on back-to-back plays after using his speed to get around
Tyron Smith
and then his power. DE
Jason Hatcher
had two sacks, including one in which he slid past C
Phil Costa
to get Romo.
** While Hatcher would have had sacks, those plays continued and one resulted in a
Brandon Carr
interception in which he ripped the ball away from WR
Kevin Ogletree
. CB
Morris Claiborne
tipped the first pass, but as he was falling to the ground WR
Dwayne Harris
was able to make the catch.
** For the second straight day S
Barry Church
had an interception on Romo, which came after he was able to break up a slightly late throw to TE
Jason Witten
. Church has been one of the better defenders so far in camp.
** Best drill of camp so far: wide receivers and corners working on press coverage. Because it came closer to the fans, the players might have been more hyped. WR
Dez Bryant
was able to shrug off CB Morris Claiborne twice, but the rookie came back on the last rep and did a nice job slowing Bryant off the line. Secondary coach
Jerome Henderson
kept reiterating he wanted the corners to stay on top of the receiver. This corner group will be more physical at the line than in recent years.
** He gave up a deep ball to WR
Raymond Radway
, but it should be noted that Claiborne rebounded from that big play with a nice breakup of a back shoulder pass to Bryant from Romo.
** Romo's best throw of the day might have been his second when you factor in the pressure he faced as well as the tight window in which he was throwing the ball. Needing Bryant to clear free for a split second, Romo stepped up into the pocket and delivered a ball over a linebacker and purposely low where only Bryant could make the catch with Claiborne on his back.
** Too many false starts by the offense. The first team had three in an eight-play span in the first two team periods. The second-team offense had one.
** WR
Tim Benford
has had a nice start to camp, but it might take some time for people to forget his drop when he was unable to hold on to an Orton deep ball with no defender within 15 yards. CB
C.J. Wilson
and S Eddie Whitely had a miscommunication that led to the breakdown but were bailed out.
** NT
Josh Brent
was slow to get up on an Ed Wesley run after he was hit from the side. He did not miss a snap.
** Rookie OLB
Kyle Wilber
took advantage of Wesley on one play with one of the bigger hits of the practice on the TCU-ex. The hit was made easier after DE
Tyrone Crawford
slipped through the line to slow down the running play.
** S
Mana Silva
had an active day on defense and on special teams. He opened it up in the blue practice with a pass breakup of
Stephen McGee
, reading a slant to WR
Saalim Hakim
. During special teams, he had one would-be tackle on punt coverage and was able to shed Tanner twice in blocking drills. Against
Kyle Orton
, he showed great range in batting down a throw to Harris.
** Ogletree made sure he went through a drill the right way after dropping a pass in individual drills. Instead of waiting his turn as the receivers changed routes, Ogletree went back to the end of line and made the catch before moving on.
** TE
John Nalbone
did not practice in the afternoon because of personal reasons.
July, 26, 2012
7/26/12
1:30
PM ET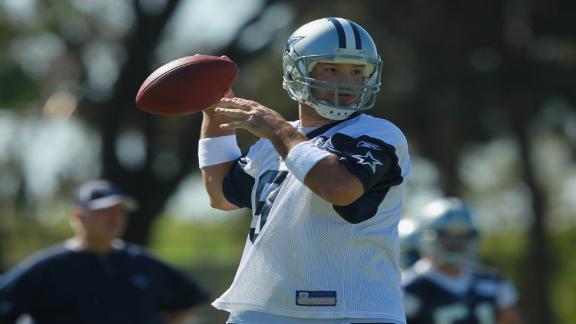 IRVING, Texas – Jason Garrett was imploring players early in Thursday's practice to get through Day 2 of the pre-training camp workout at Valley Ranch with the same bounce in their steps as they had on Day 1.
Even with the early starting time, the heat was taking its toll on some players, with several cramping up and needing rest. With only four healthy players, the wide receivers are getting a ton of work and feeling it.
At different times,
Cole Beasley
,
Tim Benford
,
Saalim Hakim
and
Donavon Kemp
needed to take a few minutes.
On to the observations:
** For the second straight day,
Kyle Orton
went deep with his first throw on seven-on-seven, this time connecting with undrafted rookie WR Cole Beasley, who ran past CB
Teddy Williams
, a former NCAA sprint champion. Beasley made a nice adjustment on the throw to his outside shoulder, holding on to the football as he fell to the ground.
** The secondary and linebackers are aggressive in coverage, coming up with a number of deflections. LB Ashton Whiteside, undrafted out of Abilene Christian, had two, batting down
Stephen McGee
passes to tight ends
James Hanna
and
Andrew Szczerba
.
** CB
Lionel Smith
, undrafted out of Texas A&M, was able to break on a
Rudy Carpenter
pass to the flat for a deflection, coming off his receiver for a nice play. CB
Mario Butler
had the only interception of the session when a Carpenter pass across the middle sailed into his arms.
** FB
Jamize Olawale
might have a chance to make this team after earning a roster spot following a rookie camp tryout. He was able to grab a low pass almost off the ground without losing a step and turning upfield. It was an athletic play that speaks to his receiver skills at North Texas. His true test will come when the pads come on and he has to lead block.
** TE James Hanna had a nice afternoon, snatching two passes with linebackers closing on him fast. His first came on an Orton pass near the sideline, beating Butler to the ball. The second came from Orton as well with LB
Orie Lemon
on his hip.
** CB
Mike Jenkins
did some conditioning work and if his ability to throw a football means anything, then his right shoulder needs some work. Jenkins could hardly throw an overhand pass 10 yards, not that that is in his job description. But it was a little unsettling to see after months of rehab.
** RB
Lance Dunbar
has some quick feet. During team run drills, the North Texas back was able to adjust to the back side of the running play after a hole closed quickly. With Ed Wesley on hand for Thursday's practice, Dunbar was able to stay a little fresher.
July, 26, 2012
7/26/12
11:43
AM ET
IRVING, Texas -- When running back
Darrell Scott
failed his physical, the
Dallas Cowboys
were forced to release him. With an open spot on the 90-man roster, the team singed TCU running back Ed Wesley on Thursday.
Wesley was available in the NFL supplemental draft but wasn't selected. He worked out for 14 teams, including the Cowboys, and he even visited the
Cincinnati Bengals
.
Wesley didn't have any takers until a few days ago when the Cowboys called him to inform him they would sign him if something changed on their roster.
"I got the call about two days ago," said Wesley, who measured in at 5-8 and ran a 4.6 and 4.7 in the 40-yard dash for his pro day. "I was surprised and I was happy more than anything. I was trying to calm my mom down; she was getting a little too hyped. I walk in the house after my workout and she comes running down the hallway, in her condition, scaring me, and I knew it was something good or something bad. She kinda scared me, (but when) she told me the Cowboys called I was ecstatic and all I had to do was pray and just wait for confirmation."
Wesley was humbled because of what his mother, June Gates, has had to deal with physically. Gates has rheumatoid arthritis, which attacks the joints of the body.
"She's just having a hard time out here dealing with things, and I was at TCU having a great time," said Wesley, who rushed for 726 yards last season and led the team in rushing in five of the last nine games. "So I just felt like the person who always sacrificed so much for me, I felt like I had to do the same thing."
Wesley thought some NFL team would select him in the supplemental draft but admitted he wasn't in shape. So he went to a training facility in Carrollton, Texas to work out and felt better about his chances of getting signed.
He had to wait, but things finally worked out for him.
"I'm not disappointed at all," Wesley said. "I really thought I was going to get picked up. Obviously, I wasn't in the shape that I needed to be in at the time, but that also gave me a little time to think about how I was going about things and improve upon on what I was doing. I got in touch with the right people and got in better shape and I'm here now."