Dallas Cowboys:

Eric Reid
September, 8, 2014
Sep 8
1:00
PM ET
After Week 1, the
Dallas Cowboys
are 0-1 after a loss to
San Francisco 49ers
.
We review three things in our weekly Beat Writers Report.
Smith
1.
Tyron Smith
's day started off badly with a false start. When it ended, Smith allowed one sack and was penalized twice. You might credit him with two sacks allowed, but you don't know the responsibilities of the line on the first one. Overall, the starting left tackle had a nice game and was engaged one-on-one with a defender more than 50 plays on Sunday. Smith also helped left guard
Ronald Leary
six times, pulled twice and reached the second level for blocks numerous times. Smith does a nice job with his long arms to keep defenders such as
Justin Smith
and
Ray McDonald
from reaching
Tony Romo
. One of Smith's best plays was handling linebacker
Dan Skuta
on a stunt. While Skuta rushed inside, Smith kept his lateral movement and pushed him away with no problems. It's easy to view the penalties and the sacks as negatives, because they're glaring, however, Smith proved once again that he is a solid leader for this offensive line.
Romo
2.
Romo's three interceptions weren't about his missed practice time when the Cowboys were being cautious with him as he recovered from back surgery. Romo's picks were mainly about poor decisions. Yes, Romo is what he is, a guy who will take chances, much like his idol Brett Favre. Romo, given the delicate state of his team, should know better than to throw passes into coverage on a consistent basis. On the first interception, Romo throws a deep pass to
Dez Bryant
, who clearly isn't open. Romo doesn't see
Terrance Williams
running a route where he gets open deep into the secondary. Quarterbacks can't see everything, but Romo should have noticed safety
Eric Reid
moving toward Bryant. The late throw, which sailed, allowed Reid to make the play. The second pick was another example of missing an open receiver.
Dwayne Harris
was open as he ran into the end zone. Romo hesitated when he clearly saw Harris and while there was nobody open on the backside, he moved toward the corner of the end zone. Romo's throw floated and was picked off by athletic linebacker
Patrick Willis
. If Romo wanted to reach
Jason Witten
, a higher throw was needed where only the tight end could get it.
Romo's last pick of the day was another result of decision-making. Bryant was doubled by
Perrish Cox
and Reid and not open, yet Romo, with plenty of time, let the ball fly. It was slightly underthrown and picked off.
Romo had some other throws that were late or he just missed receivers. It happens to every quarterback. But the interceptions, at least the three he threw on Sunday, should not have been thrown.
3.
The Cowboys love linebacker Bruce Carter's athletic ability, that's why they drafted him. An example of this is a sack on a delayed blitz in the first half and a pass breakup to start the second. Carter, however, allows receivers too much space in front of him and reacts late to some passes. Carter was called for holding on tight end
Vernon Davis
on a pass play down the field in the third quarter. As the game progressed, the front seven did get better for the Cowboys, but it seems there was indecisiveness against the run. San Francisco quarterback
Colin Kaepernick
's ability to sprint out of the pocket and his strong arm causes defenses to play jittery.
March, 1, 2014
Mar 1
12:00
PM ET
IRVING, Texas -- Part 2 of the
Dallas Cowboys
' Twitter mailbag is ready.
Has
Aaron Donald
done so well in the pre-draft process that the Cowboys won't be able to get him at No. 16? What about
Brandon Carr
's future?
We discuss it here.
And if you want to look at Part 1 of the mailbag,
click here.
Away we go:
.
February, 5, 2014
Feb 5
11:05
AM ET
IRVING, Texas -- The
Dallas Cowboys
will not know until a coin flip at the NFL scouting combine if they or the
Baltimore Ravens
will pick 16th or 17th in the
first round of the May draft
.
The only time the Cowboys used the 16th pick in the draft came in 1961 when they selected E.J. Holub in the second round. They have not taken a player with the 17th overall pick since cornerback Kevin Smith in 1992. Before that? In 1990 they took Emmitt Smith, who is now the NFL's all-time leading rusher.
What type of player has been available at Nos. 16 and 17? Here's a look at the past 10 years.
2013 –
EJ Manuel
, Buffalo;
Jarvis Jones
, Pittsburgh
2012 –
Quinton Coples
,
New York Jets
;
Dre Kirkpatrick
, Cincinnati
2011 –
Ryan Kerrigan
, Washington;
Nate Solder
, New England
2010 –
Derrick Morgan
, Tennessee;
Mike Iupati
, San Francisco
2009 –
Larry English
, San Diego;
Josh Freeman
, Tampa Bay
2008 –
Dominique Rodgers-Cromartie
, Arizona;
Gosder Cherilus
, Detroit
2007 –
Justin Harrell
, Green Bay;
Jarvis Moss
, Denver
2006 –
Jason Allen
, Miami;
Chad Greenway
, Minnesota
2005 –
Travis Johnson
, Houston;
David Pollack
, Cincinnati
2004 –
Shawn Andrews
, Philadelphia;
D.J. Williams
, Denver
2003 –
Troy Polamalu
, Pittsburgh;
Bryant Johnson
, Arizona.
Polamalu is by far the best player selected in either spot. He will be in the Hall of Fame. There are quality players in there like Williams, Greenway, Rodgers-Cromartie, Iupati, Solder and Kerrigan. Andrews had a pretty good short run as well. Kerrigan is solid and has done some good things versus the Cowboys. Coples has showed some pass rush his first two seasons. I expected more from Kirkpatrick, who was on the Cowboys' radar in 2012.
The Cowboys held the No. 18 pick in 2013 and traded down to No. 31 with the Niners where they took
Travis Frederick
. They felt they were in a position to trade down and still pick up a quality player. When they saw
Eric Reid
,
Justin Pugh
,
Kyle Long
and
Tyler Eifert
go off the board in the next four picks they were left sweating it out until they got Frederick.
May, 2, 2013
5/02/13
4:17
PM ET
Dallas Cowboys
owner/general manager Jerry Jones spoke to the team's season-ticket holders and sponsors via a conference call Wednesday.
Jones spoke for an hour and according to the voice of the Cowboys Brad Sham, there were nearly 1,000 questions though he didn't answer all of them.
PODCAST
ESPN NFL expert John Clayton joins Fitzsimmons & Durrett to talk about Jerry Jones' conference call, the Cowboys' draft picks and much more.

Listen

Here's some highlights:
On Valley Ranch being a country club atmosphere:
"I don't think that we do have a country club atmosphere around here. There's too much competition. These players recognize how fortunate they are to be in the NFL, to have these opportunities. We've got as good or better leadership than my experience in 24 years with the Cowboys has seen."
On the safety position, whish has veteran Will Allen and young players in Matt Johnson, Barry Church, Danny McCray and draft pick J.J. Wilcox:
"I think we're in good shape at safety." Jones later added, "I don't know when I've ever seen a player impress our staff without having played in a ballgame any more than Matt Johnson." Jones was asked about naming starters and didn't, instead praising each player.
Defensive end Anthony Spencer is signed for this season at $10.6 million, but he's been franchised the last two seasons. There is some concern if the Cowboys will lock Spencer up long-term:
"We'd like to have him under a long-term agreement. He knows that."
PODCAST
On his conference call, Jerry Jones talked about leadership. Nate Newton joins Fitzsimmons & Durrett to discuss the leadership experience he had with the Cowboys.

Listen

On Tim Tebow, who was released by the New York Jets and why the Cowboys don't want a third-string quarterback:
"We really feel good about
Kyle Orton
and that's where it all starts and stops right there. He will be used differently to some degree than we use (Tony) Romo, but he's capable of winning big games and we know how important that backup slot is, especially if it's temporary if you don't have Romo. We're pretty set at quarterback there. We wish Tim all the luck and the best in the world."
On the defense:
"The defense should be the strength of our team arguably, the defensive line can be the strength of the team." Later Jones said, "Our defense will fit Monte Kiffin's scheme. It actually will be a simpler defense for this group to get. The adjustment from where we were in the 3-4 to the 4-3 will not be as significant as it might appear."
On the health of Jay Ratliff:
We don't think Jay Ratliff is injury prone. He had possibly three different injuries last year. He is further down the road in his career than he was a few years ago. But we think of all that he's very sound physically and we think he'll flourish in this defensive scheme. He's a natural three technique."
On the draft board:
Jones said the Cowboys had center
Travis Frederick
ranked ahead of LSU safety
Eric Reid
. The Cowboys moved down in the NFL draft, switching from No. 18 to No. 31 after a trade with the
San Francisco 49ers
. Frederick was projected as a second-day pick and said he was surprised the Cowboys grabbed him in the first round. Jones also indicated there were two to three safeties ranked ahead of Wilcox on the draft board. Wilcox was a third-round pick.
Jones on losing to the
New York Giants
at Cowboys Stadium (The Cowboys open the 2013 season at Cowboys Stadium against the New York Giants. The Cowboys are 0-4 against the Giants at home): "It is a pain."
April, 28, 2013
4/28/13
2:00
PM ET
IRVING, Texas -- We've got some final thoughts on the NFL draft in our beat writers recap.
PODCAST
Cowboys second-round draft pick Gavin Escobar joins Fitzsimmons & Durrett to discuss his strengths as a tight end, the stress of the draft process and the thrill of working with Jason Witten and Tony Romo.

Listen

*The trade that shocked North Texas was prompted years ago when
San Francisco 49ers
coach
Jim Harbaugh
was then the head coach at Stanford. Harbaugh tried to recruit safety
Eric Reid
out of a Louisiana high school. But Reid's father wanted him to attend LSU which he eventually did. So when it came time for Harbaugh to get Reid again, the trade was set in motion the morning of the draft. What prompted the Cowboys to make the deal occurred when
Kenny Vaccaro
was taken by New Orleans at No. 15. The Cowboys liked guard
Justin Pugh
, but had a higher grade on center
Travis Frederick
. The Cowboys also liked defensive tackle
Sharrif Floyd
, but he wasn't a fit in their 4-3 scheme because they wanted a better pass rusher. Reid was also available for the Cowboys, but Vaccaro had a higher grade. If Vaccaro was available the Cowboys would have taken him at No. 18. Instead, the Cowboys moved down to get a center with a second-round grade.
*The interesting thing about getting Baylor wide receiver Terrence Williams in the third round is how it impacts
Dwayne Harris
. Currently Harris is the No. 3 receiver and if Williams can emerge during the preseason maybe he gets more playing time. Harris became a reliable player late in the season and took over the No. 3 receiving duties from
Kevin Ogletree
. The Cowboys want competition at various spots and the receiver position will have that this summer.
Cole Beasley
,
Danny Coale
and Williams will put pressure on Harris to maintain his spot.
*Drafting linebacker
J.J. Wilcox
, cornerback
B.W. Webb
and outside linebacker
DeVonte Holloman
gives the Cowboys some prospective special teams candidates. It seems Wilcox is being groomed to become a special teams ace, held by safety
Danny McCray
, because of his tackling ability in college. Webb is a feisty player who isn't afraid to mix it up on man coverage and Holloman is a physical player as well.
*The Cowboys watched quarterbacks
Matt Barkley
,
Ryan Nassib
and
Tyler Wilson
go in the fourth round before selecting Webb. The Cowboys bypassed Oklahoma quarterback
Landry Jones
. After the Cowboys selected Webb with the 114th pick of the fourth round, Pittsburgh selected Jones at No. 115. Several teams drafted quarterbacks in the middle rounds, starting with Philadelphia, which moved from No. 101 to No. 98 to get Barkley. Some in the Cowboys organization thought several quarterbacks, including Barkley would go higher in the draft, but there wasn't a belief the Cowboys needed one.
*After rushing for a team-high 897 yards in 2011, then averaging 4.1 yards per carry leading to 663 yards last season, there are concerns about starting running back
DeMarco Murray
. With good reason. He suffered a fractured ankle in 2011 costing him to miss the final few weeks of the season then he missed six games in 2012 with a sprained foot. The Cowboys were in the market for a running back and drafted
Joseph Randle
from Oklahoma State in the fifth round. It was noted by Cowboys owner/general manager Jerry Jones that Randle isn't a special teams candidate but a legit No. 2 behind Murray and someone who can take over if he gets hurt again. The Cowboys view
Lance Dunbar
more of a change of pace back/special teams player than somebody who will can start. Drafting Randle has put Murray on notice he needs to stay healthy if not, his replacement is on the roster.
*Notes:
The more you talk to people at Valley Ranch, the more you hear the expectations are high for DT
Jay Ratliff
now that he's healthy. ... Cowboys still don't have a blocking tight end or cleared up who will call the plays. ... I don't know about you but the Cowboys sure sounded defensive about their trade charts on Saturday. It was funny listening to Jerry Jones say trade charts are fluid. I can accept drafting Frederick, but you just want them to get a second-rounder over a third rounder.
April, 26, 2013
4/26/13
11:57
PM ET
IRVING, Texas – Thursday's trade down with San Francisco was the 60th draft-day trade of the Jerry Jones era.
The Cowboys' decision to move down from No. 18 to 31 and pick up an extra third-round pick was met with curiosity as was the player the Cowboys took at No. 31, center
Travis Frederick
.
Cowboys executive vice president Stephen Jones understands some of the angst.
"It's never going to be popular when you move down," Jones said. "Everybody thinks we're, 'Oh, my God, we get to make a trade. Let's move down.' That's not what we were hoping for, but to me you don't pay for the hoopla. You can't get into that. And you've got to manage your draft. We felt like the best decision for us was to go do the right thing, pick up a pick and take a player that fits what we needed in the first round. That brings some value for that pick. Now we lost a few guys that maybe would've been a little but higher than Frederick, but they didn't make it to 31."
Among those players were safety
Eric Reid
, who went at No. 18 to San Francisco, guard
Justin Pugh
, who went to the
New York Giants
at No. 19 and wide receiver
Cordarrelle Patterson
, who went to Minnesota at No. 29.
Jones said the Cowboys only options to trade up were for guards
Jonathan Cooper
or
Chance Warmack
.
"We needed players," Jones said. "We didn't need to be going up and giving up ur picks with where we are under the salary cap right now," Jones said. "We needed to be more focused on staying where we are or going the other way because we do need to infuse some young players on this team."
April, 25, 2013
4/25/13
9:46
PM ET
IRVING, Texas – Accumulating draft picks is not a bad strategy.

Passing on a player that was highly rated in the first round, like
Sharrif Floyd
, is perplexing. Clearly there is something about Floyd that has turned teams off or he would not have fallen this far.
But the Cowboys did not get equal value in return for their trade with San Francisco. They Cowboys dropped from No. 18 to No. 31 and picked up the 74th pick, the first of the Niners' two third-round selections.
The trade charts give San Francisco a big edge. The Cowboys could have received the Niners' second-rounder in return.
By moving down, the Cowboys passed on Floyd, who went to Minnesota at No. 23, but also lost out on three targets they liked in safety
Eric Reid
, whom San Francisco took, guard/tackle
Justin Pugh
(
New York Giants
) and guard
Kyle Long
(Chicago). They also liked tight end
Tyler Eifert
, who went to Cincinnati with the 21st pick.
The art of moving down didn't seem to favor the Cowboys here.
April, 25, 2013
4/25/13
9:19
PM ET
IRVING, Texas -- The
Dallas Cowboys
made their 60th draft day trade under owner/general manager Jerry Jones on Thursday night.

The Cowboys switched spots with San Francisco, moving from No. 18 to No. 31 in the first round. The Cowboys also acquired a third-round pick, the 74th overall selection.
The 49ers drafted LSU safety
Eric Reid
with the 18th pick of the first round.
Dallas was interested in several players, including
Sheldon Richardson
,
Kenny Vaccaro
,
Chance Warmack
and
Jonathan Cooper
, but those players were off the board by the time the Cowboys' turn came to pick.
However, the Cowboys left highly-regarded Florida defensive tackle
Sharrif Floyd
and defensive tackle
Sylvester Williams
on the board.
The Cowboys have two third-round picks, 74th and 80 overall.
April, 25, 2013
4/25/13
3:08
PM ET
IRVING, Texas – With the 18th pick in the first round, the Cowboys could make their pick sometime around 10 p.m. That's a lot of time to sit around and wait.
PODCAST
Todd Archer joins Fitzsimmons & Durrett to discuss what we can expect in the first round of the NFL draft and how it relates to the Dallas Cowboys.

Listen

Throughout the week, the Cowboys have run through every possible scenario so when they are on the clock (or even a little earlier than that) they will have a pick ready. It's like going in with multiple game plans on a Sunday.
Best-case scenario:
Somehow, some way
Jonathan Cooper
or
Chance Warmack
are available. History says they will there because five offensive linemen have not gone so early in thirty-plus years, but it seems like there is a lot of evidence to the contrary.
Cooper would be the preference but Warmack would be a nice pickup, too. They would walk in as Day 1 starters, which has become something of a catch-phrase around the Cowboys here this week. They would upgrade the weakest part of the team.
The only way this happens is if a quarterback or two or a wide receiver or two go early. Perhaps a running back. They need some unexpected moves that would push Warmack (most likely) down to them.
Likely scenario:
The Cowboys take a defensive lineman, like
Sheldon Richardson
or
Sylvester Williams
, or safety
Kenny Vaccaro
.
As of this moment, I believe they would take Richardson if they cannot move back and the offensive linemen are gone. He can play both interior spots with the idea of him becoming the
Warren Sapp
for this Monte Kiffin defense. Williams is more of the traditional run stopper. Both would bring value to the defense.
Vaccaro is the top safety and he would fill an immediate need. Does he slip to No. 18? The Cowboys worked him out privately and had him at Valley Ranch for a visit.
Of the three, Williams figures to be the guy most likely to be available.
Second-best case scenario:
Trade down in the first round and pick up extra picks.
Some might believe this would be the best-case scenario, but the offensive line needs big help.
If the Cowboys can move down, then that would open up more players to them and fit with their draft board more. They are in a no-man's land right now where there is a gap in talent.
Depending on how far back they go, this would give the Cowboys looks at offensive lineman
D.J. Fluker
and
Justin Pugh
, defensive end
Bjoern Werner
and safeties
Eric Reid
and Jonathan Cyprien.
A pick of Fluker would seem to mean
Doug Free
would not be back. Pugh could be a walk-in starter at guard. Werner would fill a need as a backup defensive end with the eye on him starting in the future with
Anthony Spencer
on a one-year deal. Reid and Cyprien would be walk-in starters, too.
Worst-cast scenario:
Everybody listed above is gone and they can't trade down.
They must be willing to make a pick and this is where Notre Dame tight end
Tyler Eifert
comes into the mix. He could be their best player available but drafting a first-round tight end doesn't help them that much in 2013 or give Jason Garrett the best chance to win now.
Eifert will be a terrific player, but Garrett has not shown the ability to work multiple tight end packages effectively like New England has. The Cowboys couldn't make it work with second-rounders
Anthony Fasano
or
Martellus Bennett
behind
Jason Witten
.
Wide receiver
Cordarrelle Patterson
, Werner, Cyprien and Fluker would also be in this mix. Picking any of them at No. 18 would likely be higher than the Cowboys would want.
April, 25, 2013
4/25/13
11:00
AM ET
IRVING, Texas – Over the last few years, the Cowboys' top-30 visitors before the draft have been a good indicator into who they end up selecting.
PODCAST
Nate Newton went undrafted in 1983, but he still feels like he was part of one of the greatest draft classes in league history. Newton joins Fitzsimmons and Durrett to discuss his draft experience from 30 years ago and his journey to three rings.

Listen

Guys like
Dez Bryant
,
Sean Lee
,
Tyrone Crawford
and
Matt Johnson
, among others, visited Valley Ranch and ended up getting picked by the team.
Here is the list of this year's invites to keep handy for the next three days:
S
Kenny Vaccaro
, Texas
S Jonathan Cyprien, Florida International
S
Eric Reid
, LSU
G
Chance Warmack
, Alabama
RB Le'Veon Bell, Michigan State
RB
Joseph Randle
, Oklahoma State
DL
Sheldon Richardson
, Missouri
RB
Knile Davis
, Arkansas
G
Jonathan Cooper
, North Carolina
OL
Justin Pugh
, Syracuse
DT
Kawann Short
, Purdue
DT
Jordan Hill
, Penn State
C
Travis Frederick
, Wisconsin
S
Phillip Thomas
, Fresno State
WR
DeAndre Hopkins
, Clemson
LB
Sio Moore
, Connecticut
LB
Gerald Hodges
, Penn State
CB B.W Webb, William & Mary
WR
Charles Johnson
, Grand Valley State
RB
Giovani Bernard
, North Carolina
OL
Kyle Long
, Oregon
S J.J. Wilcox, Georgia Southern
LB
Brandon Magee
, Arizona State
TE D.C. Jefferson, Rutgers
TE
Dion Sims
, Michigan State
WR
Markus Wheaton
, Oregon State
S
Jakar Hamilton
, South Carolina State
DT
Bennie Logan
, LSU
April, 2, 2013
4/02/13
9:43
AM ET
PODCAST
Stretch Smith takes Galloway & Company around the NFL, discussing quarterback moves, Tony Romo's contract and Chip Kelly's first season.

Listen

IRVING, Texas – It is no secret that the Cowboys need help along the offensive and defensive lines and at safety entering the NFL draft, so it's not surprising the team is meeting with some of the best available at those positions this week at Valley Ranch.
With the draft three weeks away, the Cowboys are scheduled to meet with 28 national prospects, including offensive linemen
Chance Warmack
(Alabama),
Jonathan Cooper
(North Carolina), Jonathan Pugh (Syracuse) and
Travis Frederick
(Wisconsin), safeties
Kenny Vaccaro
(Texas), Jonathan Cyprien (Florida International) and
Eric Reid
(LSU) and defensive linemen
Sheldon Richardson
(Missouri) and
Kawann Short
(Purdue).
Among the other players visiting are Clemson receiver
DeAndre Hopkins
, Fresno State safety
Phillip Thomas
, running backs
Knile Davis
(Arkansas),
Joseph Randle
(Oklahoma State) and Le'Veon Bell (Michigan State) and defensive tackle
Jordan Hill
(Penn State).
March, 27, 2013
3/27/13
4:29
PM ET
IRVING, Texas – Last week the Cowboys had a private workout with Texas safety
Kenny Vaccaro
. They saw him again Wednesday at the Longhorns' pro day in Austin.
Today the Cowboys signed veteran
Will Allen
to a one-year deal.
So does it relate to Vaccaro or the team's potential to select a safety early in the draft?
It shouldn't.
Allen has started 33 games in his first nine seasons. He started seven last year in Pittsburgh during
Troy Polamalu
's absence. He has four interceptions and 11 pass breakups in 130 games. He played in Tampa Bay for coordinator Monte Kiffin, so that helps.
But the Cowboys did not sign (or pay) Allen to be a starter. He offers some veteran protection with
Barry Church
,
Matt Johnson
and
Danny McCray
the only safeties on the roster.
The Cowboys are expected to bring Vaccaro in for one of their top-30 visits and also had a private workout with LSU's
Eric Reid
. ProFootballTalk reports that Florida International's Jonathan Cyprien will also make a pre-draft visit to Valley Ranch.
Safety remains very much in play for the Cowboys early in next month's draft, as it should.
The signing of Allen only gives them some insurance.
March, 25, 2013
3/25/13
11:30
PM ET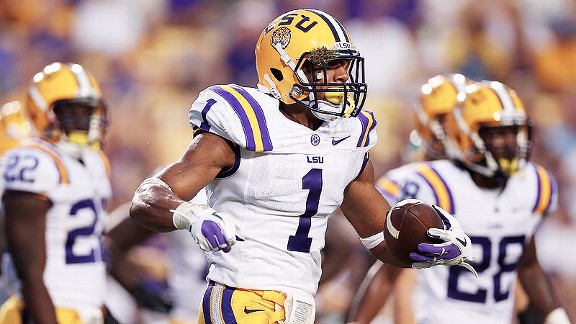 Chris Graythen/Getty ImagesLSU safety Eric Reid could fill a major need for the Cowboys if he's available on Day 2 of the draft.
To help preview who might be on the Dallas Cowboys' board for the NFL draft, ESPNDallas.com has identified five players at five key positions that we'd like to learn more about. Along those lines, we've asked former Cowboys assistant coach Glenn "Stretch" Smith – the official scout of Galloway & Company – to study tape of each player and give his thoughts.
Height/weight:
6-foot-2, 208 pounds
School:
LSU
Why he's on the radar:
The Cowboys are thin at safety and if they stick with an offensive or defensive linemen in the first round, then finding a safety who can make plays down the field is a must with a later pick. While the Cowboys do like the play-making ability of
Barry Church
, he started just three games last season before tearing his Achilles. After the team released veteran
Gerald Sensabaugh
, it's pushed
Matt Johnson
, who missed his rookie season with hamstring injuries, into the forefront. The front office is concerned about the safety position, but isn't sure if it can get a good one in the early rounds. Reid could be available on Day 2 of the draft and would fill a major need.
Projection:
Late second or early third round
Stretch Truths:
Combine stats -- 4.53 40 speed; 40 1/2 inch vertical; 17 reps at 225. ... Long safety with good range. ... Plays both the run and pass well and closes with a flash burst. ... Very aggressive to read and react. ... Gets caught cheating on pump fakes and is over-aggressive to read the quarterback's head. ... I question his natural ball skills, especially when trying to high-point the football. ... Has upside with his physicality.