Dallas Cowboys:

Eric Weddle
August, 19, 2012
8/19/12
4:29
PM ET
SAN DIEGO -- In the
Dallas Cowboys
' first preseason game, a penalty was called on tackle
Jermey Parnell
-- and he wasn't even on the field. Then quarterback
Tony Romo
had to tell the officials where to move the ball after they had spotted it away from the NFL hashmarks.
These are difficult times for players and coaches with the NFL's regular referees mired in a labor dispute. In the meantime, replacement officials are working the games and doing the best they can.
But Saturday night, the Cowboys and Chargers were left scratching their heads on a few calls.
One particular play caused serious confusion.
On a pass to Cowboys receiver
Andre Holmes
, Chargers safety
Eric Weddle
was flagged for an illegal helmet-to-helmet hit. Chargers linebacker
Donald Butler
came up with an interception on the play. But after an extended discussion, the officials gave the ball to San Diego and then marked off the personal foul against the Chargers for the illegal hit. But the ball should have been given to the Cowboys, with the penalty against the Chargers marked off from the previous spot.
That was the most noticeable error. But there were other smaller follies, including referee Bruce Hermansen struggling with his mic on penalties,
Kevin Ogletree
getting flagged for running out of bounds and
Derrick Dockery
getting called for holding when it was really center
David Arkin
.
"There's been a few (questionable calls), not like they're right or wrong," Romo said. "Explanation-wise, I guess I'm not completely clear on some of them and I think that's part of everybody just getting reps, including referees. ... I think sometimes you have to roll with the punches and go along. Maybe it's going to be a little different."
Cowboys owner Jerry Jones said he's not concerned about the replacement referees because the games will go on regardless.
August, 5, 2011
8/05/11
10:14
AM ET
By
Bryan Broaddus
| ESPNDallas.com
SAN ANTONIO -- One of the many ways a scout evaluates players is through film study. It is the best way to get a true read on the ability of player and how he might fit into your scheme if you were managing to try and secure his services.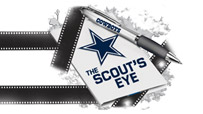 This summer I had the opportunity to sit down and watch
Michael Huff
,
Abram Elam
,
Eric Weddle
and
Dawan Landry
, all safeties that would be unrestricted free agents in the coming year once the lockout had ended.
My study of Huff and Weddle was really to try to catch me up to speed because the Raiders and Chargers were opponents of the Cowboys in 2009. The study of Elam and Landry was not as fresh in my eyes because I had not seen them play in a while.
Huff and Weddle were more athletic than either Elam or Landry. The study was really of two different groups of players. Huff and Weddle were more free safety types where Elam and Landry were more "box" or near line of scrimmage types.
It was not that you didn't see you didn't see Elam or Landry playing deep. It was just the way that both of the players moved more like strong safeties than free safeties.
The scheme that Rob Ryan put Elam in while at Cleveland is exactly what we are seeing on a daily basis here at training camp now. Ryan's safeties are interchangeable, meaning that the free safety can play down in the box and the strong can line up deep, so in this scheme you really have safeties that are responsible for both areas on the defense.
In studying the New England and New Orleans games, it was evident that Elam was responsible for what was happening on the back end with the secondary because of the exotic looks that Ryan was trying to give
Tom Brady
and
Drew Brees
.
When Ryan would blitz, he would lock his secondary up in man coverage and use Elam floating in the middle of the field. It was Elam's job to react to the ball once it left the quarterback's hand and he was able to complete his job successfully. Elam was also asked to play man coverage in the scheme and did not appear to be a total liability with the ball getting out quickly because of the pressure that was being applied.
Elam is not a fluid moving player like Huff or Weddle on tape, but in visiting with my Browns sources, to a man they couldn't say enough good things about the intelligence of the player, how well he fit as a teammate and how much faith Ryan had in him. Those same scouts also went on to say that Elam is not the quickest or fastest player at safety -- which can hurt him closing angles in space or in overall coverage -- but once he got to the ball he was going to be successful in making something positive happen.
It's important to remember that coaches will always take the known over the unknown when coaching players. To Ryan, Elam is a known player. When putting in a new defense, you need players that you can trust.
July, 27, 2011
7/27/11
6:44
PM ET
SAN ANTONIO – The Cowboys' front office accomplished its primary goal by locking up left tackle
Doug Free
to a long-term deal.
Addressing the safety positions isn't far down the list.
Jerry Jones acknowledged in the middle of last season that the safety play was one of his primary concerns. That is still the case.
Strong safety
Gerald Sensabaugh
, who had three of his career-high five interceptions in the final four games of last season, is an unrestricted free agent with hopes of getting a significant pay raise from his 2010 salary of $1.8 million. Free safety
Alan Ball
, who struggled all season, will most likely return to a reserve cornerback role.
That leaves the Cowboys with four second-year safeties – fourth-round pick
Akwasi Owusu-Ansah
and undrafted
Barry Church
,
Danny McCray
and
Andrew Sendejo
– and some rookie free agents on the active roster. They like Owusu-Ansah's athleticism, but he's a Division II product who spent most of his rookie year on injured reserve. Church is a big hitter with good instincts, but he has below-average speed that might be exposed if he's a starter.
The Cowboys will certainly attempt to acquire some veteran help.
"Obviously, we'd like to improve that position if we can," Cowboys executive vice president Stephen Jones said. "That's one of our priorities. It's obviously something we're working on. We'll see. Whether, it's one or two, I don't know the answer to that. It could be three. You have to see, at the end of the day, whether things are going to work out and what's available and what fits for us. We're still very confident we can get the help there that we need."
The problem is the price. The Cowboys had interest in
Eric Weddle
, but he committed to re-sign with the Chargers, getting a historic contract for a safety in NFL history (five years, $40 million). The Rams gave
Quintin Mikell
a four-year, $28 million deal.
"I think in any market, you have players who in the first part of it, right out of the bag, you see some deals that are big," Jones said. "They all can't make big money at the end of the day. There's salary caps. We knew that would probably happen. I wouldn't say we're surprised. It happens. I think at some point, as it has in the past, those things start to -- after everybody gets their main priorities where they were going to spend money -- then you have your next level and your next level, and those things work themselves out."
The Cowboys have also had conversations with agents for Sensabaugh and
Abram Elam
, who started for Rob Ryan's Browns the last two seasons. There are several potentially more affordable options with starting experience on the market, such as the ex-Jet
Brodney Pool
and former Bear
Danieal Manning
.
The Cowboys' interest in ex-Raider
Michael Huff
, an Irving Nimitz and Texas product, isn't clear. However, Huff is likely to receive a contract in the Weddle/Mikell range, and it doesn't sound as if the Cowboys intend to make that type of investment in a safety.
July, 27, 2011
7/27/11
11:20
AM ET
SAN ANTONIO -- Now that the Cowboys have wrapped up their top free-agent priority in
Doug Free
, they can move on to the safety position.
Gerald Sensabaugh
, the starter at strong safety the last two seasons, has had talks with the Cowboys and other teams since the market opened on Tuesday. The team has had discussions with the agents for
Abram Elam
and
Eric Weddle
, who has since re-signed with the Chargers. It is not clear if the Cowboys are in on the
Michael Huff
sweepstakes or not.
In two years with the Cowboys, Sensabaugh had six interceptions, including five last year and four after Jason Garrett took over as head coach. He had 53 tackles and two sacks with nine pass breakups last year.
Elam, who played for the Cowboys in 2006 and was cut in the coaching change the following year, started 15 games for new Cowboys coordinator Rob Ryan in Cleveland last season. He was credited with 77 tackles by the coaches with two sacks, two interceptions, two forced fumbles, two fumble recoveries and 10 pass deflections.
July, 26, 2011
7/26/11
8:02
AM ET
»
NFC
:
East
|
West
|
North
|
South
»
AFC
:
East
|
West
|
North
|
South
»
Unrestricted FAs
A look at the free-agent priorities for each NFC East team:
New York Giants

1. Figure out which of their own guys to keep.
With
Ahmad Bradshaw
,
Barry Cofield
,
Mathias Kiwanuka
,
Steve Smith
and
Kevin Boss
all set to potentially go free, the Giants have to prioritize and figure out which guys they're keeping. The top priority is probably going to be Bradshaw, an emerging star at running back, and it appears they'll let Cofield walk while trying to bring back Boss. They think the injury situations with Kiwanuka and Smith will help keep those guys' prices reasonable. But before the Giants hit the market, they'll need to get their own free-agent house in order.
2. Get at least one linebacker.
The Giants have ignored this position over the past couple of years, and they seem to believe
Jonathan Goff
can handle the middle linebacker spot. They'd probably be better off moving him back outside and exploring the middle linebacker market, which includes
Stephen Tulloch
,
Barrett Ruud
and
Paul Posluszny
. But if they're set on keeping Goff in the middle, perhaps someone such as
Manny Lawson
or
Nick Barnett
could be a fit. It's one thing not to prioritize a position, but it's another to ignore it completely, and the Giants have been doing that with linebacker, to their detriment.
3. Some offensive line insurance.
There were lots of injuries along the line in New York last season, and although it didn't kill them, it was a potential sign of things to come. The Giants hope
Will Beatty
will soon be ready to take over at left tackle for a declining
David Diehl
, but they must watch out for the health of
Shaun O'Hara
at center. And if they have to cut
Shawn Andrews
to sign some other guys, they'll need to replace him with a tackle who can provide depth.
Top five free agents
: RB Bradshaw, DE/LB Kiwanuka, TE Boss, DT Cofield, WR Smith
Philadelphia Eagles

1. Settle the Kevin Kolb situation
. If they can get the great deal for him that most believe they can (i.e., a first-round pick plus), the Eagles will deal Kolb and look for a reliable backup quarterback who can play if and when
Michael Vick
gets hurt. If they can't get good value for Kolb, they'll probably keep him to serve as said reliable backup. A trade is most likely, but whatever happens, the Eagles will probably settle this soon after the league year begins.
2. Sign a cornerback.
The starting spot opposite
Asante Samuel
is open, and no one on the current roster appears able to fill it. That's why you've heard, and will continue to hear, the Eagles connected with Asomugha. Philadelphia must rank among his most likely destinations at this point. If they don't get him, they'll look down the list at guys such as
Johnathan Joseph
,
Ike Taylor
and
Antonio Cromartie
. And there's a chance they could get a cornerback for Kolb. But they'll get one somewhere.
3. Re-sign Stewart Bradley.
Sure, they could let Bradley go and play
Jamar Chaney
at middle linebacker. Chaney looked, at least, capable in that spot last season and may be the Eagles' future at the position. But if Bradley leaves, the Eagles' problems will be about more than just the alignment of the linebackers. They'll actually be short on bodies and will need to play the free-agent field to find a replacement. Bradley's had injury problems, but when healthy, he's the Eagles' best linebacker and could be a key cog in whatever new defensive alignment Juan Castillo and Jim Washburn are cooking up.
Top five free agents
: LB Bradley, S Mikell, G
Nick Cole
, RB
Jerome Harrison
, CB
Ellis Hobbs
Washington Redskins

1. Fill out the defensive line.
Whether they add a free-agent nose tackle such as
Aubrayo Franklin
or look at defensive end options like Jenkins, the Redskins must figure who their starting defensive linemen are. They like their linebacking corps, and although they also need a cornerback, they love their safeties with
Oshiomogho Atogwe
in the fold next to
LaRon Landry
. But their good, young outside linebackers will need big, space-eating ends in front of them to open up lanes to the passer. And they'll also need to get some sort of pass rush from the line, whether it's from the nose or the ends.
2. Re-sign Santana Moss.
The Redskins are making noise about pursuing a big-time wideout such as
Santonio Holmes
or
Sidney Rice
. But the reality is that it's going to be tough to convince receivers to sign in Washington while they're not viewed as a contender and the quarterback situation remains so cloudy. Moss likes it in Washington. The Redskins like him. And he's a nice guy to have around to help out young receivers
Anthony Armstrong
and
Leonard Hankerson
-- not to mention inexperienced quarterback
John Beck
.
3. Resolve the Donovan McNabb and Albert Haynesworth situations.
They don't want either player on the team anymore, but the question is how to get rid of them. They might be able to dump McNabb for a late-round draft pick, but if they can't, they'll probably just cut him and let him find his next job on his own. Haynesworth has trade value in a league where many 4-3 teams are looking for interior defensive line help. Don't expect the Redskins to cut Haynesworth, because they don't want to do him any favors and they don't want him free to sign with former Tennessee D-line coach Washburn in Philadelphia. If they can't get value for him, don't be surprised if Haynesworth remains on the team all season and has a hard time getting into games.
Top five free agents
: WR Moss, OT
Jammal Brown
, CB
Carlos Rogers
, LB
Rocky McIntosh
, QB
Rex Grossman
July, 25, 2011
7/25/11
1:59
PM ET
The Cowboys guaranteed they would have two glaring holes at safety when they didn't address the position in the draft, giving
Gerald Sensabaugh
some leverage.
PODCAST
What went wrong with the Cowboys' defense last season? Was it lack of talent or poor execution? Tim MacMahon and Skin weigh in.

Listen

However, the depth of the safety pool in free agency should prevent the Cowboys from overpaying, a mistake they've made recently with safeties
Roy Williams
and
Ken Hamlin
.
Sensabaugh has made it clear that he's hoping for a big raise after making $1.8 million last season. He can point to his career-high five interceptions in 2010 as evidence that he's worth much more money. But there are several available safeties who are proven starters that are likely to be in the Cowboys' price range.
We'll skip over
Michael Huff
,
Eric Weddle
and
Quintin Mikell
, who might be good fits for the Cowboys but could be expensive.
Here is how Sensabaugh compares to some free agent safeties who might be more affordable, with the 2010 numbers from Stats Inc.:
Gerald Sensabaugh
Age:
28
Previous team:
Cowboys
2010 stats:
69 tackles, five interceptions, two sacks, no forced fumbles, no fumble recoveries, 10 passes defensed. Opponents completed 26-of-48 passes for 413 yards and one touchdown against him (54.2 completion percentage, 8.6 yards per attempt).
Roman Harper
Age:
28
Previous team:
Saints
2010 stats:
93 tackles, one interception, three sacks, six forced fumbles, one fumble recovery, eight passes defensed. Opponents completed 19-of-35 passes for 158 yards and no touchdowns against him (54.3 completion percentage, 4.5 yards per attempt).
Abram Elam
Age:
29
Previous team:
Browns
2010 stats:
77 tackles, two interceptions, two sacks, two forced fumbles, two fumble recoveries, 10 passes defensed. Opponents completed 20-of-41 for 309 yards and three touchdowns against him (48.8 completion percentage, 7.5 yards per attempt).
Dawan Landry
Age:
28
Previous team:
Ravens
2010 stats:
108 tackles, no interceptions, one sack, one forced fumble, one fumble recovery, four passes defensed. Opponents completed 24-of-50 for 330 yards and four touchdowns (48.0 completion percentage, 6.6 yards per attempt).
Danieal Manning
Age:
28
Previous team:
Bears
2010 stats:
72 tackles, one interception, no sacks, no forced fumbles, no fumble recoveries, seven passes defensed. Opponents completed 23-of-47 passes for 325 yards and two touchdowns against him (48.9 completion percentage, 6.9 yards per attempt).
Brodney Pool
Age:
27
Previous team:
Jets
2010 stats:
50 tackles, one interception, one sack, one forced fumble, one fumble recovery, 11 passes defensed. Opponents completed 13-of-30 passes for 156 yards and no touchdowns (43.3 completion percentage, 5.2 yards per attempt).
Deon Grant
Age:
31
Previous team:
Giants
2010 stats:
59 tackles, three interceptions, one sack, two forced fumbles, three fumble recoveries, 10 passes defensed. Opponents completed 30-of-50 passes for 378 yards and two touchdowns against him (60.0 completion percentage, 7.6 yards per attempt).
June, 28, 2011
6/28/11
9:08
AM ET
PODCAST
Warren Sapp shares his thoughts on Raiders free safety Michael Huff and new Cowboys defensive coordinator Rob Ryan.

Listen

Our free agent series continue with a look at
Michael Huff
. He's a popular name in the Dallas area because he's from Irving and went to the University of Texas.
And like yesterday's subject
-- Nnamdi Asomugha -- Huff has played for new defensive coordinator Rob Ryan.
MICHAEL HUFF, FS, Oakland
[+] Enlarge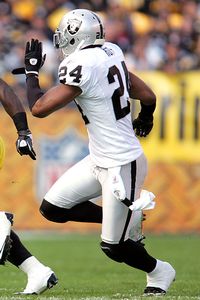 Charles LeClaire/US PresswireMichael Huff made great strides blitzing from the free safety position, finishing with four sacks and seven tackles for loss.
Why sign him?
He's coming off one of his best seasons, finishing third on the team with 84 tackles, four sacks, seven tackles for loss, three interceptions, three forced fumbles and seven pass breakups. Huff made great strides blitzing from the free safety position and improved his cover skills. Signing Huff could be an expensive venture, because one would think the Raiders would like to retain him. If the new salary cap rules take effect, NFL teams have to spend at least 90 percent of the $120 million cap -- and the Raiders are far below that.
Huff seems like an upgrade over
Alan Ball
, who at times looked lost while playing free safety last season, and he'll eventually move back to cornerback. The Cowboys have had problems signing safeties to big money deals in the past.
Roy Williams
and
Ken Hamlin
performed below the Cowboys' standards after inking huge contracts. It would seem Huff is in his prime and could be different.
Is there anybody else?
Eric Weddle
from the
San Diego Chargers
is a possible target. The Chargers coaching staff credited Weddle with 93 tackles, which led the entire secondary and was second on the team to former Cowboys linebacker
Kevin Burnett
(124). Weddle played well against the run this past season and is a good tackler as evident by his seven tackles for loss.
Key Stat:
Ball started the first eight weeks of the season without a pass breakup.
June, 23, 2011
6/23/11
1:34
PM ET
The proposal to allow unsigned players with four and five years of service to be unrestricted free agents isn't good news for the Cowboys, as we discussed Tuesday.
First and foremost, it'd make re-signing left tackle
Doug Free
more difficult, or at least more expensive. Ditto for defensive ends
Stephen Bowen
and
Jason Hatcher
.
However, there would be a silver lining at Valley Ranch.
The pool at safety, a primary position of need, would become significantly deeper. San Diego's
Eric Weddle
, Chicago's
Danieal Manning
and Indianapolis'
Melvin Bullitt
are among the safeties who would have been restricted under last year's rules but would be free to test the open market under the new proposal.
Weddle would arguably be the best available safety. Manning (Corsicana) and Bullitt (Garland Naaman Forest) are quality starters with local roots.
Even if the Cowboys didn't sign one of those guys, their availability would deepen the pool at safety and increase the odds of the Cowboys signing a quality player to plug into the starting lineup.
March, 7, 2011
3/07/11
7:30
AM ET
A pair of accomplished safeties found new homes last week without even an invitation to visit Valley Ranch.
PODCAST
Business in the NFL is changing in big ways; can the Cowboys keep their head above water or will they be drowned in financial trouble? Ben and Skin weigh in.

Listen

Cowboys fans can feel free to panic after O.J. Atogwe and
Bob Sanders
went off the market, but it's probably premature. There will be safeties available in free agency capable of filling the glaring void in the Dallas secondary, assuming that there is free agency this offseason.
It's tough to blame the Cowboys for not taking a risk on Sanders, whose terrific career has been derailed by injuries. He's been healthy enough to play in only nine games in three seasons since being named the NFL's defensive player of the year.
I don't quite understand the Cowboys' lack of interest in Atogwe for the second consecutive season. He's a safety who is reliable against the run and pass and has a track record of forcing turnovers. However, even if the Cowboys were in pursuit of the soon-to-be 30-year-old, they probably would have been outbid by the Redskins. Danny Snyder, a man known to overpay in the free-agent market, gave Atogwe a five-year, $26 million contract.
If the Cowboys don't sign a safety, they deserve to be ripped for ignoring Atogwe. But that's not the case if they sign any of the following six players:
Michael Huff
,
Quintin Mikell
,
Eric Weddle
,
Danieal Manning
,
Dawan Landry
or
Brodney Pool
.
Just a hunch, but the Cowboys might have their hopes set on Huff, an Irving Nimitz and Texas product who has started to live up to his potential as a top-10 pick after a few disappointing seasons at the beginning of his career. Rob Ryan was the Raiders' defensive coordinator when they drafted Huff seventh overall in 2006.
Huff, 28, is an elite coverage safety with a knack for blitzing. He'd be a tremendous upgrade over
Alan Ball
.
Perhaps Huff could be paired with
Gerald Sensabaugh
, although the Cowboys aren't going to give the strong safety the lucrative long-term deal he wants in free agency. Maybe the Cowboys find their second starting safety in the draft.
Anybody who watched the Cowboys play last season knows that improving at safety ranks atop the offseason priorities. The fact that they were spectators while a couple of big-name safeties changed addresses shouldn't prevent them from addressing the problem.
August, 23, 2010
8/23/10
3:08
PM ET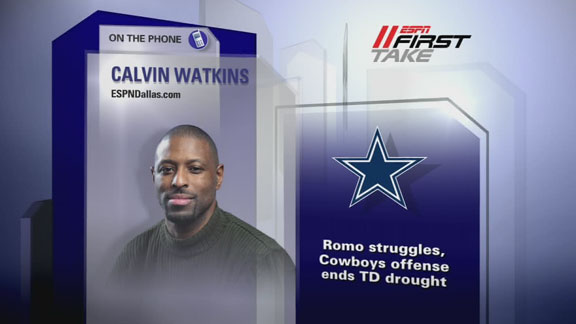 OXNARD, Calif. –
Tony Romo
made tremendous progress as far as protecting the ball goes last season.
That doesn't mean he solved the problem. It's still something he needs to focus on every play and every day.
Romo vastly improved his decision-making last season, when he sliced his pick total to nine after averaging more than one per game his previous three years as a starter. But there was also some good fortune involved in that stat, as Romo fired several other passes that could have been intercepted.
Romo's pick Saturday served as a reminder that he can't afford to allow pressure to result in poor decisions. With linebacker
Stephen Cooper
in his face, Romo made an ill-advised impulse throw over the middle to
Miles Austin
that was intercepted by Chargers safety
Eric Weddle
.
To his credit, Romo recognized that the blame for the pick goes on him despite the protection bust that allowed the blitzing linebacker to come clean.
"I make a poor decision and let a ball go with a guy around me," Romo said after the game. "You can't do that and let the whole group down on a decision like that."
August, 22, 2010
8/22/10
10:20
AM ET
SAN DIEGO -- The one thing that bothered Cowboys owner Jerry Jones following his team's 16-14 victory over the Chargers was a lack of physical toughness.
Jones believes his team has it, but it didn't show enough of it Saturday night.
"I think I want us to be, we all talk about physical, running the ball physically," Jones said. "After [Saturday] I would say we need to make sure we get in here and think physical as we're running the ball, and I was impressed with how physical [San Diego] was running the ball."
The Cowboys gained 54 rushing yards with
Tashard Choice
leading the way with 19 yards. San Diego had 92 yards rushing and had backs
Ryan Mathews
and
Mike Tolbert
gain 87 combined rushing yards.
"We outplayed them big time," Chargers safety
Eric Weddle
said. "I think they had like 40-something yards by half. We outplayed them physically. We came into this game knowing it was going to be a test and we took it as that, and it was definitely a step in the right direction."
Jones credited Chargers coach Norv Turner for an excellent game plan and that his team was very strong at the point of attack. The Cowboys had numerous missed tackles and safety
Gerald Sensabaugh
was injured when he took the wrong angle on a play in the first quarter.
"The first two quarters, I'd be happy if I was San Diego than I am with the Cowboys," Jones said. "And it looked like they really came to play physically, and that's something you can do something about."
December, 13, 2009
12/13/09
3:05
PM ET
ARLINGTON-- Welcome back to Cowboys Stadium and we got the inactives for you.
Dallas:
Stephen McGee
is the third quarterback. S
Ken Hamlin
, CB
Cletis Gordon
, G
Montrae Holland
, C/G
Duke Preston
, TE
Martellus Bennett
, T
Marc Colombo
, LB
Curtis Johnson
. LB
Jason Williams
moves to the game-day roster with Bennett out with a concussion.
San Diego:
Charlie Whitehurst
is the third quarterback. CB
Dante Hughes
, RB
Michael Bennett
, FS
Eric Weddle
, C
Nick Hardwick
, DE
Alfonso Boone
, DT
Antonio Garay
, WR
Buster Davis
. With Weddle out
Steve Gregory
takes over.
The roof is open and the outside temps is 70 degrees with winds from the south at 10 mph.
December, 11, 2009
12/11/09
2:55
PM ET
IRVING, Texas – Tight end
Jason Witten
didn't produce in the passing game to his Pro Bowl standards for the first 10 games of the season.
He made his typical number of catches, but he did very little damage downfield. Witten has done a lot of catching up in the last two weeks.
Witten has 19 catches for 263 yards in the last two weeks, when he had his first two 100-yard games of the season. He had four receptions of at least 20 yards in those two games, one more than he had in the previous 10.
"I'm sure I'm benefiting from having a guy like Miles [Austin] out there with the coverages and things that they do," Witten said. "I just think that throughout the course of the season you have to stay the same way and keep working and those plays will happen. It just seems like it's fallen that way the last two weeks."
It wouldn't be surprising if it fell that way again this week. Chargers safety
Eric Weddle
hasn't practiced due to a knee injury, so San Diego will either have a gimpy safety or a backup at the position. Either way, it's a matchup Witten can win on a consistent basis.