Dallas Cowboys:

Five Wonders
November, 11, 2014
11/11/14
1:00
PM ET
LONDON -- For the second straight week Five Wonders is brought to you from London, and it could be the final time when hearing
Dallas Cowboys
owner and general manager Jerry Jones say he will not give up a home game -- even for a Super Bowl -- to play at Wembley Stadium.
The Cowboys are such a big draw on the road that the
Jacksonville Jaguars
would seem to be the only team willing to give up a home game in order to play them in London.
Away we go:
[+] Enlarge

AP Photo/Brandon WadeDallas is starting to move star receiver Dez Bryant all over its formations to dictate coverages.

I don't wonder if the Cowboys coaches listen to Michael Irvin, but I do wonder if he knew something we didn't last week when he said the Cowboys have to do more to make sure Dez Bryant is involved in the offense. Irvin mentioned bunch sets to give Bryant a free release at the line. The Cowboys didn't do that, but they did move Bryant all over the formation to dictate coverages. His 35-yard touchdown catch was a perfect example. The Jaguars brought five pass-rushers as the Cowboys showed a two-tight end set on second-and-8 and Bryant lined up tight to the left. He ran a shallow cross and was uncovered. The idea of the play was to set up a third-and-short, but Bryant ran away from safety Johnathan Cyprien, who had the coverage responsibilities, and through the rest of the Jacksonville defense for the touchdown. On his 68-yard touchdown, Bryant lined up outside the numbers to the right, put a terrific release on the cornerback and Tony Romo hit him over the top.
I wonder if the coaches will show Terrance William's hustle on Joseph Randle's 40-yard touchdown run when they meet with the players for the first time after the Jacksonville win. It was rather amazing. Lined up to the right side of the formation in the slot, Williams was able to block cornerback Peyton Thompson at the Jacksonville 36 as Randle gets the handoff. As Randle breaks free, Williams is four yards behind his teammate, leaps Thompson, then has to hurdle Devin Street and Dwayne Gratz. Four defenders have an angle on Randle, but the runner is able to shrug off Cyprien at the 14. At the 7-yard line, Williams gets just enough of Demetrius McCray to knock him off balance to make it easier for Randle to run through him and get to the end zone. That is the kind of relentless spirit Jason Garrett talks about.
I wonder how confounding the coaches find Bruce Carter. He is the definition of inconsistent. It can be play to play, series to series, game to game, week to week and month to month. That will hurt Carter when he tests the free agent market in the offseason. But Carter was active and involved in the win against the Jaguars. He even recorded his second interception of the season. The Carter who played against the Jaguars is the Carter the Cowboys need for the rest of the season. He would be wise to make sure he plays at this level, too, because of his impending free agency. A team will take a gamble on his athleticism -- I don't think the Cowboys keep him with a big deal, if you were wondering -- but they will go only so high if he doesn't show consistency.
I wonder if teams are starting to target Sterling Moore the way they did Mario Edwards as the 2003 season wore on. Moore has had some struggles the past two games against the Arizona Cardinals and Jacksonville Jaguars. Edwards was a starter in 2003 as the Cowboys built a surprising record early in the season only to get beat repeatedly on Thanksgiving by the Miami Dolphins. The Cowboys made the playoffs in Bill Parcells' first year, but lost three of their final five regular-season games and were eventually bounced in the wild-card round. Moore has done a decent job when the season is viewed as a whole. The Cowboys should be happy he was there when Morris Claiborne was lost for the season. But are teams figuring him out? And now the Cowboys won't be able to turn to Tyler Patmon if they wanted to because of a knee injury.
I wonder what Zack Martin says to his teammates after touchdowns. This will be something I ask the rookie guard the next time I see him, but he is always around the player who scores in the end zone, slapping a helmet or knocking him off balance. Garrett also made mention of how Martin is always there to help his running backs up off the ground. Another offensive lineman who used to do that? Marc Colombo. They play different positions -- Colombo was a tackle -- but they have some similarities in on-field manners.
November, 4, 2014
11/04/14
10:00
AM ET
LONDON -- Welcome to the first international edition of Five Wonders as we check in from London where the
Dallas Cowboys
are preparing to play the
Jacksonville Jaguars
on Sunday. With seven games to go, I wonder if the Cowboys are in a must-win scenario with a two-game losing streak. But I'm wondering about a lot more.
Away we go:
December, 17, 2013
12/17/13
8:00
AM ET
IRVING, Texas -- So many things to wonder, so little time.
It's Five Wonders and we're hitting big topics right off the top.
Away we go:
** I wonder if the Cowboys have a decision to make on
DeMarcus Ware
in the offseason. Ware is set to count $16.003 million against the salary cap in 2014. He has a base salary of $12.25 million. The Cowboys have reworked his contract numerous times over the years, even adding voidable years to it to help with the prorated amounts. They will need to restructure more contracts in the offseason to get under the projected $126.3 million salary cap in 2014. They will also have to cut some high-priced veterans. Perhaps even Ware, which seems shocking in a way. Ware has only six sacks with two games to go. He missed three games because of a quadriceps injury and has not been effective for much of the past month. He was so good in training camp. He made
Tyron Smith
look bad on an almost daily basis. Is it just health? Ware says he is healthy. Is it age? Ware turns 32 next July. The Cowboys have made mistakes with age before. Jay Ratliff comes immediately to mind. Ware is far from Ratliff. He is the right kind of guy. He works hard. He is a good teammate. He plays hurt. Ware has not only missed three games but he is playing only 67.2 percent of the snaps when he does play. It is one thing to commit $16 million to a guy on the cap when he is getting you anywhere from 12 to 18 sacks a season. It's another thing to do it when he is struggling. If the Cowboys released Ware, their all-time leader in sacks, they would save $7.43 million against the cap. Jerry Jones has a hard time with these types of decisions. Could he ask Ware to take a cut in pay? Would Ware accept one?
[+] Enlarge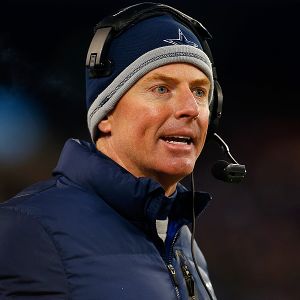 Mike Stobe/Getty ImagesIs Jason Garrett's future in Dallas secure?
** Mike Shanahan won't be the
Washington Redskins
' coach in 2014. Could he join the
Dallas Cowboys
' coach? If Jones decides to part ways with Jason Garrett, then Shanahan's name will be linked to the Cowboys just because he's a name. Same with Jon Gruden. But let's stick with Shanahan here for a moment. Now it's difficult to take Albert Haynesworth's word for much. After all he did stomp on Andre Gurode's head in 2006. But Haynesworth said last week in Washington, D.C., that it is in Shanahan's contract that Daniel Snyder has to limit contact with the players. I can understand why Shanahan would want that in there. It helps him control things more. But I wonder if Shanahan would ever come here because you know Jones would never EVER have that in coach's contract. Jones moved to the background when Bill Parcells was coach but he did not disappear.
** Let's stick with the head coaching theme and the possibility of Garrett's demise. Forget "who" Jerry Jones targets. I wonder "what" kind of coach he targets. Shanahan and Gruden have Super Bowl rings on their résumé, but Jones has said before he does not necessarily want a coach with a championship because he does not believe the coach has the same fire. (Yes, I realize Parcells is an exception.) I wonder if Jones goes for a defensive coach. The offensive personnel figures to be mostly the same in 2014:
Tony Romo
,
Jason Witten
,
Dez Bryant
, Smith,
Travis Frederick
,
DeMarco Murray
,
Terrance Williams
and
Gavin Escobar
. The defense needs the re-tooling. Does Jones go after a defensive coach? There's a lot of work to do there obviously and not as many parts. Who is a building block?
Sean Lee
. The rest you hope can rebound from poor seasons. If Jones goes defense, I wonder if he would go with a first-time coach or a veteran head coach. Would Mike Zimmer be in the mix? Lovie Smith? None of this matters if the Cowboys win their final two games.
** I wonder if Murray's performance over the past month or so is making those at Valley Ranch rethink their thoughts about his long-term future. Murray is 23 yards away from reaching 1,000 yards for the season. He probably should have hit that number against the
Green Bay Packers
if they just ran the ball more. He will get it this week against the Redskins barring something unforeseen and he will do it in just his 13th game of the season having missed two games with a knee injury. That's pretty impressive. He has run harder as the season has gone on but has left yards on the field as well. The prevailing wisdom is that running backs can be found here, there and everywhere and you only commit long term to the
Adrian Peterson
types. Murray is not that kind of back but he has had his best season. He is signed through 2014.
** If the Cowboys lose Sunday and the
Philadelphia Eagles
win, I wonder how the Cowboys approach the season finale against the Eagles. The Cowboys will be out of the playoff chase. In 2005 the Cowboys were eliminated before their finale against the
St. Louis Rams
but Parcells chose to go with his starters and lost 20-10. Many inside the organization wanted to see him start Tony Romo in that finale, but the coach stuck with
Drew Bledsoe
. Not to go all Herm Edwards on you here, but you play to win the game. If you can take a look at a player, then fine. The problem the Cowboys have is they don't have much in the pipeline you would want to see. Maybe
Jermey Parnell
gets a shot at right tackle, but
Doug Free
hasn't done anything to be benched and should be back in 2014. Maybe Escobar takes the bulk of the backup tight end snaps over
James Hanna
. Would that change any perceptions of Escobar as he heads into his second season? Could Williams get the work over
Miles Austin
? Yeah, but that has happened for most of the season.
September, 18, 2012
9/18/12
10:29
AM ET
IRVING, Texas – After two games many of you are wondering which Cowboys team will show up on gameday. They played great against the
New York Giants
. They were whipped by Seattle. So what happens Sunday against Tampa Bay?
I'm wondering about five things.
Here's this week's Five Wonders:
** I wonder if
Tony Romo
will continue his personal success against the Buccaneers on Sunday. In three games against Tampa Bay, Romo has 11 touchdown passes and no interceptions. His passer ratings in the three wins have been 148.9, 140.6 and 133.9. In 2006, Romo tore up Monte Kiffin's defense for five touchdown passes. In the 2009 season opener, he beat Raheem Morris' defense for353 yards. Last year he completed 77 percent of his passes against Keith Millard's defense. This week he goes against Bill Sheridan's defense. The Bucs have allowed
Cam Newton
to pass for 303 yards and
Eli Manning
to pass for 510 in the first two games. Sheridan was the New York Giants defensive coordinator in 2009 and in the two games Romo threw four touchdown passes and was intercepted three times in two Dallas losses.
**OK,
Felix Jones
won't be cut. Jerry Jones said so this morning on KRLD-FM. Jason Garrett was taken by surprise at the question during the post-game press conference, too. But should Jones be active? He's not an effective kick returner. Garrett keeps saying Jones is a big part of the offense. Why? He can't make a tackler miss. He's had one carry in the first two games. This is DeMarco Murray's running game right now, as it should be. If Jones can't be a special teams' help and can't make people miss as a pass catcher, then why should he be on the 46-man roster? Something has happened to Jones. He's lost that speed that helped him get by without much make-you-miss.
** The Cowboys will be thin at safety his week.
Gerald Sensabaugh
could miss 1-2 weeks with a calf strain, but he is one of the toughest players on the roster so don't rule him out for Sunday.
Barry Church
has a quadriceps bruise but he should be OK.
Matt Johnson
has not practiced since the regular-season began because of a hamstring injury. That leaves two healthy safeties in
Danny McCray
and
Mana Silva
. Cornerback
Mario Butler
played some safety in the preseason. Jason Garrett was asked if
Mike Jenkins
could play some safety with the injuries. I wouldn't go there. I wonder if they should give
Orlando Scandrick
some time there. It was kicked around a few years ago about playing Scandrick at safety when Wade Phillips was around. He plays a hybrid safety role in some substitution packages. He's a willing tackler. He's an intuitive player. He's not the prototypical size but you're not asking for a full-time conversion to the spot. Maybe it makes some sense.
**I wonder when people (media too by the way) will realize the way the Cowboys have opened the season is the way of life in the NFL. It happens everywhere, if we want to talk off the microscope off the Cowboys for a second. New England lost at home to Arizona. New Orleans lost to Washington in Week 1.
Peyton Manning
looks great in his return for Denver against Pittsburgh then terrible in his first quarter on Monday at Atlanta. Baltimore airs it out in Week 1 vs. Cincinnati and is stifled the next week vs. Philadelphia. The key is to win the games you play poorly in. Say, hello to Philadelphia. The Eagles were awful vs. the Browns in the opener but won anyway. In December nobody will be talking about any style points on that game, just the victory. The Cowboys had a chance in Seattle and were punked in the second half. It's simple as that. Since Garrett took over midway through the 2010 season the Cowboys have had two two-game winning streaks and one four-game winning streak. They've also had two two-game losing streaks. The key early in a season is to pile up the wins anyway, anyhow and carry momentum.
** There are times in games where you sometimes have to take a risk, calculate the gamble and just go for it with conviction. I wondered whether the Cowboys should have gone for it on fourth-and-3 from the Seattle 40 with 44 seconds left in the first half and asked Garrett if he considered not punting. "That's certainly a discussion you have, but we didn't want to give them a short field and another scoring opportunity there," Garrett said. "We were trying to maximize our opportunity there, and we didn't convert. That was one where we had an opportunity to win on a slant route. The ball got batted at the line of scrimmage and they made the stop on third down. We just felt like the right thing to do at that point because of the field position was punt it down in their end." I understand the thinking but against a rookie quarterback that had done little up to that point, why not show faith in the defense that you think they'll get a stop?