Dallas Cowboys:

Geno Atkins
August, 24, 2013
8/24/13
11:00
AM ET
ARLINGTON, Texas -- We've got five things to watch in the Cowboys' fourth preseason game Saturday night, against the
Cincinnati Bengals
at AT&T Stadium.

1. Doug Free.
With the offensive line dealing with health issues in the interior and some ineffective play, the right tackle moves to the right guard spot with the first-team offense. Free has never played guard in the NFL, college or high school. He started working at guard this week at Valley Ranch, and one team official said he looked pretty good. We'll see how he performs against the Bengals' front of
Domata Peko
and
Geno Atkins
.
2. First-team offense.
With
Tony Romo
at the helm this preseason, the offense has scored three points. It has turned the ball over twice and had a field goal blocked. Romo will stay on the field for the entire first half, and, if things go badly again, expect him to get a series in the third quarter, as well. The Cowboys have produced some positive plays with
Dez Bryant
and
Miles Austin
, but
Jason Witten
doesn't have a catch in the preseason. Expect
DeMarco Murray
to get at least five or six carries in this game.
PODCAST
Ed Werder joins Fitzsimmons and Durrett for his weekly visit to give his thoughts on the Sean Lee extension, discuss who Jerry Jones should sign to an extension next and take a look at the other three teams in the NFC East.

Listen

3. George Selvie.
The free-agent defensive end came on strong in the Hall of Fame game, but has slowed down since. If
Anthony Spencer
isn't ready for the regular-season opener against the
New York Giants
, Selvie will start at end. This will be his most significant snaps since the first preseason game, and he needs to show some consistency.
4. B.W. Webb.
The rookie cornerback is athletic and smart, but still a rookie. He has made some mistakes in pass coverage, but his status isn't in question because the Cowboys like his upside. However, Webb needs to show some improvement here, and he will get plenty of playing time with
Morris Claiborne
out with a sore knee.
5. Special teams.
We've got two muffed punts, two penalties on punt returners, a blocked field goal and a 51-yard kickoff return allowed by the special-teams unit. It hasn't been a smooth summer for Rich Bisaccia's group. He's mixing and matching personnel and wants to use starters on these units, but he's not afraid to play rookies. Regardless, this group has to play better.
December, 11, 2012
12/11/12
12:31
PM ET
IRVING, Texas – The Cowboys had 10 drives in Sunday's win against Cincinnati but they struggled for answers in most of them.
The different zone blitz looks that Bengals defensive coordinator Mike Zimmer gave the Cowboys had them confused. After the Cowboys' first drive, in which
Tony Romo
completed 5-of-6 passes, Romo had only one drive in which he completed more than one pass in the next six drives.
The Cowboys could not block
Geno Atkins
. Every offensive lineman had at least one breakdown in pass protection and they could not get a push up front.
On the eighth drive, which started at the Dallas 2, something started to click. It started with a slant to
Miles Austin
on five-man pressure. It was the first completion the Cowboys had against five-man pressure in the game as they started out 0 for 6. That drive ended with a punt, but it gave the offense a template off which to work on their final two drives.
On the ninth drive, Romo and Austin hooked up again when the Bengals came with five defenders. Romo was hit as he threw it, but he waited just long enough for Austin to clear the second window to make the grab on the run. The Cowboys had 15 yards and a first down. On the next play
Dez Bryant
had his 27-yard touchdown.
It came after Bryant made the wrong route read, going behind the cornerback on his crossing route, but Romo had enough time to wait for Bryant coming across the middle and threaded a throw in which Bryant was able to sprint into the end zone.
On that ninth drive the Cowboys found some success with 11 personnel runs (three wide receivers). On the 10th drive,
DeMarco Murray
was able to get the crucial first down on third and 5 on a 11-personnel run, bouncing to the right against an eight-man box.
Dwayne Harris
did just enough on the corner on the outside for Murray to cut inside to lunge for the first down with a defender on his back.
Romo's second biggest completion of the drive (the first was the third-down throw to
Jason Witten
) came when Zimmer brought five guys on first-and-10 from the Dallas 42 and he waited for a crossing Bryant for 9 yards.
After starting 0 for 6 against five-man pressure, Romo completed three of his final four vs. Zimmer's pressure.
Romo completed 19-of-28 passes against four-man pressure, 2-of-3 against six-man pressure and missed on both of his throws on three-man pressure. He had one goal-line throw.
How was the Cowboys' offense given a chance to make the comeback? The defense finally made plays when it needed to after failing to do so in six previous games.
Rob Ryan's unit has been criticized and deservedly so, injuries or no injuries, but
DeMarcus Ware
and
Anthony Spencer
came up with the two biggest plays in the fourth quarter.
Ware's 3-yard sack of
Andy Dalton
came on third-and-12 when Ryan chose to rush three guys. And everybody hates that, right? Running back
Brian Leonard
did not get a good enough chip on Ware, giving the Pro Bowl linebacker the chance to sprint by right tackle
Andre Smith
and track down Dalton for the first stop.
Spencer's sack came when he lined up at inside linebacker in the dime defense. I wonder if he was there because
Ernie Sims
was hurt. Most of the time when he lined up at inside linebacker in recent weeks, he dropped into an underneath zone. On this third-and-4 play, he was able to beat guard
Kevin Zeitler
up the middle to get into Dalton's face quickly.
Jason Hatcher's play in the final two drives should also be recognized. He had two pressures and drew a holding penalty.
December, 9, 2012
12/09/12
10:15
AM ET
CINCINNATI -- We're at Paul Brown Stadium, and it's going to be an emotional day for the Cowboys as they take on the
Cincinnati Bengals
.
Jason Garrett said it best when speaking to the team on Saturday night: You have to mourn the loss of
Jerry Brown
, but must focus for a few hours to keep the playoff hopes alive.
Here's a preview:
The series:
These teams have met just 10 times in their history and the Cowboys own a 6-4 overall mark. The last time they met, the Cowboys beat the Bengals 31-22 on Oct. 5, 2008. The last time the Cowboys faced the Bengals here was a 26-3 loss on Nov. 7, 2004.
Losing two players:
The Cowboys are playing with heavy hearts today because backup nose tackle
Josh Brent
, who was scheduled to start, is in jail, pending bond, after being charged with intoxicated manslaughter after a car accident in which teammate Jerry Brown was killed early Saturday morning. Brown was a practice squad player who, along with Brent, was well-liked in the Cowboys locker room.
Replacing Brent:
The business of football takes over at 1 p.m. ET, and with Brent in jail, the Cowboys have to find a replacement for the replacement. Brent was playing for an injured
Jay Ratliff
, so now the Cowboys could go with
Sean Lissemore
or
Marcus Spears
at nose tackle. The Cowboys normally go with a rotation along the defensive line and it could remain that way despite losing Brent. Robert Callaway, who was called up to the active roster on Saturday after the team placed
Orlando Scandrick
on injured reserve, most likely will make his NFL debut. Don't be surprised if
DeMarcus Ware
and
Anthony Spencer
line up as defensive ends. Ware and Spencer played those positions in college and have done it before in the NFL on a limited basis.
Playoff possibilities:
If the Cowboys (6-6) lose, the playoff hopes for Cowboys Nation will practically be gone. Dallas remains just a game out of first place in the NFC East, however, and is tied for second place with Washington. But Washington currently owns the tiebreaker over Dallas (head-to-head meetings). The Cowboys losing, falling to 6-7, doesn't help their chances with three games remaining in the regular season.
A hot Dez Bryant:
The starting wide receiver has scored six touchdowns the past four weeks and produced two games with more than 100 receiving yards. He's got 14 catches the past two weeks and has basically been unstoppable at times. The Bengals will place either
Terence Newman
or
Leon Hall
on Bryant.
Adam Jones
might pick Bryant up in the slot in some situations. The Cowboys will need Bryant to become a playmaker once again.
Sacks, sacks, sacks:
The Bengals lead the NFL with 39 sacks and have an imposing front seven led by defensive tackle
Geno Atkins
, whom Cowboys left guard
Nate Livings
said was one of the best in the league. The Cowboys' offensive line will be challenged greatly today. Livings is playing with a sore knee, right tackle
Doug Free
is struggling in pass protection and center
Ryan Cook
is making his second consecutive start after missing the previous two games with a knee injury. How
Tony Romo
deals with the pressure and if
DeMarco Murray
finds some running lanes will be an interesting storyline today.
December, 7, 2012
12/07/12
9:21
AM ET
IRVING, Texas – The only players remaining from the Cowboys last trip to Cincinnati are
Jason Witten
and
Tony Romo
, and Romo was the No. 3 quarterback on Nov. 7, 2004.
Witten caught six passes for 97 yards but the Cowboys were trounced 26-3 at Paul Brown Stadium.
"I don't remember anything about it," Witten said.
Because the Bengals are such an unfamiliar foe, Witten said there has been more film study this week than if they were playing a division or even a conference foe.
"I think it's just more detail," Witten said. "You keep turning every page, watch it. You got to stay focused with it. Just get familiar with their scheme and what they're trying to do. They do a good job of pressure, pressure, pressure and then bail everybody out of there. Then (you study) each individual player and how they like to attack it. I think it starts with their front four. They do a good job of getting to the quarterback."
Quarterback Tony Romo said the Bengals have the best front the Cowboys have faced this season. Cincinnati leads the NFL in sacks with 39 and defensive tackle
Geno Atkins
leads the way with 9.5. Thirteen different defenders have recorded at least a half sack. Only five Cowboys have recorded a sack this year.
"You watch every cut up, every game and go through everything you can to exhaust all the options so that you know what to get to and the adjustments to make in the game as to what they're doing and the way they like to do things," Romo said. "(Defensive coordinator Mike Zimmer) has done a great job. They've got a very diverse defense scheme wise. They run a little bit of everything. With the way their guys up front are playing right now it's going to be a very big challenge for us."
December, 6, 2012
12/06/12
1:02
PM ET
The way the Bengals' defensive line has been sacking quarterbacks, you're waiting for some comparison to the Fearsome Foursome or another memorable defense from the past. You probably weren't expecting a reference to a young adult novel about a fight to the death.

"We treat it like the Hunger Games," Bengals defensive end
Carlos Dunlap
told reporters. "Whoever gets there first. Especially when we know its a pass, me,
Geno (Atkins)
and
Mike (Johnson)
are licking our chops like we hadn't eaten all day, ate at like breakfast, now we got to eat."
This quarterback feast could give the Bengals their first NFL sacks title. Cincinnati currently leads the league with 39, which is one more than the Broncos. The Bengals have never finished higher than fourth in the NFL in sacks, and that was in 1973 and 2011. The key to the Bengals' pass rush this year is how it's generated by the defensive front. Atkins (9.5 sacks), Johnson (eight) and Dunlap (four) have accounted for 55 percent of the team's sacks.
The Bengals are also on pace to break the franchise record in sacks, which was set in 2001 (48 sacks). This year's defense is averaging 3.2 sacks per game and is projected to finish with 52.
Cincinnati is looking to add to its total Sunday against the Cowboys.
Tony Romo
has been sacked 28 times this season, eighth-most in the NFL.
December, 5, 2012
12/05/12
1:42
PM ET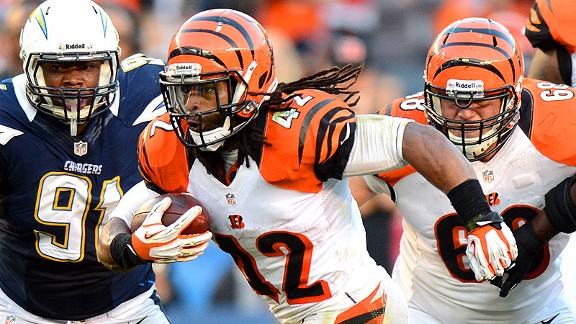 Jake Roth/US PresswireRunning back BenJarvus Green-Ellis has eclipsed 100 yards rushing in three consecutive games.
The baffling Bengals are at it again. Just when you think you know where Cincinnati is headed, this team makes an unexpected U-turn.
PODCAST
Cincinnati Bengals defensive coordinator Mike Zimmer says he's very impressed with Tony Romo and that Dez Bryant is starting to remind him of Michael Irvin.

Listen

In 2010, the Bengals went from being the defending AFC North champions to winners of four games. In 2011, when the Bengals ranked last in the Power Rankings to open the season, they ended the regular season by making the playoffs. And now, weeks removed from being written off, the Bengals have everyone reaching for the delete key.
Cincinnati (7-5) somehow went from becoming one of the most disappointing teams in the league to jumping back in the postseason hunt all in the same season. The Bengals are tied with Pittsburgh for the final playoff spot in the AFC, and they're two games behind the Ravens (9-3) in the AFC North race with four weeks remaining. It's been a remarkable turnaround for the Bengals, who had a 3-5 record on Nov. 4 after losing four straight games. The Bengals have since won four games in a row, and have done so in impressive style. Their margins of victory have been 18, 22, 24 and 7 points.
What has everyone learned from the Bengals' win streak? While the Bengals often make people regret making predictions about them, it's time to start taking the Bengals seriously. They're looking like a playoff team and they're playing like they have something to prove.
"This team is getting better each week," wide receiver
A.J. Green
said. "A lot of people said it was out of our reach to make the playoffs, but I feel like we have momentum on our side coming down the home stretch of the season."
There's not another team with more momentum on both sides of the ball. That includes teams that have already clinched a playoff spot like Houston, New England and Denver.
PODCAST
Cincinnati Bengals defensive coordinator Mike Zimmer says he's very impressed with Tony Romo and that Dez Bryant is starting to remind him of Michael Irvin.

Listen

The Bengals have hit their stride on offense. Running back
BenJarvus Green-Ellis
became the first Bengals player in 13 years to gain more than 100 yards in three straight games. Over the past four weeks, the Bengals have averaged 28.2 points and scored touchdowns on 13 of their past 17 trips to the red zone.
Their defense is stonewalling teams from the end zone. The Bengals are allowing 10.5 points during the win streak and have given up one offensive touchdown in three weeks. Over the past four weeks, Cincinnati's D has four interceptions and 15 sacks.
There's also a different attitude with this team. It surfaced against the Raiders two games ago when offensive tackle
Andrew Whitworth
was ejected in coming to the defense of quarterback
Andy Dalton
. In other words, these Bengals aren't going to be pushed around.
These young Bengals are growing up quickly. Dalton is among the best quarterbacks in getting the ball into the end zone. (His 24 touchdowns rank behind only
Drew Brees
,
Peyton Manning
,
Aaron Rodgers
and
Tom Brady
.) Green is one of the most explosive wide receivers in the game. And defensive tackle
Geno Atkins
is the best player no one outside this division knows about.
"We control our destiny," linebacker
Rey Maualuga
said. "We can only control what we can. That is preparing for the next game. Show up and win. Be disciplined. Play with the same intensity and effort that we have been playing with the past couple weeks. I think that is all the coaches can ask for."
What the Bengals' coaches have asked for has changed throughout the season. Early last month, coach Marvin Lewis was challenging his team leaders, Dalton and Maualuga, to step up. A month later, Lewis sounds concerned about overconfidence.
Maybe that's why the Bengals needed a victory like the one in San Diego on Sunday. Cincinnati turned the ball over three times and trailed by three points with four minutes remaining. But, as the Bengals have done this season, they bounced back from adversity and escaped with a 20-13 win.
Still, Lewis doesn't want his players to feel satisfied by that performance.
"Break up the glee club because we've got to do better," Lewis said. "It wasn't good enough [on Sunday] -- in a lot of areas. Everybody is patting them on their backs about what they're doing. Well, we haven't done anything. We just got back to even, and now we have to move forward. These last four are what counts."
The Bengals' next two games are home against Dallas (6-6) and at Philadelphia (3-9). What likely will determine their playoff fate is their final two games: at Pittsburgh and home against Baltimore.
This generation of Bengals -- Dalton, Green and other second-year or rookie players -- once again face their biggest obstacle. Since the start of the 2011 season, the Bengals are a combined 0-6 against the Ravens and Steelers, while they're 16-6 against the rest of the NFL.
Another sweep by Baltimore and Pittsburgh likely would eliminate Cincinnati from the postseason. The Bengals have to split with the Steelers because of tiebreaker implications.
Before the Bengals can become a playoff team again, they have to show they're a consistent team. The Bengals need two wins to put together back-to-back winning seasons for the first time since 1981 and '82.
"I think we are a far better football team than we were last year when we finished the season. That's key," Lewis said. "We have to go prove that we're better-equipped to finish out this last quarter of the season. That's where we are now. We put ourselves back in position. We were able to overcome October, which was hard. We've done this by playing one snap at a time. We can't lose sight of that."
By how they've turned around their season, the Bengals are suddenly a team to watch in December.