Dallas Cowboys:

geno smith
April, 18, 2014
Apr 18
10:30
AM ET
IRVING, Texas -- We had another solid chat on Wednesday with a lot of draft questions.
We talked about trading up (I don't see it happening), selecting
Anthony Barr
or
Kony Ealy
if both are available at No. 16 (Barr), taking a chance on
Dominique Easley
, the extra time leading up to the draft (hate it) and my all-time favorite Cowboy.
If you want to read the whole chat,
click here
.
I was also asked about drafting a quarterback.
R Lank, Md.:
With romo 1 bad hit, and he's finished along with the uncertainty of orton why not draft a decent qb. at romo's age along with his injuries would u say that a high risk paying him that kind of money. I mean like u and (Jacques) said why pay age?
Todd Archer:
When it comes to quarterbacks and left tackles, paying age doesn't seem as problematic for a lot of teams. I understand what you're saying about drafting a quarterback, but I don't see them going after a guy in the first two rounds. Maybe the third but more likely fourth or fifth. When you're picking a guy there, it's a projection more than a known commodity. Honestly, I think when Romo is done, whenever that is, the Cowboys will draft his replacement the following year and go with the guy.
Let me go a little deeper. For the last three or four years this has been a common question either because fans want the Cowboys to move on from
Tony Romo
or start the process of finding his replacement before it's too late.
I've been a fan of selecting a quarterback every year, similar to the way Ron Wolf worked the draft with the
Green Bay Packers
. Clearly the Cowboys don't share that belief, and I've just now come to the realization that when Romo's career is over, then they will go ahead and find their next starter.
They don't believe it makes sense to draft a quarterback, give him time to develop and then hand him the keys, say, the way the Packers did with
Aaron Rodgers
when they decided to move on from Brett Favre. It's a risky strategy, but it's what the Cowboys did after
Troy Aikman
retired.
They drafted Quincy Carter in the second round, surprisingly, and he won the job. They cut Tony Banks in camp so as there was no doubt Carter would be the guy. It didn't work, although Carter did help the Cowboys to the playoffs in 2003.
Finding the next franchise quarterback took time for the Cowboys, and they got lucky in Romo. They looked to baseball and got Carter, Chad Hutchinson and Drew Henson. They looked at vets like Vinny Testaverde and Drew Bledsoe.
If you look at quarterbacks now, teams draft them and play them.
Andy Dalton
was a Day 1 starter with the
Cincinnati Bengals
after he was picked in the second round.
Russell Wilson
won the starting job with the
Seattle Seahawks
as a third round pick.
Cam Newton
,
Sam Bradford
,
Matthew Stafford
and
Andrew Luck
were No. 1 picks and starters from the beginning.
Ryan Tannehill
(
Miami Dolphins
),
Robert Griffin
III (
Washington Redskins
), E.J. Manuel (
Buffalo Bills
),
Geno Smith
(
New York Jets
) and
Matt Ryan
(
Atlanta Falcons
) have been walk-in starters.
So whenever Romo is done – two, three or four years from now – that's when I think the Cowboys go all in for a quarterback in the draft. And if (remember it's still an if) that is the case, then there is a strong argument to take another offensive lineman at No. 16 next month.
With
Tyron Smith
,
Travis Frederick
and Offensive Lineman X, the Cowboys would have three first-round picks to protect an early-round quarterback. That would be a good way to break in a young quarterback. He would not be under siege behind a bad line.
Will this happen? Who knows, but it's what I think could be the case.
April, 29, 2013
4/29/13
10:30
AM ET
»
NFC draft analysis
:
East
|
West
|
North
|
South
»
AFC
:
East
|
West
|
North
|
South
The draft started off heavy in the NFC East, as the three teams with first-round picks this year used them on offensive linemen. And while there were a few little surprises and treats along the way, it never really got hot. All four of the division's teams had workmanlike drafts that balanced need and value and didn't stray into any of the juicy storylines. No
Manti Te'o
,
Geno Smith
or
Tyrann Mathieu
for us.
PODCAST
Chuck Cooperstein, Matt Mosley and Glenn "Stretch" Smith discuss the Cowboys' draft picks and who was influencing Jerry Jones' decisions.

Listen

There was a trade-down in the first round, as the
Dallas Cowboys
moved out of a No. 18 spot they didn't like and still managed to get their first-round offensive lineman, while adding a third-rounder to the mix. There were two trade-ups in the fourth round, as the
Philadelphia Eagles
and the
New York Giants
maneuvered to add quarterbacks in surprising moves. And there were the
Washington Redskins
, without a first-rounder but fine with it because they have
Robert Griffin III
, who waited it out and got two talented safeties in the late rounds for a secondary that needs rebuilding.
We'll be breaking this all down for days and weeks and months, but here's a quick early look at the way the 2013 draft went in the NFC East.
BEST MOVE
In the absence of any earth-shaking moves in the early rounds by NFC East teams, I'm going to have to go with the Eagles taking tackle
Lane Johnson
at No. 4. They probably could have traded down and out of the pick, but this was a draft in which six offensive linemen went in the first 11 picks, and the value of the third-best tackle with the fourth pick was worth hanging in there. After what happened to their offensive line with injuries in 2012, the Eagles were wise to load up there, taking an athletic player who can start at right tackle right away and maybe move to left tackle down the road once
Jason Peters
is done. It also helps that Johnson is the kind of lineman who can move. If Chip Kelly plans to run a lot of read-option, or even a lot of bubble screens, Johnson's ability to get out and block at the second level is going to be a big help.
Also considered: The Eagles' trade-up for quarterback
Matt Barkley
at the top of the fourth round. ... The Redskins' getting two quality safeties in the fourth and sixth rounds in
Phillip Thomas
and
Bacarri Rambo
. ... The Cowboys trading down in the first round and getting wide receiver
Terrance Williams
with the third-round pick they added in that deal.
RISKIEST MOVE
[+] Enlarge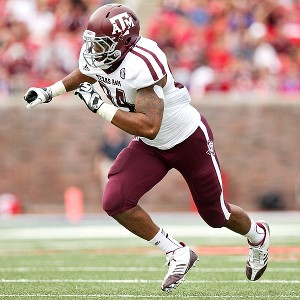 Thomas Campbell/US PresswireDamontre Moore put up impressive numbers at Texas A&M, but he has to disspell concerns over his work ethic and attitude at the next level.
There weren't any real big risks taken by NFC East teams with their most valuable picks in the first and second rounds, I didn't think. So I'm going with defensive end
Damontre Moore
, who went to the Giants in the third round. Moore is a big-time talent with big-time production numbers in college -- 12.5 sacks last year, 26.5 over the past three. But there are good reasons a player as good as he is was still there at pick No. 81, and in Moore's case those reasons include a marijuana bust and a reputation as a young man who struggles with attitude and work ethic.
Now, Moore is just 20 years old, and it's wrong to assume anyone that age will always be what he has been so far. But Moore is the player from this draft whose job it is to bolster the future of the Giants' pass rush with
Osi Umenyiora
gone and
Justin Tuck
aging. If he's a solid citizen and produces the way he did at Texas A&M, he's going to be a steal. If he's an attitude case who doesn't take to coaching and causes problems, the Giants are going to have to keep looking for long-term solutions at defensive end in the next several drafts. A third-round pick isn't too much to risk on a player with Moore's potential, but it's a pick with which the Giants could have found help elsewhere. So if he does flop, they will regret it.
MOST SURPRISING MOVE
The Eagles pulled the surprise of Day 3, moving up three spots to the top of the fourth round, where they selected USC quarterback Matt Barkley. Most analysts were convinced Kelly would seek a fast, athletic, running quarterback when he finally pulled the trigger on that position, but Barkley was a pro-style pocket passer at USC and doesn't fit the "system" everyone seems to be assuming Kelly is determined to run now that he's in the pros. As you know if you read this blog regularly, I think that's hogwash and that Kelly is smart enough to know that the best way to coach is to find talented players and figure out the best way to coach them -- not come wading in with your own "system" and only look for players who fit it.
Kelly knows Barkley from coaching against him in college, and Barkley is a guy who a year ago was thought of as a possible No. 1 overall pick. If 2012 was just a bad year for him and he ends up being a good NFL quarterback, nobody's going to care that he can't run the read-option. For a fourth-round pick and a seventh-round pick, which is what it cost the Eagles to move up and take him, it's a worthwhile risk. And it leaves Kelly with a lot of options at the most important position on his team as he begins his first offseason as an NFL coach.
The Giants pulled a surprise of their own later in the round, trading up six picks to select Syracuse quarterback
Ryan Nassib
to develop behind
Eli Manning
. The 32-year-old Manning hasn't missed a game since 2004, so it's unlikely Nassib sees the field anytime soon. But the Giants decided it was time to start thinking down the road at the position.
FILE IT AWAY
I liked the Cowboys' first round more than most people did, because I thought they absolutely needed to come out of that round with an offensive lineman, and they did. And while
Travis Frederick
may have been a reach at 31, reaching for an offensive lineman wasn't a bad move for this particular team in a draft in which eight offensive linemen went in the top 20 picks. They traded down from 18 and got the pick that netted Frederick and the third-round pick that netted wide receiver Terrance Williams, and they like that pair better than they liked what was available to them at 18.
But they won't have to look far to remember what might have been. The Giants took Syracuse offensive lineman
Justin Pugh
at 19, which means the Cowboys could have stayed put and picked up a better-regarded lineman than Frederick (though, obviously, not also get Williams in the third). If Pugh turns out to be a great player for the Giants and Frederick flops in Dallas, the Cowboys could end up regretting the Day 1 trade-down in the long run.
April, 26, 2013
4/26/13
8:58
AM ET
The second and third rounds of the NFL draft are set for tonight back at Radio City Music Hall, and the second will begin at 5:30 p.m. CT. After a first round that saw nine offensive linemen, one quarterback and no running backs taken Thursday, it's possible tonight will have more star power than the first night did. Scouts, Inc. has done a
second-round mock draft

, and this is what they've come up with for the NFC East's teams.

3 (35). Philadelphia Eagles:
John Cyprien
, S, Florida International
In this scenario, West Virginia quarterback
Geno Smith
is off the board, taken by Jacksonville with the night's first pick, and the Eagles end up with the best remaining safety to fill a position of perennial need. Other possibilities I could imagine for the Eagles here include a defensive lineman with a 3-4 background, Stanford tight end
Zach Ertz
or Smith if he's available. I doubt they'll trade up for Smith (because they could have done so last night), and if he's gone I'm guessing they wait a few rounds for someone like Arizona quarterback
Matt Scott
.

15 (47). Dallas Cowboys:
Kawann Short
, DT, Purdue
After getting the interior offensive line help they so badly needed in the first round, this mock has the Cowboys turning to the interior of the defensive line, where
Jay Ratliff
always seems banged-up and
Jason Hatcher
is entering the final year of his contract. Short is a big talent whose question marks are about motivation and inconsistent college production. He could be a developmental guy for them -- help some in a rotation in the first year but more as a down-the-road replacement for one of the starters. I'd also have no issue with the Cowboys addressing safety here with someone like Cyprien or
D.J. Swearinger
. Could see them looking at a running back like
Eddie Lacy
or
Montee Ball
. And no, I absolutely do not think it would be a mistake for them to take another offensive lineman such as
Menelik Watson
or
Larry Warford
here.

17 (49). New York Giants:
Kevin Minter
, ILB, LSU
Linebacker is a need for the Giants. But as we've discussed, it's not one on which they tend to spend valuable resources. This is still a relatively high pick, and while Minter makes sense, I could easily see them spending this on a safety like the ones we've mentioned, a cornerback like
Johnthan Banks
or
Jamar Taylor
, a defensive end like
Tank Carradine
or even one of those running backs. They do like to have depth there.

19 (51). Washington Redskins:
Johnthan Banks, CB, Mississippi State
Finally, the Redskins make their first pick of this year's draft, and it's at a position where they need immediate help and long-term depth. This draft is deep in defensive backs, and the Redskins should be able to take advantage of that with a good cornerback or safety at this spot.
Tyrann Mathieu
is still on the board in this mock, but I'd be surprised if Washington went that way, especially with so many less questionable options available. Cyprien, Swearinger or
Shamarko Thomas
make sense if they want to go safety. Banks, Taylor,
Blidi Wreh-Wilson
or Banks' teammate,
Darius Slay
, are among the good options at corner. If they don't take a defensive back here, maybe it's because a tackle like Watson or
Terron Armstead
fell to them. And you can't rule out wide receiver as a possibility here either.
April, 26, 2013
4/26/13
8:00
AM ET
IRVING, Texas -- Here is a quick preview for Day 2 of the NFL draft.
PODCAST
Nate Newton joins Fitzsimmons & Durrett to discuss the first round of the NFL draft.

Listen

What to expect:
The Cowboys have the 47th (second), 74th and 83rd (third round) selections of the draft. Don't expect a trade at this stage of the draft because the Cowboys, who entered the draft with six draft picks, made a deal Thursday night to get the extra selection they wanted.
Needs:
Defensive line, defensive back, wide receiver, running back and offensive line are positions of need. The Cowboys picked up a center in
Travis Frederick
with the 31st overall selection, but there are still positions that need to be filled. There's a possibility the Cowboys will try to get a defensive lineman with one of their three picks Friday night.
Mel Kiper's best available prospects:
LB
Manti Te'o
, Notre Dame; RB
Eddie Lacy
, Alabama; QB
Geno Smith
, West Virginia; QB
Matt Barkley
, USC; S
John Cyprien
, FIU; TE
Zach Ertz
, Stanford; RB
Montee Ball
, Wisconsin; LB
Kevin Minter
, LSU; DT John Jenkins, Georgia; OT
Menelik Watson
, Florida St.
Cowboys best available:
S
Shamarko Thomas
, Syracuse; WR
Terrance Williams
, Baylor; DT
Johnathan Hankins
, Ohio State; RB
Montee Ball
, Wisconsin; T
Terron Armstead
, Arkansas Pine-Bluff.
Day 1 recap:
The Cowboys moved from No. 18 to No. 31 and also grabbed a second-round selection in a trade with San Francisco. The Cowboys bypassed several key players, including defensive tackle
Sharrif Floyd
, who went to Minnesota at No. 23. Cowboys owner/general manager Jerry Jones said Floyd didn't fit the Cowboys' 4-3 scheme. Also, the team had a chance to move up, but Jones said there were two players who they coveted and they were gone by the 10th pick of the first round.
April, 19, 2013
4/19/13
11:46
AM ET
»
NFC Eight in the Box
:
East
|
West
|
North
|
South
»
AFC
:
East
|
West
|
North
|
South
What would be the ideal first-round scenario for the Cowboys in next week's NFL draft?
Dallas Cowboys
PODCAST
Arlington and Texas A&M product Luke Joeckel, the potential No. 1 overall pick in the NFL draft, joins Ian Fitzsimmons and Richard Durrett to discuss the draft, coaches and advice from his dad.

Listen

Because of the perceived lack of top-level skill-position talent in this year's draft, a lot of the mock drafts and projections have the top offensive linemen going off the board early.
Mel Kiper Jr.'s latest mock

, for example, has six offensive linemen going in the top 12 picks, which means well before the Cowboys pick at 18 and probably too early for them to make a sensible trade-up to grab someone like Alabama guard
Chance Warmack
or North Carolina guard
Jonathan Cooper
. This would be unfortunate and far from ideal for the Cowboys, but history offers hope. The last time six of the first 17 picks in the draft were offensive linemen was 1966, when there were only 15 teams in the league. Only three times since then -- 1977, 1985 and 2008 -- have as many as five offensive linemen been picked in the top 17. The Cowboys probably can't expect any of the top three tackles to fall to them, but their ideal first-round situation would be for Warmack, Cooper or even Alabama tackle
D.J. Fluker
to fall to 18 and allow them to shore up their most significant area of short-term and long-term need. If only one of those guys is still available by 14, the Cowboys should look into trading up to get him.
To see the ideal first-round scenario for the other NFC East teams, click here.
April, 18, 2013
4/18/13
11:00
AM ET
Our man Mel Kiper, Jr. has posted his annual "Grade A" draft preview, which he says is not a mock draft but rather a simulation of the way the first three rounds of the draft would go if he were making the picks for each team based on his evaluation of their needs and his own rankings of the players. It's quite an undertaking, and it's
available here

if you're an Insider subscriber. There are trades involved, including one in which the Lions trade with the Chiefs to move up and make cornerback
Dee Milliner
the first pick in the draft. I mean, honestly, not shilling for the company here, but it's the kind of thing I would think would make a draft-obsessed non-Insider reach for his or her credit card.
Anyway, here's what Mel's got for the NFC East teams:

Philadelphia Eagles
Round 1 (pick 4):
Dion Jordan
, LB, Oregon
Round 1 (pick 25, from Minnesota, in exchange for 2nd-round picks in 2013 and 2014):
Geno Smith
, QB, West Virginia
Round 3 (pick 67):
Jordan Poyer
, CB, Oregon State
My take:
Pass-rusher Jordan makes a ton of sense for his college coach at No. 4, but the big move here is the trade-back into the first round for Smith. Lots of people like the idea of Smith with Chip Kelly, and if Kelly likes it too and can get Smith without the No. 4 pick in the draft, you'd have to call that a coup -- especially for a team that wouldn't need to start Smith right away. Obviously, the idea of the top quarterback in the draft lasting until pick 25 in this day and age is impossibly farfetched. But again, this isn't about what's
likely
to happen. It's about what would happen if Mel were in charge of every team's draft.

Dallas Cowboys
Round 1 (pick 18):
Sylvester Williams
, DT, North Carolina
Round 2 (pick 47):
Larry Warford
, G, Kentucky
Round 3 (pick 80):
Joe Kruger
, DE, Utah
My take:
I think a lot of people would be surprised to see the Cowboys use two of their first three picks on defensive linemen. But given that they're transitioning to a 4-3 and have depth and age issues on the line, it's not a bad way to go. In Mel's scenario, the draft's top six offensive linemen all go in the top 12 (something that has never happened in draft history, but again, this isn't meant as a prediction), and the Cowboys are forced to wait until Round 2 to address their most desperate need. Picking Williams with safety
Kenny Vaccaro
still on the board might frustrate Cowboys fans who like Vaccaro and yearn for a big-play safety, but it also might be the smarter long-term value play.

New York Giants
Round 1 (pick 19):
Alec Ogletree
, LB, Georgia
Round 2 (pick 49):
Corey Lemonier
, DE, Auburn
Round 3 (pick 81):
Jordan Reed
, TE, Florida
My take:
Mel admits he knows the Giants never take linebackers in the first round, but this is his draft, not theirs. Ogletree would be a great fit, there is no doubt, and they'd get their pass-rusher in the second round. What's missing here is a cornerback, and I'd be very surprised if the Giants went through the first three rounds without addressing that position.

Washington Redskins
Round 2 (pick 51):
D.J. Swearinger
, S, South Carolina
Round 3 (pick 85):
Robert Alford
, CB, Southeast Louisiana
My take:
Safety/cornerback is the most likely and sensible way to go for the Redskins with their first two picks this year, and Swearinger is a guy who could start for them right away. Alford is a guy Mel likes as a high-ceiling developmental player, and the Redskins don't have as immediate a need at that position as they do at safety.
So what do you guys think?
March, 2, 2013
3/02/13
11:00
PM ET
»
NFC Eight in the Box
:
East
|
West
|
North
|
South
»
AFC
:
East
|
West
|
North
|
South
Welcome to Eight in the Box, an NFL Nation feature that will appear each Friday during the offseason. This week's topic: How each NFC East team needs to address the quarterback position.

Dallas Cowboys:
The Cowboys would like to sign starting quarterback
Tony Romo
to a long-term contract extension. Romo's deal expires at the end of 2013, and the Cowboys know there won't be any quarterbacks on next offseason's market who are as good as Romo is. They also would benefit from reducing his 2013 salary-cap number (about $16.8 million), and an extension beyond this year would allow them to do that by spreading signing bonus money out over future seasons. Romo will be 33 in April, and the backup quarterback is
Kyle Orton
, who's not a long-term solution. So there is a chance the Cowboys could try to find a quarterback in the middle rounds of the draft and start grooming him.

New York Giants:
The Giants have one of the most stable quarterback situations in the entire league, as
Eli Manning
has not missed a game since becoming the starter during his 2004 rookie season. The Giants' plan for each season is founded in large part on Manning's durability and reliability. If he were to get hurt, they'd be more or less lost. Their preferred backup,
David Carr
, is an unrestricted free agent, and right now the only other quarterback on the roster is
Curtis Painter
(who coincidentally used to back up Manning's brother in Indianapolis). The Giants could stand to improve their backup quarterback situation, but unlike the Cowboys, they don't like to spend to do so.

Philadelphia Eagles:
On the other end of the spectrum, once they add Arena Leaguer G.J. Kinne to the mix as they're reported to be doing, the Eagles will have five quarterbacks on their roster. The favorite to start is
Michael Vick
, though second-year man
Nick Foles
and career backup
Dennis Dixon
could factor into a training-camp competition. (
Trent Edwards
is likely the odd man out.) If Vick is to be the starter, the backup quarterback position becomes very important, as Vick obviously has a history of injuries. So the Eagles must figure out whether Foles or Dixon (or I guess Kinne) is the best option. The Eagles also could draft a quarterback with the No. 4 pick in April if they fall in love with someone like
Geno Smith
or
Matt Barkley
. New coach Chip Kelly is keeping his options open, which is a smart way to go in a market that presents him with few outstanding options.

Washington Redskins:
All of the focus in Washington is on the recovery of starter
Robert Griffin III
from reconstructive knee surgery. In spite of his new adidas ad campaign that proclaims him "All in for Week 1," there is no way to project whether Griffin will be ready for the start of the season. If he's not, the starter's role will fall to
Kirk Cousins
, last year's fourth-round pick, who relieved Griffin three times and started one game for the Redskins in 2012. Look for Mike Shanahan to add a quarterback or two to the bench mix before training camp and the preseason arrive, as the Redskins will need depth while Griffin heals. Veteran
Rex Grossman
is someone the Redskins like having around and could factor into that depth mix if he doesn't find work somewhere else.
February, 19, 2013
2/19/13
11:26
AM ET
»
NFC combine preview
:
East
|
West
|
North
|
South
»
AFC
:
East
|
West
|
North
|
South
NFL Nation previews the 2013 scouting combine by identifying the most important thing for each team to learn about its greatest area of need
.
Dallas Cowboys:
The switch from a 3-4 defensive alignment to a 4-3, and the likelihood of losing
Anthony Spencer
to free agency, means the Cowboys' greatest need is on the defensive line. Is there a pass-rushing defensive end who will be available with the No. 18 overall pick? Is there a 1-technique nose tackle they could take in the first or second round who would allow them flexibility with other players on that line? Dallas also needs help on the offensive line and will be looking at the top guards. They traded up last year to get cornerback
Morris Claiborne
. Could they trade up for someone like Alabama guard
Chance Warmack
?
New York Giants:
It's a good year for the Giants to employ their best-player-available philosophy with their No. 19 overall pick, because they have a number of positions of need.
Osi Umenyiora
has one foot out the door, and you know the Giants like to look at pass-rushers in the first round. But they could also go offensive line, linebacker, cornerback ... any number of ways, really. For the Giants, the combine will be about prioritizing their needs. Perhaps the interview process helps them figure out which player -- rather than which position -- is worthy of their first-round pick.
Philadelphia Eagles:
Drafting No. 4 overall, the Eagles need a franchise difference-maker. Their first order of business is finding out whether their quarterback of the future is in this draft. But if guys like
Geno Smith
and
Matt Barkley
don't rise to fourth-pick worthiness, the Eagles will need a building-block piece at a vital position.
Luke Joeckel
at offensive tackle.
Star Lotulelei
for defensive line.
Dee Milliner
at cornerback. The Eagles will be able to pick almost anyone they want and probably get a great player as a consolation prize for their terrible season. Though their greatest roster needs right now appear to be on defense, they shouldn't shy away from using that fourth overall pick on a difference-making tackle or even a quarterback if they find one they love. Drafting in the top five isn't about filling an immediate need as much as it's about finding someone around whom you can build for the long term.
Washington Redskins:
The Redskins traded their first-round pick in the
Robert Griffin III
deal and don't pick until No. 51 -- the 19th pick in the second round. This makes their scouting more challenging and their combine itinerary different from that of many other teams. There's no way for them to guess how the first 50 picks will go, so they must cast a wide net as they look for help at safety and cornerback. Fortunately for them, this draft appears deep with talented secondary players. The Redskins' mission this week will be to try to figure out which of the guys they like will still be available for them when it's finally their turn to pick.