Dallas Cowboys:

Heath Miller
August, 23, 2013
8/23/13
2:01
PM ET
It sounds crazy, but tight end
Jason Witten
has been an afterthought in the Dallas Cowboys' red-zone offense.
PODCAST
Ed Werder joins Fitzsimmons and Durrett for his weekly visit to give his thoughts on the Sean Lee extension, discuss who Jerry Jones should sign to an extension next and take a look at the other three teams in the NFC East.

Listen

Witten has four seasons on his resume with more than 1,000 yards receiving and 90-plus receptions.
The eight-time Pro Bowler caught a NFL-record 110 catches for a tight end in 2012, and his 1,039 receiving yards tied for fourth-most in league history at that position.
But why can't Witten get targets in the red zone? He was targeted just once in 2012 and it resulted in a touchdown. Meanwhile, the top four red-zone scorers last season were tight ends --
Rob Gronkowski
,
Heath Miller
,
Kyle Rudolph
and
Tony Gonzalez
.
Dez Bryant
led the Cowboys with three red-zone scores, tied for 18th in the NFL.
"That's something we talked about this year, more than ever," Witten said. "The field gets tight there, and I think part of it is we try to use Dez there with fades on one-on-one coverage. Offensively we just haven't done a good enough job putting points on the board and I'm apart of that. Hopefully I'll get more touches and opportunities, and that's something we worked on this offseason. I felt like in training camp we saw some results of that and I'm excited to see it carry over into the regular season."
Witten's responsibilities are different in the red zone. There are times where he has to help block a defensive end or outside linebacker and, by the time he releases into the field of play to become a target, quarterback
Tony Romo
has already gone through his progressions.
The Cowboys hope the offensive line improves in 2013 so Witten won't have to chip in as much. And with a focus on two tight-end sets, perhaps
James Hanna
or
Gavin Escobar
will block so Witten can become a target.
"That's part of it, trying to get the protection and then get laid out and attacking on the outside," Witten said. "That's just strategy that we've done. Tony has done a real good job the last couple of years with the protection, just finding receivers. You never want to take away from a team finding a way to score. At the same time, you want to maximize with the tight ends. There's a mismatch down there sometimes."
June, 1, 2013
6/01/13
11:00
AM ET
NFL Network ranks the Top 100 players every season.
PODCAST
Ed Werder joins Fitzsimmons & Durrett to discuss the leaked Dallas Cowboys' draft board, Dez Bryant's relationship with Michael Jordan and if Jason Garrett's job will be safe if the Cowboys make the playoffs in 2013.

Listen

Dallas Cowboys
tight end
Jason Witten
checks in at No. 41 on the list.
Witten is the first tight end to appear, ranking higher than
Tony Gonzalez
(47),
Antonio Gates
(73),
Aaron Hernandez
(77),
Heath Miller
(97) and
Dennis Pitta
(100).
Last season, Witten set a single-season record for a tight end with 110 catches. He also set a record for catches in a game with 18 against the
New York Giants
. He continues to be one of the elite players in the NFL, regardless of his position.
The next questions for the Cowboys are where
Dez Bryant
,
Tony Romo
and
DeMarcus Ware
will be ranked.
Eli Manning
ranked 43rd on the list. Is Romo higher?
What about Ware? He usually is near the Top 10, but injuries "slowed" him to an 11.5 sack season.
And there's Bryant, who emerged as a force with 92 catches for 1,382 yards and 12 touchdowns. Where do you place Bryant, who was third among receivers in touchdown catches?
December, 18, 2012
12/18/12
11:00
AM ET
A look at the snaps played by Cowboys' defenders in the team's 27-24 overtime win over the
Pittsburgh Steelers
, while analyzing what it means:
S Gerald Sensabaugh:
60 of 60
CB Mike Jenkins:
60 of 60
CB Brandon Carr:
59 of 60
OLB Anthony Spencer:
58 of 60
OLB DeMarcus Ware:
52 of 60
DE Jason Hatcher:
50 of 60

ILB Alex Albright:
49 of 60
S Danny McCray:
41 of 60
ILB Dan Connor:
38 of 60
CB Sterling Moore:
37 of 60
S Eric Frampton:
29 of 60
DL Sean Lissemore:
29 of 60
DE Marcus Spears:
27 of 60
DE Tyrone Crawford:
22 of 60
OLB Victor Butler:
13 of 60
CB Michael Coe:
10 of 60
DE Brian Schaefering:
10 of 60
NT Robert Callaway:
6 of 60
LB Ernie Sims:
5 of 60
Taylor's Takes:
CB Sterling Moore, NT Robert Callaway, CB Michael Coe and DE Brian Schaefering combined for 63 plays. So defensive coordinator Rob Ryan deserves considerable credit for getting his unit to play well with a bunch of no-name, new-to-the-team guys. ... Eric Frampton replaced Danny McCray in some situations in the nickel and dime because McCray was struggling. He couldn't cover TE
Heath Miller
in the first half and receiver
Mike Wallace
ran past him for a 60-yard gain in the third quarter. ... LB Alex Albright played a season-high 49 snaps and finished with five tackles -- none bigger than his third-down stop in the second quarter.
December, 18, 2012
12/18/12
10:00
AM ET
IRVING, Texas – It's Tuesday so it's on to Five Wonders and I'm wondering just how far the Cowboys can take this hot streak.
Sunday's game against New Orleans will be the biggest test yet for this re-made defense. We'll see.
PODCAST
Quarterback Tony Romo talks about the Cowboys' overtime win against the Steelers and three-game winning streak.

Listen

On to the Wonders:
** So what do you think about the Cowboys willingness to give
Tony Romo
a contract extension now? I wonder Romo's play the last seven weeks will do for the negotiations that will take place after the season. I'm on record as saying Romo will get a five-year extension worth somewhere in the $85 million range with $50 million or so guaranteed. Romo's play of late has been elite. He has 13 touchdown passes and three picks and is completing nearly 70 percent of his passes. The Cowboys are 3-0 in December and are in contention with two weeks to go. That did not seem possible not too long ago. When he was struggling earlier in the season, I wonder if there were some inside Valley Ranch that might have been willing to let Romo play out the final year of his deal in 2013 and have him count $16.8 million against the cap. I'm sure that changes now and the Cowboys will need to get Romo signed to an extension in the offseason to bring that cap number down so they can get under the projected cap limit and possibly add some big-time players in free agency.
** I wonder if people understand just how hard it is for
Sterling Moore
to do what he has done since coming to the Cowboys. He played a couple of snaps against Philadelphia two days after the Cowboys picked him up off New England's practice squad. He has played outside cornerback in the nickel package and moved to a safety role in the dime package on Sunday against Pittsburgh. That is a lot to learn in a short amount of time. His time with the Patriots probably helped ease his transition to the Cowboys. Because of all the different looks Bill Belichick will throw out, Moore has had to learn multiple positions on the fly. Rob Ryan believes the Cowboys might have found a player here that can be a solid contributor in the future. He's shown he is a quick study. Now he has to show he has staying power.

** From all appearances the Cowboys appear comfortable with
James Hanna
, the rookie tight end from Flower Mound. As the season has gone on he has seen more action and it is not just as a receiver, although that is where his most recent notice is coming. Hanna has speed most tight ends do not possess, but his blocking has been better than some in the organization believed it would be. It has me wondering if the Cowboys believe so much in Hanna that they will not pursue a veteran in the free agent market next offseason and perhaps draft one in the middle to late rounds. It is a projection, but the coaches have cut into the playing time of
John Phillips
, a favorite of the staff because of his versatility, to get Hanna on the field.
** I wonder how much the Cowboys miss
Charlie Peprah
. No, seriously. And that's an indication of what kind of season it has been with the injuries. Peprah has missed the last three games with a foot injury and I wonder if he can provide more than
Danny McCray
in the base and sub packages. McCray appears to be running out of gas the more he has to play. The Steelers targeted him repeatedly in coverage. He saw
Mike Wallace
run by him for a deep catch. He was unable to stay with tight end
Heath Miller
. McCray is the new version of
Keith Davis
. A few years ago Davis made his name as a special teams threat and became a starter almost out of default. It was not the right role. He was a special teamer and that's not meant as a slight. It's not to slight McCray either. He is what he is. He plays hurt. He plays tough. He's one of those "right kind of guys" Jason Garrett talks about. But Peprah's experience as an every down player might be more of a help on the back end with two games left in the season and so much on the line.
**I wonder if there is something to continuity on the offensive line. Well, sort of, since the line has played better the last two weeks with
Doug Free
and
Jermey Parnell
rotating series at right tackle. But the play of guards
Mackenzy Bernadeau
and
Nate Livings
and center
Ryan Cook
has been better. Not great, mind you, but better. Since they had no offseason together and had to learn on the fly after the Cowboys acquired Cook the week before the season started, it has taken time. At tackle the job can be a little easier: you block the outside pass rusher. On the inside there is a lot of communication. Bernadeau, Livings and Cook did not know each other. Cook was new to the scheme and the scheme was only a few months old for Bernadeau and Livings, who arrived in March as free agents. Time helps players gain unspoken communication. There remain issues on the interior and nothing is solved, but the more they have played together the better they have become.
December, 16, 2012
12/16/12
11:17
PM ET
November, 6, 2012
11/06/12
1:00
PM ET
IRVING, Texas – Millions will wonder who will win the presidential election today. We've got Five Wonders as the Cowboys prepare for the second half to start Sunday at Philadelphia, and none of them will be related to Sean Payton.
Here we go:
PODCAST
Matt Mosley joins Ben and Skin for his weekly segment to talk Cowboys.

Listen

** Maybe it had something to do with
Kevin Ogletree
's sore hamstring, but I wonder if the Cowboys are about to go to a committee with their No. 3 wide receiver role. Or maybe Ogletree's hamstring acted up after he dropped a third-down pass. The Cowboys used
Dwayne Harris
more vs. Atlanta than they had been, even if he did not catch a pass against the Falcons. They had a package for
Cole Beasley
, as well. Tight end
James Hanna
saw more work, too. Ogletree did have three catches for 96 yards and a touchdown, but there is a high level of frustration with him at Valley Ranch. He has had some good moments this season but he has had some down moments, too. The Cowboys cannot be as patient with him as other players, and I'm wondering if the patience level is close to empty.
** I'm just about done wondering about the Cowboys' red-zone offense. The Cowboys' red-zone touchdown percentage is tied for 26th in the NFL. They went 0-for-2 against Atlanta and had one throw into the end zone, and it came on a pass to Cole Beasley. This isn't a 2012 problem. It goes back a few years. I wonder if the Cowboys need to steal pages from the playbooks in New Orleans (I promised no Payton references), Denver, Green Bay and New England. Heck, Tampa Bay too. I understand that the field is compressed and there is not a lot of room to make things happen. A good running game will help, right? New Orleans has three rushing touchdowns. Green Bay has two. Denver has five. You can pass in the red zone and score. The Cowboys seem to use
Jason Witten
more as a decoy in the red zone than a target. Go look at what Pittsburgh does with
Heath Miller
and try some of those plays. The fade in the end zone to
Dez Bryant
can work, but it's not a high-percentage throw. If the Cowboys are going to turn things around in the second half of the season then they must score touchdowns. Groundbreaking, I know.
** I wonder about the sideline communication of the Cowboys defense during the game. Why are there multiple instances in which players are running on and off the field and the defense cannot get set in time for a play. In the first half the Cowboys rushed two guys once because they did not have the proper personnel on the field on time, and
Julio Jones
made a first-down catch. In the fourth quarter the Falcons snapped the ball before the defense could get set. The only thing that saved a touchdown was an athletic breakup by
Brandon Carr
. It's happened far too often in Rob Ryan's tenure. Something is missing in getting the personnel groups from upstairs or the calls from the coaches to the players on the sideline or the calls from the coach to the on-field personnel.
Anthony Spencer
might have saved the Carolina game with a timeout as he was running off the field because of a late personnel change prior to a fourth-down play. The Panthers made a first down but the officials luckily gave the Cowboys a timeout. If Ryan wants to be a head coach, then he has to straighten out the organization he has on defense.
** I wonder how healthy guard
Nate Livings
is. He has not been on the injury report, but there are whispers around Valley Ranch that he has played the last few games with a sore knee. It hasn't kept him out of practice or forced the Cowboys to put him on the injured list, but he has struggled the last two weeks. He was beaten for sacks by
Chris Canty
and
Jonathan Babineaux
the last two games. He started off the season fairly well, and right guard
Mackenzy Bernadeau
struggled. Now Bernadeau is playing better and Livings is struggling. It makes you wonder what the Cowboys think of backup
Derrick Dockery
to not give him some work at all. Dockery did OK in his two starts last year and maybe a week of rest will help Livings. He missed some time in training camp with a knee/hamstring injury. Livings is the type to not make excuses. He will fight on, and that's part of the reason why the Cowboys signed him. But at some point the team might have to make a decision.
** The Cowboys have signed defensive end
Sean Lissemore
and safety
Barry Church
to modest extensions during the regular season. I wonder if they should look at another safety,
Danny McCray
. He has done a nice job filling in for Church, and, yes, I realize he missed
Jacquizz Rodgers
on a third-down play on Atlanta's final scoring drive. McCray wanted to show he could be more than a special teams specialist and he's proven he can handle a defensive role. Is a long-term starter? No, but he is a guy you want around. The Cowboys drafted
Matt Johnson
to be a safety of the future, but he has not been able to get on the field this year. In 2009 they drafted two safeties that did not make an impact. McCray, an undrafted free agent in 2010, has delivered. Church received a four-year extension that could max out at $12 million. You wouldn't go that high with McCray, but he has added to his value with his work on special teams and defense.
March, 29, 2011
3/29/11
1:05
PM ET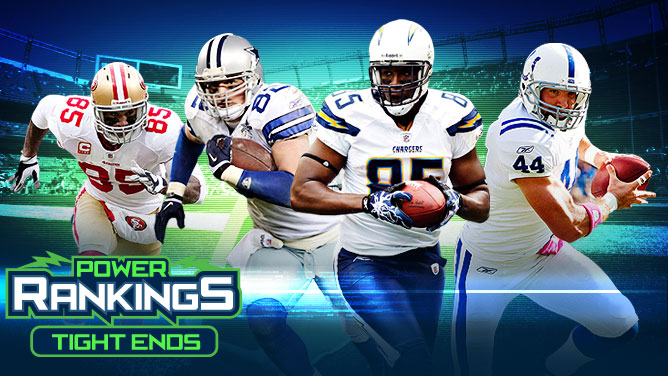 ESPN.com IllustrationDallas' Jason Witten earned the top spot in our voting over San Diego's Antonio Gates.
ESPN.com's NFL writers rank the top 10 tight ends in the league today. Next week: Top 10 coaches.
Antonio Gates
has received the
Adrian Peterson
treatment.
This guy didn't do it this time.
Up from the NFC South rises Pat Yasinskas into the ESPN.com Power Rankings' hot seat. Embrace the heat, my friend. In another airtight positional Power Rankings battle, Dallas'
Jason Witten
edged out Gates by one vote to be crowned the almighty ruler of all NFL tight ends.
How in the name of Kellen Winslow did it happen, San Diego? Talk to Yasinskas.
Yasinskas ranked Atlanta's
Tony Gonzalez
No. 2. He had Witten No. 1 and Gates No. 3. Witten finished with 76 voting points. Gates had 75. No other voter placed Gonzalez higher than fifth. He finished sixth.
Send your cards and letters to Yasinskas, Dallas
. If you must let him know your thoughts, stay classy, San Diego.
Yasinskas reasoned that he sandwiched Gonzalez between Witten and Gates because of Gonzalez's incredible career. Gonzalez, 35, owns every major receiving record by a tight end.
"Yes, he's nearing the end of his career, but this is the best tight end in history," Yasinskas said. "I think that counts for something. Gonzalez still is playing at a high level. He has great chemistry with quarterback
Matt Ryan
and the desire for a Super Bowl ring is keeping Gonzalez going strong."
Here is the rest of the top 10 after Witten and Gates: Indianapolis'
Dallas Clark
(53 points), San Francisco's
Vernon Davis
(50), Washington's
Chris Cooley
(36), Gonzalez (33), Tampa Bay's
Kellen Winslow Jr.
(26), Jacksonville's
Marcedes Lewis
(21), Detroit's
Brandon Pettigrew
(18) and Green Bay's
Jermichael Finley
(15).
Witten and Gates clearly stand out as the game's elite tight ends. Witten was ranked first on four ballots and second on the other four. Gates received the other four first-place votes. He received three second-place votes and Yasinskas' third-place vote.
The only thing that separated Witten and Gates in 2010 was health. Witten, 28, had 94 catches for 1,002 yards and nine touchdowns last season. Gates, 30, was on his way to a brilliant season when it was derailed by nagging ankle and foot injuries. Gates ended up on injured reserve and missed six games. He finished with 50 catches, 782 yards and 10 touchdowns.
Matt Williamson of Scouts Inc. said both Witten and Gates are game-changers.
"Witten to me is the class of the two-way tight ends," Williamson said. "Receiving needs to trump blocking because that is what the league is right now. If someone put Witten first on the list, I can buy that. In terms of doing it all, I think he is the best. … I think he is the best of the two-way guys if you put an equal amount of faith in both receiving and blocking. He is the all-around tight end prototype. If you put more weight on receiving, which I would, you have to give the nod to Gates. He was awesome last year. He was hurt and that was the only negative other than blocking. He played hurt a lot and was great."
Let's dig deeper into the rankings:
Not easy pickings:
Several of our voters were surprised by the difficulty of this process. This is our fourth position in the series. We previously looked at receivers, running backs and pass-rushers. The pass-rushers process was very difficult. This vote was not a cool breeze, either.
This is a very strong league for tight ends these days.
"After a hellish pass-rusher ballot, I thought tight ends would be far easier," AFC South blogger Paul Kuharsky said. "They were just as difficult. There is a great deal of young talent too. I steered clear of first-year guys, but in another season or two, this could be even more brutal to sort through."
Blame injuries:
In addition to the glut of talent, a primary reason this vote was so difficult was the fact that there were major injuries at this position in 2010. In addition to Gates, Clark, Finley and Houston's
Owen Daniels
were injured. That changed the voting landscape.
"I thought it was tough because there are a lot of guys with mitigating circumstances," NFC North blogger Kevin Seifert said.
Clark's injury prompted Yasinskas to rank him 10th. No other voter placed him lower than fourth.
"There's no doubt this guy has had a great career," Yasinskas said. "But I ranked him a little lower than most and that's almost entirely because he missed 10 games last season. Clark is 31 and I'm not sure he'll be the same player going forward."
[+] Enlarge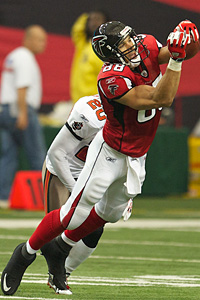 Dale Zanine/US PresswireWill star Falcons tight end Tony Gonzalez finally notch his first playoff win on Sunday?
Not everyone loves Tony G.:
Clearly, Yasinskas believes in Gonzalez. He gets to see him play regularly and thinks he's still an impact player. That's why he ranked him second. But not everyone agrees that the future Hall of Famer is still an elite player. Kuharksy left Gonzalez off his ballot altogether.
"Gonzalez is still an excellent player," Kuharsky said. "But as I struggled to find room for the 10 I felt needed to make the cut, he fell off. In 2010 his numbers suggest he was more quantity than quality. I'm not looking for giant plays from my tight end, but Dallas Clark replacement
Jacob Tamme
matched Gonzo's 9.4 yards a catch, and while Gonzalez's first-down percentage was good (55.7), it was way lower than that of the three top rookies and smaller than that of guys like
Heath Miller
,
Ben Watson
and
Todd Heap
, whom I hardly considered. One final note: As I've got access to Frank Wycheck during three shared radio appearances a week, I asked him for a ballot. I'm sure he admires Gonzalez's body of work. But right now Gonzalez wasn't in Wycheck's top 10 either."
The Davis flip-flop:
The 49ers' immensely talented tight end received a wide range of support. Four voters had him third. Yet, I had him ranked ninth and Yasinskas had him eighth. I like Davis, but I'm not convinced we always see his best effort.
NFC West blogger Mike Sando was among those who voted Davis third. Sando argued that Davis has made an impact despite playing with subpar quarterbacks.
"It's easy to forget about Vernon Davis because he plays for a low-profile team that has struggled," Sando said. "If you've seen the 49ers much, you know Davis makes the huge play better than any tight end in the league. He'll catch touchdown passes for 60 or 70 yards, outrunning even cornerbacks. He remains unrefined and can still improve his all-around game quite a bit, but his 20 touchdown receptions over the past two seasons rank first among tight ends."
This position is in it for the long haul:
I remember a conversation I had with Gates prior to the 2009 season. He was glowing over all the young talent at the position in the NFL. Gates rattled off several young tight ends he expected to have bright careers.
There's no doubt, this is a special time for tight end play. As Gonzalez puts the cap on the most brilliant career by anyone at the position in the history of the game, the position is well stocked for the future.
Five players on the list -- Davis, Winslow, Lewis, Pettigrew and Finley -- are 27 or younger. The only players who are 30 or older on the list are Gonzalez, Clark and Gates.
Oakland's
Zach Miller
and the Jets'
Dustin Keller
, who finished 11th and 12th, respectively, are also young players. Miller is 25 and Keller is 26.