Dallas Cowboys:

Indianapolis Colts
August, 23, 2013
8/23/13
2:02
PM ET
Put in the historical context of Cowboys' championship teams, Roger Staubach's point about
Tony Romo
needing a better running game
is right on.
Fact: The Cowboys have never won a Super Bowl without a top-five rushing offense.
PODCAST
Ed Werder joins Fitzsimmons and Durrett for his weekly visit to give his thoughts on the Sean Lee extension, discuss who Jerry Jones should sign to an extension next and take a look at the other three teams in the NFC East.

Listen

Staubach and
Troy Aikman
had the luxury of working behind dominant offensive lines and sharing the backfield with fellow Hall of Famers in Tony Dorsett and
Emmitt Smith
. (The Cowboys didn't have a Hall of Fame running back on their first title team, but Duane Thomas, Calvin Hill and Walt Garrison formed a heck of a committee.)
Here's a quick look at the Dallas running game's NFL rankings during the Cowboys' championship seasons:
1971 – 3rd
1977 – 4th
1992 – 5th
1993 – 2nd
1995 – 2nd
By contrast, Romo has never quarterbacked a team with a top-five rushing offense. The only time the Cowboys ranked among the top 10 rushing offenses during his tenure as a starter just so happens to be the lone season in which the franchise won a playoff game over the last 16 seasons.
The Cowboys' rushing ranks in the Romo era:
2006 – 13th
2007 – 17th
2008 – 21st
2009 – 7th
2010 – 16th
2011 – 18th
2012 – 31st
So Romo has only had a running game good enough to contend for the Super Bowl once, right? Not so fast. The Cowboys' rushing offense has ranked higher than the Super Bowl champions' four times during Romo's tenure. The Giants won the Super Bowl two seasons ago despite ranking dead last in the league in rushing.
The Super Bowl winners' rushing offense rank over the last seven seasons:
2006
Indianapolis Colts
– 18th
2007
New York Giants
– 4th
2008
Pittsburgh Steelers
– 23rd
2009
New Orleans Saints
– 6th
2010
Green Bay Packers
– 24th
2011 New York Giants – 32nd
2012
Baltimore Ravens
– 11th
The game has changed since the Cowboys' glory years. It certainly helps to have a good running game, but it's far from a prerequisite for winning a Super Bowl.
Now, more than ever, the NFL is a quarterback's league. The lack of a quality running game might be a reason (or an excuse) for Romo's lack of playoff success, but his peers have found a way to overcome the same problem in recent years.
May, 25, 2012
5/25/12
3:56
PM ET
Well, you know what they say about the best-laid plans of would-be holiday weekend slackers...

Just as I thought we were done for the day,
Adam Schefter reports
that the
Indianapolis Colts
are working hard to try and acquire disgruntled cornerback
Mike Jenkins
from the
Dallas Cowboys
:
Cowboys coach Jason Garrett said this week that Dallas would not trade Jenkins. But another NFL source familiar with the situation said he believed a trade could be worked out for the right price.

...

A Colts official declined comment, yet a person connected to the team said Indianapolis has been trying to pry loose Jenkins with an offer that one source said "many teams would think is compelling."
Of course, what many teams would think doesn't matter much here, does it? The Cowboys must find it compelling, or they will not be compelled to do it.
As I've
written at length
, I don't see what the Cowboys' incentive is to trade Jenkins. Teams need to be deep at cornerback these days. Jenkins has proven to be a very good cornerback when healthy. One of the Cowboys' projected starters is a rookie, first-round pick
Morris Claiborne
. Unless they really get blown away by an offer, I would be very surprised to see the Cowboys deal Jenkins just because he doesn't want to be there anymore. Just because the Colts want him doesn't mean the Colts can get him.
But of course, I have been wrong before. My wife just brought a pineapple home from the grocery store, and this reminds me of one of the more egregious such instances from this past NFL season. So we'll keep our eyes peeled, ears to the ground, etc., and if there's movement on this over the weekend I promise I will hop on the blog and let you know what I think. Meantime, carry on with your long weekends.
January, 6, 2012
1/06/12
8:52
AM ET
IRVING, Texas – While some wonder if the Cowboys could lose Rob Ryan and/or Joe DeCamillis from their coaching staff to head coaching jobs elsewhere, they might also need to look at the player personnel staff, too.

According to multiple sources, Indianapolis has requested permission to speak with assistant director of player personnel Tom Ciskowski for its general manager vacancy. The Colts are looking for a personnel chief after firing Bill Polian and his son, Chris.

St. Louis could be another option after the Rams fired Billy Devaney. Ciskowski interviewed with the Rams in 2006 for the general manager's job. Baltimore's director of player personnel Eric DeCosta is also a reported candidate for both jobs.

Ciskowski has been with the Cowboys since 1992 and was named the director of college and pro scouting in 2008 when Jeff Ireland left for Miami. His title was changed to assistant director of player personnel in 2011. He had been the team's assistant director of college scouting from 2001-07.
March, 29, 2011
3/29/11
1:05
PM ET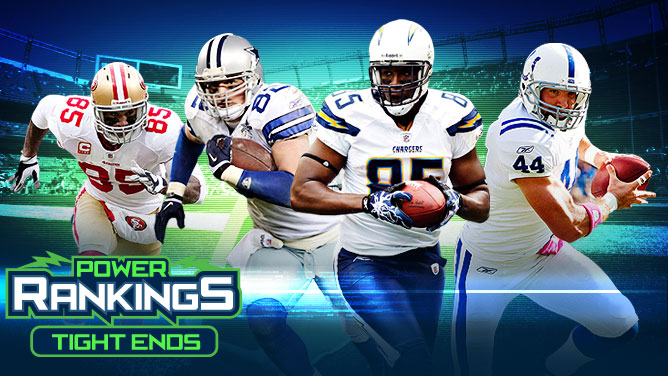 ESPN.com IllustrationDallas' Jason Witten earned the top spot in our voting over San Diego's Antonio Gates.
ESPN.com's NFL writers rank the top 10 tight ends in the league today. Next week: Top 10 coaches.
Antonio Gates
has received the
Adrian Peterson
treatment.
This guy didn't do it this time.
Up from the NFC South rises Pat Yasinskas into the ESPN.com Power Rankings' hot seat. Embrace the heat, my friend. In another airtight positional Power Rankings battle, Dallas'
Jason Witten
edged out Gates by one vote to be crowned the almighty ruler of all NFL tight ends.
How in the name of Kellen Winslow did it happen, San Diego? Talk to Yasinskas.
Yasinskas ranked Atlanta's
Tony Gonzalez
No. 2. He had Witten No. 1 and Gates No. 3. Witten finished with 76 voting points. Gates had 75. No other voter placed Gonzalez higher than fifth. He finished sixth.
Send your cards and letters to Yasinskas, Dallas
. If you must let him know your thoughts, stay classy, San Diego.
Yasinskas reasoned that he sandwiched Gonzalez between Witten and Gates because of Gonzalez's incredible career. Gonzalez, 35, owns every major receiving record by a tight end.
"Yes, he's nearing the end of his career, but this is the best tight end in history," Yasinskas said. "I think that counts for something. Gonzalez still is playing at a high level. He has great chemistry with quarterback
Matt Ryan
and the desire for a Super Bowl ring is keeping Gonzalez going strong."
Here is the rest of the top 10 after Witten and Gates: Indianapolis'
Dallas Clark
(53 points), San Francisco's
Vernon Davis
(50), Washington's
Chris Cooley
(36), Gonzalez (33), Tampa Bay's
Kellen Winslow Jr.
(26), Jacksonville's
Marcedes Lewis
(21), Detroit's
Brandon Pettigrew
(18) and Green Bay's
Jermichael Finley
(15).
Witten and Gates clearly stand out as the game's elite tight ends. Witten was ranked first on four ballots and second on the other four. Gates received the other four first-place votes. He received three second-place votes and Yasinskas' third-place vote.
The only thing that separated Witten and Gates in 2010 was health. Witten, 28, had 94 catches for 1,002 yards and nine touchdowns last season. Gates, 30, was on his way to a brilliant season when it was derailed by nagging ankle and foot injuries. Gates ended up on injured reserve and missed six games. He finished with 50 catches, 782 yards and 10 touchdowns.
Matt Williamson of Scouts Inc. said both Witten and Gates are game-changers.
"Witten to me is the class of the two-way tight ends," Williamson said. "Receiving needs to trump blocking because that is what the league is right now. If someone put Witten first on the list, I can buy that. In terms of doing it all, I think he is the best. … I think he is the best of the two-way guys if you put an equal amount of faith in both receiving and blocking. He is the all-around tight end prototype. If you put more weight on receiving, which I would, you have to give the nod to Gates. He was awesome last year. He was hurt and that was the only negative other than blocking. He played hurt a lot and was great."
Let's dig deeper into the rankings:
Not easy pickings:
Several of our voters were surprised by the difficulty of this process. This is our fourth position in the series. We previously looked at receivers, running backs and pass-rushers. The pass-rushers process was very difficult. This vote was not a cool breeze, either.
This is a very strong league for tight ends these days.
"After a hellish pass-rusher ballot, I thought tight ends would be far easier," AFC South blogger Paul Kuharsky said. "They were just as difficult. There is a great deal of young talent too. I steered clear of first-year guys, but in another season or two, this could be even more brutal to sort through."
Blame injuries:
In addition to the glut of talent, a primary reason this vote was so difficult was the fact that there were major injuries at this position in 2010. In addition to Gates, Clark, Finley and Houston's
Owen Daniels
were injured. That changed the voting landscape.
"I thought it was tough because there are a lot of guys with mitigating circumstances," NFC North blogger Kevin Seifert said.
Clark's injury prompted Yasinskas to rank him 10th. No other voter placed him lower than fourth.
"There's no doubt this guy has had a great career," Yasinskas said. "But I ranked him a little lower than most and that's almost entirely because he missed 10 games last season. Clark is 31 and I'm not sure he'll be the same player going forward."
[+] Enlarge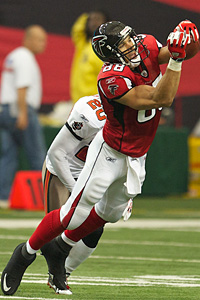 Dale Zanine/US PresswireWill star Falcons tight end Tony Gonzalez finally notch his first playoff win on Sunday?
Not everyone loves Tony G.:
Clearly, Yasinskas believes in Gonzalez. He gets to see him play regularly and thinks he's still an impact player. That's why he ranked him second. But not everyone agrees that the future Hall of Famer is still an elite player. Kuharksy left Gonzalez off his ballot altogether.
"Gonzalez is still an excellent player," Kuharsky said. "But as I struggled to find room for the 10 I felt needed to make the cut, he fell off. In 2010 his numbers suggest he was more quantity than quality. I'm not looking for giant plays from my tight end, but Dallas Clark replacement
Jacob Tamme
matched Gonzo's 9.4 yards a catch, and while Gonzalez's first-down percentage was good (55.7), it was way lower than that of the three top rookies and smaller than that of guys like
Heath Miller
,
Ben Watson
and
Todd Heap
, whom I hardly considered. One final note: As I've got access to Frank Wycheck during three shared radio appearances a week, I asked him for a ballot. I'm sure he admires Gonzalez's body of work. But right now Gonzalez wasn't in Wycheck's top 10 either."
The Davis flip-flop:
The 49ers' immensely talented tight end received a wide range of support. Four voters had him third. Yet, I had him ranked ninth and Yasinskas had him eighth. I like Davis, but I'm not convinced we always see his best effort.
NFC West blogger Mike Sando was among those who voted Davis third. Sando argued that Davis has made an impact despite playing with subpar quarterbacks.
"It's easy to forget about Vernon Davis because he plays for a low-profile team that has struggled," Sando said. "If you've seen the 49ers much, you know Davis makes the huge play better than any tight end in the league. He'll catch touchdown passes for 60 or 70 yards, outrunning even cornerbacks. He remains unrefined and can still improve his all-around game quite a bit, but his 20 touchdown receptions over the past two seasons rank first among tight ends."
This position is in it for the long haul:
I remember a conversation I had with Gates prior to the 2009 season. He was glowing over all the young talent at the position in the NFL. Gates rattled off several young tight ends he expected to have bright careers.
There's no doubt, this is a special time for tight end play. As Gonzalez puts the cap on the most brilliant career by anyone at the position in the history of the game, the position is well stocked for the future.
Five players on the list -- Davis, Winslow, Lewis, Pettigrew and Finley -- are 27 or younger. The only players who are 30 or older on the list are Gonzalez, Clark and Gates.
Oakland's
Zach Miller
and the Jets'
Dustin Keller
, who finished 11th and 12th, respectively, are also young players. Miller is 25 and Keller is 26.
December, 7, 2010
12/07/10
2:27
PM ET
By
Trevor Ebaugh
| ESPNDallas.com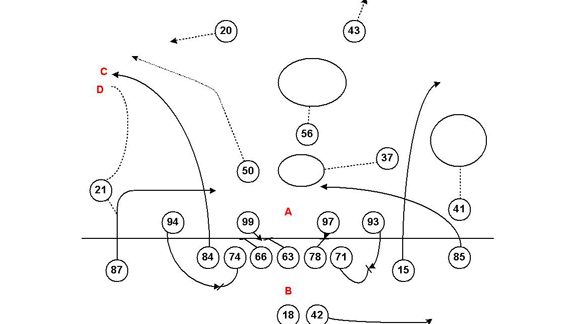 A closer look at Peyton Manning's decisive interception against the Colts in overtime
In the Indianapolis Colts' overtime loss to the Dallas Cowboys on Sunday, the critical play was a third-down interception thrown in overtime by Colts quarterback Peyton Manning. Using the diagram above, let's take a closer look at the play and the statistical analysis that led to specific decisions and results.
A) The Cowboys line up with five defensive backs
Dallas put at least one extra DB on the field for every one of Peyton Manning's 48 pass attempts in the game. Entering this play, their nickel-dime-quarter packages had allowed 10 passing touchdowns and recorded 10 interceptions (for an 85.5 opponents' passer rating), while their 3-4 pass defense had allowed 15 touchdowns and recorded only two interceptions (for a 120.7 opponents' passer rating)
B) Manning takes the snap out of the shotgun
Entering Week 13, Peyton Manning had attempted 51 more passes out of the 'gun than the next closest quarterback, and had completed 43 more than the runner-up (
Shaun Hill
was second to Manning in both categories with 309 and 189, respectively). However, nine of his 11 interceptions entering the game had come out of the shotgun.
C) Play selection puts the odds in the Colts' favor
Manning and the Colts attempt a "safe" 11-yard pass down the left sideline, a play the Cowboys defense had struggled with entering Week 13. Dallas ranked dead last in the NFL in touchdowns allowed (20) and opponents' passer rating (103.5) on passes of 14 yards or less. Manning loves the left sideline, and entering this play he was 6-12 for 89 yards and a touchdown (102.4 passer rating) in the game to that part of the field.
D) Mike Jenkins creates the tip drill
Cowboys corner
Mike Jenkins
(No. 21) bumps receiver
Reggie Wayne
(No. 87) within five yards of the line, then breaks off and gets into position to break up the pass intended for
Jacob Tamme
(No. 84). The pass defensed becomes Jenkins' second of the game and fifth of the season on attempts of 14 yards or less, breaking a tie with linebacker
Keith Brooking
for the team lead. Linebacker
Sean Lee
(#50) trails the play and finds himself in perfect position to snatch the tipped ball and turn the tide in the Cowboys' favor.
November, 29, 2010
11/29/10
2:11
PM ET
IRVING, Texas -- Starting running back
Marion Barber
, who missed Monday's practice, is day-to-day with a strained left calf suffered in the second half of the Thanksgiving Day loss to the
New Orleans Saints
.
Update:
Barber is questionable for Sunday's game at Indianapolis.
"We'll see how he'll he responds as we go," interim coach Jason Garrett said.
Barber didn't appear to walk with a limp after Monday's practice.
Linebacker
Keith Brooking
also missed practice with a strained left foot. Brooking, who injured the foot in the first half of the Saints game, played through the injury. He's wearing a walking boot as a precaution and should be OK for the Colts game.
The other starting inside linebacker,
Bradie James
, also missed practice because he's nursing a sprained knee ligament. James has missed a few practices as a precaution since injuring the knee a few weeks ago.
February, 2, 2010
2/02/10
2:46
PM ET
MIAMI -- Colts kicker and Lake Highlands High School graduate
Matt Stover
is a free agent after the Super Bowl.
Stover, 42, has been with four NFL teams, getting Super Bowl rings with the Giants and Ravens, so he might get one with the Colts should they win over the Saints on Sunday.
Yet, Stover has always wondered why he hasn't kicked for his hometown Cowboys.
"I've tried to kick for the Cowboys but that hadn't worked out," Stover said at Media Day on Tuesday. "Bill Parcells, when he was there, he drafted me [in New York] tried to get me, but I was still under contract with the Ravens, but that is all in humor and in fun."
Stover, a 20-year veteran who has made 83.7 percent of his field goals during his career could be a solution to the Cowboys kicking woes.
Nick Folk
was released late in the season after missing a NFL high 10 kicks.
Shaun Suisham
was signed to replace Folk, but his two misses in the playoff loss to the Vikings could signal his departure from the team.
That could leave Stover, who is on the backside of his career, to finish up with the team he grew up watching.
"I haven't thought about it," Stover said regarding retirement. "One of my dreams is to play for the
Dallas Cowboys
. I was a Punt, Pass and Kick champion [in 1979] and I was a Dallas Cowboy in the YMCA. It was always a dream of mine [to play for them]."
December, 17, 2009
12/17/09
4:39
PM ET
IRVING, Texas --
Tony Romo
had a reminder for the Valley Ranch media horde: It hasn't been long since the
Dallas Cowboys
handed a team its first loss relatively late in the season.
"We did it a few years back against Indianapolis," Romo said.
The
Indianapolis Colts
rolled into Texas Stadium with an undefeated record on Nov. 19, 2006. They exited with a 21-14 loss after Romo completed 19 of 23 passes in the first home start of his career.
Romo offered the reminder when asked whether it would feel good to hand the Saints their first loss. (Radio guys tend to ask obvious questions.)
As Romo said, the Cowboys don't need the opponents' record to be a source of motivation while they fight for a playoff spot.
"It'll feel good, but not, I don't think, for any big reason about them," Romo said. "Just because we need a win and because it's an important football game."
November, 29, 2009
11/29/09
10:52
AM ET
You tend to hear a lot about the big-game failures of
Tony Romo
at this time of year.
He hasn't won enough big games to meet the America's Team standard set by Hall of Famers Roger Staubach and
Troy Aikman
. And he hasn't won them late enough in the season, as evidence by his 5-10 record in December and January, including a pair of playoff losses.
But Romo has come through for the Cowboys in clutch settings. As evidence, here are his top five big-game wins:
Nov. 29, 2007 vs. Green Bay:
Romo was remarkable with the NFC's top seed at stake and his boyhood idol,
Brett Favre
, on the opposing sideline. "You want to play in games like this," Romo said after completing 19 of 30 passes for 309 yards and four touchdowns in the 37-27 win. "Your competitive juices get flowing and you want to prove what kind of player you are."
Nov. 8, 2009 at Philadelphia:
Romo returned to the scene of the most embarrassing loss of Jerry Jones' ownership with a solid performance to help the Cowboys break a tie for the NFC East lead. He completed 21 of 34 passes for 307 yards and the game-winning touchdown to
Miles Austin
in the 20-16 victory.
Nov. 19, 2006 vs. Indianapolis:
The Colts went home 9-1 after Romo's first start at Texas Stadium. Romo completed 19 of 23 passes for 226 yards – with only one incompletion after halftime – to help keep
Peyton Manning
on the sideline for long stretches. "He's like, 'You're a good player,'" Romo said of his quick postgame chat with Manning. "So that's meaningful to me."
Nov. 11, 2007 at NY Giants:
The Cowboys seized control of the NFC East race with the 31-20 road win. Romo completed 20 of 28 passes for 247 yards and four TDs. His 50-yard strike to T.O. in the fourth quarter, their second scoring connection of the second half, was the dagger.
Dec. 14, 2008 vs. NY Giants:
Romo was steady after a week of drama swirling around his relationships with T.O. and
Jason Witten
. Despite suffering a back injury late in the first quarter, Romo completed 20 of 30 passes for 244 yards and two TDs in the 20-8 win, keeping the Cowboys in the playoff hunt.