Dallas Cowboys:

J.J. Watt
October, 6, 2014
Oct 6
1:30
PM ET
The
Dallas Cowboys
are 4-1 after a 20-17 overtime victory against the
Houston Texans
on Sunday afternoon.
With that we present our weekly Upon Further Review.
Enjoy.
1.
One of the biggest story lines for the Cowboys in their game with the Texans was slowing down defensive end J.J. Watt. In the base defense, he's an end, but moves inside on the nickel. He has swim moves, bull rushes and finesse to reach the quarterback. Early in the game, Watt targeted what he thought was the weakest link along the offensive line in left guard
Ronald Leary
. He got a tackle on the first running play of the game. Afterward, Watt was slowed or shut down, depending on your point of view. As the game progressed, Watt finished with just four tackles and wasn't credited with any quarterback hurries, though he piled on
Tony Romo
as his helmet was knocked off. In the final 16 defensive snaps of the game, Watt drew double coverage four times and faced both tackles,
Zack Martin
and
Jason Witten
. Watt wasn't credited with any tackles during that span.
2.
Romo takes Wednesdays off and I'm sure old school players and fans shake their head about this. But he does it to give his back more rest and to build strength. It was clear in the first two weeks of the season, Romo was struggling to throw deep passes. Against the Texans, Romo threw deep with a zip we haven't seen in a while. You can tell Romo is feeling better as he's moving around the pocket to avoid pressures and firing passes deep. The 37-yard completion to
Dez Bryant
in overtime is an example of this. One of his best throws of the game was to Witten on a seam route in the third quarter. But Romo floated a pass to Bryant that was picked off to start the fourth. Out of 41 throws, he threw one pass away, was penalized for intentional grounding, and he attempted eight deep throws.
3.
The key to
Dan Bailey
's success: The holder and the long snapper.
Chris Jones
, the holder and J.P. Ladouceur, the long snapper, have to be on point with everything they do when it comes to a kick. As consistent as Bailey has been during this stretch, three misses the last 29 games, he's basically had the same holder and snapper. Having a chemistry with those two players is just as important as anything else. Bailey works daily with those guys and special teams coach Rich Bisaccia works with Jones on handling different types of snaps. Knuckleballs in the turf, high ones and to each side of him. Bailey's confidence in Jones getting the ball down on the spot allows him to make sure his steps to the ball don't get altered.
4.
The Cowboys missed
Orlando Scandrick
while he served a two-game suspension for violating the performance enhancing policy. However,
Brandon Carr
has been very good this season, too. He led the Cowboys with eight total tackles and had one of four pass breakups against the Texans. Carr's durability can't be questioned. He played in his 101st consecutive game on Sunday. While Carr doesn't break up as many passes as Scandrick, he normally takes on the biggest receiver on the opposing team and is playing with more confidence in the first five weeks of the season.
5.
Want to know how important middle linebacker
Rolando McClain
is to the defense? When he was on the sidelines after re-injuring his groin, the Texans were able to produce some positive yards in overtime. McClain gets players lined up. Here's coach Jason Garrett on McClain: "We still need to be able to line up regardless of who's out there. And we didn't line up the right way and it hurt us."
October, 1, 2014
Oct 1
4:40
PM ET
IRVING, Texas --
Houston Texans
defensive end
J.J. Watt
was named AFC Defensive Player of the Week on Wednesday after recording his first career interception return for a touchdown, a career-high nine quarterback hits, a pass defensed and five tackles in a victory over the
Buffalo Bills
.
This Sunday afternoon, Watt and the Texans visit the
Dallas Cowboys
in a battle between 3-1 teams.
Watt
Watt's ability to line up at both defensive end spots and inside as a tackle makes him a matchup nightmare for any team. However, Cowboys center
Travis Frederick
, a teammate of Watt's at Wisconsin from 2009 to 2011, said don't forget the other players on Houston's defense.
"He's a tremendous player, like I said, but they also have a lot of good players in their linebacking corps.
Jared Crick
on the other end is a good player as well," Frederick said. "He's another Big Ten guy. The guys in the middle are big run stoppers and it's not just one guy. We're not playing the Houston J.J. Watts. We're playing the Houston Texans and it's going to be a good challenge."
Watt has more quarterback hits (16) than 13 other NFL teams. The closest player to Watt in terms of quarterback hits is Seattle's
Michael Bennett
, who has eight. The Cowboys see him in Week 6.
But Watt's ability to rush the passer from different parts of the line of scrimmage is a challenge. As the right defensive end, Watt will meet the left tackle, and in the Cowboys' case that's
Tyron Smith
, who is coming off his first Pro Bowl season.
"It's always fun going up against a good player, and everybody is in this game for the competition and that's basically all it is," said Smith, who worked out with Watt prior to the 2011 NFL draft. "He's one of the top players at his position, and I give him credit for what he's done so far."
Can the Cowboys control Watt?
Can the Cowboys contain Watt?
"I think it's the same thing," Frederick said. "He's one part of a bigger defense, and our job is to control and move against the Texans defense."
October, 4, 2012
10/04/12
9:10
AM ET
IRVING, Texas -- You can't go back and re-draft now but just two years into this and the 2011 NFL Draft could be something worth looking at again.
That year the Cowboys selected USC tackle
Tyron Smith
with the ninth selection overall. The Cowboys needed to upgrade their offensive line and selecting Smith was the right choice because he was projected as a left tackle.
But it left Wisconsin defensive end
J.J. Watt
on the board and he was picked No. 11 by the
Houston Texans
.
In barely two seasons, Watt has 13 career sacks, including 7.5 this season.
Smith has switched positions, going from right tackle in an impressive rookie season to the left side in 2012. After three weeks, he led the NFL with six penalties.
What's interesting about this is it appears Cowboys defensive coordinator Rob Ryan pleaded with the front office to draft Watt over Smith. Or at least that's what his brother,
New York Jets
coach Rex Ryan said Wednesday afternoon in a conference call with the Houston media in anticipation of Monday night's clash.
"Well, the first thing, you love the fanatical effort," Rex Ryan said. "The guy plays with his hair on fire and that's something you notice. But the size, strength, athleticism; it's rare to find a guy with that kind of combination. I know my brother was wanting him when he was in Dallas. He lost out in that battle. They took that tackle instead. We kept saying, 'You got to get this kid, you got to get this kid.' And sure enough, Houston ends up with him.
"(Watt) might be the first overall pick if you're having that draft all over again. He might be the first overall pick. Certainly, he makes a huge difference and an impact. Really, it's a guy, as a defensive coach all my life, it's one of those rare guys that comes along once in a long time and he's doing a tremendous job."
At the time, the Cowboys didn't really need another pass rusher alongside outside linebacker
DeMarcus Ware
, given their high-praise for outside linebacker
Anthony Spencer
and the expected emergence of defensive end
Jason Hatcher
.
But it's interesting to note the 2012 struggles of Smith and the solid play of Watt. This could all change, and Smith might become a solid tackle for many years, which is what the Cowboys project.
But to compare the careers of Smith and Watt moving forward is interesting.
When asked who does Watt remind him of, Rex Ryan said, "I'd say maybe like Dan Hampton. That kind of length and size and power. That's the kind of guy he reminds me of."
March, 5, 2012
3/05/12
3:49
PM ET
IRVING, Texas -- What was reported last week is now official: San Diego has released defensive end
Luis Castillo
.
Should the Cowboys take a look at the seven-year veteran?
If you play the "he's better than" game, then absolutely. But it also means having to study Castillo's health pretty intently. He missed all but one game last year for the Chargers with a broken left leg and has played 16 games in a year just twice. He entered the league with an elbow injury and a failed steroid test, but the Cowboys were high on him back in 2005.
At 6-foot-3, 290 pounds, Castillo has the size teams want in a 3-4 defensive end. He also brings a pass rush that the Cowboys lack in their ends. He has 19 sacks in seven years and seven came in his second year.
Marcus Spears
has nine.
Kenyon Coleman
has 13.5.
Jason Hatcher
has 12.
After talking to some folks at the NFL scouting combine in Indianapolis two weeks ago, this draft does not appear to have the talented 3-4 ends of a year ago, like a
J.J. Watt
,
Cameron Jordan
or
Cameron Heyward
. This draft seems to have more interior defensive linemen.
Too often around here we have been schooled in the 3-4 philosophy that these ends are just supposed to hold guys up and let the other guys make plays. Forget that. Watt,
Justin Smith
,
Richard Seymour
and
Aaron Smith
show you that you can get to the passer from that spot.
Castillo would offer the Cowboys something they don't currently have and he'd likely come at a good price.
Maybe they can use
Miles Austin
as a recruiter. He was Castillo's high school teammate in Garfield, N.J.
January, 19, 2012
1/19/12
12:45
AM ET

IRVING, Texas -- I would like to thank my warmup acts -- Tim MacMahon, Calvin Watkins and Bryan Broaddus -- for their solutions on how to fix the Cowboys.
The salary cap will not be an issue. The Cowboys have said they will be able to do whatever they want in free agency, despite the dead money that lingers. By the time free agency begins, they could have around $20 million in room.
That's plenty.
I'm looking at the four teams that are playing this weekend in the conference championship games as prime examples of how to structure your team.
Baltimore, New England, San Francisco and the
New York Giants
offer the Cowboys a blueprint of what works.
[+] Enlarge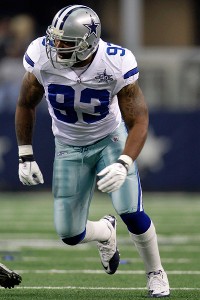 AP Photo/Tony GutierrezAnthony Spencer has been solid against the run but does not get to the quarterback enough.
The NFL is not about running the ball and stopping the run anymore. Those are tired clichés. It's protecting the passer, especially up the middle, and rushing the passer.
So while we can all say the Cowboys need to get better in the secondary, I'll go with improving the pass rush first.
DeMarcus Ware
needs some help.
Jay Ratliff
needs some help.
The Giants have pass rushers all along their defensive front, from
Jason Pierre-Paul
to
Justin Tuck
to
Osi Umenyiora
. San Francisco has pass rushers in
Justin Smith
and
Aldon Smith
. Baltimore gets pressure from more than
Terrell Suggs
.
Go get a pass rusher -- make that two.
Let's look at a team that lost last week: Houston. The Texans drafted
J.J. Watt
and Brooks Read, and Wade Phillips' defense attacked the passer. Too often we have used the excuse that defensive ends in a 3-4 are just space eaters. Smith proves that wrong. So does Watt. They can be disruptive.
To come up with draft names at this point is somewhat silly, but at No. 14 the Cowboys need to get that 3-4 defensive end or outside linebacker, especially if they deem the
Anthony Spencer
experiment over. Spencer will be a free agent, and while he is solid against the run, he does not get to the quarterback enough.
My first two picks go to defensive end and outside linebacker.
What about cornerback? I'll use San Francisco as an example again.
Carlos Rogers
was the epitome of "just a guy" when he played for Washington. He goes to the 49ers with that great front seven and makes the Pro Bowl. The Giants' secondary is playing a lot better now that the pass rush has improved.
A terrific pass rush can offset some deficiencies in the secondary. We saw that in 2009 with the Cowboys.
If you want a cornerback, be wise. There is not a Jonathan Joseph or
Nnamdi Asomugha
available this year. Kansas City's
Brandon Carr
offers some intrigue but he might get overpaid this year.
Next up is the offensive line.
[+] Enlarge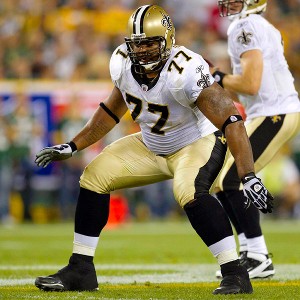 Jeff Hanisch/US PresswireThe Saints' Carl Nicks, a veteran who has multiple Pro Bowls to his credit, could be an attractive option for the Cowboys if he is available in free agency.
This is where MacMahon got something right in targeting New Orleans guard
Carl Nicks
in free agency. He must've been reading the blog last week when I made the suggestion. We have to suppose Nicks will be available and doesn't re-sign with the Saints before the market opens in March. I'll take my chances on a 26-year-old free agent with multiple Pro Bowls to his credit.
Interior offensive line play is huge. New England protects
Tom Brady
with
Logan Mankins
and
Brian Waters
. Baltimore does it with
Ben Grubbs
, who is also set to be a free agent, and
Marshal Yanda
. San Francisco has a first-rounder in
Mike Iupati
inside. The Giants have
Chris Snee
.
Too often last season
Tony Romo
was left dodging traffic up the middle, and quarterbacks just can't survive there. So why not take a guard with the first-rounder? I'm not sure Stanford's David DeCastro can come in and duplicate what
Tyron Smith
did at right tackle as a rookie. Unless they are special, most rookie linemen need time to adapt to the speed and power of the NFL.
Give me Nicks, a stronger, more veteran center, and new coach Bill Callahan, and the line will be better in 2012.
Plus, to me, the defense needs more work. They have to come away with at least three impact players in the draft and/or free agency.
If they can do that, they can jump into the NFC mix next season.
April, 21, 2011
4/21/11
3:06
PM ET
»
NFC Draft Watch
:
East
|
West
|
North
|
South
»
AFC
:
East
|
West
|
North
|
South
Each Thursday leading up to the NFL draft (April 28-30), the ESPN.com blog network will take a division-by-division look at key aspects of the draft. Today's topic: Dream scenario/Plan B.
Dallas Cowboys

Dream scenario:
If the Cowboys play things the conventional way and sit tight at No. 9, they'll probably be looking at either defensive end
J.J. Watt
or offensive tackle
Tyron Smith
. Either one would provide good value or fill a big need, and the Cowboys would improve. But Dallas owner Jerry Jones doesn't always do things the conventional way. Although trading up to the top five might be difficult, Jones' imagination could heat up if LSU cornerback
Patrick Peterson
makes it past the first five picks. The entire Dallas secondary had a horrible year last season, and Peterson would provide an instant upgrade. Jones might not be able to sit still if he's within striking distance of Peterson.
Plan B:
If there's no chance at Peterson and the Cowboys aren't excited enough about Watt or Smith, they could reach slightly and take Nebraska cornerback
Prince Amukamara
. He's the second-best cornerback in this draft, and most mocks have him going somewhere in the teens. If the Cowboys like the player enough, it wouldn't be much of a reach to just take him. If another team is looking to move up for another player, the Cowboys could drop down a few spots and still have a shot at Amukamara.
Washington Redskins

Dream scenario:
The Redskins, who need a quarterback perhaps more than any other team on the planet, would love nothing more than for something bizarre to suddenly cause
Cam Newton
or
Blaine Gabbert
to start falling. It's not out of the realm of possibility. Carolina's leaning toward Newton but hasn't made a final decision. Even if the Panthers go with Newton, Buffalo could go with linebacker
Von Miller
at No. 3, and the word out of Arizona is the Cardinals probably are looking more for a pass-rusher than a quarterback. That would put the Redskins within striking distance on Gabbert, and general manager Bruce Allen and owner Daniel Snyder could try to move up to grab him. Or they could just take a chance that he'll be available at No. 10.
Plan B:
If Newton and Gabbert are gone, there's no quarterback worthy of the No. 10 pick. Defensive tackle also is a major need, but the Redskins could fill that in free agency. Snyder enjoys making a splash, and if he can't do it with a quarterback, he might do the next-best thing and take a guy who would catch passes from whoever ends up throwing them. With
Santana Moss
as a free agent and not much else in the receiving corps, Alabama's
Julio Jones
could be a very nice consolation prize.
New York Giants

Dream scenario:
The desperate need is at outside linebacker, but the only player who is really a sure thing is Miller, and he almost certainly will be a top-five pick. So the dream ends there and reality sets in, and the other reality is the Giants have big needs on the offensive line, where everyone but guard
Chris Snee
is starting to get old. Florida center/guard
Mike Pouncey
could really solidify the interior of the line, where the need is greatest. Tackles
Gabe Carimi
and
Anthony Castonzo
also could be possibilities as the Giants could consider moving tackle
David Diehl
to guard.
Plan B:
This may sound a bit off the wall because the Giants have decent running backs in
Ahmad Bradshaw
and
Brandon Jacobs
. But what if Alabama's
Mark Ingram
happens to be available? The Giants might have to consider him. He might be better than Bradshaw and Jacobs. Also, along the same lines, don't rule out the possibility of a defensive tackle like Temple's
Muhammad Wilkerson
if he's available. The Giants appear to be in good shape in the middle of the defensive line, but general manager
Jerry Reese
places a high value on having lots of depth, especially in the middle of the defensive line.
Philadelphia Eagles

Dream scenario:
In a perfect world, the Eagles would package their first pick (No. 23 overall) with quarterback
Kevin Kolb
and trade their way into the top five, where they would aim for cornerback Peterson. The Eagles have a desperate need for a cornerback to play opposite
Asante Samuel
, and Peterson is the only sure thing in this draft. But this is not a perfect world. Unless the lockout somehow ends between now and the start of the draft, they're not allowed to trade Kolb. If they stay put, the Eagles have to hope Amukamara somehow falls to them, or they might have to take a chance on Colorado's
Jimmy Smith
, who comes with some background questions.
Plan B:
The right side of the offensive line needs to be upgraded. Most teams stay clear of guards in the first round. But tackles Castonzo,
Nate Solder
and Carimi all could be available when the Eagles pick. Any one of them could step right into the lineup and start.
April, 13, 2011
4/13/11
5:03
PM ET
IRVING, Texas -- With one slot open on their national visits for draft prospects, the Cowboys welcomed Nebraska cornerback
Prince Amukamara
to Valley Ranch on Wednesday.
The Cowboys hosted 29 visitors from across the country, including Southern Cal offensive tackle
Tyron Smith
and Wisconsin defensive end
J.J. Watt
to town last week, and they held their annual Dallas Day workout for players from local high schools and colleges, including quarterbacks
Andy Dalton
of TCU and
Greg McElroy
of Alabama. McElroy's father works for the team.
Amukamara
has been linked in mock drafts to the Cowboys with the No. 9 pick, but most prognosticators have the Cowboys taking Smith with their first pick now. The Cowboys remain high on their top-three cornerbacks -- Terence Newman, Mike Jenkins and Orlando Scandrick -- but Amukamara is considered the second-best corner prospect in the draft. He did not have an interception in 2010 after having five as a junior.
March, 29, 2011
3/29/11
7:30
AM ET
ESPNDallas.com looks at potential Cowboys picks for the April 28-30 NFL draft.
J.J. WATT
Position:
DE
School:
Wisconsin
Scouts Inc. ranking:
No. 12 overall
[+] Enlarge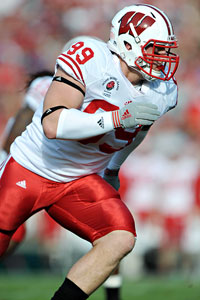 Kirby Lee/US PresswireDefensive end J.J. Watt had 106 tackles and 11.5 sacks in two seasons for Wisconsin.
Bio:
Earned the 2010 Lott IMPACT Trophy, an honor for the nation's top defensive player in which character is measured equally with performance. … Finalist for Bednarik and Hendricks awards, second-team All-American, consensus first-team All-Big Ten and Academic All-Big Ten and team MVP as a redshirt junior. … Originally signed with Central Michigan as a tight end and transferred to Wisconsin as a walk-on after his freshman year. … Had 106 tackles (36.5 for losses), 11.5 sacks, three forced fumbles, four fumble recoveries, 14 passes broken up, one interception and four blocked kicks during two seasons for the Badgers.
Size:
6-5 3/8, 290
40-yard dash:
4.84
Arm length:
34 inches
Hand:
11 1/8 inches
225-pound bench reps:
34
Vertical jump:
37 inches
Broad jump:
10-0
20-yard shuttle:
4.21
Three-cone drill:
6.88
Broaddus Breakdown (viewed Ohio State, Michigan and TCU games):
Will line up on either side of the defensive line. In this scheme will sometimes stand up in a two-point stance. … He is a hard working defensive end with size and length. Doesn't have the technique skill of Cameron Jordan but is the type that is going to get you with effort and power. Plays stronger than Jordan at the point of attack but is not as fluid of a moving athlete. He actually is a little stiff. … His game is really built on power and desire. Makes plays because of effort. Is the type that keeps coming after you. … Uses arm under or rip moves to free himself. Has a knack for knocking passes down at the line of scrimmage. If he doesn't get home on the rush will use his long frame to get into throwing lanes. … Like Jordan, will move inside as a three technique. Some avoid with quick inside move to beat man. Likes to spin as well but will get caught and moved out of the hole at times. Scheme will allow him to be used on the twist stunt but it wasn't his best avenue to the passer. … Able to retrace his steps to the ball carrier when rushing up field but was disappointed to see him miss some tackles in space. Will need to develop some pass rush moves but overall strength and effort are outstanding. … He is the perfect body type for what Bill Parcells wanted in a 3-4 defensive end.
March, 11, 2011
3/11/11
10:42
AM ET
Nebraska cornerback
Prince Amukamara
is a popular pick for the Cowboys in mock drafts.
There is a school of thought, however, that defensive end is a much more dire need for the Cowboys. Wisconsin's
J.J. Watt
and Cal's
Cameron Jordan
are realistic options if the Cowboys decide to go that route.
If the Cowboys do draft a defensive end with the ninth overall pick, they better be certain that they're getting a special player. It's a position in limbo with
Stephen Bowen
,
Marcus Spears
and
Jason Hatcher
all on the free agency market, but it's also the most expendable position in a 3-4 scheme. That's what a high-ranking Cowboys official told me a couple of years ago while explaining why the franchise made little attempt to prevent
Chris Canty
from leaving.
Cornerback, on the other hand, ranks right up there with outside linebacker as the most important positions in the scheme. It's not a coincidence that
DeMarcus Ware
and
Terence Newman
are the Dallas defense's highest-paid players.
"We have to get tremendous players out there on the corner and be able to shut down receivers and again be accurate tacklers," defensive coordinator Rob Ryan said during his first meeting with the Valley Ranch media. "There is no place in football for a coward and it's definitely not on a corner for us. It's a marquee position and that's what it is here and in the NFL."
Newman, who turns 33 in September, needs to be replaced in the near future. That doesn't necessarily mean Newman, who had an extremely rough season while battling a rib injury in 2010, can't help the Cowboys next season. But they can't afford to count on him without preparing his successor. And it wouldn't be a bad thing to give
Mike Jenkins
, who had an even worse 2010 than Newman, some competition.
Maybe the Cowboys aren't that high on Amukamara and believe they can get a quality corner in the second or third round. If that's the case, filling another need in the first round makes sense, whether that means drafting Watt or Jordan or an offensive tackle such as freakishly athletic USC product
Tyron Smith
.
Having said that, Amukamara would seem to be a safe, smart pick if he's still on the board at No. 9. It's more important to get a great cornerback than it is to get a great defensive end.
February, 10, 2011
2/10/11
4:56
PM ET
ESPN.com draft guru Todd McShay no longer project Nebraska CB
Prince Amukamara
to be the Cowboys' first-round pick.
McShay's
third mock draft (Insider)
has the Titans taking Amukamara at No. 8. That leaves the Cowboys to address what McShay deems an even bigger defensive need.
With the ninth overall pick, the
Dallas Cowboys
select ... Wisconsin defensive end
J.J. Watt
.
McShay's take:
The team's most pressing need is for a 5-technique (defensive end) in its 3-4 scheme. The Cowboys are also aging along the offensive line and need some depth/future starters at inside linebacker and safety. Dallas would have a tough call in this scenario, but Watt will continue to fly up boards because of his versatility and nonstop motor. Watt is capable of making an immediate impact on all three downs as a rookie. Finding a player like Watt to generate inside pressure would be a great complement to OLB DeMarcus Ware's edge rushing ability.
Alabama's
Marcell Dareus
would also be a great fit for that need, but McShay has the Browns picking him at No. 6. Another possibility is Cal's
Cameron Jordan
, who McShay projects to go to the Patriots at No. 17.