Dallas Cowboys:

Jabar Gaffney
December, 8, 2011
12/08/11
10:59
AM ET
Five-star question:
Will
Victor Cruz
be the fourth consecutive receiver to have a 100-yard game against the Cowboys' secondary or will another Giants' receiver do it?
I'll go with somebody other than Cruz this week. My answer is
Hakeem Nicks
. He had nine catches for 108 yards and two touchdowns in his last game at Cowboys Stadium.
It's one thing to allow a wide receiver like Miami's
Brandon Marshall
to go for more than 100 yards in a game. It's a troubling matter when Washington's
Jabar Gaffney
and Arizona's
Andre Roberts
do it.
Cruz has become Eli Manning's top target with the wide receivers banged up. He has 62 catches for 1,076 yards and seven touchdowns. He is riding a personal three-game streak of at least 100 yards with 128, 157 and 119 yard games against Philadelphia New Orleans and Green Bay.
But Nicks gets the call for me. He has been targeted 24 times by Manning in the last two games with 14 catches for 175 yards and two scores. He is big, fast and hard to bring down. To me, Nicks is the Giants' version of
Dez Bryant
.
If
Steve Smith
remained with the Giants, I would've picked him since he has a history of lighting up the Cowboys.
In the last four games against the Cowboys, the Giants have had four 100-yard games from receivers. Smith had two of them. Nicks had one.
Mario Manningham
had the other.
It won't be Cruz on Sunday, but the Giants will have a receiver crack the century mark.
November, 23, 2011
11/23/11
3:42
PM ET
IRVING, Texas – Defensive coordinator Rob Ryan believes his staff spends more time studying the red zone than anyone in the NFL. It hasn't been enough.
The Cowboys are ranked 22nd in the NFL in red-zone defense efficiency, having allowed 17 touchdowns on 29 possessions.
"We're not playing good defense and it's only because of the red zone," Ryan said Wednesday. "If we get that cleaned up, we'll have a great defense. It's been disappointing. It takes everybody's focus and for us to be where we want to be, where everybody wants us to be, we have to play better there."
Ryan was particularly embarrassed by last week's performance against the Redskins. Washington scored three touchdowns in the red zone, including a quarterback draw and completion over the middle caused by a coverage bust.
All season long, Ryan has taken the blame when things went wrong for his defense. Those two plays are the exceptions.
The 4-yard touchdown run by
Rex Grossman
, who has never been known for his speed, came on a third-and-goal.
"Everybody in the building knew it was a quarterback draw and we didn't execute how we wanted to stop that play," Ryan said. "That's embarrassing."
The touchdown in the final minute of the first half might have frustrated Ryan even more. Grossman hit
Jabar Gaffney
on a crossing route in the back of the end zone for a 16-yard score. Slot corner
Frank Walker
bit on an underneath route and Gaffney got inside
Gerald Sensabaugh
.
"You know me, I'll be the first one to wear the hat when anything is a little skewed, but there is no excuse to give up a touchdown in five-deep coverage on two-deep receivers," Ryan said. "That was a little annoying and we have to do better than that.
"It takes everybody's dedication to play better in the red zone. To me, that was two plays that signified that it's not right yet."
November, 22, 2011
11/22/11
10:51
AM ET
By
Bryan Broaddus
| ESPNDallas.com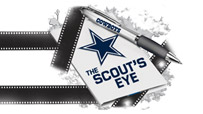 When getting ready for this game, there was no doubt in my mind that the
Washington Redskins
would give the Cowboys their best shot. Defensively, the Redskins were still playing hard despite being put in terrible position by their offense. The Redskins' offense was as bad as any as I've studied this season, and the majority of their struggles had to do with the quarterback play of
Rex Grossman
and
John Beck
.
I really felt the Cowboys defense would be able to take advantage of how poorly Grossman had played since being put back into the lineup after Beck proved he couldn't handle the job. But when you struggle to get consistent pressure and you struggle with communication problems, even poorly playing quarterbacks can enjoy success.
Redskins' receivers had too much room to operate
For the previous two weeks, the Cowboys secondary had been outstanding. Against the Redskins, however, there were too many plays where receivers had room to operate. It all really started to fall apart when
Orlando Scandrick
was flagged for holding after he was beaten off the line because he wasn't in good position and had to grab his man. There was another time where the Redskins spread the Cowboys' defense across the field, forcing
Terence Newman
to play between two receivers on the outside because
Gerald Sensabaugh
failed to get over in coverage and replace Abe Elam, who had blitzed. It resulted in an easy pitch and catch for Grossman.
Scandrick also failed to get his hands on
David Anderson
during an out-and-up route, which resulted in a nice gain for the Redskins. If Scandrick gets his hands on Anderson in the 5-yard zone, he has no shot at getting that ball.
The Redskins drove into the Cowboys' red zone, and Grossman was able to deliver a touchdown pass in the back of the end zone to
Jabar Gaffney
. On the play, Sensabaugh thought he had inside help from
Frank Walker
, who was lined up at the other safety. At the snap, Gaffney runs up, nods to the outside and then gets Sensabaugh to have to try and adjust to him. Sensabaugh got turned and was unable to get back inside, and Walker wound up jumping an across-the-middle route underneath when he should've been helping Sensabaugh with Gaffney.
Loose coverage proves costly for Newman
While Scandrick and Sensabaugh had their struggles, so did Newman. He didn't play near as aggressively as he had against Buffalo or Seattle. Maybe it had something to do with the chopped-up condition of the field and he didn't have confidence in his footing. Nevertheless, he played way too cautious on routes.
There was only one time where he drove on a ball, and that was on a pass over the middle to Anderson. Newman read it well, avoiding Anderson and knocking the ball down. Newman's problems were a result of always being four to five yards off in coverage. On third-and-11, Newman allowed Gaffney to run up the field and turn inside with plenty of room to catch the ball. Newman was a good four yards off.
There was another time where Newman got bumped off coverage when covering Donte Stallworth and couldn't rally to make the play. In previous games, Newman had been played much more physical.
Hatcher, Ratliff stand out on defense
When teams were able to run the ball against the Cowboys, it was mainly because of the poor play of the defensive ends. When the defense had success stopping the run, it was because
Kenyon Coleman
,
Marcus Spears
,
Jason Hatcher
and
Sean Lissemore
did a nice job of holding blocks at the point of attack.
If I had to give a game ball to one of these ends, I would hand it over to Jason Hatcher, who clearly outplayed former teammate and Redskins DE
Stephen Bowen
. Hatcher was able to get pressure several different ways. Ryan used him on twist stunts and over the guards in the nickel. Hatcher was always working his way up the field in the passing game, but he also did a nice job of stacking blockers at the point of attack.
Jay Ratliff
keeps putting outstanding games together as well. He is one of those players that you really don't appreciate until you go into the lab and break his work down. Ratliff was strong at the point in the running game, overpowering center
Will Montgomery
several times, causing problems inside for the Redskins' zone running scheme. Ratliff was able to draw a holding call that brought back a nice gain on a pass play to tight end
Logan Paulsen
in the flat. In this game, the numbers were there for Ratliff, who has played well the last several weeks.
Where was Ware on game-tying drive?
Nobody appreciates the fine work of
DeMarcus Ware
and what he means to this team on a weekly basis more than I do. There is no questioning his talent and passion, but it's my job to point out flaws that I see during my film study. In this game, the defense allowed the Redskins to drive the ball down the field and score the game-tying touchdown. The 12-play drive -- for another weekend -- showed the Cowboys' defense couldn't close the game out, much like they couldn't against the Jets, Lions, and Patriots. On that final drive in regulation, the Redskins only doubled Ware once. On four of the plays, he was matched up against
Jammal Brown
. On the other eight, he went against young LT
Trent Williams
. The result for Ware: Not one sack or even a pressure.
Romo makes most of second-chances
Tony Romo
won this game for the Cowboys, plain and simple, through his abilities to buy a second chance with his feet, think on the move and deliver a play when his team needed it the most.
There was no doubt in my mind that the Cowboys were going to have difficulties running the ball against the Redskins' defensive front. As well as
DeMarco Murray
had been carrying the ball, this was a game where the blocking was less than perfect and he had to fight for every yard.
Romo's reads and execution were spot on. Where he was at his best was his ability to feel the pressure and move to avoid it. Two examples were on touchdown passes to
Laurent Robinson
and
Jason Witten
.
Romo on the run: Example No. 1
Robinson did an outstanding job of getting in position to catch the ball. When the play started, it looked like Robinson was going to be brought in motion to create a bunch formation, but Romo did not bring him inside. At the snap, Robinson had to work up to the goal line and then sprint across to get Romo's attention. On the other side,
Dez Bryant
was jammed at the line.
With the pocket closing around him, Romo moved to his left to buy more time, and Bryant was trying to work himself free in the corner of the end zone. At the same time, Robinson is in the clear but is quickly closing ground to the Redskins corner on the other side of the field.
Romo, moving to his left, pointed to the left corner of the end zone to try and freeze the defender to that side. Bryant tried to work back that way, but Romo really was trying to create space for Robinson along the goal line.
At the moment of truth, Romo, instead of leading Robinson with the ball into the defender, throws the ball behind Robinson so he can brace for the catch. Robinson is able to adjust, make the catch and secure the touchdown.
Romo on the run: Example No. 2
On the TD pass to Witten, it was really a heady play by two veteran players.
Once again, Romo has to deal with pressure, but he's able to spin to his left to avoid the rush. Witten, on the right side of the formation, runs a curl at about 12 yards. When he turns, Witten sees Romo spinning out of the pocket, so he starts across the field to mirror the direction that his quarterback is turning.
Romo doesn't see Witten at first, but Witten makes himself available up and across the field. The Redskins had no safety help in the middle of the field where Witten attacked. Moving to his left and with pressure in his face, Romo delivered a strike to Witten, who was able to finish the play by getting to the end zone.
Less is more for DeMarco Murray
I knew it wasn't going to be easy for Murray, but the way he carried the ball was more impressive than his 250-yard effort vs. the Rams. On fourth-and-1 in the third quarter, with the Cowboys trailing 17-10, Jason Garrett decides to go for it.
On the field, Garrett has three tight ends, one wide receiver and Murray in the backfield.
John Phillips
is lined up as a wing to the left and comes in motion across the formation.
Martellus Bennett
is lined up on the line right, with Witten slightly off the line to his right. WR Robinson is wide left.
At the snap, the Redskins defense pinches down inside on both sides in an effort to clog the middle.
Montrae Holland
pulls from his left guard to the right. On the front side, Witten, Bennett,
Tyron Smith
and
Kyle Kosier
all block down inside to cave the edge.
Holland managed to get around the corner with Phillips out on the support. Holland pulled to block
London Fletcher
, but missed. Murray is now heading for the edge as Phillips loses contact with
DeAngelo Hall
, who is able to grab Murray in space. Murray, however, is much too strong for the cornerback and is able to finish the run by carrying Hall an extra four yards for the first down. The drive later was capped with the game-tying touchdown pass to Robinson.
November, 20, 2011
11/20/11
7:02
PM ET
LANDOVER, Md. – He'll take the win, but
Orlando Scandrick
is not looking forward to watching the film of this game.
"I didn't play my best game," Scandrick said. "Quite frankly, I think I played bad. Made a big play, but a couple penalties, a couple penalties, a couple missed assignments, a couple misalignments and they're right back in the game."
Scandrick, who had an interception and two defensive holding penalties, had plenty of company in the Cowboys' secondary. They made Redskins quarterback
Rex Grossman
and a bunch of waiver-wire-type wide receivers look like a legitimate NFL passing attack.
Grossman completed 25 of 38 passes for 289 yards and two touchdowns.
Jabar Gaffney
had seven catches for 115 yards and a score, a huge day for a receiver whose previous season high was 68 yards.
"They executed," said cornerback
Terence Newman
, who was in coverage of several of Gaffney's catches. "We didn't execute as well as we would like, but you've got to tip your hat to the guy because he's took a lot of criticism throughout his nine years in the league. He's showing everybody that he's a quality quarterback."
Yes, he's talking about the same Rex Grossman who was benched for
John Beck
.