Dallas Cowboys:

Jaiquawn Jarrett
May, 14, 2012
5/14/12
8:00
PM ET
Thanks for the feedback on the last post. I have been reading through the comments there, and I appreciate the suggestions. Most of them, anyway.
Meantime, Football Outsides has been doing a division-by-division look at the remaining needs for each team, and today
they take on the NFC East
. It's Insider content (which always makes me chuckle, that the Outsiders are Insider), so you need to pay to read it, but here's a little taste.

Dallas Cowboys: "Interior offensive line."
Basically, the FO guys aren't excited about the Cowboys' talent level at guard and center, and seem unimpressed by Jason Garrett's plan to let
Nate Livings
,
Mackenzy Bernadeau
,
Bill Nagy
and
Phil Costa
compete for the three starting spots in the interior of the line. No mention of
David Arkin
, oddly, who would seem to be in the mix. And I do have a nitpick with their claim that Nagy was "banished to the bench" for ineffectiveness last season, when it was actually a broken ankle that ended his season. But in general, the idea that the Cowboys need more strength and power at the interior line positions than they probably have on the roster is probably accurate.

New York Giants: "Osi Umenyiora's replacement."
This seems to posit that the Giants would trade Umenyiora or that he'd hold out and they wouldn't have any pass-rushers at defensive end behind their two excellent starters. I don't think they're going to trade him, and I don't think he's going to hold out of any regular-season games once push comes to shove. But this does point up the idea that the Giants need to be thinking about who replaces Umenyiora next season, assuming he leaves via free agency.

Philadelphia Eagles: "Secondary depth."
The metrics all rate
Asante Samuel
very highly as a cornerback, so it's little surprise that FO treats his departure as one that creates a hole. I think they're right on this score, but the metrics don't take into account Samuel's salary, or the fact that his playing style doesn't fit what they want to do with the cornerbacks this year, so it's hard to get on them for that dump-trade they made with him. Assuming full health and a big steps forward for
Nate Allen
and
Jaiquawn Jarrett
, the Eagles should have a good starting secondary. But I would agree that there is little behind the starters if someone gets hurt. Interested to see whether
Brandon Boykin
can make an impression early and challenge for that nickel corner spot, and I can't rule out the possibility that they add a veteran to the safety mix. There are still quite a few out there.

Washington Redskins: "Cornerbacks."
Yeah,
DeAngelo Hall
and
Josh Wilson
project as the starters, but they're not exactly Deion Sanders and Night Train Lane back there, and as FO points out, the Redskins' efforts to upgrade their secondary don't rank among their greatest successes of this offseason. Washington's defense is emerging as a good one, but the weak spot is still in the back, and they would do well to keep on the lookout for ways to make it better. That's part of why they're bringing so many safeties to camp, but they'll need better performance from Hall and Wilson in 2012 if the defense is to take the next step.
September, 13, 2011
9/13/11
1:36
PM ET
»
NFC Stock Watch
:
East
|
West
|
North
|
South
»
AFC
:
East
|
West
|
North
|
South
FALLING
1. Fan patience with Tony Romo.
Romo was outstanding against the
New York Jets
defense Sunday night until the fourth quarter, when a couple of bad decisions and turnovers by the star quarterback cost the
Dallas Cowboys
the game. This did not help combat the popular opinion that Romo is a talented guy who can't get it done in the clutch or show the leadership qualities the team needs to make a run at the Super Bowl. It's only one game, and he surely will have chances to undo the damage he did Sunday, but Romo starts the season in a hole of his own making.
2. The New York Giants' margin for error.
The
Justin Tuck
injury wasn't the reason the Giants lost to the
Washington Redskins
, but it may well have been the final
Jenga
piece that came out before the tower fell down. The Giants are so beaten up, so thinned-out by injuries and free-agent defections, that they can't afford any more hits. Losing their best player to injury in the days before the season opener, on top of everything else that had already happened, was too much to overcome. And until they can get a little bit more whole, this is going to be their issue. Lack of depth shows up as the game goes along, and Sunday they got outplayed in the second half. The guys they do have are going to have to play something close to error-free football if they're to have chances to win. Fortunately for them, their next game is against the
St. Louis Rams
, who may be even more banged-up right now than they are.
3. Philadelphia Eagles' early-round draft picks.
Not only did first-round pick
Danny Watkins
lose his job as the starting right guard last week -- he wasn't even active for the Eagles' season opener in St. Louis. Head coach Andy Reid keeps saying Watkins is taking "a step back to take a step forward," and he certainly may well be the starter at some point this season. But the Eagles are in win-now mode, and they're not going to allow Watkins to learn on the job if it's going to be a detriment to the team. Also inactive were second-round safety
Jaiquawn Jarrett
and third-round cornerback
Curtis Marsh
. But fourth-rounders
Casey Matthews
and
Alex Henery
are the starting middle linebacker and placekicker. Fifth-rounder
Dion Lewis
is the kick returner and a good-looking backup running back and sixth-rounder
Jason Kelce
is the starting center. So they got a little bit more immediate help in those later rounds.
RISING
[+] Enlarge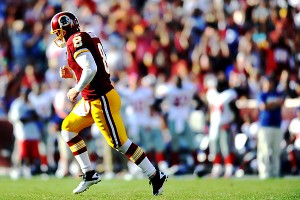 James Lang/US PresswireRex Grossman took advantage of a thinned-out Giants team and threw for 300 yards and two touchdowns.
1. Rex Grossman and the Redskins.
Theirs was the feel-good win of the week in the division, with Grossman throwing for more than 300 yards against that depleted Giants defense and the Washington defense stifling the Giants' run game. I've been writing for weeks that I didn't think -- as many did -- that the Redskins would be one of the worst teams in the league. And I don't know that they should be printing Super Bowl tickets just yet. But they're going to be a tough team to play against, and with the way the schedule lays out, they wouldn't be a huge shock as a borderline playoff contender.
2. The Eagles' offensive versatility.
I don't expect
Michael Vick
to pick up 98 rush yards every week, but he was running to beat the blitz, and he said after the game that he'd be happy to keep doing it if teams wanted to persist in sending extra rushers. Vick's ability to extend drives and turn broken plays into big gains isn't any big news, but it was one of many options the Eagles showcased Sunday, including
DeSean Jackson
as a downfield threat and
LeSean McCoy
as a fourth-quarter weapon. Vick's protection held up well when St. Louis wasn't blitzing more guys than they could account for, and once they get
Jeremy Maclin
and
Brent Celek
and
Steve Smith
into the mix, the Eagles are clearly going to be a very scary offensive team.
3. Sean Lee.
Snagged the starting inside linebacker job away from veteran
Keith Brooking
and ran with it, having a great game against the Jets. Lee has long been viewed as the future for the Cowboys at that position, but the way he played Sunday night makes you think he might be the present as well. He was an asset against the run game and picked up an interception as well. Making plays the way he did Sunday, he's not about to give that job back anytime soon.
April, 22, 2011
4/22/11
7:30
AM ET
JAIQUAWN JARRETT
Position:
Safety
College:
Temple
Scout's Inc. ranking:
No. 74 overall.
Bio:
Finished 2010 season with 74 tackles, two tackles for loss, two interceptions, one fumble return and one forced fumble. ... Completed college career with eight interceptions. ... Played in all 49 games during his career, including 43 starts. ... Recipient of the 2010 NFF College Football Hall of Fame Academic Achievement Award. Recipient of the athletic department's 2010 Enterprise Spirit and Sportsmanship Award. Made 2010 Athletic Director's Honor Roll.
[+] Enlarge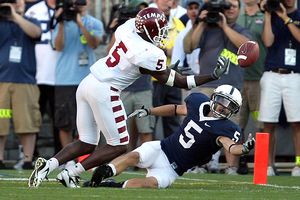 Rob Christy/US PresswireJaiquawn Jarrett did a good job of getting to the ball carrier when he recognized the play.
Size:
5-foot-11 7/8, 198 pounds
40-yard dash:
4.66
Arm length:
32 1/4 inches
Hand size:
10 inches
225-pound bench press reps:
14
Broad jump:
9 feet, 5 inches
Vertical jump:
30 inches
20 Shuttle:
4.14
60 Shuttle:
11.72
Three-cone drill:
6.95
Broaddus Breakdown (viewed Penn State, Northern Illinois, Miami-Ohio games):
Plays like a free safety in the Owls' scheme but probably better suited to be a strong safety in the NFL. ... Really liked how aggressive he was once he recognized the play and came forward. Only had one missed tackle that I saw and that came on the first play of the game against Penn State when he was stiff-armed in the open field. In other opportunities he was able to come forward, strike a blow and bring the ball carrier down. ... Has a unique ability to cause turnovers. In the three games I studied, he caused a fumble in all of them. He is not afraid to hit you and try to rip the ball free. Thought he did a solid job of reading the play, finding the football and making the tackle. Will step up in the hole and be physical. ... Did have a play in the running game where he did not react quick enough to the ball on the edge and the Penn State back was able to go around the corner for a touchdown. ... In pass coverage, did not see a quick-footed player nor one that has a tight back pedal. His feet and technique are really all over the place. As he pedals, its like he is reading the route and he doesn't stay in a straight line. Did see him have one opportunity in coverage against Penn State in the red zone when he broke off the hash, found the receiver, then worked him out of bounds. Really gave the quarterback no room to deliver the football. ... Can tell he is the quarterback of the defense. You see him directing others when the offense runs motions in the formation. Simliar size to DeAndre McDaniel of Clemson but is a more physical player. Speed is similar to Quinton Carter of Oklahoma. Ahmad Black of Florida is much quicker but doesn't have the height. ... If I had to make a choice of these strong safety types, Jarrett would be the player I would most likely draft with Rahim Moore of UCLA the true free safety.
February, 23, 2011
2/23/11
8:00
AM ET
Players:
Alan Ball
(free agent),
Gerald Sensabaugh
(free agent),
Barry Church
(signed through 2012),
Danny McCray
(signed through 2012),
Akwasi Owusu-Ansah
(signed through 2013),
Andrew Sendejo
(signed through 2011)
Top free agents:
Michael Huff
,
Oakland Raiders
; O.J. Atogwe,
St. Louis Rams
;
Bob Sanders
,
Indianapolis Colts
;
Roman Harper
,
New Orleans Saints
;
Quintin Mikell
,
Philadelphia Eagles
;
Danieal Manning
,
Chicago Bears
;
Dawan Landry
,
Baltimore Ravens
[+] Enlarge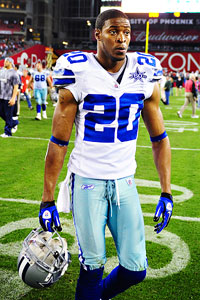 Mark J. Rebilas/US PresswireDon't expect safety Alan Ball to be a starter next season, if he's even on the Cowboys' roster in 2011.
Top draft prospects:
Rahim Moore
, UCLA;
Quinton Carter
, Oklahoma;
DeAndre McDaniel
, Clemson;
Robert Sands
, West Virginia;
Jaiquawn Jarrett
, Temple.
2010 review:
To put it simply, this position was a problem. The Cowboys made a major misevaluation with Alan Ball, who doesn't have the instincts or tackling ability to be a starting free safety for a decent NFL defense. Gerald Sensabaugh was a disappointment for most of the season, although he finished strong by making four of his five interceptions in the last six games. He was not a factor against the run or an intimidating presence in the middle of the field. Barry Church and Danny McCray didn't perform well enough in limited playing time to make a case to contend for a starting job. Akwasi Owusu-Ansah, who missed much of camp due to shoulder surgery and was placed on injured reserve with an ankle injury, essentially had a redshirt season.
Offseason preview:
The Cowboys have to find at least one, and preferably two, new starting safeties. If Ball is on the roster next season, it'll be as a backup and core special teams player. There is a chance that Sensabaugh could return as a starter, but the Cowboys won't give him the lucrative long-term deal he's looking for in free agency. It would behoove the Cowboys to be aggressive in free agency, but they haven't set up a visit with O.J. Atogwe, who is available to sign immediately after being released by the Rams this week. There are no safeties who are projected as top-10 picks, so don't expect the Cowboys to draft one in the first round. They should be able to find a starter in the second or third round.
Need meter:
(1-to-5) 5