Dallas Cowboys:

Jake Ballard
March, 14, 2012
3/14/12
2:56
PM ET
IRVING, Texas – The Cowboys did not expect to retain
Martellus Bennett
as a free agent nor were they trying very hard to do so, but now they have to prepare to play him twice in 2012.
Bennett has joined the
New York Giants
with a one-year, $2.5 million deal, viewing the Cowboys' NFC East rival as the best spot to become a No. 1 tight end after spending the last four seasons as Jason Witten's backup.
The Giants had a need with
Travis Beckum
and
Jake Ballard
suffering major knee injuries in Super Bowl XLVI and Bennett moved to the top of the tight end list after a number of players were re-signed before free agency began.
In four seasons, Bennett, a second-round pick in 2008, caught 85 passes for 846 yards with four touchdowns, all of which came in his rookie year. A solid blocker, Bennett was never able to become a regular part of the passing game and he was unable to take advantage of the limited opportunities he received.
The Cowboys were ready to move on from Bennett and have spent part of the day visiting with free agent
Kellen Davis
, who had five touchdown catches last year for Chicago. Another possible target,
John Carlson
, was signed by Minnesota earlier in the day.
It's the second time in four years the Giants have signed a Dallas free agent. They signed defensive end
Chris Canty
in 2009 to a seven-year, $42 million deal.
March, 13, 2012
3/13/12
3:41
PM ET
IRVING, Texas – While the Cowboys are actively shopping in the free-agent market, so are two of their own free agents.
PODCAST
Galloway & Company discuss who the Cowboys need to get in free agency and who they need to let go. Is Laurent Robinson worth keeping? Should we worry about Marty B visiting the Giants?

Listen

Tight end
Martellus Bennett
will visit the
New York Giants
on Tuesday night. Also, wide receiver
Laurent Robinson
is visiting with Jacksonville, according to sources.
The Cowboys would like to keep Robinson, who led the team with 11 touchdown catches last year, but the price tag might get too high, especially with
Miles Austin
and
Dez Bryant
on the roster.
The Arizona Cardinals have also expressed interest in Robinson among other teams.
The Giants' need for a tight end arose after
Travis Beckum
and
Jake Ballard
suffered major knee injuries in Super Bowl XLVI. The Giants have enough familiarity with Bennett over the years and Bennett has made it clear he wants the chance to be a starter.
Bennett confirmed the visit to New York on Twitter: "Headed to NY tonight. excited!"
In 2008 the Giants signed defensive end
Chris Canty
away from the Cowboys with a lucrative offer.
December, 30, 2011
12/30/11
9:44
AM ET
IRVING, Texas -- For the Cowboys to beat the
New York Giants
on Sunday at MetLife Stadium they will need to get after
Eli Manning
.
In 2008, the Cowboys sacked him 12 times in two games. In the five games since then they have sacked him twice in 193 pass attempts. They did not get to him in the first meeting this season in which he threw it 47 times.
Coach Jason Garrett said sometimes sacks can be overrated, that pressure means more. That's true. A quarterback can simply just throw the ball away when under some heat, which means almost as much as a sack.
But the Cowboys did not get much pressure the last time.
I re-watched the first game between the Cowboys and Giants and paid particular attention to the Cowboys pass rush in the second half when Manning threw it 28 times for 254 yards.
Defensive coordinator Rob Ryan brought five-man pressure (or more) 10 times, four-man pressure seven times, three-man pressure 10 times and two-man pressure once. By my unofficial count, the Cowboys pressured Manning nine times in the second half that included an intentional grounding penalty.
When Ryan brought five or more, the Cowboys pressured Manning six of the 10 snaps. With the four-man pressure, they got to him twice (out of seven snaps) and three-man once (out of 10 snaps).
On Mario Manningham's 47-yard touchdown catch, the Cowboys rushed six with linebacker
Alex Albright
serving as a down lineman, faking a rush and dropping into coverage. Unfortunately
Frank Walker
and
Barry Church
blitzed, leaving Manningham alone for the touchdown.
A lot of Ryan's three-man rush came in the red zone where he wanted to clog up the passing lanes, like when he dropped nine guys. But on that play
Jake Ballard
was able to break free for an 18-yard catch to the Dallas 1 to set up the go-ahead touchdown.
If you're Ryan, do you blitz and expose the secondary or do you play coverage and expose the pass rush?
December, 29, 2011
12/29/11
3:33
PM ET
IRVING, Texas -- The franchise quarterback and the Cowboys' pair of Pro Bowlers were among the eight players listed as having limited participation in Thursday's practice on the official injury report.
The limited list: QB
Tony Romo
(hand), NT
Jay Ratliff
(ribs), OLB
DeMarcus Ware
(neck), CB
Mike Jenkins
(shoulder), RB
Felix Jones
(hamstring), NT
Josh Brent
(knee), WR
Andre Holmes
(hamstring) and WR
Kevin Ogletree
(knee).
ILB
Sean Lee
(illness) and S
Danny McCray
(ankle) were the only Cowboys not to participate in the practice. Coach Jason Garrett indicated that he was optimistic that Lee would be able to practice Friday.
Three key members of the Giants' offense have not practiced this week: RB
Ahmad Bradshaw
(foot), WR
Hakeem Nicks
(hamstring) and TE
Jake Ballard
(knee).
December, 23, 2011
12/23/11
12:34
PM ET
»
NFC Final Word
:
East
|
West
|
North
|
South
»
AFC
:
East
|
West
|
North
|
South
Five nuggets of knowledge about Week 16:
Wow, does something have to give:
The
Minnesota Vikings
have played nine games in a row without intercepting a pass -- the longest such streak in the league since the NFL-AFL merger. Their six interceptions for the season is the lowest total in the league, obviously. But this week they get to face
Washington Redskins
quarterback
Rex Grossman
, who has thrown at least one interception in 10 straight games and whose 18 interceptions for the season are one short of
Ryan Fitzpatrick
's league lead -- remarkable considering Grossman has played in only 11 games. One of these streaks ends Saturday. Which way are you betting?
[+] Enlarge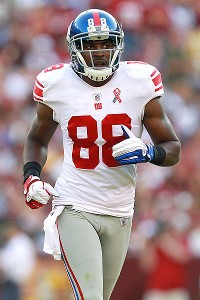 Ronald Martinez/Getty ImagesHakeem Nicks and the Giants' receivers are among the NFL leaders in dropped passes.
Third and wrong:
The
New York Giants
are working on a streak of five games in which their opponent has converted at least 50 percent of its third-down opportunities. That's the longest such streak since the merger, and the Giants are 1-4 in those games. The good news is that the Jets' third-down conversion percentage of 36.5 is only the 18th-best in the league, much worse than that of any of the five teams the Giants have played during that stretch.
Hang on tight:
Even if the Giants' offensive line can keep the Jets away from quarterback
Eli Manning
, Manning will need his receivers to catch the ball. According to ESPN Stats & Information, Giants receivers have 28 dropped passes this season, second-most in the league behind the
Cleveland Browns
.
Hakeem Nicks
' drop of what would have been a long touchdown pass early in the Week 15 loss to Washington stands out, but the team has five drops in the past two weeks.
Victor Cruz
leads the team with seven this season, and Nicks,
Jake Ballard
and
Mario Manningham
have five.
Thank the big guys up front:
Philadelphia Eagles
running back
LeSean McCoy
is in the midst of a special and historic season, having already set a team record with 20 touchdowns and amassed 1,579 yards from scrimmage. But a large part of his success as a runner is due to the job the Eagles' offensive line has done blocking for him. According to ESPN Stats & Info, McCoy leads the league in the percentage of his yards that are gained before initial contact -- 64.4 percent. Of his 1,274 rush yards, 820 have come before he has been hit. McCoy is extremely shifty and excels at finding his way through holes. But his line is also doing a great job of making those holes for him.
Playing clean:
Dallas Cowboys
quarterback
Tony Romo
has played three games in a row without throwing an interception and has just two interceptions (against 18 touchdown passes) in his past seven games. If he can avoid turning the ball over against the Eagles, the Cowboys will greatly improve their chances of winning. Philadelphia leads the league with 35 turnovers, and its minus-12 turnover margin is the second-worst in the league.
December, 13, 2011
12/13/11
2:24
PM ET
IRVING, Texas -- For the second straight week, Jason Garrett had a timeout issue, but this time the Cowboys coach admitted he should have done something different.
After an 18-yard completion to
New York Giants
tight end
Jake Ballard
put the ball on the Dallas 1-yard line, Garrett waited 14 seconds before calling a timeout with 1:00 to play. Owner and general manager Jerry Jones and executive vice president Stephen Jones were spotted in their suite by the NBC cameras calling for an earlier timeout.
"Yeah, when you look at that situation, we probably could've taken that a little quicker," Garrett said. "We were trying to get that thing called. There were a couple of times in the game where I had to run down the sideline to get it called. I could've been a little quicker on the draw on that. But I thought we did a good job handling that situation after that. We did bang the timeouts."
Garrett said he considered letting the Giants score in order to preserve more time. They called their final timeout with 51 seconds to play, and New York scored on its next play.
Had the Cowboys called a timeout sooner after Ballard's catch, they would have been position to run one or two more plays on their final drive, instead of spiking the ball with six seconds to play to set up
Dan Bailey
for a 47-yard field goal attempt.
After a New York timeout, Bailey's game-tying try was blocked by
Jason Pierre-Paul
.
Of course, given how the Cowboys handled the clock management at Arizona, Garrett could have decided to stand pat at the Giants' 29 instead of moving closer.
December, 12, 2011
12/12/11
12:56
PM ET
IRVING, Texas -- If you regularly come back to the thought that, 'Man, the Cowboys sure come up with some inventive ways to lose games,' you're right.
Since 2005, I have come up with 13 head-scratching losses that seem to define this franchise. And that does not include the humiliating 44-6 defeat at Philadelphia to close the 2008 season, which knocked the Cowboys out of a playoff spot.
Three of those losses have come this year. Three came last year. Two each in '09, '08 and '06, and the one that kicked it off came on Sept. 19, 2005 (against Washington), when the Triplets –
Michael Irvin
,
Troy Aikman
and
Emmitt Smith
- were inducted into the Ring of Honor.
It has been quite a roller-coaster ride, but without the fun part.
Sept. 19, 2005 – Washington, 14-13.
The Cowboys lead, 13-0, with 6:01 to play, and the 65,207 in attendance, the largest crowd at Texas Stadium at the time following the 1985 renovations, was enjoying the moment. The Triplets were inducted into the Ring of Honor. The defense was dominating.
Then
Santana Moss
happened.
Moss caught touchdown passes of 39 and 70 yards in the final 3:46, bringing to light Roy Williams' deficiencies in coverage. The second touchdown came with 2:35 to play. Oh, by the way, the Cowboys missed the playoffs by a game that year.
Nov. 5, 2006 – Washington, 22-19
Tony Romo's second start was about to end with a fourth-quarter drive for a game-winning field goal, but
Troy Vincent
blocked
Mike Vanderjagt
's 35-yard try.
Sean Taylor
scooped up the loose ball and returned it 30 yards. Another 15 yards was added because of a
Kyle Kosier
facemask penalty.
With no time on the clock,
Nick Novak
kicked a 47-yarder to beat the Cowboys.
Jan. 6, 2007 – Seattle, 21-20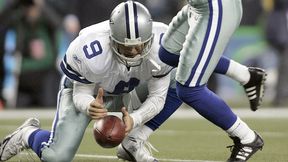 AP Photo/John FroschauerTony Romo bobbled the snap for the game-winning field goal versus the Seahawks, preventing Martin Gramatica from making the 19-yard attempt.
This one was the most heartbreaking because it was in the wild-card round of the playoffs. It was also Bill Parcells' final game as a head coach. The Cowboys maintain to this day that had they won that game, they could have gone to the Super Bowl.
Instead
L.P. LaDouceur
's snap for a 19-yard field goal try slipped through Romo's hands. Conspiracy theorists point to the slippery "K-ball" that was put in play before the snap. Others point to a
Jason Witten
first down that was overturned by the replay official, which negated the possibility to run the clock out or score a touchdown.
Oct. 12, 2008 – Arizona, 30-24 (OT)
The Cowboys somehow tied this game at the end of regulation on a 52-yard field goal by
Nick Folk
, but on the opening series of overtime, they lost
Tony Romo
to a broken pinky finger and punter
Mat McBriar
to a broken foot. On the play in which McBriar broke his foot,
Sean Morey
blocked his punt and
Monty Beisel
fell on the ball for a touchdown. The game started with a special teams touchdown (a 93-yard kick return) for the Cardinals, and ended with one.
Dec. 20, 2008 – Baltimore, 33-24
In what was a struggle for the offense for most of the game, twice the Cowboys pulled to within two points of the Ravens.
Terrell Owens
made the score 19-17 by scoring with 3:50 to play. Baltimore answered with a 77-yard touchdown run by
Willis McGahee
. Jason Witten cut the gap again with a TD grab with 1:36 to play.
Le'Ron McClain
answered with an 80-yard touchdown run.
It was not the way Jerry Jones wanted to see Texas Stadium close.
Sept. 20, 2009 – NY Giants, 33-31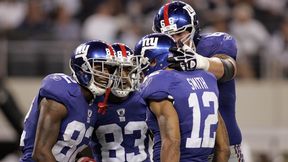 Tim Heitman/US PresswireMario Manningham, left, and Steve Smith, right, combined for 20 catches and 284 yards in the Cowboys Stadium opener.
If Jones didn't want to see Texas Stadium close that way, he didn't want to see Cowboys Stadium open this way.
Felix Jones
gave the Cowboys a 31-30 lead with a touchdown run with 3:40 to play.
Then
Eli Manning
happened.
Manning completed 7-of-9 passes for 64 yards, helping the Giants overcome a 1st-and-20 situation from their 15 and leading to a 37-yard game-winning field goal by
Lawrence Tynes
with no time left.
Oct. 4, 2009 – Denver, 17-10
The Cowboys blew a 10-0 lead when Broncos wide receiver caught a 51-yard touchdown pass from
Kyle Orton
with 1:46 to play. However, Romo had the Cowboys in position to tie the game after a 53-yard completion to
Sam Hurd
.
At the Denver 2-yard line with nine seconds to play, Romo went to Hurd (unsuccessfully) on back-to-back plays while the wideout was defended by Pro Bowler
Champ Bailey
.
Cowboys Pro Bowler Jason Witten did not even run a route.
Sept. 12, 2010 – Washington, 13-7
The Cowboys dominated defensively, but were done in by Jason Garrett's decision to call a play with four seconds left in the first half and a mile away from the Redskins' end zone. Romo flipped the ball to
Tashard Choice
, who fumbled while fighting for extra yards. Cornerback
DeAngelo Hall
scooped up the loose ball and ran it back for a 32-yard touchdown. It was the Redskins' only touchdown of the game.
In position to win the game,
Alex Barron
happened.
With three seconds left, Romo hit
Roy Williams
for an apparent game-tying touchdown with the point-after attempt being the difference in a win. Not so fast. Barron, starting in place of an injured
Marc Colombo
, was called for holding
Brian Orakpo
on the touchdown pass, wiping out the comeback.
Nov. 25, 2010 – New Orleans, 30-27
The Cowboys were not in the playoff chase, but they were fighting under Garrett, who took over for Wade Phillips as the interim coach. They led 27-23 and were in position to salt the game away as Roy Williams raced down the field toward the Saints end zone. As he switched the ball to his left hand away from a New Orleans defender, he allowed
Michael Jenkins
to strip it away for the turnover.
Five plays and 89 yards later,
Drew Brees
hit
Lance Moore
with the game-winning touchdown pass.
Dec. 25, 2010 – Arizona, 27-26
Stephen McGee
was shaping up as the hero, filling in for an injured
Jon Kitna
. He hit
Miles Austin
with a 37-yard touchdown pass with 1:41 to play to give the Cowboys the lead. Unfortunately
David Buehler
missed the PAT, giving Arizona hope.
John Skelton
converted a 4th-and-15 with a 26-yard pass to
Larry Fitzgerald
, and
Jay Feely
won the game with a 48-yard field goal.
Sept. 11, 2011 – NY Jets, 27-24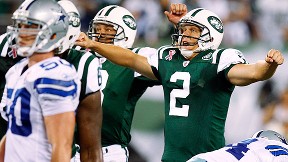 Ed Mulholland/US PresswireNick Folk kicked the go-ahead 50-yard field goal with 27 seconds left in the 2011 opener.
The Cowboys led, 24-10, two plays into the fourth quarter following a Felix Jones touchdown. They were in position to answer a Jets touchdown with at least a field goal when Romo fumbled while diving to the New York goal line for his first of two fourth-quarter turnovers.
On the Cowboys' next series,
Joe McKnight
blocked McBriar's punt and
Isaiah Trufant
returned it 18 yards for the tying touchdown.
Late in regulation, Romo was intercepted by
Darrelle Revis
on a poor throw to
Dez Bryant
. That was turned into a game-winning field goal by former Cowboy Nick Folk.
Dec. 4, 2011 – Arizona, 19-13 (OT)
Sensing a trend with Arizona here?
Tied at 13-13, Romo put the Cowboys in position to win the game with another
Dan Bailey
field goal. His 15-yard completion to Bryant had the Cowboys at the Cardinals' 31-yard line. Yet with two timeouts and roughly 25 seconds to go, the Cowboys did not stop the clock until Romo spiked the ball with seven seconds to play.
As Bailey lined up for the game-winner, Garrett called a timeout because the play clock was running out. Bailey's second attempt fell short, and in overtime the Cowboys would never get the ball.
LaRod Stephens-Howling
raced 52 yards on a short flip from
Kevin Kolb
for the game-winner.
Dec. 11, 2011 – NY Giants, 37-34
Bryant's 50-yard touchdown pass gave the Cowboys a 34-22 lead with 5:41 to play. All seemed well with the world.
Then Eli Manning happened. Again.
He shredded the Dallas defense on an eight-play, 80-yard drive that ended in a
Jake Ballard
touchdown catch and then directed New York on a six-play, 56-yard drive that ended in a Brandon Jacobs touchdown. The subsequent two-point conversion gave the Giants a three-point cushion.
During the second drive, Garrett let crucial seconds go off the clock again by failing to call a timeout until 1:00 remained.
Despite all that, two Romo-to-Miles Austin completions had the Cowboys at the New York 29-yard line with six seconds to play.
Before Bailey went in for the game-tying 47-yard try, Giants coach Tom Coughlin called a timeout, negating what turned out to be a good kick. Bailey's second attempt wasn't close to going through the uprights.
Defensive end
Jason Pierre-Paul
pushed between LaDouceur and
Montrae Holland
and deflected Bailey's kick.
December, 9, 2011
12/09/11
8:57
AM ET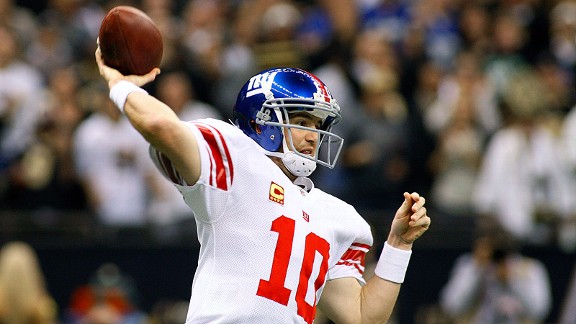 John David Mercer/US PresswireLed by quarterback Eli Manning, the once-rugged Giants have changed their personality this season.
The
New York Giants
are supposed to be one of the furniture franchises of the NFL. You know where you stand with them. There's a reliable consistency to the way they conduct themselves, operate their franchise and play the game. When you think about the Giants, you think about tough defense and gritty offense. You think about running backs grinding out yards -- three-yards-and-a-cloud-of-dust-type stuff that works no matter the era, no matter the windy, cold late-season weather in northern New Jersey.
Which is why it's a little jarring to see that this Giants team -- the one that heads to Dallas on Sunday for a critical NFC East showdown with the
Dallas Cowboys
-- bears so little resemblance to its run-focused forebears. The 2011 Giants are a passing team, plain and simple. And with
Eli Manning
as their quarterback, they've become one of the best passing teams in the league.
"They're explosive at all of the skill positions," Cowboys safety
Abram Elam
said in a phone interview this week. "You've got a lot of guys to account for, and you always have to be aware that they can beat you with the big play in the passing game."
That sounds like the Patriots, and it sounds like the Saints and the Packers and maybe the
Peyton
Manning Colts. But it's still a little bit surprising, given what we thought we always knew about the Giants and their place in the NFL establishment, that such a description could apply to Big Blue. This year's Giants still wish they could run, and they still open the game trying to run. But there they sit at the very bottom of the stat sheet -- 32nd in the league at 3.3 yards per carry and 83.8 rush yards per game. If a team that really considered itself a running team put up numbers like that, it wouldn't win any games at all.
Fortunately for the Giants, they've turned into a high-octane passing offense. They rank fourth in the league in passing yards, behind only the Saints, Patriots and Packers. They have one wide receiver,
Victor Cruz
, who's already cracked 1,000 receiving yards and another,
Hakeem Nicks
, who's only 140 yards away. Manning is fourth in the league in passing yards and fifth in attempts, and he's 295 yards away from 4,000 for the season. That would be the fifth 4,000-yard passing season in Giants' team history. It would also be Manning's third in a row.
"Everybody last week was talking about
Aaron Rodgers
being a Super Bowl MVP, and he is a great quarterback and having an unbelievable year, but we have the same thing on our side behind us," Giants left tackle
David Diehl
said. "At the beginning of the season when he compared himself in the same caliber, he got a lot of heat for that and people said 'how can he do that?' But Eli's having an incredible year."
When the Giants need a play, Manning throws the ball. He has shrugged off the departure of
Steve Smith
and the injuries to
Mario Manningham
and helped turn Cruz into a superstar wide receiver on the opposite side of the field from the brilliant Nicks. He found tight end
Jake Ballard
in key situations on a game-winning drive this season in New England. He hooked up with tight end
Travis Beckum
for a long touchdown pass last week. Running back
Ahmad Bradshaw
returned after four missed games because of injury, and Manning started last week's game with a screen pass to him.
"The way he's playing, everybody's going to be looking to him," Nicks said of Manning. "He's leading our offense. He's staying confident until the last minute, motivating guys in the huddle, making sure everybody knows when the play could come to them. He's got that energy and that confidence in himself and in everybody else, and everyone on our offense feeds off of him."
They can resist it all they want, and preach the importance of balance on offense. But it doesn't look like this year's Giants, with a banged-up Bradshaw, a faded
Brandon Jacobs
and all of the offensive line problems they have had (not to mention their injury-riddled defense), can really make good on that.
The Giants are poised to make a run and, in spite of their current four-game losing streak, win the NFC East and get into the playoffs. They have four games left, two against first-place Dallas, and their fate is in their hands. They've had a chance to win every game they've played this season except the one two weeks ago in New Orleans, and there's little reason to think they can't or won't have chances to win these last four. But when they do get that chance, this season's Giants are going to do something the Giants of years past weren't known for doing. They're going to ask their quarterback to air it out. Because that's what this year's Giants do best.