Dallas Cowboys:

Jake Long
February, 14, 2013
2/14/13
12:00
PM ET
When the Cowboys' front office meets with coaches this week at Valley Ranch, starting right tackle
Doug Free
's status will be a topic of discussion.
[+] Enlarge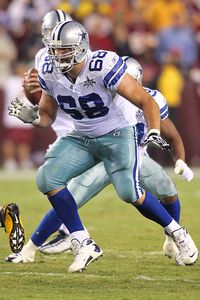 Jeff Fishbein/Icon SMIWould the Cowboys really consider bringing back Doug Free?
Free returned to the right tackle spot in 2012 and was inconsistent. He ended up sharing the starting job with
Jermey Parnell
, who impressed coaches with his athletic ability.
Coach Jason Garrett repeated during the season that Free needed to be more aggressive in his blocking. Free agreed he needed to make changes to his game and improved as the season progressed.
But the Cowboys are roughly $20 million over the salary cap for 2013 and making Free a post June 1 cut saves the franchise $7 million. But that won't happen until the summer.
The Cowboys led the NFL with 27 false start/offsides penalties. Free led the league in total penalties for an offensive linemen with 14 and in false starts with eight.
At times, Free was a nightmare to watch on the field. He was just a mess.
Can you trust him going forward?
For that matter, can you trust Parnell as the starting right tackle in 2013?
PODCAST
Todd Archer joins Galloway & Company to discuss Tony Romo's contract situation and Anthony Spencer's role in the Cowboys' new defensive scheme.

Listen

The best available tackles that will be available in free agency are too expensive for the Cowboys, given they want to re-sign
Anthony Spencer
and extend
Tony Romo
's contract.
Andre Smith
,
Sam Baker
,
Jake Long
,
Ryan Clady
and
Branden Albert
are among the best of the free agent class for 2013.
It would cost too much to sign any of those players.
Of course, the Cowboys could use the draft to find a tackle and make the rookie compete with Parnell for the starting job at right tackle.
It will be interesting to see if the Cowboys keep Free and whether they can get him to play on a consistent level in 2013 if they do.
July, 5, 2012
7/05/12
11:53
AM ET
When it comes to building for the future, the Cowboys made a smart choice in 2011 by drafting
Tyron Smith
in the first round. Smith started 16 games at right tackle, but his future was geared toward the left side.
Smith was told following last season that he was moving to the premium spot on the line, left tackle, and
Doug Free
was moving to the right side.
ESPN's Matt Williamson
has projected the best offensive linemen for the 2015 season
. No. 1 was Miami's
Jake Long
. Smith, coming off his rookie season, was No. 2.
You have to be an ESPN Insider to read the entire piece. It's worth it.
Here's a snippet of what Williamson said about Smith:
"Smith was sensational in his rookie season last year at right tackle. Wisely, the Cowboys will move him to left tackle with Doug Free heading over to the right side. I was tempted to put Smith at the top spot on this list, but after only seeing one season (on the right side), I felt like Long was the safer choice for three years down the road."
Smith is the only Cowboys offensive linemen ranked of the 15. None were honorable mention.
The Cowboys tackles might be a strength in 2012, especially for running backs such as
DeMarco Murray
who like to run off the edge from time to time. Protecting
Tony Romo
is of importance and having Smith as the anchor is key.
June, 18, 2012
6/18/12
2:00
PM ET
The Cowboys believe that
Tyron Smith
will be an elite left tackle for years to come.
Scouts Inc.'s Matt Williamson agrees. As part of the
ESPN Insider future power rankings series
, Williamson forecasts Smith to be the NFL's second best offensive lineman in 2015 (when Smith will still be only 25 years old), behind only Miami left tackle
Jake Long
.
Part of Williamson's take on Smith:
Smith was sensational in his rookie season last year at right tackle. Wisely, the Cowboys will move him to left tackle with Doug Free heading over to the right side. I was tempted to put Smith at the top spot on this list, but after only seeing one season (on the right side), I felt like Long was the safer choice for three years down the road.
November, 24, 2011
11/24/11
9:33
PM ET
ARLINGTON, Texas -- The Cowboys were penalized a season-high 11 times for 69 yards on Thursday. Over the last four weeks, the Cowboys have been penalized 35 times.
Among the penalties were two key ones on
Abram Elam
and
Frank Walker
on the Dolphins' game-tying drive in the fourth quarter. The Cowboys were called for four false starts, two pass interference calls and one illegal formation on special teams while trying a new alignment.
"Well I think they hurt us," coach Jason Garrett said of the penalties. "They kept us out of rythmn a lot and you just have to continue to focus on it. It was a quick week for everybody and I just think somehow, some way you gotta get your mindset to be hey, we gotta play a football [game] and we gotta play clean disciplined football throughout. We didn't do that throughout this ballgame."
The Dolphins were flagged for seven penalties, and left tackle
Jake Long
was called for four penalties, three on false starts. Former Cowboys tackle,
Marc Colombo
, who is now with the Dolphins, was also called for a false start.
Both the Cowboys' tackles,
Doug Free
and
Tyron Smith
, were called for false starts and deep snapper LP Ladouceur was called for one, as well
"Now that we've won, it tells me that if we can work on our penalties then we've got a chance to get better," owner Jerry Jones said. "I think that's what we've got to do. This team, this Miami team, is inspired and they played inspired. We did some things that helped them out, but at the end I think our team showed a lot of will and the players were resolved and that made the difference."
November, 23, 2011
11/23/11
2:56
PM ET
By
Bryan Broaddus
| ESPNDallas.com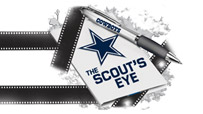 In the NFL, short weeks of game preparation are never easy. It's even more difficult having to play a physical divisional game on the road before an opponent that you see once every four years.
There will be nothing easy about this game against the Dolphins. It's a team that has quality players on both sides of the ball. We should not be fooled by the Dolphins' 3-7 record, because in the games I have studied, this could have very well been a team on a five-game winning streak going into this game.
The Dolphins will give the Cowboys trouble in this game in two areas offensively, wide receiver and running back.
Be wary of Dolphins' Marshall, Bess, Bush, Clay
Wide receiver
Brandon Marshall
can be a physical beast when it comes to having to defend him up the field. He is not afraid of using his body to create separation with the defensive backs. Have seen Marshall get into his route, then take both of his hands and push the defensive back away. Marshall will use his body on the slant to protect the ball.
Matt Moore
likes to try and get him the ball on the move whether that's up the field or on the quick screen. Hard man to bring down when on the move with the ball in his hands. Primary target in the red zone on jump balls or back-shoulder throws.
Terence Newman
and
Orlando Scandrick
will have to be ready for an all-day physical game with Marshall on the outside.
Davone Bess
will play the slot with quickness and the ability to adjust to the ball wherever it is thrown. Bess will need to be watched on third downs because he has a real feel for how to work inside routes and take advantage of coverage that might not be tight.
Running back
Reggie Bush
has proven that he can handle the workload as an every-down back. Bush makes this play-action game go for the Dolphins. Like the way that offensive coordinator Brian Daboll has taken advantage of his skill set with screens and plays on the edge in the passing game.
Bush can run the ball between the tackles, but he is most dangerous when he gets in space. The Cowboys defense has to be careful to not allow Bush to make to loose plays in space. Tackling on Bush will be key this week.
There is one other weapon I want to bring your attention to: fullback
Charles Clay
. We all understand now how important
Tony Fiammetta
is to the Cowboys running the ball. Clay is the same type of player, but he can really hurt you with his ability to get down the field and catch the ball. Clay is a converted tight end that is very athletic. He is a lot like Bess in that you don't cover him, he will make a big play down the field.
Cowboys should target riight side of Dolphins O-line
On the offensive line, the Dolphins have some nice pieces in left tackle
Jake Long
and center
Mike Pouncey
. The weakness of this line is on the right side with tackle
Marc Colombo
and guard
Vernon Carey
. I fully expect Rob Ryan to try and put as much pressure on these two with anything scheme-wise that makes them have to move and adjust. Neither Colombo or Carey move that well, and the more you make them have to do that, the better the chance for successful pressure.
Don't sleep on Dolphins' defensive front, linebackers
I really came away impressed with what the Dolphins' defense is doing scheme-wise and how physical the overall unit plays.
It really starts up front with guys like ends
Randy Starks
and
Jared Odrick
. These are powerful players and they are always working their way up the field, not only defeating single blocks. but handling double teams as well. Nose man
Paul Soliai
is difficult to move, much like what the Cowboys faced with the Jets and 49ers.
But the real strength of this defense is in its linebackers.
Koa Misi
, Carlos Dansby,
Kevin Burnett
and
Cameron Wake
are all outstanding. Misi and Wake are true pressure players. Misi is better against the run, but Wake will be a handful because of his ability to explode off the edge. Misi can get the edge too, but he will fight you more on the rush. Wake will slap, rip all while working his way up the field.
Wake will make
Doug Free
and
Tyron Smith
have to adjust on the move and reset their hands several times. They will need to find a way to anchor down on him.
On the inside, Dansby and Burnett will make plays in the running game. Last week against the Redskins, the Cowboys didn't do a good enough job of handling the linebackers on the second level. If the line has the same kind of problems this week, running the ball will be difficult again.
The Dolphins linebackers run to the ball and they are sure tacklers. If the Cowboys struggle running the ball it will be because these linebackers are going unblocked.
In the games that I was able to study, the Dolphins' front seven make their secondary better. Pressure has really helped this group make plays like they did last week against the Bills.
Safety
Yeremiah Bell
is a hitter. Cornerback
Will Allen
throws his body around. Cornerback
Sean Smith
is a much better cover man than tackler, and corner
Nolan Carroll
will force the run. There will be plays to be made against this secondary if -- and only if -- the Cowboys protection can hold up again Wake, Misi and the veteran
Jason Taylor
.
It's a defense that has found its way since the loss to the Giants and coming off a short week will be a difficult test for the Cowboys.
June, 14, 2011
6/14/11
1:00
PM ET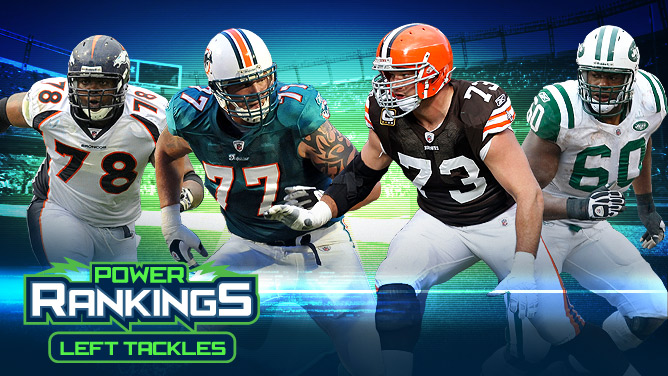 ESPN.com IllustrationOur bloggers say Joe Thomas and Jake Long are the NFL's best left tackles by a wide margin.
ESPN.com ranks the NFL's top 10 at left tackle, one of the most important positions in the league. Next week: Top up-and-coming assistants.
Take a quarter out of your pocket and look at its width. That's basically the difference between the top two left tackles in the ESPN.com Power Rankings.
Cleveland's
Joe Thomas
received 76 points from our eight-person panel of voters. Miami's
Jake Long
received 75. That put them way ahead of the rest of our top 10 list of the NFL's best blindside pass protectors.
Our panel of division bloggers gave Thomas five first-place votes, and Long received three.
"It was pretty much a coin flip for me,'' said NFC East blogger Dan Graziano.
If Graziano's quarter had landed on the other side, we might have had a different outcome. I think the same can be said for some of the other voters. I gave Thomas my top vote only after some strong consideration for Long.
But let's cut to the chase and point out the man who ultimately decided this election. It's AFC South blogger Paul Kuharsky. Every other voter had Thomas and Long in the top two spots. Kuharsky threw things off a bit by putting Long at No. 1 and Tennessee's
Michael Roos
at No. 2. He had Thomas at No. 3.
Let's turn to Kuharsky for his rationale.
"I've seen Long more, which helped him,'' Kuharsky said. "Also, frankly, I knew there could be close to a consensus for Thomas. He's very good. But we're not talking
Orlando Pace
or Jonathan Ogden. The groundswell for Thomas as top left tackle is, in my eyes, more a media creation than the view of players, scouts and coaches. I wanted to note and reflect that.''
Point taken, and I agree that we're not talking the same level as Pace and Ogden -- at least not yet. Thomas and Long are young and it's too early to put them in the category of surefire Hall of Famers. But, aided largely by Kuharsky, Roos did finish No. 6 overall.
Ryan Clady
,
Jordan Gross
and
D'Brickashaw Ferguson
rounded out our top five at Nos. 3, 4 and 5 respectively. After Roos, the rest of the top 10 was filled out by
Jason Peters
(No. 7),
Marcus McNeill
and
Donald Penn
, who tied for No. 8, and
Matt Light
at No. 10.
Let's work our way back toward the top, with one more quick stop at Roos. I had him at No. 8 on my ballot, and James Walker and Kevin Seifert didn't even vote for him. I've had a couple of scouts tell me Roos is a good left tackle, but seemed to take a step backward last season.
Kuharsky heard otherwise.
"I've had a coach and two scouts tell me Roos is as good or better than Thomas and Long,'' Kuharsky said. "I obviously see Roos a lot and think he's quite good, certainly better than he wound up here.''
Roos or ruse? Take your pick, but let's head right back to the top of the voting and back to the argument between Thomas and Long. They were drafted one year apart with Thomas entering the league in 2007 and Long coming in for the 2008 season. Each has made it to the Pro Bowl in every season played.
Kuharsky mentioned the "media creation'' about Thomas. In Cleveland? That's not where you usually turn to find guys to top Power Rankings, so our vote has to say something pretty strong about Thomas. Let's turn to the guy who covers Thomas.
"Thomas has always been focused on doing his job,'' Walker said. "You can't tell whether the Browns are 16-0 or 0-16 with the way he plays, and that's why he's been to four straight Pro Bowls. The NFL has gone the way of speed pass-rushers, and Thomas is the prototype to combat that. He's lean with very good feet and agility, but still strong enough to dominate in the running game. There's really no weakness in his game."
None of our panelists saw a weakness in Long's game.
"I thought Long's run-blocking ability put him a little bit ahead of Thomas,'' Grazianzo said. "I think he's shown improvement every year and is likely to pass Thomas soon if he hasn't already (and for me, these lists are about which guy I'd pick right now, so a guy I think is going to get better is going to get a long look from me). And he earned a bonus point or two from me for playing the last six games of 2010 in a shoulder harness and still being incredible.''
The best news is, these guys are so young we can have this same argument every year for the next decade. Now, let's move on to some other notes about the voting in the Power Rankings for left tackles.
Turn off the Light.
As we mentioned, Light came in at No. 10. That surprised me a bit because he's a big name with three Super Bowl championships and three Pro Bowl selections. I had Light at No. 6 and Walker had him at No. 4. But Light didn't even appear on four ballots, including the one from AFC East representative Tim Graham.
"Matt Light is a quality player, but Stats Inc. blamed him for 10 sacks allowed and four penalties last season, more in each category than his previous two seasons combined,'' Graham said. "I've always thought Light got more recognition simply from being
Tom Brady
's left tackle. Once you name the three or four elite tackles and you rack your brain for the next group, it's easy to understand people sorting through the great quarterbacks and asking, 'Who is so-and-so's left tackle?' Light made the Pro Bowl last year, but as an alternate. Light's reputation also is enhanced by his involvement in the union and being a truly rare species: the gregarious Patriot.''
Also-rans.
Andrew Whitworth
,
Chad Clifton
,
Doug Free
,
Russell Okung
and
Jeff Backus
didn't make the top 10, but each received votes.
"I don't think there are 10 elite or even complete left tackles in the NFL,'' NFC West blogger Mike Sando said. "I list Okung on a very short list of players with the talent and makeup to be elite at that position. Okung hasn't played enough to this point, but I think he'll join that group this season. Listing someone with considerably less ability was the alternative.''
The longest shot.
Somewhere, former Tampa Bay general manager Bruce Allen and coach Jon Gruden are smiling at Penn's name appearing on this list. It's true, they headed the regime that signed Penn as a free agent in 2007 after he was cut by Minnesota in 2006. Then again, they were also the ones who signed Luke Petitgout, and Penn only got a chance to play because Petitgout turned out to be washed up. I used to subscribe to the theory that you needed to use a first-round pick to get a good left tackle. But Penn has shown that's not necessary. In his case, he simply made the most of his shot at playing time and turned it into a $48 million contract as training camp started last year.
December, 21, 2010
12/21/10
9:00
AM ET
IRVING -- The Vikings' loss to the Bears created a six-team logjam for the No. 7 spot in the 2011 NFL draft.
The Cowboys, Browns, Texans, Redskins, Vikings and Titans are all tied with 5-9 records.
Next up for the Cowboys: The Arizona Cardinals, who are in a three-way tie with the Lions and Bills for the No. 4 spot in the draft.
The more the Cowboys win, the lower they'll draft in the first round. We believe that the Cowboys will be looking to draft a defensive back or offensive lineman -- both pressing needs -- in the first round.
Todd McShay ranked these corners with the highest grades before the start of the year: Nebraska's
Prince Amukamara
(95), Virginia's
Ras-I Dowling
(93) and
Janoris Jenkins
of Florida who got a 92.
Mel Kiper's Big Board, released earlier this month, had Amukamara at No. 5 and LSU's
Patrick Peterson
at No. 4.
At offensive line, McShay has Colorado tackle
Nate Solder
with the highest grade at 93. He's followed by Florida center
Rodney Hudson
(92) and Wisconsin's
Gabe Carimi
(91).
Carimi is No. 21 on the Big Board.
Here's what McShay had to say on our Insider Blog about Carimi:
"He's a better overall player now than the one I saw during preseason film evaluation. Carimi continues to improve his technique, especially his hand use, and he playing more under control and with better balance. In terms of athleticism in pass protection he's a notch below Jake Long when Long came out of Michigan, but Carimi is a very strong run blocker and at the very least will be a starting right tackle as an NFL rookie."
We're not saying the Cowboys can get any of these players, it's just interesting to know what's out there -- especially if the Cowboys finish at 6-10.
Last year, the Bills finished 6-10 and had the ninth pick of the draft and got running back
C.J. Spiller
.
What's available if the Cowboys should win their remaining two regular-season games and finish 7-9? Last year's case example: the Dolphins, Jaguars and Bears.
The Bears gave up their pick in the
Jay Cutler
trade to the Broncos, which picked 18th. The Dolphins would have drafted 12th, but they traded down. The Jags picked 10th.
March, 26, 2010
3/26/10
4:35
PM ET
Profootballfocus.com released its 2009
all-improved team
and Cowboys right tackle
Marc Colombo
was listed as the most improved right tackle in the game.
Colombo, who played nine games last season for a total of 544 regular season snaps, received a rating of 2.7 overall. Colombo was credited with allowing just one quarterback sack, three quarterback hits and 13 quarterback pressures. Among all the tackles in the game, Colombo was the highest ranked Cowboys linemen coming in at 20. In 2008, Colombo was the highest ranked Cowboys but finished 62nd overall with a -12.2 rating.
Doug Free
, the man who replaced Colombo, while he recovered from leg injuries in 2009, ranked 22nd with a 2.1 rating.
Flozell Adams
, who many think won't be here in 2010, finished 51st among tackles with a -8.8 rating.
Adams gave up 34 pressures in the 2009 season according to Profootballfocus.
Jake Long
of Miami and
Joe Thomas
of Cleveland allowed a combined 14 quarterback pressures.