Dallas Cowboys:

James Jones
March, 7, 2014
3/07/14
12:00
PM ET
IRVING, Texas -- It's Friday, so it's time for Part 1 of the
Dallas Cowboys
Twitter mailbag.
In it we talk about the salary cap, possible wide receiver additions in free agency and yoga. Yes, yoga.
Look for Part 2 on Saturday.
Away we go:
December, 17, 2013
12/17/13
1:10
PM ET
IRVING, Texas -- Of the nine defensive linemen on the
Dallas Cowboys
roster, only three were with the team when training camp began and
Nick Hayden
was far from a lock to make the cut.
[+] Enlarge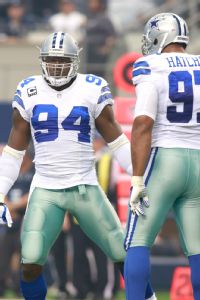 Tim Heitman/USA TODAY SportsThe Cowboys defense stands a better chance with DeMarcus Ware and Jason Hatcher on the field at the same time.
DeMarcus Ware
and
Jason Hatcher
are the two mainstays left and both have been banged up. Ware missed three games with a quadriceps injury. Hatcher missed one with a stinger that has been problematic for two months.
If the defense is to have a chance to succeed, the Cowboys need Ware and Hatcher. But here's a question: Why are they not in the game more?
Jason Garrett said the Cowboys, "believe in the rotational system that Rod [Marinelli] uses."
It's fine to rotate players. You want players to remain fresh through the course of a game. But do they need to come off the field together?
Of the 69 defensive snaps in Sunday's loss to the
Green Bay Packers
, Ware and Hatcher were on the field together for 44 of them. There were 13 snaps where one or the other was on the field. There were 12 snaps in which neither was on the field, including goal-line snaps in the fourth quarter before
Andrew Quarless
' touchdown. Hatcher was not on the field for
James Jones
' 3-yard touchdown catch and
Eddie Lacy
's game-winning score.
At different times the Cowboys' defensive line featured
Everette Brown
,
Drake Nevis
, Corey Irvin and
George Selvie
. At one point they had Ware and
Edgar Jones
at defensive end with
Jarius Wynn
and Irvin at tackle.
"It's real important to keep that group fresh up front," Garrett said. "If you're looking for guys to put pressure on the quarterback, being fresh is a big part of that. The best defenses line I've been around rotated guys. So we'll continue to do that. It's not exclusive. They don't always come out together. They don't always play together. But occasionally they do, sometimes they're on the sideline together and you have to battle through that. The other guys have an opportunity to step up and make an impact on the game. George Selvie did a fantastic job in yesterday's game. He made a lot of plays, tackle for losses, sacks and impacted the game in a positive way. Everett Brown did as well. We have to get that across the board."
But there is a time and place for everything. In the most crucial snaps -- like on the goal line -- Ware and Hatcher must be on the field.
December, 19, 2012
12/19/12
10:41
AM ET
IRVING, Texas – Fan voting for the Pro Bowl ended Monday and players, coaches and executives will vote this week.
The
folks on NFL Live said the other day
that
Dez Bryant
deserves to be on the NFC roster and it's difficult to argue otherwise. Bryant has career highs in catches (79), yards (1,087) and touchdowns (10) this season and has been among the best receivers in the league – never mind the conference – in the second half of the season.
Bryant's selection won't be a lock. Only four receivers are picked for the team.
Detroit's
Calvin Johnson
and Chicago's
Brandon Marshall
have more catches and yards. Atlanta's
Roddy White
has the same catches as Bryant, but more yards. Arizona's
Larry Fitzgerald
has been hurt by the Cardinals' quarterback play but he has the respect of every defender. Green Bay's
James Jones
has only 51 catches for 622 yards, but he has 12 touchdowns. How do you factor in Tampa Bay's
Vincent Jackson
, who has 1,226 yards and eight touchdowns?
Bryant would be the third Cowboys receiver to make the Pro Bowl since 2000, joining
Terrell Owens
(2007) and
Miles Austin
(2009, '10) if he is selected.
Even if Bryant is selected, he likely wouldn't play in the game because he will need finger surgery whenever the Cowboys' season ends.
December, 16, 2011
12/16/11
5:02
PM ET
It wasn't enough to win, but the Cowboys' wide receiving corps provided a glimpse of how potent it can be against the Giants.
With
Miles Austin
back in the mix, the Cowboys' wide receivers accounted for 250 yards and three touchdowns, with Austin,
Laurent Robinson
and
Dez Bryant
each scoring once.
Austin is a two-time Pro Bowler with a $54 million contract, but he's been the Cowboys' third most productive wide receiver this season, in large part because he's missed six games due to hamstring injuries. Robinson and Bryant both have chances to finish with 1,000-yard, 10-touchdown seasons.
"I feel like without a doubt that we are the best receiving corps in the league," Bryant said.
That's debatable. There are other receiving corps that can make the same claim, including the one that won Sunday night at Cowboys Stadium. But the Cowboys' trio is at least in the conversation if Austin can stay healthy.
Here's how the Cowboys' wideouts compare to the other elite receiving corps in the league:
COWBOYS
Laurent Robinson – 46 catches, 763 yards, 8 TD
Dez Bryant – 47 catches, 756 yards, 8 TD
Miles Austin – 32 catches, 466 yards, 5 TD
GIANTS
Victor Cruz
– 68 catches, 1,150 yards, 7 TD
Hakeem Nicks
– 65 catches, 1,023 yards, 6 TD
Mario Manningham
-- 36 catches, 466 yards, 4 TD
STEELERS
Mike Wallace
– 62 catches, 1,034 yards, 8 TD
Antonio Brown
– 55 catches, 925 yards, 2 TD
Hines Ward
– 37 catches, 325 yards, 2 TD
PACKERS
Jordy Nelson
– 51 catches, 957 yards, 10 TD
Greg Jennings
– 67 catches, 949 yards, 9 TD
James Jones
– 26 catches, 479 yards, 5 TD
Donald Driver
– 31 catches, 357 yards, 4 TD
February, 6, 2011
2/06/11
11:25
PM ET
ARLINGTON, Texas -- The Green Bay receivers managed to hold on to the Lombardi Trophy.
Their less-than-sure hands made it much harder than it could have been for the Packers to earn the right to hoist that trophy.
The Packers had at least five drops, a few of which killed drives.
James Jones
and
Jordy Nelson
let balls go through their hands on plays that could have ended with touchdown celebrations.
"We'll kill each other Monday morning," said
Donald Driver
, the injured elder statesman of the Green Bay receiving corps. "We'll actually talk about it on the plane ride.
"But those guys made plays when it counted. That's all that matters."
Nelson, in particular, made plays. He set franchise Super Bowl records with nine catches for 140 yards.
"If you play this game long enough at this position, you're going to drop the ball," Nelson said. "You have to move on."
That won't be a problem for the Packers. They won the game, so none of the drops will go down in Super Bowl lore with poor Jackie Smith's unfortunate moment in the final game of his Hall of Fame career.
Rodgers still threw for 304 yards and three touchdowns. The moments of anger he might have had after the drops is easily forgotten.
"I'm not frustrated anymore," Rodgers said when about the drops.
February, 1, 2011
2/01/11
3:25
PM ET
ARLINGTON, Texas -- The roof of Cowboys Stadium was closed Tuesday for obvious reasons but that did not mean it was a climate-controlled temperature inside the $1.2 billion joint.
Several players at either end of the podiums that stretched the length of the field sported goose bumps as they spoke on Media Day because of a windy draft that came through the tunnels.
"It's freezing," Steelers right tackle and former Cowboy
Flozell Adams
said.
At one point Pittsburgh safety
Ryan Clark
yelled over to newly-crowned Defensive Player of the Year
Troy Polamalu
during the Steelers' hour-long session, "Troy, tell them to turn on the heat. They'll listen to you."
The Steelers and Packers were hoping to avoid the colder climate, especially being inside.
"I want it to leave," Green Bay wide receiver
James Jones
said. "I don't want it to be here. It's not that cold. I mean there is a little snow on the ground, but we're from Green Bay, we can deal with it. It was crazy when we were driving up here and they were putting sand on the roads. I'm like, 'What are you guys doing putting sand on the ground? You guys are going to get us stuck.'"
November, 10, 2010
11/10/10
4:42
PM ET
IRVING, Texas -- There were all sorts of bad football plays in the Cowboys' 45-7 loss to the
Green Bay Packers
last Sunday night
PODCAST
Cowboys special teams coach Joe DeCamillis shares his thoughts on the firing of Wade Phillips, Jason Garrett's promotion and more.

Listen

But one play stuck with former NFL coach and current NFL Network analyst Jim Mora Jr. On a third-quarter 10-yard touchdown pass from
Aaron Rodgers
to
James Jones
, cornerback
Mike Jenkins
held up from attempting to tackle Jones at the goal line as safety
Gerald Sensabaugh
hit him.
After the play, Jenkins put his head down as the Packers celebrated taking a 35-7 lead.
Mora in talking about the play said the Cowboys should cut Jenkins.
"To me, this is high treason," Mora said. "An NFL football player does not turn down a play like that. And if I'm Jason Garrett, the first thing that I'm doing when I take over as the head coach of this team, is I'm getting guys like that — number 21, who absolutely committed treason, let his team down by passing up a tackle and let the ball get in the end zone — I'm taking him and I'm getting him out of my locker room."
Jenkins said he didn't perform well in Sunday's game and said he gave up on the play where he should have tackled Jones. But he thought he bounced back after not making the play on Jones.
Jenkins didn't know Mora had ripped him until he was told by a reporter.
"My main goal is not to listen to Jim Mora and whoever else is talking," Jenkins said. "It's to finish strong and on a good terms. I'm not worried about a Jim Mora. The only person I'm worried about right now is Jason Garrett. Jim Mora is not my coach."
It's not the first time Jenkins has whiffed on a tackle. In his rookie year, he missed a hit on Giants running back
Derrick Ward
as he ran into the end zone. At that time, Jenkins said he thought the safety was going to make the tackle.
There are some outside the Cowboys locker room who said Jenkins quit in the Packers game, and the third-year corner said people can say whatever they want.
"Everybody has their own opinion," Jenkins said. "I'm not going to let it get me down."