Dallas Cowboys:

Janoris Jenkins
April, 26, 2012
4/26/12
8:30
AM ET
The NFL draft is tonight, of course it is, and we have the final mock drafts from Todd McShay and Mel Kiper. No surprises here, both of our draft experts have the Cowboys taking Alabama safety Mark Barron.
Here's McShay's final first-round mock draft
:
You have to be an ESPN Insider to get this, but we'll give you all the picks by McShay.
Michael Brockers
, LSU, DT, first round.
Janoris Jenkins
, Alabama, CB, second round.
Joe Adams
, Arkansas, WR, third round
Akiem Hicks
, Regina (Canada), DT, fourth round
James Hanna
, Oklahoma, TE, fourth round
Senio Kelemete
, Washington, fifth round
Chris Rainey
, Florida, RB, sixth round
Tim Fugger
, Vanderbilt, OLB, seventh round
Kiper doesn't do the complete draft, but
here's his final mock
. He has the Cowboys taking North Carolina DE
Quinton Coples
at No. 14.
It wouldn't be a draft without the Big Board.
Here's Kiper's
.
March, 14, 2012
3/14/12
12:01
AM ET
The third installment in our draft preview series looks at North Alabama cornerback Janoris Jenkins.
Scouts Inc. ranks:
No. 2 cornerback, No. 15 overall.
Bio:
Transferred to Division II North Alabama last year after being dismissed from Florida. He was arrested three times at Florida, twice for marijuana possession and once after being involved in a fight and fleeing police. The fact that Jenkins already has four children is also a red flag for character concerns. He started as a freshman at Florida, was an All-SEC selection in 2010 and had eight career interceptions for the Gators. He was rarely challenged at North Alabama. Had 53 tackles, six passes defensed, two interceptions, a fumble return for a touchdown and three punt returns for touchdowns last season.
[+] Enlarge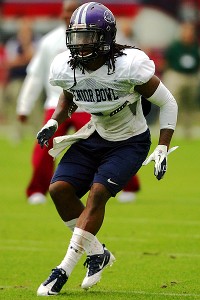 Cliff Welch/Icon SMINorth Alabama cornerback Janoris Jenkins shows excellent quickness, but he may come with some character issues.
Size:
5-foot-9 3/4, 193 pounds
40-yard dash:
4.46 seconds
Vertical jump:
33.5 inches
Broad jump:
10-foot-1
20-yard shuttle:
4.13
Three-cone drill:
6.95
Broaddus Breakdown (viewed Abilene Christian, Harding College and West Georgia games):
Short, compact player that plays with outstanding foot quickness. Can show an explosive burst when he drives on the ball. … Plays with nice awareness and the ability to read routes. Is quick enough to undercut routes and make plays on the ball. Was able to get an interception this way against Abilene Christian. … Will gamble at times because there is no one in the league that he plays in that can truly cause him any problems when it comes to running routes. There were teams that have tried to use double moves on him, but even if he gets fooled off the start, he has the skill and ability to recover. … Is a fluid player that has no tightness to his game. Runs easy on the outside or when he plays the slot. Is outstanding in carrying his man across the field. Again, there is no one that can run away from him to gain separation. … Would not call him a physical player when it comes to defending the slant, but quickness helps him here. Think he might have trouble in the NFL when he has to defend a bigger body or when a receiver becomes physical with him. … If I could compare him to a player in the NFL, he plays like Asante Samuel of the Eagles in the way he moves and covers. Another similarity to Samuel is his lack of tackling ability. He really wants nothing to do with it. Tries to avoid contact and will only tackle as a last resort. Is a sling-down tackler or will try and go low without wrapping up. … Only observed this one time in the Harding game, but he did struggle to play the ball in the air down the field and it wasn't because he was in bad position. It was just the fact that he wasn't tall enough to knock it down. Only saw him give up one touchdown in three games when he lost his man in coverage and the ball went over the top for the score. … I cannot downgrade him for the talent that he plays against, but he is clearly better than anyone he plays. Have to grade him on what you see, and he has talent. … Teams will have to get to the bottom of why he left Florida and other issues that might affect his play. Players in the past have been taken off the board all together or placed in the "box" for the Cowboys because of character issues. Jenkins has a real shot to be off the board early this April.
February, 6, 2012
2/06/12
2:59
PM ET
The NFL Mock Drafts are coming on pretty strong now, especially with the 2011 NFL season ending on Sunday night.
Todd McShay's Mock Draft has the Cowboys taking troubled cornerback Janoris Jenkins from North Alabama. He was kicked off the team at Florida for various offenses.
Jenkins performed well during Senior Bowl practices but his off-the-field issues make him a risk.
Here's what McShay had to say about Jenkins: "Corner is a top need area, and Jenkins proved at the Senior Bowl that he's still an elite cover corner after spending a year at the Division II level. Dallas will need to get comfortable with his character issues, though, including legal issues that led to his dismissal from the Florida program."
It will be interesting to see if the Cowboys go that route. Jerry Jones isn't fond of players with drug issues and Jason Garrett doesn't want players with off-the-field problems in his locker room. While he wasn't against the Cowboys drafting Dez Bryant, he wasn't the head coach, Wade Phillips was, so he didn't have the final say.
Now Garrett does.
Jenkins has said he's willing to tell all about his troubles at Florida.
Mel Kiper's first Mock Draft had the Cowboys taking Stanford guard David DeCastro, but McShay has DeCastro going to Arizona at No. 13.
Here's McShay's
first round
. You have to be an ESPN Insider to view it.
February, 3, 2012
2/03/12
4:00
PM ET
INDIANAPOLIS -- While we've all been running around here at the Super Bowl, creating web video content and working to find new and interesting angles on the
New York Giants
and the
New England Patriots
, Todd McShay did a
mock draft

. God love him.
It's Insider, but if you promise not to tell anyone, I can let you know who he's projecting in the first round for each of our four teams. Ssssshhhh....
6. Washington Redskins:
Justin Blackmon
, WR, Oklahoma State. Todd couches this, saying it assumes the Redskins don't trade up for Baylor quarterback
Robert Griffin
III. He has Griffin and LSU cornerback
Morris Claiborne
gone by No. 6, and Blackmon would fill the Redskins' most significant non-quarterback need.
14. Dallas Cowboys:
Janoris Jenkins
, CB, North Alabama. This guy is moving up quickly after a strong Senior Bowl showing. He comes with plenty of baggage, including some legal issues, which is why he was at North Alabama. But he can cover, and the Cowboys do need corners who can cover.
15. Philadelphia Eagles:
Devon Still
, DT, Penn State. It seems the idea here is that a linebacker would be a reach at his spot. (
Luke Kuechly
is already gone by this spot in this mock.) Todd says he has an early second-round grade on Still, who's a physical specimen with upside, but that others are rating him as a mid first-rounder. You know Andy Reid wouldn't shy away from picking a defensive lineman.
31. New York Giants:
Dwayne Allen
, TE, Clemson. Interesting. I keep thinking linebacker, offensive line, maybe running back if they do part ways with Brandon Jacobs. But Allen would be another fun weapon for Eli Manning as the Giants become more and more of a passing team. And yeah, we know the Giants will pick 32nd and not 31st if they win Sunday night.
January, 25, 2012
1/25/12
9:00
AM ET
MOBILE, Ala. -- We're leaving the Senior Bowl after three days of nice, cool weather, and here's some notes:
1. The Cowboys are
doing their due diligence regarding the quarterback position
. I don't believe the Cowboys will draft one, but they did interview Oklahoma State's Brandon Weeden on Sunday. Jerry Jones said if the team picks up a quarterback, it has to be a veteran who can move quickly in the offense. Weeden's age, 28, means he's a little more mature than some rookie quarterbacks and he picked up the
Washington Redskins
offensive terminology pretty quickly during practices here.
2. Finding a cornerback is a must for the Cowboys. When Jones says there will be new faces on the roster at that position, he's telling the truth.
Alan Ball
,
Frank Walker
,
Terence Newman
and quite possibly
Abram Elam
might be gone from the 2011 roster. The
Cowboys interviewed troubled corner Janoris Jenkins
, but one corner to watch is Georgia's Brandon Boykin. He's 5-9 1/4 and 183 pounds. He plays physical and can play the slot and outside. Boykin can also return kicks and punts.
3. It seems
Keith Brooking
wants to continue playing, according to his agent Pat Dye Jr. Brooking is open to playing a reduced role with the Cowboys. You could say he played a reduced role in 2011, but that was only after the team felt confident enough in
Sean Lee
's development in training camp to pair him up with
Bradie James
. The Cowboys want a younger team, especially on defense, but if Brooking is willing to play 10 defensive snaps with some special team duties per game, it might be worth keeping him around.
4. It's pretty interesting the Cowboys are downplaying
Dez Bryant
's confrontation in Miami last week. Jerry Jones has not spoken to Bryant, but someone in the organization did, according to Jason Garrett. Bryant's behavior away from the field should concern the Cowboys and if they don't get a handle on it, it could go bad quickly.
5. Brooking is coming here to be inducted into the Senior Bowl Hall of Fame along with
Donovan McNabb
and Dan Reeves. ... If the Cowboys sign a veteran quarterback, why not get
David Garrard
? The former Jacksonville quarterback's back should be 100 percent by the end of March. ... Garrett went to only one Pro Day last year, USC's to check out
Tyron Smith
. Garrett didn't say if that number will increase. He expects it to be a case-by-case basis. ... DE
Marcus Spears
is expected to return along with fellow DE
Jason Hatcher
. As good as Spears and Hatcher were,
Kenyon Coleman
struggled down the stretch.
January, 24, 2012
1/24/12
5:11
PM ET
MOBILE, Ala. -- The Cowboys have a scheduled meeting with troubled yet talented cornerback Janoris Jenkins of North Alabama for Tuesday night here at the Senior Bowl.
Update:
Jenkins, after meeting with the Oakland Raiders, said the meeting with Cowboys might not happen.
"No big deal, though," he said. "It might happen."
Jenkins, was kicked off the Florida football team for various offenses, including being arrested twice within a three-month span on drug-related charges. He also got into a fight and was arrested and charged with a misdemeanor affray and resisting arrest without violence.
"I just go in as who I am," said Jenkins, who has spoken to five NFL teams. "I tell them what happened and be honest because I did it. I made a mistake and I take full responsibility for it. I'm sure I have to deal with it. I'm looking forward to it. I have nothing to hide. I just go in and they ask me the question and I give it to them and be honest. I just look them in the eye and let them know I can be honest."
The Cowboys' scouts most likely will speak with Jenkins and provide a report to Cowboys owner/general manager Jerry Jones and coach Jason Garrett.
Jones said Monday he expects to see new faces in the secondary. He offered support for
Orlando Scandrick
and
Mike Jenkins
but didn't for veteran corner
Terence Newman
.
Also,
Frank Walker
,
Alan Ball
and
Abram Elam
are unrestricted free agents and their long-term status with the team is still being determined by the front office.
It's not guaranteed the Cowboys will draft Jenkins with the 14th pick of the first round, or even later on. His off-the-field issues pushed him down many draft boards, including the one of ESPN's Mel Kiper, who doesn't have Jenkins as a first-round pick on his first Mock Draft.
The other downside to Jenkins is the fact he played Division II and several teams didn't direct passes his way.
"There were a lot of times I was out there by myself," Jenkins said. "I had to make plays on special teams, punt returns, being a gunner. The time they weren't coming at me, I was working on my techniques. Just basically trying to get better."
January, 10, 2011
1/10/11
9:48
AM ET
The first-round cornerback crop isn't as thick as anticipated.
Florida cornerback
Janoris Jenkins
has decided to
return to school for his senior season
. He was ranked as the No. 11 player in the draft by Scouts Inc.
Based on the Scouts Inc. rankings, that leaves only two cornerbacks who would merit consideration from the Cowboys with the ninth overall pick. That's assuming that LSU's
Patrick Peterson
opts to declare for the draft.
The problem is that Peterson (No. 4 overall) and Nebraska's
Prince Amukamara
(No. 7 overall) are likely to be off the board by the time the Cowboys go on the clock. Jenkins represnted the Cowboys' best chance to address their cornerback need in the first round.
Miami's
Brandon Harris
, ranked No. 32 overall, is the only other cornerback Scouts Inc. has projected as a first-round prospect.
December, 21, 2010
12/21/10
9:00
AM ET
IRVING -- The Vikings' loss to the Bears created a six-team logjam for the No. 7 spot in the 2011 NFL draft.
The Cowboys, Browns, Texans, Redskins, Vikings and Titans are all tied with 5-9 records.
Next up for the Cowboys: The Arizona Cardinals, who are in a three-way tie with the Lions and Bills for the No. 4 spot in the draft.
The more the Cowboys win, the lower they'll draft in the first round. We believe that the Cowboys will be looking to draft a defensive back or offensive lineman -- both pressing needs -- in the first round.
Todd McShay ranked these corners with the highest grades before the start of the year: Nebraska's
Prince Amukamara
(95), Virginia's
Ras-I Dowling
(93) and
Janoris Jenkins
of Florida who got a 92.
Mel Kiper's Big Board, released earlier this month, had Amukamara at No. 5 and LSU's
Patrick Peterson
at No. 4.
At offensive line, McShay has Colorado tackle
Nate Solder
with the highest grade at 93. He's followed by Florida center
Rodney Hudson
(92) and Wisconsin's
Gabe Carimi
(91).
Carimi is No. 21 on the Big Board.
Here's what McShay had to say on our Insider Blog about Carimi:
"He's a better overall player now than the one I saw during preseason film evaluation. Carimi continues to improve his technique, especially his hand use, and he playing more under control and with better balance. In terms of athleticism in pass protection he's a notch below Jake Long when Long came out of Michigan, but Carimi is a very strong run blocker and at the very least will be a starting right tackle as an NFL rookie."
We're not saying the Cowboys can get any of these players, it's just interesting to know what's out there -- especially if the Cowboys finish at 6-10.
Last year, the Bills finished 6-10 and had the ninth pick of the draft and got running back
C.J. Spiller
.
What's available if the Cowboys should win their remaining two regular-season games and finish 7-9? Last year's case example: the Dolphins, Jaguars and Bears.
The Bears gave up their pick in the
Jay Cutler
trade to the Broncos, which picked 18th. The Dolphins would have drafted 12th, but they traded down. The Jags picked 10th.