Dallas Cowboys:

Jarvis Jenkins
August, 30, 2012
8/30/12
1:11
PM ET
You asked for it, you got it. Our season predictions roll out today, and I hereby present to you that for which you have been asking me since before the draft: My predictions for the NFC East. Now, as you read these, I will go hide for five days and wait for it all to blow over. See ya.
1. New York Giants (12-4)

I'm not buying the tough-schedule stuff. We don't know which teams are going to be good. No one thought having the 49ers on your schedule last year was going to be tough. I say the Giants have the coach, the quarterback, the wide receivers and the defensive line to beat anyone in the league in any given week. Will they look worse at times than they should? Of course. Could they go through another brutal stretch like the one that nearly sank them last November? Anything's possible. But what the Giants showed us all last season is that they have as much ability to handle and rebound from adversity as any team in the league. And on the presumption that every team will have to handle adversity at some point, I'm casting my lot with the team that handles it best.
For me, this came down to a choice between the Giants and the Eagles, and in the end I went with
Eli Manning
, who plays every game, over
Michael Vick
, who's in danger of being knocked out for a month on every play. When I went through the schedules, I had the Giants and Eagles tied at 11-4 going into the final week. And while I know full well that the Eagles have had the Giants' number over the past four years in the head-to-head matchups, I'll take the defending champs at home for all the marbles.
2. Philadelphia Eagles (11-5)

Top to bottom, the most deep and talented roster in the division. If Vick is healthy and on the field for all 16 games, they could be the best team in the league. I think their defense will play better this year with
DeMeco Ryans
in the middle of it. I think their defensive line gives the Giants' defensive line a run for its money as the best in the league, and that it probably has more depth. I love
LeSean McCoy
and
Jeremy Maclin
and what I think
DeSean Jackson
can do if he really is more focused and serious this year. (We'll see on that.) I think they have, easily, the best offensive line in the division, in spite of the absence of star left tackle
Jason Peters
. I just feel like the gap between best-case and worst-case scenarios at the quarterback position is significant enough to merit a slight downgrade in preseason predictions. I still have the Eagles making the NFC playoff field as a wild card, and one no one would want to play if they go in healthy.
3. Dallas Cowboys (8-8)

Just too flimsy in too many spots for me, this year's Cowboys. I like what they're building on defense, and you know I like their skill-position players on offense, including (heck, maybe especially)
DeMarco Murray
. But all of those guys, including
Tony Romo
, come with a history of health question marks, and there's very little behind them in terms of proven talent. There's also very little in front of them in terms of offensive line, and I think that has a way of wearing down and frustrating players like Romo, Murray,
Miles Austin
,
Dez Bryant
and
Jason Witten
even if they manage to perform in spite of it. On defense, yes, they should be much improved at cornerback. And I think they look really good at linebacker, too. But I have to see what they bring up front in terms of a pass rush this year to complement
DeMarcus Ware
before I believe it. They seem to think being better at cornerback will help the pass rush. I think that works better in the other direction (See: Giants, New York). But we'll see. Overall, I think this is a team looking more down the road than it is at 2012, and I think if you see guys like Murray,
Sean Lee
,
Morris Claiborne
and of course Bryant take big steps toward stardom this year, that's about the best for which Cowboys fans can hope.
4. Washington Redskins (8-8)

No, I don't have RG3 fever. I like rookie quarterback
Robert Griffin III
, and I think he's going to be a very good player. I also like wide receiver
Pierre Garcon
and tight end
Fred Davis
, and I think they'll find something at running back. But the reason this prediction is so much more optimistic than a lot of what you're seeing on the Redskins right now is that I really like their defensive front seven. I mean, a lot. With
Brian Orakpo
and
Ryan Kerrigan
as the pass-rushing outside linebackers and
London Fletcher
and
Perry Riley
as the inside guys playing behind a deep, huge, strong rotation of defensive linemen led by
Barry Cofield
,
Stephen Bowen
,
Adam Carriker
and
Jarvis Jenkins
, I think this is a defense that will put pressure on quarterbacks, physically beat up offensive lines and be strong against the run as well. What holds me back from liking them even more is that there are questions in the secondary, especially at cornerback. But the Redskins don't isolate their corners in coverage very much, and I think they can do some things with their safeties and linebackers to minimize the exposure. They should give up some big plays, but I think they're going to be physically very tough for people to handle this year, and I think they'll surprise a lot of people. I have them beating each of the other three teams in the division once.
So there you go. One year after no one in the NFC East won 10 games, this year no one finishes under .500. Maybe I'm nuts. Maybe preseason football has finally got to me. But I thought a lot about this and looked at it a lot of different ways. And I put it off as long as I could, in spite of all of your requests. Now that it's here, I hope you have enjoyed my division prediction. Check out my picks for the rest of the league, as well as those of all of our other fine NFL scribes, on our NFL page today.
May, 18, 2012
5/18/12
12:29
PM ET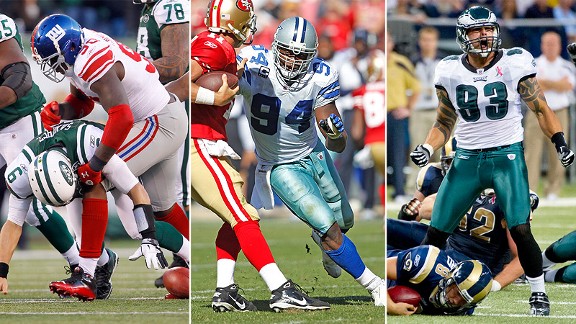 Getty Images, US PresswireJason Pierre-Paul, DeMarcus Ware and Jason Babin had 54 of the NFC East's 181 sacks in 2011.
The 2011 season was not the most, well, beastly season in NFC East history. It was the first time in a full, 16-game season that no team in the division won at least 10 games, and for much of the year the talk around the division was that it wasn't what it used to be.
Buncha baloney if you ask me. Even forgetting for a second that an NFC East team won the Super Bowl, this division still does one very important thing better than any other: rush the passer. The NFC East's 181 sacks led all NFL divisions in 2011, and by quite a bit. (The AFC North, which had three playoff teams, was second with 160). The Eagles tied for the league lead with 50. The Giants tied for third with 48. The Cowboys tied for seventh with 42, and the Redskins tied for 10th with 41.

Look deeper, into the film-based, number-crunching stats from Pro Football Focus -- stats that take into account more than just sacks when evaluating the extent to which teams rushed, hassled and affected opposing quarterbacks, and the division still rules. The Eagles rank No. 1 in PFF's 2011 team rankings, the Cowboys No. 3, the Giants No. 6 and the Redskins No. 9. No division prizes this critical aspect of the game more than the NFC East does, and it shows up in the numbers.
So, as we slug our way through a slow news month in the NFC East, I thought it'd be a good idea to check in on the pass rushes of our four teams and see how they're doing -- what they've done to get better or worse, what their 2012 prospects look like from this far out and yes, how they rank against each other. You guys asked for more polls, and I promised I'd listen, so there's one right here for you to vote on. After you finish reading, of course. I'm addressing them in order of how many sacks they got in 2011, in case you're wondering how I decided. Seemed fair.

Philadelphia Eagles
Key contributors:
DE
Trent Cole
, DE
Jason Babin
, DT
Cullen Jenkins
. PFF ranked Cole the No. 1 overall 4-3 defensive end in the league last year. Babin ranked 10th overall and third in pass rush, finishing third in the league with 18 sacks. Jenkins ranked as the No. 4 pass-rushing defensive tackle, and
Derek Landri
was No. 10. Defensive line coach Jim Washburn and defensive coordinator Juan Castillo, each of whom is entering his second season in his current position with the Eagles, believe the front four is responsible for the pass rush. And while they got a lot of publicity for how wide they like to line up their defensive ends, they like to get pressure from the defensive tackles as well.
Newcomer:
DT
Fletcher Cox
. The Eagles traded up in the first round to pick Cox because they believed he could be an impact pass-rusher from one of those interior spots right away. They need to toughen up against the run, and that will have to be part of Cox's game. But what appealed to them was his ability to get to the passer. Rookie linebacker
Mychal Kendricks
could conceivably factor in here too, but the Eagles don't ask their linebackers to rush very much in the new scheme.
Stock watch:
UP. The addition of Cox, as well as the possible return to full health of
Mike Patterson
and 2010 first-round pick
Brandon Graham
, give the Eagles incredible depth at a position at which they were already very strong in 2011. It's possible they'll rush the passer even better in 2012.

New York Giants
Key contributors:
DE
Jason Pierre-Paul
, DE
Justin Tuck
, DE
Osi Umenyiora
, DE/LB
Mathias Kiwanuka
. No one's roster goes as deep as the Giants' does in terms of star-caliber defensive ends. Pierre-Paul was fourth in the league with 16.5 sacks in just his second NFL season. Umenyiora had nine in just nine games. Tuck turned it on at the end and in the playoffs, and Kiwanuka is a defensive end playing linebacker. The Giants believe a strong pass rush is their heritage and their key to being an annual contender.
Newcomer
: DT
Marvin Austin
. The Giants didn't really bring in anyone this offseason who looks like a 2012 pass-rush contributor, but their 2011 second-round pick missed all of last season due to injury, so we'll call him a newcomer. The Giants would like to get more help from inside.
Linval Joseph
was their best pass-rushing defensive tackle in 2011, according to PFF's rankings. A healthy Austin could be a difference-maker.
Stock watch:
DOWN. Not by much, but a little, because of the loss of reliable, underrated reserve DE
Dave Tollefson
. If Tuck and Umenyiora have injury problems again, or if Umenyiora holds out, they could get kind of thin at defensive end pretty quickly without Tollefson there to fill in this time. Now, this is the Giants, and they'll probably figure it out. The addition of linebacker
Keith Rivers
could allow them to move Kiwanuka back to end in case of injury. But it's worth pointing out that they did lose a somewhat important piece of the pass rush and didn't replace him.

Dallas Cowboys
Key contributors:
LB
DeMarcus Ware
, LB
Anthony Spencer
, DE
Jason Hatcher
, NT
Jay Ratliff
. There's no one like Ware, who rang up another 19.5 sacks in 2011. That's nearly half the team total, and the conventional wisdom says he needs more help. But PFF ranked Spencer its 11th-best 3-4 outside linebacker in the pass rush and Hatcher as its eighth-best 3-4 pass-rushing defensive end. Add in Ratliff, who can generate pressure up the middle, and the Cowboys look better in this area than we tend to think.
Newcomer:
DE
Tyrone Crawford
. Dallas' third-round pick is looked at by many as a project, but as one that can eventually help with the pass rush whether he ends up as a 3-4 end or standing up as an outside linebacker. Whether he can help in 2012 remains a question, but the Cowboys didn't see a first-round or second-round pass-rusher they liked better than Spencer, so they focused on the secondary instead and picked up some down-the-road guys for the pass rush.
Stock watch:
EVEN. They're bringing back basically the same group, and while there's a theory that the improvements at defensive back will help the pass rush by giving it extra time to get sacks, we have yet to see that in action. Spencer must play with more aggressiveness if this unit is to take a step forward into the upper tier with the Eagles and Giants.

Washington Redskins
Key contributors:
LB
Brian Orakpo
, LB
Ryan Kerrigan
, DE
Stephen Bowen
. The Redskins' pass rush is all about those young outside linebackers, and they are fearsome. But with only 16.5 sacks between them in 2011, their numbers have a ways to go to get into the big-time stratosphere we're talking about in the NFC East. PFF did rank Orakpo fifth and Kerrigan ninth among pass-rushing 3-4 OLBs in 2011, so they do a lot of things well in that area. Bowen had six sacks and DE
Adam Carriker
came up with 5.5.
Newcomer:
DE
Jarvis Jenkins
. Just as we did with the Giants, we'll go with a 2011 second-round pick who missed his rookie season due to injury. Jenkins may not be a pass-rusher, but adding him to the defensive line rotation could help free up more room for the linebackers and maybe help the other linemen get to the passer more often as well.
Stock watch:
EVEN. This is really all about how much and how quickly Orakpo and especially Kerrigan continue to develop as elite pass-rushers. They've both shown flashes of incredible raw ability, and they have to continue to hone their craft so they can play at the level of the other pass-rushers in their division. Ware, Cole, Pierre-Paul and the rest of these guys are setting a high bar, and the Redskins know they have to have their own pass-rush monsters if they want to hang with them year in and year out.