Dallas Cowboys:

Jason Garret
September, 26, 2014
9/26/14
12:00
PM ET
Cornerback
Orlando Scandrick
has 8.5 career sacks, which is more than any linebacker on the Cowboys' roster.
Wow.
Scandrick
Rolando McClain
has 7.5 sacks,
Justin Durant
has 3.5 and
Bruce Carter
has three. Scandrick has had at least two sacks in three different seasons, and he's had at least one sack in each of the past four seasons.
Don't be shocked if Scandrick retains his sack lead at the end of the season. Rod Marinelli doesn't blitz much in the Cowboys' scheme because it creates opportunities for the opposition to get big plays, something he loathes.
But when he does blitz, he's going to keep using Scandrick from the slot.
Why not? He's good at it.
"He's quick, he's fast and he has some explosiveness to him," coach Jason Garrett said. "He has instincts, he can bend, and he has a tenacity about him and a hunger to get there."
Scandrick, who doesn't have a sack this year, blitzed twice against the
St. Louis Rams
and disrupted the play each time.
In the second quarter, he forced an incompletion by putting heavy pressure quarterback
Austin Davis
. In the fourth quarter, he hammered Davis as he released the pass that linebacker
Bruce Carter
intercepted and returned 25 yards for a touchdown and a 34-24 lead.
"You can't be scared of the contact," said Scandrick, when asked what makes him an effective blitzer. "A lot of guys don't like the contact, so they run around the block. I'm just trying to get to the quarterback, and that guy is in my way."
December, 10, 2013
12/10/13
11:00
AM ET
CHICAGO -- After the Cowboys 45-28 loss to the
Chicago Bears
on Monday night we have our weekly, Three Up and Three Down.
Three Up
Tyler Clutts.
Who? The newly signed fullback played well on the opening series and was a solid blocker for starting running back
DeMarco Murray
. While the Cowboys stressed they didn't need a fullback this season, going with four running backs, the late signing of Clutts seemed to payoff.
DeMarco Murray.
He benefited from the Clutts signing. Yet, Murray also did some good things on his own. He rushed for 146 yards on 18 carries, including 52 yards on the first scoring drive of the game. According to ESPN's Stats and Info group, Murray rushed for 111 yards before contact.
Dwayne Harris.
Before he was shut down due to a hamstring injury, he returned four kickoffs for 103 yards. It was the fourth time this season Harris had more than 100 kick return yards. Harris also produced a nifty 43-yard return.
Three Down
Monte Kiffin.
The defense is sad. Very sad. The 4-3 scheme isn't working and while the players expressed confidence in it, it doesn't appear things are operating correctly. Jerry Jones said he wants more tricks and pressures on the quarterback. You know, like Rob Ryan used to do.
Pass defense.
They had two dropped interceptions, a pick negated by a penalty and backup quarterback
Josh McCown
threw for 348 yards and four touchdowns. The secondary was bad and it's time to sit down rookie corner
B.W. Webb
and reduce the playing time of
Jeff Heath
.
Jason Garrett.
Yes, there's only so much he can do, but he's responsible for this mess. The Cowboys had control over whether they would make the playoffs Now they're one-game behind first place in the NFC East. Garrett needs to make drastic changes or things will end as they always do, with the Cowboys watching the postseason from home.
August, 1, 2012
8/01/12
8:00
AM ET
OXNARD, Calif. -- Every Wednesday we'll be bringing you Five Wonders, with today being the official training camp debut of the award-winning fixture. And by award-winning I mean the gold star my children put on my computer a long time ago.
With no further ado, here we go:
* Jason Garrett likes to say his receivers need to run, run and then run some more. As a group they have to be in the best physical condition of any players on a team. But I wonder if the Cowboys should monitor how much work they give
Miles Austin
. He missed six games last year because of hamstring injuries to both legs, and the offense missed him. Given Dez Bryant's issues, the Cowboys need Austin more than ever, so it might be wise to limit Austin some. It's a balance Garrett has to find of getting players ready for a season while not taxing them so much that they become susceptible to injury. And while
I
wonder about this, I don't believe the Cowboys are wondering about it at all.
* I wonder if this is the year defensive end
Clifton Geathers
gets into the mix. He has been with the Cowboys for parts of the last two seasons, playing in five games last season and garnering five tackles. At 6-foot-7, 325 pounds, he is definitely a candidate for the All-Airport team. He just looks like a player. And he's also cheaper than
Kenyon Coleman
and
Marcus Spears
. Coleman has a $1.9 million salary. Spears is set to make $2 million. Geathers is set to make $540,000. You can't discount the financials in these decisions. The Cowboys jettisoned their veteran offensive linemen last year and they chose not to sign
Mat McBriar
over $300,000. The Cowboys are getting younger and cheaper, and if Geathers can show he can handle more of a role he could slide two veterans out of the mix.
* Last year the Cowboys hit on several veteran free agent finds during the season, from
Laurent Robinson
to
Tony Fiammetta
to
Montrae Holland
to
Sammy Morris
. I don't have to wonder too much if they have confidence in the pro scouting department to find help again in 2012. For all of the fans wanting the Cowboys to sign a veteran wide receiver like
Plaxico Burress
or at least
Patrick Crayton
, I'd say the team is being patient when it comes to the receiver group. And remember the money. Robinson signed for the minimum salary benefit last year before blowing up as the No. 3 receiver. The Cowboys didn't look for a veteran last year at wide receiver, and their decisions to look into
Josh Gordon
and
Dezmon Briscoe
seems to indicate they will do the same this year.
* I wonder why there is not more concern over the foot injury of nose tackle
Jay Ratliff
. He was not able to take part in any on-field football work during the offseason because of plantar fasciitis and he can only go through the walkthrough practices early in camp. The Cowboys don't want Ratliff to aggravate the injury in camp, but this is something that has been problematic for at least three months. While a difficult nose tackle to block because of how active he is, he needs his feet to help with leverage. Without leverage Ratliff is just another guy. And let's not forget that his sack total has decreased in each of the last four seasons from 7.5 to six to 3.5 to two.
* I wonder if
Saalim Hakim
can get into this wide receiver mix. I cannot believe I typed that after the performance Hakim put forward in the rookie minicamp after the draft, because as a receiver he showed a remarkable ability to not catch the ball. But now Hakim, who is the younger brother of
Az-Zahir Hakim
, the former St. Louis wideout from the Rams' Greatest Show on Turf days, is in much better shape and is catching the football. Hakim made his way on to the Cowboys' radar with his work on special teams for Jim Fassel in the UFL. Hakim's speed should make him a factor on special teams here, but he had an eye-popping run after catch on Monday that had one defender groan, "That (expletive) is fast." It was almost as if Hakim glided above the ground as he sped down the sideline.
July, 31, 2012
7/31/12
3:50
PM ET
OXNARD, Calif. --
Chris Jones
knows more people are watching him this year as he gets the chance to take over for
Mat McBriar
as the Cowboys punter.
"I wouldn't say I feel the pressure," Jones said, "but then again I guess it's a mental thing."
After a shaky debut in Monday's practice, Jones could especially feel those eyes. Coach Jason Garrett said Jones hit "some squirrely ones," and Jones knows he needs to be better.
Jones, who averaged 42.6 yards per punt in two games as McBriar's replacement in 2011, kicked a few times before the team flew out for California, but he had not been in front of a live rush since the June minicamp.
"(Monday) was a little rough, but having the rush in front of you, I was fast," Jones said. "I was kind of rushing a little bit. But I still feel confident back there and I think today will be a lot better."
The Cowboys elected not to re-sign McBriar after a workout last week, which gives Jones a leg up to win the job this summer. He was with the team in training camp in San Antonio last summer but mostly as an extra leg to make sure McBriar did not work too much.
"He certainly has the capability to kick the ball in this league," Garrett said. "You see a live leg and the ball jumps off his foot, but at the same time it's just consistency week in and week out."
May, 4, 2012
5/04/12
2:40
PM ET
IRVING, Texas – With the second phase of the offseason program starting this week,
Cowboys
coaches have been able to get on the field with veterans for the first time, but
Mackenzy Bernadeau
has not been among them.
Bernadeau, who signed a four-year, $11 million deal in March, has been slowed with an upper quadriceps injury that has limited his strength work and put into question his availability for the organized team activities later this month.
The Cowboys do not believe the injury is serious, but they do not want it to become a chronic problem.
"We want to make sure he's healthy before we put him out there," coach Jason Garrett said.
Bernadeau is projected as one of the starting guards, but he played some center during his first four years at Carolina.
"It's one of the things we knew about him," offensive coordinator Bill Callahan said. "He had played some center in the preseason with Carolina so he's been exposed to that spot. He's got that position flexibility so that's a real positive. Yeah, he has that in him. I haven't seen it as of late, but he did serve as a backup center in emergency situations, so he has taken snaps from what we've had in our conversations with him."
February, 24, 2012
2/24/12
9:00
AM ET
INDIANAPOLIS -- Technically
Tony Romo
is signed through 2016, but that is more from a salary-cap standpoint to help keep his salary cap numbers in check. In reality, Romo is signed through 2013, when the last three years of the restructured contract he signed last summer are voided.
But the Cowboys do not view Romo, who turns 32 in April, as an aging quarterback because he did not play his first three years. The franchise's best quarterbacks, Roger Staubach and
Troy Aikman
, retired when they were 37 and 34, respectively.
"I think you always think about your play clock, but more than anything else he did start later in his career than a lot of guys at his position," coach Jason Garrett said. "I think he's a young 31 year old. I think he's got a lot of football left in him."
Romo has started 77 games in his career and is coming off what Garrett called the quarterback's best season, in which he threw 31 touchdown passes and had just 10 interceptions.
In three of the last four seasons, Romo has battled through finger, collarbone, rib and hand injuries that cost him 13 games. He did not miss a game in 2011 despite a fractured rib/punctured lung and an injured hand in the 15th game of the season.
Some of the NFL's best quarterbacks will be in their early or mid-30s when the 2012 season begins, including New England's
Tom Brady
(35), New Orleans'
Drew Brees
(33) and Philadelphia's
Michael Vick
(32).
Peyton Manning
will be 36 if he can return from a neck injury with Indianapolis or another team in 2012.
"Quarterback is so different," executive vice president Stephen Jones said. "Guys play quarterback [a long time], obviously some don't. Troy's career was shorter than we would've liked and he would've liked. But quarterbacks play until their 40s. You don't have issues signing a 30-year-old. At any other position there's issues there. With a quarterback you don't have issues with a third contract or even a fourth contract if they can play."
It does not sound as if the Cowboys will begin the earnest search for Romo's successor in this draft. They have a plethora of needs to fill elsewhere and there are strong indications the Cowboys will be in play for a veteran backup.
Garrett has used veterans
Brad Johnson
and
Jon Kitna
as Romo's backups since 2007.
"It's really an important position," Garrett said. "You need to allocate resources to the position.
"Being a veteran guy with experience is certainly a plus.
Stephen McGee
has gotten valuable experience at the end of the last two seasons. He has played in games. He has won games for us. He has been involved in two minute drives at the end of games and had success with those … He has played more football the last couple of years. That is helping him."
February, 22, 2012
2/22/12
4:49
PM ET
INDIANAPOLIS -- For those wondering whether the Cowboys will move
Jay Ratliff
to defensive end in 2012, there's this answer from Cowboys executive vice president Stephen Jones:
"I still see Ratliff as our starting nose tackle," Jones said. "Will he see action out there [at defensive end]? I mean you never totally rule it out, but right now we still see him as our nose."
Earlier this offseason head coach Jason Garrett did not shoot down the chances of the Cowboys moving to a 4-3 defense in 2012, which would involve Ratliff sliding away from the center. He played defensive tackle when the Cowboys employed their nickel defense, with
DeMarcus Ware
and
Anthony Spencer
at defensive end.
Ratliff has played in the last four Pro Bowls but he had only two sacks in 2011, his lowest total since becoming a full-time player in 2006. In 2008-09, he had 13.5 sacks and 64 quarterback pressures. In 2010-11, he has 5.5 sacks and 28 pressures.
January, 20, 2012
1/20/12
12:00
AM ET
The is the final installment of Fixing the Cowboys.

Jason Garrett can fix the Cowboys. First, though, he must stop lying to himself.
He can add a pass-rusher from the draft, or a guard and a cornerback in free agency - and it still won't matter.
Garrett needs a comprehensive study of why his team keeps collapsing every time the season turns to December and the games become more important.
It's not a fluke. Or a coincidence. There's something wrong with this team's intangibles, and if Garrett keeps running from the truth instead of addressing it, then the problem is never going to go away.
Garrett likes to explain away the end-of-the-season collapses by saying each team is different.
Sometimes, he'll just refer to it as a lack of execution. If that's the case, then the players either aren't good enough or smart enough.
[+] Enlarge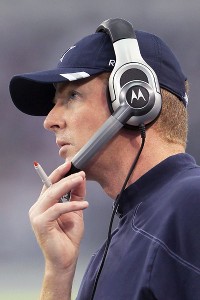 Jeff Gross/Getty ImagesJason Garrett has to deal with the Cowboys' psyche as well as their personnel.
Usually, Garrett says a common thread doesn't exist.
Then why do the Cowboys seemingly fall apart every year when it matters most?
After all, the Cowboys have entered the final month of the season at least three games over .500 six times since 2005, but Dallas has made the playoffs just three times.
Since 2007, they've entered the final month of the season at least three games over .500 four times. They've made the playoffs once.
Garrett has either been the offensive coordinator or head coach on each of those teams. So it's not good enough for him to say he doesn't know why the annual swoon occurs.
That's not good enough.
If this team needs weekly visits with a shrink, then so be it. If it needs to spend an hour a day using visualization techniques, that's cool too.
But the players know they shrink at winning time.
Maybe they're scared. Or overwhelmed by the moment. Perhaps the pressure gets to them.
All we know for sure is the Cowboys are 14-20 in December and January since 2005.
In 2009, Dallas went 11-5 and won its last three of the regular season to get into the playoffs and temporarily end the chatter about the failed Decembers. It represents one of only two winning December/January months this team has had since 2005.
Once Garrett studies the report, he can implement some new strategies to improve the Cowboys' end-of-the-season performance.
Then he can turn his attention to finding a pass rusher, because
Anthony Spencer
can't do it.
The 3-4 defense is all about the outside linebackers putting heat on the quarterback.
DeMarcus Ware
had 19.5 sacks this season; the rest of his teammates had 21.5.
You can't win in today's NFL if you can't rush the passer because every single rule is designed to throw the ball. The Giants are in the NFC Championship game because they harass the passer better than most with just their front four.
The pass rush will make
Orlando Scandrick
,
Mike Jenkins
and
Gerald Sensabaugh
better. And that will make the Cowboys better.
Baltimore, the
New York Giants
and San Francisco are proof that you can still win with defense in the NFL. The Cowboys' defense failed to compete in the first half of their win-and-get-in playoff game against the Giants.
Quarterbacks under duress make mistakes. That aspect of the NFL hasn't changed in 50 years.
Until the defense gets fixed, Dallas isn't a serious threat to do anything but be first-round playoff fodder.
This team lacks playmakers on defense. Ware and
Sean Lee
-- that's it.
Jay Ratliff
, consistently double-teamed at nose tackle, doesn't make enough plays. That could change if the Cowboys move him to defensive end, as they should, and take advantage of his athleticism.
Another pass-rusher paired with Ware might make Mike Jenkins a playmaker again.
The defense needs to be fixed. We all know that.
But nothing he'll do will matter if Garrett doesn't find out why this team has a fragile psyche that consistently results in late-season collapses.
December, 19, 2011
12/19/11
10:51
AM ET
IRVING, Texas -- Philadelphia has failed to meet the "dream team" expectations many had for it when the season started, but the Eagles are not dead.
PODCAST
Drew Pearson talks about how much these Cowboys need to lean on each other to survive a run through the postseason.

Listen

They will come to Cowboys Stadium on Saturday with real playoff hopes, even at 6-8.
If Philadelphia wins its last two games and the New York Giants lose to the Jets and beat the Cowboys, then the Eagles will win the NFC East.
Be afraid. Be very afraid.
The Eagles punished Rex Ryan's New York Jets on Sunday, 45-19, for their second straight win. They tore apart the Jets the way they tore apart the Cowboys and Rob Ryan's defense on Oct. 30 at Lincoln Financial Field.
And there's this: Andy Reid has lost only once to the Cowboys in December in seven games as Philadelphia's head coach. That came in 1999, his first year. Since then the Eagles' six victories have been by an average margin of 17 points. Reid has a 37-15 record in December as a head coach.
Gulp.
But the calendar means nothing, as Jason Garrett has reminded us, so let's point out the fact that the Cowboys have beat the Eagles in their last two rematches. They shut out Philadelphia, 24-0, in 2009 and won at Lincoln Financial Field last season, 14-13, in January regular-season games.
August, 28, 2011
8/28/11
12:22
AM ET
MINNEAPOLIS --
Kevin Kowalski
found out he would be the Cowboys' starting center Saturday vs. Minnesota only three hours before kickoff with the team deciding to sit five-time Pro Bowler
Andre Gurode
.
"It came awfully quick, but there's always a little bit [of nerves]," Kowalski said.
Kowalski had not taken a snap with
Tony Romo
during training camp and they only took a handful of them in the pre-game warm-ups.
Coach Jason Garrett's initial reaction was that Kowalski, an undrafted rookie from Toledo, played well but he wanted to hold final judgment until he saw the film.
"The big thing you look at when you play a new center is does he take care of the ball?" Garrett said. "It seemed like he and Tony were on the same page not having a lot of experience working together. Anytime you don't have the ball on the ground, that's a positive."
Kowalski said he was surprised when he got the news he would start.
"Hopefully I'll have a chance to make this team," Kowalski said.