Dallas Cowboys:

Jeremy Parnell
July, 25, 2013
7/25/13
9:00
PM ET
By
Todd Archer, ESPNDallas.com
OXNARD, Calif. -- The feeling
Tony Romo
had early in his career when he was just trying to make the
Dallas Cowboys
' roster is the same one he feels today as he chases a Super Bowl.

"For me, I tell this to some buddies and high school kids a lot of the time, it's all relative to the way you look at it," Romo said. "They'll be like, 'Wow, you play in the NFL or whatever.' The same feeling I get going out on a Sunday is the same feeling a high school kid gets going out on a Friday night. They're excited. They're energetic. They've put in a lot of time and effort. It means a lot to them. It means everything to them. To me, that aspect of it doesn't change, no matter where you're at. Sometimes your surroundings change a little bit. Sometimes the just desperate feeling of trying to make the team; that doesn't change now. It's just a different goal. Now it's not trying to make the team. Now it's trying to win a championship. Now it's trying to get better so we can take the next step. Now it's just that feeling that you have. But it's still that desperate kind of act of wanting to take that next step. There's just another step always. It's going to be the same thing even after we get that job done."
Despite missing the playoffs the past three seasons and losing Week 17 de facto NFC East title games in each of the past two seasons to the
New York Giants
and
Washington Redskins
, the Cowboys rewarded Romo with a six-year contract extension this offseason worth $108 million, including $55 million guaranteed.
They also guaranteed Romo more say in the offense.
At 33, Romo is the oldest Cowboy and is entering his seventh full season as the starting quarterback. He has seen all that a quarterback can see from opposing defenses and in the offseason was able to communicate his ideas to coach Jason Garrett, offensive coordinator Bill Callahan and the rest of the staff.
Once the season starts, Romo will spend time with the coaches during the week going over the game plan.
"I think anytime the more you are involved, I think there is no question the more comfortable you are with anything," Romo said. "I think that just goes with the territory. You gain a lot over the years with experience. You understand a lot offensively. You start to understand what has made us successful. You understand what can make our lives easier, what can make my job easier, and you just go hammer things out."
Last year when Romo asked for a certain play or two in the game plan, it might not get called for a few games. That won't be the case this year with Romo putting in that "Peyton Manning time" owner and general manager Jerry Jones alluded to in the offseason.
[+] Enlarge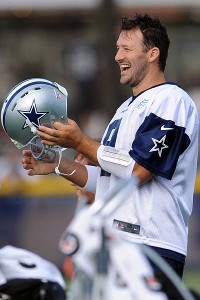 Jayne Kamin-Oncea/USA TODAY SportsQuarterback Tony Romo will have a greater responsibility this season as he will have an active role in the Cowboys' offensive game planning.
"What I want to do as a head coach, what our coaching staff wants to do, is just create more of a forum for him to be able to do that, keep those lines of communication open," Garrett said. "His job is to play quarterback for the Dallas Cowboys. It's not an easy job. That's his job. We feel like his involvement will help him do that job better and help our football team even more."
Perhaps even get the Cowboys back to the playoffs.
THREE HOT ISSUES
1. Dez Bryant's dominance.
No player has caught the eye more in training camp than Bryant, who is entering his fourth season. Over the second half of last season he was one of the best receivers in the NFL with 50 catches for 879 yards and 10 touchdowns.
Since arriving in 2010, Bryant has always been able to make the highlight catch, but he became more reliable in his route-running and decision-making, which helped in his jump in productivity. He even made plays while hurt, displaying toughness by playing the last three games with a broken index finger that required postseason surgery. He has had no problems with the injured finger in camp.
As good as Bryant was, he has his sights on becoming the NFL's best receiver.
"This is what I truly believe: I always feel like there's always room to get better," Bryant said. "I think just by going in, getting everything I already know, cleaning it up, sharpening it up the best way I possibly can and just learning more and more the coaches give me, I feel like I'll be taking a step each and every day."
2. Monte Kiffin puts stamp on defense.
Kiffin is 73 years old, but he doesn't act that way. On the first day of training camp, he implored the crowd to get loud to excite his defense. When he has been displeased, he has thrown his hat to the ground. When he's not happy with himself, he has given himself a slap in the head.
"He's a fired-up guy," linebacker
Bruce Carter
said. "You never know what you're going to get with Coach Kiff. He brings a lot of excitement to the defensive meeting room. Guys are really adapting to him well."
A lot of eyebrows were raised when the Cowboys hired Kiffin after his so-so run at USC. Kiffin believes having more time with the players than he had in college will help ease the adjustment from the 3-4 to the 4-3.
The key hire might have been defensive line coach Rod Marinelli. He worked with Kiffin in Tampa Bay and led a turnover-driven defense in Chicago for four years. Kiffin's knowledge, combined with Marinelli's expertise, give the Cowboys an edge they did not have the past few years on that side of the ball.
3. Jason Garrett, walk-around coach.
Offensive coordinator/assistant head coach Bill Callahan will call plays, freeing up Garrett to handle game situations and the entire team.
When Garrett took the job on a full-time basis in 2011, Jimmy Johnson advised him to work as a "walk-around" head coach, but he held on to the play-calling duties. Whether they were taken away from him or he gave them up is up for debate, but the Cowboys' hope is Garrett's coaching ability will be enhanced.
While Jones has backed the coach and talked of a future beyond the final two years of Garrett's current contract, this is a win-now season for Garrett. He has gone 8-8 in each of his first two full seasons and lost both season finales with playoff spots on the line. Jones' patience would be put to the test with a fourth straight non-playoff season.
Garrett has been around the NFL a long time as a player and coach and understands the life.
Without having to overlook every nook and cranny of the offense, Garrett has been all over the practice fields in Oxnard, Calif.
"I have always felt that he found a way to see everything," linebacker
Sean Lee
said. "He doesn't miss much; he never has in the past and he won't in the future. He's a guy who's on top of every detail and knows what's going on. That's what makes him a great coach, and that's why we all respond to him."
REASON FOR OPTIMISM
The Cowboys lost five major components of their defense to injuries last year and had
DeMarcus Ware
playing with one healthy arm, which led to the dismissal of defensive coordinator Rob Ryan. Lee, Carter,
Barry Church
,
Orlando Scandrick
and Ware are healthy now, which will help a defense that has to get better at creating turnovers.
The Cowboys do not seem overly concerned about the long-term effects of early training camp injuries to defensive tackle
Jay Ratliff
(hamstring) and defensive end
Anthony Spencer
(knee).
Using frames of references from the defenses Kiffin and Marinelli have run, the Cowboys appear to have the right pieces for the 4-3. The Cowboys view Lee and Carter the way Chicago viewed
Brian Urlacher
and
Lance Briggs
. They look at Ware and Ratliff the way Tampa Bay used to view
Simeon Rice
and
Warren Sapp
.
A healthy defense should make Kiffin's first year a success.
REASON FOR PESSIMISM
On a team that has not made the playoffs the past three seasons, the Cowboys' key pieces still look largely the same: Romo,
Jason Witten
, Ware, Ratliff and
Miles Austin
.
[+] Enlarge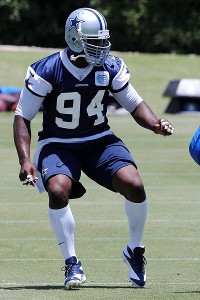 Matthew Emmons/USA TODAY SportsThe Cowboys are counting on veterans, including a healthy DeMarcus Ware, to lead Monte Kiffin's defense this season.
Because of salary-cap constraints and the desire to re-sign Romo, the Cowboys were not able to be major players in free agency. Their biggest pickups were linebacker
Justin Durant
and safety
Will Allen
. In the draft, they traded down from the 18th pick to No. 31 to take center
Travis Frederick
, whom many rated as a third- or even fourth-round pick.
The Cowboys are banking on core players who have won one playoff game and missed the playoffs more than they have made it.
OBSERVATION DECK
If there was any worry about Ware's recovery from offseason shoulder surgery and the move from outside linebacker to defensive end, they were calmed very early. Ware had a three-sack practice on the second day of camp and has given left tackle Tyron Smith fits.

While Ware is healthy, his counterpart on the other side is not. Spencer will miss two to four weeks of camp because of knee surgery. Spencer had a breakout year in 2012 with 11 sacks and was added to the Pro Bowl. He missed time in the offseason as well but does not believe it will affect his knowledge of the defense with the move to defensive end.

The offensive line was a question last year, and it is a question again this year. Guards Mackenzy Bernadeau (hamstring) and Nate Livings (foot) have not been able to practice. Ronald Leary, who is expected to compete for a starting job, has not practiced because of a calf injury. For a unit in need of continuity, the beginning of camp has not gone well.

The loss of defensive end Tyrone Crawford for the season because of a torn Achilles is a big one. The Cowboys wanted the second-year player to be a big part of their rotation at end and tackle this year and possibly be a starter in 2014. Without Crawford, the Cowboys will have to scramble for help, but so far they have not shown any interest in the more veteran names available.

The Cowboys will go without a fullback on the 53-man roster when the season opens, relying more on two-tight end formations. In Witten, the Cowboys have one of the best tight ends in the game. They have rookie Gavin Escobar, drafted in the second round, and James Hanna, last year's sixth-rounder, as the top backups. Escobar has benefited from extra work early in camp and could become a decent intermediate target for Romo.

If there is an unknown player to watch as the regular season approaches, it is second-year running back Lance Dunbar. He made the Cowboys last year as an undrafted free agent and saw his role increase a little as the year went on. With Felix Jones now in Philadelphia, Dunbar is the leader to be the true third-down back. Several of the veterans have noticed his speed and quickness and believe he could have a solid season as a pass-catcher.

Right tackle Doug Free saw his pay cut in half in the offseason, down to $3.5 million, but he is off to a better start to training camp. Free struggled last year and ended up splitting time late in the season with Jermey Parnell. That has not been the case this summer, and not just because Parnell has been slowed by a hamstring strain. Free has been more firm in the run game and as a pass protector.

With so many games decided by a field goal in the NFL, teams need a top-flight kicker. The Cowboys have one in Dan Bailey. He has had eight winning or tying kicks in the last two minutes in his first two seasons.
November, 23, 2012
11/23/12
4:30
PM ET
The Cowboys head into the weekend with injuries to several starters and main backups that affect five positions. We review.
Inside linebacker
Injured
:
Bruce Carter
(elbow),
Sean Lee
(toe)
Healthy
:
Dan Connor
,
Ernie Sims
and
Alex Albright
Outlook
: Lee is done for the season and Carter's elbow was dislocated but it popped back into place during the loss to Washington. At one point, Sims and Connor played with the first-team defense. Carter's season isn't done, unless results from Friday's MRI reveal something different. Two of the Cowboys' best defensive players are at this position and they don't have any of them. Carter has been an excellent player this season, more so when Lee went out. Now the Cowboys have two veterans who must pick up the slack.
Cornerback
Injured:
Orlando Scandrick
(hand)
Healthy:
Mike Jenkins
,
Brandon Carr
,
Morris Claiborne
and
Vince Agnew
Outlook:
The issue here is Scandrick's season. He underwent surgery on Friday morning to repair a broken left hand. It hasn't been determined if his season is over, however, he's had trouble securing the ball with two healthy hands. With a bad one, you have to wonder if the Cowboys still want him out there. The Cowboys can use Jenkins as the slot corner, but he's endured back issues of late and played on Thursday. Agnew was inactive for the Redskins game and that most likely will change if Scandrick is out for the
Philadelphia Eagles
game on Dec. 2.
Running back
Injured:
DeMarco Murray
(foot) and
Felix Jones
(knees)
Healthy:
Lance Dunbar
and
Phillip Tanner
Outlook:
Jones should be given credit for playing through some health issues, but he always has something wrong with him and you can't depend on him long-term. Murray has missed the last six games with his foot injury and owner Jerry Jones said he's not sure when the starter will return. It might be time to give Dunbar and Tanner the bulk of the game carries and give Jones limited opportunities, at least until Murray returns.
Wide receiver
Injured:
Miles Austin
(hip) and
Kevin Ogletree
(concussion)
Healthy:
Dez Bryant
, Dwyane Harris,
Cole Beasley
and
Andre Holmes
Outlook:
Ogletree missed the Redskins game and Austin was hurt during the 38-31 loss. Currently Bryant is the most accomplished receiver on the team who is healthy. Bryant has played well the last month, but he can't do it alone. Beasley and Harris played pretty well during the Redskins game as the Cowboys mounted a comeback. More snaps for Beasley, whom quarterback
Tony Romo
likes, could help the struggling offense.
Offensive line
Injured:
Ryan Cook
(knee),
Phil Costa
(ankle),
Tyron Smith
(ankle)
Healthy:
Jeremy Parnell,
Derrick Dockery
,
Mackenzy Bernadeau
,
Nate Livings
,
Doug Free
,
David Arkin
,
Kevin Kowalski
.
Outlook:
Cowboys got away with using Smith as the swing tackle on Thanksgiving Day knowing he's not 100 percent. Cook and Costa's return are uncertain. Parnell didn't embarrass himself against Washington, so if Smith isn't ready he could earn another start. The center spot is troubling, given the health of Costa, who might need another week, and Cook, whom many thought would be ready to play by now.
Note:
The defensive line has issues too with end
Jason Hatcher
going down with a concussion late in the Redskins game. Nose tackle
Jay Ratliff
and backup lineman
Sean Lissemore
are also nursing injuries, though those players could return soon.
November, 19, 2012
11/19/12
1:01
PM ET
IRVING, Texas -- Following the Cowboys' 23-20 victory over the
Cleveland Browns
on Sunday afternoon, owner Jerry Jones said left tackle Tyrone Smith suffered a high-ankle sprain and he wasn't sure about the availability of starting running back
DeMarco Murray
.
PODCAST
Ben and Skin back Randy Galloway into a corner and force him to admit he's style pointing a Cowboys win.

Listen

Jones didn't know about the severity of Smith's ankle and more tests were needed for an official diagnosis.
Update:
A source said Monday afternon it's doubtful if Smith or Murray play against the Redskins.
However, team executive vice president Stephen Jones said Monday morning he doesn't believe Smith or Murray would play Thursday against the
Washington Redskins
.
"I'm dying to know right now," Jones said of their availability on KRLD-FM. "But I'm really thinking it's probably a long shot for either one of those guys to play."
If that's the case, Jeremy Parnell will start for Smith and
Felix Jones
will get his sixth consecutive start over Murray.
"My expectations would be that it's a long shot for either one of them," Stephen Jones said.
November, 18, 2012
11/18/12
5:43
PM ET
IRVING, Texas -- Cowboys starting left tackle
Tyron Smith
left Sunday's game against the
Cleveland Browns
with a high ankle sprain that puts his availability for the Thanksgiving Day game with Washington in question.
Jermey Parnell
replaced Smith, who didn't play in the second half, at left tackle. The Cowboys were already minus center
Ryan Cook
(knee) and moved starting right guard
Mackenzy Bernadeau
to center.
Derrick Dockery
replaced Bernadeau at right guard in the starting lineup.
The Cowboys' offensive line had many issues on Sunday, including a season-high seven sacks allowed and 10 hits on quarterback
Tony Romo
.
"It's high ankle which just bothers the daylights out of ya," Cowboys owner Jerry Jones said. Later he added, "The trainers were a little more than usual optimistic that it won't be as bad as it can be on high ankle."
Running back
Felix Jones
who finished with 43-yards and one touchdown on 14 carries, tweaked his left knee in the first half.
"Saw a lot of heart and saw him running hard," Jerry Jones said of Felix Jones. "He actually had a little compromising situation with his left knee. But came back out there, this is a good sign, and he played on that."
Wide receivers
Kevin Ogletree
(concussion) and
Dwayne Harris
were hurt late in the fourth quarter of the overtime win. Ogletree said he passed a concussion test but he didn't return after taking a hard hit under the chin on an incompleted pass. Harris was shaken up for an undetermined injury but later returned.
Defensive lineman
Josh Brent
(pinkie) left the locker room with a splint on his finger, running back
Lance Dunbar
had a minor procedure done on his knee, and safety
Danny McCray
(hip) left the game briefly but returned after getting a pain medication shot.
September, 11, 2012
9/11/12
1:00
PM ET
A look at the snaps played by Cowboys' offensive players during the team's season-opening 24-17 win over the
New York Giants
and analyzing what it means:
RT Doug Free:
68 of 68
RG Mackenzy Bernadeau:
68 of 68
LG Nate Livings:
68 of 68
LT Tyron Smith:
68 of 68
C Ryan Cook:
65 of 68
QB Tony Romo:
68 of 68
WR Dez Bryant:
58 of 68
WR Miles Austin:
57 of 68
TE Jason Witten:
53 of 68
RB DeMarco Murray:
52 of 68
WR Kevin Ogletree:
33 of 68
TE John Phillips:
30 of 68
FB Lawrence Vickers:
29 of 68
RB Felix Jones:
12 of 68
TE James Hanna:
9 of 68
WR Cole Beasley:
4 of 68
C Phil Costa:
3 of 68
OL Jermey Parnell:
2 of 68
RB Phillip Tanner:
1 of 68
Felix Jones, the former No. 1 draft pick, played sparingly and did not carry the ball. Tony Romo directed two passes his way, but he had no offensive impact. ... The pecking order for the Cowboys' six receivers revealed itself -- at least through the first week -- based on playing time. Cole Beasley played ahead of
Dwayne Harris
and
Andre Holmes
, each of whom had large special teams roles, but none in the offense. That's because Beasley can play the slot on the rare occasion the Cowboys go three wide and Austin isn't in the slot or when the Cowboys use four receivers out of the shotgun. ... Jeremy Parnell played only two plays, but he whiffed on the block when fullback Lawrence Vickers was stopped on fourth-and-1.
October, 14, 2010
10/14/10
10:32
AM ET
The Dallas Cowboys signed offensive tackle Jermey Parnell on Thursday morning.

Parnell was on the practice squad for the New Orleans Saints, with whom he signed as an undrafted rookie free agent out of Mississippi in 2009. Parnell was released by the Saints on Sept. 4 and immediately claimed by the Miami Dolphins, who released him Sept. 25. Parnell resigned with the Saints' practice squad on Sept. 28.

The 6-foot-6, 290-poound Parnell played only one season of football at Ole Miss and was a defensive end that year. He played four seasons for Ole Miss' basketball team.