Dallas Cowboys:

Jermichael Finley
October, 7, 2013
10/07/13
2:00
PM ET
A review of four hot issues from the
Dallas Cowboys
' 51-48
loss
to the
Denver Broncos
:
[+] Enlarge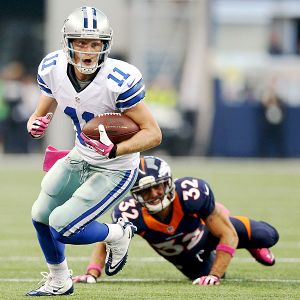 Matthew Emmons/USA TODAY SportsCole Beasley scored the first touchdown of his career and finished with four receptions for 47 yards.
Empty it out:
The Cowboys broke out their empty package against the Broncos and had great success. Unoffically, quarterback
Tony Romo
completed 10 of 13 passes for 235 yards when the Cowboys left the quarterback alone in the backfield. Only one of Romo's four sacks came in an empty look. That was one of the bigger changes the Cowboys used to attack the Broncos and Romo made it work. Romo's 79-yard throw to receiver
Dez Bryant
came out of an empty look, but Bryant's fumble came when the Cowboys motioned to an empty look. Romo's shortest completions in the 01 or 02 package were a pair of 10-yarders.
Finding the weakness:
As head coach Jason Garrett says, every defense has a weakness and the opponents have found the Cowboys' in their 4-3 scheme. San Diego completed 20 passes for 238 yards to running backs and tight ends. The Broncos completed 18 passes for 221 yards. They have given up back-to-back 100-yard games to tight ends in
Antonio Gates
(136) and
Julius Thomas
(121). With Minnesota's
Kyle Rudolph
, New Orleans'
Jimmy Graham
, Chicago's
Martellus Bennett
and Green Bay's
Jermichael Finley
left on the docket, the Cowboys better figure out how to defend the tight end better.
Playing to its level:
The Cowboys are realizing just how valuable defensive end
Anthony Spencer
is to this defense. Perhaps nose tackle
Jay Ratliff
too. With Spencer out for the year and Ratliff on the physically unable to perform list for at least one more game and possibly a lot longer, the Cowboys' defensive line is getting exposed. Defensive end
DeMarcus Ware
and defensive tackle
Jason Hatcher
are the only players in the roles that were set before the season started. The rest of the line was hardly expected to make the roster. For as well as defensive end
George Selvie
and defensive tackle
Nick Hayden
have played at times, they were still out of work this summer and not on a team last season respectively. Defensive line coach Rod Marinelli was lauded for his work the first three games, but in the past two games the Cowboys have one sack.
Filling a role:
It's too easy to compare receiver
Cole Beasley
to
Wes Welker
. The Cowboys have found a role for Beasley in the slot. Beasley caught four passes for 47 yards and had his first touchdown, a 4-yarder in the fourth quarter. He looked positively Welker-like on his 23-yard catch, working the middle of the field with his quickness on the defensive back. He will be limited as an outside receiver, but his effectiveness underneath and the trust Romo has in him will make Beasley a factor on the offense, especially if the Cowboys continue to roll out their aforementioned empty package.
February, 24, 2012
2/24/12
11:00
AM ET
INDIANAPOLIS -- With Green Bay re-signing
Jermichael Finley
to a two-year contract this week,
Martellus Bennett
moves up a spot in the pecking order of free agent tight ends.
The thinking is that Bennett wants a chance to start and play more elsewhere, but coach Jason Garrett has not closed the door on a possible return for Bennett, the team's second-round pick in 2008.
"We have to see what happens with Martellus and what kind of opportunity he has elsewhere compared to what we would give him here and evaluate that situation," Garrett said. "We value tight ends and Martellus has been a guy sometimes people have beaten up on but has been an effective player for us. He's one of the best blocking tight ends in the league and we feel he can still grow as a receiver."
If Bennett leaves, the Cowboys will have to address the tight end spot in free agency and/or the draft with only
Jason Witten
and
John Phillips
on the roster. The Cowboys have carried four tight ends on the 53-man roster at different times in the last few years.
March, 29, 2011
3/29/11
1:05
PM ET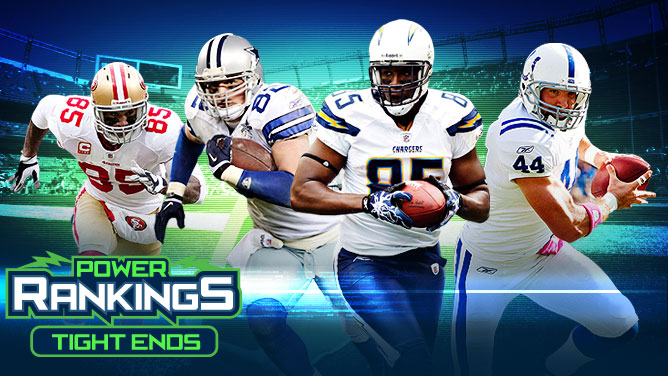 ESPN.com IllustrationDallas' Jason Witten earned the top spot in our voting over San Diego's Antonio Gates.
ESPN.com's NFL writers rank the top 10 tight ends in the league today. Next week: Top 10 coaches.
Antonio Gates
has received the
Adrian Peterson
treatment.
This guy didn't do it this time.
Up from the NFC South rises Pat Yasinskas into the ESPN.com Power Rankings' hot seat. Embrace the heat, my friend. In another airtight positional Power Rankings battle, Dallas'
Jason Witten
edged out Gates by one vote to be crowned the almighty ruler of all NFL tight ends.
How in the name of Kellen Winslow did it happen, San Diego? Talk to Yasinskas.
Yasinskas ranked Atlanta's
Tony Gonzalez
No. 2. He had Witten No. 1 and Gates No. 3. Witten finished with 76 voting points. Gates had 75. No other voter placed Gonzalez higher than fifth. He finished sixth.
Send your cards and letters to Yasinskas, Dallas
. If you must let him know your thoughts, stay classy, San Diego.
Yasinskas reasoned that he sandwiched Gonzalez between Witten and Gates because of Gonzalez's incredible career. Gonzalez, 35, owns every major receiving record by a tight end.
"Yes, he's nearing the end of his career, but this is the best tight end in history," Yasinskas said. "I think that counts for something. Gonzalez still is playing at a high level. He has great chemistry with quarterback
Matt Ryan
and the desire for a Super Bowl ring is keeping Gonzalez going strong."
Here is the rest of the top 10 after Witten and Gates: Indianapolis'
Dallas Clark
(53 points), San Francisco's
Vernon Davis
(50), Washington's
Chris Cooley
(36), Gonzalez (33), Tampa Bay's
Kellen Winslow Jr.
(26), Jacksonville's
Marcedes Lewis
(21), Detroit's
Brandon Pettigrew
(18) and Green Bay's
Jermichael Finley
(15).
Witten and Gates clearly stand out as the game's elite tight ends. Witten was ranked first on four ballots and second on the other four. Gates received the other four first-place votes. He received three second-place votes and Yasinskas' third-place vote.
The only thing that separated Witten and Gates in 2010 was health. Witten, 28, had 94 catches for 1,002 yards and nine touchdowns last season. Gates, 30, was on his way to a brilliant season when it was derailed by nagging ankle and foot injuries. Gates ended up on injured reserve and missed six games. He finished with 50 catches, 782 yards and 10 touchdowns.
Matt Williamson of Scouts Inc. said both Witten and Gates are game-changers.
"Witten to me is the class of the two-way tight ends," Williamson said. "Receiving needs to trump blocking because that is what the league is right now. If someone put Witten first on the list, I can buy that. In terms of doing it all, I think he is the best. … I think he is the best of the two-way guys if you put an equal amount of faith in both receiving and blocking. He is the all-around tight end prototype. If you put more weight on receiving, which I would, you have to give the nod to Gates. He was awesome last year. He was hurt and that was the only negative other than blocking. He played hurt a lot and was great."
Let's dig deeper into the rankings:
Not easy pickings:
Several of our voters were surprised by the difficulty of this process. This is our fourth position in the series. We previously looked at receivers, running backs and pass-rushers. The pass-rushers process was very difficult. This vote was not a cool breeze, either.
This is a very strong league for tight ends these days.
"After a hellish pass-rusher ballot, I thought tight ends would be far easier," AFC South blogger Paul Kuharsky said. "They were just as difficult. There is a great deal of young talent too. I steered clear of first-year guys, but in another season or two, this could be even more brutal to sort through."
Blame injuries:
In addition to the glut of talent, a primary reason this vote was so difficult was the fact that there were major injuries at this position in 2010. In addition to Gates, Clark, Finley and Houston's
Owen Daniels
were injured. That changed the voting landscape.
"I thought it was tough because there are a lot of guys with mitigating circumstances," NFC North blogger Kevin Seifert said.
Clark's injury prompted Yasinskas to rank him 10th. No other voter placed him lower than fourth.
"There's no doubt this guy has had a great career," Yasinskas said. "But I ranked him a little lower than most and that's almost entirely because he missed 10 games last season. Clark is 31 and I'm not sure he'll be the same player going forward."
[+] Enlarge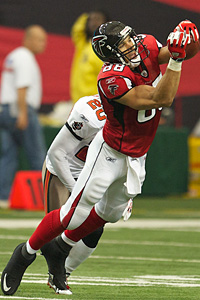 Dale Zanine/US PresswireWill star Falcons tight end Tony Gonzalez finally notch his first playoff win on Sunday?
Not everyone loves Tony G.:
Clearly, Yasinskas believes in Gonzalez. He gets to see him play regularly and thinks he's still an impact player. That's why he ranked him second. But not everyone agrees that the future Hall of Famer is still an elite player. Kuharksy left Gonzalez off his ballot altogether.
"Gonzalez is still an excellent player," Kuharsky said. "But as I struggled to find room for the 10 I felt needed to make the cut, he fell off. In 2010 his numbers suggest he was more quantity than quality. I'm not looking for giant plays from my tight end, but Dallas Clark replacement
Jacob Tamme
matched Gonzo's 9.4 yards a catch, and while Gonzalez's first-down percentage was good (55.7), it was way lower than that of the three top rookies and smaller than that of guys like
Heath Miller
,
Ben Watson
and
Todd Heap
, whom I hardly considered. One final note: As I've got access to Frank Wycheck during three shared radio appearances a week, I asked him for a ballot. I'm sure he admires Gonzalez's body of work. But right now Gonzalez wasn't in Wycheck's top 10 either."
The Davis flip-flop:
The 49ers' immensely talented tight end received a wide range of support. Four voters had him third. Yet, I had him ranked ninth and Yasinskas had him eighth. I like Davis, but I'm not convinced we always see his best effort.
NFC West blogger Mike Sando was among those who voted Davis third. Sando argued that Davis has made an impact despite playing with subpar quarterbacks.
"It's easy to forget about Vernon Davis because he plays for a low-profile team that has struggled," Sando said. "If you've seen the 49ers much, you know Davis makes the huge play better than any tight end in the league. He'll catch touchdown passes for 60 or 70 yards, outrunning even cornerbacks. He remains unrefined and can still improve his all-around game quite a bit, but his 20 touchdown receptions over the past two seasons rank first among tight ends."
This position is in it for the long haul:
I remember a conversation I had with Gates prior to the 2009 season. He was glowing over all the young talent at the position in the NFL. Gates rattled off several young tight ends he expected to have bright careers.
There's no doubt, this is a special time for tight end play. As Gonzalez puts the cap on the most brilliant career by anyone at the position in the history of the game, the position is well stocked for the future.
Five players on the list -- Davis, Winslow, Lewis, Pettigrew and Finley -- are 27 or younger. The only players who are 30 or older on the list are Gonzalez, Clark and Gates.
Oakland's
Zach Miller
and the Jets'
Dustin Keller
, who finished 11th and 12th, respectively, are also young players. Miller is 25 and Keller is 26.
November, 5, 2010
11/05/10
8:00
AM ET
By
Bryan Broaddus
| ESPNDallas.com
The last time that these two historic franchises met was in 2009 on a Sunday afternoon contest at Lambaeu Field. The Packers were at a real crossroads in their season with a record of 4-4 and really going nowhere after back-to-back losses to the Vikings and the Bucs. The Cowboys were 6-2 and all seemed right in the world for the team as they prepared for that trip to Green Bay riding a four-game winning streak.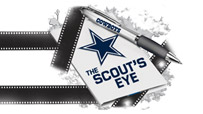 The Packers beat the Cowboys 17-7 and that day saved their season. As we approach week 8 of the NFL season, you will find much of the same talk that was in Green Bay last year is now here in Dallas.
The general manager needs to make a coaching change and the players are not near as talented as we all thought they were. Sitting at 1-6, players and coaches are now left wondering what has happened to their season.
The Jacksonville game was the worst that I had seen this team look all season. I understand what happened in the Giants game because I know New York's personnel, but to lose to the Jaguars was beyond reason.
The one outstanding thing about the NFL is that Sunday offers you another opportunity to compete for the chance to either improve or continue to have to answer the difficult questions that come with losing. The Cowboys travel to Lambeau Field and will attempt to get a win against a good football team but not a great one.
This is a Green Bay team that has been struck with injuries to key members of their team, such as tight end
Jermichael Finley
, running back
Ryan Grant
, safety
Morgan Burnett
and linebacker
Nick Barnett
. all of whom have gone on injured reserve. Coming into this contest with the Cowboys, the Packers best receiver,
Donald Driver
, will miss this game with a quad injury.
[+] Enlarge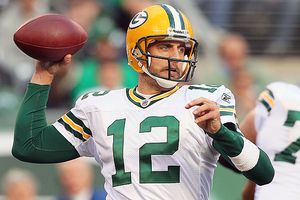 Jim McIsaac/Getty ImagesPackers QB Aaron Rodgers is an accurate passer that throws a pretty deep ball and shows wonderful touch on his passes.
Despite this rash of injuries, the Packers have managed to hold things together and fight for five victories. One of the main reasons that the Packers have been playing well is quarterback
Aaron Rodgers
. What has been really impressive about Rodgers is his ability to continue to make plays without any type of running game, a rookie at right tackle, an outstanding tight end on injured reverse and a tough, gritty receiver that was trying to fight through a quad injury to help his team win games.
When you study Rodgers, you see a quarterback that is mobile, decisive and just doesn't make mistakes with the football. In the Vikings game earlier this year, Rodgers had his first red zone interception in 39 starts.
The Packers are 32-6 when they are ahead in the turnover battle and 6-17 when they are not. Rodgers rarely makes any kind of mistakes.
Where Rodgers is the most effective is when he can get in the shotgun and work in their three-wide receiver packages. He is an accurate passer that throws a pretty deep ball and shows wonderful touch on his passes.
I mentioned how mobile he is in the pocket, and when opportunities to move forward and make throws present themselves, he is more than up to the challenge. Where the Cowboys have to be careful is not allow Rodgers to use his legs to make second-chance plays.
In the 2009 game,
Jay Ratliff
did a nice job of playing against Packers center
Scott Wells
. If Ratliff can break down the middle of the pocket, it will give no place for Rodgers to step up and make throws.
Where the Cowboys also had some success against the Packers last season was the slot blitz with
Orlando Scandrick
. Would not be one bit surprised if Wade Phillips has that one in his game plan and ready to go.
This game will be won for the Packers if they are able to protect Rodgers. I am not impressed at all with
Brandon Jackson
at running back and I think this is a handicap for the Packers.
Rodgers throwing the football is the way that the Packers will go but again, protection will be key and the Packers are in the top 10 in allowing sacks per attempt.
*
For defensive coordinator Dom Capers
and his Packers defense, the rankings have not been all that impressive, but they do stand out in sacks and points allowed.
[+] Enlarge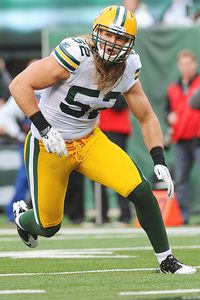 AP Photo/David DrapkinPackers LB Clay Matthews is a relentless, high effort and motor type of guy who never stops coming after the quarterback and the ball.
This team does an outstanding job of getting after the quarterback and it really starts with linebacker
Clay Matthews
. Matthews is a relentless, high effort and motor type of guy. He never stops coming after the quarterback and the ball.
For a second-year player, he has tremendous skill as a pass rusher. His technique is that of players with much more experience in the league. Swat, swim, rip, duck, spin … but all the time, working his way up the field.
What is interesting about Matthews is that he is doing it from one side the majority of the time. He will line up to the offense's right and work against your right tackle. For the Cowboys, the blocking assignment will fall to
Marc Colombo
, who has been limited in practice with the back condition. Matthews against a healthy tackle is a handful, but Colombo is a veteran that plays with a great deal of toughness and much more of that than skill.
When
Jon Kitna
comes to the line, there is no doubt in my mind that he will use his pre-snap reads to direct protection to Matthews' side. There is no way that the Cowboys can allow Matthews to take over this game as a rusher if they are unable to run the football. Look for the Cowboys to commit as many blockers as they can to help Colombo manage the game against Matthews.
The Packers secondary does a nice job of playing the ball in the air. Since 2008, cornerback
Charles Woodson
and safety
Nick Collins
have 18 and 14 interceptions respectively. Both of these players are always around the football.
Woodson is a master of creating the turnover. He is always punching and grabbing at the football. The Cowboys ball carriers need to be well aware of Woodson when he is in the middle of the tackle.
In 2010, the Packers' 15 takeaways have been converted into eight touchdowns and the Packers have scored points in 14 straight games off turnovers at Lambeau Field.
In the 2009, it was Woodson that covered tight end
Jason Witten
in certain situations. Woodson will usually play in the slot on nickel so he could also see some time on
Miles Austin
.
Kitna and the Cowboys offense need to be aware of Woodson when he is around the line of scrimmage because Capers will use him as a blitzer. Woodson is one of the best in NFL history when he comes on a blitz. He has a real feel for how to separate the ball from the quarterback. When you study him, you can see that he takes a great deal of pride in doing this job for his team.
This will be a difficult task for the Cowboys ahead because the Packers play well at Lambeau, where they are 22-8 in the last 30 home games. But this is an opportunity to restore some pride and move forward for the Cowboys instead of continuing to have to answer the questions of what once again went wrong in a loss.
November, 15, 2009
11/15/09
12:27
PM ET
Inactives for Cowboys-Packers game


GREEN BAY, Wisc. -- Here are the Cowboys-Packers inactives for Sunday afternoon:
Dallas: CB Allen Rossum, S Michael Hamlin, LB Steve Octavien, LB Jason Williams, G Montrae Holland, G/C Duke Preston, T Pat McQuistan. Stephen McGee is the third quarterback.
Green Bay: WRs Jake Allen and Biren Ealy, FB Quinn Johnson, LB Brady Poppinga, Tackles Mark Tauscher and Breno Giacomini, LB Aaron Kampman and TE Jermichael Finley.
T.J. Lang starts at right tackle for Tauscher, and Brad Jones replaces Kampman at outside linebacker. The Cowboys have no lineup changes.