Dallas Cowboys:

Jerome Long
January, 6, 2014
Jan 6
3:30
PM ET
IRVING, Texas -- No team in the NFL needed more players on defense than the
Dallas Cowboys
in 2013.
They had 41 defenders with cornerback
Brandon Carr
playing the most (1,116 snaps) and
Dez Bryant
playing the least (three). The
Indianapolis Colts
and
New Orleans Saints
had the second most with 32 players on defense.
In training camp, the Cowboys' projected defensive line was
Anthony Spencer
,
Jason Hatcher
,
Jeremiah Ratliff
and
DeMarcus Ware
. Hatcher played the most snaps (747) but that was only 66 percent of the snaps. Ware missed three games and played 628 snaps (55 percent). Spencer played 34 snaps in one game before his season ended. Ratliff, of course, played none before his release.
Nick Hayden
played the most snaps on the defensive line (821).
George Selvie
did not join the team until training camp began and played 744 snaps.
With Hatcher and Spencer set to be free agents and Ware coming off a career-low six sacks, the Cowboys need to refurbish their defensive line in a way where Hayden and Selvie are not playing as much.
The Cowboys used 20 defensive linemen during the season, although
Kyle Wilber
moved to linebacker late in the season and played 501 snaps.
It might not have seemed this way, but
Jeff Heath
played only 79 more snaps than
J.J. Wilcox
.
Defensive snaps:
1,116 – Brandon Carr
1,088 –
Orlando Scandrick
1,015 –
Barry Church
874 –
Bruce Carter
821 - Nick Hayden
747 – Jason Hatcher
744 – George Selvie
702 –
Sean Lee
628 - DeMarcus Ware
594 - Jeff Heath
515 - J.J. Wilcox
506 –
Morris Claiborne
501 – Kyle Wilber
380 –
Ernie Sims
275 –
Jarius Wynn
254 -
Drake Nevis
207 –
DeVonte Holloman
197 –
Justin Durant
178 –
B.W. Webb
163 –
Will Allen
153 –
Everette Brown
144 –
Caesar Rayford
117 –
Corvey Irvin
81 –
Sterling Moore
72 -
Edgar Jones
63 –
Cameron Lawrence
49 –
David Carter
46 –
Jason Vega
45 –
Jerome Long
38 –
Landon Cohen
34 – Anthony Spencer
34 –
Frank Kearse
24 –
Kyle Bosworth
22 –
Micah Pellerin
20 –
Everett Dawkins
20 –
Martez Wilson
16 –
Jakar Hamilton
15 –
Marvin Austin
8 –
Danny McCray
6 –
Orie Lemon
3 – Dez Bryant
November, 6, 2013
11/06/13
11:50
AM ET
IRVING, Texas -- Since May 16, the
Dallas Cowboys
have signed, traded, acquired, put on injured reserve or released 28 defensive linemen. They saw another,
Josh Brent
, retire on July 18.
Everett Dawkins and
Hall Davis
are the latest additions. Dawkins was signed off the
Minnesota Vikings
' practice squad to the active roster, and Davis filled the final practice-squad vacancy.
There has been an incredible amount of movement on the Cowboys' defensive line. If you remember the Travis Chappelear era consider yourself fortunate.
Check out these transactions by date involving only the defensive line:
May 16 – Signed
Anthony Hargrove
June 5 – Waived/injured Robert Callaway
June 11 – Signed
Jeris Pendleton
June 20 – Cut Hargrove
June 25 – Signed
Jerome Long
July 18 – Josh Brent retired
July 26 – Signed
George Selvie
and
Landon Cohen
July 31 – Cut Ike Igbinosun, signed Toby Jackson
Aug. 1 – Waived/injured
Cameron Sheffield
Aug. 6 – Waived Monte Taylor, signed Jabari Fletcher
Aug. 12 – Signed Travis Chappelear
Aug. 13 – Claimed
Thaddeus Gibson
Aug. 19 – Waived Chappelear, Jackson
Aug. 21 – Signed
Jason Vega
Aug. 26 - Cut Pendleton
Aug. 27 – Placed
Tyrone Crawford
on injured reserve,
Jay Ratliff
on reserve/PUP
Aug. 31 – Cut Fletcher, Gibson, Long, Vega; acquired
Edgar Jones
from Kansas City
Sept. 1 – Traded
Sean Lissemore
to San Diego
Sept. 2 – Signed Vega to practice squad
Sept. 3 – Acquired
Caesar Rayford
from Indianapolis
Sept. 5 – Chappelear waived off injured reserve
Sept. 7 – Placed
Ben Bass
on injured reserve; re-signed Long
Sept. 17 – Cut Cohen, signed
David Carter
Sept. 24 – Cut Long, signed
Drake Nevis
Sept. 25 – Placed
Anthony Spencer
on injured reserve
Oct. 15 – Cut Carter, Signed
Jarius Wynn
Oct. 16 – Released Ratliff off reserve/PUP
Oct. 18 – Signed Vega off practice squad; placed Jones on IR to return list
Oct. 21 – Signed
Marvin Austin
Oct. 29 – Released Vega; signed
Everette Brown
Oct. 31 – Signed Vega to practice squad
Nov. 5 – Cut Austin
Nov. 6 – Signed Everett Dawkins off Minnesota practice squad; signed Hall Davis to practice squad
September, 9, 2013
9/09/13
4:16
PM ET
ARLINGTON, Texas -- The Cowboys' injury-depleted defensive line didn't just get by against the Giants. The Dallas front four was a dominant force.
In fact, the four Cowboys who received the highest grades from ProFootballFocus.com's play-by-play evaluation of the season-opening win were starting defensive linemen.
[+] Enlarge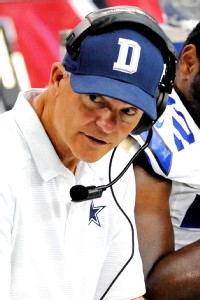 Casey Sapio/USA TODAY Sports"I'm really proud of some of these guys coming in off the bus," Dallas Cowboys defensive line coach Rod Marinelli said.
Much of the credit must go to defensive line coach Rod Marinelli, the most overqualified position coach in the league.
It's not necessarily a surprise to see defensive end
DeMarcus Ware
and defensive tackle
Jason Hatcher
at the top of the list, although this was their first game in a 4-3 scheme. It's much more noteworthy that defensive end
George Selvie
and defensive tackle
Nick Hayden
, a couple of fill-in starters for former Pro Bowlers, performed so well.
Selvie figured his football career could be over when he didn't get signed all offseason, then seized his opportunity when the Cowboys called him after
Anthony Spencer
needed knee surgery the first week of training camp. Hayden was out of football last season, but he's consistently impressed the Cowboys coaches since signing in the spring.
The Cowboys also got quality contributions from reserve defensive tackle
Landon Cohen
, who was out of football last year and signed with the Cowboys the same day as Selvie, and reserve defensive tackle/end
Jerome Long
, who was released in the cuts to 53 and re-signed the day before the opener.
"Man, they did an awesome job," said Hatcher, who had a sack and a hurry. "Hayden just had a monster game. Selvie came in and a few guys came in off the street. Long came in like yesterday and spared us a few plays.
"When you have leaders on the D-line, it's easy to bring guys in and show them the way. Hats off to those guys, man. They did a tremendous job coming in off the street and doing what they do."
Ware picked off an
Eli Manning
screen pass on the first snap of the game. He was relatively quiet the rest of the night, recording one hurry and one pass defensed, but his mere presence as a pass-rushing threat made a major impact.
Selvie benefitted from the Giants sliding protection towards Ware. The 26-year-old journeyman had a critical sack in the red zone, two hurries and a fumble recovery.
Hayden anchored the Dallas run defense, which held the Giants to 3.6 yards per carry, and forced the fumble that safety
Barry Church
returned for a touchdown.
"I'm really proud of some of these guys coming in off the bus," Marinelli said. "They played very well and played very hard. We'll get better."
September, 6, 2013
9/06/13
3:21
PM ET
IRVING, Texas -- Needing as many able bodies along the defensive line as possible for Sunday's game against the
New York Giants
because of injuries, the
Dallas Cowboys
will re-sign Jerome Long, who was among the team's final cuts last week.

To make room for Long,
Ben Bass
, who dislocated his left shoulder in Thursday's practice, is expected to be placed on injured reserve. A source indicated Bass would miss at least a month with the injury. It's the second time in two seasons Bass has ended up on injured reserve.
Teams can only use the returnable injured reserve designation on one player, so the Cowboys wanted to protect themselves some by not using it on Bass. Long signed with the Cowboys on June 25 and played in five preseason games before being released Aug. 31.
With Long's knowledge of the scheme, ability to play end and tackle and non-guaranteed salary, he was the best fit.
"He understands the scheme better than anybody," defensive tackle
Jason Hatcher
said. "He's one of those guys who got caught up in a numbers game. I thought he did a good job at the three-technique and he can play end. He can spare me a lot and you've got [
Landon] Cohen
. He can play the three-technique and nose. We're not worried about the game at all."
Maybe, but Hatcher knows his snap count will be high Sunday. High for
DeMarcus Ware
, too.
"It's just really going to test our character," Hatcher said. "The guys who are here, me and D-Ware, we've got to do a little more. Our workload's going to be a little more. We can handle it."
August, 29, 2013
8/29/13
12:30
PM ET
IRVING, Texas -- The
Dallas Cowboys
meet the
Houston Texans
in the preseason for the first time since 2010 at AT&T Stadium. Intrastate pride might be on the line for the fans of both teams, but little else.


With 75 players on the roster, some jobs remain but most are filled. Here's what we'll be looking at tonight:
Job fair:
With 18 roster moves to make by Saturday's cut-down date, most of the decisions have likely been made. There are perhaps two open spots with as many as eight guys looking to fit the square peg. Would the Cowboys carry five tight ends? How about six receivers? Nine defensive linemen?
Defensive tackle
Sean Lissemore
, tight end
Andre Smith
, wide receiver
Anthony Armstrong
, cornerback
Micah Pellerin
, tackle
DeMetress Bell
, guard
David Arkin
and guard
Kevin Kowalski
can make their cases tonight. Linebacker
Brandon Magee
(concussion), safeties
Eric Frampton
(calf),
Danny McCray
(hamstring) and
Matt Johnson
(foot) will have to watch and sweat out the final decisions.
PODCAST
Dez Bryant joins Tim MacMahon and Landry Locker to discuss his hobby of studying the game's great receivers, if his next contract ever crosses his mind, what it was like to be investigated by the NCAA and much, much more.

Listen

Tanney time:
Maybe
Kyle Orton
opens the game, but the Cowboys will give
Alex Tanney
most of the work.
With needs at other positions and injury questions going into the opener, Tanney is looking more like a practice-squad fit than a 53-man roster fit. If he plays lights out, he could change the equation or at the very least get another team to keep him on the 53-man roster the way
Matt Moore
did a few years ago.
Check out the Texans:
Last year the Cowboys closed the preseason against Miami and traded for veteran offensive lineman
Ryan Cook
a few days later based on what they saw in that game.
With the Cowboys moving to a pure zone blocking scheme this year, check out the Texans' offensive linemen. Assistant offensive line coach
Frank Pollack
spent five years with the Texans (2007-11) and will have a good idea of what would be a good fit with the Cowboys.
As unsettled as the Cowboys are with their starting offensive line they're more unsettled with the backups. A case could be made they don't have a ninth or 10th guy (if they choose to reach double digits) on their current roster to fill out the line.
Earning practice squad jobs:
Tanney has been talked about, but there will be seven other spots to fill. The Cowboys like to keep receivers and defensive backs on the practice squad because of the amount of running in practice, so guys like
Danny Coale
,
Tim Benford
and Pellerin bear watching.
And the line play will have candidates to, like defensive end
Jerome Long
and offensive tackle
Darrion Weems
. Linebacker could be another spot of interest with
Cameron Lawrence
and
Taylor Reed
.
The digital board:
Chris Jones
hit it last week with a punt against Cincinnati and the Bengals returned the re-kick 75 yards for a touchdown, continuing a preseason-long issue of special teams' miscues. Jones is unlikely to hit it again, but watching it to see the clock tick down will be more important because it brings us closer to the start of the regular season.
August, 25, 2013
8/25/13
1:00
PM ET
IRVING, Texas -- By Tuesday, the
Dallas Cowboys
will have to make 13 roster moves to get to the 75-player limit.
While some teams will make the moves before the deadline, the sense is the Cowboys will not be announcing their cuts on Sunday, so we'll take some educated (stop laughing) guesses.
The only lock is that defensive end
Tyrone Crawford
will be moved to injured reserve as he recovers from a torn Achilles. He was hurt in the first training camp practice but if the Cowboys had put him on IR before the cut to 75, they would have had to expose him to waivers, and he would have been claimed. This move keeps Crawford with the team.
With the starters not playing, with perhaps some exceptions, you have to keep numbers at certain spots over others. Running back
Kendial Lawrence
might not make the team, but if he is cut, then Dallas has two backs ready for Thursday in
Phillip Tanner
and
Joseph Randle
because of
Lance Dunbar
's foot injury.
Another question is at quarterback. Do the Cowboys keep
Nick Stephens
and play him versus Houston on Thursday and sit
Alex Tanney
? As we look at the 12 remaining moves, we'll go with the idea that Stephens will be around.
Possible cuts:
Wide receiver:
Anthony Amos
,
Eric Rogers
,
Jared Green
. If
Cole Beasley
is healthy, then the Cowboys would have six receivers to play against the Texans. That's enough to get through the game. If Beasley isn't healthy, then Rogers could be kept. Rogers and Green could be brought back to the practice squad after the final cuts on Aug. 31.
July, 29, 2013
7/29/13
12:37
PM ET
OXNARD, Calif. -- Sunday was the first time during training camp when the Cowboys could tackle to the ground.
PODCAST
Cowboys rookie Travis Frederick joins Fitzsimmons and Durrett to discuss the latest from training camp in Oxnard, Calif.

Listen

The Blue-White scrimmage was designed for the second-and-third teams to get more snaps in game situations. The Cowboys worked on moving the ball down field, the two-minute drill and special team coverage.
"It's huge learning a new system, moving the football up and down the field, two-minute situations, a lot of situational defenses -- it was good for us," defensive coordinator Monte Kiffin said. "I thought we played good early with the first group, and the second group played really well."
Kiffin wasn't the only one pleased with Sunday's scrimmage.
"I thought it was a good pace on both sides of the ball," rookie center
Travis Frederick
said. "Guys were coming out and competing, and that's one of the things we wanted to do and that's what the coaches are telling us to do, and that's compete."
The defense took control of the scrimmage for the most part Sunday with the second- and third-team offenses failing to score any points. The only positive play for the offense came when quarterback
Nick Stephens
threw a deep pass to
Tim Benford
that drew a pass interference penalty on cornerback
Devin Smith
.
Several defensive backups, including
B.W. Webb
,
Landon Cohen
,
Monte Taylor
and
Jerome Long
, made big plays. Webb intercepted a
Kyle Orton
pass and returned it for a touchdown, and Cohen continued to excel as he picked up another sack.
July, 29, 2013
7/29/13
8:00
AM ET
OXNARD, Calif. – Sunday's Blue-White scrimmage was about the younger players, and the defense was ahead of the offense.
Of the five drives, the offense had to punt four times. The best drive was the last drive that ended with a
Joseph Randle
touchdown run to the right. The score was set up by a pass interference penalty on
Devin Smith
after he got beat by wide receiver
Tim Benford
.
PODCAST
Tim MacMahon joins Richard Durrett and Landry Locker from Oxnard, Calif., to discuss the latest news from Cowboys training camp.

Listen

Defensive linemen
Landon Cohen
,
Monte Taylor
and
Jerome Long
came up with sacks of quarterbacks
Alex Tanney
and
Nick Stephens
.
June, 24, 2013
6/24/13
12:58
PM ET
PODCAST
Nate Newton joins Fitzsimmons & Durrett to discuss Dez Bryant, Tony Romo and the Cowboys' offensive line as training camp approaches.

Listen

IRVING, Texas -- The Cowboys signed defensive lineman Jerome Long to take the roster spot of
Anthony Hargrove
, who was cut last week.
Long took part in the Cowboys' rookie minicamp on a tryout basis but was not signed. He was a seventh-round pick by Kansas City in 2012 and was signed off the Chiefs' practice squad late last season by Jacksonville. The Jaguars cut Long in April.
Long, 6-4, 285 pounds, had 69 tackles and five sacks as a senior at San Diego State.
The Cowboys have 13 defensive linemen on the 90-man roster.
May, 9, 2013
5/09/13
1:14
PM ET
IRVING, Texas – Last year, defensive end
Ben Bass
turned a rookie minicamp tryout into spot on the Cowboys' practice squad and eventually a call-up to the 53-man roster.
PODCAST
With the Cowboys opening rookie minicamp, Galloway and Mosley discuss the incoming rookie class and who will make the biggest impact.

Listen

The Cowboys have invited 14 players to this weekend's rookie minicamp in hopes of finding another Bass, including three players with local ties: Houston linebacker Everett Daniels (Sachse) and two Texas Tech-exes, wide receiver
Darrin Moore
(Irving MacArthur) and long snapper Jesse Smitherman (Burleson).
The other invitees are tight end B.J. Stewart (Cumberland), wide receiver
Anthony Amos
(Middle Tennessee), tackle
James Nelson
(UTEP), defensive end
Tremayne Scott
(Ohio), defensive lineman
Jerome Long
(San Diego State), defensive tackle
Nick Johnson
(Baylor), defensive tackle DiMetrio Tyson (Jacksonville State), running back
Robbie Rouse
(Fresno State), offensive lineman D.J. Hall (Texas State), guard Micah James (Middle Tennessee) and cornerback Adrien Spencer (Bowling Green).
They will join the Cowboys' seven draft picks and assorted first-year players at the camp. The first practice is Friday morning.