Dallas Cowboys:

Jerry Reese
February, 7, 2013
2/07/13
2:33
PM ET
Both
Todd McShay

and
Mel Kiper Jr.

have new mock drafts out today, and here's a look at who they project for each NFC East team in the first round. (Remember, the Redskins don't have a first-round pick this year).

4. Philadelphia Eagles
McShay:
Luke Joeckel
, OT, Texas A&M
Kiper:
Dee Milliner
, CB, Alabama
In Mel's mock, Joeckel is gone at No. 1 to Andy Reid and the Chiefs. But if he's there at 4, I think he makes a ton of sense for the Eagles as a right-now right tackle (with
Todd Herremans
moving to guard) or a right-now left tackle (if
Jason Peters
can't make it all the way back from injury) or a critical building block for the future. With Joeckel and
Star Lotulelei
off the board in Mel's mock, Milliner makes sense as the Eagles look to rebuild the secondary. And I still think West Virginia QB
Geno Smith
gets heard from up here before this is all said and done.

18. Dallas Cowboys
McShay:
Sheldon Richardson
, DT, Missouri
Kiper:
Chance Warmack
, G, Alabama
Can't go wrong either way, can the Cowboys, picking offensive line or defensive line here. Warmack at 18 would be incredibly tempting for a team that has huge weaknesses on the interior of its offensive line.

19. New York Giants
McShay:
Alec Ogletree
, LB, Georgia
Kiper:
Zach Ertz
, TE, Stanford
All due respect to Todd, and while I agree with the assessment of need, I will believe the Giants are taking a linebacker in the first round when it is announced and not one second before. Mel's prediction of a potentially elite passing-game weapon at tight end feels more like Jerry Reese's speed.
February, 16, 2012
2/16/12
11:18
AM ET
With the offseason in full swing, let's take a look at one major question facing each NFC East team as they begin preparations for the 2012 season:

DALLAS COWBOYS
Do they have too much work to do?
It's possible that we expect too much from the Cowboys. Their skill-position talent on offense makes them an easy team to like going into the season. Few teams are as good as they are at quarterback and wide receiver, and if
DeMarco Murray
comes back healthy, they look pretty good at running back, too.
But the offseason needs for the Cowboys are myriad. They need guards and a center. They need cornerbacks and safeties. They need a pass-rushing outside linebacker to complement
DeMarcus Ware
. They could stand to beef up on the defensive line.
That's a lot of needs, and it's fair to wonder whether they'll be able to fill them all adequately and construct a 2012 contender. That they were a contender (heck, a leader) in the NFC East right up until the end of the 2011 season leads one to believe they necessarily should be thought of as one again for 2012. But the division was, for the first time ever, won with only nine wins. And the way the Cowboys played defense and protected
Tony Romo
during their 1-4 finish was more alarming than the 7-4 record was encouraging.
NEW YORK GIANTS
What to do with Osi Umenyiora?

The Giants have other issues, sure. They need to work on the offensive line. They need to find a tight end. They need to make individual decisions on players like
Brandon Jacobs
and
Mario Manningham
. But for a team that believes the pass rush is the cornerstone of good defense, the Osi question is a fair one on which to focus right now.
Last summer, when he had two years left on his contract, Umenyiora was obviously unhappy. He sat out training camp practices. He sought (and received) permission to find a team willing to trade for him. He called GM Jerry Reese a liar in a sworn affidavit as part of one of the lockout lawsuits. The Giants never blinked, and in the end Umenyiora returned and became a major contributor to their Super Bowl run.
Now, he has one year left on the contract he hates, and the Giants must decide what to do. Sign him long term, as he wants? Trade him now, while his value is high coming off the Super Bowl and his postseason performance? Or stand pat again and force him to play out his contract, running the risk that he'll be more resolute in his protests and holdouts this time around?
The emergence of
Jason Pierre-Paul
at defensive end opposite
Justin Tuck
gives the Giants leverage, but at the same time, they were much better when all three of those guys were healthy and in the lineup together.
PHILADELPHIA EAGLES

Is a full offseason really what they need?
Last August, after the lockout ended, the Eagles signed a bunch of free agents to play for a revamped coaching staff with a lot of new ideas about how to play defense and offensive line. The party line in Philadelphia now is that this was all too much too soon, and that the Eagles' 3-6 start was due in large part to the inability of all of these new pieces to get on the same page in the absence of an offseason program.
They played well at the end of the season, they point out. Heck, they played well at the beginning of the season, too -- they just couldn't hold a lead. So we'll see whether a real offseason of OTAs and minicamps all spring and summer helps everyone relax and get the most out of a talented roster.
We'll see whether it helps quarterback
Michael Vick
better handle the new responsibilities he took on in 2011, such as changing the protection at the line of scrimmage. We'll see whether the sting of 2011's disappointment can propel the Eagles to great things in 2012, or if it's all a bunch of hooey and they were never that good in the first place.
WASHINGTON REDSKINS

Who's the quarterback?
Rex Grossman
can't come back as anything other than the backup, and
John Beck
... well, just ... no.
The Redskins have many needs, but none as big as this one. Picking sixth in the draft, they'll need to trade up (and outbid other teams to do so) if they want
Robert Griffin III
, who's the best all-around option and a potential franchise quarterback.
But if trading up means dealing away multiple first-round picks and making it difficult for them to address areas such as wide receiver, offensive line and the secondary, it might not be the wisest course of action. That would necessitate a free-agent pursuit of someone like
Kyle Orton
,
Matt Flynn
or -- if they can be convinced he's fully healthy --
Peyton Manning
.
Redskins fans aren't likely to be happy with an imperfect, short-term solution. But only one team is going to get Griffin, and if the Redskins are not that team, they need to spend their resources on a No. 1 receiver and help for the line.
They have about $47 million in cap room and the ability to fill enough holes that plugging in a healthy Manning could make them a 2012 contender. And if that's the way they go, there's always a Matt Barkley or Landry Jones-type option next year.
December, 27, 2011
12/27/11
12:45
PM ET
»
NFC Stock Watch
:
East
|
West
|
North
|
South
»
AFC
:
East
|
West
|
North
|
South
FALLING
1. Cowboys' offensive line
. With the exception of brilliant rookie right tackle
Tyron Smith
, who handled the red-hot
Jason Babin
well most of the night, the
Dallas Cowboys
' line was dominated physically by the Eagles' defensive front. And now, with left guard
Montrae Holland
out with a torn biceps, they're shorthanded for their big division title game against the
New York Giants
and their fearsome D-linemen. Someone on the Cowboys' line is going to have to step up and play better than they've been playing. And no matter what happens Sunday night, interior offensive line is going to be a need position this offseason.
2. The Philadelphia Eagles' draft position.
One more win gets the Eagles to .500 for the season and could slide them further back into the middle of the draft's first round than they already are. (Currently, they'd hold the No. 13 pick). That lessens their chances at an impact player that would hasten their planned 2012 turnaround, but the Eagles have several needs they can address on defense at that point in the draft. They might even be able to get a wide receiver there if they cut ties with
DeSean Jackson
.
3. Washington Redskins' self-confidence:
Flying high two weeks ago after a big victory over the Giants, the Redskins' defense melted down Saturday against
Joe Webb
,
Toby Gerhart
and the
Minnesota Vikings
' bench. The loss deprived the Redskins of a chance to improve on their 2010 record and, as their worst defensive performance of the season, left them scratching their heads a bit as they ponder the future. The thought around Washington has been that this offseason's focus would be on offense. But there may be some tinkering left to do on defense, particularly on the back end.
RISING
[+] Enlarge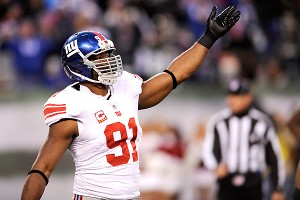 AP Photo/Bill KostrounWith Justin Tuck healthy and on his game, the New York Giants can be a force on defense.
1. Justin Tuck, Giants defensive end.
And, with him, the Giants' defensive line. After last week's pep talks by coach Tom Coughlin and GM Jerry Reese, Tuck was able to exert a little bit of mind over matter for the first time this season, sweep aside the aches and pains that have been bugging him and play his best game so far this year. Tuck admitted after the game he hasn't been mentally right this year, and he has let his injury problems bother him more than they should have. If he's back in the right frame of mind to stay, and the Giants can come after
Tony Romo
from his side and
Jason Pierre-Paul
's on Sunday night, you have to like their chances.
2. Cowboys fans' blood pressure.
Because this should have been taken care of weeks ago. If the Cowboys lose to the Giants and miss the playoffs, the laments will be numerous and woeful. They should have held their late leads against the Jets, Lions, Patriots, Cardinals and Giants. Win two of those five games -- all of which they surely could have won — and they'd have rendered the season finale meaningless. But their inability to finish games has put them in a position to have to finish the season with a tough win on the road. And their fans will spend this entire week fretting over whether Romo, Jason Garrett and the crew have what it takes to do that.
3. Victor Cruz, Giants wide receiver.
His 99-yard touchdown catch flipped the game in favor of the Giants right before halftime and may have been the play of the Giants' season. Cruz also set a new Giants team record for receiving yards in a single season, running his 2011 total to 1,358 and breaking
Amani Toomer
's team record. He's not likely to be announced as a Pro Bowler tonight, because he wasn't on the fan ballot and the fan vote counts for one-third of the total. But his breakout season is a big reason the Giants have a chance to make the playoffs.
April, 21, 2011
4/21/11
3:06
PM ET
»
NFC Draft Watch
:
East
|
West
|
North
|
South
»
AFC
:
East
|
West
|
North
|
South
Each Thursday leading up to the NFL draft (April 28-30), the ESPN.com blog network will take a division-by-division look at key aspects of the draft. Today's topic: Dream scenario/Plan B.
Dallas Cowboys

Dream scenario:
If the Cowboys play things the conventional way and sit tight at No. 9, they'll probably be looking at either defensive end
J.J. Watt
or offensive tackle
Tyron Smith
. Either one would provide good value or fill a big need, and the Cowboys would improve. But Dallas owner Jerry Jones doesn't always do things the conventional way. Although trading up to the top five might be difficult, Jones' imagination could heat up if LSU cornerback
Patrick Peterson
makes it past the first five picks. The entire Dallas secondary had a horrible year last season, and Peterson would provide an instant upgrade. Jones might not be able to sit still if he's within striking distance of Peterson.
Plan B:
If there's no chance at Peterson and the Cowboys aren't excited enough about Watt or Smith, they could reach slightly and take Nebraska cornerback
Prince Amukamara
. He's the second-best cornerback in this draft, and most mocks have him going somewhere in the teens. If the Cowboys like the player enough, it wouldn't be much of a reach to just take him. If another team is looking to move up for another player, the Cowboys could drop down a few spots and still have a shot at Amukamara.
Washington Redskins

Dream scenario:
The Redskins, who need a quarterback perhaps more than any other team on the planet, would love nothing more than for something bizarre to suddenly cause
Cam Newton
or
Blaine Gabbert
to start falling. It's not out of the realm of possibility. Carolina's leaning toward Newton but hasn't made a final decision. Even if the Panthers go with Newton, Buffalo could go with linebacker
Von Miller
at No. 3, and the word out of Arizona is the Cardinals probably are looking more for a pass-rusher than a quarterback. That would put the Redskins within striking distance on Gabbert, and general manager Bruce Allen and owner Daniel Snyder could try to move up to grab him. Or they could just take a chance that he'll be available at No. 10.
Plan B:
If Newton and Gabbert are gone, there's no quarterback worthy of the No. 10 pick. Defensive tackle also is a major need, but the Redskins could fill that in free agency. Snyder enjoys making a splash, and if he can't do it with a quarterback, he might do the next-best thing and take a guy who would catch passes from whoever ends up throwing them. With
Santana Moss
as a free agent and not much else in the receiving corps, Alabama's
Julio Jones
could be a very nice consolation prize.
New York Giants

Dream scenario:
The desperate need is at outside linebacker, but the only player who is really a sure thing is Miller, and he almost certainly will be a top-five pick. So the dream ends there and reality sets in, and the other reality is the Giants have big needs on the offensive line, where everyone but guard
Chris Snee
is starting to get old. Florida center/guard
Mike Pouncey
could really solidify the interior of the line, where the need is greatest. Tackles
Gabe Carimi
and
Anthony Castonzo
also could be possibilities as the Giants could consider moving tackle
David Diehl
to guard.
Plan B:
This may sound a bit off the wall because the Giants have decent running backs in
Ahmad Bradshaw
and
Brandon Jacobs
. But what if Alabama's
Mark Ingram
happens to be available? The Giants might have to consider him. He might be better than Bradshaw and Jacobs. Also, along the same lines, don't rule out the possibility of a defensive tackle like Temple's
Muhammad Wilkerson
if he's available. The Giants appear to be in good shape in the middle of the defensive line, but general manager
Jerry Reese
places a high value on having lots of depth, especially in the middle of the defensive line.
Philadelphia Eagles

Dream scenario:
In a perfect world, the Eagles would package their first pick (No. 23 overall) with quarterback
Kevin Kolb
and trade their way into the top five, where they would aim for cornerback Peterson. The Eagles have a desperate need for a cornerback to play opposite
Asante Samuel
, and Peterson is the only sure thing in this draft. But this is not a perfect world. Unless the lockout somehow ends between now and the start of the draft, they're not allowed to trade Kolb. If they stay put, the Eagles have to hope Amukamara somehow falls to them, or they might have to take a chance on Colorado's
Jimmy Smith
, who comes with some background questions.
Plan B:
The right side of the offensive line needs to be upgraded. Most teams stay clear of guards in the first round. But tackles Castonzo,
Nate Solder
and Carimi all could be available when the Eagles pick. Any one of them could step right into the lineup and start.