Dallas Cowboys:

Joe Thomas
February, 26, 2014
Feb 26
12:15
PM ET
IRVING, Texas --
Jason Peters
already had the highest average-per-year salary for left tackles before signing a four-year extension with the
Philadelphia Eagles
on Wednesday.
Smith
Entering the final year of his deal, Peters will now earn $51.3 million over the next five years with $19.55 million guaranteed,
according to ESPN's Adam Schefter.
What does it mean for
Dallas Cowboys
left tackle
Tyron Smith
?
Not as much as you would think, in my opinion.
Smith's deal should be much bigger than this whenever the Cowboys decide to sign their Pro Bowl left tackle to an extension. The Cowboys hold a fifth-year option on Smith's contract, which they must exercise by this spring.
The option is new to the collective bargaining agreement and will bring a whole slew of questions for teams and agents as they attempt to work out new deals.
The contract that Smith might be closer to matching is the seven-year, $84 million deal
Joe Thomas
received from the
Cleveland Browns
in 2011. That deal included $44 million in guaranteed money. Thomas, who many consider the best tackle in football, was 26 when he signed.
Smith does not turn 24 until Dec. 12. He is coming off his first Pro Bowl appearance. He had his best season. He has fully acclimated to the left tackle spot after playing right tackle as a rookie in 2011. It is rare to find a player of Smith's age and ability who is closing in on free agency. He was 20 when the Cowboys picked him ninth overall.
Smith could be so good that he cashes in twice. Peters is 32 and received an extension that averages $10.26 million. Depending on the length of the deal Smith signs with the Cowboys, he could receive a second bite at the free-agent apple in his early 30s. Tackles can play well into their 30s.
Flozell Adams
was making Pro Bowls in his 30s while with the Cowboys.
January, 3, 2014
Jan 3
12:50
PM ET
IRVING, Texas -- Last week
Dallas Cowboys
left tackle
Tyron Smith
was named to the Pro Bowl for the first time in his career. On Friday, he was named second-team All Pro by the Associated Press.
Smith
Joe Thomas
of the
Cleveland Browns
and
Jason Peters
of the
Philadelphia Eagles
were named to the first team. San Francisco's
Joe Staley
was the other second-team tackle.
Smith was playing as well as any tackle in football late in the season. He allowed only one sack all season and the Cowboys averaged 5.3 yards per carry on 53 runs behind their left tackle, which was seventh-best in the NFL.
A first-round pick in 2011, Smith has missed only one game in his career. He is signed through 2014, however, the Cowboys have an option for 2015 they need to exercise by the spring. The Cowboys want to sign him to a long-term contract at some point.
The Cowboys have not had a first-team All-Pro offensive lineman since
Leonard Davis
and
Flozell Adams
in 2007.
Only 23 years old, Smith still has plenty of chances to make the first team.
April, 26, 2013
4/26/13
9:30
AM ET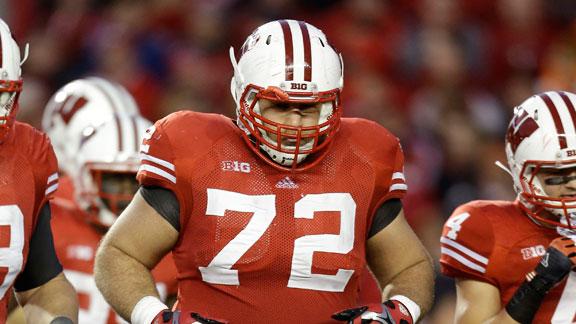 IRVING, Texas – The Cowboys are hoping
Travis Frederick
will continue a tradition set forth by Wisconsin offensive linemen in recent years.
PODCAST
Arkansas head coach Bret Bielema, who coached Travis Frederick at Wisconsin, joins Fitzsimmons & Durrett to discuss what kind of player the Cowboys got with their first-round pick in the NFL draft.

Listen

Joe Thomas
,
Gabe Carimi
,
John Moffitt
,
Kevin Zeitler
and
Peter Konz
have been high picks in recent years and have had different degrees of success.
"I think that having that tradition helps continue that tradition," Frederick said. "That tradition is one of the reasons why I chose to go to Wisconsin, just knowing that such great offensive linemen have come out of there and would probably or hopefully give me the opportunity if I worked as hard as I could to be in the situation that I'm in today. I'm excited to join that long line."
The Cowboys' recent history with Badgers offensive linemen isn't so good.
In 2003, the Cowboys drafted
Al Johnson
in the second round, and they took
Bill Nagy
in the seventh round in 2011. Johnson missed his rookie year because of a knee injury that subsequently cut his career short. Nagy won a starting job in part by default, but he suffered an ankle injury and was cut during training camp last summer.
"You certainly go case by case and evaluate the player," coach Jason Garrett said, "but there is no question there is a tradition of offensive linemen coming out of Wisconsin. There is a long-standing tradition, but there is also a recent tradition. What that does is allow you to talk to people that know these guys well and compare them to people, 'Hey, compare him to this guy, compare him to that guy. You had him two years ago, how does he stack up?' Those conversations are real because guys who've been around these guys day after day after day can make great evaluations."
February, 2, 2013
2/02/13
8:16
PM ET
NEW ORLEANS -- A big night continued for the NFC East when
Dallas Cowboys
tight end
Jason Witten
was named the NFL's Walter Payton Man of the Year. The award is the only one of the night that honors a player's off-field contributions, and Witten beat out fellow finalists
Larry Fitzgerald
of Arizona and
Joe Thomas
of Cleveland.
I wrote about Witten
and this award a couple of days ago, and it suffices to say that I'm more impressed with this than I am even with
Robert Griffin III
's Offensive Rookie of the Year Award or any of the other football-based honors being handed out at the NFL Honors show here tonight. Nothing against any of those guys or the remarkable things they accomplish on the football field, but take a moment to realize why Witten's being honored.
Witten is being honored because he helps fund, establish and improve battered women's shelters in Texas and Tennessee. Himself a childhood victim of domestic violence, Witten's SCORE foundation works to install positive male role models in these shelters whose job it is to demonstrate appropriate adult behavior to the children who are growing up in them. This is a guy using his status as a football hero to make the world better. And he's doing that in a real, on-the-ground way -- not just flinging money at a problem.
And yes, there are players all across the NFL and other sports who do this, too, in their own way, including Fitzgerald and Thomas. I just think it's a great thing the NFL does to incorporate this award into its annual awards show and elevate it to the status of the MVP and other awards on which people spend so much time and attention. Football is great, and we all enjoy it very much, but it's just a game. The work Witten's doing is about real life. And that's why I think he won the best award of the night.
February, 1, 2013
2/01/13
10:49
AM ET
NEW ORLEANS --
Dallas Cowboys
tight end
Jason Witten
was upset that his position coach, John Garrett, lost his job amid the team's coaching staff changes this offseason. But the 10-year NFL veteran says he knew something was bound to happen after a second consecutive 8-8 finish.
"Ultimately, we know it's a bottom-line business and the results have got to be there," Witten said Friday morning. "Any time you don't make it, these things go on. But we trust [head coach] Jason Garrett and we trust what's going on. The foundation's being laid and we believe in what the team is doing."
The Cowboys have replaced their defensive coordinator, defensive line coach and special teams coach since the end of the season, and they're still looking for a tight ends coach to replace John Garrett (who is Jason's brother) and a running backs coach to replace Skip Peete. It's a fair amount of upheaval for a team that appeared to be making good strides before losing the final two games of the season, but as Witten said, the bottom line is that 8-8 isn't good enough. Cowboys owner Jerry Jones decided changes needed to be made.
"The best thing about playing for Mr. Jones is you know he's going to try and do anything he can to make the situation better and try and make it happen," Witten said.
Witten was speaking at a news conference introducing him as one of three finalists for the NFL's Walter Payton Man of the Year Award. Witten's SCORE foundation, aimed at preventing domestic violence by helping provide positive male role models for children in the battered women's shelters he funds in Dallas and Tennessee, is the main reason he's up for the award.
Larry Fitzgerald
of the Cardinals and
Joe Thomas
of the Browns are the other two finalists. The award will be announced Saturday as part of the NFL Honors show.
January, 31, 2013
1/31/13
8:37
AM ET
IRVING, Texas – After 10 years with the
Dallas Cowboys
,
Jason Witten
continues to wait for the most important on-field success a player can have -- winning a Super Bowl. On Saturday he could take home one of the NFL's most important off-field awards.
[+] Enlarge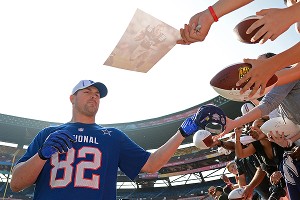 Kyle Terada/US PresswireEight-time Pro Bowler Jason Witten is a finalist for the Walter Payton NFL Man of the Year Award, which honors a player's community activism, as well as on-field success.
Witten is a finalist for the Walter Payton NFL Man of the Year Award, which honors a player's community activism, as well as on-field success. Arizona's
Larry Fitzgerald
and Cleveland's
Joe Thomas
are the other finalists.
On Friday Witten will collect the Bart Starr Award, which is given by Athletes in Action to the player who best exemplifies the same commitment to family, teammates and community as Starr, a Green Bay Packer Hall of Fame quarterback.
Witten just played in his eighth Pro Bowl after catching 110 passes in 2012, a single-season NFL record for a tight end, in addition to becoming the Cowboys' all-time leading receiver. Off the field, Witten and his wife, Michelle, run the SCORE Foundation and he is active in the NFL's Play 60 campaign, as well as the team's partnership with the Salvation Army.
PODCAST
Chris Mortensen joins Galloway & Company to talk about the Cowboys' offseason changes, Roger Goodell and the distractions facing the Ravens.

Listen

"When you think about what Walter Payton represented as a player on and off the field, it means a lot," said Witten, who was a finalist for the award in 2007. "There are a lot of great players in this league doing great things, so you're just humbled to be a part of that."
Growing up, Witten saw the effects of domestic violence first hand and his foundation focuses on the recovery of victims of abuse and breaking the cycle of violence through education and mentoring.
The SCOREkeepers program places full-time, trained male mentors in six women's shelters across Texas for children to see positive male behavior. Three years ago he launched the "Coaching Boys Into Men" program, which trains coaches to educate players on the dangers of dating violence.
The Wittens also funded an emergency waiting room at The Children's Hospital at Johnson City Medical Center not far from his hometown, Elizabethton, Tenn. He also runs football camps locally and back in his hometown that attract more than 1,200 youngsters.
"You never do it (for publicity), you do it to try to make a small influence in young people's lives," Witten said. "Obviously my story is unique and people came into my life and helped pave the way for me and gave me the opportunity to chase my dream. That's what we want to do with young kids' lives. I've read all about what Walter Payton did, and what he represented is what the NFL shield is all about. To be up for this type of award with his name on it, it's up there."
The Cowboys have had three Man of the Year Award winners: Roger Staubach (1978), Tom Landry (1981) and
Troy Aikman
(1997).
January, 20, 2013
1/20/13
8:17
PM ET
Dallas Cowboys
tight end
Jason Witten
was named a finalist for the Walter Payton NFL Man of the Year Award, along with
Arizona Cardinals
wide receiver
Larry Fitzgerald
and
Cleveland Browns
offensive tackle
Joe Thomas
.
The award recognzies community service as well as on-field excellence. Witten was also a finalist in 2007.
the winner will be named Feb. 2 during the NFL Honors from New Orelans, site of Super Bowl XLVII.
Witten set an NFL record for catches in a season by a tight end in 2012 with 110 and also became the Cowboys' all-time leader in receptions, of which he has 806. He was tabbed to play in his eighth Pro Bowl next week.
The Jason Witten SCORE Foundation helps raise awareness of domestic violence in North Texas and in Tennessee.
September, 7, 2012
9/07/12
6:30
PM ET
»
NFC Final Word
:
East
|
West
|
North
|
South
»
AFC
:
East
|
West
|
North
|
South
Five nuggets of knowledge about Week 1:
Don't let them in the game:
The
Philadelphia Eagles
should have no trouble with the Browns in Cleveland, but to a certain extent that appears to be up to them. According to ESPN Stats & Information, the Eagles ranked second in the league last year with 84 offensive plays of 20 or more yards, fourth in the league in total yards and fifth in yards per play. They were also eighth in total defense. So why were they 8-8? Their 38 turnovers were the second-most in the NFL. And nine of those turnovers were in the red zone. No other team in the league had more than five red-zone turnovers. If you want to lose to inferior teams, turnovers are the surest way. Watch the turnovers in Cleveland. If the Eagles commit a lot of them, the game could be much closer than most expect it to be. Working in Philadelphia's favor is that the Browns forced only 20 turnovers in 2011. Only seven teams forced fewer.
[+] Enlarge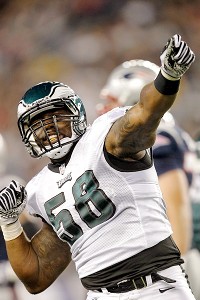 AP Photo/Brian GarfinkelIf Trent Cole outplays Joe Thomas, the Eagles will be well positioned
to defeat the Browns on Sunday.
Marquee matchup:
One of the Cleveland Browns' strengths is left tackle
Joe Thomas
, who was the No. 3 overall pick in the 2007 draft. He'll go up against Eagles defensive end
Trent Cole
, who has the third-most sacks in the NFL (63) since 2006, in a matchup that could go a long way toward deciding the game.
Road favorites?
The Eagles should not be at a disadvantage just because the Browns are the home team in Sunday's game. Since this new incarnation of the Browns entered the league in 1999, it is 1-12 in season-opening games. The second-worst record in season openers over that same period of time is 4-9, shared by the Raiders and Chiefs.
Blowing in the Brees:
If the
Washington Redskins
can hold New Orleans Saints quarterback
Drew Brees
without a touchdown pass, they'll have pulled off some trick. Brees has thrown at least one touchdown pass in each of his previous 43 games. That's the second-longest streak in NFL history behind the 47-game streak authored by Johnny Unitas from 1956-60. The Redskins will play this game without starting strong safety
Brandon Meriweather
, who is out with a knee injury, and safety
Tanard Jackson
, who is suspended for the year for violating the league's drug policy. They would do well to find a way to get some pressure on Brees.
Dome sweet dome:
The Redskins are 6-1 all-time at the Louisiana Superdome, and while their most recent game there was in 2006, that record stands as a testament to the fact that the Redskins used to be one of the league's best teams and the Saints one of the league's worst. According to ESPN Stats & Information, Washington's .857 winning percentage at the Superdome is the highest in history for any team that has played at least five games there. Something has got to give, though. The Saints were 8-0 at home last year, and their 41.1 points per game and 492.6 yards per game there were the second-highest such home totals in NFL history.
June, 14, 2011
6/14/11
1:00
PM ET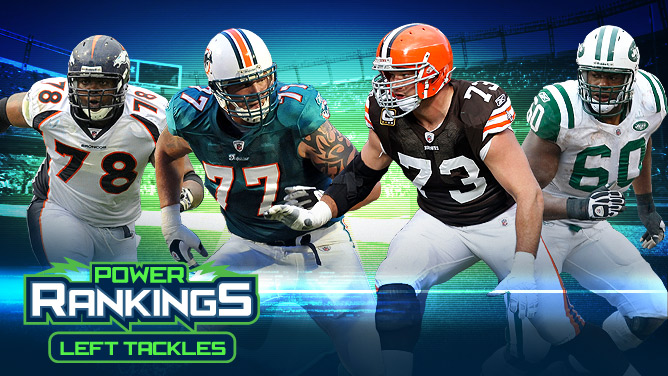 ESPN.com IllustrationOur bloggers say Joe Thomas and Jake Long are the NFL's best left tackles by a wide margin.
ESPN.com ranks the NFL's top 10 at left tackle, one of the most important positions in the league. Next week: Top up-and-coming assistants.
Take a quarter out of your pocket and look at its width. That's basically the difference between the top two left tackles in the ESPN.com Power Rankings.
Cleveland's
Joe Thomas
received 76 points from our eight-person panel of voters. Miami's
Jake Long
received 75. That put them way ahead of the rest of our top 10 list of the NFL's best blindside pass protectors.
Our panel of division bloggers gave Thomas five first-place votes, and Long received three.
"It was pretty much a coin flip for me,'' said NFC East blogger Dan Graziano.
If Graziano's quarter had landed on the other side, we might have had a different outcome. I think the same can be said for some of the other voters. I gave Thomas my top vote only after some strong consideration for Long.
But let's cut to the chase and point out the man who ultimately decided this election. It's AFC South blogger Paul Kuharsky. Every other voter had Thomas and Long in the top two spots. Kuharsky threw things off a bit by putting Long at No. 1 and Tennessee's
Michael Roos
at No. 2. He had Thomas at No. 3.
Let's turn to Kuharsky for his rationale.
"I've seen Long more, which helped him,'' Kuharsky said. "Also, frankly, I knew there could be close to a consensus for Thomas. He's very good. But we're not talking
Orlando Pace
or Jonathan Ogden. The groundswell for Thomas as top left tackle is, in my eyes, more a media creation than the view of players, scouts and coaches. I wanted to note and reflect that.''
Point taken, and I agree that we're not talking the same level as Pace and Ogden -- at least not yet. Thomas and Long are young and it's too early to put them in the category of surefire Hall of Famers. But, aided largely by Kuharsky, Roos did finish No. 6 overall.
Ryan Clady
,
Jordan Gross
and
D'Brickashaw Ferguson
rounded out our top five at Nos. 3, 4 and 5 respectively. After Roos, the rest of the top 10 was filled out by
Jason Peters
(No. 7),
Marcus McNeill
and
Donald Penn
, who tied for No. 8, and
Matt Light
at No. 10.
Let's work our way back toward the top, with one more quick stop at Roos. I had him at No. 8 on my ballot, and James Walker and Kevin Seifert didn't even vote for him. I've had a couple of scouts tell me Roos is a good left tackle, but seemed to take a step backward last season.
Kuharsky heard otherwise.
"I've had a coach and two scouts tell me Roos is as good or better than Thomas and Long,'' Kuharsky said. "I obviously see Roos a lot and think he's quite good, certainly better than he wound up here.''
Roos or ruse? Take your pick, but let's head right back to the top of the voting and back to the argument between Thomas and Long. They were drafted one year apart with Thomas entering the league in 2007 and Long coming in for the 2008 season. Each has made it to the Pro Bowl in every season played.
Kuharsky mentioned the "media creation'' about Thomas. In Cleveland? That's not where you usually turn to find guys to top Power Rankings, so our vote has to say something pretty strong about Thomas. Let's turn to the guy who covers Thomas.
"Thomas has always been focused on doing his job,'' Walker said. "You can't tell whether the Browns are 16-0 or 0-16 with the way he plays, and that's why he's been to four straight Pro Bowls. The NFL has gone the way of speed pass-rushers, and Thomas is the prototype to combat that. He's lean with very good feet and agility, but still strong enough to dominate in the running game. There's really no weakness in his game."
None of our panelists saw a weakness in Long's game.
"I thought Long's run-blocking ability put him a little bit ahead of Thomas,'' Grazianzo said. "I think he's shown improvement every year and is likely to pass Thomas soon if he hasn't already (and for me, these lists are about which guy I'd pick right now, so a guy I think is going to get better is going to get a long look from me). And he earned a bonus point or two from me for playing the last six games of 2010 in a shoulder harness and still being incredible.''
The best news is, these guys are so young we can have this same argument every year for the next decade. Now, let's move on to some other notes about the voting in the Power Rankings for left tackles.
Turn off the Light.
As we mentioned, Light came in at No. 10. That surprised me a bit because he's a big name with three Super Bowl championships and three Pro Bowl selections. I had Light at No. 6 and Walker had him at No. 4. But Light didn't even appear on four ballots, including the one from AFC East representative Tim Graham.
"Matt Light is a quality player, but Stats Inc. blamed him for 10 sacks allowed and four penalties last season, more in each category than his previous two seasons combined,'' Graham said. "I've always thought Light got more recognition simply from being
Tom Brady
's left tackle. Once you name the three or four elite tackles and you rack your brain for the next group, it's easy to understand people sorting through the great quarterbacks and asking, 'Who is so-and-so's left tackle?' Light made the Pro Bowl last year, but as an alternate. Light's reputation also is enhanced by his involvement in the union and being a truly rare species: the gregarious Patriot.''
Also-rans.
Andrew Whitworth
,
Chad Clifton
,
Doug Free
,
Russell Okung
and
Jeff Backus
didn't make the top 10, but each received votes.
"I don't think there are 10 elite or even complete left tackles in the NFL,'' NFC West blogger Mike Sando said. "I list Okung on a very short list of players with the talent and makeup to be elite at that position. Okung hasn't played enough to this point, but I think he'll join that group this season. Listing someone with considerably less ability was the alternative.''
The longest shot.
Somewhere, former Tampa Bay general manager Bruce Allen and coach Jon Gruden are smiling at Penn's name appearing on this list. It's true, they headed the regime that signed Penn as a free agent in 2007 after he was cut by Minnesota in 2006. Then again, they were also the ones who signed Luke Petitgout, and Penn only got a chance to play because Petitgout turned out to be washed up. I used to subscribe to the theory that you needed to use a first-round pick to get a good left tackle. But Penn has shown that's not necessary. In his case, he simply made the most of his shot at playing time and turned it into a $48 million contract as training camp started last year.
March, 26, 2010
3/26/10
4:35
PM ET
Profootballfocus.com released its 2009
all-improved team
and Cowboys right tackle
Marc Colombo
was listed as the most improved right tackle in the game.
Colombo, who played nine games last season for a total of 544 regular season snaps, received a rating of 2.7 overall. Colombo was credited with allowing just one quarterback sack, three quarterback hits and 13 quarterback pressures. Among all the tackles in the game, Colombo was the highest ranked Cowboys linemen coming in at 20. In 2008, Colombo was the highest ranked Cowboys but finished 62nd overall with a -12.2 rating.
Doug Free
, the man who replaced Colombo, while he recovered from leg injuries in 2009, ranked 22nd with a 2.1 rating.
Flozell Adams
, who many think won't be here in 2010, finished 51st among tackles with a -8.8 rating.
Adams gave up 34 pressures in the 2009 season according to Profootballfocus.
Jake Long
of Miami and
Joe Thomas
of Cleveland allowed a combined 14 quarterback pressures.
February, 27, 2010
2/27/10
1:04
PM ET
INDIANAPOLIS -- Maryland's
Bruce Campbell
, the 6-6, 314-pound left tackle with a Zeus-like physique, continues to be the buzz of the combine.
Agent Drew Rosenhaus believes Campbell's 40 time, which was officially clocked at 4.85, vaults him into the top 10 in the draft.
There's no doubt that Campbell is an amazing athlete, but how often do offensive linemen actually run 40 yards? Folks raved about Doug Free's downfield block on Felix Jones' touchdown run against the Eagles because it was so rare to see a tackle in that territory.
FootballOutsiders.com compiled a
list of offensive tackles who ran sub-5.0 40s at the combine
. It's a mixed bag. Maybe Campbell could develop into another Joe Thomas, but Allen Barbre's 4.84 40 hasn't helped him succeed in the NFL.
February, 26, 2010
2/26/10
4:16
PM ET
Dallas Cowboys
tight end
Jason Witten
will embark on a weeklong visit to visit U.S. troops at military bases in Southwest Asia.
NFL players have participated in the NFL-USO tours for more than 40 years.
But Witten isn't going alone.
San Francisco 49ers
tight end
Vernon Davis
,
Cleveland Browns
tackle
Joe Thomas
, and
Houston Texans
defensive end
Mario Williams
are also going.
The tours have gone to Afghanistan, Bosnia, Iraq, Korea and Somalia among other cities and countries.
Last year,
Jared Allen
,
Danny Clark
,
Larry Fitzgerald
and
Will Witherspoon
traveled to Iraq and Kuwait along with coaches Tom Coughlin, Bill Cowher, Jeff Fisher, Jon Gruden and John Harbaugh.