Dallas Cowboys:

Joey Galloway
October, 17, 2013
10/17/13
3:43
PM ET
IRVING, Texas -- Tim MacMahon raised the point Wednesday night that the five-year extension worth $40 million the
Dallas Cowboys
gave to
Jay Ratliff
might have been the worst decision Jerry Jones has made
.
Jones disagrees.
"Well, if I had a legal pad and could show you all the decisions I've made ever, it's not the worst one I've ever made," Jones said Thursday.
Laughter quickly filled the room and Jones flashed a giant smile.
Ratliff had two years left on his deal when the Cowboys signed him to the extension. He was set to make $8.66 million in 2011 and '12 and was coming off four straight Pro Bowl appearances. In a way you could look at the $18 million guaranteed as part of the extension as an extra commitment of $9.4 million, so maybe it wasn't the worst deal of Jones' tenure.
But it's not like they got their money's worth out of Ratliff over the last two seasons either.
What would be Jones' worst deal?
Trading for wide receiver
Roy Williams
and signing him to an extension worth $9 million a year? The
Joey Galloway
trade? Extending the deal of safety Roy Williams? Or
Terence Newman
? Anybody else come to mind?
November, 14, 2012
11/14/12
1:53
PM ET
Very interesting look from
our man Andrew Brandt
at the pitfalls of serving as an NFL team's chief personnel guy while also filling another role. Andrew's two examples come from our division:
Dallas Cowboys
owner Jerry Jones, who also serves as the team's general manager, and
Philadelphia Eagles
coach Andy Reid, who doesn't have the title of "general manager" but does have final say on all personnel decisions. Andrew argues that the GM position requires different traits than does the role of owner or head coach, and that Jones and Reid are struggling to play on both sides of the fence.
Of Jones, Andrew writes:
The same qualities that make Jones a formidable presence as an owner -- his bravado, charisma and emotional as well as financial investment -- are detrimental to his position of general manager. That role calls for a quiet, detached and surgical construction (and perhaps deconstruction) of a team's roster.

Jones delights in big transactions both in business and football, but in football that can sometimes be more risky than savvy. He has twice mortgaged future drafts to acquire veteran wide receivers, a low-value position. He traded two first-round draft choices in 2001 for Joey Galloway, and a first-, third- and sixth-round selection in 2009 for Roy Williams.
Which is fair, because Jones certainly did those things. But it also relies on what I believe is an outdated perception of a Jerry Jones who has in fact been acting far less impulsively on personnel matters over the past couple of years and has ceded much of the day-to-day control to son Stephen Jones and coach Jason Garrett.
Of Reid, Andrew writes that a coaching style that relies on strong personal relationships with players can be an impediment to success as a GM:
This is the major flaw of the coach/general manager model. Although Bill Belichick has been able to achieve sustained success, he has done so with cold and impersonal detachment, often not even responding to player discontent about roles or contracts, further infuriating players and agents. Reid, although a flat-liner with the media, cares deeply about his relationship with his players.
Another worthwhile point, and I think the decision to tie so much of the Eagles' fate to
Michael Vick
as quarterback likely stands as the most significant current example of this. In general, you can't argue with the success Reid has had over 14 years as Eagles coach. And the poor construction of the current roster doesn't seem to be the result of any inability by Reid to detach himself from personal loyalties -- it's just a matter of poor decision-making about players and schemes. But I think the Vick example does speak to what Andrew's talking about, and I wonder whether Reid, in his next stop, can expect (or will necessarily demand) the same dual role he's filled in Philadelphia for the past decade.
September, 9, 2012
9/09/12
6:22
PM ET
The Cowboys gave up first- and third-round draft picks to acquire receiver
Roy Williams
from the
Detroit Lions
before the 2008 trade deadline. The Cowboys later signed him to a $54 million contract extension.
PODCAST
Fresh off retirement, Roy Williams talks about why he and Tony Romo never clicked, what he plans on doing with his time now and more.

Listen

Williams never fit in with the Cowboys.
He caught just 94 passes for 1,324 yards and 13 touchdowns in 40 games in Dallas before spending last season with the Bears.
It was the worst trade in Cowboys history. Only one other can challenge it.
In 2000, the Cowboys traded two first-round picks to Seattle for wide receiver
Joey Galloway
. In his first game for the Cowboys, Galloway tore his ACL during a blowout loss and missed the rest of the season.
He would go on to catch 151 passes for 2,341 yards and 12 touchdowns in 48 games as a Cowboy.
Is it a wash?
No.
The Cowboys tried to make it work with Galloway as a deep threat, but it just never developed. He was a talented player, but the Cowboys were on the decline as a franchise and he was caught up in the middle of poor personnel moves.
"I've made a lot worse mistakes," Cowboys owner/general manager Jerry Jones said last year about the Williams trade.
No he hasn't.
Williams has decided to retire
, which revealed a little something about that trade. He was happy to play for a team in his home state. Williams is from Odessa and went to the University of Texas. His opportunity to play for the Cowboys alongside
Terrell Owens
opened the possibilities of great things for the Cowboys' offense.
All it did was increase then-offensive coordinator Jason Garrett's lack of confidence in Williams' abilities. There were times Williams wasn't a focal point of the offense, and he was a starter. But when he suffered a rib injury while going over the middle on a pass,
Miles Austin
took over and caught 10 passes for 250 yards at Kansas City, including the game-winner in overtime that gave him the starting job.
Williams never recovered from a skills standpoint and couldn't regain the starting job.
The Cowboys have made numerous trades in the franchise's history, but Williams' deal strikes as the worst.
July, 30, 2011
7/30/11
6:59
PM ET
SAN ANTONIO -- There is absolutely no denying that the
Roy Williams
deal was a disaster for Dallas.
"I'd love to have that trade back," Jerry Jones said, stating the obvious about a trade that cost the Cowboys first- and third-round picks for a receiver released days ago after two-and-a-half extremely disappointing seasons in Dallas.
Williams caught 94 passes for 1,324 yards and 13 touchdowns in 40 games for the Cowboys. For what it cost to get him -- including the five-year, $45 contract extension Williams signed days after the trade -- the Cowboys expected that kind of production from him per season.
Jerry tries to justify why the deal didn't work out by noting that the Cowboys didn't know
Miles Austin
would develop into a 1,000-yard receiver or that they would draft
Dez Bryant
. But that doesn't affect how history will judge the deal.
Troy Aikman
declared in 2008 that it'd go down as one of the worst trades in NFL history if Williams didn't pan out in Dallas. That's the painful truth.
However …
"I've made a lot worse mistakes," Jerry volunteered.
He mentioned two trades in particular as candidates for his biggest gaffe. One was giving up second- and fifth-round picks for running back Alonzo Highsmith despite two doctors warning him of a career-ending knee condition. The second, of course, was the
Joey Galloway
trade.
Jerry gave up two No. 1 picks for Galloway in 2000 and gave him a rich contract, hoping he'd give Aikman the weapon needed to make the Cowboys contenders again. Galloway blew out his knee in his first game and finished his four-year-tenure in Dallas with 151 catches, 2,341 yards, 12 touchdowns and no playoff wins.
That creates a pretty good barstool debate for Cowboys fans with a tear in their beer. Which blockbuster deal for a high-dollar receiver was worse?
"I'd personally flip a coin on that," said the man who pulled the trigger on both trades.
September, 9, 2010
9/09/10
11:45
PM ET
By
Bryan Broaddus
| ESPNDallas.com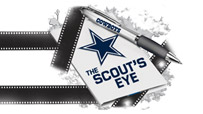 Sunday's has the makings of a difficult game for the Cowboys on several levels. It's a division opponent, it's on the road, and the Redskins have a new coach, which means new systems on offense and defense.
Coach Mike Shanahan has had a great deal of success in his NFL coaching career running a zone-blocking scheme with a mobile quarterback. Wade Phillips and the Cowboys staff have had to resort to other means to try and figure out what Shanahan might use in his game plan.
Dallas worked against Shanahan and the Broncos two seasons ago in practice and played a preseason game as well. The Cowboys can draw from that experience but also from the four games the Redskins played this preseason against the Bills, Ravens, Jets and Cardinals.
In studying those games, Shanahan has the offense working in that zone-blocking scheme. Rookie left tackle
Trent Williams
is a nice fit in this offense. He is mobile, plus he is able to play with a form of power. He shows the ability to play on his feet. You rarely see him on the ground.
A nice matchup to watch was when Williams went against
Terrell Suggs
of the Ravens. Suggs is a pass rusher similar to what he will face with
DeMarcus Ware
and
Anthony Spencer
. Suggs is an explosive player off the edge. Where he was able to take advantage of Williams was down inside on the rush.
The Redskins will put tight ends in the backfield to help with protection. Cooley and Davis did help in the preseason, but it wasn't always to Williams' side. Look for Ware to throw a wide variety of moves at Williams early in the game to gauge where he is.
Donovan McNabb
told the media Wednesday that his ankle was fine and he was ready for the start against the Cowboys. McNabb hurt the ankle in the preseason, and there was talk that he might miss the game, which you knew wasn't going to happen. Where McNabb is good in this offense is his ability to be a deceptive ballhandler, use his feet and deliver the ball on the move.
A large part of this offense is the use of the quarterback on boots and waggles. The Redskins want to pound the ball on the stretch play, then spin the quarterback away from the flow to work the ball to Cooley or Davis on the delay or Santana Moss down the field.
What the Redskins showed in their preseason games were routes down the field. Galloway and Moss both have speed and will stretch the field on vertical routes. Moss is dangerous is when he lines up in the slot and has the opportunity to run deep or crossing routes. He puts a great deal of pressure on the defense when he is allowed to do this because he is not afraid to take his route anywhere, plus he has the speed to create separation.
Cooley causes problems because of his ability to line up anywhere in the formation and complete routes. He has consistent hands and is a dependable player on third downs, much like a
Jason Witten
is for the Cowboys.
If the Cowboys are going to have success on defense Sunday night, it will have to be controlling the Redskins running game and not allowing McNabb to be effective in the play-action game.
*Throughout his NFL career as a head coach, Shanahan's teams have been of the 4-3 defensive type of scheme. In Shanahan's return to football -- after sitting out the 2009 season -- he is now working with a 3-4 look.
When asked about the switch, Shanahan said that in the 3-4, you can cause the offense more problems.
The scheme change presents challenges for the personnel staff. Do you have enough linebackers? Who is your nose man? The Redskins had a solid 4-3 group last season but now must move players around to handle the change.
Throughout his career,
Andre Carter
played as a wide 9 technique, with his hand on the ground rushing the passer. Now he is moved to outside linebacker, playing over the tight end and dropping in coverage.
Linebacker
London Fletcher
played with two big inside players at tackle to protect him. He now only has a nose man to do that.
Where this game can be won or lost is if the Cowboys do a poor job of handling the linebackers for the Redskins.
Brian Orakpo
, Carter and Fletcher can all make plays.
Across the defensive front,
Adam Carriker
, Ma'ake Kemoeatu,
Kedric Golston
are not dynamic players.
Albert Haynesworth
is the best player in this group but has struggled with his conditioning this preseason and at this time is not a starter. Haynesworth has played both nose and end in the preseason and did a much better job in the Jets game then he did in the others.
Where the Cowboys need to worry is if Haynesworth becomes motivated and decides he wants to be a dominant player.
The Redskins like to move Orakpo around in passing situations. There were times this preseason where he and Carter were rushing from the same side or Orakpo was coming from the inside linebacker spot.
In the preseason, I thought that cornerback
Carlos Rogers
has played better than
DeAngelo Hall
. Hall is a veteran player that understands how to play routes, but the physical side of the game will be a struggle.
Look for the Cowboys to try and find a way to attack safeties
LaRon Landry
and
Kareem Moore
. Landry has been a liability in coverage because of his aggressive play. Landry is a hitter but will struggle in space.
September, 8, 2010
9/08/10
10:33
AM ET
IRVING, Texas –
Joey Galloway
, the biggest receiver trade bust in Cowboys history until Roy Williams, departed Dallas seven years ago. He'll start against the Cowboys on Sunday night.
That's not exactly a good sign for the Redskins.
Galloway actually had some good years after the Cowboys traded him to Tampa Bay, recording three consecutive 1,000-yard seasons. But he's caught 20 passes for 205 yards in the two seasons since then, and he's ancient by NFL receiver standards at 38 years old.
"He's got some gas left in the tank," Redskins quarterback
Donovan McNabb
said during a conference call with Valley Ranch media. "He's a guy that we all know back in the day made a name for himself. In a given moment, he'll do the same."
Don't hold your breath for any of those given moments to occur against Pro Bowl cornerbacks
Terence Newman
and
Mike Jenkins
this weekend.
June, 29, 2010
6/29/10
10:29
AM ET
Welcome to Day 2 of our series on the NFC East, where we speak to the beat writers in the division and ask them to evaluate their teams.
On Monday, we
broke down
the Giants.
Today we talk to Jason Reid, who covers the
Redskins
for The Washington Post.
Five things the Redskins need to worry about:
1. Albert Haynesworth.
The guy doesn't want to be here. If they keep him here it can be a distraction and if Mike Shanahan tries to break this guy, he might break. This team doesn't want to go into the season with any drama like last year. If he's not here, then who
plays
nose tackle?
2. Wide receivers.
A lot of concern at this position with
Devin Thomas
and Malcom Kelly. These guys are not the long-term answer here and Kelly wasn't impressive during the OTAs.
Santana Moss
is 5-9 and they signed an old
Joey Galloway
.
3. 3-4 defense.
These guys were a top 10 defense five of the last six years in a 4-3 scheme. Why change it? I'm not sure they have the personnel for a 3-4 right now. The safeties will have a
different
role in it as well.
4. Linebackers.
The outside linebacker opposite
Brian Orakpo
is an issue.
Andre Carter
is better in the 4-3. In San Francisco he struggled to play outside backer in their 3-4 scheme.
Lorenzo Alexander
is making another position change. He's played defensive tackle, to defensive end and now outside linebacker.
5. Daniel Snyder.
He turned everything over to Bruce Allen and Shanahan and that's a good thing. But what happens if the team struggles -- four playoff teams in first six weeks of the season -- what would he do? Would Snyder then get invovled?
Five things not to worry about:
1. Donovan McNabb.
A proven winner, who is an elte quarterback. He's won big games in this division and he commands the respect of the locker room.
Jason Campbell
couldn't do that.
2. Tight end.
Chris Cooley
is coming off an injury and should be in good shape.
Fred Davis
showed a lot in the second half of the season last year. Both of these guys are threats. Very talented group.
3. Brian Orakpo.
You can say the Redskins don't have the personnel to run a 3-4, but they do have one major piece: An outside pass rusher in this guy. He's going to be a real force in this defense and the key to its success.
4. Offensive line.
It was pretty bad last year, but it received some upgrades with the additons of
Jammal Brown
(right tackle) and
Trent Williams
(left tackle).
Artis Hicks
and
Mike Williams
are two players who should make things better this season. The changes were long overdue for this franchise.
5. Mike Shanahan.
This guy has been successful. He's got two Super Bowl rings to back up what he says and with Snyder giving up
control
, this is the man you give it up to. Jim Zorn was a nice guy, but Shanahan has the resume the players will respect.