Dallas Cowboys:

John Beck
March, 4, 2013
3/04/13
11:30
PM ET
We start a 10-part series breaking down the Cowboys' free-agency needs, position-by-position:
Quarterbacks

Who's on the roster:
Tony Romo
,
Kyle Orton
and
Nick Stephens
.
Analysis:
This is one position the Cowboys are not trying to upgrade in free agency or the draft. Romo will be signed to a long-term deal at some point this offseason, and the team values Orton's ability to play if there is an injury. It would be nice if the Cowboys tried to get a younger quarterback to develop for the future.
Cowboys free agents:
None
NFL free agents of interest:
Matt Moore
,
Jason Campbell
,
Chase Daniel
,
Jordan Palmer
and
John Beck
.
Need Meter: 2.
It will be interesting to see how Stephens, a dropback passer, fits during the organized team activities this spring. Moore was cut by the Cowboys years ago and probably isn't interested in returning as a backup now. If the Cowboys add to this position, it'll be through the draft. Unless Orton wants to be a starter again in this league, he might be Romo's backup for a few more years until a younger quarterback emerges as a better No. 2 option.
February, 16, 2012
2/16/12
11:18
AM ET
With the offseason in full swing, let's take a look at one major question facing each NFC East team as they begin preparations for the 2012 season:

DALLAS COWBOYS
Do they have too much work to do?
It's possible that we expect too much from the Cowboys. Their skill-position talent on offense makes them an easy team to like going into the season. Few teams are as good as they are at quarterback and wide receiver, and if
DeMarco Murray
comes back healthy, they look pretty good at running back, too.
But the offseason needs for the Cowboys are myriad. They need guards and a center. They need cornerbacks and safeties. They need a pass-rushing outside linebacker to complement
DeMarcus Ware
. They could stand to beef up on the defensive line.
That's a lot of needs, and it's fair to wonder whether they'll be able to fill them all adequately and construct a 2012 contender. That they were a contender (heck, a leader) in the NFC East right up until the end of the 2011 season leads one to believe they necessarily should be thought of as one again for 2012. But the division was, for the first time ever, won with only nine wins. And the way the Cowboys played defense and protected
Tony Romo
during their 1-4 finish was more alarming than the 7-4 record was encouraging.
NEW YORK GIANTS
What to do with Osi Umenyiora?

The Giants have other issues, sure. They need to work on the offensive line. They need to find a tight end. They need to make individual decisions on players like
Brandon Jacobs
and
Mario Manningham
. But for a team that believes the pass rush is the cornerstone of good defense, the Osi question is a fair one on which to focus right now.
Last summer, when he had two years left on his contract, Umenyiora was obviously unhappy. He sat out training camp practices. He sought (and received) permission to find a team willing to trade for him. He called GM Jerry Reese a liar in a sworn affidavit as part of one of the lockout lawsuits. The Giants never blinked, and in the end Umenyiora returned and became a major contributor to their Super Bowl run.
Now, he has one year left on the contract he hates, and the Giants must decide what to do. Sign him long term, as he wants? Trade him now, while his value is high coming off the Super Bowl and his postseason performance? Or stand pat again and force him to play out his contract, running the risk that he'll be more resolute in his protests and holdouts this time around?
The emergence of
Jason Pierre-Paul
at defensive end opposite
Justin Tuck
gives the Giants leverage, but at the same time, they were much better when all three of those guys were healthy and in the lineup together.
PHILADELPHIA EAGLES

Is a full offseason really what they need?
Last August, after the lockout ended, the Eagles signed a bunch of free agents to play for a revamped coaching staff with a lot of new ideas about how to play defense and offensive line. The party line in Philadelphia now is that this was all too much too soon, and that the Eagles' 3-6 start was due in large part to the inability of all of these new pieces to get on the same page in the absence of an offseason program.
They played well at the end of the season, they point out. Heck, they played well at the beginning of the season, too -- they just couldn't hold a lead. So we'll see whether a real offseason of OTAs and minicamps all spring and summer helps everyone relax and get the most out of a talented roster.
We'll see whether it helps quarterback
Michael Vick
better handle the new responsibilities he took on in 2011, such as changing the protection at the line of scrimmage. We'll see whether the sting of 2011's disappointment can propel the Eagles to great things in 2012, or if it's all a bunch of hooey and they were never that good in the first place.
WASHINGTON REDSKINS

Who's the quarterback?
Rex Grossman
can't come back as anything other than the backup, and
John Beck
... well, just ... no.
The Redskins have many needs, but none as big as this one. Picking sixth in the draft, they'll need to trade up (and outbid other teams to do so) if they want
Robert Griffin III
, who's the best all-around option and a potential franchise quarterback.
But if trading up means dealing away multiple first-round picks and making it difficult for them to address areas such as wide receiver, offensive line and the secondary, it might not be the wisest course of action. That would necessitate a free-agent pursuit of someone like
Kyle Orton
,
Matt Flynn
or -- if they can be convinced he's fully healthy --
Peyton Manning
.
Redskins fans aren't likely to be happy with an imperfect, short-term solution. But only one team is going to get Griffin, and if the Redskins are not that team, they need to spend their resources on a No. 1 receiver and help for the line.
They have about $47 million in cap room and the ability to fill enough holes that plugging in a healthy Manning could make them a 2012 contender. And if that's the way they go, there's always a Matt Barkley or Landry Jones-type option next year.
December, 2, 2011
12/02/11
9:15
AM ET
People sometimes tell me I look at the schedule too much. To which I say: No. I play Zombie Farm too much. I look at the schedule as much as is appropriate to aid my analysis of the NFL. The schedule is important because, while we obviously cannot accurately predict results of individual game, over the long haul playing weaker teams helps your chances and playing stronger teams hurts them. A month ago, for example, it wasn't hard to figure out that the Cowboys had a good chance to overtake the Giants by now, given the relative strengths of the teams they were going to play in November.
Back in August, when we were forecasting the season, a theory emerged that the records of the NFC East's teams would be helped this year by the fact that they were playing all of the teams in the NFC West. The West, you'll remember, failed to produce a winning record last season, as the Seahawks and Rams finished tied for the division lead at 7-9 and Seattle won on a tiebreaker. John Clayton was the first I saw to put forth this theory, based on the idea that the NFC South came up with three 10-win teams last season, in part because the West was on its schedule.
Well, playing the NFC West has helped the Cowboys. And the Redskins, actually. But it hasn't worked out
exactly
the way we imagined it would. No one expected the 49ers to be one of the best teams in the league, and the fact that they're 9-2 has kept the West from being the same kind of laughingstock it was last season. But the other three teams in the West are a combined 11-23, which means teams that get to play them should be taking advantage.
The NFC East has gone a combined 9-6 against Mike Sando's division with only one game -- Dallas' game this Sunday in Arizona -- left to play. Here's how it breaks down:

Cowboys (3-0):
The only team in the division (and one of only two in the league) to beat the 49ers, the Cowboys can complete the NFC West sweep Sunday. And if they do that and the Giants lose to Green Bay, the Cowboys can clinch the division the following Sunday by beating the Giants.

Redskins (3-1):
Three of Washington's four wins have come against the NFC West. And frankly, they played the Niners kind of tough, losing 19-11 in Week 9 during the
John Beck
era. Early season victories against Arizona and St. Louis helped them to their 3-1 start, and Sunday's victory in Seattle broke their six-game losing streak. I think the Redskins will miss playing the West.

Giants (2-2):
The home loss to Seattle really stings as they find themselves one game out of first place. That and the loss in San Francisco hurt them in their tiebreaker efforts against the Cowboys, who beat both of those teams. They had to come back to beat Arizona, and they beat St. Louis in a sloppy Week 2 game at home.

Eagles (1-3):
Surprised? Everyone's favorite underachievers won their opener in St. Louis. But they blew a 23-3 third-quarter lead to the Niners in Week 4 before everybody knew the Niners were legit and the Eagles weren't.
Michael Vick
and
Jeremy Maclin
haven't played since the Week 10 collapse and loss to the Cardinals. And Thursday night's loss in Seattle ensured that the Eagles can't have a winning record. There are a lot of places you can look to find missed Eagle opportunities, but those games against the West stand out as big ones. Sweep the West, and they're 7-5 right now.
November, 25, 2011
11/25/11
12:41
PM ET
»
NFC Final Word
:
East
|
West
|
North
|
South
»
AFC
:
East
|
West
|
North
|
South
Five nuggets of knowledge about Week 12:
Redskins will have to (gulp) throw.
The
Seattle Seahawks
are allowing 100 rushing yards a game (the eighth-lowest figure in the league) and only 3.5 yards a carry (the fourth-best figure in the league). Meanwhile, the
Washington Redskins
, for whom the running game was such a big key in their early-season success, have become one of the worst rushing teams in the league. Their 83 rushing yards a game ranks better than only two teams -- the
New York Giants
and the
Tennessee Titans
-- and their 3.7 yards a carry ranks 27th. They're also not committing to the run the way they intended to, as only two teams in the league -- the Colts and the Buccaneers -- have had fewer rushing attempts. This is clearly not the week for the Redskins to get their run game back on track, which means the passing game and
Rex Grossman
. The good news there is that, according to ESPN Stats & Information, the Redskins are averaging 10.6 more pass yards per game and 8.1 more points per game with Grossman as the quarterback than they were when
John Beck
was the quarterback.
Weird, likely irrelevant historical note.
The game between the
Philadelphia Eagles
and the
New England Patriots
is the 13th matchup this season between teams that have played each other in the Super Bowl. That bodes ill for the Eagles, who lost to the Patriots in Super Bowl XXXIX, because only three of the previous 12 rematches have gone to the team that lost the Super Bowl matchup. The Packers beat the Broncos this year, and the Bills and Dolphins both beat the Redskins, though the Dolphins-Redskins game gets an asterisk because they met in two Super Bowls and split them. Either way, if you're the Eagles,
Terrell Owens
isn't walking through that door. And
Tom Brady
is.
[+] Enlarge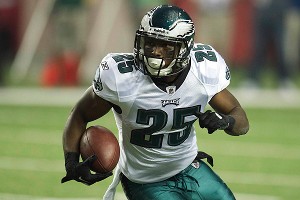 Dale Zanine/US PresswireLeSean McCoy's 3.61 rush yards per attempt before contact is the third-best figure in the league this season among runners with at least 50 attempts.
Eagles should get some push.
Eagles running back
LeSean McCoy
is thriving with the help of one of the best run-blocking offensive lines in the league this season. ESPN Stats & Info says McCoy's 3.61 rush yards per attempt before contact is the third-best figure in the league this season among runners with at least 50 attempts. The good news this week is that the Patriots give up 2.74 yards per contact to opposing runners, which is the sixth-highest number in the league. So if the Eagles commit to the run, they have a chance against Brady and the Pats. Of course, that's a fairly big "if"...
Jacobs not toughing it out.
I've said many times here, and still believe, that the Giants' run-game problems are thanks to the poor performance of their offensive line and that people have been too hard on
Brandon Jacobs
and the running backs. However, there is some proof, courtesy of ESPN Stats & Info, that Jacobs could be doing more to help his own cause. Jacobs is averaging just 1.61 rushing yards per carry after contact, which is the fourth-lowest figure in the league among running backs with at least 90 carries. Each of the three backs behind him on that list --
Cedric Benson
,
Rashard Mendenhall
and
Chris Johnson
-- weighs at least 37 pounds less than Jacobs, whose size used to be among his greatest assets as a running back. It's possible he has slowed down as he's gotten older. It's possible that he is so discouraged by the lack of running room that he doesn't push through first contact the way he used to. It'd be understandable, given that no one likes to get hit. But it also would feed into the perceptions about him that the booing home fans have developed.
Eli against the blitz.
The Saints love to blitz, and Giants quarterback
Eli Manning
surely will face extra pass-rushers on Monday night. But in spite of the injury to running back
Ahmad Bradshaw
, who's one of the best backs in the league at picking up the blitz, Manning has fared well this season against five or more rushers. In fact, over the past two years, Manning ranks among the best quarterbacks in the league when teams send five or more pass-rushers. His 74.6 Total QBR in those situations is fifth-best; his 8.4 yards per attempt and his touchdown-to-interception ratio of plus-16 are third-best; and only
Aaron Rodgers
has thrown more touchdown passes than the 26 Manning has thrown over the past two years when teams send five or more.
November, 22, 2011
11/22/11
10:51
AM ET
By
Bryan Broaddus
| ESPNDallas.com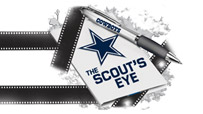 When getting ready for this game, there was no doubt in my mind that the
Washington Redskins
would give the Cowboys their best shot. Defensively, the Redskins were still playing hard despite being put in terrible position by their offense. The Redskins' offense was as bad as any as I've studied this season, and the majority of their struggles had to do with the quarterback play of
Rex Grossman
and
John Beck
.
I really felt the Cowboys defense would be able to take advantage of how poorly Grossman had played since being put back into the lineup after Beck proved he couldn't handle the job. But when you struggle to get consistent pressure and you struggle with communication problems, even poorly playing quarterbacks can enjoy success.
Redskins' receivers had too much room to operate
For the previous two weeks, the Cowboys secondary had been outstanding. Against the Redskins, however, there were too many plays where receivers had room to operate. It all really started to fall apart when
Orlando Scandrick
was flagged for holding after he was beaten off the line because he wasn't in good position and had to grab his man. There was another time where the Redskins spread the Cowboys' defense across the field, forcing
Terence Newman
to play between two receivers on the outside because
Gerald Sensabaugh
failed to get over in coverage and replace Abe Elam, who had blitzed. It resulted in an easy pitch and catch for Grossman.
Scandrick also failed to get his hands on
David Anderson
during an out-and-up route, which resulted in a nice gain for the Redskins. If Scandrick gets his hands on Anderson in the 5-yard zone, he has no shot at getting that ball.
The Redskins drove into the Cowboys' red zone, and Grossman was able to deliver a touchdown pass in the back of the end zone to
Jabar Gaffney
. On the play, Sensabaugh thought he had inside help from
Frank Walker
, who was lined up at the other safety. At the snap, Gaffney runs up, nods to the outside and then gets Sensabaugh to have to try and adjust to him. Sensabaugh got turned and was unable to get back inside, and Walker wound up jumping an across-the-middle route underneath when he should've been helping Sensabaugh with Gaffney.
Loose coverage proves costly for Newman
While Scandrick and Sensabaugh had their struggles, so did Newman. He didn't play near as aggressively as he had against Buffalo or Seattle. Maybe it had something to do with the chopped-up condition of the field and he didn't have confidence in his footing. Nevertheless, he played way too cautious on routes.
There was only one time where he drove on a ball, and that was on a pass over the middle to Anderson. Newman read it well, avoiding Anderson and knocking the ball down. Newman's problems were a result of always being four to five yards off in coverage. On third-and-11, Newman allowed Gaffney to run up the field and turn inside with plenty of room to catch the ball. Newman was a good four yards off.
There was another time where Newman got bumped off coverage when covering Donte Stallworth and couldn't rally to make the play. In previous games, Newman had been played much more physical.
Hatcher, Ratliff stand out on defense
When teams were able to run the ball against the Cowboys, it was mainly because of the poor play of the defensive ends. When the defense had success stopping the run, it was because
Kenyon Coleman
,
Marcus Spears
,
Jason Hatcher
and
Sean Lissemore
did a nice job of holding blocks at the point of attack.
If I had to give a game ball to one of these ends, I would hand it over to Jason Hatcher, who clearly outplayed former teammate and Redskins DE
Stephen Bowen
. Hatcher was able to get pressure several different ways. Ryan used him on twist stunts and over the guards in the nickel. Hatcher was always working his way up the field in the passing game, but he also did a nice job of stacking blockers at the point of attack.
Jay Ratliff
keeps putting outstanding games together as well. He is one of those players that you really don't appreciate until you go into the lab and break his work down. Ratliff was strong at the point in the running game, overpowering center
Will Montgomery
several times, causing problems inside for the Redskins' zone running scheme. Ratliff was able to draw a holding call that brought back a nice gain on a pass play to tight end
Logan Paulsen
in the flat. In this game, the numbers were there for Ratliff, who has played well the last several weeks.
Where was Ware on game-tying drive?
Nobody appreciates the fine work of
DeMarcus Ware
and what he means to this team on a weekly basis more than I do. There is no questioning his talent and passion, but it's my job to point out flaws that I see during my film study. In this game, the defense allowed the Redskins to drive the ball down the field and score the game-tying touchdown. The 12-play drive -- for another weekend -- showed the Cowboys' defense couldn't close the game out, much like they couldn't against the Jets, Lions, and Patriots. On that final drive in regulation, the Redskins only doubled Ware once. On four of the plays, he was matched up against
Jammal Brown
. On the other eight, he went against young LT
Trent Williams
. The result for Ware: Not one sack or even a pressure.
Romo makes most of second-chances
Tony Romo
won this game for the Cowboys, plain and simple, through his abilities to buy a second chance with his feet, think on the move and deliver a play when his team needed it the most.
There was no doubt in my mind that the Cowboys were going to have difficulties running the ball against the Redskins' defensive front. As well as
DeMarco Murray
had been carrying the ball, this was a game where the blocking was less than perfect and he had to fight for every yard.
Romo's reads and execution were spot on. Where he was at his best was his ability to feel the pressure and move to avoid it. Two examples were on touchdown passes to
Laurent Robinson
and
Jason Witten
.
Romo on the run: Example No. 1
Robinson did an outstanding job of getting in position to catch the ball. When the play started, it looked like Robinson was going to be brought in motion to create a bunch formation, but Romo did not bring him inside. At the snap, Robinson had to work up to the goal line and then sprint across to get Romo's attention. On the other side,
Dez Bryant
was jammed at the line.
With the pocket closing around him, Romo moved to his left to buy more time, and Bryant was trying to work himself free in the corner of the end zone. At the same time, Robinson is in the clear but is quickly closing ground to the Redskins corner on the other side of the field.
Romo, moving to his left, pointed to the left corner of the end zone to try and freeze the defender to that side. Bryant tried to work back that way, but Romo really was trying to create space for Robinson along the goal line.
At the moment of truth, Romo, instead of leading Robinson with the ball into the defender, throws the ball behind Robinson so he can brace for the catch. Robinson is able to adjust, make the catch and secure the touchdown.
Romo on the run: Example No. 2
On the TD pass to Witten, it was really a heady play by two veteran players.
Once again, Romo has to deal with pressure, but he's able to spin to his left to avoid the rush. Witten, on the right side of the formation, runs a curl at about 12 yards. When he turns, Witten sees Romo spinning out of the pocket, so he starts across the field to mirror the direction that his quarterback is turning.
Romo doesn't see Witten at first, but Witten makes himself available up and across the field. The Redskins had no safety help in the middle of the field where Witten attacked. Moving to his left and with pressure in his face, Romo delivered a strike to Witten, who was able to finish the play by getting to the end zone.
Less is more for DeMarco Murray
I knew it wasn't going to be easy for Murray, but the way he carried the ball was more impressive than his 250-yard effort vs. the Rams. On fourth-and-1 in the third quarter, with the Cowboys trailing 17-10, Jason Garrett decides to go for it.
On the field, Garrett has three tight ends, one wide receiver and Murray in the backfield.
John Phillips
is lined up as a wing to the left and comes in motion across the formation.
Martellus Bennett
is lined up on the line right, with Witten slightly off the line to his right. WR Robinson is wide left.
At the snap, the Redskins defense pinches down inside on both sides in an effort to clog the middle.
Montrae Holland
pulls from his left guard to the right. On the front side, Witten, Bennett,
Tyron Smith
and
Kyle Kosier
all block down inside to cave the edge.
Holland managed to get around the corner with Phillips out on the support. Holland pulled to block
London Fletcher
, but missed. Murray is now heading for the edge as Phillips loses contact with
DeAngelo Hall
, who is able to grab Murray in space. Murray, however, is much too strong for the cornerback and is able to finish the run by carrying Hall an extra four yards for the first down. The drive later was capped with the game-tying touchdown pass to Robinson.
November, 20, 2011
11/20/11
7:02
PM ET
LANDOVER, Md. – He'll take the win, but
Orlando Scandrick
is not looking forward to watching the film of this game.
"I didn't play my best game," Scandrick said. "Quite frankly, I think I played bad. Made a big play, but a couple penalties, a couple penalties, a couple missed assignments, a couple misalignments and they're right back in the game."
Scandrick, who had an interception and two defensive holding penalties, had plenty of company in the Cowboys' secondary. They made Redskins quarterback
Rex Grossman
and a bunch of waiver-wire-type wide receivers look like a legitimate NFL passing attack.
Grossman completed 25 of 38 passes for 289 yards and two touchdowns.
Jabar Gaffney
had seven catches for 115 yards and a score, a huge day for a receiver whose previous season high was 68 yards.
"They executed," said cornerback
Terence Newman
, who was in coverage of several of Gaffney's catches. "We didn't execute as well as we would like, but you've got to tip your hat to the guy because he's took a lot of criticism throughout his nine years in the league. He's showing everybody that he's a quality quarterback."
Yes, he's talking about the same Rex Grossman who was benched for
John Beck
.
November, 18, 2011
11/18/11
8:39
AM ET
By
Bryan Broaddus
| ESPNDallas.com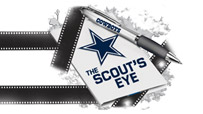 The last time the
Washington Redskins
and
Dallas Cowboys
met, some eight weeks ago, the Redskins were off to a 2-0 start with an impressive opening day win against the
New York Giants
while the Cowboys had just evened their record to 1-1 after
Tony Romo
managed to steal a game in San Francisco despite a broken rib.
Blame quarterbacks for Redskins' slide
Since that meeting, the Redskins have lost five of their last six. A large part of those losses are due to the poor play of the quarterbacks
Rex Grossman
and
John Beck
. When you study the Redskins, the first thing that comes to mind is what we had to deal with during the Dave Campo years here in Dallas when it came to the quarterbacks. During that span we wasted a lot of time trying to get quarterbacks ready to play that gave us no opportunity to win games. I am seeing a lot of the same things in Washington.
Mike Shanahan's inability to successfully identify a quarterback has done a lot of damage to the Redskins. Time, money and draft selections have been wasted on players like
Donovan McNabb
, Grossman and Beck.
Any pro personnel director could tell you without hesitation that McNabb was slipping badly and Andy Reid was more than ready to move on from McNabb with
Michael Vick
. As much as Shanahan wanted to believe that there was still gas left in McNabb's tank, it wasn't the case at all. Everyone knew that except Shanahan.
As the Redskins were going through training camp, Shanahan was still in search of a quarterback and placed a call to the Dolphins about Beck, who have had their quarterback issues as well. The Dolphins were more than happy to ship Beck to the Redskins. Shanahan made his biggest mistake of the off season by not addressing the quarterback situation through the draft when he had the opportunity to do so with a top-10 selection.
Shanahan could have selected
Andy Dalton
,
Jake Locker
or
Christian Ponder
but instead chose to trade down and select linebacker
Ryan Kerrigan
out of Purdue. Kerrigan has been a nice player this season but doesn't help his quarterback situation now or in the future.
Beck has made three starts this season and has yet to win a game. As a matter of fact, Beck has an 0-7 record as an NFL starter. He plays like a quarterback that is afraid to make a mistake. You never see him really push the ball down the field. Everything Beck does is short and underneath.
Beck really struggles because he isn't that accurate when it comes to throwing the ball at any level. He will struggle to hit receivers on the move and he will also struggle to hit them when stationary. The ball doesn't come off his hand with any zip at all; there is no power to his game.
This is also the case of Grossman, who is back after throwing four interceptions in a loss to the Eagles. I have never been a fan of Grossman's game because he really lacks arm strength, but I can't question his toughness. He will stand in there and take shots.
Grossman is not the tallest or most mobile quarterback in the league, but you will see him slide in the pocket to try to help him with throwing lanes. The lack of arm strength appears when the Redskins try to throw the ball down the field.
Cowboys catch a break: No Moss
There have been too many times where
Anthony Armstrong
or
Santana Moss
get a step on a corner but have to wait on the ball because neither Grossman or Beck can get it down the field.
The Cowboys catch a huge break in this game because Moss will miss it due to a hand injury. Moss has punished the Cowboys over the years with his playmaking ability, so the fact that he is out of the lineup is a huge plus for Rob Ryan and this defense.
The Redskins generate offense in two areas.
Tight end
Fred Davis
is the real deal and is someone that nickel back
Frank Walker
and safeties
Gerald Sensabaugh
and
Abram Elam
are going to have to deal with. Davis doesn't play like a traditional in line tight end. Not to say that you won't see him inline, but the majority of his work is in the slot or flexed. Davis likes to work the middle of the field and he will be the go-to guy on third downs. Offensive coordinator Kyle Shanahan likes to move him around the formation and create opportunities.
Redskins also will struggle to run the ball
Shanahan will also try to run the ball against the Cowboys' front seven. Last week against the Bills, Dallas' run defense was outstanding when the game was in the balance. That wasn't the case the previous games against the Eagles and Seahawks.
The Cowboys will need to be ready for running backs
Ryan Torain
and
Roy Helu
in this zone blocking attack. Torain runs the ball hard but he is really straight line and doesn't have many moves. He will attack the hole, then lower his head to finish the run.
The back that I think is the best fit for this offense is Helu. He just plays like he has a better feel for the offense when it comes to reading the blocks, then making the cut. Torain is more about attacking the hole; Helu is more about allowing the blocks to develop then making his cut.
Helu also does a nice job of catching the ball out of the backfield. Solid, dependable hands and does a nice job of getting up the field and gaining positive yards.
I mentioned the issues that the Redskins have at quarterback, which I feel are the most important, but their offensive line -- other than left tackle
Trent Williams
-- really struggle, run or pass.
Left guard
Maurice Hurt
is the weak link of this line. He plays overextended, doesn't adjust to twist stunts and has poor sustain. He has been nursing a knee injury and might not be active for this game. Center
Will Montgomery
would slide over to his spot and
Erik Cook
would take over at center.
Right tackle
Jammal Brown
has had his shares of problems when it has come to pass protection. Have seen defenders get the edge on him without many problems.
Williams can make the cut-off block on the backside and reach the front. Williams had a little trouble in the 49ers game when he and Hurt had to sort out the twist game. Both of them did not adjust all that well. Look for Rob Ryan to throw some movement stunts against this line to see if they have corrected those problems or teams will continue to take advantage of them.
Redskins' defense will create pressure
If the Redskins can ever find a way to build any type of offense, they would have a shot in this division. No matter how bad the offense plays, the Redskins defense is always there to clean up the mess.
Defensive coordinator Jim Haslett and his staff have done a nice job in the games I studied. The pressure that they have able to generate with their front seven, particularly outside linebackers
Brian Orakpo
and Kerrigan, has been impressive.
Orakpo was the first rusher that
Doug Free
faced after the 49ers game, when he struggled so bad with his technique. I was told that Free was really worried about the inside rush from Orakpo and it affected him in the game. Free has been rock solid the last two weeks and appears to once again be playing with confidence.
Both Orakpo and Kerrigan are relentless rushers when coming after the quarterback, but you will also have to deal with them on the backside when running down plays. If the Cowboys' tackles and tight ends don't finish blocks on the backside, then Orakpo and Kerrigan will be right there to make a play.
One of the major reasons for success in this Cowboys running game has been their ability to secure blocks and allow
DeMarco Murray
to use his vision to make cuts when he reads it. Without those backside blocks, this running game wouldn't be as potent.
Watch for safety Landry to key on Cowboys' rushers
In the Buffalo game, safety
LaRon Landry
played more in the box, almost like a linebacker. I have a feeling that Haslett will probably try to do the same to see if he can have some success stopping Murray. Garrett can counter much like he did last week against the Bills -- throw the ball early in the game to get them out of that.
The Redskins have some run players in nose tackle
Barry Cofield
and defensive end
Adam Carriker
. Cofield shows the ability to get up field quickly off the snap and be disruptive in the backfield. Will be interested to see if Cofield lines up over
Montrae Holland
, who has struggled with quickness in the past.
Carriker plays with more brute force and power than great technique. When
Tyron Smith
has had his troubles, it's been against ends that play with power. But to Smith's advantage, this will be the second time that he has faced Carriker, so he can go back and study how he needs to attack him.
Former Cowboys defensive end
Stephen Bowen
is not playing as well against the run as he did when he was here. There is something about Bowen that leads me to believe that he really was an outstanding nickel or backup player, and the more snaps that he has to play, the more he will struggle. Bowen can still generate some pass rush, but he isn't nearly as affective as he was when here.
At inside linebacker, the ageless
London Fletcher
is still around the ball a great deal. When in position to make a tackle, he can get the job done.
I was not impressed with
Rocky McIntosh
at all. I saw too many times where he was beaten in coverage or he missed a tackle. In the 49ers and Bills games, he was really bad in both those areas. McIntosh struggled much more than Fletcher at getting off blocks.
Cowboys should target Barnes in Redskins' secondary
In the secondary, the Redskins will use three safeties when they are all healthy, which at this time they are not. Landry has missed the first two days of practice with an Achilles injury, but he should play. O.J. Atogwe has been dealing with knee and toe problems and
Reed Doughty
has a chest issue.
The best combination for the Redskins is when Atogwe and Landry are the starters. Doughty will try to be physical in the run but doesn't cover all that well.
Of the two corners,
Josh Wilson
knows how to play the fade and doesn't give you much room. He also runs very well.
DeAngelo Hall
likes to bait quarterbacks into throws and will drive on routes. Have been told that he hasn't been playing well this year, but in the games I studied, I didn't see that. The weak link in the group is nickel
Kevin Barnes
, who needs to be attacked.
November, 16, 2011
11/16/11
10:29
AM ET
IRVING, Texas -- The Cowboys meet the Redskins on Sunday at FedExField, so we check in from The Other Side for a second time this year with Rick Maese of the Washington Post to tell us what has happened this year with Mike Shanahan's team.
Archer -
Dan Snyder hasn't been the most patient owner, so is there any chance that Mike Shanahan could be on the hot seat?
Maese -
I think that'd very doubtful at this point. For starters, Shanahan will have three years left on a contract that pays him around $7 million per season. While Snyder has certainly thrown away money on players, he hasn't been as eager to buyout coaches. But I think Snyder has also shown more patience as he's grown as an owner. Shanahan inherited a bad team in just about every way possible. The more likely scenario, I think, is for Snyder to bring in someone to beef up the personnel and scouting departments.
Archer -
From the outside the quarterback position has gone horribly wrong. Is that Mike Shanahan's fault? His son's? The players? Are fans calling for Andrew Luck yet?
Maese -
Ultimately, Mike Shanahan has final say in personnel decisions, so he has to shoulder the responsibility for the terrible quarterback play. Now, he's certainly taking into consideration what he hears from his coaches, including Kyle Shanahan, his son and offensive coordinator, but at the end of the day, it's his call. I think every human being in the Washington area would be shocked if either
Rex Grossman
or
John Beck
is somehow starting Week 1 in 2012. Unfortunately for them, the team's 3-1 start likely eliminated them from the Luck Sweepstakes.
Archer -
The Redskins have
Tashard Choice
on the roster and he said he's playing this week vs. his former team. What type of role is there for him there?
Maese -
As bad as quarterback play has been, the team's running game has been even less consistent. The offense is supposed to be built off the running game, and they're on pace to have the worst season running the ball in more than 40 years. So there's an opportunity for Choice. He'll have to show in practice this week that he's picked up Shanahan's system and deserves playing time this Sunday -- not to mention his hamstring needs to be 100 percent.
Archer -
It appears the defense is still playing pretty well. How has another ex-Cowboy,
Stephen Bowen
, done in his first year?
Maese -
Despite the Redskins' myriad problems, they feel like they beefed up their front-seven and that certainly seems to be the case through nine games. Bowen has held up well, despite an increase in snaps over last season. Depth is a problem along the defensive line and the Redskins can't afford to be without Bowen at this point.
Archer -
So much talk about how bad the season has been, what's been the best thing this year?
Maese -
There's been flashes of promise from young players. First-round draft pick
Ryan Kerrigan
should be in the running for rookie defensive player of the year. Rookie tailback
Roy Helu
set a franchise record with 14 catches in one game, breaking a mark set by
Art Monk
. Rookie
Leonard Hankerson
, who went on IR this week, topped 100 receiving yards last Sunday. Rookie
Niles Paul
is currently sidelined with a toe injury but has shown promise. Second-year linebacker
Perry Riley
had his first start last week and recorded four tackles for loss. So there are a few bright spots; they're just overshadowed by injuries.
November, 15, 2011
11/15/11
9:19
AM ET
If you watched the
Dallas Cowboys
' 44-7 victory over the
Buffalo Bills
on Sunday, it will come as no surprise to you that Cowboys quarterback
Tony Romo
posted
the highest Total QBR
of any NFL quarterback so far in Week 10. Romo's mark of 99.3 is also the highest recorded by any quarterback so far this year and the third highest by any quarterback since 2008. Only Cincinnati's
Carson Palmer
(Oct. 25, 2009) and Philadelphia's
Michael Vick
(Nov. 15, 2010) have had higher single-game QBRs during that time period.
The Total QBR folks say that one of the main reasons for Romo's big number was his ability to complete long passes down the field:
He was 6-for-6 on passes that traveled at least 11 yards down the field, 4-for-4 on passes that traveled at least 21 yards, and 2-for-2 on passes that traveled at least 31 yards (both for touchdowns). In the first half with the game still in question, Romo was 18-for-19 including a perfect 7-for-7 on third downs that all went for first downs. Romo did not fumble and was not sacked or intercepted.
For the season, Romo's 74.8 Total QBR ranks him
fourth in the NFL
, behind
Aaron Rodgers
,
Drew Brees
and
Tom Brady
.
Of the 30 quarterbacks who have played so far in Week 19, the
New York Giants
'
Eli Manning
ranks 11th with a Total QBR of 64.5 in the Giants' loss to the 49ers. Manning has led four fourth-quarter comebacks this year, but his attempt at a fifth came up short in San Francisco. For the season, he's got a 67.8 mark that ranks him seventh in the NFL and second in the NFC East behind Romo.
The numbers, as you would expect, are not as great for our division's other two quarterbacks. The
Philadelphia Eagles
' Vick put up a pitiful 27.0 Total QBR in the team's pitiful loss to the
Arizona Cardinals
. Vick completed just 16 of 34 passes for 128 yards, two interceptions and no touchdowns, and the only thing that kept his number from going even lower was his total of 79 rushing yards. For the season, Vick's Total QBR of 58.1 ranks him 11th in the league.
And in Washington, Redskins quarterback
Rex Grossman
threw a whopping 17.8 on the Total QBR board, ranking ahead of only
Philip Rivers
,
Josh Freeman
and
Curtis Painter
among quarterbacks whose Week 10 games are in the books. Grossman's season number of 37.6 also ranks him 27th among qualifying quarterbacks, though he's ahead of Washington's
John Beck
, who ranks 31st with a mark of 26.9. Beck had started the past three games for the Redskins before Grossman took the job back for Sunday's loss to the Dolphins.
November, 14, 2011
11/14/11
4:45
PM ET
IRVING, Texas -- During a Monday news conference, Redskins coach Mike Shanahan said
Rex Grossman
will start at quarterback vs. the Cowboys this Sunday.
Grossman started the first five games of the season before John Beck took over.
But in the Redskins' loss to the
Miami Dolphins
, Grossman got the start over Beck, who went 0-3 as the starter.
Grossman threw two interceptions and couldn't get the offense into the end zone in the 20-9 loss.
"Rex is going to be our quarterback," Shanahan said. "Are you going to have to ask me every day? We'll go through the week, and when you go with a veteran quarterback, it's pretty easy because usually that situation stays pretty much status quo. Unless there's an injury during the week, Rex will be the quarterback, but crazier things could happen. He could go down during the week and [Beck] will be able to go if Rex goes down."
When these teams last met, Sept. 26 at Cowboys Stadium, Grossman got the Redskins into the end zone, but his team lost 18-16 when
Dan Bailey
made a franchise rookie record six field goals. Grossman competed 22-of-37 passes for 250 yards with one touchdown and one interception. He was sacked three times.
"I think if you look at somebody's play, you know, he's a little bit more confident," Shanahan said. "He's been, obviously, under the gun a lot more than John has. But when you do miss the OTAs, you miss a lot of the preparation, you can kind of see it in somebody's play. Rex got a lot more playing time and he played with a lot of confidence and made a bunch of good throws throughout the game."
October, 18, 2011
10/18/11
2:21
PM ET
»
NFC Stock Watch
:
East
|
West
|
North
|
South
»
AFC
:
East
|
West
|
North
|
South
FALLING
1. Rex Grossman.
Look,
Washington Redskins
coach Mike Shanahan
could
come out Wednesday and say Grossman's still the starting quarterback. It's clear the Redskins aren't fully comfortable with
John Beck
, and Grossman does seem to have the support of the locker room. But regardless of what Shanahan decides for this week, that four-interception mess Grossman made against the Eagles on Sunday is a clear sign that he's not going to have an easy time holding onto this job all year. The good news for Grossman is that if he does lose it, that's no guarantee he's lost it for the whole year, either. Things could be about to get ugly for the offense in Washington, which brings us to...
2. The Redskins' offensive line.
Season-ending injuries to left guards don't get a lot of national publicity, but the play of
Kory Lichtensteiger
and the offensive line were perhaps the main reason the Redskins' offense was functioning as effectively as it was through the first four games. They're not loaded with playmakers on offense, so they have to dominate in the trenches as they had been. But with Lichtensteiger now gone, left tackle
Trent Williams
out for a few weeks with an ankle sprain and tight end
Chris Cooley
out indefinitely with a broken hand, the Redskins are going to have a hard time with their run-first, ball-control offense.
3. Felix Jones.
Hurt again, and now possibly out two to four weeks with his own ankle sprain, Jones and the Cowboys' running game have been major disappointments this season. Coach Jason Garrett deserves blame for his unimaginative play calling when the Cowboys needed to pick up a first down or two to beat the Patriots on Sunday, but the fact is that the Cowboys haven't been able to rely on their run game all year. It'll be interesting to see if
Tashard Choice
or rookie
DeMarco Murray
can perform more effectively and reliably than Jones has as he's tried to play through shoulder and now ankle injuries.
RISING
[+] Enlarge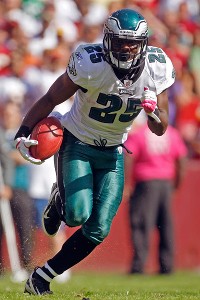 AP Photo/Evan VucciThe Eagles turned to LeSean McCoy when the team needed to protect its lead Sunday and the running back delivered.
1. LeSean McCoy.
You hear fans complain all the time that their team can't run the ball to run out the clock when it has a lead. Well, the Eagles have blown their share of fourth-quarter leads this year, but watching McCoy run Sunday it was hard to imagine how. He may not be the stereotypical big, bruising back that picks up those tough yards through sheer will and physicality, but McCoy is clearly an elite runner who loves to fidget his way through the tiniest spots and fight for extra yards that way. The Eagles' coaching staff should pay close attention to what McCoy gave them in the second half Sunday and learn to rely on it. He just might save their season.
2. Corey Webster.
Two absolutely huge interceptions by a guy who was just about the last defensive back standing for the Giants this year. And yeah, he got beat on the
Stevie Johnson
touchdown, but he made the big plays when he had to, which is what the Giants have been about so far this season. Webster is playing at a very high level, taking on the opposing team's best receiver every week in
Terrell Thomas
' absence. And while the Giants' defense is keyed around pressuring the quarterback, it has to be nice for them to get a strong, surprising contribution from Webster.
3. Eagles defense?
Yeah, still a question mark, but they said they were going to be able to build on some encouraging things they did in the second half of the Buffalo game, and they did. They tightened up their "Wide-9" formation to account for the Redskins' zone blocking run game, and it's encouraging to see that they're willing to adjust and adapt. Now, about those cornerbacks playing so far off receivers ...
October, 4, 2011
10/04/11
1:02
PM ET
»
NFC Stock Watch
:
East
|
West
|
North
|
South
»
AFC
:
East
|
West
|
North
|
South
FALLING
1. The Philadelphia Eagles' playoff chances.
Three straight weeks, three straight blown fourth-quarter leads, and none worse than Sunday's giveaway to the 49ers that dropped the Eagles to 1-3. Now come the major injuries, specifically to
Trent Cole
and
Jason Peters
. Playing without their best defensive lineman and their best offensive lineman for the next couple of weeks could be the thing that does in the Eagles for good. I don't see how their run defense can hope to stop Buffalo's
Fred Jackson
this week, and without Cole, defenses can key on
Jason Babin
and keep the pressure off
Ryan Fitzpatrick
. The Eagles will have to hope to win a shootout in Buffalo, and the following week in Washington, I don't see how they keep
Brian Orakpo
and
Ryan Kerrigan
off of
Michael Vick
. Philadelphia is looking at the very strong possibility of being 1-5 at the bye, and that would mean its season is over.
2. Tony Romo, again.
He's apparently got to be on one half of this list or the other every week, and after he threw three second-half interceptions to cost the
Dallas Cowboys
their game against the Lions, he's back on the fans' bad side. People have asked me if the Cowboys should get a new quarterback, and I say, "Yeah. They should get the guy who played for them in Weeks 2 and 3." The "Romo Coaster" hit a dip this week, but it's sure to be back up (and back down) again several times before the end of this season.
3. Rex Grossman.
As the
Washington Redskins
embark on their bye week, there is understandable concern about their quarterback situation. Grossman seems determined to throw interceptions that keep games closer than they should be -- even when he's given very limited opportunity to do so. The Redskins are a run-first team that looks as though it would be a run-only team if it could be. Grossman is likely to cost them a game at some point, and when he does, don't be surprised to see
John Beck
get some time at the position.
RISING
[+] Enlarge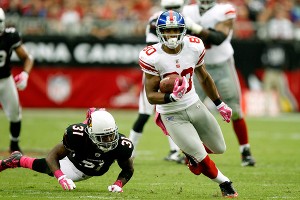 AP Photo/Paul ConnorsVictor Cruz followed up his breakout performance against the Eagles with six catches for 98 yards against the Cardinals.
1. Victor Cruz.
He was an official's rule interpretation away from serious goat status Sunday in Arizona, but the call went his way. And while his two-touchdown effort the week before in Philadelphia was his coming-out party, Sunday may have been even more significant.
Eli Manning
looked his way more, and he caught six passes for 98 yards. Manning has been looking for a receiver he can trust other than
Hakeem Nicks
, and he seems to like what he sees in Cruz. If that continues, and Cruz develops as a reliable threat, the
New York Giants
may have found their answer to Manning's preseason concern about the changes to the receiving corps.
2. Ryan Torain.
Kept stuck to the bench for the season's first three weeks while
Tim Hightower
and
Roy Helu
carried the ball for the Redskins, Torain broke out for 135 rush yards on 19 carries in relief of an injured Hightower on Sunday. Torain's injury history and Mike Shanahan's well-known preference for shuffling running backs keeps you from projecting Torain as a breakout star the rest of the way. But after the way he ran Sunday, it's going to be hard to send him back to the bench.
3. Tyron Smith.
Usually the risers come from winning teams, and Smith did up the sack to Willie Young that killed the Cowboys' final drive. But he'd played a brilliant game to that point, and the way the Cowboys' rookie right tackle has played so far this year deserves a mention. A question mark coming into the season, Smith has handled every one of his assignments with a veteran's skill. He kept the Redskins' pass rush in check in Week 3, and until the very end, he performed admirably Sunday against
Ndamukong Suh
and the Lions' fearsome defensive line. Don't be surprised if Smith and left tackle
Doug Free
end up trading places on that line before long. Smith clearly has all the ability he needs to be a top tackle in the league.