Dallas Cowboys:

John Elway
March, 14, 2014
Mar 14
1:55
PM ET
For the second time in three seasons a high-profile veteran player -- identified with a high-profile franchise and a perennial Pro Bowl selection -- has followed his stunning release with a trip to Denver as his first visit of free agency. And for the second time in three seasons, Broncos executive vice president of football operations/general manager
John Elway
closed the deal.
Ware
In 2012 it was a still-reeling
Peyton Manning
who toured the Broncos facility in his first trip following his release by the
Indianapolis Colts
. And this week it was defensive end
DeMarcus Ware
, who made Denver his first stop after his release by the
Dallas Cowboys
.
Ware signed a three-year, $30 million deal with the Broncos without leaving the building.
ESPN.com Dallas Cowboys reporter Todd Archer and
Denver Broncos
reporter Jeff Legwold take a look at the move.
Archer:
Ware's best seasons came in a 3-4, but the Broncos are a 4-3 base team. How much do you think that will matter?
Legwold:
Todd, with head coach John Fox and defensive coordinator Jack Del Rio, the Broncos are a traditional-looking 4-3 when they line up on early downs. But they spend much of their time in specialty packages like nickel and dime, given how often their opponents try to spread them out and throw the ball in order to try and keep up with Peyton Manning and the Broncos' offense. They had four games last season in which they were in their base defense 12 or fewer snaps, and three games when they were in the base defense nine or fewer plays. That total will go up in the coming season with the NFC West on the Broncos' schedule, but they see Ware as a fit in a mutli-faceted front that spends a lot of time in specialty looks. And they do drop 3-4 looks on people from time to time, so he'll find a place in the scheme and the Broncos will structure things however they need to in order for Ware to have a chance to flourish. With
Michael Strahan
when Fox was the Giants' defensive coordinator,
Julius Peppers
and
Von Miller
, Fox has routinely found a way to free up the rushers to get the quarterback.
When Ware was formally introduced as the newest Broncos pass rusher, he thanked the Cowboys, Bill Parcells and Jerry Jones in his first appearance as a newly-minted Broncos' player. How hard was it for the Cowboys to release him?
Archer:
Extremely hard. Jerry Jones isn't one to want to part with stars if it might be a year too early. He's waited a year too late in some cases. I don't doubt Jones was conflicted with the move. Ware is one of his best draft picks in 25 years on the job. He was a guy who was great in the locker room and great in the community and, most importantly, great on the field. Jerry is loyal to guys sometimes to a fault. But I think he was convinced it was time to move on because of Ware's age and cap figure. He could have restructured the deal and pushed more money into the future, but they felt like that would not solve anything. Ware will always be a Cowboy. He'll re-sign with the team in a few years to make sure he retires as a Cowboy and he will go in the Ring of Honor.
In his new locker room, how much can Ware benefit Miller and is this protection in case Miller has another off-field incident?
[+] Enlarge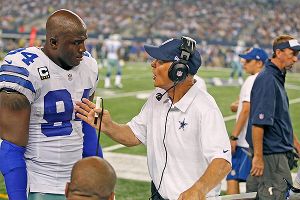 AP Photo/James D. SmithThe Cowboys and their coaches still believe DeMarcus Ware can be an elite pass rusher.
Legwold:
At its root this is a move based on the idea that Elway believes, like many personnel executives, edge rusher is still a foundation position in team building, along with quarterback and left tackle.
Shaun Phillips
, with 10 sacks last season, and
Robert Ayers
, with 5.5, are both free agents after finishing first and third, respectively in sacks for the team last season. The Broncos haven't really pursued either to bring them back at this point. With Miller coming back from ACL surgery, it was one of the biggest needs on the roster. All of that said, they also see a player like Ware as key to re-setting Miller after a difficult year in 2013 that included a six-game suspension for violating the league's substance-abuse policy, several off-the-field incidents -- including a missed court date -- and multiple traffic infractions even after his suspension was revealed. That's not to mention spotty play when he came back from his suspension to go with his injury. Ware knows Miller and has already said he wants to be a mentor. It's needed, especially with the Broncos facing a decision about Miller for the long-term when he's a free agent after the '14 season.
With
Champ Bailey
's release,
Chris Kuper
's retirement and
Wesley Woodyard
leaving for the Titans in free agency, the Broncos have three former captains no longer on the roster. From your perspective, what can Ware provide on that front?
Archer:
He is not the most vocal guy, but he has grown in that area as he has gotten older. When he did speak, guys listened. But I would say he was mostly a lead-by-example type. He played hurt. He probably came back too soon from the quadriceps strain that bugged him last year and that affected his play. He is naturally gifted but he also works even if guys don't see it all the time. As a pass rusher, he's always asking questions and always looking for different ways to attack offensive linemen. It doesn't matter if the guy is on the practice squad or not, Ware will listen to what he has to say. And he's not afraid to tell people what he knows. He'll be good for the offensive line, too. He was always talking to
Tyron Smith
or
Flozell Adams
or
Doug Free
or
Marc Colombo
about what they did against him or helping them with what he saw they were doing.
I hate the "all-in" term, but are the Broncos making their push with their free-agent signings because they know the window with Peyton Manning is short?
Legwold:
Elway's most common response to any question about whether the team is in "win-now" mode is to say "it's win now on" and they didn't mortgage the future, give up draft picks or artificially create cap space to make the signings.
Aqib Talib
's six-year deal is one the Broncos can get out of after this season with minimal impact to the cap and can get out of after three years with almost no impact on the cap. Safety
T.J. Ward
signed for less than many expected him to get. And the signings of Talib and Ward carried similar cap charges as the Broncos would have had if Champ Bailey and Kuper were on the roster. They gained $10 million worth of room on the cap with Bailey's release and about $4.1 million worth of room when Kuper retired -- both things happened in the days before free agency opened. They already had $28.7 million or so of workable room even before the Bailey and Kuper moves. So they were not stressed to make the signings and after
Andre Caldwell
, Ware, Ward and Talib signed, with their draft class taken into account as well, they still had about $10 million in workable cap space for any other moves they want to make.
Elway said this week "we think [Ware] has got a lot of football left him." In the end, how much football did the Cowboys coaches believe Ware had left in him?
Archer:
It kind of depends on who you ask, but at the combine Jason Garrett said he has no doubts Ware can be an elite pass rusher again. I don't think that was just coachspeak. Where I think Ware suffered was his lack of practice the last two years. He was banged up with shoulder, elbow, hamstring, quadriceps and stingers during the week that he could not practice. I think he got out of a rhythm and could not get it back. Ware had four sacks in the first three games. He had a pick on the first play of the season. Then the injuries started to wear him down and he wasn't the same player. But I always go back to training camp. He lit up Tyron Smith every day in practice. Every day. It got to the point where you wondered if Smith was going to be considered another offensive line mistake. And then Smith ended the year as one of the best left tackles in football. I think there is plenty of tread left on Ware's tire, but the Broncos will have to be smart in how they use him. I can't see him playing every snap. He will need some rest in games.
March, 12, 2014
Mar 12
5:15
PM ET
IRVING, Texas -- In meeting with the media after signing a three-year deal with the
Denver Broncos
,
DeMarcus Ware
opened his news conference with words of thanks to
Dallas Cowboys
owner and general manager Jerry Jones and his first coach, Bill Parcells.
"To Mr. Jones for gracefully letting me go out in the market and let me choose where I can finish my career at, I want to thank him for that," Ware said. "And I want to wish my former teammates, coaches and just the Cowboys good luck in their season."
Ware was cut by the Cowboys on Tuesday and
found a home in Denver
less than 12 hours later to the tune of a three-year deal, with $20 million guaranteed.
The Cowboys were set to pay Ware $12.75 million. He will make $13 million from the Broncos this year.
In nine seasons, Ware became the Cowboys' all-time leader in sacks with 117. He was named to the Pro Bowl seven times. Last year, however, he missed the first three games of his career and was held to six sacks.
The Cowboys were determined to move on from Ware, who turns 32 in July. The Broncos were happy to embrace him.
"We know how much more football he has in him," Broncos executive
John Elway
said.
January, 17, 2014
Jan 17
11:50
AM ET
IRVING, Texas -- Last Friday,
I mentioned Babe Laufenberg's thought
about Hall of Fame quarterback
Troy Aikman
's possible involvement in the Dallas Cowboys' front office, similar to the way
John Elway
operates the
Denver Broncos
.
It's a terrific thought, but it would never happen. Appearing Thursday on KTCK The Ticket radio in Dallas, Aikman admitted he didn't think it would happen with the Cowboys with Jerry Jones in control.
"Babe has been kicking the tires on that scenario for a couple of years," Aikman told "The Morning Musers" show. "I think every guy who's played the position in the NFL and has spent time within the league has had maybe some aspirations, at one point in time, of moving into that capacity. I visited with John [Elway] last summer at length one evening at the Hall of Fame and talked to him about some of the challenges and the things that he had done there with the organization, and he's done a remarkable job. It's been very impressive. They've drafted good players. He's made good decisions, certainly, on bringing
Peyton Manning
in.
"Right now, I'm happy doing what I'm doing [as a TV analyst for Fox]. At some point in time, would I entertain the idea of intentionally getting involved with an organization? Yeah, I think that would excite me to some degree. Where that may take place, who knows? But the structure in Dallas is pretty much set. I don't anticipate anything like that would happen within the Cowboy organization."
January, 10, 2014
Jan 10
3:30
PM ET
IRVING, Texas --
John Elway
is in his third year as the
Denver Broncos
' executive vice president of football operations. It's a fancy title that says, basically, he's in charge of all things football when it comes to the Broncos.
The Hall of Fame quarterback has been able to ride
Tim Tebow
to a playoff appearance -- and win -- and was able to lure
Peyton Manning
to the Broncos as a free agent.
[+] Enlarge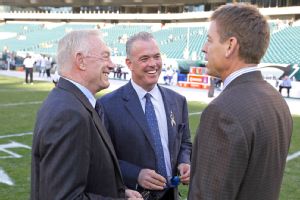 AP Photo/James D SmithBringing Troy Aikman into the front-office fold would help the Joneses generate goodwill with Cowboys fans.
Before Elway took that job, his personnel experience consisted of owning the Colorado Crush of the Arena Football League.
The Broncos have gone 26-6 in the last two seasons with Manning as quarterback and are the AFC's top seed in the playoffs for the second straight year.
The
Dallas Cowboys
do not have an executive vice president of football operations.
They have Jerry Jones as owner, president and general manager. They have Stephen Jones as chief operating officer, executive vice president and director of player personnel. Will McClay is the assistant director of player personnel.
On Sunday, I was fortunate enough to appear on "The Score With Babe Laufenberg." Sportscaster Bill Jones asked what changes could or should the Cowboys make in 2014. I came up with change the defensive coordinator. I mean, how hard is that when Monte Kiffin's defense was as bad as it was?
Laufenberg, the former Cowboys quarterback, sports director at KTVT and Cowboys radio analyst, had an ingenius thought.
Hire
Troy Aikman
.
Brilliant.
Think about the goodwill that would give Jones, who has long been criticized for being the general manager by just about everybody upset with the lack of success the Cowboys have had. Think of the jolt it would give the franchise.
Last year, Jones talked about sometimes having to do something "inordinate" to get the change you seek. His idea of change was to fire Rob Ryan as defensive coordinator and have Bill Callahan call plays. And the Cowboys still went 8-8.
In his role as a Fox analyst, Aikman has been closer to the game than Elway was when he took over. I wonder if a part of him sees what Elway has done and thinks, "I can do that." Is Elway poring over player reports every waking minute and up on all of the salary cap machinations? Not necessarily.
Dan Marino
tried to do this in 2004 and it didn't take. He lasted just three weeks as the senior vice president of football operations. Last fall Marino hinted he would be interested in a front-office gig once again, referencing Elway's success.
A lot of this is pie in the sky. We know Jones won't give up the GM duties. Ever. We also don't know if Aikman would ever consider giving up the Fox gig for something a little more grinding than calling games about 20 weekends a year. And we don't know if he could work with (or for) Jones again.
As we sit and wait to see what changes Jones will or will not make in this offseason, it sure is fun to ponder a Cowboys' life with Aikman in the front office.
Thanks for the idea, Babe.
October, 9, 2013
10/09/13
2:15
PM ET
IRVING, Texas -- After Sunday's 51-48 loss to the
Denver Broncos
,
Dallas Cowboys
owner and general manager Jerry Jones invoked John Elway's name when he was asked about whether
Tony Romo
's career will be remembered more for critical errors than huge success.
"They will until he wins the Super Bowl," Jones said. "The guy standing over on the other sideline or up in the box, John Elway, had those things said about him his entire career."
Washington Redskins
coach Mike Shanahan was Elway's quarterbacks coach and later his head coach and heard the can't-win-the-big-game talk about Elway. The Broncos went to three Super Bowls with Elway as quarterback and lost before winning Super Bowls XXXII and XXXIII.
"That's everybody's goal to win the Super Bowl, and unless you do it, you're always going to have people second-guessing yourself, and John had that as well," Shanahan said. "When he did win the two in his last couple of years back to back, that quickly goes away. Until you do it, you're always going to have that tag."
Shanahan has been a Romo fan for a long time. He tried to sign Romo as an undrafted free agent in 2003 with the Broncos, but not even his Eastern Illinois pedigree and a larger signing bonus could sway the quarterback.
He was quick to subtly point out that team's win Super Bowls, which Elway did after Terrell Davis arrived, giving the Broncos a great running game.
"I think the people that see Tony practice every day and the teammates know what he can do. But you do it as a team," Shanahan said. "Everybody's got to do it together. I know when I was with John going into the 15th, 16th year, you had the same people saying that he couldn't do it throughout his whole career and then when he does it, everybody's, 'Ah, well, we knew he could do it.' It's the same old thing. You've just got to fight through it. You can't listen to the critics and you've got to believe in yourself. And I'm sure that's what Tony's doing."
October, 6, 2013
10/06/13
10:41
PM ET
ARLINGTON, Texas –
Dallas Cowboys
owner and general manager Jerry Jones has seen every one of Tony Romo's starts and, to him, none was better than Sunday's against the
Denver Broncos
.
Romo completed 25 of 36 passes for a team-record 506 yards with a team record-tying five touchdowns, but it was Romo's lone mistake -- a fourth-quarter interception -- that will be remembered most in the 51-48 loss to the Broncos.
"He's tough as a boot," Jones said. "I'm not the least bit worried about any criticism here. I'm glad he had this game. If he can get better, this ought to make him better. I mean, I know no one with the Cowboys have ever had a game like this. Now you say you've got to win, but no one has ever played statistically and executed and did everything, not only executed the plan, not only did a lot of the deal, but he also created, and he made things happen. Now he was certainly very creative out there today too. People ask how could he be both? How could he protect the ball? How could he have great stats? How could he have accuracy stats? How can he run the team? But do we lose creative
Tony Romo
? You saw it out there today. You saw the whole package out there today. We've got some creative Romo. We've got the other parts of him, too, that he's been working on. I like what we got out there today. I'll take a helping of that every time. Seriously, I will, because it's such a great combination, and very few people can play quarterback that way."
Jones even invoked John Elway, Denver's Hall of Fame quarterback and current vice president of football operations, when asked about whether this is how Romo will be remembered: statistically brilliant, but lacking the big-time wins.
"They will until he wins the Super Bowl," Jones said. "And then when they do that, the guy standing over on the other sideline or up in the box, John Elway, had those things said about him his entire career, or things like that said his entire career. He was a great player and we all know that, and he ultimately got his Super Bowls, and they don't say that about him anymore. And I'm not trying to be trite."
February, 6, 2013
2/06/13
9:21
AM ET
Jean-Jacques Taylor has
run the numbers
and figured out that the
Dallas Cowboys
'
Tony Romo
will be the second-oldest starting quarterback in the NFC next season, behind only
Drew Brees
. Yipes.
Now, as we have discussed here many times, 33 is not end-of-the-line old for quarterbacks in the NFL in the year 2013. But it's closer to the end than it is to the beginning, and Jacques' point here is that the infusion of talented and successful young quarterbacks in the NFC is making Romo's path to the Super Bowl even more difficult than it already was. His other point is that Romo needs help:
For Romo to lead the Cowboys to the Super Bowl, Jerry must build a team around Romo the way the Denver Broncos built around John Elway.

When the Broncos won consecutive Super Bowls in 1997 and 1998, they were built around running back Terrell Davis, tight end Shannon Sharpe and receiver Rod Smith. Those guys did the heavy lifting.

A few times each game, the Broncos asked Elway to deliver one of his magical plays -- and he did. Early in his career, the Broncos asked Elway to do all of the heavy lifting and he was still dynamic enough to get Denver to three Super Bowls, which is why he's in the Hall of Fame.

No one is comparing Romo to Elway in terms of talent -- only in terms of what their teams ask each player to do.
Funny, that last part, because sometimes the criticism of Romo does remind me of what people used to say about Elway. In the final two years of his career, Elway went from "good, talented quarterback who couldn't win the big one" to "maybe the best quarterback ever to play the game." He did it by winning two Super Bowls at the helm of a team that could win with its running game.
Jacques is right that Romo needs help. The Cowboys' offensive line has been awful the past two seasons and the run game has been injury-plagued and unreliable. There is no question that Romo and his three interceptions were to blame for this year's season-ending loss in Washington, but he didn't lose all eight of the Cowboys' games single-handedly. There are deeper problems on this Cowboys team than Romo. If he finishes his career there without an Elway-type Super Bowl flourish, he'll go down in history as a Cowboys disappointment. Which is the way it goes with quarterbacks, even when it's not completely fair.
October, 20, 2012
10/20/12
9:00
AM ET
If you've ever thought to yourself, "I wonder what it would be like to get a glimpse into the mind of 'First Take' host Skip Bayless as he agonizes over the question of whether
Tony Romo
will ever win a Super Bowl as quarterback of the
Dallas Cowboys
," well, then, you're in luck.
Skip's weekly column
for ESPN.com is a lengthy debate between Skip's head and his heart on this very topic.
Romo
Skip concludes that the answer is "no," which is something of a departure from his long-held and oft-stated belief that Romo takes too much blame in Dallas. Along the way, he hits on a number of key issues at the heart of the perpetual Romo conundrum, including this one:
An NFL coach who loves Romo's talent and stays in touch with several Cowboys assistants told me: "That team badly needs Romo to take over as its leader. And all he really wants to be is a good soldier. Not a general. Just a very good soldier."

That's because, deep down, Romo knows he's still your basic undrafted free agent. Staubach won the Heisman. Aikman was the first pick in the draft. Romo doesn't trust he can be routinely great. He keeps waiting for someone to tap him on the shoulder and tell him he just got punked -- he isn't really a Dallas Cowboys quarterback. That's why he was so happy-go-unlucky in those first couple of seasons. He was trying to grin away the Texas-sized pressure, shrug off the voice inside telling him, "You know you don't belong here."



PODCAST
Ben and Skin take you inside the numbers and evaluate the job Jerry Jones has done fives game into the season.

Listen

That voice keeps telling him he WILL self-destruct. And he does.
I think the "leader" stuff is overblown, and that it comes from people who don't ever visit the Cowboys' locker room, where Romo is looked at as a leader in all of the critical ways. But I think there's something to the idea of Romo's relationship to potential greatness. Guys who win Heisman Trophies and get picked first overall are the types of guys who have spent their whole lives crushing everyone and everything in their path -- for whom doubt was never company and therefore can't even be a memory. Romo hit more than his share of bumps and setbacks along his way to the NFL, and therefore the idea that he might possess more innate self-doubt than did his Hall of Fame predecessors is not a crazy one at all.
Where I fall short on this -- and I guess one of the reasons I was never going to make it on "First Take" -- is that I can't sit here and say Romo will
never
win a title with the Cowboys. Very few quarterbacks have ever filled us with certainty that they could win a Super Bowl until they actually did it. They used to say the Broncos would never win one with
John Elway
, that the Giants would never win one with
Eli Manning
. Someday, we may look back on this Romo conversation as preposterously silly.
But that's who Romo is right now. Even if you want to like him and believe in him, there are just enough reasons -- some of his own making, some not -- for doubt. And jeez, if he's lost Skip, that's a tough one.
July, 22, 2012
7/22/12
5:11
PM ET
IRVING, Texas – Tony Romo's bid to win his first American Century Championship at Edgewood Golf Club at Lake Tahoe fell short Sunday.

Romo finished fifth with 56 points behind winner Dan Quinn, who had 66 points to win the tournament for the fifth time. Quinn was followed by four quarterbacks: Mark Rypien (60), John Elway (59 points), Billy Joe Tolliver (58) and Romo.

Romo birdied three of his first eight holes but saw his momentum slip with a double bogey on the par-4 ninth hole and finished with a double bogey on No. 18. He shot a final-round 73 and has finished in the top five the last four years.

It was a good day for Quinn, a former NHL player and now five-time winner of the event. He splits the caddie duties for Ernie Els, who won the British Open.

Among the other golfers with Dallas ties, former Star Mike Modano finished 13th, followed by Brett Hull (tied 15th), Tim Brown (43rd), Emmitt Smith (tied 62nd), Miles Austin (tie 68th) and Jason Witten (tie 73rd).

June, 27, 2012
6/27/12
8:30
AM ET
IRVING, Texas -- Because
Tony Romo
grew up in Wisconsin the natural assumption that his favorite quarterback growing up was
Brett Favre
. In reality it was
John Elway
. But Favre, the former Green Bay Packer, was near the top of Romo's list.
PODCAST
Former Cowboys receiver Patrick Crayton reacts to Brett Favre's comments on Tony Romo.

Listen

It seems Favre has taken a liking to Romo, too. In an interview with NFL Network,
Favre went so far as to call Romo "underrated,"
because of how much he's expected to do.
"Romo is probably more like me than any of those guys," Favre told Hall of Famer
Deion Sanders
, who has been a Romo critic. "Way too much is cast upon him -- good, bad. It's Dallas and much is expected. He's carried those guys.
"But I'm watching last year -- and I like Tony, I like the way he plays, at times he's underrated -- but I'm watching and right before the snap, he's telling guys (to get into position and they don't know what they're doing.) How in the world are you going to have a positive play when the ball is coming and you're telling a guy (to get into position)? And then he'll make something out of nothing. That's part of being a great quarterback is sometimes it's not going to go. As a coach, they would love to sit there and say, 'It's going to be five steps, you're going to hitch up into a perfect pocket, you're going to look at No. 1 -- no, you're going to go to No. 2 -- no...' It doesn't work that way."
Romo has carried the same "gunslinger" tag Favre had throughout much of his career, a mark that comes just as much for the plays made as the ones forced. In his last two full seasons (2009, '11), Romo has 57 touchdown passes and 19 interceptions.
June, 22, 2011
6/22/11
8:44
AM ET
ESPN.com's NFL writers rank the top 10 up-and-coming assistant coaches in the league today. Next week: Top players overall.
Seven NFL teams named new head coaches after last season, tapping into a pool that included experienced coordinators and relatively unknown assistants alike. The class of 2011 featured longtime candidates (Leslie Frazier, Ron Rivera). It also included a trusted position coach in Mike Munchak (
Tennessee Titans
) and a couple of relative hotshots in Hue Jackson (
Oakland Raiders
) and Pat Shurmur (
Cleveland Browns
).
Who will comprise the NFL's next batch of head-coaching candidates? That was the question ESPN.com hoped to answer in this week's edition of the offseason Power Rankings. We established one ground rule by eliminating any assistant who has already had a permanent head-coaching job. The idea was to develop a list that focused on the "next wave" of coaching candidates.
No less than 24 NFL assistants received at least one vote, a reflection of both the variables involved in head-coaching searches and the relative lack of national name recognition for all but the most highly regarded assistants.
So in that vein, it was no surprise to see four well-known assistants at the top of our list, headed by
New York Giants
defensive coordinator Perry Fewell -- who placed first or second on six of the eight ballots.
Dallas Cowboys
defensive coordinator Rob Ryan finished second, followed by
New York Jets
offensive coordinator Brian Schottenheimer and Arizona offensive line coach Russ Grimm.
Fewell is an ideal candidate in many ways, having spent time as the
Buffalo Bills
' interim coach in 2009 and leading a substantial turnaround of the Giants' defense last season. Fewell interviewed for four head-coaching jobs last winter, and NFC East blogger Dan Graziano suggested that experience, along with a high profile afforded to coaches in New York, make him "the most likely guy on the list to be a head coach soon."
Just don't bother forwarding his name to AFC South colleague Paul Kuharsky, who couldn't find room for Fewell on his 10-man ballot. Kuharsky noted the Giants' poor performance in Week 2 last season against the
Indianapolis Colts
, during which quarterback
Peyton Manning
threw three touchdowns and cruised to an easy 38-14 victory.
"Certainly I'm letting one game overinfluence my ballot," Kuharsky muttered. "But Fewell's plan for the Giants against the Colts last season was so bad that I could not help but score him down for it. Was he not familiar with how Peyton Manning and Indianapolis operate?"
We can't cover every coach who received votes in this exercise, but let's hit some of the more interesting names that received attention.
Another Ryan?
Deserved or not, Ryan has long been considered a loose cannon. There is little doubt about his schematic prowess, but hiring him would require a confident owner ready to make a leap of faith.
The success of twin brother Rex Ryan with the Jets might have softened the perception of that risk, and collectively we see Rob Ryan on the doorstep of a job.
"Similar to Rex, Rob Ryan is good with X's and O's and has the type of outgoing personality players want to be around," AFC North blogger James Walker said. "I think both are equally important in today's NFL. Both brothers say exactly what's on their mind, and before that scared off a lot of teams. But Rex broke the ice with his success in New York and that could help Rob in the future."
The next generation:
Schottenheimer has turned down more opportunities to interview for head-coaching jobs than he has actually submitted to. He has nixed requests from the
Miami Dolphins
and Bills in recent years, but he did interview for the Jets' job that ultimately went to Ryan. I placed him atop my ballot (he finished No. 3 overall) because I think NFL people have made up their mind that he is the kind of young and innovative assistant who can turn around their franchise. (Think: Cowboys coach Jason Garrett.)
Schottenheimer's pedigree doesn't hurt -- he's the son of longtime NFL coach Marty Schottenheimer -- and I'm not sure how closely teams will dissect the specifics of the Jets' offensive performance. Graziano, on the other hand, thinks Schottenheimer is close to coaching his way out of the golden-child image he cultivated and left him off his ballot.
"Having spent a good amount of time around that team the past couple of years, I just feel like defensive coordinator Mike Pettine is the more likely guy to end up a head coach," Graziano said. "Schottenheimer's under a ton of pressure as Ryan defers the offensive responsibilities to him. I feel like, if the offense has a bad year, he could end up in trouble or even out of a job. And given their youth at quarterback and running back and the uncertainty of their receiver situation, a bad year for the Jets' offense is possible.
"Now, he could be a genius, make chicken salad and be the next hot name eight months from now. But I think there's the potential that he may have already peaked as a hot coaching prospect and that he might not be set up to succeed in New York."
The big fella:
Four years ago, Grimm thought he would be the next
Pittsburgh Steelers
coach. He moved to Arizona after the Steelers selected Mike Tomlin instead, and we view his status as a head-coaching candidate with wide disparity.
AFC West blogger Bill Williamson put Grimm atop his ballot, and AFC East blogger Tim Graham had him No. 2. Kuharsky and I left him off.
Williamson thinks Grimm has moved to "the top of the food chain" largely because most of his "hot-name" contemporaries have already gotten jobs. As well, Graham suggested that it will soon be Grimm's turn because he is still well-regarded throughout the league.
Personally, I couldn't get past Grimm's well-publicized gaffe after interviewing with the
Chicago Bears
, after which he referred to the team owners as the "McClaskey" family. I also agree with NFC West blogger Mike Sando, who ranked Grimm No. 8 and wondered: "Is he still ascending? Grimm seems content coaching the line in Arizona. He has plateaued and doesn't seem to be losing any sleep over it."
Welcome back:
Unless you're a college football fan, you might not have heard of
Jacksonville Jaguars
offensive coordinator Dirk Koetter. He spent six years as the head coach at Arizona State, but has drawn some quiet acclaim for his work with the Jaguars and made a strong impression while interviewing with the
Denver Broncos
last winter.
"In a setting where he won't have to deal with boosters and can shine for being a smart X's and O's guy with strong coaching DNA," Kuharsky said, "I think he'd do far better. He's smart and will interview quite well. He really impressed John Elway and the Broncos before losing out to John Fox's experience. St. Louis wanted him as coordinator, but Jacksonville wouldn't let him go. He's heading into the final year of his contract. How
Blaine Gabbert
develops early on will have a big bearing on Koetter's future."
Secret weapon:
In two years, the
Tampa Bay Buccaneers
have developed quarterback
Josh Freeman
into one of the better starters in the league. The man largely responsible is offensive coordinator Greg Olson, who navigated a disastrous 2009 preseason -- coach Raheem Morris promoted him in the middle of training camp after firing Jeff Jagodzinski -- and NFL teams often seek out coaches with success developing young quarterbacks.
"I think Olson deserves a ton of credit for developing Freeman so quickly," said NFC South blogger Pat Yasinskas. "Freeman threw for 25 touchdowns and six interceptions in his first full season as a starter and carried an incredibly young team to a 10-6 record. I also think people need to look at what Olson did last year with rookie running back
LeGarrette Blount
and rookie receiver
Mike Williams
. He helped make them into instant stars."
Super Bowl entitlement:
The
Green Bay Packers
were the only team to place more than one name in the top 10, as would be expected from a championship team. Assistant head coach/inside linebackers Winston Moss is at No. 6, while safeties coach Darren Perry finished No. 10. I also voted for receivers coach Edgar Bennett, who has moved over from running backs coach and is clearly being groomed for bigger things.
I'll detail my ranking of the Packers' assistants, including why I think so highly of Perry, in a future post for NFC North readers. But we'll say this for now: Moss is a strong leader who has drawn interest from the Raiders, while Perry is a disciple of Packers defensive coordinator Dom Capers and his coveted 3-4 scheme.
July, 16, 2010
7/16/10
8:32
AM ET
Never has there been so much star power in one group at the American Century Championship celebrity golf tournament in Stateline, Nev.
Cowboys quarterback
Tony Romo
might be the better golfer, but he's paired with
Michael Jordan
(and
Boston Celtics
star
Ray Allen
) for Friday's first round at Edgewood Tahoe Golf Course.
And you can watch all the action right here on ESPNDallas.com.
So whose jersey will be represented the most in the huge gallery that's sure to follow -- Romo's No. 9 or Jordan's No. 23? We're guessing Jordan.
"Michael Jordan has traditionally drawn the largest galleries through the years, but Tony Romo has attracted huge crowds the past three years," tournament director Mike Milthorpe told the Reno Gazette Journal.
Romo was the event's runner-up last year, and he finished third in 2008.
"It's going to be fun," Romo told the RGJ. "Hopefully, we can get Mike in contention. ... I'm pretty confident on the course. As long as I stay away from the basketball court, I'll be all right."
The starpower in the group in front of them isn't too shabby, either. Former Cowboys quarterback
Troy Aikman
is paired with former Broncos QB
John Elway
and current
Green Bay Packers
QB
Aaron Rodgers
.
The other DFW celebrities participating are
Jason Kidd
,
Brett Hull
,
Mike Modano
and Hank Haney.