January, 28, 2014
Jan 28
10:00
AM ET
IRVING, Texas -- In the latest installment of the NFL Nation survey, coaches enter the mix.
The 320 players asked could not pick their own head coach, so after the final vote was tallied, 28 head coaches received at least one vote. One defensive coordinator received two votes. Who? Former Cowboys head coach Wade Phillips.
Jason Garrett received one vote.
Seattle Seahawks
coach Pete Carroll was the winner with 77 votes.
Locally, the Cowboys' vote was split between four coaches with two votes apiece. And all four were coaching in the conference championship games. Carroll, John Fox, Bill Belichick and Jim Harbaugh each received two votes among the Cowboys polled.
Mike Tomlin and Tom Coughlin received one vote each.
What does it say? The reputation that others might have of these guys as either tough guys or player coaches doesn't matter. Winning matters. All of them have coached (or in Carroll's case will coach) in a Super Bowl. Belichick, Coughlin and Tomlin have Super Bowl rings.
For Garrett to get more votes, he will need to win.
November, 5, 2013
11/05/13
9:00
AM ET
IRVING, Texas -- There is no life out of football for coaches during the season. There is barely a life for them when it is not football season.

Garrett
The recent health scares involving
Denver Broncos
coach John Fox and
Houston Texans
coach Gary Kubiak has brought examination of just how long a day coaches put in on a daily and weekly basis.
Fox underwent heart surgery on Monday and will miss multiple weeks to recover with the Broncos naming ex-Cowboy Jack Del Rio their interim head coach. Kubiak collapsed at halftime of the Texans' Sunday night game against the
Indianapolis Colts
. According to ESPN's Adam Schefter, Kubiak was treated with medicine designed to break up clots consistent with people who suffer strokes.
Cowboys coach Jason Garrett wished his contemporaries well but acknowledged time is not always a coach's friend. The days are long, but he attempts to break them up with workouts or other activities away from the game.
"Coaches work hard," Garrett said. "That's well-documented. We work long hours and there's a lot of commitment that goes into the jobs that we have, but nobody would trade these jobs for anything. We're fortunate to do what we do, and certainly you have to try to have balance in your life and try to maintain a healthy lifestyle given some of the circumstances that we find ourselves in, but that's what we signed up for, and again, we wish Gary and Fox nothing but the best in coming back. They'll be back as good as new in no time."
November, 5, 2012
11/05/12
10:54
AM ET
It may be easy for you and I to sit here and say
Dallas Cowboys
owner Jerry Jones should give up on the idea of Jason Garrett as head coach, move on and start over with someone else. But it's important to remember that you and I probably wouldn't have hired Garrett to coach the Cowboys in the first place, and Jones did.
A half-season after he fired Wade Phillips as head coach and defensive coordinator, Jones looked at all of the available candidates and selected Garrett. Dan Snyder had beaten him to Mike Shanahan by a year, and the best remaining candidates at the time were either defensive coaches (John Fox, Jeff Fisher) like the one he'd just fired or offensive coaches (Jon Gruden, Brian Billick) whose stock had fallen since their Super Bowl title days. Garrett had just gone 5-3 over the second half of the 2010 season with
Jon Kitna
at quarterback. The team had responded to him, Jones had always thought highly of him, and so he made the decision that Garrett had earned his chance.
[+] Enlarge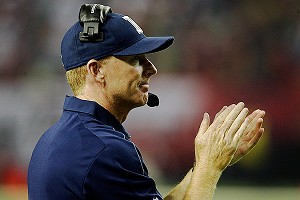 AP Photo/Chuck BurtonIs a strong finish to the season a must in order for Jason Garrett to keep his job as Cowboys coach?
We fast-forward now to the present day. After Sunday night's loss to the undefeated Falcons in Atlanta, Garrett is 3-5 for this season, 4-9 in his last 13 games and 16-16 since taking over as head coach of the Cowboys in the middle of 2010. For the first time since he got the job, he does not have a winning record. Cowboys fans are profoundly disappointed that things have failed to get better over the past two calendar years, and since they believe their team has the talent to play with the league's best teams but isn't beating them, they assume it's a matter of coaching and that Garrett must go.
Now, I don't believe this Cowboys team is as "talented" as everybody wants to rush to believe it is. Sure, there are some excellent players on both sides of the ball. But they don't have the same kind of depth of talent on their roster as the teams to which they've barely lost to the past couple of weeks. And at the positions where they're strongest -- quarterback and wide receiver, for instance -- the Giants and Falcons are even better. The combined record of the five teams to which the Cowboys have lost this season is 32-10, which means they've been beaten by the very best teams in the league. Of their remaining eight games, five are at home and only one is against a team that currently has a winning record. There is reason to believe things so far have been tougher for the Cowboys than things will be the rest of the way.
But those are excuses, this is a results business and the results say Garrett is a .500 coach. So this becomes about evaluating the kind of job he's actually doing. And it's not great. The clock-management issues, the delays in sending in the plays ... these things are easy to spot, as is the fact that the offense (which is Garrett's responsibility) appears to be regressing. The additions of offensive line coach Bill Callahan and the free-agent guards they signed were moves of Garrett's making, and they have not paid off.
Tony Romo
's having a bad year.
Dez Bryant
isn't making the step forward he was supposed to make. There is no run game to speak of with
DeMarco Murray
injured, and it's not as though they were running for 175 yards a game when he was in there.
There are plenty of reasons, if you believe 32 games is a sufficient sample size, to conclude that Garrett isn't doing a good enough job. But only one man's opinion matters, and that man is the guy who hired Garrett in the first place. Just because fans are looking for reasons to fire Garrett doesn't mean they should assume Jerry Jones is, too. Jones has publicly said, many times, that he regrets firing Chan Gailey after only 32 games, and that he's learned lessons about the importance of continuity. Good leaders stand by their plan and their people, and Garrett is Jones' guy and his plan is to give him every chance to succeed.
Jones likes Garrett. Garrett is Jones' hand-picked choice to coach the team. If anything, he's looking for reasons to keep him. Another 5-3 finish that got the team back to .500 would allow Jones to claim that Garrett had done a good job recovering from a tough first half. It would push Garrett's record to 21-19, and Jones could very easily say he's not going to fire a guy with a winning record. A finish better than 5-3 would make the Cowboys a playoff contender, possibly even a playoff team if things broke the way they did last year in the NFC East.
A total flop against the soft second half of the schedule? Say, a 3-5 finish and a 6-10 record for the year? That's the kind of thing that could change Jones' mind. So could the sudden appearance in the coaching free-agent ranks of a highly qualified offensive coach such as Sean Payton or Andy Reid. As much as Jones likes Garrett, he likes Payton as well. And if a coach with Payton's pedigree hits the market, every team with even the faintest of question marks in the head coach's office is going to have to take a long look.
But the key thing to remember, amid the frustration, is that Jones feels differently about Jason Garrett than Cowboys fans do. Jones thinks more highly of Garrett than you ever did, or else Garrett would never have been the coach in the first place. Jones wants Garrett to succeed -- wants to build the Cowboys into a consistent winner around him and with the help of his vision. That might sound crazy and unjustified to you and to me, but it's what Jones has in mind for his franchise. And in order for him to get rid of Garrett, something big is going to have to happen to change his mind. So while you may want Garrett out and you may think it's obvious that he needs to go, you shouldn't assume it's definitely going to happen.
August, 10, 2011
8/10/11
2:53
PM ET


Denver Broncos coach John Fox told ESPN's Ed Werder that second-year quarterback Tim Tebow will follow starter Kyle Orton in the team's preseason opener against the Cowboys on Thursday night at Cowboys Stadium.

Fox said Orton and the other starters are expected to play 12 to 15 plays, and that Tebow and Brady Quinn will lead the offense for most of the remaining three quarters -- although rookie Adam Webb might also play.

Fox said he has made no firm decisions at the position and considers the quarterback competition open.
August, 6, 2011
8/06/11
12:47
PM ET
SAN ANTONIO -- With the Cowboys opening the preseason Thursday vs. Denver at Cowboys Stadium, coach Jason Garrett will call his counterpart, John Fox, in the next few days to help determine a course of action for the exhibition game.

Garrett was a member of the New York Giants when Fox was the team's defensive coordinator and they are "good friends."

"I think everybody in the league's going to do something like that because everything has been so shortened," Garrett said. "You need to be on the same page as to who's playing against who and what kind of stuff we're using. I think those conversations are important."

At the opening of training camp, owner and general manager Jerry Jones hinted that veterans might see more action than normal in this year's preseason games because of the lockout. Typically, the first-team offenses and defenses see as little as a series and as much as a quarter in the first preseason game.

Garrett said a playing time plan has not been put in place just yet.

June, 22, 2011
6/22/11
8:44
AM ET
ESPN.com's NFL writers rank the top 10 up-and-coming assistant coaches in the league today. Next week: Top players overall.
Seven NFL teams named new head coaches after last season, tapping into a pool that included experienced coordinators and relatively unknown assistants alike. The class of 2011 featured longtime candidates (Leslie Frazier, Ron Rivera). It also included a trusted position coach in Mike Munchak (
Tennessee Titans
) and a couple of relative hotshots in Hue Jackson (
Oakland Raiders
) and Pat Shurmur (
Cleveland Browns
).
Who will comprise the NFL's next batch of head-coaching candidates? That was the question ESPN.com hoped to answer in this week's edition of the offseason Power Rankings. We established one ground rule by eliminating any assistant who has already had a permanent head-coaching job. The idea was to develop a list that focused on the "next wave" of coaching candidates.
No less than 24 NFL assistants received at least one vote, a reflection of both the variables involved in head-coaching searches and the relative lack of national name recognition for all but the most highly regarded assistants.
So in that vein, it was no surprise to see four well-known assistants at the top of our list, headed by
New York Giants
defensive coordinator Perry Fewell -- who placed first or second on six of the eight ballots.
Dallas Cowboys
defensive coordinator Rob Ryan finished second, followed by
New York Jets
offensive coordinator Brian Schottenheimer and Arizona offensive line coach Russ Grimm.
Fewell is an ideal candidate in many ways, having spent time as the
Buffalo Bills
' interim coach in 2009 and leading a substantial turnaround of the Giants' defense last season. Fewell interviewed for four head-coaching jobs last winter, and NFC East blogger Dan Graziano suggested that experience, along with a high profile afforded to coaches in New York, make him "the most likely guy on the list to be a head coach soon."
Just don't bother forwarding his name to AFC South colleague Paul Kuharsky, who couldn't find room for Fewell on his 10-man ballot. Kuharsky noted the Giants' poor performance in Week 2 last season against the
Indianapolis Colts
, during which quarterback
Peyton Manning
threw three touchdowns and cruised to an easy 38-14 victory.
"Certainly I'm letting one game overinfluence my ballot," Kuharsky muttered. "But Fewell's plan for the Giants against the Colts last season was so bad that I could not help but score him down for it. Was he not familiar with how Peyton Manning and Indianapolis operate?"
We can't cover every coach who received votes in this exercise, but let's hit some of the more interesting names that received attention.
Another Ryan?
Deserved or not, Ryan has long been considered a loose cannon. There is little doubt about his schematic prowess, but hiring him would require a confident owner ready to make a leap of faith.
The success of twin brother Rex Ryan with the Jets might have softened the perception of that risk, and collectively we see Rob Ryan on the doorstep of a job.
"Similar to Rex, Rob Ryan is good with X's and O's and has the type of outgoing personality players want to be around," AFC North blogger James Walker said. "I think both are equally important in today's NFL. Both brothers say exactly what's on their mind, and before that scared off a lot of teams. But Rex broke the ice with his success in New York and that could help Rob in the future."
The next generation:
Schottenheimer has turned down more opportunities to interview for head-coaching jobs than he has actually submitted to. He has nixed requests from the
Miami Dolphins
and Bills in recent years, but he did interview for the Jets' job that ultimately went to Ryan. I placed him atop my ballot (he finished No. 3 overall) because I think NFL people have made up their mind that he is the kind of young and innovative assistant who can turn around their franchise. (Think: Cowboys coach Jason Garrett.)
Schottenheimer's pedigree doesn't hurt -- he's the son of longtime NFL coach Marty Schottenheimer -- and I'm not sure how closely teams will dissect the specifics of the Jets' offensive performance. Graziano, on the other hand, thinks Schottenheimer is close to coaching his way out of the golden-child image he cultivated and left him off his ballot.
"Having spent a good amount of time around that team the past couple of years, I just feel like defensive coordinator Mike Pettine is the more likely guy to end up a head coach," Graziano said. "Schottenheimer's under a ton of pressure as Ryan defers the offensive responsibilities to him. I feel like, if the offense has a bad year, he could end up in trouble or even out of a job. And given their youth at quarterback and running back and the uncertainty of their receiver situation, a bad year for the Jets' offense is possible.
"Now, he could be a genius, make chicken salad and be the next hot name eight months from now. But I think there's the potential that he may have already peaked as a hot coaching prospect and that he might not be set up to succeed in New York."
The big fella:
Four years ago, Grimm thought he would be the next
Pittsburgh Steelers
coach. He moved to Arizona after the Steelers selected Mike Tomlin instead, and we view his status as a head-coaching candidate with wide disparity.
AFC West blogger Bill Williamson put Grimm atop his ballot, and AFC East blogger Tim Graham had him No. 2. Kuharsky and I left him off.
Williamson thinks Grimm has moved to "the top of the food chain" largely because most of his "hot-name" contemporaries have already gotten jobs. As well, Graham suggested that it will soon be Grimm's turn because he is still well-regarded throughout the league.
Personally, I couldn't get past Grimm's well-publicized gaffe after interviewing with the
Chicago Bears
, after which he referred to the team owners as the "McClaskey" family. I also agree with NFC West blogger Mike Sando, who ranked Grimm No. 8 and wondered: "Is he still ascending? Grimm seems content coaching the line in Arizona. He has plateaued and doesn't seem to be losing any sleep over it."
Welcome back:
Unless you're a college football fan, you might not have heard of
Jacksonville Jaguars
offensive coordinator Dirk Koetter. He spent six years as the head coach at Arizona State, but has drawn some quiet acclaim for his work with the Jaguars and made a strong impression while interviewing with the
Denver Broncos
last winter.
"In a setting where he won't have to deal with boosters and can shine for being a smart X's and O's guy with strong coaching DNA," Kuharsky said, "I think he'd do far better. He's smart and will interview quite well. He really impressed John Elway and the Broncos before losing out to John Fox's experience. St. Louis wanted him as coordinator, but Jacksonville wouldn't let him go. He's heading into the final year of his contract. How
Blaine Gabbert
develops early on will have a big bearing on Koetter's future."
Secret weapon:
In two years, the
Tampa Bay Buccaneers
have developed quarterback
Josh Freeman
into one of the better starters in the league. The man largely responsible is offensive coordinator Greg Olson, who navigated a disastrous 2009 preseason -- coach Raheem Morris promoted him in the middle of training camp after firing Jeff Jagodzinski -- and NFL teams often seek out coaches with success developing young quarterbacks.
"I think Olson deserves a ton of credit for developing Freeman so quickly," said NFC South blogger Pat Yasinskas. "Freeman threw for 25 touchdowns and six interceptions in his first full season as a starter and carried an incredibly young team to a 10-6 record. I also think people need to look at what Olson did last year with rookie running back
LeGarrette Blount
and rookie receiver
Mike Williams
. He helped make them into instant stars."
Super Bowl entitlement:
The
Green Bay Packers
were the only team to place more than one name in the top 10, as would be expected from a championship team. Assistant head coach/inside linebackers Winston Moss is at No. 6, while safeties coach Darren Perry finished No. 10. I also voted for receivers coach Edgar Bennett, who has moved over from running backs coach and is clearly being groomed for bigger things.
I'll detail my ranking of the Packers' assistants, including why I think so highly of Perry, in a future post for NFC North readers. But we'll say this for now: Moss is a strong leader who has drawn interest from the Raiders, while Perry is a disciple of Packers defensive coordinator Dom Capers and his coveted 3-4 scheme.
November, 4, 2010
11/04/10
12:56
PM ET
Bodog.com has placed odds on who will be the Cowboys' head coach at the beginning of the 2011 season.

Jon Gruden -- 3/2
Bill Cowher -- 5/2
Jason Garrett -- 4/1
Wade Phillips -- 50/1
Any other coach -- 1/1

The leading candidate in the "any other coach" crowd would be Carolina's John Fox. He appears to be on his way to an end-of-the-season divorce with the Panthers, but he's a proven head coach who happens to be good pals with Jerry and Stephen Jones.