Dallas Cowboys:

John Lynch
July, 9, 2014
Jul 9
11:30
AM ET
IRVING, Texas -- Rod Marinelli likes what he saw from his
Dallas Cowboys
defense in the spring.
The defensive coordinator liked that he has more players along the defensive line. He likes the linebackers' "movement skills." He likes how cornerbacks
Brandon Carr
,
Orlando Scandrick
and
Morris Claiborne
can play man-to-man. He likes the growth
J.J. Wilcox
made at safety opposite
Barry Church
.
[+] Enlarge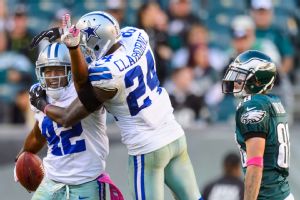 Howard Smith/USA TODAY SportsDallas defensive backs Barry Church and Morris Claiborne didn't have much to celebrate during 2013.
But there's something else Marinelli likes about the group.
"I think there's something to prove a little bit," Marinelli said. "Not something to prove from last year, but there are some guys coming here off the street with something to prove. There are some guys in contract years with something to prove. There are some guys coming out saying, 'I want to be a better player,' who have something prove.
"You get that many guys wanting to prove something, then you can become better. Right now what I like is how hard they're going after their craft."
Last season was a mess for the Cowboys' defense. It has been referenced so many times this offseason that "32nd-ranked defense" has been tattooed on everybody. The Cowboys gave up 6,279 yards in 2013 a year after giving up a franchise-record 5,687 yards. Five quarterbacks had four-touchdown games against the Cowboys. Two times in a three-week span, they allowed more than 620 yards. The
New Orleans Saints
had 40 first downs.
"It definitely bothers us," Church said. "I'm speaking for myself, but it definitely bothers me. But there's nothing we can really say or prove different. We were 32nd in the league and we weren't that good on the defensive side of the ball. This year, the only way we can counter that is by playing good and becoming one of the better teams in the league at taking the ball away and against the run and the pass."
It's not just the players. The tag falls on the coaches, too.
"Nobody wants to look at last year and take ownership of that, but we have to," secondary coach Jerome Henderson said. "And we've got to get better from there, and we cannot let that happen again."
Oh, and now the Cowboys have to show they can be better in 2014 without the franchise's all-time leader in sacks,
DeMarcus Ware
, who was cut, last year's leader in sacks,
Jason Hatcher
, who signed as a free agent with the
Washington Redskins
, and their best playmaker,
Sean Lee
, who suffered a torn anterior cruciate ligament in organized team activities.
But the sense is that Marinelli likes it this way. He had ubertalented defenses with the
Chicago Bears
with guys like Brian Urlacher,
Julius Peppers
,
Lance Briggs
and
Charles Tillman
. He won a Super Bowl with the
Tampa Bay Buccaneers
with guys like Warren Sapp, Derrick Brooks, Simeon Rice, John Lynch and Ronde Barber.
He doesn't have an Urlacher, Sapp, Brooks, Briggs, Rice or Lynch with this group.
He has
Henry Melton
, whom he coached to the Pro Bowl with the Bears, trying to prove he can come back from a torn anterior cruciate ligament. He has
Bruce Carter
trying to prove he is a big-time player in a contract year. He has Claiborne, a former sixth overall pick in the draft, trying to prove he is not a bust. He has Carr trying to prove he is worth the five-year, $50 million contract he received in 2012. He has
George Selvie
trying to prove he was not a one-year wonder after putting up seven sacks last season. He has
Tyrone Crawford
trying to prove he can come back from a torn Achilles.
He has low-cost free agents such as
Terrell McClain
,
Jeremy Mincey
and
Amobi Okoye
trying to prove they can be prime-time players. He has
Justin Durant
trying to prove he can be a middle linebacker and
Kyle Wilber
trying to prove he can be a strongside linebacker. He has Rolando McClain trying to prove that a player who has retired twice in the past year has the desire to keep playing. He has
DeMarcus Lawrence
trying to prove that a second-rounder can make an impact as a rookie. He has Wilcox trying to prove he can play strong safety.
He has guys like Church and Scandrick trying to prove that they can put up solid seasons in back-to-back years.
So much to prove. So much to forget.
"The first thing you do is you take it as coaches and players and you take accountability for it," Marinelli said. "And no excuses. Now we look forward. Now it's about the expectations of this group and with expectations you have to execute. It's that simple. That simple, yet that hard."
January, 7, 2014
Jan 7
1:15
PM ET
IRVING, Texas -- When the
Dallas Cowboys
made the switch to the 4-3 scheme last year, they thought they had the pieces in place to make a smooth transition.
Nobody could have seen what happened to the defense in 2013, finishing last in the NFL.
Carr
Revis
But when Monte Kiffin was hired last January, we all tried to make the pieces fit, comparing the Cowboys players to what Kiffin had during his run with the
Tampa Bay Buccaneers
or what Rod Marinelli had with the
Chicago Bears
.
DeMarcus Ware
would be
Simeon Rice
. Jay Ratliff would be Warren Sapp.
Bruce Carter
would be Derrick Brooks.
Sean Lee
would be Brian Urlacher.
The secondary was an issue. The Cowboys had man-to-man corners in
Brandon Carr
and
Morris Claiborne
, and they didn't really have a John Lynch at safety, but they liked
Barry Church
.
Kiffin told his guys to study up on what the
Seattle Seahawks
did defensively as a sign that they would not be a traditional Tampa 2 team.
Now that Lovie Smith has taken over the Buccaneers, the same comparisons are being made.
Gerald McCoy
will be Sapp.
Lavonte David
will be Brooks.
So who's
Darrelle Revis
?
"We're a 4-3 team," Smith said in his introductory news conference. "There's a reason why we have Tampa-2 associated to one of our coverages, but I just want you to know, especially [in reference to cornerback] Darrelle Revis, we don't play Cover-2 every snap. We have a place for a great cover corner that's physical and can do all things."
Now Revis is better than Carr and Claiborne. I'm not making the player-for-player comparison. If he's not the NFL's best corner, he is at least in the conversation, and he was coming off a knee injury. I'm making the style of play comparison.
But there was a frustration from Carr and Claiborne about the lack of man coverage the Cowboys were playing, especially early in the season. Players want to do what they do best, and too often they felt like they had to play off and soft in zone coverage.
So Smith might be able to promise Revis that he will be able to man his own island, but the proof will be when the games count, because coaches want to do what they know best.
That was part of the Cowboys' growing pains in 2013.
July, 28, 2013
7/28/13
10:00
AM ET
OXNARD, Calif. –
Keyshawn Johnson
knows how good Monte Kiffin and Rod Marinelli can be after spending time with them in Tampa Bay.
He has a Super Bowl ring to prove it.
As Johnson, the former Cowboys wide receiver and current ESPN analyst, looks at the Cowboys defense, he's not so sure the move from the 3-4 to the 4-3 will go seamlessly.
"I think they have two great defensive minds in Kiffin and Rod Marinelli, but there's no
Warren Sapp
running out there," Johnsons said. "There's no
John Lynch
.
DeMarcus Ware
could be better than
Simeon Rice
. But can
Bruce Carter
be as good as
Derrick Brooks
? I don't think so. Can anyone in the secondary be
Ronde Barber
?"
The scheme is good, but Johnson believes the players matter.
I think it's a little bit of both but you have to have players," Johnson said. "That's the bottom line. If you don't have that instinct and that guy, it doesn't matter. Everyone else tries to duplicate the Tampa 2 scheme that they ran and Monte did for 15 years when his defense was in the Top 10 every year. But there's no
Hardy Nickerson
running around here? Is (Sean) Lee as good as Hardy Nickerson was?
May, 6, 2013
5/06/13
11:52
AM ET
Almost every time Jerry Jones speaks about the Cowboys' roster, it sounds like spin control at this point.
That certainly was the case when he discussed his confidence in the safeties on the Cowboys' roster during last week's conference call with season-ticket holders.
PODCAST
Glenn "Stretch" Smith, Randy Galloway and Matt Mosley discuss the latest on Doug Free's role with the Cowboys and the Cowboys' first-round draft pick Travis Frederick.

Listen

"I think we're in good shape at safety," Jones said.
Yes, Jones is well aware that the projected starting safeties have a combined four NFL starts. Those are all by
Barry Church
, who was thought highly enough of at Valley Ranch to receive a four-year, $9 million deal (plus $3.4 million in incentives)
after
suffering a torn Achilles tendon early last season.
Jones also seems just about ready to put
Matt Johnson
, who missed all of his rookie season due to hamstring problems and other injuries, in the Ring of Honor.
"I don't know when I've ever seen a player impress our staff without having played in a ballgame any more than Matt Johnson," Jones gushed.
The Cowboys' other alternatives at safety: third-round pick
J.J. Wilcox
, who played offense until his senior year at Georgia Southern; nine-year veteran
Will Allen
, who didn't start for the Buccaneers in Monte Kiffin's last two seasons with Tampa Bay; and three-year vet
Danny McCray
, who was forced to play enough safety last season to confirm that he's best suited to stick to special teams.
PODCAST
ESPN NFL expert John Clayton joins Fitzsimmons & Durrett to talk about Jerry Jones' conference call, the Cowboys' draft picks and much more.

Listen

"I think we've really given ourselves a lot of potential," Jones said. "The coaches told me (with) the scheme, 'Don't worry as much about range.' I said, 'What? Don't worry as much about range?'
"(Kiffin) said, 'No, our scheme gives them the angles. It gives them the angles. Get us somebody that is young. Don't worry as much about experience as you have in the past. Get us some young players with instincts and let us go from there with them.'"
Believe it or not, that actually passes the smell test, given Kiffin's Tampa Bay track record.
When Kiffin arrived in Tampa in 1996, the Bucs had precious little experience at safety. Their strong safety had six starts in the previous three seasons of his NFL career. Their free safety started three games as a rookie the previous year.
John Lynch
, a third-round pick in 1993, ended up establishing himself as one of the elite strong safeties in NFL history, playing in nine Pro Bowls. The Bucs filled free safety with a handful of mid-round picks and low-priced free agents during Lynch's Tampa Bay tenure, finishing top 10 in both major defensive categories every year but Lynch's first full season as a starter, when they were 11th in yards allowed.
Kiffin's history of making the most out of medium-level investments at safety offers no guarantees, of course. It does, however, provide legitimate proof for those inside Valley Ranch who insist that there's no need to panic about the Cowboys' safety situation.
January, 10, 2013
1/10/13
5:08
PM ET
IRVING, Texas -- From 1996 to 2008, Monte Kiffin ran one of the best defenses in the NFL, finishing in the top 10 in total defense in 11 of his 13 years.
PODCAST
Galloway & Company discuss the possibility of Monte Kiffin replacing Rob Ryan as the Cowboys defensive coordinator.

Listen

The Buccaneers' trademark was the ability to make game-changing plays with game-changing players, like
Derrick Brooks
,
Warren Sapp
,
John Lynch
,
Simeon Rice
and
Ronde Barber
.
In Kiffin's 13 years as Tampa's defensive coordinator, the Buccaneers averaged 39 sacks, 19 interceptions and 12 fumble recoveries a season.
Since Jerry Jones took over the Cowboys in 1989, the Cowboys have had only three seasons in which they had more than 19 picks, five seasons in which they had more than 12 fumble recoveries and six seasons in which they had more than 39 sacks. Four of those sack seasons came after the switch to the 3-4 and the arrival of
DeMarcus Ware
.
For far too long, the Cowboys have not been able to take the ball away on defense, regardless of who the coordinator was. They didn't do it under Rob Ryan and couldn't do it under Wade Phillips or Bill Parcells.
Turnovers and sacks change games.
Points matter most.
The Bucs allowed more than 300 points in a season three times with Kiffin as coordinator (and that's taking into account returns for touchdowns). Since Jones took over the Cowboys, they have allowed more than 300 points in a season 15 times.
Kiffin has not coordinated an NFL defense in four years. He will be 73 in February.
If he turns out to be the Cowboys' next defensive coordinator, the only numbers Jones will care about will be interceptions, fumbles and sacks and points allowed; not age.
December, 17, 2011
12/17/11
10:30
AM ET
TAMPA, Fla. -- Tampa Bay cornerback
Ronde Barber
must look around at his current teammates and say, 'Who are these guys?
In his 15th season, Barber is by far the most tenured player on the NFL's youngest team. He is the link to the Buccaneers' glory years when he,
Warren Sapp
,
John Lynch
and
Derrick Brooks
were savaging offenses for a long time under coordinator Monte Kiffin.
Barber has started more consecutive games (196) than any cornerback in NFL history. He has played in 221 straight games, the second-longest streak in the league among active players. He is Tampa Bay's all-time leader in interceptions with 43 and leads the team this year with three.
"I'm going to keep going to at least these three games and then see what's next," Barber said. "I'm not sure how long I could go. As long as they want me and as long as I want them and I can still do it and I'm still productive, I'll keep doing it."
Tampa Bay's seven-game losing streak has bothered him, but not to the point where it will drive him out of the game.
"I try not to get emotional about the record or what not," Barber said. "Obviously it comes into play. It's definitely food for thought, but I've been coming to work and it's been like this a lot … I'm choosing to continue to play. It pays the bills and feeds my family. I appreciate that. It's meticulous. I've got a lot of work to do week in and week out and I enjoy that on Sundays with wins. It's been a little frustrating not seeing the rewards of it this season, but it doesn't change my manner and approach to what I do."
December, 15, 2011
12/15/11
9:05
AM ET
Five-star question:
Will
Felix Jones
, who has one run of 10 yards or more in 44 carries on the road, match or surpass that total this week in Tampa?
At the beginning of the season, I thought this was the season Felix Jones would breakout and become a true No. 1 running back. It didn't quite happen, obviously, but now he gets another chance with
DeMarco Murray
out for the year with a fractured ankle.
Count me in again on Jones, which means he will have at least one 10-yard carry Saturday at Tampa Bay.
The Jones from the New York Giants' loss looked a little different to me. He had 106 yards on 16 carries and found a blend of patience and urgency that he might have picked up by watching Murray succeed. He won't bowl tacklers over like Murray, but he can slither around tacklers and make sure he doesn't get tackled for losses.
Tampa Bay offers the perfect recipe for Jones to succeed. This is not the
Warren Sapp
,
Derrick Brooks
,
John Lynch
defense of years ago. This defense is allowing almost 140 yards a game on the ground. This defense allows 4.6 yards per carry. This defense has allowed 19 rushing touchdowns.
This defense will give Jones a chance to break some long runs … or at least runs of 10 yards.
Jones had four of them against the Giants (three for 11 and one of 26).
There is no doubt he has one Saturday. In fact, I think he'll match his New York total.