Dallas Cowboys:

John Skelton
February, 10, 2014
Feb 10
3:30
PM ET
IRVING, Texas -- After working out for the
Dallas Cowboys
last week, quarterback
Mike Kafka
has signed with the
Tampa Bay Buccaneers
.
The Cowboys had interest in Kafka last June when they put a waiver claim in on him following his release from the
New England Patriots
, but he ended up with the
Jacksonville Jaguars
, who also claimed him.
The Cowboys believe
Tony Romo
will be ready for the offseason program after late-December back surgery, but they want to have at least three quarterbacks on the roster with the expanded rosters when the offseason program begins.
Kyle Orton
is the only other quarterback on the roster signed for 2014 and his future is somewhat cloudy because of the Cowboys' salary-cap situation and his desire to keep playing.
Last year the Cowboys had Orton,
Nick Stephens
and Dalton Williams around as Romo recovered from surgery to remove a cyst from his back.
Leading into the Week 17 finale against the
Philadelphia Eagles
, the Cowboys worked out Derek Carr,
Tyler Thigpen
,
John Skelton
,
Richard Bartel
and
Caleb Hanie
before signing
Jon Kitna
out of retirement.
January, 7, 2014
Jan 7
8:00
AM ET
IRVING, Texas -- What, you thought Five Wonders was going away in the offseason?
Nope. There will be no long-term hibernation even if the Cowboys' season ended without a playoff appearance for the fourth straight season. There might be some mini-vacations.
Just not this week.
On to the Wonders:
Romo
** I wonder how the Cowboys will look at this draft. It is easy to say take the best player available. It is another to actually do it. Need has to be factored in. The Cowboys need to improve the defense, especially the defensive line. But you could make arguments they need to look at wide receivers, running back, offensive line and quarterback, too.
Dez Bryant
is entering the final year of his deal.
Miles Austin
is likely to be released.
Terrance Williams
had a productive rookie season but they still need to cover themselves at receiver.
DeMarco Murray
is entering the final year of his contract.
Lance Dunbar
is coming off knee surgery.
Joseph Randle
was only OK. The line play was the best the Cowboys have had in years, but
Doug Free
is going into the last year of his deal. And we know
Tony Romo
turns 34 in April and is coming off back surgery. So before you pencil in two or three defensive linemen, a linebacker, safety and cornerback into the Cowboys' eight picks, remember to think about the future, too.
Skelton
** Last week, I mentioned the Cowboys
simply can't dismiss talk about drafting a quarterback
so easily with Romo coming off back surgery and
Kyle Orton
set to count $4.377 million against the cap if they did not want to restructure the backup's deal. I wonder if the Cowboys should look again at quarterback
John Skelton
. He was among the five they brought in before the season finale against the Eagles before
Jon Kitna
offered up his services via text message. Skelton turns 26 in March. He has started 17 games. He has been with the
Arizona Cardinals
,
Cincinnati Bengals
,
Tennessee Titans
and
San Francisco 49ers
. Signing Skelton to a "futures" contract would give him and the coaches a jumpstart on the offseason. He has the physical skills to play or at least be a competent backup and he would come at a cheaper price. If we take Jerry Jones at his word about not drafting a quarterback early, then this would be a way to possibly develop a quarterback with an upside at a no-cost price.

** Let's play pretend here for a second, which isn't always hard to do in this Wonderland. Let's say the
Seattle Seahawks
win the Super Bowl. As a perk of their title, the Seahawks will open the season on a Thursday night. The Cowboys play at Seattle in 2014. Despite their playoff drought and their everlasting time in .500-land, the Cowboys remain the NFL's biggest draw. Maybe it would make more sense for the Seahawks to play the San Francisco 49ers, which is becoming one of the better rivalries in the league. Maybe it would make more sense to have a lesser foe to open up the season since everybody will be football-starved by next September, but the
Baltimore Ravens
opened up against
Peyton Manning
and the
Denver Broncos
. But I wonder about this because of the Cowboys' schedule later in the year. They will play Nov. 9 at London's Wembley Stadium against the
Jacksonville Jaguars
. To balance out the travel, the Cowboys have to play Seattle early in the season. Why not put them at the earliest spot possible?
Durant
** I wonder if the Cowboys will bring back strongside linebacker
Justin Durant
in 2014. Durant did not play badly in his one season with the Cowboys, but a strongside linebacker in a 4-3 scheme is hardly a must-have position. Durant missed six games because of injuries and played only 197 snaps. He has some position flexibility, which is a positive. He did a decent job in his limited work as Sean Lee's replacement at middle linebacker. But cost is everything. In an offseason in which pennies will count, Durant's $1.45 million cap figure could hurt his cause. If the Cowboys let him go, then they save $1.25 million. That's a nice savings when you consider what
Kyle Wilber
was able to do down the stretch or if they want to play
DeVonte Holloman
on the strong side.
**I wonder if the Cowboys will make their coaching staff announcements by the end of the week. Last year, running backs coach Skip Peete and defensive coordinator Rob Ryan were fired before the divisional round of the playoffs. The Cowboys' assistants are on vacation this week, just like last year when Ryan got the news in Turks & Caicos and let people know he was "comfortably numb." This year the futures of Ryan's successor, Monte Kiffin, and the few coaches who are without contracts are up in the air. You can throw in some uncertainty around offensive coordinator Bill Callahan, too.
January, 3, 2014
Jan 3
8:00
AM ET
IRVING, Texas --
Dallas Cowboys
owner and general manager Jerry Jones has already said he will not be in the quarterback business when it comes to May's draft. For such a great salesman, Jones is sure missing a way to keep the Cowboys in the offseason headlines.
Orton
Romo
Saying no is easy to say in December and perhaps a way to show even more belief in
Tony Romo
, who is coming off back surgery. But Jones should not be so dismissive. He might be forced into doing it anyway.
To disappoint plenty of you, this will not delve into the merits of possibly going after Johnny Manziel, Blake Bortles or Brett Hundley or any other possible quarterback in the first round. This is solely about the current state of the position with the Cowboys.
Romo will be coming off of his second back surgery in eight months. He turns 34 in April. He is coming off one of his best seasons with 31 touchdown passes and 10 interceptions. He is signed through 2019 and scheduled to count $21.7 million against the cap. That figure will be reduced when the Cowboys restructure his contract, but at some point they will have to come to the conclusion he cannot last forever.
Kyle Orton
showed in the season finale he can still play the game. He threw for 358 yards and had two touchdown passes in his first meaningful game in a long time. The fourth-quarter interception was bad, but Orton was better than many thought. He could start for a number of teams in the NFL. There's also a question of how much longer he wants to play.
"You just don't even think about that right now," Orton said at his locker after the Eagles' game. "Just a tough way to end the season ... All you think about right now is everything you put into it and you've got plenty of time to think about the future."
Orton counts $4.3775 million against the cap. That's $26 million of cap space committed to the quarterback position. The Cowboys will have decisions to make in order to trim enough money to get under the projected cap of $126.3 million.
Orton might prove to be too costly at his current price. He has a base salary of $3.25 million in 2014. The Cowboys could restructure his deal like they did in 2013, but that would push future dollars against the cap. If they cut Orton, the move would save almost $1 million.
It would also leave the Cowboys without a backup to Romo.
And this is where the draft comes into play, or at least a cheaper veteran option. The Cowboys have not gone cheap at the backup QB spot since Jason Garrett arrived.
Brad Johnson
wasn't cheap.
Jon Kitna
wasn't cheap. Orton has not been cheap.
The Cowboys looked at veteran options leading into Week 17, like
David Carr
,
John Skelton
and
Tyler Thigpen
, but went with Kitna because of his familiarity with the offense with such a short turnaround.
Maybe it's silly to move on from Orton with Romo coming off back surgery. It might be sillier not to start the process of finding the quarterback to succeed Romo eventually.
December, 12, 2011
12/12/11
12:56
PM ET
IRVING, Texas -- If you regularly come back to the thought that, 'Man, the Cowboys sure come up with some inventive ways to lose games,' you're right.
Since 2005, I have come up with 13 head-scratching losses that seem to define this franchise. And that does not include the humiliating 44-6 defeat at Philadelphia to close the 2008 season, which knocked the Cowboys out of a playoff spot.
Three of those losses have come this year. Three came last year. Two each in '09, '08 and '06, and the one that kicked it off came on Sept. 19, 2005 (against Washington), when the Triplets –
Michael Irvin
,
Troy Aikman
and
Emmitt Smith
- were inducted into the Ring of Honor.
It has been quite a roller-coaster ride, but without the fun part.
Sept. 19, 2005 – Washington, 14-13.
The Cowboys lead, 13-0, with 6:01 to play, and the 65,207 in attendance, the largest crowd at Texas Stadium at the time following the 1985 renovations, was enjoying the moment. The Triplets were inducted into the Ring of Honor. The defense was dominating.
Then
Santana Moss
happened.
Moss caught touchdown passes of 39 and 70 yards in the final 3:46, bringing to light Roy Williams' deficiencies in coverage. The second touchdown came with 2:35 to play. Oh, by the way, the Cowboys missed the playoffs by a game that year.
Nov. 5, 2006 – Washington, 22-19
Tony Romo's second start was about to end with a fourth-quarter drive for a game-winning field goal, but
Troy Vincent
blocked
Mike Vanderjagt
's 35-yard try.
Sean Taylor
scooped up the loose ball and returned it 30 yards. Another 15 yards was added because of a
Kyle Kosier
facemask penalty.
With no time on the clock,
Nick Novak
kicked a 47-yarder to beat the Cowboys.
Jan. 6, 2007 – Seattle, 21-20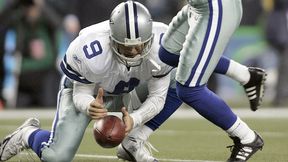 AP Photo/John FroschauerTony Romo bobbled the snap for the game-winning field goal versus the Seahawks, preventing Martin Gramatica from making the 19-yard attempt.
This one was the most heartbreaking because it was in the wild-card round of the playoffs. It was also Bill Parcells' final game as a head coach. The Cowboys maintain to this day that had they won that game, they could have gone to the Super Bowl.
Instead
L.P. LaDouceur
's snap for a 19-yard field goal try slipped through Romo's hands. Conspiracy theorists point to the slippery "K-ball" that was put in play before the snap. Others point to a
Jason Witten
first down that was overturned by the replay official, which negated the possibility to run the clock out or score a touchdown.
Oct. 12, 2008 – Arizona, 30-24 (OT)
The Cowboys somehow tied this game at the end of regulation on a 52-yard field goal by
Nick Folk
, but on the opening series of overtime, they lost
Tony Romo
to a broken pinky finger and punter
Mat McBriar
to a broken foot. On the play in which McBriar broke his foot,
Sean Morey
blocked his punt and
Monty Beisel
fell on the ball for a touchdown. The game started with a special teams touchdown (a 93-yard kick return) for the Cardinals, and ended with one.
Dec. 20, 2008 – Baltimore, 33-24
In what was a struggle for the offense for most of the game, twice the Cowboys pulled to within two points of the Ravens.
Terrell Owens
made the score 19-17 by scoring with 3:50 to play. Baltimore answered with a 77-yard touchdown run by
Willis McGahee
. Jason Witten cut the gap again with a TD grab with 1:36 to play.
Le'Ron McClain
answered with an 80-yard touchdown run.
It was not the way Jerry Jones wanted to see Texas Stadium close.
Sept. 20, 2009 – NY Giants, 33-31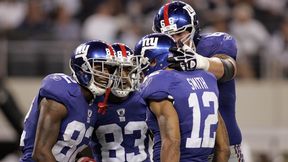 Tim Heitman/US PresswireMario Manningham, left, and Steve Smith, right, combined for 20 catches and 284 yards in the Cowboys Stadium opener.
If Jones didn't want to see Texas Stadium close that way, he didn't want to see Cowboys Stadium open this way.
Felix Jones
gave the Cowboys a 31-30 lead with a touchdown run with 3:40 to play.
Then
Eli Manning
happened.
Manning completed 7-of-9 passes for 64 yards, helping the Giants overcome a 1st-and-20 situation from their 15 and leading to a 37-yard game-winning field goal by
Lawrence Tynes
with no time left.
Oct. 4, 2009 – Denver, 17-10
The Cowboys blew a 10-0 lead when Broncos wide receiver caught a 51-yard touchdown pass from
Kyle Orton
with 1:46 to play. However, Romo had the Cowboys in position to tie the game after a 53-yard completion to
Sam Hurd
.
At the Denver 2-yard line with nine seconds to play, Romo went to Hurd (unsuccessfully) on back-to-back plays while the wideout was defended by Pro Bowler
Champ Bailey
.
Cowboys Pro Bowler Jason Witten did not even run a route.
Sept. 12, 2010 – Washington, 13-7
The Cowboys dominated defensively, but were done in by Jason Garrett's decision to call a play with four seconds left in the first half and a mile away from the Redskins' end zone. Romo flipped the ball to
Tashard Choice
, who fumbled while fighting for extra yards. Cornerback
DeAngelo Hall
scooped up the loose ball and ran it back for a 32-yard touchdown. It was the Redskins' only touchdown of the game.
In position to win the game,
Alex Barron
happened.
With three seconds left, Romo hit
Roy Williams
for an apparent game-tying touchdown with the point-after attempt being the difference in a win. Not so fast. Barron, starting in place of an injured
Marc Colombo
, was called for holding
Brian Orakpo
on the touchdown pass, wiping out the comeback.
Nov. 25, 2010 – New Orleans, 30-27
The Cowboys were not in the playoff chase, but they were fighting under Garrett, who took over for Wade Phillips as the interim coach. They led 27-23 and were in position to salt the game away as Roy Williams raced down the field toward the Saints end zone. As he switched the ball to his left hand away from a New Orleans defender, he allowed
Michael Jenkins
to strip it away for the turnover.
Five plays and 89 yards later,
Drew Brees
hit
Lance Moore
with the game-winning touchdown pass.
Dec. 25, 2010 – Arizona, 27-26
Stephen McGee
was shaping up as the hero, filling in for an injured
Jon Kitna
. He hit
Miles Austin
with a 37-yard touchdown pass with 1:41 to play to give the Cowboys the lead. Unfortunately
David Buehler
missed the PAT, giving Arizona hope.
John Skelton
converted a 4th-and-15 with a 26-yard pass to
Larry Fitzgerald
, and
Jay Feely
won the game with a 48-yard field goal.
Sept. 11, 2011 – NY Jets, 27-24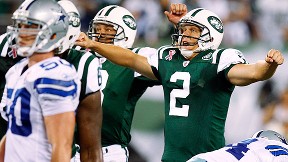 Ed Mulholland/US PresswireNick Folk kicked the go-ahead 50-yard field goal with 27 seconds left in the 2011 opener.
The Cowboys led, 24-10, two plays into the fourth quarter following a Felix Jones touchdown. They were in position to answer a Jets touchdown with at least a field goal when Romo fumbled while diving to the New York goal line for his first of two fourth-quarter turnovers.
On the Cowboys' next series,
Joe McKnight
blocked McBriar's punt and
Isaiah Trufant
returned it 18 yards for the tying touchdown.
Late in regulation, Romo was intercepted by
Darrelle Revis
on a poor throw to
Dez Bryant
. That was turned into a game-winning field goal by former Cowboy Nick Folk.
Dec. 4, 2011 – Arizona, 19-13 (OT)
Sensing a trend with Arizona here?
Tied at 13-13, Romo put the Cowboys in position to win the game with another
Dan Bailey
field goal. His 15-yard completion to Bryant had the Cowboys at the Cardinals' 31-yard line. Yet with two timeouts and roughly 25 seconds to go, the Cowboys did not stop the clock until Romo spiked the ball with seven seconds to play.
As Bailey lined up for the game-winner, Garrett called a timeout because the play clock was running out. Bailey's second attempt fell short, and in overtime the Cowboys would never get the ball.
LaRod Stephens-Howling
raced 52 yards on a short flip from
Kevin Kolb
for the game-winner.
Dec. 11, 2011 – NY Giants, 37-34
Bryant's 50-yard touchdown pass gave the Cowboys a 34-22 lead with 5:41 to play. All seemed well with the world.
Then Eli Manning happened. Again.
He shredded the Dallas defense on an eight-play, 80-yard drive that ended in a
Jake Ballard
touchdown catch and then directed New York on a six-play, 56-yard drive that ended in a Brandon Jacobs touchdown. The subsequent two-point conversion gave the Giants a three-point cushion.
During the second drive, Garrett let crucial seconds go off the clock again by failing to call a timeout until 1:00 remained.
Despite all that, two Romo-to-Miles Austin completions had the Cowboys at the New York 29-yard line with six seconds to play.
Before Bailey went in for the game-tying 47-yard try, Giants coach Tom Coughlin called a timeout, negating what turned out to be a good kick. Bailey's second attempt wasn't close to going through the uprights.
Defensive end
Jason Pierre-Paul
pushed between LaDouceur and
Montrae Holland
and deflected Bailey's kick.
November, 30, 2011
11/30/11
10:53
AM ET
We're back for another shot at The Other Side. This week, we speak with
Arizona Cardinals
beat writer Kent Somers of the Arizona Republic. Check out
Kent's blog here.
Q: The Cowboys are worried to death about Patrick Peterson. Just how much of a threat is he?
A:
He's a huge threat. He's returned four punts for touchdowns this season, tying an NFL record. He is so smooth in catching the ball that he can steal a couple of glances to see how close the gunners are. If they are blocked, he's going to try it. You have to pin him against the sideline. Punting to him in the middle of the field, as the Rams did last week, is a colossal mistake.
Q: Will Kevin Kolb come back this season?
A:
I think he does, possibly this week. He practiced some last week and they considered using him as the backup in St. Louis but decided against it. There was concern that he wouldn't be able to get warm if he had to go in the game suddenly. The Cardinals are 3-1 in
John Skelton
's starts, but he has struggled the last two weeks. There's no quarterback controversy.
Q: Looks like Beanie Wells has really emerged as a quality running back in this league. How big has he been to the offense?
A:
He's been the most consistent threat. Receiver
Larry Fitzgerald
is as good as ever, but they have trouble getting him the ball.
Wells has played through a knee a injury for about six weeks now, answering questions about his toughness. He's big and physical and defensive backs don't want to hit him. They have had trouble creating room for him to run in some games, however.
Q: Is Ken Whisenhunt in trouble in Arizona, or is the front office still behind him?
A:
I don't think he's in trouble. He's under contract through 2013 at more than $5 million a year. Plus he has a little equity left from playoff appearances in 2008 and 09. But 2012 will be a critical one for him.
Q: Your thoughts on Sam Acho, the rookie outside linebacker.
A:
He's one of the bright young players on this team. He's started the last five games, replacing
Joey Porter
, who is out with a knee injury. Acho should have been the starter throughout the season. He has five sacks, all in the last six games. Porter had five sacks in 22 games. Acho's always in the right place, and it appears the Cardinals finally hit on an outside linebacker in the draft.
December, 28, 2010
12/28/10
1:19
PM ET
By
Bryan Broaddus
| ESPNDallas.com
Congratulations to those of you that wanted to see the Cowboys lose this game to the Cardinals for the better drafting position this spring. You got your wish.
In a season of missed opportunities, this game played out true to form. Strong efforts by certain players, inconsistencies from others and selfish acts that we have all grown to expect once again cost this team a chance to win a game.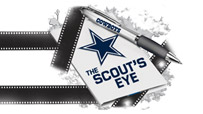 Jason Garrett's on-the-job training as a head coach was once again put to the test when quarterback Jon Kitna was unable to answer the bell after suffering an oblique injury, putting Stephen McGee into the game. McGee played as well as you could have expected for a guy getting his first taste of regular season action.
When McGee met with the media on Monday, he spoke of the challenges of calling the play and even taking the snap correctly. One of the most impressive areas of McGee's game against the Cardinals was his ability to stand in the pocket and deliver the ball in the face of the rush. One of the hardest things for a quarterback to do is stand there and deliver the ball when you know that you are going to get smacked in the face. McGee was able to do that, which gave confidence to his coaches and his teammates as well.
Where McGee needs to improve is stepping forward in the pocket and avoiding the rush instead of trying to take everything outside. One of his better third-down conversions was when he stepped forward and shoveled the ball to Tashard Choice for a first down.
When McGee had to deliver the ball down the field, the route that he appeared to shine in the execution of was the slant. To Garrett's credit, he understood that the more that McGee had to read, the more trouble that he might face. Garrett went to the slant because it is such a quick read and requires more skill than thought to pull it off. McGee was able to handle this well.
This Cardinals defense doesn't have impressive ranking numbers wise, but still presents a challenge for even the most skilled veterans such as Tony Romo or Jon Kitna. Defensive coordinator Bill Davis had a nice plan for the Cowboys -- slanting his front, running linebackers through gaps and using zone blitzes. He knew that this Cowboys line struggled against teams that moved their front, with the Bears and Titans coming to mind.
When I asked guard Kyle Kosier about this defense, he said that the Cardinals front never lines up in the same spot and you always have to guess where they are going to end up. The previous week against the Redskins, the offensive line was able to get a gauge how and where the pressure was going to come from because of alignment. Against the Cardinals, that was going to be a difficult task and there were plenty enough times during the game where men were unblocked in the running game but even more importantly in the pass game.
Where the Cowboys offensive line struggled the most was on the outside at tackle with Doug Free and Marc Colombo.
Free was coming off a game against the Redskins where he was technique sound and assignment perfect. In this game, he had a poor set which led to a pressure and he missed on an inside cutoff that led to a tackle.
On the other side, Colombo was late off the snap, got beat inside for a sack when he set too wide, didn't move his feet, allowed another sack, and had trouble adjusting on a twist stunt that gave up more pressure.
This also wasn't one of Kosier's better games. Kosier was beaten inside two different times and missed on a blitz pickup. Kosier is usually one of the better Cowboys offensive linemen when it comes to playing against defensive linemen they play with movement but in this game, it was a struggle for him adjusting.
*Defensively the Cowboys continued their trend of the inability to finish a game. For 58 minutes they allowed this Arizona offense nothing except for one big play.
Rookie John Skelton played like a rookie and one of the best players in the league, Larry Fitzgerald, struggled to even come close to a reception.
In my film study of the Cardinals offensive line, I thought this was one of the worst lines that the Cowboys were going to face all season. The Cowboys were able to take advantage of this group, particularly DeMarcus Ware as a pass rusher and Anthony Spencer in the running game.
Cornerback Terence Newman had a bounce-back game from how he played the previous week against the Redskins. Newman drove well on the ball and was a factor as well as a tackler.
But in the end, it was a fourth-down play that killed the Cowboys' chances to finish the game. On fourth-and-15 with 1:17 left, Cowboys defensive coordinator Paul Pasqualoni calls for his dime package, which he had run the previous three snaps using a three-man rush.
Safeties Alan Ball and Gerald Sensabaugh are lined up 20 yards deep on the hash in a two-deep look, and linebacker Keith Brooking is lined up 14 yards deep between the two safeties but in the middle of the field. Corners Mike Jenkins, Newman, Orlando Scandrick and Bryan McCann are four across lined up 5 to 7 yards deep. The Cardinals are in an empty backfield with a five-receiver package, three of their receivers to the right and two to the left.
At the snap, the Cardinals run their first inside slot receiver at Brooking, which holds him in the middle of the field. Fitzgerald, the second slot receiver, also heads vertical but manages to run his route in between Sensabaugh and Scandrick, who doesn't appear to drop deep enough. Stephen Bowen beats right tackle Jeremy Bridges for inside pressure but can't get to Skelton. Fitzgerald curls inside of the leaping Scandrick and the driving Sensabaugh.
Fitzgerald cradles the ball at the impact of Brooking and Sensabaugh, making the catch for the first down and keeping the drive alive.
*One other play that I would like to focus on is what happened to Mike Jenkins in the second quarter on the Cardinals' only offensive touchdown.
Jenkins is in man coverage on receiver Andre Roberts, who starts on the right side of the formation and works his way across. Jenkins carries him to the outside.
At the snap, Gerald Sensabaugh blitzes from the right but is picked up by Beanie Wells, allowing Skelton a clean pocket to make a throw. Jenkins is six yards off as Roberts starts to the outside. Jenkins squares his feet, then tries to open to the advancing Roberts.
With this technique, Jenkins really puts himself in no man's land and is caught between driving on the ball and catching Roberts. Jenkins' feet stop and he is forced to try and grab Roberts. Jenkins draws the flag for the contact as he goes to the ground.
Ball is playing safety on the other hash, turns to react to the throw and heads to try to make a play. Roberts catches the ball on the 35-yard line as Ball tries to pull even with him. As Ball adjusts to try to force Roberts out of bounds, Robert makes a cut back into the middle of the field, leaving Ball to have to turn and try to make the play. But Ball overruns it, leading to a Cardinals touchdown.
*On one final note from the Arizona game, on David Buehler's missed extra point, he kicked the laces on the attempt, which might have affected the flight of the ball.
From a coaching point, holders are taught to try and spin the laces away from the kicker on longer field goals but on extra points or shorter field goals, they don't mess with the football. In this case, holder Mat McBriar held the ball steady, but it's the responsibility of the kicker to make the correct adjustments and get the kick home.