Dallas Cowboys:

Josh Gordon
July, 8, 2014
7/08/14
11:45
AM ET
IRVING, Texas -- Things are quiet at Valley Ranch these days. Most members of the
Dallas Cowboys
are on vacation, enjoying their final few weeks of downtime before training camp begins in Oxnard, California.
Everybody loves the fact it's quiet, but things can change at any moment. Every team fears the 2 a.m. phone call, like every parent fears them.
So far, things have been quiet. But it could have been so much different had the Cowboys taken a different path in recent drafts.
Gordon
The Cowboys wrestled with the idea of taking wide receiver
Josh Gordon
in the 2012 supplemental draft. They put in a midround bid for him only to be jumped by the
Cleveland Browns
, who took him with a second-round pick, in the selection process.
Coach Jason Garrett spoke with Baylor coach Art Briles numerous times about Gordon in the evaluation process. The Cowboys liked Gordon's ability even if he didn't play football in 2011 after transferring from Baylor to Utah. They felt they could help with the off-field issues that bothered Gordon and could fashion a similar plan to the one that helped
Dez Bryant
.
On July 5,
Gordon was arrested
and charged with driving while impaired after speeding down a street in Raleigh, North Carolina. He was already facing a year-long suspension for failing a drug test and is reportedly scheduled to meet with NFL commissioner Roger Goodell this month.
Manziel
The Cowboys also passed on
Johnny Manziel
with the 16th pick in the first round of this year's draft. The Texas A&M quarterback seemed to be a Jerry Jones dream, but the Cowboys' owner and general manager listened to his football people and drafted guard
Zack Martin
.
Manziel has been in headlines ever since he won the Heisman Trophy as a redshirt freshman with the Aggies. This offseason he has been a frequent visitor to Las Vegas, and many photos have been taken and distributed of his time there.
The Browns have asked Manziel to calm down his off-field life, but Johnny Football hasn't slowed down. He has done nothing wrong other than failing to realize perception is reality when it comes to quarterbacks.
This isn't to congratulate the Cowboys for what they didn't do because they would have taken Gordon if no other team had put in a better bid and would have taken Manziel if they did not have so much money committed to Tony Romo.
But it shows you just how much luck can be involved in decisions.
The Cowboys could very well be getting the late-night calls the Browns are receiving. Every team could.
Training camp can't get here fast enough -- for every team.
May, 15, 2014
5/15/14
3:36
PM ET
IRVING, Texas -- Former
Dallas Cowboys
wide receiver
Miles Austin
has signed with the
Cleveland Browns
.
The Cowboys cut Austin in March in a salary-cap move after he caught just 24 passes for 244 yards and no touchdowns in 11 games last season.
After the draft, Dallas coach Jason Garrett did not rule out the possible return of Austin, but it was always unlikely. Since
Josh Gordon
, Cleveland's leading receiver in 2013, might be suspended for the season, the Browns needed help at wide receiver and added Austin.
From 2006 to 2013, Austin caught 301 passes for 4,481 yards and 34 touchdowns for the Cowboys. He holds the franchise record for most yards in a game (250) and had 14 100-yard games. Austin made the Pro Bowl in 2009 and 2010. He caught 81 passes for 1,320 yards and 11 touchdowns in 2009 after taking over as the starter in the fifth game of the season. He caught 69 passes for 1,041 yards in 2010.
The Cowboys signed him to a six-year, $54 million deal in 2010, but recurring hamstring injuries kept Austin from maintaining his form. He missed six games in 2011 and five games in 2013 with hamstring injuries. He played in every game in 2012 and had 66 catches for 943 yards and six scores, but he was not 100 percent.
May, 5, 2014
5/05/14
11:00
AM ET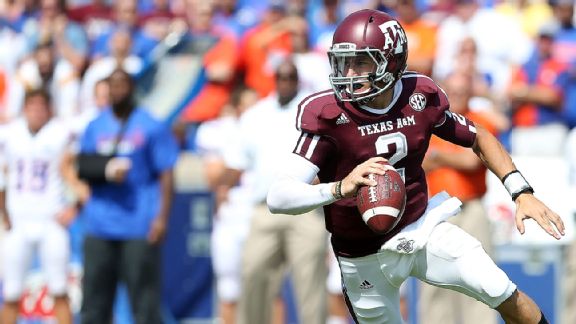 Ronald Martinez/Getty ImagesIs Tony Romo's back enough of a concern for the Dallas Cowboys that they'd take a flier on the media circus that would come with drafting quarterback Johnny Manziel?
IRVING, Texas --
Johnny Manziel
is the most polarizing player in this draft, so naturally people believe he will end up with the
Dallas Cowboys
, the most polarizing team in the NFL.
With the first round coming fast, ESPNDallas writers take a roundtable look at what a union of the Cowboys and Manziel would mean.

Todd Archer:
Let's make an huge assumption here that Manziel will be available at No. 16 when the Cowboys pick in the first round. I ask this question first: Should the Cowboys pick the Texas A&M quarterback? We'll get to "Would the Cowboys pick him?" in a second.
My take is, yes, the Cowboys should take him, and I'm not even thinking about the marketing opportunities and off-field stuff that Jerry Jones thinks about. From a football standpoint, I'd argue it would be a great value pick. There is no way the
Green Bay Packers
thought they would get
Aaron Rodgers
in 2005 late in the first round, but they took him even when
Brett Favre
was playing well.
Tony Romo
is 34 and coming off two back surgeries. I think he'll be fine and return to form, but what happens if he doesn't or he takes a big hit in Week 8 and is down for the year?
Jerry always tried to find a quarterback on the cheap after
Troy Aikman
retired and he never found a guy until Romo. And that was lucky. I think he'd be lucky again if Manziel were there at No. 16.
Calvin Watkins:
I don't believe the Cowboys should take him. No. 1, I don't believe he'll fall to No. 16 or even out of the top 10. If he does fall to No. 16, the Cowboys should either bypass him or trade down. This team has bigger holes to address such as secondary and defensive line before quarterback. There are quarterbacks later, such as
Aaron Murray
from Georgia, who can be taken in the second or third round. Yeah, I know Romo is coming off back surgery and he's 34 and all of that. It's a back injury and you never know about backs. However, getting Manziel at No. 16 isn't worth it to me. You can find a good quarterback to groom in the later rounds.
Tim MacMahon:
Heck, yes. If you can get a guy you feel is a franchise quarterback in the middle of the first round, you do it, especially when the fate of your franchise rests on a 34-year-old back that has been operated on twice in the past year. This isn't about trying to run Romo out of town. It would be a chance to extend the window of having a Pro Bowl-caliber quarterback another decade or so, an opportunity the Cowboys shouldn't pass up after navigating that rickety bridge from Aikman to Romo. It would be complicated for a couple of years because of Romo's massive contract and the potential chemistry issues that Roger Staubach mentioned, but it would be well worth it if Manziel can make plays in the NFL like he did in the SEC.
Jean-Jacques Taylor:
No. No. No. A thousand times no. This team has way too many holes to draft a quarterback in the first round to sit behind Romo for at least three years. That makes absolutely no sense. When Green Bay drafted Aaron Rodgers and let him sit, they were a contender. They could afford to do it. There's a good chance Jason Garrett gets fired at the end of next season if he's not in the playoffs. Do you think he wants to take a first-round pick and stash him for the next coach? Heck, no. This was the worst defense in the universe last year. Are they really going to miss out on a chance to help it to draft a quarterback who may or may not be a star?
Archer:
OK, let's move on to the second part of the question: Would the Cowboys take Manziel if he is there at No. 16?
I believe they would. We always talk about how the Cowboys should draft a quarterback every year, so now when they could do it, we're going to say, "No, not that guy?" I don't think the next Cowboys quarterback will be developed by this team. In other words, a middle-round pick who sits for a few years and takes over. Almost all of the top quarterbacks come from the first or second round. The Cowboys would have Manziel ready to go without the burden of having to carry the franchise early on. He is skilled. He has ability. And he is a draw. I do think it would be incumbent on the coaches to manage this thing the right way because the second Romo throws a poor pass, fans will be calling for Manziel. You can't operate that way.
Watkins:
Say the Cowboys do take him, which I doubt, can you imagine if Romo has a bad game? He has been known to have them from time to time. Garrett would be under pressure to send Manziel into the game when he's not ready. Then if he does use Manziel, you've got a media and fan circus. The Cowboys have endured their own type of drama from Terrell Owens, Pacman Jones, Romo's own issues, Jerry Jones and how he runs the franchise among other things, but a quarterback drama isn't fun for anybody. Having Manziel around isn't fun. But if Jerry drafted him he wouldn't care, it would be about the business of marketing and not the business of football.
MacMahon:
Well, that might depend on who gets the last word in with GM Jerry. I can't imagine Garrett, a head coach fighting to keep his job as he enters the last season of his contract, would be thrilled with the idea of using a first-round pick on a guy who might be holding a clipboard and still drawing a media horde as a rookie. But Stephen Jones seems just as enamored with Johnny Football as his father is. I don't think Jerry could help himself if Manziel were available when the Cowboys are on the clock. A strong football argument can be made for Manziel as a fit, and it'd be a home run for the marketing department. And we all know the Cowboys' GM cares about marketing almost as much as he does about football.
Taylor:
Jerry loves collecting baubles. We know this.
Dez Bryant
was a bauble. So was Terrell Owens. And Rocket Ismail. He loves any marketing aspect that added more cash to the family treasure trove. I can absolutely see Jerry using the force of his personality to persuade Garrett and vice president Stephen Jones the right move to make is adding Johnny Football to the roster, even though he's going to sit for multiple seasons and wouldn't make an impact on the team unless Romo was hurt. Hey, at least the preseason games would be sold out.
Archer:
Let's be honest, he won't be there at No. 16 and I think we all believe it would cost too much to trade up to get him, so who takes Manziel and why is he a better fit there than with the Cowboys?
I'm going with Jacksonville. They need a quarterback and they need a draw. It's probably not the most sound football decision to think of it like that, but the Jaguars have no juice. Manziel would give them some juice. And the Cowboys will see him at Wembley in November. Perfect.
Watkins:
It's interesting, but when I read Ourlads' mock draft, it didn't have Manziel going until No. 26 to Cleveland. But when I look at the top 10, I can see six teams taking him. I think Cleveland takes him at No. 4, but you have to wonder about the weather in the AFC North. Manziel hasn't played in that on a regular basis in college. Can he produce in cold weather in Pittsburgh and Baltimore in November and December? Oakland seems logical as well at No. 5.
Matt Schaub
should start in 2014 and Manziel would get his chance the following year. It's just no easy place for him to go. Houston, I don't believe, thinks Manziel is better than the two defensive players. So, I guess to answer this question, I think Cleveland takes him at No. 4.
MacMahon:
I think the Browns take him at No. 4. The Browns have been searching for a franchise quarterback since cutting
Bernie Kosar
, and drafting Manziel would fire up a rabid fan base desperately searching for a reason to be optimistic. Strange as it sounds, I also see Cleveland as a team that would give Manziel a chance to succeed early in his NFL career.
Josh Gordon
just led the NFL in receiving yards as a 22-year-old despite dealing with a QB rotation. Tight end
Jordan Cameron
is coming off a Pro Bowl season as a 25-year-old. The Browns have two Pro Bowl offensive linemen -- left tackle
Joe Thomas
and center
Alex Mack
-- who are in their prime. And Cleveland addressed its need for a running back by signing
Ben Tate
. Add an electrifying quarterback, and the Browns might actually have one of the NFL's most explosive offenses.
Taylor:
On the surface, Jacksonville should be really intrigued by Johnny Football because they need a quarterback and they need someone to put butts in seats. They're going to be bad again, so they need a playmaker on offense. That said, coach Gus Bradley is a defense-minded dude, so he'll probably go defense and take Buffalo linebacker
Khalil Mack
. That leaves Johnny Football to Cleveland. The Browns have a really good, young defense. They have a young star in receiver Josh Gordon. What they need is a triggerman. Since 2002, the Browns have had 10 different players lead them in passing, which is not a positive. If he's the star some project, Johnny Football will turn that franchise around and he'll own the city.
July, 11, 2013
7/11/13
10:28
AM ET
IRVING, Texas – The Cowboys did not select any of the six players eligible for today's NFL's supplemental draft.
PODCAST
Herm Edwards joins Ian Fitzsimmons and Tim MacMahon to talk Dallas Cowboys and discuss all the storylines surrounding the team heading into the 2013 season.

Listen

UCF defensive end Toby Jackson, Houston wide receiver DeWayne Peace, Purdue wide receiver O.J. Ross, South Alabama cornerback Damond Smith and two UNLV defensive linemen -- James Boyd and Nate Holloway -- were available to be selected, but no team made a pick.
Last year the Cowboys used a fourth-round pick for wide receiver
Josh Gordon
, who was selected in the second round by Cleveland. In 2010, the Cowboys selected defensive tackle
Josh Brent
in the seventh round.
It is possible the Cowboys could look at one or two of the prospects as free agents. To sign one, the Cowboys would have to release a player to remain at the 90-man limit.
April, 26, 2013
4/26/13
8:47
PM ET
IRVING, Texas -- Since Art Briles took over Baylor's football program, the Bears have had some of the most explosive offenses in college football.
The Cowboys hope
Terrance Williams
continues this recent trend.
While
Robert Griffin III
receives most of the attention, Baylor has had some pretty good wide receivers the past two years.
Tennessee took
Kendall Wright
in the first round last year (No. 20 overall), and Cleveland used a second-round pick in the supplemental draft on
Josh Gordon
.
The Cowboys considered using a pick in the supplemental draft on Gordon last year but did not want to use a second-rounder like the Browns.
Wright caught 64 passes for 626 yards with four touchdowns. Gordon caught 50 passes for 805 yards and five touchdowns.
"When players like Josh and Kendall continue to make plays and plays, that just lets me know that we can fit right in, too," Williams said. "When they call my number, that's my chance to make plays."
November, 18, 2012
11/18/12
9:00
AM ET
ARLINGTON -- The Cowboys are home for the next three weeks and must take on one of the worst teams in the NFL in Cleveland (2-7) at Cowboys Stadium on Sunday afternoon.
Here's a preview:
The series:
This is the first time the
Cleveland Browns
have played at Cowboys Stadium. The last time these teams faced each other was in 2008, when the Cowboys beat the Browns at Cleveland Browns Stadium, 28-10. Cleveland leads the all-time series at 15-11 but is 6-7 in road games. Cleveland's last victory against the Cowboys came in 1994. Dallas has played them twice since then.
Who's playing:
Don't expect running back
DeMarco Murray
to play today, he'll miss his fifth consecutive game with a sprained foot.
Felix Jones
will start. Cornerback
Mike Jenkins
is doubtful with a sore back, but don't expect him to participate. Cleveland had five cornerbacks listed on the injury report Friday, which included starting left corner
Joe Haden
. He didn't practice Friday with a oblique injury and is listed as questionable.
Will we see more turnovers?:
The Cowboys intercepted a pass and recovered a fumble in the victory against the
Philadelphia Eagles
last week. Will we see more against the Cleveland Browns? As a team, the Browns are plus-1 in the turnover-ratio, tied for 12th in the NFL. However, rookie quarterback
Brandon Weeden
has thrown 12 interceptions on the season, second most in the league to Dallas'
Tony Romo
(13 picks). Romo hasn't committed a turnover the last two weeks.
A new center today:
The Cowboys will have their third different starter at center today when
Mackenzy Bernadeau
moves from right guard to center with
Ryan Cook
(knee) not expected to play.
Derrick Dockery
will move to right guard. Starter
Phil Costa
is out with a right ankle sprain and still has a slight limp when he walks.
Stopping Trent Richardson:
Coach Jason Garrett said you have to get population to the ball when the Browns rookie running back gets the ball. Richardson is 16th in rushing yards (575) and third among rookies. Overall, Cleveland is just 27th in the NFL in rushing offense and the Cowboys' defense is 13th against the run.
Ohio ties all around:
Let's start with the obvious ones. Garrett went to The University School, a high school in Chagrin Falls, Ohio, with his brothers -- tight ends coach John and director of pro scouting Judd. Rob Ryan was the Browns defensive coordinator for three seasons (2009-2010). Ryan had a slew of coaches with him in Cleveland from Matt Eberflus,
Jerome Henderson
, Keith O'Quinn and Ben Bloom. Fullback
Lawrence Vickers
played for Cleveland from 2006 to 2010.
Texas roots, too:
Oh yeah, don't forget Cleveland kicker
Phil Dawson
(who hasn't missed a point-after-attempt or field goal) went to Lake Highlands High School and the University of Texas. Browns wide receiver
Josh Gordon
and defensive lineman Phil Taylor went to Baylor. Quarterback
Colt McCoy
is from Tuscola, Texas, and played at Texas.
Home record is what again?:
The Cowboys are 14-13 at Cowboys Stadium since it opened in 2009, but in November they are an impressive 6-1. With the stadium roof closed, the Cowboys are 8-0, but with it opened, the Cowboys are 1-5. However, with the roof open and the plaza doors closed, the Cowboys are 2-0. With the roof closed and the plaza doors open, Dallas is 3-0.
November, 17, 2012
11/17/12
2:00
PM ET
IRVING, Texas -- The Cowboys were interested in selecting wide receiver
Josh Gordon
in the supplemental draft in the offseason, but were not willing to spend a second-round pick on him the way Cleveland did.
On Sunday, Gordon and the Browns visit Cowboys Stadium and the Cowboys will get a chance to see in person somebody who could have been their No. 3 receiver this year.
Gordon has 19 catches for 417 yards with four touchdowns. His 417 yards are the most for a rookie receiver in the league and the touchdowns are tied for the most by a rookie. He became the first rookie since
Randy Moss
in 1998 to record touchdowns of 30 yards or more in three straight games earlier this season.
"To me, it's going pretty well," Gordon said of his rookie season. "Definitely a learning experience. Everything is brand new for me, but it's going great, to me, so far."
Gordon had to go the supplemental draft route after he was kicked out of Baylor in the summer of 2011. He transferred to Utah but never played for the Utes before declaring himself for the supplemental draft.
The Cowboys talked extensively about Gordon with Baylor coach Art Briles, whose daughter, Jancy, is the team's media relations coordinator.
"He talked about Josh a lot and the kind of young man he is and how he'd gone through a couple of things," Jason Garrett said. "He vouched for him as a person. Then on film, just an outstanding talent. He's big. He's long. He's fast. He can catch. He's very natural. It was an interesting thing and I think a lot of people were hearing the same things we heard and he became an intriguing guy. We were well in-tuned with what his situation was leading up to the supplemental draft and Cleveland stepped up and was aggressive in picking him. He's certainly done a lot of good things for them."
August, 1, 2012
8/01/12
8:00
AM ET
OXNARD, Calif. -- Every Wednesday we'll be bringing you Five Wonders, with today being the official training camp debut of the award-winning fixture. And by award-winning I mean the gold star my children put on my computer a long time ago.
With no further ado, here we go:
* Jason Garrett likes to say his receivers need to run, run and then run some more. As a group they have to be in the best physical condition of any players on a team. But I wonder if the Cowboys should monitor how much work they give
Miles Austin
. He missed six games last year because of hamstring injuries to both legs, and the offense missed him. Given Dez Bryant's issues, the Cowboys need Austin more than ever, so it might be wise to limit Austin some. It's a balance Garrett has to find of getting players ready for a season while not taxing them so much that they become susceptible to injury. And while
I
wonder about this, I don't believe the Cowboys are wondering about it at all.
* I wonder if this is the year defensive end
Clifton Geathers
gets into the mix. He has been with the Cowboys for parts of the last two seasons, playing in five games last season and garnering five tackles. At 6-foot-7, 325 pounds, he is definitely a candidate for the All-Airport team. He just looks like a player. And he's also cheaper than
Kenyon Coleman
and
Marcus Spears
. Coleman has a $1.9 million salary. Spears is set to make $2 million. Geathers is set to make $540,000. You can't discount the financials in these decisions. The Cowboys jettisoned their veteran offensive linemen last year and they chose not to sign
Mat McBriar
over $300,000. The Cowboys are getting younger and cheaper, and if Geathers can show he can handle more of a role he could slide two veterans out of the mix.
* Last year the Cowboys hit on several veteran free agent finds during the season, from
Laurent Robinson
to
Tony Fiammetta
to
Montrae Holland
to
Sammy Morris
. I don't have to wonder too much if they have confidence in the pro scouting department to find help again in 2012. For all of the fans wanting the Cowboys to sign a veteran wide receiver like
Plaxico Burress
or at least
Patrick Crayton
, I'd say the team is being patient when it comes to the receiver group. And remember the money. Robinson signed for the minimum salary benefit last year before blowing up as the No. 3 receiver. The Cowboys didn't look for a veteran last year at wide receiver, and their decisions to look into
Josh Gordon
and
Dezmon Briscoe
seems to indicate they will do the same this year.
* I wonder why there is not more concern over the foot injury of nose tackle
Jay Ratliff
. He was not able to take part in any on-field football work during the offseason because of plantar fasciitis and he can only go through the walkthrough practices early in camp. The Cowboys don't want Ratliff to aggravate the injury in camp, but this is something that has been problematic for at least three months. While a difficult nose tackle to block because of how active he is, he needs his feet to help with leverage. Without leverage Ratliff is just another guy. And let's not forget that his sack total has decreased in each of the last four seasons from 7.5 to six to 3.5 to two.
* I wonder if
Saalim Hakim
can get into this wide receiver mix. I cannot believe I typed that after the performance Hakim put forward in the rookie minicamp after the draft, because as a receiver he showed a remarkable ability to not catch the ball. But now Hakim, who is the younger brother of
Az-Zahir Hakim
, the former St. Louis wideout from the Rams' Greatest Show on Turf days, is in much better shape and is catching the football. Hakim made his way on to the Cowboys' radar with his work on special teams for Jim Fassel in the UFL. Hakim's speed should make him a factor on special teams here, but he had an eye-popping run after catch on Monday that had one defender groan, "That (expletive) is fast." It was almost as if Hakim glided above the ground as he sped down the sideline.
July, 29, 2012
7/29/12
3:30
PM ET
OXNARD, Calif. -- The Cowboys are not keeping their intentions at the wide receiver spot a secret as training camp begins.
They are looking for help.
They put a fourth-round bid in the supplemental draft on Baylor's
Josh Gordon
two weeks ago, only to see him get picked by Cleveland in the second round. Last week they made a waiver claim on
Dezmon Briscoe
, a Cedar Hill grad, only to lose out to Washington in the process because the Redskins had a worse record in 2011.
"I think that's more than anything youth," executive vice president Stephen Jones said. "We have Miles (Austin) and Dez (Bryant) we're counting on, then we've got a lot of unknowns after that. We know that. We've got young guys we think a lot of … I think that's a place we'll watch hard. We'll watch the guys we have here. As Jason (Garrett) mentioned, player acquisition is a year-round deal."
Kevin Ogletree
is the only receiver on the current 90-man roster with a catch in a regular-season game. The Cowboys liked what they saw from youngsters
Andre Holmes
,
Dwayne Harris
,
Cole Beasley
and
Tim Benford
in the offseason work but were unable to get a long look at fifth-round
Danny Coale
because of a stress fracture in his foot.
"Our goal is we're going to feel better about the wide receiver corps after Miles and Dez when camp is over," Jones said, "whether we do that with the guys on our roster or the way we did last year, picking up a guy like Laurent (Robinson) toward the end of camp. We feel like we can get that done."
July, 12, 2012
7/12/12
2:26
PM ET
The Cowboys' need for a third receiver doesn't merit a second-round draft pick.
That meant that the price for former Baylor receiver Josh Gordon in the supplemental draft was far too steep for the Cowboys. He
went to the
Cleveland Browns
in the second round, meaning that the Cowboys would have had to bid their 2013 first-round pick to get Gordon.
That'd be a foolish investment for a team that believes it has its starting receiver tandem set for the next few years at least with
Miles Austin
and
Dez Bryant
.
The 6-foot-3, 224-pound Gordon could have been a good investment for the Cowboys with a mid-round pick, but he was long gone by that point in the blind bidding process. As it is, the Cowboys will go to camp with an unproven army of receivers competing to replace
Laurent Robinson
as the third receiver.
July, 9, 2012
7/09/12
12:19
PM ET
How much does Jerry Jones really believe in his cast of no-name candidates to be the Cowboys' third receiver?
We could get an answer Thursday, when former Baylor receiver Josh Gordon headlines this year's supplemental draft.
PODCAST
Is Baylor WR Josh Gordon a good fit with the Cowboys? Gordon has been opening eyes as the supplemental draft approaches. Would you take a chance on him? Coop and Fran weigh in.

Listen

The 6-foot-3, 225-pound Gordon is a physical specimen with 4.4 40 speed. One NFL scout told ESPN's Adam Schefter that he believes Gordon, who was Baylor's No. 1 receiver in 2010 over Titans first-round pick
Kendall Wright
, could
go as high as the second round
.
It's at least an intriguing thought to envision Gordon lining up along with
Miles Austin
and
Dez Bryant
in a three-receiver package. There might not be a receiver trio in the NFL that has that blend of size and explosiveness.
However, Gordon comes with character risks. He left Baylor last summer after being indefinitely suspended following an arrest for marijuana possession in a Taco Bell drive-through. He transferred to Utah but never played for the Utes, entering the supplemental draft due to financial reasons.
But Gordon could fill what appears to be a glaring need for the Cowboys. Other than the starters,
Kevin Ogletree
is the only receiver on the roster with an NFL reception, and he failed when given the third receiver role at the beginning of last season. The Cowboys' front office and coaches insist they're convinced that someone from the crop of Ogletree,
Andre Holmes
,
Dwayne Harris
,
Danny Coale
, etc. will claim that role and perform well, but there were no polygraphs present when those statements for made.
We could find out Thursday if the Cowboys were telling the truth about their comfort level with the receiver depth. That is, unless another team bids a higher pick for Gordon.