Dallas Cowboys:

Josh McCown
April, 24, 2014
Apr 24
11:00
AM ET
IRVING, Texas -- For a team that has lived in an 8-8 neighborhood the past three seasons and missed the playoffs in Week 17 each time, every game is a key game.
But there are five that stand out as musts for the Cowboys if they want to make the playoffs for the first time since 2009. And it might not be the five you are thinking of, such as the season opener against the
San Francisco 49ers
or the season ender against the
Washington Redskins
.
Let's take a look:

Sept. 21 at St. Louis Rams:
You might think this is an odd choice, but the Cowboys need to win games they are supposed to win. If this game was at AT&T Stadium, then you could book
DeMarco Murray
for at least 150 yards and the Cowboys winning big. Since it is in St. Louis, it will be more difficult but not impossible. The last time the Cowboys visited the Arch, they were pasted 34-14 in 2008 with
Tony Romo
out because of a busted pinky. The Cowboys missed the playoffs that year by one game. The Rams were a different team at the end of last season than they were when they played the Cowboys in Week 3, but if Dallas wants to be serious, then this is a game they must win.
Oct. 5 vs. Houston Texans:
The Texans were 2-14 last year and have a new coach and will have a new quarterback, potentially even a rookie. But Houston has more talent than most 2-14 teams. Last year just snowballed on them and they could do nothing about it. This will be only the second trip to the area to play the Cowboys. In 2006, Tony Romo threw the first passes of his career against Houston in a 34-6 win. Why is this game important? It's sandwiched between a visit from the
New Orleans Saints
, who embarrassed the Cowboys last year, and a trip to take on the Super Bowl champion
Seattle Seahawks
. The Cowboys can't afford a three-game losing streak this early in the season.
Nov. 2 vs. Arizona Cardinals:
The easiest way to make the playoffs is to win the NFC East. In order to have a wild-card chance, the Cowboys need to win their out of division matchups in the NFC. The Cardinals finished 10-6 last year and look like a team that can contend for a postseason spot even in a division with the Seahawks and 49ers. For the Cowboys to have wild-card hopes, they will need to hold off
Larry Fitzgerald
,
Carson Palmer
& Co. in what concludes a three-game homestand.
Nov. 23 at NY Giants:
The NFL did not do the Cowboys any favors with this game being on NBC's "Sunday Night Football," which will mean the Cowboys have a quick turnaround on Thanksgiving against the
Philadelphia Eagles
. As much as we have discussed the Giants' success in Arlington, the Cowboys have won three of four games at MetLife Stadium. Coming off the bye week following their trip to London to take on the
Jacksonville Jaguars
, the Cowboys would be best served to continue their road success in the Meadowlands with the Eagles coming to AT&T Stadium four days later.
Dec. 4 at Chicago Bears:
The Cowboys were embarrassed at Soldier Field last year and
Jay Cutler
didn't even play.
Josh McCown
threw four touchdown passes against Dallas, and the Cowboys' offense was equally as abysmal. It might have been the worst effort of the season. If the Cowboys can win this game, then they could gain a wild-card edge. They would also have a 10-day break before heading to Philadelphia for a key NFC East matchup at Lincoln Financial Field on Dec. 14.
December, 20, 2013
12/20/13
3:30
PM ET
IRVING, Texas – With only one start under his belt this season, the
Dallas Cowboys
have done more research than normal in studying
Washington Redskins
quarterback
Kirk Cousins
.
Cousins
They mostly studied the Redskins' scheme even when
Robert Griffin
III was the quarterback, but spent time on Cousins' work last week against the
Atlanta Falcons
as well as some of his backup work this year and last year and some preseason work, too.
"You just get a feel for how he plays and how he fits within the scheme," coach Jason Garrett said.
Cousins threw for 381 yards on 29-of-45 passing with three touchdowns and two interceptions in the loss to the Falcons. He also lost a fumble.
He will be the fourth straight backup quarterback the Cowboys have seen, joining
Matt McGloin
of the
Oakland Raiders
,
Josh McCown
of the
Chicago Bears
and
Matt Flynn
of the
Green Bay Packers
. McCown and Flynn had four touchdown passes apiece against the Cowboys.
While not immobile, Cousins is not the runner that Griffin is.
"We've watched enough film to know that there is a difference," safety
Barry Church
said. "With RG III, the running attack is a lot more opened up than it is with Cousins, but the passing attack, there's no limitations on him. They go through the whole playbook. We're definitely leaning more to the pass this week than in the past when RG3 was running all over people. This week there's more emphasis on the pass, but we've also got to be aware of
Alfred Morris
because he's a dog out there."
December, 16, 2013
12/16/13
8:00
AM ET
ARLINGTON, Texas -- A review of four hot issues from the
Dallas Cowboys
'
37-36 loss
to the
Green Bay Packers
.
[+] Enlarge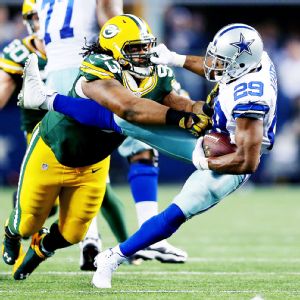 Ronald Martinez/Getty ImagesDeMarco Murray and the Cowboys are focusing on winning out and attempting to make the playoffs.
Recuperative powers:
If the Cowboys win their final two games, they will make the playoffs. If there is a message Jason Garrett is looking to sell as the team looks to rebound, that's it. The Cowboys' final two games are against the
Washington Redskins
and
Philadelphia Eagles
, teams they outscored 48-19 in meetings earlier this season. It's not the message a lot of fans want to hear, but it is what matters most as the Cowboys look to make the playoffs for the first time since 2009.
"I feel good that we have a chance to beat the Redskins, and if we do that, we'll get a chance to play Philadelphia with an opportunity to get in the playoffs," owner and general manager Jerry Jones said. "I know when I see us lose a game after having a lead like we had at halftime, anything can happen one way or the other."
Pathetic work:
On a day in which the offense gained 466 yards and 27 first downs, you would think everything worked well. It didn't. The third-down offense continued its season-long struggles as the Cowboys converting on just 2 of 9 chances. It was the third time this season the Cowboys converted on less than 30 percent of their third-down tries in a game. They are 56-of-159 on the season.
Tony Romo
said he has to be better on third downs, the receivers have to win in man-to-man situations and the blocking has to be better.
"We haven't done that well," Romo said of the third-down woes. "We have to do a better job."
No chance on D:
At one point, the Cowboys fielded a defense that had three players who were not with the team when training camp started (
George Selvie
,
Everette Brown
,
Corvey Irvin
), two undrafted free agents (
Jeff Heath
,
Cameron Lawrence
), a sixth-round pick (
DeVonte Holloman
) and a cornerback (
Sterling Moore
) who was out of football until Nov. 25.
Matt Flynn
became the fifth quarterback to throw four touchdown passes against Monte Kiffin's defense, joining
Eli Manning
,
Peyton Manning
,
Drew Brees
and
Josh McCown
. Flynn and McCown are backup quarterbacks, and the Cowboys will see another backup next week at Washington with
Kirk Cousins
quarterbacking the Redskins.
Still producing:
Jason Witten
caught 110 passes last year, an NFL record for tight ends in a season, but he had only three touchdowns. He has 59 catches this year and eight touchdowns. Witten needs one TD in the final two games to equal his career high. His eight from Romo this season are the most the duo has combined for in a season together. With 59 catches for 703 yards, Witten is averaging 11.9 yards per reception, which equals his career best so far. He might not have the starry numbers of the past, but at 31, Witten is not slowing down yet, either.
December, 15, 2013
12/15/13
2:15
PM ET
ARLINGTON, Texas -- Welcome to AT&T Stadium where the
Dallas Cowboys
hope to keep their playoff destiny in their hands with a win against the
Green Bay Packers
.
At 7-6, the Cowboys trail the
Philadelphia Eagles
by a game in the standings, and a loss would mean the Cowboys would need the Eagles to lose in Week 16 to even make the Dec. 29 regular-season finale mean something.
Before the Cowboys can win three in a row, they must win one in a row.
Better at home:
It took some time but the Cowboys might have figured out how to make AT&T Stadium something of a home-field advantage.
The Cowboys are 5-1 at home and the only loss was to then-undefeated Denver, 51-48, in October. But it's not like the Cowboys have been dominant in their last two home wins. They needed a 90-yard drive in the final minute to beat the
Minnesota Vikings
and overcame a sluggish start to beat the
Oakland Raiders
on Thanksgiving.
The Cowboys are averaging 34 points per game at home and the defense, which has been bad, is a field goal better at home than on the road. The Cowboys have also had 15 of their 25 takeaways at home.
Overall the Cowboys are 21-16 in the regular season at AT&T Stadium.

Another backup:
The Cowboys will face a backup quarterback for the third straight week with
Matt Flynn
starting for
Aaron Rodgers
. That's the good news.
The bad news is the last backup quarterback they saw, Chicago's
Josh McCown
, tore them up in the Bears' 45-28 victory. McCown threw for 348 yards and four touchdowns and had a 141.9 passer rating. He also ran for a score.
Flynn threw for 258 yards on 24-of-32 passing with a touchdown and interception in the Packers' 22-21 win against the
Atlanta Falcons
.
Time to get going:
With the defense almost in a complete disrepair, the Cowboys' offense will have to carry the day.
But can it?
The running game has improved greatly.
DeMarco Murray
is averaging 96 yards a game on the ground in the past four games.
The passing game has been ineffective.
Tony Romo
has not thrown for more than 234 yards in his past four games.
Dez Bryant
is coming off a two-catch, 12-yard game.
Jason Witten
has 10 catches in his last four games.
Miles Austin
has four catches in his three games since returning from a hamstring injury.
The Packers are allowing 369.4 yards and 25.1 points per game.
December, 10, 2013
12/10/13
3:05
PM ET
IRVING, Texas -- It's good that
Dallas Cowboys
owner and general manager Jerry Jones believes in Monte Kiffin.
On his radio show on 105.3 The Fan in Dallas Tuesday morning, Jones said, "First of all, he knows what's happening to us better than anyone. And if there are adjustments to be made, he's the right man for the job right now."
[+] Enlarge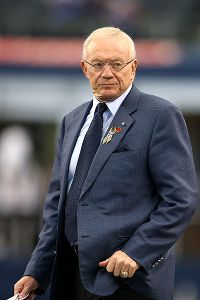 Matthew Emmons/USA TODAY SportsJerry Jones says "there'll be a little different cast of players out there up against Green Bay," after the Cowboys owner and GM witnessed a MNF loss at Chicago.
Yet after the
45-28 loss
to the
Chicago Bears
on ESPN's "Monday Night Football," Jones was saying the Cowboys must change what they do defensively.
He saw
Josh McCown
throw for four touchdowns against Kiffin's defense. He saw Kiffin's defense give up 33 first downs and 490 yards. He saw Kiffin's defense allow the Bears to convert on eight of 11 third-down opportunities. If you're scoring at home, that's the sixth time teams have converted on at least half of their third downs in a game against Kiffin's defense.
Brandon Marshall
had 100 receiving yards against Kiffin's defense.
Matt Forte
had 102 rushing yards against Kiffin's defense.
How does Jones have confidence in what Kiffin is doing?
"Well, I think that you realize you don't have a choice," Jones said immediately after the game. "We can do some things different out there. It's not as safe, but it could be more effective. Maybe get us a turnover when it could have made a difference and change the tide out there. But I'll assure you that we'll be doing some different things up against Green Bay. There'll be a little different cast of players out there up against Green Bay. But they used their assets very effectively, those big receivers, and to the quarterback's credit, he put it on them and we just couldn't defend it."
I'm not a certified decipherer of Jones-ese, but it sounds lile he wants Kiffin to gamble more, to be unsound if necessary. It sounds like he wants Kiffin to be (gulp) more like Rob Ryan. Jones lived in fear of all the exotic packages Ryan rolled out in 2011 and had the coordinator scale it back in 2012. He thought the players had to think too much and thus reacted slowly. Ryan was fired after last season.
Jones is like Goldilocks looking for the defense that's "just right." That's the problem. His convictions change too conveniently. If Ryan is too blitz happy, he wants to change. If Kiffin is too conservative, he wants to change.
The owner and general manager cannot be that fickle.
Kiffin's scheme has never been built on tricking people. It was built on great players making plays. He had great players playing for him in Tampa Bay. There's a chance three more of them could one day join
Warren Sapp
in the Pro Football Hall of Fame.
The defense is built on getting pressure with four players. It is built mostly on zone concepts. The Cowboys can't get pressure with four players right now and their corners play best in man-to-man, although Monday it did not matter what coverage they played.
The owner has paid a lot of money for pieces that do not fit or have not performed, and the general manager does not have enough pieces for Kiffin's scheme -- or Ryan's scheme -- to work well enough to just be presentable.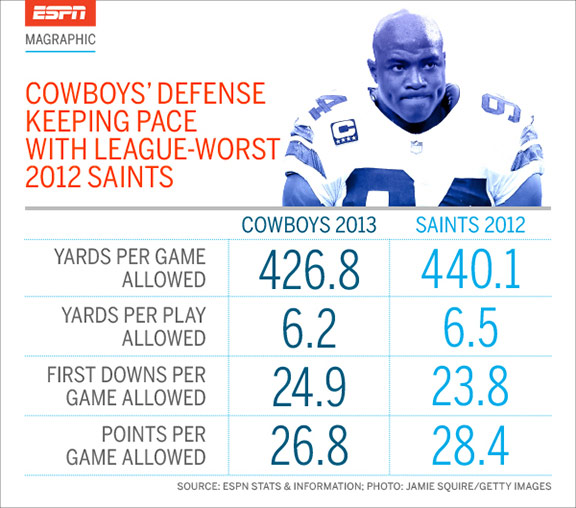 December, 10, 2013
12/10/13
8:30
AM ET
CHICAGO -- It's one thing to get torched by quarterbacks who are household names, such as
Eli Manning
,
Philip Rivers
,
Peyton Manning
,
Matthew Stafford
and
Drew Brees
.
McCown
But what about the sixth quarterback to pass for at least 300 yards against the
Dallas Cowboys
this season?
"Is that
Luke McCown
or Cade McCown?" Cowboys cornerback
Orlando Scandrick
asked after Monday night's
45-28 blowout loss
to the
Chicago Bears
.
Um, actually it was
Josh McCown
, who is Luke's brother and not related to former Bears first-round bust
Cade McNown
.
Scandrick meant no disrespect -- "He's been playing great this year," he added -- but his slip of the mind makes the point. The Dallas defense got dominated by a 34-year-old journeyman backup.
McCown has consistently performed well while filling in for an injured
Jay Cutler
, but this was a career night for a guy who couldn't keep a starting job at SMU. He completed 27 of 36 passes for 348 yards and a career-high four touchdowns, plus he ran for another score.
To be brutally honest, the numbers would have been much more impressive if the Bears weren't in clock-killing mode for most of the fourth quarter. Chicago never punted or committed a turnover.
All due respect to McCown, but he's not a guy who should account for five touchdowns against an NFL defense. According to the Elias Sports Bureau, he's the first Bears quarterback with a five-touchdown game since Johnny Lujack in 1949.
"If you were back there at quarterback and we played the way we played, you'd probably have five touchdowns," defensive end
DeMarcus Ware
said in response to a question from a 40-something television reporter. "I mean, that's the way I feel. If you don't play a fundamentally sound game, a guy that can just get out there and play, he'll hurt you and that's what he did."
In doing so, McCown added his name to a long list featuring a bunch of big-name quarterbacks.
December, 9, 2013
12/09/13
11:37
PM ET
CHICAGO - A few thoughts on the
Dallas Cowboys
' 45-28
loss
to the
Chicago Bears
on Monday.

What it means for the Cowboys:
With this embarrassment, the Cowboys now find themselves chasing the
Philadelphia Eagles
, and they need to win intervening games versus Green Bay and at Washington to make sure the Week 17 meeting at AT&T Stadium is for the NFC East title.
If they can, they will be in their third straight de facto NFC East title game to close the season. If they can't, owner and general manager Jerry Jones will have to reassess his statement that Jason Garrett will be the coach in 2014.
It's December, so the Cowboys struggle because that's what they do.
Tony Romo
has taken the brunt of the criticism for that record, but Monday's loss falls squarely on the defense.
Josh McCown
threw for four touchdowns and ran for another score. Wide receivers
Alshon Jeffery
and
Brandon Marshall
did whatever they wanted against whomever they wanted.
Matt Forte
ran for more than 100 yards.
If there was ever a sign that Monte Kiffin should be out as coordinator after this season, it was this game. It's one thing to get lit up by
Peyton Manning
and
Drew Brees
. It's quite another to have it happen against a backup quarterback, even if McCown had been playing well in
Jay Cutler
's absence.
Stock watch:
DeMarcus Ware
, falling. Last week, Ware said the strength had finally returned to the quadriceps that kept him out for three games. But he was invisible versus the Bears before he was gifted a sack in the fourth quarter. Ware has two sacks since his return but is likely to see his streak of having at least 10 sacks in a season end at seven.
There's no defense in Dallas:
Blame the injuries all you want, but Rob Ryan at least had an injury-riddled defense competitive last year. Kiffin has had to deal with injuries, but he had zero answers for the Bears.
The Cowboys allowed 24 points in Monday's first half. Only New Orleans and Denver had more against the Cowboys in an opening half (28 each). The Cowboys allowed 32 first downs. Only New Orleans (an NFL-record 40) and Denver (34) had more. The Cowboys allowed 498 yards. Only San Diego (506), Denver (517), Detroit (623) and New Orleans (625) had more. It's the fourth time a quarterback has had four touchdown passes against the Cowboys.
In the first half, the Bears had 12 plays of at least 10 yards. They scored quickly (a 37-second drive) and they ate up clock (90 yards, 8:10).
They did whatever they wanted to do.
Hurt again:
Sean Lee
made his return to the lineup after a two-game absence because of a hamstring injury but he could not finish the game after suffering a neck injury with 12:33 left in the third quarter.
Lee returned briefly for five plays before he went to the locker room for the rest of the game. Lee has yet to play a full season in his career because of injuries. He is the best playmaker on the defense, but even with him the defense has not been close to adequate. Imagine how bad things would be if Lee missed even more playing time?
The Cowboys might be about to find out.
Hey, a running game:
Let's get about the only positive the Cowboys had from Monday's game: They ran the ball well.
DeMarco Murray
ran for 145 yards on 18 carries. He now has 842 on the year and has a shot at reaching 1,000 for the season.
But why be positive on a night like this?
What's next:
The Cowboys return to AT&T Stadium on Sunday to face the
Green Bay Packers
. The biggest question is whether
Aaron Rodgers
will make his return from a collarbone injury. If he does, the task is much more difficult. The Cowboys are 5-1 at AT&T Stadium this season, but the Packers have some good memories there as well, having won Super Bowl XLV there.
December, 5, 2013
12/05/13
4:35
PM ET
IRVING, Texas – The time off after the
Dallas Cowboys
' win over Oakland on Thanksgiving Day did defensive end
DeMarcus Ware
good. He could tell at Thursday's practice.
Ware
"I was doing a lot of moves I usually don't do," Ware said. "I was doing them in practice, feeling really confident in it. I've got my strength back, so I'm happy about that."
Ware missed three games earlier this season because of a quadriceps strain, but he has played in each of the last three games. In his first game back, against the
New Orleans Saints
, he was limited to 51 of 83 snaps after he aggravated his quadriceps on a sack of
Drew Brees
. He played on 96 of the last 123 defensive snaps in the Cowboys' wins against the
New York Giants
and the Raiders. It is the highest percentage of plays Ware has played since the first two games of the season.
Now he knows he has to get his sack totals up. He has only five this season, his fewest this late in a season since his rookie year. And he knows it will be
Josh McCown
he must track down, now that the Bears have ruled out
Jay Cutler
.
McCown has been sacked 10 times in his six games (four starts). Cutler was sacked 11 times in his eight starts.
"I've got to get back on track," Ware said.
December, 3, 2013
12/03/13
9:00
AM ET
IRVING, Texas -- The Cowboys have had some time to wonder some things after their win on Thanksgiving against the
Oakland Raiders
.
Every Tuesday as always wonder about some things. Five Wonders is back and off we go:
November, 10, 2013
11/10/13
4:25
PM ET
NEW ORLEANS -- The
Dallas Cowboys
are about to end a run against Texas high school quarterbacks when they see the
New Orleans Saints
'
Drew Brees
Sunday night.
Brees
On Oct. 13 they saw Copperas Cove's
Robert Griffin
III with the
Washington Redskins
. Then saw Austin Westlake's
Nick Foles
in Philadelphia. Highland Park's
Matthew Stafford
lit them up with the
Detroit Lions
. Last week they beat Colleyville Heritage's
Christian Ponder
and the
Minnesota Vikings
.
Brees played at Austin Westlake.
"Obviously Texas has a very strong football tradition with a number of players going on to play college football and certainly the NFL," Brees said. "Obviously there's a ton of quarterbacks, which is pretty unbelievable when you look at it. A lot of them went on and played all over the place, it's just not guys that stayed in the state of Texas.
"In most cases, guys went and played in other places across the country and different conferences, different division levels and that kind of thing. I think it's something we take a lot of pride in. I think it makes you proud considering we have that Texas state pride, having played in the state, and knowing the level of competition within the state when it comes to football, so it's pretty cool that we're able to have that many guys playing quarterback in the league."
The Cowboys are 3-1 against Texas quarterbacks so far.
Depending on the health of
Jay Cutler
, they could see
Josh McCown
(Jacksonville, Texas) on Dec. 9 against the
Chicago Bears
. If
Matt Flynn
(Tyler) ends up signing with the Packers, they could see him Dec. 15 against the
Green Bay Packers
.
They'll also have rematches against Foles and Griffin.