Dallas Cowboys:

Julio Jones
December, 26, 2012
12/26/12
6:17
PM ET
IRVING, Texas -- For the second straight year the Cowboys had only two players selected to the Pro Bowl, their fewest in back-to-back years since 2001-02.
PODCAST
ESPN Dallas' Todd Archer joins Galloway & Company to talk about the Cowboys' upcoming game against the Redskins.

Listen

Outside linebacker
DeMarcus Ware
has been selected for the seventh straight year, and after a one-year hiatus tight end
Jason Witten
was picked for the eighth time.
Ware was selected as a starter with San Francisco's
Aldon Smith
, and Witten was voted as a backup to Atlanta's
Tony Gonzalez
.
How many Cowboys actually play in the Jan. 27, 2013, game in Honolulu is up for debate because Ware could need surgery on his right shoulder after the season and a couple of players could be added as injury replacements.
The Cowboys do not comment on what players are named as possible alternates.
Last year, Ware and nose tackle
Jay Ratliff
were named to the Pro Bowl.
Ware leads the Cowboys with 11.5 sacks and is closing on the team's unofficial sack record of 114 held by Harvey Martin. The franchise's official all-time sack leader is tied with Randy White with 111 sacks on the unofficial list.
"What an honor and privilege it is to be voted to the Pro Bowl by the fans, coaches and players around the league," Ware said in a statement released by the team. "I know how difficult it is to make it to the game, and I appreciate the support from everyone. I look forward to not only representing the NFC, but also the entire
Dallas Cowboys
organization."
Witten set an NFL record for catches by a tight end in a season with 103 and needs 17 yards for his fourth 1,000-yard season. He needs 12 catches Sunday at Washington to set the franchise's season record for catches, currently held by
Michael Irvin
, who had 111 catches in 1995. Witten became the Cowboys' all-time leading pass catcher Nov. 4 in Atlanta.
The only players in team history with more Pro Bowl selections for the Cowboys are Bob Lilly (11),
Larry Allen
(10), Mel Renfro (10) and White (nine).
Emmitt Smith
was also picked to play in eight.
"It is always an honor to get voted, especially when a portion of the vote comes from your peers around the league," Witten said. "Ihave a lot of respect for this league and the players that make up this league. I know how many great players there are around the NFL, and to be selected is very humbling."
Dez Bryant
missed out on making his first Pro Bowl appearance despite a breakout season. Detroit's
Calvin Johnson
, Chicago's
Brandon Marshall
,
Victor Cruz
of the
New York Giants
and Atlanta's
Julio Jones
were named as the four receivers.
Bryant has 88 catches for 1,311 yards and 12 touchdowns on the season and has caught at least one TD pass in his last seven games. He has more catches and yards than Cruz and Jones and more touchdowns than Johnson and Marshall.
Even if he is added to the roster it is unlikely that Bryant would play in the all-star game because he needs surgery on his left index finger when the season ends.
Outside linebacker
Anthony Spencer
also missed out on a bid, despite a career-high 10 sacks and a team-leading 99 tackles. Ware was joined at the outside linebacker position by Smith and Green Bay's
Clay Matthews
.
November, 29, 2012
11/29/12
11:15
AM ET
IRVING, Texas -- Cowboys wide receiver
Dez Bryant
is just 120 yards away from his first 1,000-yard receiving season. He's produced four games with over 100 receiving yards, including 290 yards over the last two weeks.
Has Bryant done enough to get into the Pro Bowl conversation?
Currently, Bryant is 11th in the NFL in receiving yards, and you would have to think Detroit's
Calvin Johnson
, Chicago's
Brandon Marshall
and most likely either Atlanta's
Roddy White
or Arizona's
Larry Fitzgerald
will make the roster.
Bryant has put up big numbers in nationally televised games and has a chance to do it again Sunday night when the Cowboys host the
Philadelphia Eagles
.
His biggest challenge could be New York's
Victor Cruz
and Atlanta's
Julio Jones
. If anything, Bryant has a chance to become one of the Pro Bowl alternates, meaning if one of the selected players opts out, the first alternate gets a call up.
Bryant has been wonderful this season, but more established players such as Johnson, Marshall and White could prevent him from getting the coaches and player votes, which each account for one-third of the vote. The fans get the other third of the vote, so maybe he gets some opportunities there.
November, 7, 2012
11/07/12
3:38
PM ET
IRVING, Texas -- Cowboys rookie cornerback
Morris Claiborne
was targeted six times Sunday night against the
Atlanta Falcons
and had five passes completed on him while also recording one pass breakup. Claiborne almost had an interception but lost the ball as he came down to the ground.
It was tough test for Claiborne, who faced one of the NFC's best tandems in
Julio Jones
and
Roddy White
. Claiborne was beaten on a 38-yard pass play by Jones in the first quarter.
"I felt like it went pretty well," Claiborne said of his performance. "I gave up a couple of plays, but I mean, it's the NFL, guys are going to catch balls on you. I felt like, overall, I played pretty good."
On Sunday afternoon, Claiborne will take on a similar pair of wide receivers in
DeSean Jackson
and
Jeremy Maclin
. Jackson and Maclin are fast and stretch defenses deep. The Falcons exploited the Cowboys' zone defense with completions over the middle.
The Eagles might do the same, especially if they're trying to get rid of the ball quickly to protect quarterback
Michael Vick
, who is getting beaten up in the pocket because of an inconsistent offensive line.
"They got some speed on their side of the ball," Claiborne said. "They got some guys who can go out there and go get it. Vick is the type of quarterback who can get them the ball."
November, 6, 2012
11/06/12
2:00
PM ET
IRVING, Texas – Following Sunday's game at Atlanta, I wrote that it is time for Jason Garrett to cede some control of the offense to
Tony Romo
, especially given how well the Cowboys operated on their lone touchdown drive of the game.
On Monday, Garrett was asked if the Cowboys will incorporate more hurry-up in the future.
"That's an interesting question," Garrett said. "I think there are some game situations that have come into play in the last couple of weeks. We've been down. In the case of (Sunday) night's game, we were down two scores with seven minutes to go. So we have to plan a little more of a hurry-up mode, whether we're in the huddle, huddling quickly or getting to the line of scrimmage and just throwing the football more than we had throughout the rest of the ball game. We've been able to throw the ball fairly well around here, and when we get in that mode and we throw it a lot we've been able to move it. We do have to factor in the fact that the defenses are playing a little bit differently based on what the score is and what the game situation is. To say we're going to start the game like that, it's unrealistic to think the defense would play the same way."
The Cowboys went to their hurry-up offense on their eighth drive of the game and Romo completed six straight passes for 78 yards and a touchdown. The Falcons brought four-man pressure on every snap. That was the predominant pass rush used by the Falcons throughout the game. They used four-man pressures on 19 pass plays. They brought five guys six times, six guys twice and seven defenders once.
They didn't play wildly softer with a two-score lead than they had earlier in the game. Only once in the second half did coordinator Mike Nolan bring five guys. On the final drive Nolan used a three-man rush on every play, staying back in coverage to prevent any chances of a long throw.
Quite simply, the Cowboys are at their best when they use 11 personnel and spread the field.
** Remember that press coverage that worked so well against
Eli Manning
and the
New York Giants
two weeks ago? The Cowboys evidently didn't.
They played across-the-board press coverage on 10 snaps against Atlanta after doing it 25 times against the Giants. They played off 38 times and half-press 14 times. The Cowboys used more zone against the Falcons, and
Roddy White
killed them. The Cowboys chose not to flip the corners when the Falcons lined their wideouts up on the same field. It gave White a free release and he was able to work the middle of the field with ease.
Rob Ryan did not employ much pressure either. He brought five pass-rushers three times in the game and a sixth once. The three sacks were a result of four-man pressure. Four times the Cowboys rushed three (in one case that was a late rush from
Anthony Spencer
, who was sprinting on the field as the ball was snapped). They gave up two first downs on those plays.
The only time Ryan brought six players came on the Falcons' final drive with
Danny McCray
on a delayed blitz. Ryan's pass was incomplete, but
Orlando Scandrick
was correctly called for holding to give Atlanta a first down.
** Big plays killed the defense.
On Julio Jones' 48-yard grab, rookie cornerback
Morris Claiborne
jammed him at the line with a five-man pass rush that didn't get to
Matt Ryan
. Jones was able to create separation with Claiborne inside and made the catch.
Claiborne made a bad gamble on a crossing route to White that ended up in a big run after catch. He swiped at Ryan's pass and missed with his left hand. Had he used his right hand maybe he gets his hand on it. Even if he didn't, he could've attempted to trip up White with his left hand.
Claiborne nearly came up with a huge interception on a throw from Ryan to White on the Falcons' final drive. White could have been flagged for interference on the play because he tugged the rookie's arm as the ball was coming to him. Claiborne used great technique on that long fade down the sideline.
** Michael Turner's 43-yard run was the longest allowed by the Cowboys this season. How did it happen?
Rob Ryan took the blame for a poor call that had
DeMarcus Ware
and
Jason Hatcher
playing a game that took Ware inside. That helped the Falcons seal the edge with Hatcher unable to get outside. White smothered safety
Gerald Sensabaugh
off the slot to give Turner the room to break the long one.
Ernie Sims
was late getting outside and McCray missed Turner at the Dallas 45.
Against Carolina, Ryan had Ware and Spencer play a similar game and it allowed quarterback
Cam Newton
to break a long run to the outside.
** Little things matter.
Over the years teams have tried to run weak-side tosses against the Cowboys and have done so with little success because of Ware. Jones, however, got by Ware Sunday on that final drive. Ware did a great job reading the play with Jones lined up in the backfield, but the receiver made a hard fake to the inside to get Ware off balance for an instant to gain the corner.
How does
Josh Brent
not recover the fumble after a Ware sack of Ryan? Instead of first down at the Dallas 48 they take over a few plays later at their 3 because of a punt.
How does
Phillip Tanner
not get a first down on that drive? The play was blocked well enough to get a yard, but Tanner ran into the back of fullback
Lawrence Vickers
.
Jason Witten
,
John Phillips
and
Doug Free
all won to a good enough degree on their blocks for Tanner to get a yard. Poor vision on the play by the back.
Prior to that play, however, I think the Cowboys might have missed an opportunity for a replay challenge. Cole Beasley's catch was good for eight yards, but it looked like the officials robbed him of a ninth, which would've been a first down. He appeared to bounce on the 50.
Dan Bailey
has missed two field goals this season, from 51 and 54 yards. Both have come from the left hash mark. The miss at Baltimore from 51 might have had some help from the wind. The miss Sunday from 54 obviously had no wind issue, but there can be a tendency to pull the ball on longer kicks.
November, 6, 2012
11/06/12
1:00
PM ET
IRVING, Texas – Millions will wonder who will win the presidential election today. We've got Five Wonders as the Cowboys prepare for the second half to start Sunday at Philadelphia, and none of them will be related to Sean Payton.
Here we go:
PODCAST
Matt Mosley joins Ben and Skin for his weekly segment to talk Cowboys.

Listen

** Maybe it had something to do with
Kevin Ogletree
's sore hamstring, but I wonder if the Cowboys are about to go to a committee with their No. 3 wide receiver role. Or maybe Ogletree's hamstring acted up after he dropped a third-down pass. The Cowboys used
Dwayne Harris
more vs. Atlanta than they had been, even if he did not catch a pass against the Falcons. They had a package for
Cole Beasley
, as well. Tight end
James Hanna
saw more work, too. Ogletree did have three catches for 96 yards and a touchdown, but there is a high level of frustration with him at Valley Ranch. He has had some good moments this season but he has had some down moments, too. The Cowboys cannot be as patient with him as other players, and I'm wondering if the patience level is close to empty.
** I'm just about done wondering about the Cowboys' red-zone offense. The Cowboys' red-zone touchdown percentage is tied for 26th in the NFL. They went 0-for-2 against Atlanta and had one throw into the end zone, and it came on a pass to Cole Beasley. This isn't a 2012 problem. It goes back a few years. I wonder if the Cowboys need to steal pages from the playbooks in New Orleans (I promised no Payton references), Denver, Green Bay and New England. Heck, Tampa Bay too. I understand that the field is compressed and there is not a lot of room to make things happen. A good running game will help, right? New Orleans has three rushing touchdowns. Green Bay has two. Denver has five. You can pass in the red zone and score. The Cowboys seem to use
Jason Witten
more as a decoy in the red zone than a target. Go look at what Pittsburgh does with
Heath Miller
and try some of those plays. The fade in the end zone to
Dez Bryant
can work, but it's not a high-percentage throw. If the Cowboys are going to turn things around in the second half of the season then they must score touchdowns. Groundbreaking, I know.
** I wonder about the sideline communication of the Cowboys defense during the game. Why are there multiple instances in which players are running on and off the field and the defense cannot get set in time for a play. In the first half the Cowboys rushed two guys once because they did not have the proper personnel on the field on time, and
Julio Jones
made a first-down catch. In the fourth quarter the Falcons snapped the ball before the defense could get set. The only thing that saved a touchdown was an athletic breakup by
Brandon Carr
. It's happened far too often in Rob Ryan's tenure. Something is missing in getting the personnel groups from upstairs or the calls from the coaches to the players on the sideline or the calls from the coach to the on-field personnel.
Anthony Spencer
might have saved the Carolina game with a timeout as he was running off the field because of a late personnel change prior to a fourth-down play. The Panthers made a first down but the officials luckily gave the Cowboys a timeout. If Ryan wants to be a head coach, then he has to straighten out the organization he has on defense.
** I wonder how healthy guard
Nate Livings
is. He has not been on the injury report, but there are whispers around Valley Ranch that he has played the last few games with a sore knee. It hasn't kept him out of practice or forced the Cowboys to put him on the injured list, but he has struggled the last two weeks. He was beaten for sacks by
Chris Canty
and
Jonathan Babineaux
the last two games. He started off the season fairly well, and right guard
Mackenzy Bernadeau
struggled. Now Bernadeau is playing better and Livings is struggling. It makes you wonder what the Cowboys think of backup
Derrick Dockery
to not give him some work at all. Dockery did OK in his two starts last year and maybe a week of rest will help Livings. He missed some time in training camp with a knee/hamstring injury. Livings is the type to not make excuses. He will fight on, and that's part of the reason why the Cowboys signed him. But at some point the team might have to make a decision.
** The Cowboys have signed defensive end
Sean Lissemore
and safety
Barry Church
to modest extensions during the regular season. I wonder if they should look at another safety,
Danny McCray
. He has done a nice job filling in for Church, and, yes, I realize he missed
Jacquizz Rodgers
on a third-down play on Atlanta's final scoring drive. McCray wanted to show he could be more than a special teams specialist and he's proven he can handle a defensive role. Is a long-term starter? No, but he is a guy you want around. The Cowboys drafted
Matt Johnson
to be a safety of the future, but he has not been able to get on the field this year. In 2009 they drafted two safeties that did not make an impact. McCray, an undrafted free agent in 2010, has delivered. Church received a four-year extension that could max out at $12 million. You wouldn't go that high with McCray, but he has added to his value with his work on special teams and defense.
November, 4, 2012
11/04/12
8:58
PM ET
ATLANTA -- The Cowboys and Falcons are tied after one half at the Georgia Dome.
Here are our first-half adjustments:
1. The Cowboys' running game is poor right now. After 30 minutes, the Cowboys have 29 rushing yards. You can blame the loss of
DeMarco Murray
(foot sprain) for the problems, but when you see
Phillip Tanner
run into fullback
Lawrence Vickers
on a third-and-1 from the 49, you begin to wonder: Is it the line or the running backs?
Felix Jones
, who is playing with a bruised knee and a neck problem, has 15 yards on six carries. It seems
Lance Dunbar
has been getting more time on offense over Tanner and in some cases Jones. The Cowboys need to get the run game going somehow. Jason Garrett might be pulling his red hair out over the lack of it in this first half. The Cowboys are not getting enough push up front or good runs between the tackles.
2. Keep the pressure on
Matt Ryan
. The Falcons quarterback gets rid of the ball quickly and has max protection but the Cowboys are getting hits on him, from
DeMarcus Ware
's strip sack to
Jay Ratliff
's hit on him. The Cowboys have to get on him. If the pressure continues maybe Ryan will make a mistake. Ratliff left late in the first half with a left leg injury. He limped to the locker room, and his status is unknown. In the meantime, a href="http://espn.go.com/nfl/player/_/id/13923/josh-brent">Josh Brent will be asked to do more inside at nose tackle. I do like how the Cowboys are using Ware. He's lined up at defensive end and then of course at outside linebacker. There was a nice alignment in which
Bruce Carter
and Ware were lined up on the same side. Rob Ryan is trying to keep the Falcons off balance by using different defenders to blitz.
3. Force a turnover. The Falcons are plus-10 in the NFL in turnover-ratio. The Cowboys have to get one. The Falcons don't make too many mistakes, especially at home. But if the Cowboys get pressure on Ryan, maybe the secondary can make a play.
Morris Claiborne
struggled in the first half, allowing a big pass play to
Julio Jones
. At some point,
Brandon Carr
, the $50.1 million cornerback, has to make a play on the ball.
November, 4, 2012
11/04/12
9:37
AM ET
There's one philosophical approach the Cowboys can use Sunday night against the
Atlanta Falcons
that gives them the best chance to win.
They must stop the run without using an eighth defender near the the line of scrimmage.
Michael Turner
is a thick-thighed, punishing runner capable of punishing a defense. He's having an average season with 415 yards and a 3.8 average per carry, but his threat is what persuades teams to use a safety in run defense.
Do that, and it opens to
Matt Ryan
's passing game with tight end Tony Gonzalez and receivers
Roddy White
and
Julio Jones
.
Ryan has had a 100-yard receiver or tight end in five of seven games.
The Cowboys rank 13th in NFL, yielding 104.7 yards per game, but they've done a solid job against the run for the most part.
Last week, they contained the Giants' running game without using
Gerald Sensabaugh
that much. Defensive coordinator Rob Ryan needs a repeat of that.
This is a week for defensive ends
Kenyon Coleman
and
Jason Hatcher
and nose guards
Jay Ratliff
and
Josh Brent
to control the line of scrimmage.
Do that, and the Cowboys have a shot to win. Fail to control Turner without using eight and the Falcons' receivers will have big days.
November, 3, 2012
11/03/12
2:30
PM ET
IRVING, Texas – Last week the Cowboys held the
New York Giants
to 293 yards, including just 192 passing yards from
Eli Manning
.
Victor Cruz
was a non-factor with two catches. They allowed the Giants to convert just 3-of-15 third-down tries.
PODCAST
ESPN NFL analyst Darren Woodson breaks down the Cowboys' Sunday night matchup against the Falcons, plays the Tony Romo blame game and more.

Listen

On Sunday the Cowboys get another challenge in Atlanta, with
Matt Ryan
at quarterback,
Roddy White
and
Julio Jones
at receiver,
Tony Gonzalez
at tight end and
Michael Turner
at running back.
"Obviously, they're two of the best receivers in football," defensive coordinator Rob Ryan said. "They're both really competitive and really fast and real productive. So every week it seems we play somebody great. This week is no exception. They've also got Tony Gonzalez, who has been a great tight end forever. Still is. And Burner Turner the back. They are loaded. Ryan, Matt no-relation Ryan is the quarterback. He's pretty damn good. So we're ready for them. Who are we kidding? We're ready. We can't wait to play these guys."
Ryan isn't sure the Cowboys' defense is getting enough credit despite its No. 4 ranking in the league.
"You know me, I like credit," Ryan said. "Our guys they deserve a ton of credit. Our players work their butts off. Our coaching staff, I'm fortunate and blessed to be around the best coaches. This is the best staff I've ever been on and it's not close. So good things are going to happen to those that work hard. If we just keep working, we're going to get better. Despite losing, we've lost some really good players, but our guys keep going. We've got a whole team in there, not just a few individuals. This is really coming together and I know we're going to be special. I think we're going to be special this week. I really do. I think we're just starting to get that way and I believe we're going to have a special game this week."
November, 1, 2012
11/01/12
5:08
PM ET
IRVING, Texas -- The trade deadline came and went for the Cowboys on Thursday afternoon. There was nothing to report in terms of anything being close, but team executive vice president Stephen Jones said before the deadline that the Cowboys were keeping their eyes open.
Cornerback
Mike Jenkins
' name was most often mentioned as trade bait, but team officials didn't want him to go anywhere.
Jenkins was glad about that.
"I tried not to keep it on my mind," Jenkins said. "I figured if it was going to happen, it would have happened, so I just tried to stay focused on the week and learn what I needed to learn this week."
Sunday night, the Cowboys take on the
Atlanta Falcons
and their speedy receivers
Julio Jones
and
Roddy White
. The Cowboys also have to contend with veteran tight end
Tony Gonzalez
.
"They are legit, those boys are nice all over the field. From receiver to the tight end to the running back everybody can catch the ball and do something with it," Jenkins said. "You definitely got to respect them and we got to come correct."
November, 1, 2012
11/01/12
9:52
AM ET
IRVING, Texas – For a couple weeks
Brandon Carr
admits he wasn't Brandon Carr.
"I didn't lose confidence," Carr said. "I just lost my swag a little bit. It took a left turn on me, but I got it back right, so I'm ready to rock and roll."
It's come at a good time after facing
New York Giants
receiver
Victor Cruz
last week and Atlanta's
Julio Jones
and
Roddy White
up this Sunday. Carr helped limit Cruz to two catches for 23 yards and
Eli Manning
to just 192 yards passing.
What's the difference between confidence and swag?
"My swag is just how I carry myself on the field," Carr said. "I'm an introverted person so I feed off myself more than anybody else. I kind of lost the whole swag and kind of forgot what got you to this point and who you are and you try to tailor your game or yourself to what others say or how they want you to play. I just pretty much had to say, 'Beep, beep, beep, beep.' That's a whole bunch of exclamation points and asterisks."
The Falcons figure to be the most difficult pass defense threat the Cowboys have faced this year, and Carr played reporter himself as he talked to reporters.
"Let's talk about the game, Brandon, what about these receivers?" Carr said. "These receivers, it's another challenging week. They've got some guys that get the ball. They've got a quarterback who can make any throw on the field. It's a high-powered offense and they have the record to prove it."
October, 30, 2012
10/30/12
9:33
AM ET
IRVING, Texas – The NFL moved the trade deadline back to Thursday because of Hurricane Sandy, but I don't wonder if that will help the Cowboys make a move.
Here are some things I am wondering about in our weekly Five Wonders' post:
** It's no secret Rob Ryan wants to be a head coach. It's part of the reason why he came to Dallas. He was on some lists last year until the Cowboys cratered in December and missed the playoffs. I wonder if he is getting back on some lists this year with the way the defense has performed. Of the opponents' 162 points, 78 can be attributed to turnovers or mistakes by the offense and special teams. The defense has done a nice job in sudden-change situations, limiting the opponent to field goals. That's the only way the Cowboys were actually able to come back Sunday against the
New York Giants
. In a passing league, the Cowboys are No. 3 against the pass and have done two great jobs vs.
Eli Manning
. They have a huge test this week in
Matt Ryan
. If the defense continues this way, then Ryan's name will be mentioned when jobs open following the season. But here's a bonus wonder: I wonder if how Rex Ryan's
New York Jets
have fallen apart will impact Rob's campaign.
** I wonder why the Cowboys run the ball. OK, I don't think they should not run the ball at all, but it's clear the only way they can run it is if they face a bad Baltimore run defense that does not move guys around so the runners can pick and choose their way. In the last two games they have picked up 104 yards on 48 carries. You have to admire the pluck, but if you're averaging 2.2 yards a carry, why bang your head into the wall so much. I laughed when I heard people question why the Cowboys only had 15 run plays against New York. Well, the score was one thing and the 1.3 yard per carry average by
Felix Jones
and
Phillip Tanner
was another. Could the Cowboys have run the ball on second- or third-and-1 on their final drive? Sure. The Giants showed a six-man box. It was there to pick up a yard, but with how the game was going and how successful they were passing I didn't think they were wrong. Where I think they were wrong was in the called pass play on third down.
Jason Witten
was doubled and taken out of it by New York, leaving
Tony Romo
to throw to
Kevin Ogletree
on a fade. It's not a high percentage throw and it's going to a receiver that even the coach has questioned his consistency. It was a half-field read on third down from what I was told. It goes to Witten or Ogletree. If that's the case, then put
Miles Austin
or
Dez Bryant
next to Witten to make it more difficult for New York to double the tight end. But back to the main point on the running game: Felix Jones has a bruised knee and whatever flicker he had against Baltimore it's not there now. Tanner has better contact balance.
Lance Dunbar
has more speed. If you're going to run it, give it to those guys while
DeMarco Murray
is out.
** I wonder if this is the beginning of the
Morris Claiborne
the Cowboys wanted when they moved up to the No. 6 pick to get him in April. Claiborne had his best game of the season against the Giants. He was much more aggressive at the line than he had been. He was a surer tackler. He looked a lot more comfortable. Maybe that's from seeing an offense for a second time. He also added a fumble recovery a week after having his first interception at Carolina. What's funny is that the Panthers' game might have been Claiborne's worst even if he had the turnover. He was too laid back in that game. He was the opposite against the Giants. He'll have to be that way again Sunday at Atlanta with
Julio Jones
and
Roddy White
on the other side of the field.
** I wonder how the punt return team can be so mediocre and the punt coverage team can be so great. Have you seen the numbers? The Cowboys are averaging 5.5 yards per punt return so far this year and that includes a 44-yard return by Dez Bryant against Tampa Bay that the Buccaneers gifted the Cowboys. Take away that return and the Cowboys are averaging 2.8 yards per return, which is about on par with their average rushing carry (3.6). The punt coverage has been outstanding, allowing only 3.2 yards per return with a long of 9 on the season.
Chris Jones
and Moorman have done a great job of angling their punts to the sidelines and 13 of their 23 punts have ended up inside the 20. The Cowboys would be wise to keep Bryant off the punt returns or just let him do it when the opponent is kicking out of their end zone. Let
Dwayne Harris
or
Cole Beasley
be punt catchers if not punt returners.
** At some point when
Charlie Peprah
plays, you should believe he will do something to help the Cowboys. That just seems to be what happens when the Cowboys sign a guy off the street here lately. Last year the Cowboys added
Montrae Holland
,
Laurent Robinson
,
Tony Fiammetta
,
Frank Walker
and
Sammy Morris
, who made plays to contribute to wins. So far this season the Cowboys have added Moorman,
Eric Frampton
and
Ernie Sims
off the street and they have made some big plays. Sims was a Cowboy for five days when he made his debut and had a pass breakup and a pressure. He also helped stop the Giants' final play to set up the Cowboys' final drive. Finding players to contribute at this time of year is extremely hard but the Cowboys' pro department has been able to find some good pieces.
April, 21, 2011
4/21/11
3:06
PM ET
»
NFC Draft Watch
:
East
|
West
|
North
|
South
»
AFC
:
East
|
West
|
North
|
South
Each Thursday leading up to the NFL draft (April 28-30), the ESPN.com blog network will take a division-by-division look at key aspects of the draft. Today's topic: Dream scenario/Plan B.
Dallas Cowboys

Dream scenario:
If the Cowboys play things the conventional way and sit tight at No. 9, they'll probably be looking at either defensive end
J.J. Watt
or offensive tackle
Tyron Smith
. Either one would provide good value or fill a big need, and the Cowboys would improve. But Dallas owner Jerry Jones doesn't always do things the conventional way. Although trading up to the top five might be difficult, Jones' imagination could heat up if LSU cornerback
Patrick Peterson
makes it past the first five picks. The entire Dallas secondary had a horrible year last season, and Peterson would provide an instant upgrade. Jones might not be able to sit still if he's within striking distance of Peterson.
Plan B:
If there's no chance at Peterson and the Cowboys aren't excited enough about Watt or Smith, they could reach slightly and take Nebraska cornerback
Prince Amukamara
. He's the second-best cornerback in this draft, and most mocks have him going somewhere in the teens. If the Cowboys like the player enough, it wouldn't be much of a reach to just take him. If another team is looking to move up for another player, the Cowboys could drop down a few spots and still have a shot at Amukamara.
Washington Redskins

Dream scenario:
The Redskins, who need a quarterback perhaps more than any other team on the planet, would love nothing more than for something bizarre to suddenly cause
Cam Newton
or
Blaine Gabbert
to start falling. It's not out of the realm of possibility. Carolina's leaning toward Newton but hasn't made a final decision. Even if the Panthers go with Newton, Buffalo could go with linebacker
Von Miller
at No. 3, and the word out of Arizona is the Cardinals probably are looking more for a pass-rusher than a quarterback. That would put the Redskins within striking distance on Gabbert, and general manager Bruce Allen and owner Daniel Snyder could try to move up to grab him. Or they could just take a chance that he'll be available at No. 10.
Plan B:
If Newton and Gabbert are gone, there's no quarterback worthy of the No. 10 pick. Defensive tackle also is a major need, but the Redskins could fill that in free agency. Snyder enjoys making a splash, and if he can't do it with a quarterback, he might do the next-best thing and take a guy who would catch passes from whoever ends up throwing them. With
Santana Moss
as a free agent and not much else in the receiving corps, Alabama's
Julio Jones
could be a very nice consolation prize.
New York Giants

Dream scenario:
The desperate need is at outside linebacker, but the only player who is really a sure thing is Miller, and he almost certainly will be a top-five pick. So the dream ends there and reality sets in, and the other reality is the Giants have big needs on the offensive line, where everyone but guard
Chris Snee
is starting to get old. Florida center/guard
Mike Pouncey
could really solidify the interior of the line, where the need is greatest. Tackles
Gabe Carimi
and
Anthony Castonzo
also could be possibilities as the Giants could consider moving tackle
David Diehl
to guard.
Plan B:
This may sound a bit off the wall because the Giants have decent running backs in
Ahmad Bradshaw
and
Brandon Jacobs
. But what if Alabama's
Mark Ingram
happens to be available? The Giants might have to consider him. He might be better than Bradshaw and Jacobs. Also, along the same lines, don't rule out the possibility of a defensive tackle like Temple's
Muhammad Wilkerson
if he's available. The Giants appear to be in good shape in the middle of the defensive line, but general manager
Jerry Reese
places a high value on having lots of depth, especially in the middle of the defensive line.
Philadelphia Eagles

Dream scenario:
In a perfect world, the Eagles would package their first pick (No. 23 overall) with quarterback
Kevin Kolb
and trade their way into the top five, where they would aim for cornerback Peterson. The Eagles have a desperate need for a cornerback to play opposite
Asante Samuel
, and Peterson is the only sure thing in this draft. But this is not a perfect world. Unless the lockout somehow ends between now and the start of the draft, they're not allowed to trade Kolb. If they stay put, the Eagles have to hope Amukamara somehow falls to them, or they might have to take a chance on Colorado's
Jimmy Smith
, who comes with some background questions.
Plan B:
The right side of the offensive line needs to be upgraded. Most teams stay clear of guards in the first round. But tackles Castonzo,
Nate Solder
and Carimi all could be available when the Eagles pick. Any one of them could step right into the lineup and start.
February, 16, 2011
2/16/11
9:00
AM ET
Our offseason Cowboys Position Series continues with a look at the wide receivers.
Players:
Roy Williams
(signed through 2013),
Sam Hurd
(free agent),
Manuel Johnson
(free agent),
Miles Austin
(signed through 2016),
Jesse Holley
(free agent),
Dez Bryant
(signed through 2014),
Kevin Ogletree
(signed through 2011), Troy Bergeron (free agent)
[+] Enlarge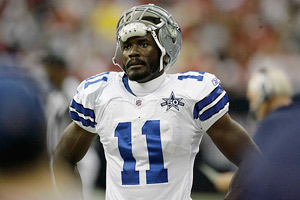 Brett Davis/US PresswireReceiver Roy Williams likely will be back with the Cowboys next season.
Top free agents:
Braylon Edwards
,
New York Jets
;
Malcom Floyd
,
San Diego Chargers
;
Santonio Holmes
, New York Jets;
Vincent Jackson
, San Diego Chargers;
Sidney Rice
,
Minnesota Vikings
Top draft prospects:
A.J. Green
Georgia;
Julio Jones
, Alabama;
Randall Cobb
, Kentucky;
Torrey Smith
, Maryland;
Tandon Doss
, IndianaAJ
2010 review:
This was a talented group. It has speed in Miles Austin and Dez Bryant along with the big play ability of Roy Williams. Williams scored five touchdowns the first five weeks of the season then disappeared. Austin had over 1,000 receiving yards and earned another Pro Bowl berth. What was telling for Austin was his 10 droops, fifth most in the NFL and he was tied for 28th in fourth quarter receiving with 18 catches for 255 yards. What can you say about Bryant? He was fantastic. He had more third down catches than Williams and more fourth quarter touchdowns than Austin. Once he masters the playbook he could be an unstoppable force. A lack of playing time hurt Sam Hurd and Kevin Ogletree last year. Hurd is a free agent and he could play for another team. Ogletree will get a chance to emerge as a receiving threat.
Offseason preview:
It might be time to cut Roy Williams, but it appears he's going to be here in 2011. The lack of a No. 3 receiver if he should go, gives him the security. But the Cowboys need to make him productive for an entire season. Bryant has to master the playbook, something he didn't do last year and Austin was a steady threat in the passing game. Ogletree was a good route runner now he has to get more chances to do it in games. If so, he could move past Williams up the depth chart. Drafting a wide receiver isn't out of the question, but you wonder if Jesse Holley will get opportunities to play on offense in 2011.
Need meter (1-5):
2