Dallas Cowboys:

Kareem McKenzie
May, 21, 2012
5/21/12
10:22
AM ET
John Clayton has a preview of some of the
hot issues teams face
as organized team activities (or OTAs) begin this week. The only NFC East mentions in his piece are about the
Philadelphia Eagles
, and they are this one:
The Eagles signed Demetress Bell to replace left tackle Jason Peters, who is out for the season after tearing his Achilles twice. Bell was previously Peters' replacement in Buffalo but didn't stand out.
and this one:
Dream Team, take two: The Eagles were the winners of the 2011 offseason but losers when they underachieved last season and didn't make the playoffs. The key to OTAs is seeing whether they are going in the right direction on defense. Last year, they brought in man-to-man specialists Nnamdi Asomugha and Dominique Rodgers-Cromartie and played them in zone. Andy Reid brought in secondary coach Todd Bowles to help defensive coordinator Juan Castillo sort out the plan in the secondary and see whether the Eagles can match up better with the talent on hand.
And yeah, as was the case when the 2011 season started, I think it's fair to say the Eagles will be the most compelling national story out of our division. Much is expected, and given the way they flopped last year, they'll be under even more scrutiny this year.
But we deal with all four teams equally here, so playing off of John's column, I figured it'd be a good idea to pick something to watch for each of our other three teams this week. Remember that these offseason workouts are voluntary, so not all of the players we're looking at will necessarily be on the field. The Redskins' OTAs begin today, the Eagles and Cowboys start theirs Tuesday and the Giants get on the field Wednesday.
Dallas Cowboys
Lining up the line:
The injury that will keep free-agent guard
Mackenzy Bernadeau
out for the spring and summer deprives the Cowboys of a chance they were expecting to see Bernadeau at center. It also removes him temporarily from the offseason competition for one of the guard spots, and will give players such as
David Arkin
,
Bill Nagy
,
Nate Livings
and
Kevin Kowalski
a head-start on him as they get an early chance to show the coaches what they can do.
New York Giants
The replacements:
The Giants have to figure some things out on the line as well, and they'll take a look this offseason at whether
Will Beatty
is making progress as the starting left tackle and whether veteran
David Diehl
is the solution at right tackle with
Kareem McKenzie
gone. But they also want to see whether first-round pick
David Wilson
can replace running back
Brandon Jacobs
, whether second-round pick
Rueben Randle
can emerge from the crowd hoping to replace wide receiver
Mario Manningham
, and whether
Terrell Thomas
and/or
Prince Amukamara
is healthy enough to replace cornerback
Aaron Ross
.
Washington Redskins
Here, catch!
We know rookie Robert Griffin III is the guy who'll be throwing the ball for the Redskins -- now and, ideally, for the long-term future. But Washington still needs to sort out who's going to catch it. Free-agent signees
Pierre Garcon
and
Josh Morgan
are obviously going to get the first shot at prominent roles in the receiving corps, and the coaching staff remains excited about 2011 rookie
Leonard Hankerson
. But veteran
Santana Moss
will also push for a role, and there are several holdovers at the wide receiver spot who will look to catch the coaches' attention this offseason so as not to get lost in the shuffle. And that doesn't even take into account tight end
Fred Davis
, who was the Redskins' best receiver last year.
March, 9, 2012
3/09/12
8:54
AM ET
»
AFC Free-Agency Primer
:
East
|
West
|
North
|
South
»
NFC
:
East
|
West
|
North
|
South
Free agency begins Tuesday at 4 p.m. ET
Dallas Cowboys

Key free agents:
WR
Laurent Robinson
, S
Abram Elam
, LB
Keith Brooking
, LB
Anthony Spencer
(franchise)
Where they stand:
Dallas needs serious help in the secondary and will have to decide whether it wants Elam back at safety while it pursues at least one cornerback. The Cowboys are expected to release
Terence Newman
, and they could look to add depth at that position and a new starter. Franchising Spencer indicates that while they would like to improve their pass rush, they won't be players in the
Mario Williams
market. Expect their free-agent focus to be on defensive backs and possibly some upgrades on the interior of the offensive line. They would like Robinson back as their No. 3 receiver, but if he's going to get No. 2 receiver-type offers, they'll likely let him walk.
What to expect:
The top two cornerback targets are likely Kansas City's
Brandon Carr
and Tennessee's
Cortland Finnegan
. You can't rule out Dallas making a play for Saints guard
Carl Nicks
, who'd be a huge help to their offensive line. But someone like Baltimore's
Ben Grubbs
is likely to be more attainable financially. What the Cowboys really need on the line is a center, but it's not a great market for those unless they can get their hands on Houston's
Chris Myers
. The Cowboys likely will hunt for some second-tier safeties and inside linebackers to add depth, then target defensive back again early in the draft.
New York Giants

Key free agents
: WR
Mario Manningham
, OT
Kareem McKenzie
, CB
Aaron Ross
, CB
Terrell Thomas
, LB
Jonathan Goff
, P
Steve Weatherford
(franchise).
Where they stand:
The Super Bowl champs must get their own cap situation in order first, as they project to be about $7.25 million over the projected cap. That may mean tough cuts of people like
Brandon Jacobs
or
David Diehl
, or it may just mean some contract restructuring (like the big one they apparently
just did
with Eli Manning). Regardless, don't expect the Giants to spend big to keep Manningham or Ross. They're likely to bring back Thomas on a team-favorable deal as a result of the knee injury that cost him the entire 2011 season, and they'll probably let McKenzie walk and try to replace him internally (which favors Diehl's chances of sticking around).
What to expect:
Just like last year, don't expect the Giants to be big-game hunters. They like to grow their own replacements. If Manningham leaves, they won't go after the top wide receivers but might try to find a bargain or two to supplement the young players from whom they're expecting more production next season. They could find a midlevel safety if they don't bring back
Deon Grant
, and if Jacobs leaves they'll probably bring in a veteran running back or two to compete in training camp with their youngsters. They liked
Ronnie Brown
last year as a possible
Ahmad Bradshaw
replacement when Bradshaw was a pending free agent, so there's a name to watch for if you want one.
Philadelphia Eagles

Key free agents:
G Evan Mathis, DT
Trevor Laws
, DT
Antonio Dixon
(restricted), WR
DeSean Jackson
(franchise), QB
Vince Young
Where they stand:
Other than Mathis, whom they're working to try and re-sign before he his the market, the Eagles don't have many internal free-agent issues to worry about. They franchised Jackson because they're not ready to give him a long-term deal just yet. He's a candidate for a trade, but it would have to be a very nice offer. If they traded him, they'd hunt for a wide receiver, but they may do so anyway -- just at a lower level (think
Plaxico Burress
). The interior of the defensive line is in fairly good hands with
Cullen Jenkins
and
Mike Patterson
as starters, but they could stand to add depth to that rotation. And while they signed
Trent Edwards
a couple of weeks ago, they'll keep looking for a better veteran backup quarterback option with Young sure to be gone.
What to expect:
Do not -- I repeat, do not -- expect the Eagles to be the same kind of player they were in free agency a year ago. Andy Reid made it very clear several times during the 2011 offseason and season that last year was unique, and the Eagles don't like to do business that way in general. They do need linebackers, and they have the cap room to play on guys like
Stephen Tulloch
or
Curtis Lofton
or even, if they wanted to get really nutty,
London Fletcher
. But while you can expect them to add a veteran or two at the position, don't be surprised if they sit out the higher-priced auctions this time around.
Washington Redskins

Key free agents:
S
LaRon Landry
, LB London Fletcher, DE
Adam Carriker
, TE
Fred Davis
(franchise), QB
Rex Grossman
Where they stand:
Mike Shanahan said in December that Fletcher was a priority, but he remains unsigned with less than a week to go before free agency. Presumably, they'd still like to lock him up before he hits the market. If they can't, they'll have to replace a major on-field and off-field presence. Carriker is likely to be back, but the Fletcher situation has to be settled first. Landry likely is gone unless he wants to take a low-base, high-incentive deal to stay. The Redskins are sick of not knowing whether he'll be able to take the field from week to week. Grossman could return, but only as a backup to whatever quarterback upgrade they find.
What to expect:
The Redskins could have more than $40 million in cap room with which to maneuver in free agency, and they're going to need it. They need a quarterback, of course, and if they can't make the trade with the Rams to move up to No. 2 in the draft and pick
Robert Griffin III
, they'll look at
Peyton Manning
and
Kyle Orton
and possibly
Matt Flynn
, though he doesn't appear to be high on their list. What Shanahan really wants is a true playmaking No. 1 wide receiver, which is why the Redskins have their eyes on
Vincent Jackson
and
Marques Colston
, who are at the very top end of that market. They'll be able to outbid almost anyone for those guys if they want to, but they may have to get quarterback figured out first if they want to persuade one of them to take their offer over similar ones. They'll also hunt for help on the offensive line and in the secondary, as they need depth in both places.
December, 30, 2011
12/30/11
4:39
PM ET
By
Bryan Broaddus
| ESPNDallas.com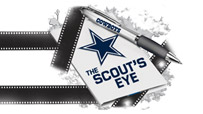 As many ups and downs as the
Dallas Cowboys
have had this season, the goal of an NFC East championship -- and a playoff berth -- remains in reach. That means the possibility of reaching the Super Bowl is still in play, and that's all you can ask for.
Recent playoff history has proven that if you're in, then you have a shot to win it all. Are the Cowboys good enough to make a serious run? With the way that
Tony Romo
is currently playing, there is that possibility.
But first there's a little thing about beating the
New York Giants
--a team that has similar and -- at some positions -- better talent than the Cowboys.
Expect a healthy dose of JPP, Tuck from Giants
When I break down these games, I always try to look at the areas where the Cowboys can get an edge but also where they might run into trouble. To me, both teams are going to have matchup problems.
The area that could give the Cowboys the biggest problem is
Doug Free
against Giants DE
Jason Pierre-Paul
. If Free was playing at a level like he was in 2010, I'd say this matchup had a great chance of being a wash. Pierre-Paul has gone from a raw rookie pass rusher to a dominant force on the outside and off the edge.
In Week 14, I really believed Free would be able to handle Pierre-Paul because he was more of an athletic pass rusher than a power player. I was mistaken. Pierre-Paul plays with some snap in his upper body and some first step explosiveness, and he was able to get his hands inside Free several times to control him as a blocker. In studying the game in the lab, it appeared that Free was surprised not only how JPP played him, but also the power in which he played him.
With Free there is been technique issues on a weekly basis. But in talking with members of the front office, they'll offer that the lack of a full offseason in the weight room has affected Free as a player. I fully expect Jason Garrett and this offensive staff to give Free help in this game, whether that is making him rush wider with a tight end to that side or chip him with Jones and Morris.
The problem with helping a tackle is that whomever helps -- the back or tight end -- gets in the way of the tackle trying to execute the block. The Cowboys leave their tackles on an island quite a bit so working with extra blockers is something to keep an eye on.
On the other side,
Justin Tuck
can present problems not only as a pass rusher but also defending the run, where he's been outstanding. Tuck is one of those players that is very smart and crafty, playing well with his hands, and he's able to extend on the blocker and fight down the line of scrimmage. Where Tuck is also dangerous is when he stands up like an inside linebacker and they use him in games or stunts with the other rushers. Where
Tyron Smith
has to be careful is if you go hard at Tuck, he'll jump around the block and cause you to overextend and miss.
Another matchup to watch is guard
Derrick Dockery
against defensive tackle
Chris Canty
. When you study the Giants, Canty is doing a much better job of showing up at key times in making stops. Dockery hasn't seen action since Week 2, but played very well to his credit.
If the Cowboys are going to win, the left side of their offensive line is going to have to do an outstanding job of controlling Canty and JPP to that side.
Cowboys should exploit Giants secondary ...
If the Cowboys have an advantage in this game, it's going to be against the Giants' cornerbacks. There are plays to be made against
Corey Webster
and
Aaron Ross
down the field. Webster is the more aggressive of the two.
In the nickel, the Giants will use
Prince Amukamara
, who hasn't lived up to his first-round billing. Teams have been able to take advantage of how cautious he has played. Safety
Kenny Phillips
didn't play the last time these two teams met, and that will be a boost for the Giants. He is good against the run and pass. His backup,
Deon Grant
, will make mistakes in coverage. So if Grant does get on the field, look for the Cowboys to try and take advantage.
The Redskins had success against the Giants secondary when they got in bunch formations and ran routes from that. Look to see if the Cowboys use their receivers and
Jason Witten
in those types of looks to try and confuse them in coverage.
... But look for Giants to do same vs. Cowboys secondary
As the Cowboys can cause problems with their receivers, so can the Giants when they're on offense. In Week 14, the Giants caused plenty of confusion for the Cowboys scheme-wise.
Hakeem Nicks
is an outstanding receiver, and some of the drops he had against the Redskins and Jets will not happen. He's a Cowboys-killer in the way he plays.
I've said this before about Nicks: He's the Giants version of
Dez Bryant
. He is a physical body that makes plays all over the field. Despite his drops, I still feel his hands are outstanding and his footwork and body control is even better. Nicks has no fear on where to run routes and he will make defenders pay for having to cover him. He can be a dominant player in the red zone with his body position and his leaping ability.
To me, however, the most dangerous player is
Victor Cruz
. He has special skills and is a matchup nightmare because he'll line up anywhere in the formation. Like Nicks, Cruz will take his route inside, catch the ball in traffic and take a big hit. When the Giants need to convert on third down, he is usually the man running the route that gets them the first. Manning has a great deal of confidence in him and will do everything in his power to get him the ball on the move. Cruz has the speed and the quickness to get down the field on vertical routes and will make big plays in this way.
In studying the Giants' last two games, they have made more of an effort to attempt more vertical throws. There is no doubt in my mind they'll take shots down the field against
Terence Newman
and these safeties.
Giants starting offensive line is healthy, intact
The Giants' offensive line was a mess three weeks ago with guard
Kevin Boothe
playing center and
Mitch Petrus
taking his spot at guard. After reviewing their win vs. the Cowboys, that group was the reason why the Giants won. Manning wasn't sacked, and they were able to run the ball with
Brandon Jacobs
and
Ahmad Bradshaw
.
This time around, the Giants have their starting group in place with
David Baas
at center and Boothe at guard. LT
David Diehl
has had many a battle with
DeMarcus Ware
, and
Kareem McKenzie
is on the right side.
What helps this line is Manning's ability to get rid of the ball quickly, which he was able to do last time. Where the Giants have struggled is when teams make them move their feet in pass protection. McKenzie struggles with this more than Diehl.
If you want me to pick a weak spot, it's at center with Baas. In several games, he's not been able to handle the cut off or reach blocks, and he's struggled in the passing game. Boothe was outstanding against
Jay Ratliff
in the first meeting, which really surprised me.
Ratliff can not have an off game this time around, or that will be a huge problem for the Cowboys. As banged up as he was last week, Ratliff played well against the Eagles, who are much better at center.
If you don't punish Bradshaw, he'll punish you
When the Giants run the ball on offense, it's usually with Bradshaw. I know that Jacobs had a huge game last time, but Bradshaw is a real difference-maker for this team. He is a physical back that is difficult to get on the ground. He doesn't have the elusive moves of a
LeSean McCoy
, but he has a low center of gravity and will try to punish tacklers. If you don't hit him hard, Bradshaw will run over you.
Final keys to the game
This game can go in two different directions for me. If the Cowboys can't block this Giants front, then there will be huge problems. But if they give Romo time, there are plays to be made against this secondary.
Defensively, the Cowboys cannot allow Manning to feel comfortable throwing the ball. The Cowboys' run defense was solid against the Eagles last week, and Rob Ryan needs that to carry over. But they have to pressure Manning. Of the top quarterbacks in the league, Manning struggles with pressure the most.
The Cowboys defense has to take advantage when he makes mistakes, and we all know that he will.
December, 9, 2011
12/09/11
10:53
AM ET
By
Bryan Broaddus
| ESPNDallas.com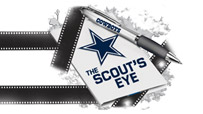 The Cowboys host the
New York Giants
on Sunday night -- the first of two matchups that will decide the NFC East champion. The Giants have lost four straight, while the Cowboys are coming off a game that they let slip away in overtime against Arizona. If the Giants win this game, they'll be tied for the division lead and have the tiebreaker. If the Cowboys win, they'll have a firm grasp on the division title with a two-game lead with three to play.
The Cowboys faced one of the better NFL receivers last week in
Larry Fitzgerald
, who was covered by
Mike Jenkins
for the majority of the game. Jenkins, making his first start since being sidelined several weeks with a hamstring injury, was outstanding. Where the Cowboys had the biggest problems was allowing down-the-line receivers big days catching the ball.
Five weeks ago,
Terence Newman
was playing at a high level. In the last three games, however, he's really struggled in his off coverage. Newman was one of those players that were driving on the ball and make plays.
Orlando Scandrick
, starting in place of Jenkins, didn't struggle as much as Newman, but we didn't see the plays that we had when he was in the nickel role.
PODCAST
ESPN NFL analyst Chris Mortensen hops on to preview this weekend's Cowboys-Giants matchup.

Listen

Giants' Bradshaw will find hole, punish tacklers
There are two areas of the Giants' offense that can hurt you -- running the ball with
Ahmad Bradshaw
, and
Eli Manning
throwing the ball to an outstanding group of receivers.
When you watch the Giants, Bradshaw is a real difference-maker for this team. He's a physical back that is difficult to get on the ground. He doesn't have the elusive moves of a
Reggie Bush
, but instead tries to punish tacklers. Bradshaw has a low center of gravity, and he doesn't give defenders much to hit. If you don't hit him hard, he will run over you. He's like
DeMarco Murray
in that he likes to cut back when he sees a hole.
The Giants' offensive line doesn't blow defenders off the ball. They're more likely to grab and run with you. This fits Bradshaw's style as he doesn't need much of a hole because of his ability to burst through tacklers with power.
Receivers Nicks, Cruz will give fits to Cowboys
On the outside, other than the Eagles, this is the best group of receivers that the Cowboys have faced all season. What makes
Hakeem Nicks
and
Victor Cruz
outstanding is their ability to sell routes to get open and their ability to adjust to the ball and make large gains with the ball in their hands.
I was very impressed watching Nicks on film. He's the Giants' version of
Dez Bryant
-- physical receiver who can make plays all over the field. His hands are outstanding and his footwork and body control are even better. Nicks has no fear where to run his route and he will make defenders pay for having to cover him. He can be dominant in the red zone using his body position and his leaping ability. Last week, Nicks outfought Green Bay's
Charles Woodson
-- one of the most physical corners in the league -- for a ball on a fade route where Woodson was in perfect position to defend, but the result was a touchdown.
On the opposite side, Cruz has become a special player for the Giants. With
Mario Manningham
struggling with injuries, Cruz has taken the opportunity and has excelled. He's tough, instinctive and slippery in the way he plays. I know this is going to sound like too much praise, but he is very similar to the Patriots'
Wes Welker
in the way he plays. Cruz is able to adjust to any ball and, like Nicks, will take his route inside, catch the ball in traffic and take a big hit.
Cruz lines up all over the formation and, when the Giants need to convert on third down, he is usually running the route that will get them the first down. Manning has a great deal of confidence in Cruz and will do everything in his power to get him the ball on the move. Cruz has the speed and the quickness to get down the field on vertical routes and will make big plays in this way.
Different looks could expose Giants' offensive line
The Giants' offensive line has been shuffled around due to injuries. Against the Packers last week, left guard
Kevin Boothe
moved to center to start for
David Baas
, who has struggled with a neck injury. In Boothe's place at left guard has been backup
Mitch Petrus
. LT
David Diehl
has had many a battle with
DeMarcus Ware
, and on the right side is
Kareem McKenzie
.
This isn't an outstanding offensive line but, much like what is going on here with the Cowboys, Manning's ability to get rid of the ball quickly and Bradshaw's rushing has helped to hide the ills of some less-than-perfect blocking. Where the Giants have struggled is when teams make them move their feet in pass protection. McKenzie will struggle with this more than Diehl.
Look for Rob Ryan to attempt to make the Giants' line adjust on the move. I believe there will be plenty of times where Ryan's defense will have different looks. Where Manning struggles throwing the ball is with pressure in his face. He'll tend to throw the ball off his back foot with no regard for where it might end up.
Don't sleep on Giants' defensive front
I have read throughout the week that the Giants have struggled to get pressure on quarterbacks as opposed to years' past. After studying the Giants, I really don't understand where all this is coming from. The Giants' front four really does a nice job of creating problems for blocking schemes. The one game they were blocked well was against the Saints. Last week, it was the skill and the mobility of
Aaron Rodgers
that allowed the Packers to make as many plays as they did.
In the past,
Osi Umenyiora
has made the most plays. This season, second-year DE
Jason Pierre-Paul
has caused the most problems for blockers. Pierre-Paul is an explosive player that has outstanding first-step quickness. He is able to get on blockers immediately, which doesn't allow the tackle much time to adjust. Pierre-Paul is a good technique player, and his hands and feet work very well together.
Justin Tuck
plays on the opposite side, but defensive coordinator Perry Fewell is using him in an interesting way as a stand-up player inside at linebacker. Where the Giants are most effective in the rush are when they use twist stunts with their defensive linemen. As mentioned before, this group has the ability to get four-man pressure, which allows them to use their linebackers in coverage to help a secondary that has had its share of struggles.
Where the Cowboys have been weakest this season is when pass rushers have used twist stunts inside. Last week, the Cardinals were able to attack the middle of the pocket because
Phil Costa
and
Montrae Holland
have had their problems adjusting. The Cardinals were also affective slanting their defensive line one way and then bringing a rusher the opposite way. The Giants have shown the ability to use these types of stunts.
Cowboys should target Giants' secondary
If the Giants have weaknesses, it's in two areas -- linebacker and secondary.
Michael Boley
is the Giants' best play-making linebacker, but he's struggled with a hamstring injury. This is not an athletic group of linebackers, and you can see it when they play. Look for the Cowboys to play one-on-one in coverage or running the ball outside to take advantage of that.
In the secondary, the Giants took some huge hits in the preseason by losing guys to season-ending injuries. Where this group has been able to make plays is when quarterbacks have underthrown passes. CBs
Aaron Ross
and
Corey Webster
will miss play balls in the air. They will also miss tackles in the open field. Safety
Kenny Phillips
is more of a hitter than a cover guy.
Antrel Rolle
covers a little better, but backup
Deon Grant
struggles the most. Rookie
Prince Amukamara
had an interception vs. the Eagles and is dealing with a back issue, but he really isn't ready -- and he plays like it.
If the Cowboys can block this front in the passing game, there are plays to be made down the field. Watch early in this game if the Giants try to attack the Cowboys on passing downs by moving the front. The Cowboys receivers are better than what the Giants have in the secondary, but the Giants' pass rushers are better than this Cowboys offensive line.
December, 8, 2011
12/08/11
8:19
AM ET
The
New York Giants
have been dealing with offensive line problems all year, and in advance of this week's key divisional showdown with the
Dallas Cowboys
, things aren't getting any better on the health front. Center
David Baas
, who missed Sunday's game with what he reported to the team as headaches, remains sidelined. And Giants coach Tom Coughlin told reporters before practice today that Baas' ailment isn't quite that simple.
[+] Enlarge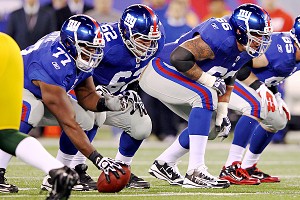 Al Bello/Getty ImagesNew York's battered offensive line held up well against Green Bay, but the unit will face tougher pressure when it goes up against Dallas' pass rush on Sunday.
"It is much more serious than a headache, obviously," Coughlin said. "That was what he brought to the medical people on Sunday but there is a lot more to it. As a matter of fact, he is having tests today and he has spent the last few days doing tests. A lot of that is to try to eliminate things as well. I really don't have any information other than that and until I am sure that we are going to be talking about the right thing, I will wait and not speculate. I really can't tell you anymore."
Obviously, that sounds scary, and the most important thing is that Baas doesn't have anything too seriously wrong with him. The Giants will surely give him whatever time he needs to figure out what's going on and recover from it, and will move on with their backup plans in the meantime. Same with left tackle, where
Will Beatty
is out of the mix following eye surgery he had two weeks ago. The Giants' starting offensive line Sunday was as follows:
LT
David Diehl
(the starting LG for the first 10 games of the season)
LG
Mitch Petrus
(first career start)
C
Kevin Boothe
(reserve lineman who'd played LG the week before)
RG
Chris Snee
RT
Kareem McKenzie
It appears as though they'll have to go with the same alignment Sunday night in Dallas, but it's not the end of the world. Sunday's performance was, oddly, one of the best of the year by the Giants' offensive line. They weren't sound in pass protection, but quarterback
Eli Manning
helps with the quickness of his release. And Sunday was the best job the Giants have done all year opening holes for the running backs. Yes, the return of
Ahmad Bradshaw
to the backfield helped, but even
Brandon Jacobs
was finding room.
"Like I said the other night, we will battle," Coughlin said. "Our guys felt good about going into the game last week and this is a very good front. [Jay] Ratliff, I think [Jason] Hatcher is playing better than I have seen him play, and
Sean Lee
is having a pretty good year so they will come after you. They do a lot of things up front. We will practice hard and make the adjustments that we have to make and certainly be prepared to go"
Coughlin also said Manning "has a lot of confidence in Boothe" as a center, and there didn't appear to be any issues there Sunday.
Come Sunday night in Dallas, we'll see whether the Giants' line can hold up against that tough front Coughlin was talking about and keep Dallas' great pass-rushing linebackers off of Manning. If they do, it'll be a testament to their depth.
November, 13, 2010
11/13/10
8:00
AM ET
By
Bryan Broaddus
| ESPNDallas.com
A look at the key matchups for Sunday's Cowboys-Giants game:
Cowboys cornerback Mike Jenkins vs. Giants wide receiver Hakeem Nicks:
The Giants have three outstanding receivers, but with
Steve Smith
being ruled out for Sunday's game, the main focus for the Cowboys now turns to Hakeem Nicks and his matchup with Mike Jenkins.
In the locker room on Friday, several of the media members were hanging around the lockers of
Orlando Scandrick
and
Gerald Sensabaugh
talking about how offenses attack defenses. Sensabaugh brought up the point that when you give up plays on defense especially in coverage, you are more likely to see offenses try and attack the same area or weakness.
[+] Enlarge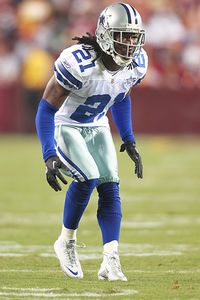 Jeff Fishbein/Icon SMICowboys cornerback Mike Jenkins will have a battle on his hands Sunday with Giants receiver Hakeem Nicks.
Anyone who has watched Jenkins play this season knows that he has struggled in coverage, but there have been times where he has been in outstanding position and, whether it was a good throw or an adjusting catch, he has struggled to finish the plays. The Giants are well aware of Jenkins' struggles and will attack him with Nicks.
When you study Nicks, you come away with the thought of what a nice vertical player he is. He can cover some ground in his routes and he can adjust to the ball at any point. Nicks will adjust his routes for back-shoulder throws and he is a weapon in the red zone.
Jenkins knows that he will have a battle on his hands but some early success could go a long way in giving him confidence to continue to carry the fight to Nicks. Jenkins has the skill to match Nicks. Now Jenkins just needs to go out put everything behind him and find the way to finish the play against a talented receiver.
*Cowboys run defense vs. Giants running backs Ahmad Bradshaw and Brandon Jacobs:
The last time these two teams met in October, the Giants physically dominated the Cowboys by running the ball 37 times for 200 yards. Ahmad Bradshaw and Brandon Jacobs are powerful backs that run downhill at you and, if given a head of steam, are difficult to bring to the ground.
The biggest problem the Cowboys have had in the running game this season is shedding blocks. If you don't play with your hands and don't use leverage to work to free yourself from blocks, offenses can move the ball with ease.
The Giants are banged up along the offensive line on the left side, but that will not keep them from running the football. Left tackle
Shawn Andrews
has stepped in for
David Diehl
and has done an impressive job of creating push at the point of attack. He is a big man that plays light on his feet. The normal left guard,
Rich Seubert
, has moved to center to replace the injured Shaun O'Hara. There is nothing pretty about the way that Seubert,
Chris Snee
or
Kareem McKenzie
looks physically, but they use their bodies to lean on defenders and create lanes for these backs to run through. Rarely do you see these linemen on the ground and the way they finish blocks is quite impressive.
The front seven for the Cowboys cannot allow the Giants to control and mash them for 6 to 7 yards a running play and stay ahead of the chains. If the Giants do have an offensive weakness, and a slight one, it's on third down. The Cowboys need to keep pressure on the Giants to have to convert as many third downs as possible in hopes of getting off the field.
*Cowboys running backs vs. Giants defense in blitz pickup:
On the 13th play of the Cowboys-Giants game in October, linebacker
Michael Boley
came on a straight inside blitz that might have ended the season for quarterback
Tony Romo
. It was a missed assignment by fullback
Chris Gronkowski
that caused Romo's broken collarbone.
Cowboys quarterback
Jon Kitna
has been sacked nine times in three games and taken numerous other hits. He is nowhere near as mobile as Romo and protection needs to be planned for him. The Cowboys cannot struggle with assignments when the Giants decide to bring pressure in the form of linebacker or safety blitzes.
Defensive coordinator Perry Fewell likes to bring different looks and packages into a game. He will match up his personnel to take advantage of certain situations. The Cowboys running backs have to be aware when they get in passing situations and they are responsible to pick up the extra rusher. In the game last week,
Felix Jones
missed an assignment and got his quarterback hit.
Of the three running backs on the Cowboys roster,
Tashard Choice
is the weaker than Jones and Barber in protection. Don't be surprised if Fewell tries to take advantage of these backs when calling defenses because of the struggles that they have had in blitz pickup cleanly getting their men.