Dallas Cowboys:

Kendial Lawrence
August, 27, 2014
Aug 27
2:30
PM ET
The end of the season has not been kind to the
Dallas Cowboys
in recent years. It's not been just a Jason Garrett problem, but the Cowboys lost three of their last four in 2013, their final two in 2012 and four of their last five in 2011 to finish 8-8 all three years. This year's late-season
schedule
is difficult -- five of the last seven away from home -- but the pivotal stretch will be early in the year to make sure the end of the year is relevant. Six of the Cowboys' first nine games are at AT&T Stadium, which has not provided the greatest of home-field advantages since opening. The Cowboys have a three-game homestand from Oct. 19-Nov. 2 against three NFC teams that they almost have to sweep to stay in contention in the division or help in the wild-card standings.
Complete Cowboys season preview
.
August, 25, 2013
8/25/13
1:00
PM ET
IRVING, Texas -- By Tuesday, the
Dallas Cowboys
will have to make 13 roster moves to get to the 75-player limit.
While some teams will make the moves before the deadline, the sense is the Cowboys will not be announcing their cuts on Sunday, so we'll take some educated (stop laughing) guesses.
The only lock is that defensive end
Tyrone Crawford
will be moved to injured reserve as he recovers from a torn Achilles. He was hurt in the first training camp practice but if the Cowboys had put him on IR before the cut to 75, they would have had to expose him to waivers, and he would have been claimed. This move keeps Crawford with the team.
With the starters not playing, with perhaps some exceptions, you have to keep numbers at certain spots over others. Running back
Kendial Lawrence
might not make the team, but if he is cut, then Dallas has two backs ready for Thursday in
Phillip Tanner
and
Joseph Randle
because of
Lance Dunbar
's foot injury.
Another question is at quarterback. Do the Cowboys keep
Nick Stephens
and play him versus Houston on Thursday and sit
Alex Tanney
? As we look at the 12 remaining moves, we'll go with the idea that Stephens will be around.
Possible cuts:
Wide receiver:
Anthony Amos
,
Eric Rogers
,
Jared Green
. If
Cole Beasley
is healthy, then the Cowboys would have six receivers to play against the Texans. That's enough to get through the game. If Beasley isn't healthy, then Rogers could be kept. Rogers and Green could be brought back to the practice squad after the final cuts on Aug. 31.
August, 7, 2013
8/07/13
3:46
PM ET
OXNARD, Calif. -- As pleased as the Cowboys were with their ability to run the ball in Sunday's Hall of Fame Game against Miami, it was the number zero that caught Jason Garrett's attention most.
Of the Cowboys' 33 rushes, not including a final kneel-down against the Dolphins, none went for a loss.
Last year, almost 12 percent of the Cowboys' non-kneel-down plays went for negative yards (40 of 341 attempts). That percentage was ninth-worst in the league. Arizona had the worst percentage, 15.2.
"Besides not a very good yards-per-attempt in the running game, we had so many negative runs (last year)," Garrett said. "It's just hard. You're playing from behind the sticks all the time and you can't establish what you want to establish: breaking the huddle we can do both and you have to defend both."
The Cowboys were able to establish the run against Miami whether
Lance Dunbar
,
Phillip Tanner
,
Joseph Randle
or
Kendial Lawrence
was running the ball. On Friday at Oakland,
DeMarco Murray
will get a chance.
August, 4, 2013
8/04/13
11:49
PM ET
CANTON, Ohio -- At the opening training camp news conference, coach Jason Garrett said the Cowboys need to run the ball more and need to run the ball better in 2013.
In Sunday's 24-20 win against Miami, the Cowboys got the more (34 carries) and the better (170 yards).
Joseph Randle
led the Cowboys with 70 yards on 13 carries.
Phillip Tanner
had 59 yards on 10 carries, including a touchdown.
Lance Dunbar
had 22 yards on four carries to start the game.
Kendial Lawrence
had a 5-yard touchdown run late in the fourth quarter.
"I thought it was a good start running the football," Garrett said. "We ran it well. We ran it a few different ways. We ran it inside. We ran on the edge. I thought the backs ran hard."
The Cowboys had only one game last season with more than 34 carries (42 at Baltimore). They had five games with 17 or fewer runs last season. They ran it 17 times in the first half Sunday.
"There's always room for improvement," Tanner said. "We've still got a long ways to go. We'll go watch the film, capsulize what we did well, and look at what we did wrong and fix that. But this felt like a solid foundation."
June, 24, 2013
6/24/13
11:30
PM ET
The second in ESPNDallas.com's 10-part position series.
Roster locks:
DeMarco Murray
,
Joseph Randle
On the bubble:
Lance Dunbar
,
Phillip Tanner
,
Kendial Lawrence
Long shots:
None
PODCAST
Galloway & Company's Glenn "Stretch" Smith is excited about the Cowboys running game.

Listen

What's new?
The Cowboys bid farewell to first-round bust
Felix Jones
while continuing to insist that he wasn't a bad pick. Yet they believe they made an upgrade at the No. 2 back by selecting Oklahoma State's Joseph Randle in the fifth round.
The Cowboys had a third-round grade on Randle, whose size (6-foot, 198 pounds), slashing style and versatility reminds them a lot of Murray.
Think that comparison is too optimistic? Check out their numbers while playing for Big 12 rivals.
Murray in four seasons at Oklahoma: 3,685 yards (4.9 per carry) and 50 TDs rushing; 157 catches for 1,571 yards and 10 TDs.
Randle in three seasons at Oklahoma State: 3,085 yards (5.5 per carry) and 40 TDs rushing; 108 catches for 917 yards and three TDs.
Unfortunately, Randle reminded the Cowboys of Murray for another reason during organized team activities and minicamp. He was sidelined by an injury, recovering from thumb surgery that he delayed so he could play in Oklahoma State's bowl win.
That opened up more reps for the other rookie, Rockwall native Kendial Lawrence, an undrafted free agent who rushed for 1,025 yards and 12 touchdowns at Missouri last season. The shifty Lawrence has enough potential to be on the Cowboys' payroll this season, whether it's the 53-man roster or practice squad.
PODCAST
Nate Newton joins Fitzsimmons & Durrett to discuss Dez Bryant, Tony Romo and the Cowboys' offensive line as training camp approaches.

Listen

Camp competition:
It's hard to envision Dunbar losing the No. 3 job. He's the quickest of the Cowboys' backs and can help as a kick returner. Murray, among others, made a point of mentioning how much Dunbar had improved in his first NFL offseason.
Tanner is competing against Lawrence and players at other positions for a roster spot. Tanner, a Dallas Kimball product who made the team as an undrafted afterthought a couple of years ago, is unquestionably a Jason Garrett "right kind of guy." He needs to be a special teams force and/or show better vision as a runner than he did last season to give himself job security.
2013 hope:
Start with Murray staying healthy.
Murray's guarantee that he'll play 16 games is swell and all, but he made that made that statement while sitting out offseason workouts due to a hamstring injury. After durability questions caused him to drop to the third round, Murray has missed nine games in his first two NFL seasons.
If Randle is as good as the Cowboys' scouts believe, his presence could help Murray stay fresh. The Cowboys wouldn't need Murray to be a workhorse with Randle playing a third of the snaps.
We've all seen how good a healthy Murray can be when he has room to run. This is a back who racked up 601 yards on 72 carries during his first four games as the Cowboys' feature back. It's ridiculous to project those numbers over a full season, but it's not a stretch to say that Murray has Pro Bowl potential with a clean bill of health and good blocking.
The Cowboys are counting on the Bedlam Backfield to be one of the NFC's better one-two punches with Murray as the headliner. And don't count out Dunbar making a handful of impact plays in a change-of-pace role that exhibits his dynamic explosiveness in carefully selected small doses.
Future forecast:
The Cowboys should be set at running back for the next two seasons. They'll have a decision to make on Murray when his rookie deal expires after 2014.
There are some in the organization who believe that only the special tailbacks should get significant second contracts in today's NFL. Murray has two seasons to prove that he's in that class.
Of course, Randle's performance in those two seasons could also affect what the Cowboys are willing to offer Murray. If he has proven he's ready to be the lead horse, perhaps the Cowboys draft another backup and move on.
One thing is for sure: This position shouldn't be a priority next offseason.
June, 13, 2013
6/13/13
10:02
AM ET
IRVING, Texas – One offseason practice is left before the Cowboys break until training camp, but here is a review of what happened on Wednesday at Valley Ranch:
**
Dez Bryant
was featured in a blog post Wednesday afternoon, but the most dominant defensive player in the workout? How about DT
Ben Bass
? The second-year defensive lineman was all over the field, penetrating, getting to the quarterback for a sack, blowing up running plays and even forcing an interception. On the pick, Bass tipped a QB
Kyle Orton
pass into the air, which allowed DT
Sean Lissemore
to come down with the turnover. Later on the goal line he bulled G
David Arkin
back into RB
DeMarco Murray
that was a sign of his strength.
**Rookie WR
Terrance Williams
had an effective day. He came down with a jump ball over CB
Brandon Carr
in one on one drills. In seven-on-seven work he made a leaping grab over CB
Sterling Moore
for a touchdown, nicely getting his feet down for the score.
** Overall, however, the defense won the day. LB
Sean Lee
was able to stop TE
Jason Witten
short of a first down on a fourth-down play. Later S
Barry Church
stopped WR
Cole Beasley
short on a fourth-down play. The defense was able to blitz to force quicker throws short of the marker to end the drive.
** LB
Cameron Sheffield
had two sacks. Might be a guy to keep an eye on for a practice squad role depending on what he does in camp.
** Rookie LB
DeVonte Holloman
made an athletic pick of a
Nick Stephens
throw in the end zone that as to Beasley. Holloman dropped nicely into his zone and was able to leap and make the catch with two hands. He took the ball out of the end zone instead of taking the touchback, but the coaches urged him to go score so maybe he did the right thing.
** Rookie S
J.J. Wilcox
is around the ball a lot. He dropped an interception in red-zone work but was able to break up a pass later in team-blitz drill.
** Counted four drops by the offense: one each by
James Hanna
,
Anthony Amos
, Murray and
Dwayne Harris
.
** LB
Brandon Magee
did a nice job on back-to-back run plays stopping
Kendial Lawrence
. On the first one he was able to square up the ball carrier to make the tackle and on the second he was able to shrug off a blocker to get to Lawrence.
June, 12, 2013
6/12/13
10:28
AM ET
IRVING, Texas – With two more days of minicamp action still to come from Valley Ranch, let's take a quick look at come observations from Day 1:


May, 21, 2013
5/21/13
3:04
PM ET
IRVING, Texas -- The
Dallas Cowboys
began the three-week organized team activities period minus starting running back
DeMarco Murray
and projected No. 2 back, fifth-round pick
Joseph Randle
.
PODCAST
Todd Archer joins Fitzsimmons & Durrett to discuss the latest Tony Romo news and what he will be watching for in OTAs.

Listen

Murray missed Tuesday's session because of a tweaked hamstring and Randle was expected to miss the OTAs while he recovers from thumb surgery.
Murray and Randle did some rehab work with the strength and conditioning staff.
Coach Jason Garrett said Murray should return for the second week of OTAs.
"A very conservative approach with all these guys, he has a little hamstring tweak," Garrett said about Murray. "It's been bothering him for the last week or so, we don't want to put any of those guys in a situation where they're going to take a backward step. You want them all out there going 100 miles per hour, but we got to understand it is May 21, this is OTA 1 and we have a long way to go."
With Murray and Randle out, the Cowboys used
Lance Dunbar
,
Phillip Tanner
and
Kendial Lawrence
as the main running backs.
Of course, one of the big stories this offseason has been Murray's durability (or lack thereof), which prompted the team to draft Randle. Murray missing the first OTA isn't a big deal, but it doesn't silence the discussion about his health issues.
May, 14, 2013
5/14/13
12:45
PM ET
IRVING, Texas –
Felix Jones
signing in Philadelphia is another sign of a flawed drafting approach used by the Cowboys, who have just one player remaining from the 2008 and '09 drafts.
PODCAST
Todd Archer joins Fitzsimmons & Durrett to discuss what he took away from the Dallas Cowboys' rookie minicamp.

Listen

The Cowboys could be down to perhaps just two picks from the draft classes of 2007-09 (
Anthony Spencer
,
Orlando Scandrick
) should they choose to cut right tackle
Doug Free
if they cannot reach a deal on a renegotiated contract.
But that's old news.
What the Cowboys do quite well is college free agency, so there is reason to believe players like linebackers
Brandon Magee
and Tank Reed, safety
Jakar Hamilton
or running back
Kendial Lawrence
could become contributors in 2013.
Last year, 14 undrafted free agents were on the Cowboys' 53-man roster at some point.
Tony Romo
and
Miles Austin
are the most mentioned, but the Cowboys have found starters in
Barry Church
and
Phil Costa
, a special teams stalwart in
Danny McCray
, one of the best kickers in the game in
Dan Bailey
and versatile players like
Alex Albright
,
Kevin Kowalski
and
Lance Dunbar
.
Jerry Jones should analyze what the Cowboys do in undrafted free agency and attempt to fix what ails this team when it comes to the draft. Here's a hint: pay attention to the scouting department.
"We believe strongly in the college free agency process, and our personnel department does a great job not only evaluating the top players that get drafted, but also the rest of the guys," coach Jason Garrett said. "We have so many guys on the team that come from the college free agency route, and so there are examples to us on the importance of it.
"But also to guys that come to our team, one thing we talk about all the time is it doesn't matter where you come from, you're going to get a chance to show who you are and if you can contribute to our team."
May, 11, 2013
5/11/13
1:52
PM ET
[+] Enlarge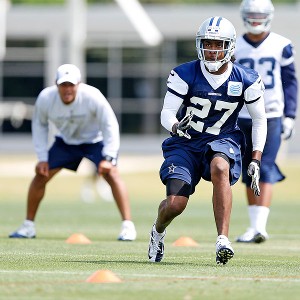 AP Photo/James D Smith"I like being physical," J.J. Wilcox said Saturday. It certainly showed on the second day of the Cowboys' rookie minicamp.
IRVING, Texas --
J.J. Wilcox
described himself as a physical safety even if he has played the position just one year at Georgia Southern. When he played running back, he thought of himself as physical.
"That's why my touchdowns were limited," Wilcox said. "I wanted to be a bruiser, run guys over. I like being physical. There's only one way I play it: the way I was taught."
Maybe it was no coincidence that Wilcox was involved in the biggest collision in Saturday's morning practice. He sent running back Kendial Lawrence spinning after the two collided in what is supposed to be a noncontact practice.
"They tell you to fly around," Wilcox said. "They know it wasn't on purpose. I'm a rookie, second day of camp. They figure, 'Hey, he don't know better.' Next time [I] do it, I'll probably get in trouble for it."
May, 11, 2013
5/11/13
9:00
AM ET
IRVING, Texas – With Day 2 of Cowboys' rookie mini-camp set to begin, let's look back with some observations from Day 1:
** Much was made of the slow 40-yard dash time of first-round pick
Travis Frederick
, but he moved well in the two practices Friday. He showed some good timing on leaving his initial block to get to the second level.
**Graceful isn't normally the best description for a football player, but that's what Jerry Jones called Gavin Escobar's ability to run routes. Escobar did not time fast either, but he just seems to have a knack for getting open. New tight ends coach Wes Phillips also mentioned Escobar's catch radius as a plus. Escobar made a nice catch after a pass was tipped by LB
DeVonte Holloman
.
**RB
Kendial Lawrence
will have a chance to make the roster. Hyperbole after a day of rookie camp? Maybe but he has a burst and a vision that could put him in the mix with
Lance Dunbar
and
Phillip Tanner
for the final running back spot. On the first play of team run he darted through the line and made a sharp jump-cut away from defenders.
** WR
Jared Green
will get some notice because he's Darrell Green's son, but he had a productive first day and his speed could make him a factor as camp goes on.
** CB
B.W. Webb
did a nice job of fending off WR
Terrance Williams
in one-on-one drills. Webb is pretty fluid in his movement and is thicker than he looks on film. Matched up the next play, Williams was able to get some separation for a deep throw from
Nick Stephens
by slowing down just a tad and extending late for the pass. It was a veteran move by the third-round pick and his best play of the day.
** Because the playcaller has been a big topic this offseason: it appeared that offensive coordinator Bill Callahan was calling them Friday with the quarterbacks going to him between plays, not Jason Garrett.
** S
Jakar Hamilton
did not make the best impression when he was apparently gassed about 30 minutes into the the first practice, but he came back with a nice play in the afternoon, covering a lot of ground on a Stephens' deep ball to Green. He should have made the interception, but his speed was impressive in getting to the sideline from centerfield.
** Not to be an alarmist but shotgun snaps were an issue. D.J. Hall was replaced after sending one high and wide and was replaced by Frederick, whose snap was rolled back to the quarterback. There were a few quarterback-center exchange issues but none from under center with Frederick.
April, 28, 2013
4/28/13
12:26
PM ET
IRVING, Texas – Over the years the Cowboys have excelled in landing undrafted free agents that make the 53-man roster, so it stands to reason a few of the 15 signings will make the club in 2013.
Last year,
Cole Beasley
,
Ronald Leary
and
Ben Bass
spent time on the active roster.
Here is the up-to-date list:
LB
Brandon Magee
, Arizona State
QB
Dalton Williams
, Akron
S
Jakar Hamilton
, South Carolina State
RB Kendial Lawrence, Missouri
CB
Devin Smith
, Wisconsin
CB
Dustin Harris
, Texas A&M
LB
Cameron Lawrence
, Mississippi State
WR
Greg Herd
, Eastern Washington
FB
Paul Freedman
, Virginia
LB Tank Reed, SMU
DB
Jeff Heath
, Saginaw Valley State
K
Spencer Benton
, Clemson
WR
Eric Rogers
, Cal Lutheran
CB
Xavier Brewer
, Clemson
LB
Deon Lacey
, West Alabama
Interesting to note the Cowboys did not sign an offensive lineman. Perhaps some could come in on a tryout basis for the May 10-12 rookie mini-camp. One tryout player, who is expected to sign is tight end B.J. Stewart from Cumberland.