Dallas Cowboys:

Kevin Boothe
April, 26, 2013
4/26/13
12:26
AM ET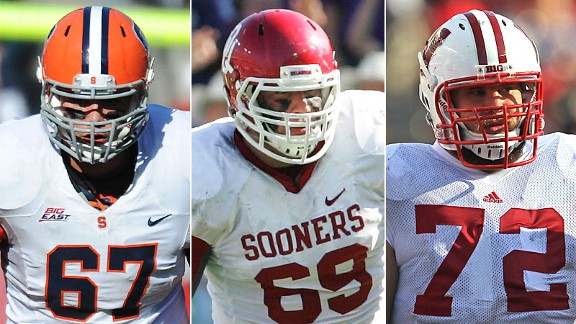 AP Photo, Getty ImagesThe NFC East added offensive linemen Justin Pugh, Lane Johnson and Travis Frederick.
NEW YORK -- Three NFC East teams picked in the first round of the NFL draft Thursday night, and the combined weight of the three players they picked is 922 pounds. Finally, they're paying attention to what's important.
Yes, the
Philadelphia Eagles
,
New York Giants
and
Dallas Cowboys
each picked an offensive lineman in this year's first round. And while that had something to do with the oddity of a first round that included one quarterback, no running backs and nine offensive lineman, it also says a lot about how badly this division as a whole needs to address this long-neglected need.
Tackle
Lane Johnson
, tackle/guard
Justin Pugh
and center/guard
Travis Frederick
, the 2013 first-round picks of the Eagles, Giants and Cowboys, are no cosmic coincidence. They are medicine, ordered with a purpose by teams that have figured out where they're lacking and that they all need to muscle up in the short-term and long-term.
I am of the belief -- and have written at length on this blog -- that one of the main reasons the NFC East is in a down cycle is division-wide offensive line decay. And yes, the division is down. Over the past three seasons, the division's combined record is 97-101 (yes, counting postseason and the Super Bowl). No NFC East team has won 11 games since 2009, which was also the last year in which it fielded more than one playoff team. Two years ago, the Giants won the division with a 9-7 record. This past year, the
Washington Redskins
won it at 10-6. Bleh.
The NFC East has superstar talent at quarterback and running back and wide receiver and pass-rusher. But with the exception of a magical six-game run the Giants made at the end of the 2011 season, excellence has eluded its once-feared teams. And the consistent issue that seems to be holding them back is the offensive line. To wit:
The Giants have basically been getting by with an aging, patchwork group. Former second-round pick
Will Beatty
emerged as a star last year when finally healthy, but veterans
Chris Snee
and
David Diehl
are fading and
Kevin Boothe
and
David Baas
aren't special. Until Thursday night, the Giants hadn't taken a first-round lineman since
Luke Petitgout
in 1999. You can try and hit on free agents and second- and third-rounders for a while, but eventually you need to add some top-end talent to the mix. Enter Pugh, a college tackle who may project as a pro guard and offers versatility in the short-term and a possible long-term answer at any one of several positions.
The Eagles had a fine line in 2011, but four of their five starters missed significant time due to injury in 2012, and they finished 4-12 and changed head coaches. Enter Johnson, this year's No. 4 overall pick, who likely starts at right tackle right away, moving
Todd Herremans
inside to guard and serving as an eventual replacement for left tackle
Jason Peters
.
The Cowboys' neglect of the offensive line had reached epidemic proportions before they took tackle
Tyron Smith
in the first round in 2011, and if you watched them last year you came away thinking they needed to upgrade every one of the starting line positions but his. Enter Frederick, who was a surprise first-rounder, but not as much of a reach as he initially looked. With four tackles and the top two guards gone in the top 11 picks, the Cowboys decided to trade down from 18 and get the guy they wanted at the tail end of the first round. Quibble if you want with the return they got on their trade. And sure, maybe Frederick would have been there when they picked again Friday night at 47. But (a) maybe not, since offensive lineman are going faster than ever and (b) so what? The Cowboys' short-term and long-term needs at offensive line were significant enough that they needed to come away from this year's first round with an upgrade. Frederick is almost certain to be an upgrade over one or more of
Phil Costa
,
Nate Livings
and
Mackenzy Bernadeau
, and the Cowboys were absolutely right to make this need a priority on this night.
The Redskins' line played fine in 2012 and has a superstar in left tackle
Trent Williams
. But a lot of its success has to do with the help it gets from its mobile quarterback. The Redskins remain unsettled at right tackle. They didn't have a first-round pick this year as a result of last year's deal for
Robert Griffin
III, but don't be surprised if they too look to address the line once they start picking Friday and Saturday.
This seems obvious, of course. It's a long-held NFL adage that the best way to build teams is through the lines. Consistent, reliable offensive line play helps you control games and maximize your skill-position talent. Deficient line play helps you squander your skill-position talent, or worse, make it more susceptible to injury. But while it may seem obvious from the outside, the NFC East's teams have let the line play lapse. Thursday was a clear sign that they have realized this and plan to address it moving forward. I don't think these three will be the last offensive linemen taken by NFC East teams in this year's draft, but each is vital to the division's effort to regain its status as one of the toughest in the NFL. Because thanks to the decay of its offensive lines over the past few years, the fact is that it has not been.
December, 12, 2012
12/12/12
1:00
PM ET
For a while, the quarterback position on the All-NFC East team has looked like a boat race, with Redskins rookie
Robert Griffin III
the clear winner of the spot. But Griffin hurt his knee Sunday, and if he has to miss a few games, he could be caught. Both
Tony Romo
and
Eli Manning
are hot and have big numbers (though Griffin's remarkably small number in the interception category is a big part of his lead.)
The disclaimer that no one will read: This is an All-Division Team
based on overall season performance to date
. It is not --
repeat, NOT
-- simply a list of the players who performed the best in this past week. That's why
Nick Foles
isn't on it.
Just a few changes this week -- one on the offensive line, a couple at kicker and punter and the rest in the secondary, where I admit I'm at a loss. More explanation after the list itself.
Quarterback:
Robert Griffin III
,
Washington Redskins
(Last week: Griffin)
Running back:
Alfred Morris
, Redskins (Morris)
Wide receiver:
Dez Bryant
,
Dallas Cowboys
;
Victor Cruz
,
New York Giants
; (Bryant, Cruz)
Tight end:
Jason Witten
, Cowboys (Witten)
Fullback:
Henry Hynoski
, Giants (Hynoski)
Tackle:
Trent Williams
, Redskins;
Will Beatty
, Giants (Williams, Beatty)
Guard:
Evan Mathis
,
Philadelphia Eagles
;
Chris Chester
, Redskins (Mathis,
Chris Snee
)
Center:
Will Montgomery
, Redskins (Montgomery)
Defensive end:
Jason Pierre-Paul
, Giants;
Jason Hatcher
, Cowboys (Pierre-Paul, Hatcher)
Defensive tackle:
Barry Cofield
, Redskins;
Fletcher Cox
, Eagles (Cofield, Cox)
Outside linebacker:
DeMarcus Ware
,
Anthony Spencer
, Cowboys (Ware, Spencer)
Inside linebacker:
DeMeco Ryans
, Eagles;
Perry Riley
, Redskins (Ryans, Riley)
Cornerback:
Prince Amukamara
, Giants;
Brandon Carr
, Cowboys (Amukamara,
Morris Claiborne
)
Safety:
Antrel Rolle
,
Stevie Brown
, Giants (Rolle,
Kenny Phillips
)
Kicker:
Dan Bailey
, Cowboys (
Lawrence Tynes
)
Punter:
Sav Rocca
, Redskins (
Brian Moorman
)
Kick returner:
David Wilson
, Giants (Wilson)
Punt returner:
Dwayne Harris
, Cowboys (Harris)
Did you know this division doesn't have one single cornerback ranked in Pro Football Focus' top 50 for the season? This is what I'm working with, folks. Their highest-ranked NFC East corners are Orlando Scandrick (52), Brandon Boykin (54) and Cedric Griffin (63). So you tell me. I gave Claiborne's spot to Carr this week because I think they're pretty close and Carr's had a couple of game-changing plays the last couple of weeks. But these spots could belong to guys like Josh Wilson and Dominique Rodgers-Cromartie just as easily. This is two years now, and no one in this division plays this position consistently well.
Safety's a problem, too, and with the best one in the division (Phillips) in and out due to injury, his spot goes to his real-life replacement, who has seven interceptions.
That second guard spot is a mishmash, with Chester, Snee, Nate Livings and Kevin Boothe all getting consideration. Snee has the track record, Chester's had the more consistent season. Slightly.
And no, Redskins fans, I'm not "ignoring" Darrel Young at fullback. For the millionth time, both Young and Hynoski are having excellent seasons. It's a tough call, every week. But Hynoski's on the field more, and while he doesn't catch or carry the ball once or twice a week like Young does, he's been the slightly better blocker. And that's the important part of their jobs. I'd love to see both guys go to the Pro Bowl. I can't put them both on this team, though. Maybe if one of them learned to play cornerback. There are spots open there.
Tynes is out at kicker. The only question was his replacement, and Bailey, Alex Henery and Kai Forbath all made good cases. I went with Bailey, who hasn't missed from inside 50 and has made more (2) from 50-plus than any of the others have. Forbath is perfect since joining the Redskins, and he's made some huge kicks, including this week and on Thanksgiving. But he's got 14 field goals to Bailey's 25 (and Tynes' 33 and Henery's 23). Didn't seem right. Henery is the best of the bunch on kickoffs, statistically. Good year for kickers in the NFC East.
Moorman's also out at punter after that debacle Sunday. Our old friend Rocca returns, though you know Steve Weatherford got a long look.
And yes, David Wilson's kick return for a touchdown would have won him the kick-returner spot for the rest of the season, but he already had it.
Your thoughts?
September, 6, 2012
9/06/12
1:00
PM ET
EAST RUTHERFORD, N.J. – It took just a few snaps for defensive end
Jason Hatcher
to redeem himself.
Hatcher's penalty for roughing the passer on the second play of the fourth quarter could have been a turning point in a Cowboys collapse that would have conjured up all kinds of demons from last season. The flag kept a drive alive with the Giants trailing by a touchdown.
That drive died a few plays later with a sack by Hatcher, who dropped
Eli Manning
after working upfield and shedding guard Kevin Boothe's block.
Hatcher didn't really celebrate the sack. His reaction was more an indication of relief, as he briefly covered his face with both hands before raising them in the air as he looked toward the sky.
"I'm happy I did [get the sack] because I was down in the dumps," said Hatcher, who also had five tackles and two quarterback pressures. "I don't want to do nothing to hurt this team. I want to do everything in my power to help it succeed. It's one of those things. I got a 15-yard penalty and then came back and got a sack. It evened out."
September, 6, 2012
9/06/12
11:00
AM ET
EAST RUTHERFORD, N.J. --
Josh Brent
got his first career start Wednesday night, replacing starting nose tackle
Jay Ratliff
(high-ankle sprain), and finished with two tackles against the
New York Giants
.
"I didn't really focus on that," Brent said. "I was focused on the W. More so, I didn't want to let my teammates down that were here. That's where all my focus was and my preparation for the game."
It's uncertain if Ratliff will play in the Week 2 game at Seattle.
Brent and
Marcus Spears
did a good job stopping running back
Ahmad Bradshaw
for a 1-yard loss on a second-and-goal from the Cowboys 3.
Brent saw the majority of action at nose tackle, coming out for
Sean Lissemore
at times.
The Cowboys have always valued Brent's ability to clog the middle of the line and his position flexibility. Brent can also play defensive end.
"I think I did alright," he said. "I made some bad plays that I got to eliminate. I got to watch the film (and) eliminate those bad plays and enforce the good plays and get ready for Seattle."
Facing
Eli Manning
was a difficult task for the Cowboys defense because the quarterback likes to get rid of the ball quickly and use his feet to move around the pocket when it's about to crash on him. Brent faced double teams from center
David Baas
and guards
Chris Snee
or
Kevin Boothe
.
For most of the night, defensive coordinator Rob Ryan stayed with a base 3-4 defense. There was one time he employed a 4-3 front that moved an outside linebacker to the inside. Ryan mixed and matched his defensive ends between
Kenyon Coleman
, Spears and rookie
Tyrone Crawford
.
Jason Hatcher
also had a strong game at the other end spot, finishing with a sack and two quarterback hits.
"It's hard," Brent said. "They're a good team regardless of the outcome. They're definitely going to bounce back, and we're going to have to prepare more than we did this game going into the next one."
August, 20, 2012
8/20/12
12:30
PM ET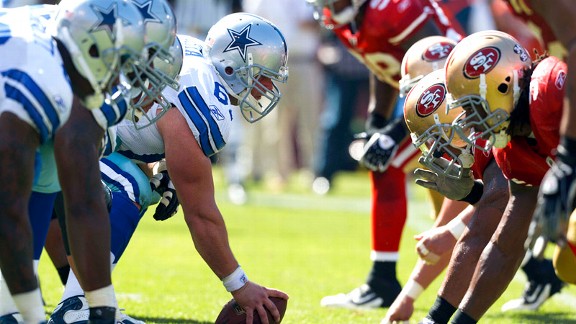 Jason O. Watson/US PresswireLike its NFC East rivals, Dallas is shuffling and searching for ways to solidify its offensive line.
The NFC East leads the league in hype. The huge media markets in which the teams play, the history of success, the rivalries ... all of it combines to create a perception that the NFC East is the best, most competitive and toughest division in the NFL. That the defending Super Bowl champion
New York Giants
play in it -- and are not the clear-cut favorites to win it again this season -- only adds to the perception, as does the growing excitement over an NFL regular-season opener between the Giants and the
Dallas Cowboys
16 nights from tonight.
But while Giants-Cowboys is fun, and each of those teams has something pretty intense going with the division's other two teams -- the Giants' recent struggles with the
Philadelphia Eagles
and the Cowboys' longstanding rivalry with the
Washington Redskins
-- the stats don't back up the NFC East as the league's toughest division anymore. The division is, by many measures, coming off its worst season ever. Last season was the first regular season in NFC East history in which no team won at least 10 games. Only the Giants finished over .500, and they gave up more points than they scored. Their Super Bowl run might have saved the division's honor, but it also disguised the troubling fact that the NFC East is no longer the Beast it used to be.
A large part of the reason for this, I believe, is the state of the division's offensive lines. We all know offensive line play is important, but in the NFC East these days, concern about the lines affects too many things. Teams that are strong on the line can control games. Teams that aren't cannot.
Eli Manning
and the Giants have been talking for months about wanting to not have to come back in the fourth quarter as much as they did last season, and the best way to avoid that is to control games from the start. Given the issues with their offensive line, they could find that a challenge once again.
But they're not alone. As we look ahead to 2012 and start assessing everyone's biggest questions, offensive line stands out as an issue for each of the NFC East's four teams. To wit:
The NFC has no shortage of star power. It has three great quarterbacks and one, Washington rookie
Robert Griffin III
, who's getting as much hype as any of the other three these days. It has some of the great wide receivers in the league in veterans such as
Hakeem Nicks
,
Miles Austin
and
DeSean Jackson
as well as rising stars such as
Victor Cruz
,
Dez Bryant
and
Jeremy Maclin
. The Eagles'
LeSean McCoy
ranks with the game's great running backs. And on defense, of course, the division is known for its great pass-rushers. Each team can rattle off names that give opposing quarterbacks heartburn.
DeMarcus Ware
.
Jason Pierre-Paul
.
Justin Tuck
.
Trent Cole
.
Jason Babin
.
Brian Orakpo
.
All of that makes the NFC East very exciting. But very often in the NFL, excitement and hype can conceal issues of quality. And if the NFC East really wants to be the best division in football again, it's not the quarterbacks or the wide receivers or even the pass-rushers that will bring it there. The NFC East's teams all need to start paying more attention to their offensive lines, because as those continue to erode, so will the division's annual claim to Beastliness.
December, 30, 2011
12/30/11
4:39
PM ET
By
Bryan Broaddus
| ESPNDallas.com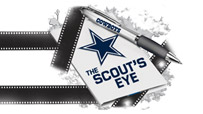 As many ups and downs as the
Dallas Cowboys
have had this season, the goal of an NFC East championship -- and a playoff berth -- remains in reach. That means the possibility of reaching the Super Bowl is still in play, and that's all you can ask for.
Recent playoff history has proven that if you're in, then you have a shot to win it all. Are the Cowboys good enough to make a serious run? With the way that
Tony Romo
is currently playing, there is that possibility.
But first there's a little thing about beating the
New York Giants
--a team that has similar and -- at some positions -- better talent than the Cowboys.
Expect a healthy dose of JPP, Tuck from Giants
When I break down these games, I always try to look at the areas where the Cowboys can get an edge but also where they might run into trouble. To me, both teams are going to have matchup problems.
The area that could give the Cowboys the biggest problem is
Doug Free
against Giants DE
Jason Pierre-Paul
. If Free was playing at a level like he was in 2010, I'd say this matchup had a great chance of being a wash. Pierre-Paul has gone from a raw rookie pass rusher to a dominant force on the outside and off the edge.
In Week 14, I really believed Free would be able to handle Pierre-Paul because he was more of an athletic pass rusher than a power player. I was mistaken. Pierre-Paul plays with some snap in his upper body and some first step explosiveness, and he was able to get his hands inside Free several times to control him as a blocker. In studying the game in the lab, it appeared that Free was surprised not only how JPP played him, but also the power in which he played him.
With Free there is been technique issues on a weekly basis. But in talking with members of the front office, they'll offer that the lack of a full offseason in the weight room has affected Free as a player. I fully expect Jason Garrett and this offensive staff to give Free help in this game, whether that is making him rush wider with a tight end to that side or chip him with Jones and Morris.
The problem with helping a tackle is that whomever helps -- the back or tight end -- gets in the way of the tackle trying to execute the block. The Cowboys leave their tackles on an island quite a bit so working with extra blockers is something to keep an eye on.
On the other side,
Justin Tuck
can present problems not only as a pass rusher but also defending the run, where he's been outstanding. Tuck is one of those players that is very smart and crafty, playing well with his hands, and he's able to extend on the blocker and fight down the line of scrimmage. Where Tuck is also dangerous is when he stands up like an inside linebacker and they use him in games or stunts with the other rushers. Where
Tyron Smith
has to be careful is if you go hard at Tuck, he'll jump around the block and cause you to overextend and miss.
Another matchup to watch is guard
Derrick Dockery
against defensive tackle
Chris Canty
. When you study the Giants, Canty is doing a much better job of showing up at key times in making stops. Dockery hasn't seen action since Week 2, but played very well to his credit.
If the Cowboys are going to win, the left side of their offensive line is going to have to do an outstanding job of controlling Canty and JPP to that side.
Cowboys should exploit Giants secondary ...
If the Cowboys have an advantage in this game, it's going to be against the Giants' cornerbacks. There are plays to be made against
Corey Webster
and
Aaron Ross
down the field. Webster is the more aggressive of the two.
In the nickel, the Giants will use
Prince Amukamara
, who hasn't lived up to his first-round billing. Teams have been able to take advantage of how cautious he has played. Safety
Kenny Phillips
didn't play the last time these two teams met, and that will be a boost for the Giants. He is good against the run and pass. His backup,
Deon Grant
, will make mistakes in coverage. So if Grant does get on the field, look for the Cowboys to try and take advantage.
The Redskins had success against the Giants secondary when they got in bunch formations and ran routes from that. Look to see if the Cowboys use their receivers and
Jason Witten
in those types of looks to try and confuse them in coverage.
... But look for Giants to do same vs. Cowboys secondary
As the Cowboys can cause problems with their receivers, so can the Giants when they're on offense. In Week 14, the Giants caused plenty of confusion for the Cowboys scheme-wise.
Hakeem Nicks
is an outstanding receiver, and some of the drops he had against the Redskins and Jets will not happen. He's a Cowboys-killer in the way he plays.
I've said this before about Nicks: He's the Giants version of
Dez Bryant
. He is a physical body that makes plays all over the field. Despite his drops, I still feel his hands are outstanding and his footwork and body control is even better. Nicks has no fear on where to run routes and he will make defenders pay for having to cover him. He can be a dominant player in the red zone with his body position and his leaping ability.
To me, however, the most dangerous player is
Victor Cruz
. He has special skills and is a matchup nightmare because he'll line up anywhere in the formation. Like Nicks, Cruz will take his route inside, catch the ball in traffic and take a big hit. When the Giants need to convert on third down, he is usually the man running the route that gets them the first. Manning has a great deal of confidence in him and will do everything in his power to get him the ball on the move. Cruz has the speed and the quickness to get down the field on vertical routes and will make big plays in this way.
In studying the Giants' last two games, they have made more of an effort to attempt more vertical throws. There is no doubt in my mind they'll take shots down the field against
Terence Newman
and these safeties.
Giants starting offensive line is healthy, intact
The Giants' offensive line was a mess three weeks ago with guard
Kevin Boothe
playing center and
Mitch Petrus
taking his spot at guard. After reviewing their win vs. the Cowboys, that group was the reason why the Giants won. Manning wasn't sacked, and they were able to run the ball with
Brandon Jacobs
and
Ahmad Bradshaw
.
This time around, the Giants have their starting group in place with
David Baas
at center and Boothe at guard. LT
David Diehl
has had many a battle with
DeMarcus Ware
, and
Kareem McKenzie
is on the right side.
What helps this line is Manning's ability to get rid of the ball quickly, which he was able to do last time. Where the Giants have struggled is when teams make them move their feet in pass protection. McKenzie struggles with this more than Diehl.
If you want me to pick a weak spot, it's at center with Baas. In several games, he's not been able to handle the cut off or reach blocks, and he's struggled in the passing game. Boothe was outstanding against
Jay Ratliff
in the first meeting, which really surprised me.
Ratliff can not have an off game this time around, or that will be a huge problem for the Cowboys. As banged up as he was last week, Ratliff played well against the Eagles, who are much better at center.
If you don't punish Bradshaw, he'll punish you
When the Giants run the ball on offense, it's usually with Bradshaw. I know that Jacobs had a huge game last time, but Bradshaw is a real difference-maker for this team. He is a physical back that is difficult to get on the ground. He doesn't have the elusive moves of a
LeSean McCoy
, but he has a low center of gravity and will try to punish tacklers. If you don't hit him hard, Bradshaw will run over you.
Final keys to the game
This game can go in two different directions for me. If the Cowboys can't block this Giants front, then there will be huge problems. But if they give Romo time, there are plays to be made against this secondary.
Defensively, the Cowboys cannot allow Manning to feel comfortable throwing the ball. The Cowboys' run defense was solid against the Eagles last week, and Rob Ryan needs that to carry over. But they have to pressure Manning. Of the top quarterbacks in the league, Manning struggles with pressure the most.
The Cowboys defense has to take advantage when he makes mistakes, and we all know that he will.
December, 10, 2011
12/10/11
8:00
AM ET
By
Bryan Broaddus
| ESPNDallas.com
Cowboys CBs Terence Newman and Mike Jenkins vs. Giants WRs Hakeem Nicks and Victor Cruz:
I really do believe that both of these teams' defensive backs will be under attack.
The Cowboys' receivers can cause just as much damage to the Giants as the Giants can against the Cowboys. The Cowboys have done a nice job of defending the run after two weeks where they were not as good. I believe that other than protecting
Tony Romo
in this game, how they play against the Giants' receivers will determine whether they win or lose.
The Cowboys cannot allow Nicks and Cruz to dominate this game. I said in my preview of this game that I wouldn't worry about Mike Jenkins as much in this game after what I saw him do against
Larry Fitzgerald
last week. His confidence level and technique were both high, and his level of play reflected that.
The Cowboys can get in trouble if Newman doesn't play aggressively enough against Nicks or Cruz. Newman has had his struggles driving on the ball from off coverage.
Both Nicks and Cruz are outstanding route runners and do a nice job of selling routes.
Eli Manning
has done a nice job in the games that I studied of getting the ball in spots where they can make plays. Nicks is a physical receiver, and Cruz is slippery.
Orlando Scandrick
is also going to be called in to have to deal with these two receivers, as well. If the Cowboys are going to have success on defense, it will be the pass rush, but more importantly the coverage downfield, that makes the difference. The Giants will make their share of plays, but it's the number of big plays that the Cowboys must be worried about.
If Rob Ryan's defense gets off the field more than Perry Fewell's, it will because Newman and Jenkins play outstanding.
Cowboys LT Doug Free vs. Giants DE Jason Pierre-Paul:
In the history of this series, the Giants have always had a defensive end that the Cowboys have had to deal with. When I was growing up going to games, it was George Martin. Later it was
Michael Strahan
,
Justin Tuck
and
Osi Umenyiora
. The Giants have once again hit on a second-year player that has those similar traits that the great ones before him have possessed.
Pierre-Paul is an explosive player that can be a nightmare for offensive tackles because of the way that he is able to get up the field before the tackle has the ability to adjust. Pierre-Paul is to the Giants what
DeMarcus Ware
is to the Cowboys' defense. They like to line him up at different positions. Defensive coordinator Perry Fewell will play Pierre-Paul as a nose in a three-man rush, trying to take advantage of the mismatches inside with the slower guards and centers. Fewell will stand him up like he does Tuck and rush him in a combination game with the line and linebackers, trying to attack the blocking scheme that way.
The one advantage that Free and right tackle
Tyron Smith
will have is that Pierre-Paul is not one of those overpowering types of players that tend to give them problems.
The Cowboys can take advantage of Pierre-Paul in the running game because he wants to get up the field quickly. Jason Garrett can attack running the ball inside of him. Look for the Cowboys to either block down on him or try to kick him outside and run the ball inside.
Free's plan will be to try to get his hands on Pierre-Paul as quickly as possible before he has a chance to get going. If Free is able to stop or slow his rush, it will buy him a chance to get in position to finish the block because Pierre-Paul isn't strong enough to counter that.
Cowboys NT Jay Ratliff vs. Giants C Kevin Boothe:
I love this matchup for the Cowboys. The opportunity is there to get pressure in the face of Manning through the middle of the pocket.
The one area that Manning has always struggled with in his career is when you can get more pressure on him, the more likely he will make a poor throw off his back foot. Manning is not one of those quarterbacks that will stand in the pocket and make a tough throw. The cleaner the pocket, the more success he has.
In the Saints and San Francisco games, he made poor throws that were intercepted off pressure. The pick-six against the Packers was caused because he was late with the ball to the outside.
Boothe is a guard that is having to play center because of starter David Baas' neck problems. I look for Ratliff to take advantage of Boothe attacking him up the field. When I watch Boothe play, I don't see a guy that will fire his hands inside and control the rushers. Boothe likes to place his hands on the rusher and try to control him with his upper body. Ratliff has too much quickness and power for Boothe to handle. Boothe couldn't move his feet quick enough to have to cut off Ratliff in the running game.
I expect both Ratliff and
Sean Lissemore
to be able to control the middle of the Giants' offense in the running game but also cause problems in the passing game with pressure inside. If Ratliff is able to do this, it will cause the Giants to have to use their guards to help, which opens up the likelihood of single blocks by the Giants' tackles against the Cowboys' pass rushers. That's a matchup the Cowboys can also win.
December, 9, 2011
12/09/11
10:53
AM ET
By
Bryan Broaddus
| ESPNDallas.com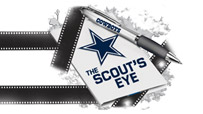 The Cowboys host the
New York Giants
on Sunday night -- the first of two matchups that will decide the NFC East champion. The Giants have lost four straight, while the Cowboys are coming off a game that they let slip away in overtime against Arizona. If the Giants win this game, they'll be tied for the division lead and have the tiebreaker. If the Cowboys win, they'll have a firm grasp on the division title with a two-game lead with three to play.
The Cowboys faced one of the better NFL receivers last week in
Larry Fitzgerald
, who was covered by
Mike Jenkins
for the majority of the game. Jenkins, making his first start since being sidelined several weeks with a hamstring injury, was outstanding. Where the Cowboys had the biggest problems was allowing down-the-line receivers big days catching the ball.
Five weeks ago,
Terence Newman
was playing at a high level. In the last three games, however, he's really struggled in his off coverage. Newman was one of those players that were driving on the ball and make plays.
Orlando Scandrick
, starting in place of Jenkins, didn't struggle as much as Newman, but we didn't see the plays that we had when he was in the nickel role.
PODCAST
ESPN NFL analyst Chris Mortensen hops on to preview this weekend's Cowboys-Giants matchup.

Listen

Giants' Bradshaw will find hole, punish tacklers
There are two areas of the Giants' offense that can hurt you -- running the ball with
Ahmad Bradshaw
, and
Eli Manning
throwing the ball to an outstanding group of receivers.
When you watch the Giants, Bradshaw is a real difference-maker for this team. He's a physical back that is difficult to get on the ground. He doesn't have the elusive moves of a
Reggie Bush
, but instead tries to punish tacklers. Bradshaw has a low center of gravity, and he doesn't give defenders much to hit. If you don't hit him hard, he will run over you. He's like
DeMarco Murray
in that he likes to cut back when he sees a hole.
The Giants' offensive line doesn't blow defenders off the ball. They're more likely to grab and run with you. This fits Bradshaw's style as he doesn't need much of a hole because of his ability to burst through tacklers with power.
Receivers Nicks, Cruz will give fits to Cowboys
On the outside, other than the Eagles, this is the best group of receivers that the Cowboys have faced all season. What makes
Hakeem Nicks
and
Victor Cruz
outstanding is their ability to sell routes to get open and their ability to adjust to the ball and make large gains with the ball in their hands.
I was very impressed watching Nicks on film. He's the Giants' version of
Dez Bryant
-- physical receiver who can make plays all over the field. His hands are outstanding and his footwork and body control are even better. Nicks has no fear where to run his route and he will make defenders pay for having to cover him. He can be dominant in the red zone using his body position and his leaping ability. Last week, Nicks outfought Green Bay's
Charles Woodson
-- one of the most physical corners in the league -- for a ball on a fade route where Woodson was in perfect position to defend, but the result was a touchdown.
On the opposite side, Cruz has become a special player for the Giants. With
Mario Manningham
struggling with injuries, Cruz has taken the opportunity and has excelled. He's tough, instinctive and slippery in the way he plays. I know this is going to sound like too much praise, but he is very similar to the Patriots'
Wes Welker
in the way he plays. Cruz is able to adjust to any ball and, like Nicks, will take his route inside, catch the ball in traffic and take a big hit.
Cruz lines up all over the formation and, when the Giants need to convert on third down, he is usually running the route that will get them the first down. Manning has a great deal of confidence in Cruz and will do everything in his power to get him the ball on the move. Cruz has the speed and the quickness to get down the field on vertical routes and will make big plays in this way.
Different looks could expose Giants' offensive line
The Giants' offensive line has been shuffled around due to injuries. Against the Packers last week, left guard
Kevin Boothe
moved to center to start for
David Baas
, who has struggled with a neck injury. In Boothe's place at left guard has been backup
Mitch Petrus
. LT
David Diehl
has had many a battle with
DeMarcus Ware
, and on the right side is
Kareem McKenzie
.
This isn't an outstanding offensive line but, much like what is going on here with the Cowboys, Manning's ability to get rid of the ball quickly and Bradshaw's rushing has helped to hide the ills of some less-than-perfect blocking. Where the Giants have struggled is when teams make them move their feet in pass protection. McKenzie will struggle with this more than Diehl.
Look for Rob Ryan to attempt to make the Giants' line adjust on the move. I believe there will be plenty of times where Ryan's defense will have different looks. Where Manning struggles throwing the ball is with pressure in his face. He'll tend to throw the ball off his back foot with no regard for where it might end up.
Don't sleep on Giants' defensive front
I have read throughout the week that the Giants have struggled to get pressure on quarterbacks as opposed to years' past. After studying the Giants, I really don't understand where all this is coming from. The Giants' front four really does a nice job of creating problems for blocking schemes. The one game they were blocked well was against the Saints. Last week, it was the skill and the mobility of
Aaron Rodgers
that allowed the Packers to make as many plays as they did.
In the past,
Osi Umenyiora
has made the most plays. This season, second-year DE
Jason Pierre-Paul
has caused the most problems for blockers. Pierre-Paul is an explosive player that has outstanding first-step quickness. He is able to get on blockers immediately, which doesn't allow the tackle much time to adjust. Pierre-Paul is a good technique player, and his hands and feet work very well together.
Justin Tuck
plays on the opposite side, but defensive coordinator Perry Fewell is using him in an interesting way as a stand-up player inside at linebacker. Where the Giants are most effective in the rush are when they use twist stunts with their defensive linemen. As mentioned before, this group has the ability to get four-man pressure, which allows them to use their linebackers in coverage to help a secondary that has had its share of struggles.
Where the Cowboys have been weakest this season is when pass rushers have used twist stunts inside. Last week, the Cardinals were able to attack the middle of the pocket because
Phil Costa
and
Montrae Holland
have had their problems adjusting. The Cardinals were also affective slanting their defensive line one way and then bringing a rusher the opposite way. The Giants have shown the ability to use these types of stunts.
Cowboys should target Giants' secondary
If the Giants have weaknesses, it's in two areas -- linebacker and secondary.
Michael Boley
is the Giants' best play-making linebacker, but he's struggled with a hamstring injury. This is not an athletic group of linebackers, and you can see it when they play. Look for the Cowboys to play one-on-one in coverage or running the ball outside to take advantage of that.
In the secondary, the Giants took some huge hits in the preseason by losing guys to season-ending injuries. Where this group has been able to make plays is when quarterbacks have underthrown passes. CBs
Aaron Ross
and
Corey Webster
will miss play balls in the air. They will also miss tackles in the open field. Safety
Kenny Phillips
is more of a hitter than a cover guy.
Antrel Rolle
covers a little better, but backup
Deon Grant
struggles the most. Rookie
Prince Amukamara
had an interception vs. the Eagles and is dealing with a back issue, but he really isn't ready -- and he plays like it.
If the Cowboys can block this front in the passing game, there are plays to be made down the field. Watch early in this game if the Giants try to attack the Cowboys on passing downs by moving the front. The Cowboys receivers are better than what the Giants have in the secondary, but the Giants' pass rushers are better than this Cowboys offensive line.
December, 8, 2011
12/08/11
8:19
AM ET
The
New York Giants
have been dealing with offensive line problems all year, and in advance of this week's key divisional showdown with the
Dallas Cowboys
, things aren't getting any better on the health front. Center
David Baas
, who missed Sunday's game with what he reported to the team as headaches, remains sidelined. And Giants coach Tom Coughlin told reporters before practice today that Baas' ailment isn't quite that simple.
[+] Enlarge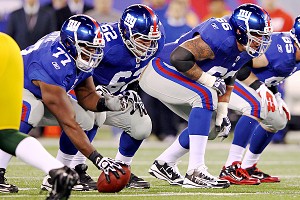 Al Bello/Getty ImagesNew York's battered offensive line held up well against Green Bay, but the unit will face tougher pressure when it goes up against Dallas' pass rush on Sunday.
"It is much more serious than a headache, obviously," Coughlin said. "That was what he brought to the medical people on Sunday but there is a lot more to it. As a matter of fact, he is having tests today and he has spent the last few days doing tests. A lot of that is to try to eliminate things as well. I really don't have any information other than that and until I am sure that we are going to be talking about the right thing, I will wait and not speculate. I really can't tell you anymore."
Obviously, that sounds scary, and the most important thing is that Baas doesn't have anything too seriously wrong with him. The Giants will surely give him whatever time he needs to figure out what's going on and recover from it, and will move on with their backup plans in the meantime. Same with left tackle, where
Will Beatty
is out of the mix following eye surgery he had two weeks ago. The Giants' starting offensive line Sunday was as follows:
LT
David Diehl
(the starting LG for the first 10 games of the season)
LG
Mitch Petrus
(first career start)
C
Kevin Boothe
(reserve lineman who'd played LG the week before)
RG
Chris Snee
RT
Kareem McKenzie
It appears as though they'll have to go with the same alignment Sunday night in Dallas, but it's not the end of the world. Sunday's performance was, oddly, one of the best of the year by the Giants' offensive line. They weren't sound in pass protection, but quarterback
Eli Manning
helps with the quickness of his release. And Sunday was the best job the Giants have done all year opening holes for the running backs. Yes, the return of
Ahmad Bradshaw
to the backfield helped, but even
Brandon Jacobs
was finding room.
"Like I said the other night, we will battle," Coughlin said. "Our guys felt good about going into the game last week and this is a very good front. [Jay] Ratliff, I think [Jason] Hatcher is playing better than I have seen him play, and
Sean Lee
is having a pretty good year so they will come after you. They do a lot of things up front. We will practice hard and make the adjustments that we have to make and certainly be prepared to go"
Coughlin also said Manning "has a lot of confidence in Boothe" as a center, and there didn't appear to be any issues there Sunday.
Come Sunday night in Dallas, we'll see whether the Giants' line can hold up against that tough front Coughlin was talking about and keep Dallas' great pass-rushing linebackers off of Manning. If they do, it'll be a testament to their depth.
November, 16, 2010
11/16/10
10:38
AM ET
By
Bryan Broaddus
| ESPNDallas.com
In a week of change at Valley Ranch, it was only fitting that the previous five weeks of losing football would also change. The
Dallas Cowboys
went to the Meadowlands and won a football game against a Giants team that had been playing at a high level both offensively and defensively.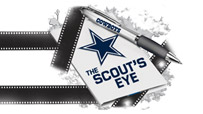 The more I watched the Giants during the week, more I was convinced that the Cowboys would struggle with the physical aspects of this game. The Giants are a downhill, power running football team that has the ability to also work the ball down the field with playmaking receivers .Their defense was doing an outstanding job of physically stopping the run but also putting pressure on offenses in controlling the passing game with pressure from their front.
The matchups across the board did not favor the Cowboys at all. In my weekly Grudge Match for Galloway and Company on 103.3 FM ESPN, I offered that everything the Giants do well, the Cowboys had been doing poorly on both sides of the ball, thus the 1-7 record.
In the days leading of the game,
Jason Garrett
spoke of change and moving forward. Where the Cowboys made the biggest improvement or change was their ability to block this Giants front seven, who were the keys to New York being ranked in the top three in several defensive categories.
Anyone that has followed the Cowboys' struggles this season can point to the offensive line and their inability to generate any type of consistent play running the football or finishing drives as a reason for the shape of the team. With all that appeared against them on that Sunday afternoon,
Doug Free
,
Kyle Kosier
,
Andre Gurode
,
Leonard Davis
and
Marc Colombo
were able to sustain blocks, get to the second level, make blocks in space and avoid assignment errors that would put their quarterback in harm's way.
For this much maligned offensive line, it was a clean game against a front that had caused its share of problems for offenses this season. Tackles Free and Colombo were extremely steady and workmanlike against
Osi Umenyiora
and
Justin Tuck
in the running and passing games. Davis, who is usually exposed at guard with quick movement or games with down linemen and linebackers, did not have the type of errors that we are so accustomed seeing this season. Gurode didn't play slow-footed or get overextended when trying to get to the second level or adjusting in pass protection.
Felix Jones
and
Marion Barber
ran the ball with purpose and didn't miss the opportunity to take advantage of the holes that were there.
Jon Kitna
made critical throws to receivers who found space in a secondary that for the last five weeks had been holding offenses in check with tight coverage.
[+] Enlarge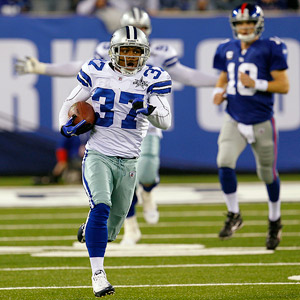 William Perlman/The Star-Ledger/US PresswireEli Manning was locked on receiver Hakeem Nicks the entire time, but Bryan McCann had better positioning -- resulting in his 101-yard interception return vs. the Giants.
On the defensive side of the ball, I was impressed with the ability of the secondary to hold up despite losing the starting corners at points during the game. When the Giants fell behind and the running game was not going to be a factor, the game shifted into how well
Orlando Scandrick
and
Bryan McCann
would hold up on the outside.
Scandrick has had his share of troubles this season, but for the role in this game of playing nickel corner and on the outside, he held up quite well. His tackling saved the defense from extra snaps by the Giants.
McCann, in my view, should have been on the 53 when they broke camp due to his performance in training camp. He is aggressive, smart, and plays with a great deal of skill. McCann is not afraid and again, you could see these traits in training camp.
On his 101-yard interception return, the Giants line up in a bunch formation to the right with
Mario Manningham
,
Kevin Boss
and
Travis Beckum
to that side. On the opposite side, five yards off the sideline is
Hakeem Nicks
with McCann lined up inside eye. The Cowboys have five defensive backs in the game. At the snap, Scandrick comes off the slot to the right of Manning on the blitz, leaving Ball and Sensabaugh to cover Boss, Manningham and Beckum. If Manning looks to his right, he has three on two to that side and it's an easy touchdown.
Manning's eyes are on Nicks the entire time. Nicks tries to break inside but McCann jams him with his right hand, then begins to adjust inside cutting him off. Manning has so much confidence in Nicks that he throws the ball regardless of McCann's position. McCann has cleanly beaten Nicks and the ball hits him between the 3 and the 7 of his jersey and he begins to set sail for the goal line and a history-making interception return.
[+] Enlarge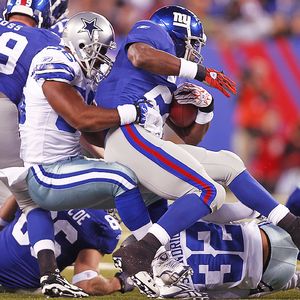 AP Photo/James D SmithOn the fourth-down call, Bradie James reacted to the flow of the play his way and stuffed Giants running back Brandon Jacobs in the hole for no gain.
With 10:28 left in the fourth quarter, Giants coach Tom Coughlin decides to go for a fourth-and-1 from the Cowboys' 42 after Sensabaugh made a first-down saving tackle on Boss' circus catch that almost converted a third-and-20 for the Giants.
On the fourth down call, the Giants go unbalanced line to the left, moving right tackle
Kareem McKenzie
to the other side next to
Shawn Andrews
and
Kevin Boothe
. Fullback
Bear Pascoe
is offset to the left and linebacker
Bradie James
sees the unbalanced line and adjusts the defensive line to the right. Presnap,
DeMarcus Ware
jumps offsides but manages to get back. At the snap, the Giants block their line to the right or backside, Pascoe tries to lead on Ware on the outside, guard
Chris Snee
pulls from the right to the left but is unable to handle in the hole. James reacts to the flow his way and meets Jacobs in the hole along with
Barry Church
for no gain and the ball goes over on downs.
Just one final note on this Cowboys' defense: New defensive coordinator Paul Pasqualoni made the adjustment to play more zone coverage instead of the normal amount of man coverage that they had played under Wade Phillips. Phillips in his nickel package played a great deal of man coverage. In this game, Pasqualoni used zone coverage over 25 times to help his secondary in the game which helped limit the big plays that the Giants tend to make in the passing game.
November, 12, 2010
11/12/10
9:02
AM ET
By
Bryan Broaddus
| ESPNDallas.com
This season's second game of this longtime series takes a new twist.
Jason Garrett
takes over for a departed Wade Phillips, who was unable to deliver the hopes and dreams of a Cowboys Super Bowl in the home stadium. Garrett out front has appeared to alter the culture of the franchise that struggled with issues throughout this 1-7 start to the season.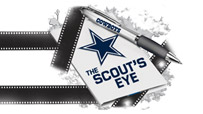 Make no mistake about it, the Giants are the last team the Cowboys need to be facing right now. When I study this squad, the first thing that comes to mind is how physical they are on offense. This is not a pretty offensive line in the way they sustain their blocks, and it's not a group of running backs that are fleet afoot, but they beat up on you. If you are not ready to handle that, they can make you look poor playing defense.
The one advantage that the Cowboys have is that beating along the front is fresh in there minds. The Giants were able to rush the ball for 200 yards in the last meeting between the two clubs.
Ahmad Bradshaw
and
Brandon Jacobs
both are down hill runners and provide little relief for those in their path.
Bradshaw is the perfect back in this offense for Kevin Gilbride because this line likes to push and shove opponents around the field.
Shawn Andrews
has been added to the mix and he will play at left tackle this week for
David Diehl
, who hurt his hip blocking for an extra point.
Kevin Boothe
moves inside to left guard off the physically unable to perform list and
Rich Seubert
moves from left guard to center to play for the underrated Shaun O'Hara.
The Giants wear you out with the size they bring at you at the point of attack.
Kevin Boss
and fullback
Bear Pascoe
are difficult to separate from once they get their hands on you.
The receiving crew has been super productive not only this season but games in the past against the Cowboys.
Steve Smith
was hurt in practice on Thursday and has shown up questionable on the injury report, which would be a huge break for the Cowboys. He has been a killer in the last three meetings with 25 catches for 345 yards and two touchdowns.
Hakeem Nicks
has had his share of production as well. Three of his 11 catches against the Cowboys have been for touchdowns. He has 14 catches for 20 yards or more this season.
Offensively, the one player who can derail the Giants or keep them on the track is the quarterback
Eli Manning
. With this offense, Manning doesn't need to be great but steady works nicely. This team has the ability to run the football effectively and with purpose. The tight ends are dependable and the receivers are some of the best in the league. Manning just needs to be steady and not make the mistakes that have plagued him in years past.
It will be interesting to see how the Cowboys attack Manning to make him feel rushed. Will you see more zone coverage against these receivers that appear to eat up man coverage?
If the Cowboys are going to have any success on defense on Sunday, it will take a huge effort. If they don't match the physical play of the Giants offense, then this will be a difficult opening trip to the new Meadowlands Stadium.
At the halfway mark, the Giants have the top-ranked defense in the NFL. It's not by luck or playing against weak opponents, but a complete and total team effort of using talent and scheme to physically handle opponents each week.
Its starts up front with defensive ends
Osi Umenyiora
and
Justin Tuck
. Defensive coordinator Perry Fewell likes to give you different looks up front and the Giants do a nice job of working Umenyiora and Tuck around the defensive front to create different mismatches. The pass rush has been outstanding this season for the Giants and it's helped them in the secondary as well.
Cornerback
Terrell Thomas
and
Corey Webster
both do a nice job in zone coverage of playing their responsibilities but have been equally as good when playing in man. There is not much room in this Giants secondary because of their ability to play tight and stay in route position, but the safety help has been solid too.
Antrel Rolle
has been an outstanding free agent signing for the Giants and
Kenny Phillips
can play up or back to help in the running game or work deep with these corners and offer support. When the Giants go to their nickel package, it's
Aaron Ross
that comes into the game.
Of the three Giants linebackers,
Michael Boley
is the one that can really run. Boley plays all over the field and he has the speed to be an effective blitzer as the Cowboys learned in the first meeting with the Giants. Longtime Tennessee inside linebacker
Keith Bulluck
now plays the strong outside linebacker and is a hard guy to move in the running game. It's been his physical play that has helped the Giants control the opponents' running game. The inside three of
Jonathan Goff
at middle linebacker and defensive tackles
Chris Canty
and
Barry Cofield
play with more power than quickness.
It will be a difficult task for the Cowboys to run the ball against this front and we all know the pitfalls if this turns into a passing game for them. The Giants on defense will put a great deal of pressure on the Cowboys and challenge their ability to move the football.
Jason Garrett has to be smart mixing his play calls and not allowing Fewell to put his defense in attack mode.
The strength of this Cowboys offense has been its receivers and their ability to make plays. Protect and get the ball into your playmakers' hands.
Miles Austin
, Roy Williams and
Dez Bryant
can put pressure on the Giants secondary.
Again, the Giants don't give you much room back there but when given the opportunity, they need to convert on the chances they have.
Jason Witten
is going to have to play well. When Fewell puts coverage to the outside, it's Witten working against linebackers that allows
Jon Kitna
an opportunity to deliver the football for a positive play.
If the Cowboys have to consistently play behind the chains, this offense will suffer too many three-and-outs, which puts their defense in harm's way. Garrett needs to be aggressive, but he needs to put his players in the best possible situations to make plays.
More importantly, he needs to find a way to have his team play a physical game on both sides of the ball. They will need to match the intensity of their opponent this week down after down. If not, this Giants team will put a physical beating on them.