Dallas Cowboys:

Kevin Smith
April, 9, 2014
Apr 9
12:00
PM ET
IRVING, Texas -- There was a time when the way the
Dallas Cowboys
ran their draft room was the envy of the league.
One of those years was back in 1991 and
Mike Tanier of Sports on Earth
ranked the Cowboys selecting Russell Maryland and Alvin Harper that year as ninth best on the all-time list of teams with two first-round picks.
The Cowboys actually had three first-round picks that year thanks to a deal with the
Washington Redskins
, but traded Kelvin Pritchett to the
Detroit Lions
for picks in the second, third and fourth rounds.
In Maryland, the top overall pick, the Cowboys got a vital piece to their vastly underrated defensive line. In Harper, the No. 12 pick, they got a complement to Michael Irvin who Norv Turner knew how to maximize.
In trading Pritchett, who had a solid career, the Cowboys got linebacker Dixon Edwards, guard James Richards and defensive end Tony Hill. Edwards was a starter, but Hill lasted two seasons and Richards didn't make the team.
The Cowboys had two first-round picks in 1992, 2005 and 2008 as well.
In 1992, they took cornerback Kevin Smith (No. 17) and linebacker Robert Jones (No. 24), who became starters on Super Bowl teams. In 2005, they took outside linebacker
DeMarcus Ware
(No. 11) and defensive tackle
Marcus Spears
(No. 20). Ware became the franchise's all-time leader in sacks. In 2008, the Cowboys selected running back
Felix Jones
(No. 22) and cornerback
Mike Jenkins
(No. 25). Neither signed a second contract, although Jenkins had a Pro Bowl season.
February, 17, 2014
Feb 17
1:15
PM ET
IRVING, Texas -- If you have paid attention to the early mock drafts of Mel Kiper and Todd McShay, you have noticed the Dallas Cowboys have picked 17th in the first round.

We'll find out for sure this week.

A coin flip inside an Indianapolis hotel this week at the NFL scouting combine will determine whether the Cowboys or Baltimore Ravens will pick No. 16 in the first round. The teams finished 8-8 in 2013 and need the coin flip to decide who goes where.

Maybe it was just an alphabetical thing, or maybe Kiper and McShay know how the Cowboys fared in coin tosses in 2013 in giving them the 17th pick.

The Cowboys won the toss only three times in 2013 and lost it 13. The Cowboys were 1-2 when the won the toss and 7-6 when they lost it.

The Cowboys have never had the 16th pick in the first round. The last time they picked 17th overall they took cornerback Kevin Smith in 1992. In 1990 they used the 17th pick on the NFL's all-time leading rusher in Emmitt Smith.

So maybe this is a coin flip they wouldn't mind losing.
February, 5, 2014
Feb 5
11:05
AM ET
IRVING, Texas -- The
Dallas Cowboys
will not know until a coin flip at the NFL scouting combine if they or the
Baltimore Ravens
will pick 16th or 17th in the
first round of the May draft
.
The only time the Cowboys used the 16th pick in the draft came in 1961 when they selected E.J. Holub in the second round. They have not taken a player with the 17th overall pick since cornerback Kevin Smith in 1992. Before that? In 1990 they took Emmitt Smith, who is now the NFL's all-time leading rusher.
What type of player has been available at Nos. 16 and 17? Here's a look at the past 10 years.
2013 –
EJ Manuel
, Buffalo;
Jarvis Jones
, Pittsburgh
2012 –
Quinton Coples
,
New York Jets
;
Dre Kirkpatrick
, Cincinnati
2011 –
Ryan Kerrigan
, Washington;
Nate Solder
, New England
2010 –
Derrick Morgan
, Tennessee;
Mike Iupati
, San Francisco
2009 –
Larry English
, San Diego;
Josh Freeman
, Tampa Bay
2008 –
Dominique Rodgers-Cromartie
, Arizona;
Gosder Cherilus
, Detroit
2007 –
Justin Harrell
, Green Bay;
Jarvis Moss
, Denver
2006 –
Jason Allen
, Miami;
Chad Greenway
, Minnesota
2005 –
Travis Johnson
, Houston;
David Pollack
, Cincinnati
2004 –
Shawn Andrews
, Philadelphia;
D.J. Williams
, Denver
2003 –
Troy Polamalu
, Pittsburgh;
Bryant Johnson
, Arizona.
Polamalu is by far the best player selected in either spot. He will be in the Hall of Fame. There are quality players in there like Williams, Greenway, Rodgers-Cromartie, Iupati, Solder and Kerrigan. Andrews had a pretty good short run as well. Kerrigan is solid and has done some good things versus the Cowboys. Coples has showed some pass rush his first two seasons. I expected more from Kirkpatrick, who was on the Cowboys' radar in 2012.
The Cowboys held the No. 18 pick in 2013 and traded down to No. 31 with the Niners where they took
Travis Frederick
. They felt they were in a position to trade down and still pick up a quality player. When they saw
Eric Reid
,
Justin Pugh
,
Kyle Long
and
Tyler Eifert
go off the board in the next four picks they were left sweating it out until they got Frederick.
January, 28, 2014
Jan 28
9:00
AM ET
IRVING, Texas -- With
sources saying
Scott Linehan will take over as the
Dallas Cowboys
' playcaller, his track record suggests the offense will be
Tony Romo
friendly.
[+] Enlarge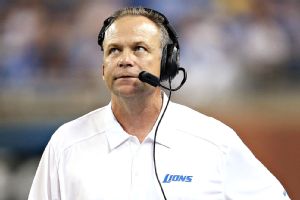 Leon Halip/Getty ImagesScott Linehan has been the Lions' offensive coordinator for the past five years, but can he get the Dallas run game going?
For the past five years Linehan was the
Detroit Lions
offensive coordinator. In the last three seasons, Lions quarterback
Matthew Stafford
has thrown for 14,655 yards and 90 touchdowns with 52 interceptions.
From 2011-13,
Calvin Johnson
caught 302 passes for 5,137 yards and 33 touchdowns. So that would appear to be good news for
Dez Bryant
.
But what about the running game?
Linehan has been an offensive coordinator/head coach from 2002-2013, except for the final 12 games of the 2008 season when he was fired as head coach of the
St. Louis Rams
.
Using the 11 seasons as a backdrop, Linehan has had a top-10 ranked rush offense just twice and those were in his first two years with the
Minnesota Vikings
in 2002 and 2003. A Linehan-led running game has not finished better than 12th in the NFL since. With the Lions he had running games ranked Nos. 24, 23, 29, 23 and 17.
The Cowboys have been at their best offensively when
DeMarco Murray
has been involved.
Linehan is not averse to the run.
In 2002,
Michael Bennett
ran for 1,296 yards for the Vikings. A year later Minnesota had four different players with at least 400 yards rushing. In 2005 with the
Miami Dolphins
, where he worked with Jason Garrett for the first time,
Ronnie Brown
ran for 907 yards and
Ricky Williams
had 743 yards.
In his first year with the Rams,
Steven Jackson
, the runner so many Cowboys fans wanted them to take in 2004, ran for 1,528 yards. He had 1,002 yards in 2007.
With the Lions, he had to make due with
Kevin Smith
,
Jahvid Best
, whose career was cut short by injuries and
Mikel Leshoure
. Last season,
Reggie Bush
ran for 1,006 yards.
Joique Bell
ran for 650 yards.
In Murray, Linehan will inherit a back coming off the best year of his career and an offensive line that finished the year on a high note.
It's up to him to use the running game.
January, 11, 2014
Jan 11
10:00
AM ET
IRVING, Texas -- As you get ready for another week of NFL playoffs, just remember the NFL draft is just a short five months away.
Actually a little less than that now.
The draft will be May 8-10.
The Cowboys have eight picks in the draft and will learn if they pick No. 16 or 17 after a coin flip at next month's NFL Scouting Combine. After the 8-8 finish, they are in a dead heat with the
Baltimore Ravens
.
The Cowboys have picks in the first five rounds, and three picks in the seventh round. They do not have a sixth-round pick because of their trade with the
Kansas City Chiefs
for defensive end
Edgar Jones
. They did pick up the Chiefs' seventh rounder in return, and will also receive the Chicago Bears' seventh-round pick as a result of the trade for tight end
Dante Rosario
.
They could receive a compensatory pick, but those are not released until the NFL Owners meetings in the spring.
The last time the Cowboys used their three seventh-round picks they made out OK. In 2004 they took Nate Jones (No. 205), Patrick Crayton (No. 216) and Jacques Reeves (No. 223).
If you're just stuck on first-round picks, the Cowboys haven't taken a player with the 17th overall pick since cornerback Kevin Smith in 1992. In 1990, they did OK with No. 17 when they took Emmitt Smith, who went on to become the NFL's all-time leading rusher.
The only time they ever used the 16th pick in the draft came in 1961 when they selected E.J. Holub in the second round. Holub went on to an outstanding career with the Dallas Texans/Kansas City Chiefs in the AFL.
March, 30, 2013
3/30/13
1:29
PM ET
Thanks to the
Tony Romo
deal, the Cowboys gained $5 million in salary cap space.
PODCAST
Todd Archer joins Galloway & Company to discuss the latest on the Cowboys giving Tony Romo a six-year, $108 million contract extension.

Listen

Before the Romo deal was completed, the team picked up veterans at safety (
Will Allen
) and linebacker (
Justin Durant
), solving some of their offseason goals.
What about running back?
Yes, the Cowboys have the emerging
DeMarco Murray
, but his foot injury last season and the recent history of health problems among their running backs has raised concerns at Valley Ranch about the position.
The Cowboys love how Murray competes.
However, the lifespan of a running back is short.
Season to season, game to game, moment to moment.
With a little more than $5 million in cap space that will increase to $7 million in June due to the release of
Marcus Spears
, should the Cowboys sign a veteran running back?
Ahmad Bradshaw
, who was released by the
New York Giants
, is available but most likely isn't looking to become someone's backup.
More realistic names are
Felix Jones
,
Cedric Benson
,
Kevin Smith
and
LaRod Stephens-Howling
.
Cowboys owner/general manager Jerry Jones said he's open to bringing Jones back into the fold, but the running back's health was an issue in his time with Dallas. With salary-cap space and a need for a backup running back to compete with
Lance Dunbar
and
Phillip Tanner
, the Cowboys might invest in a veteran running back to provide depth for 2013.
October, 8, 2012
10/08/12
2:53
PM ET
IRVING, Texas – When Jason Garrett watched Raymond Radway over the summer, the Cowboys coach never saw the Radway of 2011 that would have forced his way on to the 53-man roster as an undrafted free agent.
A broken leg suffered in the final seconds of the last preseason game ended Radway's season before it began and he could not make an impact in training camp over the summer, finishing the preseason without a catch before his release.
The Cowboys signed Radway to the practice squad on Monday in part because of injuries to
Miles Austin
,
Kevin Ogletree
and Danny Coale just to make it through a practice.
But Radway hopes to stick.
"It feels the same, but I have more confidence coming in and out of my breaks now," Radway said of his leg. "It's not me hesitating to stop on that leg and think about re-injuring it or not. Now I'm just going full go and letting the leg do what it can."
After he was cut, Radway worked out with former Cowboy
Kevin Smith
. He had a workout earlier in the season with Chicago.
"It was heartbreaking then and it was even more heartbreaking this year when I got cut, but once those things happen you can't get down on yourself," Radway said. "You've got to stay focused and I'm looking to stay longer than I did the last time."
October, 13, 2010
10/13/10
9:25
AM ET
Randy Moss
warned the Cowboys. He vowed that he'd make them pay every time he played Dallas if Jerry Jones didn't draft him.
Moss has been a man of his word, torching the Cowboys for 734 yards and 11 touchdowns in seven games, including one playoff meeting. The Cowboys are 0-7 against arguably the greatest receiver since
Jerry Rice
.
[+] Enlarge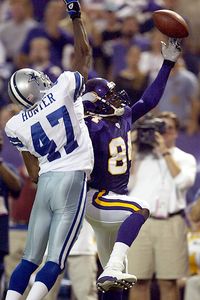 Jeff Gross/Getty ImagesRandy Moss is 7-0 when facing the Dallas Cowboys during his career.
"I'm sorry that we have to play him again," Jones said after Moss was traded last week to the Vikings, the Cowboys' opponent Sunday in a playoff rematch/potential elimination game.
A quick look at each of Moss' performances against the Cowboys:
Vikings 46, Cowboys 36 (Nov. 26, 1998):
The rookie made the most of his opportunities during a Thanksgiving shootout. He caught only three passes, scoring on touchdowns of 51, 56 and 56 yards. He also drew a 50-yard pass interference penalty. Cowboys cornerback
Deion Sanders
sat out with a sprained big toe, leaving past-his-prime
Kevin Smith
and the forgettable
Kenny Wheaton
to try to cover Moss. Troy Aikman's 455 passing yards weren't enough to keep up with a Minnesota team on its way to the NFL scoring record.
Vikings 27, Cowboys 17 (Nov. 8, 1999):
Moss caught six passes for 91 yards and two touchdowns, playing the starring role as the Vikings rallied from a 17-0 deficit. The Cowboys had no offensive firepower after
Emmitt Smith
and
Troy Aikman
were knocked out of the game by midway through the third quarter.
Vikings 27, Cowboys 10 (Jan. 9, 2000):
Moss caught five passes for 127 yards and a touchdown despite consistent double-teams in the NFC Wild Card Game, which was Chan Gailey's not-so-grand finale as the Cowboys' head coach. Moss' 58-yard touchdown on a bomb in the final minute of the first half gave the Vikings the lead for good.
Vikings 27, Cowboys 15 (Nov. 23, 2000):
Moss ruined another Thanksgiving at Texas Stadium, catching seven passes for 144 yards and two touchdowns. "I just try to go out there and make it happen," Moss said after the game, "but I do like to show them that they did mess up on draft day."
Vikings 35, Cowboys 17 (Sept. 12, 2004):
The Cowboys made Moss the primary focus of his game plan, holding Moss to four catches for 27 yards in the season opener. He still scored two touchdowns. And Vikings quarterback
Daunte Culpepper
threw for five TDs, the most against the Cowboys in 35 years.
Raiders 19, Cowboys 13 (Oct. 2, 2005):
This is the only time Moss failed to get in the end zone against the Cowboys, but he caught four passes for 123 yards. It was one of five 100-yard games for Moss during his disappointing two-year tenure in Oakland.
Patriots 48, Cowboys 27 (Oct. 14, 2007):
After all the hype about the "Other 81," as
Terrell Owens
referred to Moss in a note to reporters taped to his Valley Ranch locker that week, it was
Wes Welker
(11-124-2) and Dante Stallworth (7-136-1) who really killed the Cowboys. Moss contributed six catches for 59 yards and a touchdown for the Patriots, who would break the 1998 Vikings' scoring record.
May, 30, 2010
5/30/10
10:39
AM ET
The Cowboys believe they picked a pair of premium talents in last month's draft.
Even if
Dez Bryant
and
Sean Lee
are as good as the Cowboys believe – and they were 11th and 14th on the Valley Ranch draft board – they'll have a tough time cracking the best collections of top-end talent from Dallas draft classes.
A look at the five most impressive groups of premium players from Cowboys' drafts:
1970
DB Mel Renfro (second round), WR Bob Hayes (seventh round), QB Roger Staubach (10th round)
Good luck finding a better draft class trio in NFL history.
1989
QB
Troy Aikman
(first round), FB
Daryl Johnston
(second round), C
Mark Stepnoski
(third round), DE
Tony Tolbert
(fourth round)
Tolbert (59.5 career sacks) might be borderline, but the other three were among the best at their positions during the '90s dynasty.
1975
DL Randy White (first round), LB Bob Breunig (third round), DE Pat Donovan (fourth round, converted to OT), OG Herb Scott (13th round)
The best of the Dirty Dozen combined to make 19 Pro Bowl appearances.
1992
CB
Kevin Smith
(first round), WR
Jimmy Smith
(second round), S
Darren Woodson
(second round)
Too bad none of Jimmy Smith 12,287 career receiving yards came in a Cowboys uniform.
2005
OLB
DeMarcus Ware
(first round), DL
Jay Ratliff
(seventh round)
Ratliff, not first-rounder
Marcus Spears
, developed into Ware's All-Pro partner.
January, 25, 2010
1/25/10
9:18
AM ET
There are a lot of similarities between the 1991 Cowboys and the 2009 Cowboys, as
presented by ESPN Stats & Information's Alok Pattani.
However, there are some significant differences between the Cowboys of those days and today that you should consider before making Super Bowl parade plans.
Start with the drafts of those years.
Four players from the class of '91 -- DT
Russell Maryland
, WR
Alvin Harper
, RT
Erik Williams
and CB
Larry Brown
-- were full-time starters by their second seasons. LB
Dixon Edwards
and DT
Leon Lett
were significant contributors who developed into starters.
Will the class of '09 produce any starters? Kickoff specialist
David Buehler
and TE
John Phillips
were the only significant contributors as rookies.
The Cowboys also had a strong draft in 1992, when they selected three players who started for Super Bowl champions: CB
Kevin Smith
, LB
Robert Jones
and S
Darren Woodson
. But the biggest immediate impact move they made that offseason was trading for Pro Bowl DE
Charles Haley
.
Those moves helped the Cowboys go from the second round to three Super Bowls in four seasons.