Dallas Cowboys:

Kevin Williams
March, 11, 2014
3/11/14
11:00
AM ET
IRVING, Texas --
Jason Hatcher
has been waiting for this day for a long time.
Hatcher
He will soon find out how much the rest of the NFL thinks of him and whether he will be a former
Dallas Cowboys
defensive tackle.
It is not an apples-to-apples comparison, but in the last week two defensive ends have signed contracts that could be an indication of what Hatcher, who led the Cowboys in sacks (11) in 2013, gets paid.
The
Minnesota Vikings
signed
Everson Griffen
to a five-year, $42.5 million deal with $20 million guaranteed. He had 17.5 sacks in his first four seasons and has started only one game. The Vikings, however, are changing the face of their defensive line and will likely say goodbye to
Jared Allen
and
Kevin Williams
in favor of Griffen and
Sharrif Floyd
.
Griffen is also 26.
On Monday, the
Seattle Seahawks
re-signed
Michael Bennett
to a four-year, $28.5 million deal with $16 million guaranteed. Bennett had 8.5 sacks in 2013 in helping the Seahawks win the Super Bowl. He has 23.5 sacks in his career, including 17.5 in the last two seasons.
He is 28.
Hatcher's first bite at the free-agent market came in 2011 after a lockout. Teams acted quickly and Hatcher took a three-year, $6 million deal from the Cowboys. Up to that point he had started one game and never had more than 2.5 sacks in a season.
Now 31 and coming off his best season, Hatcher wants to cash in. If Griffen can get a deal worth $8.5 million annually and Bennett, who is better than Griffen, gets $7.125 million annually, then does that keep Hatcher in the $6 million-a-year neighborhood? Maybe it's in the mid-$5 million range.
He plays a different position, but ends tend to have more value than tackles, even in a 4-3. Age will also be a factor. It can be argued Hatcher does not have as many miles on his soon-to-be 32-year-old body, but that won't inflate his price that much.
The Cowboys would have to create cap room for a deal. They could re-work the deal for
DeMarcus Ware
or release the seven-time Pro Bowler, or they cut lower-priced players to fit Hatcher's first-year cap figure. They don't want to restructure anymore contracts.
Teams like the
Indianapolis Colts
and
Tampa Bay Buccaneers
are believed to have interest in Hatcher, but what type of interest is it?
It seemed like a foregone conclusion when the season ended that Hatcher would not be with the Cowboys in 2014, but the salary cap has increased and his price might be more palatable than originally believed.
April, 24, 2013
4/24/13
2:17
PM ET
IRVING, Texas – Jerry Jones basically bought an ad in the NFL classifieds during Monday's pre-draft press conference, sending out the message that the Cowboys could be in trade-down mode when they get on the clock with the 18th overall pick.
PODCAST
Randy Galloway, Matt Mosley and Glenn "Stretch" Smith discuss some of the players the Cowboys should be looking at in the upcoming NFL draft.

Listen

That news was met with a lot of moaning and groaning from Cowboys fans.
How can you be adamantly against trading down if you have no idea what the offer might be or which players might be available? Folks just don't trust GM Jerry.
Should they in this situation? Let's look at the Cowboys' history of trading down in the first round during the Jerry era.
1991 -- No. 14 overall (obtained from New Orleans – RB Leonard Russell) to New England for No. 17 overall (traded to Washington – DT Bobby Wilson) and No. 110 overall (DE Kevin Harris).
No. 17 overall (Wilson) to Washington for No. 20 overall (traded to Detroit -- DT Kelvin Pritchett) and No. 132 overall (Darrick Brownlow).
No. 20 overall (Pritchett) to Detroit for No. 37 overall (LB Dixon Edwards), No. 64 overall (G James Richards) and No. 108 overall (DE Tony Hill).
PODCAST
How close were the Cowboys to getting John Elway in 1983? Fitzsimmons and Durrett discuss what could have been if John Elway got his wish and was traded to Dallas.

Listen

These three deals have to be judged essentially as one. After all the wheeling and dealing was done, the Cowboys turned the 14th overall pick into a second-round linebacker who started for two Super Bowl title teams (Edwards), a third-round guard who never played an NFL game (Richards), a fourth-round defensive end who played 13 games in two NFL seasons (Hill) and a fifth-round linebacker who made 11 tackles in two separate one-year stints in Dallas (Brownlow).
This was a case of great value on Jimmy Johnson's trade chart and essentially a push in reality. Russell ended up being a decent running back, rushing for 3,973 yards and 29 touchdowns in his career, and it's not as if the Cowboys passed on a Hall of Famer who went later in the first round. Edwards contributed to three title teams, starting for two.
This deal would have been a steal if the Cowboys selected offensive tackle
Erik Williams
at No. 64 overall. They ended up drafting him six picks later.
1993 -- No. 29 overall (S George Teague) and No. 112 overall (Albert Fontenot) to Green Bay for No. 46 overall (WR Kevin Williams), No. 54 overall (LB Darrin Smith), No. 94 overall (RB Derrick Lassic) and No. 213 overall (LB Reggie Givens).
PODCAST
Nate Newton went undrafted in 1983, but he still feels like he was part of one of the greatest draft classes in league history. Newton joins Fitzsimmons and Durrett to discuss his draft experience from 30 years ago and his journey to three rings.

Listen

Both of the second-round picks the Cowboys acquired contributed to two Super Bowl title teams. Williams was a quality punt and kick returner who started at receiver for the Cowboys' last championship team, setting career highs with 38 catches for 613 yards and two touchdowns that season. Smith started all four of his seasons in Dallas.
Teague had a solid nine-year career, but he ended up spending most of that in Dallas anyway. Fontenot also lasted nine NFL seasons, making 81 starts. Lassic lasted 10 games, and Givens never played for the Cowboys.
Give the Cowboys a win for this deal, but it wasn't lopsided by any measure.
1995 -- No. 28 overall (LB Derrick Brooks) to Tampa Bay for No. 41 overall (traded to Atlanta – DB Ron Davis) and No. 63 overall (OG Shane Hannah).
All Brooks did in Tampa Bay was go to 11 Pro Bowls, be named first-team All-Pro five times, win a Super Bowl and establish himself as one of the best linebackers of his generation.
Hannah started the Cowboys' tradition of early-round offensive line busts, getting hurt in training camp and never playing a game in the NFL. They flipped Davis for a second-rounder (RB
Sherman Williams
) and fourth-rounder (TE
Eric Bjornson
), a couple of backups who combined for 10 career touchdowns.
This might be the worst draft-day deal the Cowboys ever made.
1996 -- No. 30 overall (Andre Johnson) to Washington for No. 37 overall (DE Kavika Pittman) and No. 67 overall (C Clay Shiver).
Pittman made 18 sacks in eight NFL seasons (10 in four seasons for the Cowboys). Shiver started 25 games, but that was evidence of how weak the Cowboys were at center, as he was out of the league after three years.
Johnson was a huge bust for the Redskins. He never played a game in Washington.
The Cowboys would have been better off staying put and drafting Texas product
Tony Brackens
in the first round. Brackens, picked No. 33 overall by Jacksonville, had 55 sacks and 27 forced fumbles in his eight-year career.
2002 -- No. 6 overall (DT Ryan Sims) to Kansas City for No. 8 overall (SS Roy Williams), No. 75 overall (CB Derek Ross) and a sixth-round pick in 2003 (WR Zuriel Smith).
A couple of Williams' five Pro Bowl berths were reputation selections after his performance fell off, but he was a dominant force as a playmaking intimidator early in his career. That's much more than you can say for Sims, who only had one more sack in his career than Williams did.
Ross looked like a steal when he had five picks as a rookie, but the character red flags that caused him to drop into the third round proved true. Bill Parcells got rid of him midway through Ross' second season. Smith played nine games for the Cowboys, contributing primarily as a return specialist.
This was a good deal for Dallas, just not nearly the steal it seemed destined to be during the rookie seasons of Williams and Ross.
2004 -- No. 22 overall (QB J.P. Losman) to Buffalo for No. 43 overall (RB Julius Jones), No. 144 overall (TE Sean Ryan) and a 2005 first-rounder (DE Marcus Spears).
Spears was a serviceable player for the last eight seasons. Ryan was a nonfactor during his two years in Dallas.
But this deal comes down to
Steven Jackson
vs. Julius Jones.
The Cowboys decided, based strongly on the input of running backs coach Maurice Carthon, that there wasn't much difference between the top back on the board and the backs who would be available in the second round.
Jackson has rushed for 10,135 yards and counting, more than twice as many as Jones ran for during his career. Jackson has accounted for 64 touchdowns, almost three times Jones' total.
Oops.
2007 -- No. 22 overall (QB Brady Quinn) to Cleveland for No. 36 overall (traded to Philadelphia – QB Kevin Kolb) and a 2008 first-rounder (RB Felix Jones).
The Cowboys were tempted to pick Quinn, who they had in the top 10 on their board, but they opted to fully commit to a quarterback with 10 starts under his belt named
Tony Romo
. Considering that Quinn is with his fourth team and Romo just got $55 million guaranteed, it's pretty clear that was the right call.
The Cowboys moved back into the first round to select OLB/DE
Anthony Spencer
, giving up third- and fifth-rounders to do so. No regrets there, with Spencer a solid player coming off his first Pro Bowl appearance and Kolb failing to make an impact in Philadelphia.
This deal would have looked like a stroke of genius if the Cowboys picked
Chris Johnson
,
Matt Forte
,
Ray Rice
or
Jamaal Charles
the next year. Alas, they selected an Arkansas alum to be a change-of-pace back.
Felix Jones
had some flashes of brilliance, but his Dallas tenure was a pretty big disappointment given the quality of backs picked behind him.
This was still a solid deal for Dallas.
October, 16, 2010
10/16/10
8:00
AM ET
By
Bryan Broaddus
| ESPNDallas.com
Here are key matchups for the Cowboys' game Sunday in Minnesota:
Cowboys' offensive line vs. Vikings' front four:
This is where the game will be won or lost for the Cowboys. If they show an inability to handle the noise and do not control the Vikings along the defensive front, the Cowboys are in for a long day.
Along with Arrowhead Stadium in Kansas City or Qwest Field in Seattle, the Metrodome is one of the most difficult places for an opponent to navigate. At the Metrodome, the crowd is in full throat and the noise slams from the roof back to the field. There are fireworks, motorcycled mascots and a "Viking horn" that is sounded when the home team makes a big play. If you hear that horn during a game, there is usually something bad happening to your team.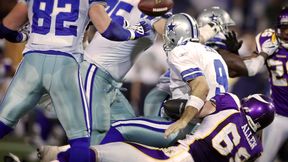 Bruce Kluckhohn/US PresswireThe Vikings sacked Tony Romo six times the last time the Cowboys visited the Metrodome.
Last time these two teams met, the Vikings took advantage of the situation and sacked
Tony Romo
six times. The sacks were shared by the linebackers and the defensive line, with defensive end
Ray Edwards
getting three.
The Cowboys need to stay ahead of the chains here. They need to run the ball with purpose and effectiveness. The Vikings have two tackles in
Pat Williams
and
Kevin Williams
that are difficult to move. Where the Cowboys had some success in the last meeting was running the ball on the edges at
Jared Allen
and Edwards.
Jason Witten
,
Martellus Bennett
and
Scott Chandler
need to secure theses edges and allow
Marc Colombo
and
Doug Free
to get on support.
If the Cowboys have to throw the ball on every play, they are going to run into problems. I will say this: The Vikings have struggled with their sack numbers this season with only six coming into this game. The Cowboys need to do everything in their power not to have a repeat performance from last season.
Cowboys nickelback Orlando Scandrick vs. Vikings wide receiver Percy Harvin:
Harvin is an explosive player for the Vikings and when he comes out of the slot, he creates even more problems.
Scandrick didn't play one of his better games last week, but to his credit, he plays one of the most difficult positions on defense and that is as the nickel corner on the slot. Why is slot the most difficult position to handle? The receiver has the ability to take you all over the field. In football terms, a two-way go.
On the outside you can use the sideline as an extra defender. In the slot, you are really on an island.
Harvin is one of those guys that Brad Childress likes to move around all over the formation, much like what the Cowboys do with
Miles Austin
. Harvin motions into the backfield, lines up in the slot, or even outside. The Cowboys like to play a great deal of man coverage in nickel, so one-on-one coverage is what the defensive backs deal with the majority of the time.
Harvin is a fearless player and will take his routes inside when needed. He leads the Vikings with three touchdowns receiving. With the addition of
Randy Moss
to the lineup and his ability to get down the field, watch Harvin on the underneath to intermediate passes. Favre likes to try and get him the ball on the move and let his football skills take over.
Scandrick was a standup guy last week after the Titans game but knows he will need to be much better with his technique against a player with the skills of Harvin.
Cowboys run defense against Vikings running back Adrian Peterson:
From my experience of being with Favre in Green Bay, the more he hurt, the better he played. But this is a much older Favre and now he has tendonitis in his throwing elbow and has missed some time at practice this week and hopes that rest will help.
The best tonic this week for Favre's sore elbow will be the legs of Adrian Peterson.
For the second week in a row, the Cowboys will face an elite running back. Last week, it was the speed and quickness of
Chris Johnson
. This week, it's the speed, quickness and power of Peterson that they must deal with.
The amazing thing when you study the Vikings is that the offense line really isn't all that good or mobile, and despite this Peterson is able to continually gain yards. He is one of those rare players that can make you look so bad on defense. Peterson is a downhill runner and does not shy away from contact. Peterson can take the ball inside with power or work it quickly around the corner.
The Vikings like to use him in the red zone on screens and swings in the passing game. If the Cowboys can be stout in the running game then it puts pressure on a less than healthy Favre to carry this offense.
There is no doubt in my mind that Brad Childress will test this Cowboys defense to try and see if he can protect his quarterback's elbow and potential hits. Peterson is averaging over 120 yards a game in 2010, if the Cowboys don't play physically up front on Sunday, he will have that and more.
October, 15, 2010
10/15/10
9:25
AM ET
By
Bryan Broaddus
| ESPNDallas.com
The Minnesota defense dominated the last time the Cowboys and Vikings met.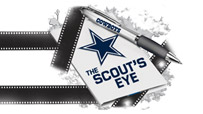 The Vikings sacked
Tony Romo
six times while cruising to a 34-3 rout in the NFC divisional playoffs, the seventh postseason meeting between the teams. It was also a Vikings' record for the fewest points allowed in their playoff history.
As the teams prepare for their Week 6 matchup in the Metrodome, there are plenty of questions that both teams will need to address in order not to fall to 1-4.
Against the Titans last week, the Cowboys had a 400-yard passer, a 100-yard receiver and a 100-yard rusher but managed to lose the game by committing 12 penalties, three turnovers, missing a field goal and allowing a kickoff return of 73 yards.
For the Vikings, wide receiver
Randy Moss
returned to the club that originally drafted him in 1998 and with three days of practice, tried to be a factor in a Monday night contest against the
New York Jets
. Moss did manage to catch Brett Favre's 500th career touchdown pass but did not do much else.
When studying Moss in that game, you could still see the ability to get vertical in route. That is something the Cowboys corner back
Mike Jenkins
and safety
Alan Ball
really had problems carrying not only in the Titans game but the Bears game as well.
In my preparation for this week's game, I went back and studied the playoff game from that January day. There were two areas that really stood out for me on defense for the Cowboys. One was their ability to get decent hits on Favre in the passing game and two, their inability to play the ball down the field. On the big plays that the Vikings were able to get in the passing game, wide receiver
Sidney Rice
was a major factor, but Rice is recovering from hip surgery and will not play until December at the earliest.
With Rice out of the lineup, the thought was to try and go with
Bernard Berrian
,
Percy Harvin
,
Greg Lewis
and
Javon Walker
until Rice was ready. As the preseason wore on, it was evident that this group would not be good enough and a trade was made for the productive
Greg Camarillo
from the Dolphins, who played like Favre's best option in the season opener against the Saints.
With Moss now back in Minnesota, Favre now has a vertical threat down the field which will open up more options for Harvin from the slot and the athletic tight end
Visanthe Shiancoe
. Harvin is a threat from anywhere on the field. He will line up in the backfield, in the slot and out wide. He is a true weapon with the ball in his hands and Brad Childress creates opportunities for him to play a role in the offense.
For the second time this season, the Cowboys defense will face an elite running back.
Adrian Peterson
really needs no description. He is explosive, powerful and difficult to bring down one-on-one in the open field. Peterson can run the ball inside but is at his very best when he gets the ball on the edge.
This is not the most athletic line and they really try and lean and push on you more than run with you and cut you off. Peterson's running style and ability makes his own opportunities.
The Cowboys are going to have to deal with Peterson in the passing game. The closer they get to the red zone, the more they like to get the ball in his hands on the screen or swinging out of the backfield.
If there is an advantage for the Cowboys, it will be against this group of tackles.
Bryant McKinnie
and Phil Loadholt do not have the best feet and really struggle with rushers with quickness. If the Cowboys are going to have some success against this Vikings offense, it's going to have to be off the edges.
*This will be the best defensive front seven that the Cowboys have faced so far this season. As productive as the Titans line was, this defensive line and linebacker corps are much more talented.
It really starts inside with tackles
Pat Williams
and
Kevin Williams
. Both will be a handful inside, but I should also include
Jimmy Kennedy
, who played well in the playoff game the last time these two clubs met.
Last week, the Cowboys played against an undersized front inside, but this group is powerful and difficult to move. The Cowboys had more success running the ball on the edges and again, that is where they are going to have to try and go.
Ray Edwards
and
Jared Allen
are very good pass rushers. Edwards plays the run better than Allen, but where Allen gets you is rushing the passer. Since 2004, he has 73 sacks. The Cowboys need to be efficient staying ahead of the chains. The Vikings feed off offenses that struggle to keep up with down and distances.
Playing in the Metrodome is a huge advantage for the Vikings. When you studied the game last season, you could see
Marc Colombo
struggling to hear the snap count in passing situations, which gave Edwards a jump on the snap count.
The linebackers for the Vikings are a solid group.
Chad Greenway
,
Ben Leber
and
E.J. Henderson
are always around the football. Greenway has led the team in tackles in the last two seasons. Leber has accounted for 11 turnovers in his career and Henderson has 12.5 sacks for a career, which ranks fourth all-time among Vikings linebackers.
In the secondary, the Cowboys need to stay away from
Antoine Winfield
. He is an aggressive, ball-hawking corner that is a dependable tackler and a leader of the group. Winfield is a smart player that understands how to read routes. He will make a quarterback feel his receiver is open, then drive on the football when thrown. He doesn't have good height but he can go vertical to play the ball in the air. When the Vikings go to the nickel, he will play the slot.
After studying the game tape, I believe the Cowboys will attack second-year pro
Asher Allen
. Allen had to come into the game against the Jets last week when
Cedric Griffin
was lost to a knee injury. Allen is not as physical of a player as Griffin and he will struggle with receivers that are physical. Don't be one bit surprised if
Jason Garrett
finds a way to match up
Miles Austin
with Allen as much as he can. There are plays to be made there.
Veteran Lito Shepherd will also see action when the Vikings go to their nickel package.
This will be a huge test for the Cowboys on both sides of the ball. Moss gives the Vikings a whole new dynamic. But how healthy is Favre's elbow? Can the Cowboys put behind them what happened in the playoffs in 2009?
If not, a 1-4 start is staring them in the face.