Dallas Cowboys:

Knowshon Moreno
October, 28, 2013
10/28/13
9:12
PM ET
IRVING, Texas -- Lost somewhat amid the hubbub surrounding
Dez Bryant
's sideline actions and
Calvin Johnson
's on-field actions in Sunday's loss to the
Detroit Lions
was the holding penalty by
Tyron Smith
in the fourth quarter.
Tanner
Smith was correctly assessed the penalty on
Phillip Tanner
's run, but according to coach Jason Garrett, Tanner never should have bounced the run to the left. The result put Smith in a bad leverage position, which created the penalty.
After taking over on downs from the Lions with 1:24 to play, the Cowboys ran the ball three straight times to get the Lions to use their final timeouts. Smith's penalty, however, stopped the clock with 1:07 to play.
"I don't want to be critical of a player right here, but the design of the play was to stick it up in there and get what you can get," Garrett said. "We're on the 35-yard line and you just want to go north and south and handle the situation that way."
Detroit loaded the line of scrimmage knowing the Cowboys were going to run. Tanner used his instincts to bounce the run and picked up 9 yards. The Lions declined the penalty because time was more important than yards in that scenario.
In the Oct. 6 loss to the
Denver Broncos
, quarterback
Peyton Manning
told
Knowshon Moreno
not to score a touchdown before a third-and-1 run from the Cowboys 2. Moreno picked up the first down and the Broncos were able to kick the game-winning field goal on the final play.
The Cowboys did not instruct Tanner to just barrel his way into the line.
"Certainly you can try to go man for man and tell him exactly what you want him to do but when we design that play from that personnel group that's where that play hits and typically that's where it goes," Garrett said. "That's why we call it and he instinctively saw some daylight and green grass and bounced the thing all the way back and I think that contributed to the holding penalty."
October, 6, 2013
10/06/13
10:30
PM ET
ARLINGTON, Texas – The
Dallas Cowboys
defense is terrible.
This has nothing to do with Monte Kififn and his Tampa 2 scheme, though it is suspect at the moment.
Peyton Manning
was fabulous for the
Denver Broncos
on Sunday. He threw for 414 yards and four touchdowns in the dramatic 51-48 victory.
[+] Enlarge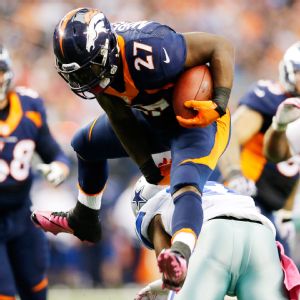 AP Photo/Tony GutierrezKnowshon Moreno averaged almost five yards per carry as the Broncos rushed for 103 yards against the Cowboys.
He completed passes to six different players and the run game averaged 3.3 yards per carry with
Knowshon Moreno
rushing for 93 yards on 19 carries.
But over the last two weeks, the Cowboys' defense has given up 1,028 yards in losses.
The Cowboys have to play better than this.
"They scored 48 points," linebacker
Sean Lee
said of the Cowboys' offense. "The fact that we weren't able to win when the offense scored 48 points is absolutely acceptable. We have to find a way to be a better defense. Right now, we're not a good defense. Right now, we're not a good defense. Two weeks in a row, we've given up way too many points and way too many yards. Until we get better, we're not going to win ballgame. That's purely on us."
The Cowboys are not getting to the quarterback and Manning, though he gets rid of the ball quicker than most quarterbacks in the league, is hard to bring down.
But there's a reason why
DeMarcus Ware
is considered the heart and soul of this defense. Yes, he will get doubled. Yes, he's playing with a balky back and a neck that could go numb at
any moment. Yes, he had cramps and needed an IV to get through the Denver game. But Ware has to pressure the pocket more than once, which is what he did on Sunday.
"[Manning] diagnoses what the defense is doing and gets the ball out of his hand against man, against zone and really does a good job not allowing those negative plays to happen," coach Jason Garrett said. "What you tell your defensive linemen is 'keep going, keep banging. When you do get an opportunity, try to make a play.' I do think he affect him a couple of times on some of those third down situations where we did get stops and those were important plays for us."
Cornerback
Brandon Carr
, who was targeted late in the second half, signed a five-year $50.1 million deal as someone the franchise is hoping will knock passes down and make interceptions. Offenses shy away from Carr at times and pick on
Morris Claiborne
. In the second half, Manning targeted Carr and he had zero pass breakups.
Claiborne, whom the Cowboys traded two draft picks for to select No. 6 overall last summer, has one interception in his career. He picked it up on an under thrown pass from Manning. He also recovered a fumble during the Cowboys rush to a 14-0 lead on Sunday.
"No matter what, all the plays we made, all the good things we did, we didn't come out on top," Claiborne said. "It was a good play, but we didn't get the victory so it doesn't mean anything."
The Cowboys played more nickel defense to combat the three-and-four receiver sets by Manning, but still lost the race.
Bruce Carter
was benched for
Ernie Sims
on the nickle and in the base 4-3 package. When Sims was not playing up to par, Carter was inserted.
Both did not make enough plays.
In some ways the Cowboys are missing defensive tackle
Jay Ratliff
. He's out another week, on the PUP, recovering from sports hernia surgery. The Cowboys need Ratliff to push the pocket and become a disruptive force in the run game.
Overall, the Cowboys defense is in need of a Yasiel Puig-like burst to their season right now.
"I just know we needed to make more plays," secondary coach Jerome Henderson said.
It's easy to blame the loss on quarterback
Tony Romo
, whose fourth-quarter interception set up the winning field goal, but it would be nice if the defense made a stop when it counted. In a game like Sundays where it resembled more like Madden 25, the defense needed to make one play. Just one.
"There is no such thing as a good loss," Carr said. "A loss is a loss. It's about wins and losses. We just weren't able to get the job done. It's one of those things. Back to the drawing board; break down these things on film. It's a 24-hour rule with this game. Get it out of your system and learn from it."
January, 7, 2013
1/07/13
12:06
PM ET
So I was sitting here on Redskins playoff detox, catching up on the division's other teams, and I got to reading
this Calvin Watkins item
on the
Dallas Cowboys
' running game. And it got me thinking about the
New York Giants
' running game, which has a similar problem at its core -- namely, a starting running back who can't be relied on to stay healthy.

In discussing the state of the Cowboys' running game, Calvin quotes coach Jason Garrett saying this:
"We have to do a better job running the football, and you've heard me say this a lot, that balance is critical," coach Jason Garrett said when the season was over. "You want to be able to attack defenses a lot of different ways. DeMarco Murray was out for a large portion of this season, but having said that, you have to put the next guy in there and you have to be effective running it."
In theory, that makes sense. But if Calvin's point is that many of the teams having success in the playoffs are strong in the running game, I submit that they're strong around a reliable central figure who takes all of the snaps and the hits and keeps on grinding.
Marshawn Lynch
in Seattle.
Ray Rice
in Baltimore.
Arian Foster
in Houston. Denver got lucky, when
Willis McGahee
went down in the second half, it was able to turn to a former first-round pick in
Knowshon Moreno
and keep going.
The problem in Dallas is Murray has an injury history that starts in college and has drastically impacted both of his pro seasons. And as a result, the Cowboys don't know for certain that they can count on him going forward. They not only need to improve their depth around him, they need to see if they can find a running back capable of handling a full-time workload in his absence.

There was a similar problem in New York, where the Giants wanted to give
Ahmad Bradshaw
the chance to be the lead back this past year but he couldn't hold up physically either. Recurring issue with Bradshaw that has the team thinking about moving on and going with 2012 first-round pick
David Wilson
in a
"lead dog"
role. Can that work? You hope so, certainly, when you take a guy in the first round. But the Giants don't know. Issues with Wilson include ball security (famously) and pass protection. And it's not necessarily that Wilson
can't
pass-protect, but rather that Bradshaw's the best in the league at it, so if you're going to switch from Bradshaw to anyone as your "lead dog" your offense will have to adjust somehow.
The Cowboys and Giants both went into this season thinking they had solutions at running back, but they came out of it with questions -- some fresh and some old. Expect both teams to address this position in some meaningful way this offseason.