Dallas Cowboys:

Lavonte David
September, 20, 2012
9/20/12
2:57
PM ET
IRVING, Texas – For this week's episode from The Other Side we bring in long-time Buccaneers' beat man Rick Stroud of the Tampa Bay Times.
PODCAST
Mike Golic from Mike and Mike joins Coop and Nate to discuss the Cowboys' loss to Seattle, the upcoming matchup with Tampa Bay and more.

Listen

Todd Archer:
What's the biggest difference Greg Schiano has made? When we saw the Bucs last December they seemed, to be polite, disinterested under Raheem Morris?
Rick Stroud:
Schiano has done a great job of changing the culture of the Buccaneers. He developed a reputation for being highly organized and a disciplinarian in 11 seasons at Rutgers. But the Bucs had one of the youngest teams in the NFL last season, coming off a lockout, and they didn't handle their success very well from 2010, when they went 10-6 under Morris.
Schiano has a saying: TBA – Trust, Belief, Accountability. He has weeded out the players who didn't buy in, as evidenced by the release of S
Tanard Jackson
and the trade of TE
Kellen Winslow
and DT
Brian Price
.
That got the players' attention. On the field, he is a stickler for details and a bit of a control freak, quite frankly. Nothing escapes his attention, from the way players must have their 'toes on the line,' during warm-ups to the temperature in meeting rooms.
TA:
What's been the reaction to the kneel-down controversy?
RS:
Surprisingly, it's been split. The Giants and Tom Coughlin obviously didn't like it. Heck, most of the Bucs own players would only respond by saying they do whatever coach asks them to do. But Schiano is a hard-nosed coach who is trying to get his team to play every play hard. Also, he says that tactic has produced four fumbles at Rutgers in the past five years.
A lot of former players have supported Schiano, who says he has no regret about the move. Among them is Herm Edwards. The former Jets and Chiefs head coach may be just as well known for the hero in the Miracle of the Meadowlands. Edwards returned a fumble from Giants QB Joe Pisarcik 26 yards for a touchdown. What you may not have known was that two plays earlier, the Giants attempted a kneel down and the Eagles fired off the ball. That prompted the Giants to decide to call a running play. Edwards agrees with Schiano, so long as the team is only trailing by one score. But since the Miracle in the Meadowlands, teams have developed the 'victory formation,' whereby a receiver or defensive back lines up 10 yards behind the QB in case there is a fumble.
TA:
I think Tampa has been a Tampa-2 team since the leather-helmet era, but has there been a change in scheme with Bill Sheridan as coordinator from the Monte Kiffin/Morris led defenses?
RS:
Yes. The Bucs, like other teams, still play two deep safeties, but nowhere near as much as they used to. Sheridan likes to apply pressure to the quarterback and mixes up coverage and blitzes. He will bring it in a variety of ways -- linebackers through the A-gap, a linebacker and defensive back stacked, corners off the edge and nickel backs in the slot. Almost always, however, there is a single high safety. From a pass defense standpoint, the Bucs have been riddled for 813 yards passing in the first two games. Sheridan blamed the high number of stunts and games he ordered on the defensive front last week against the Giants and said they will have to curtail those. The other change is that the Bucs linebackers come downhill. They're not running laterally. Rookie
Lavonte David
has been an impact player.
TA:
The Bucs added
Vincent Jackson
and
Carl Nicks
in free agency to help
Josh Freeman
(
Dallas Clark
, too, I guess). How much have they helped Freeman and how has he done the first two weeks?
RS:
Jackson, Nicks and Clark have had an instant impact on Freeman's production. Jackson has been targeted 24 times in two games and has nine catches for 175 yards (19.4 avg) and one touchdown. He's also created better looks for WR
Mike Williams
, who has a TD reception in each of the Bucs two games. Nicks has helped in the run game and as a pass protector. Clark caught only one ball in the Bucs win over Carolina, but it was a 33-yarder. Last week, he had four receptions.
TA:
The Cowboys really liked
Mark Barron
but moved up for
Morris Claiborne
instead. How's the rookie safety look?
RS:
Barron has been a quick study and is the big hitter in the secondary the Bucs hoped he would be. His coverage skills are better than advertised and he likely won the game against Carolinawith a late breakup of a pass to
Louis Murphy
that would've gone for a touchdown. Barron is a serious football player who was raised in a pro-style defense under Nick Saban at Alabama. The bright lights of the NFL don't faze him.
April, 5, 2012
4/05/12
12:01
AM ET
The 19th installment of our draft preview series focuses on Nebraska linebacker Lavonte David.
Scouts Inc. rankings:
No. 1 outside linebacker, No. 28 overall
Bio:
Junior college transfer who was first-team All-Big 12 as a junior and first-team All-Big Ten as a senior. He made 285 tackles in 27 starts at Nebraska, including a school-record 152 in 2010, when he was the Big 12 defensive newcomer of the year. Had 28 tackles for losses, 11.5 sacks, 10 pass breakups and two interceptions for the Cornhuskers.
[+] Enlarge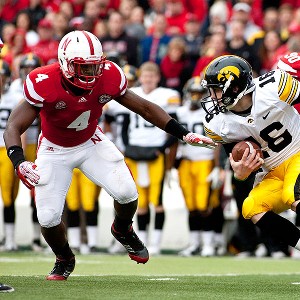 John S. Peterson/Icon SMILinebacker Lavonte David made 285 tackles in 27 starts at Nebraska, including a school-record 152 in 2010, when he was the Big 12 defensive newcomer of the year.
Size:
6-foot-0 5/8, 233 pounds
40-yard dash:
4.59
225-pound bench press reps:
19
Vertical jump:
36.5 inches
Broad jump:
9-foot-11
20-yard shuttle:
4.22 seconds
Three-cone drill:
7.28 seconds
Broaddus Breakdown (viewed Wisconsin, Ohio State and Michigan games):
Played as a Sam linebacker for the Cornhuskers in their scheme. Has a build like that of a strong safety. Surprising how well he is able to hold the point of attack at this size. Really does a nice job of playing with his hands. Is able to extend and play off blockers to stay on the move. … Has a nose for the ball. See him play low blocks well and work down the line to get in on plays. Reads and reacts very quickly. … Only observed one time against Wisconsin where he allowed himself to get hooked by a blocker. Did a nice job of taking on blockers that were pulling. Wasn't fooled by blocking schemes. Plays with awareness and understanding of his assignments. … Showed good awareness when he read a screen against Michigan. Read the blockers, saw the back and was able to get in the middle of the play to disrupt. … Did a nice job of being a physical player when he was moved inside behind the line, attacking to fill the hole. Will take on blockers one-on-one and not back down. … Does bother me some when he tries to run under blocks because I didn't see that type of quickness on the move that would allow him to have much success using that type of technique. … Will wrap up as a tackler in the open field, but there were some plays where he went low and bounced off. Overall was able to get his man on the ground. … Has a feel as a pass rusher even though he doesn't have much pop like you would see from a
Courtney Upshaw
of Alabama. Is one of those players that rushes with effort. Doesn't quit on his rush. … Have seen him be effective in his rush from the outside and the inside where he was able to get a sack against Wisconsin. Did a nice job of bringing the dangerous
Denard Robinson
of Michigan down in the pocket with really nice effort when he beat the block and wrapped Robinson up. Is not afraid to take a shot on the quarterback when he blitzes whether he gets home or not. … Was effective when he was asked to play in coverage. Good balance and awareness when he dropped. Observed him carrying the tight end up the field against Wisconsin and looked very comfortable doing it. Good position in the route and not allowing separation. … Projects more to a weak side linebacker in the NFL but his nose for the ball, his ability to rush and his ability to play both inside and outside make him an interesting player, flexibility wise. Plays much bigger than his listed height and weight.