Dallas Cowboys:

Leonard Hankerson
July, 26, 2013
7/26/13
12:00
PM ET
»
NFC Eight in the Box:
East
|
West
|
North
|
South
»
AFC:
East
|
West
|
North
|
South
One key positional battle for each NFC East team as training camps get underway.

Dallas Cowboys: No. 2 tight end
The Cowboys used a second-round pick on tight end
Gavin Escobar
, even though starting tight end
Jason Witten
isn't going anywhere, and they liked what
James Hanna
showed as a receiver during his 2012 rookie season. They also signed veteran
Dante Rosario
and continue to look out for a more blocking-oriented tight end. What this all means is that the Cowboys would like to use more two-tight end sets in 2013 (and presumably beyond), largely eliminating the fullback position from their offense and offering quarterback
Tony Romo
a greater variety of options in the passing game. Training camp will help reveal the depth chart and the ways in which these guys all can expect to be used. Was Escobar drafted because they liked his ability to do something specific? Can Hanna hold him off for reps? How does Rosario factor into the mix? Change is afoot in the Cowboys' offense, and the tight end position is a big part of it.

New York Giants: Starting running back
David Wilson
, their first-round pick from the 2012 draft, emerged as an electrifying kick returner in his rookie season and flashed big-play ability out of the backfield. He is the odds-on favorite to seize the starting running back role following the team's release of
Ahmad Bradshaw
. But, as is often the case, things aren't that simple. The Giants liked
Andre Brown
a lot as a goal-line back last season and used him a couple of times as a starter, with some success. He's back, and he doesn't intend to hand the job to Wilson without a fight. The Giants' backfield depth chart also includes veteran
Ryan Torain
, third-year fan favorite
Da'Rel Scott
and rookie
Michael Cox
. And these are the Giants, remember -- a pass-first offensive team that needs its running backs to pick up the blitz and help keep
Eli Manning
safe. Wilson offers the most upside as a runner, but it's entirely possible he could lose the starting job to a better blocker during this camp.

Philadelphia Eagles: Starting quarterback
What else is there? This is the big story of the Eagles' camp and will be one of the big stories in the NFL for the next month. Veteran
Michael Vick
has the experience, the foot speed and the arm strength, but new coach Chip Kelly wants a quarterback who can avoid turnovers, get rid of the ball quickly and make good, fast decisions in tight spots. These have not been Vick's strengths, which is likely why he faces a challenge from second-year quarterback
Nick Foles
and maybe even rookie
Matt Barkley
or veteran backup
Dennis Dixon
. Vick has to show that he's capable of running Kelly's offense the way Kelly wants it run -- and that he won't revert to his career-long tendencies to try to extend plays and make something happen with pure athleticism. If he can rein it in and operate the offense efficiently, it's his job. If he can't, one of the younger guys could snatch it from him and cost him his roster spot entirely.

Washington Redskins: No. 2 wide receiver
This would be the "Z" receiver in the Redskins' offense.
Pierre Garcon
plays the "X" position -- the outside receiver who lines up on the line of scrimmage.
Santana Moss
likely plays the slot again. The "Z" is the outside receiver opposite Garcon -- the "flanker" who lines up off the line of scrimmage to keep the tight end eligible and motions to different parts of the formation if that's called for. The candidates here are
Leonard Hankerson
,
Josh Morgan
and
Aldrick Robinson
. Morgan is the most polished and well rounded of this group, but he has trouble staying healthy. Hankerson is the one the coaches believe has the most upside, but he hasn't been able to develop consistency in his game. If he could, he'd be a valuable piece, because the Redskins believe they can use him in the slot as well. Robinson showed a lot of potential as a favored deep threat last season for
Robert Griffin III
, but he also has a lot to learn before he's a complete enough player to be used reliably here. Watch to see if Hankerson shows drastic Year 3 improvement in camp. If he does, it's likely his spot to lose, especially if Morgan is banged up as usual.
May, 8, 2013
5/08/13
11:35
AM ET
This came up in the chat Tuesday, and I figured it was worth a post in which you guys could bat it around and argue with each other: Who's got the best wide receivers in the NFC East at the moment? There is a poll over here in which you can vote on which team has the best starting duo.

We did this a couple of years ago, I remember, and I picked the Giants' guys over the Eagles' guys and got some heat for it. I think at the time I was still projecting
Steve Smith
as the No. 2 in New York behind
Hakeem Nicks
. So while I think the past two years have supported my pick, I admit I didn't see
Victor Cruz
factoring into this debate to the extent that he has.
At this point, with Jackson and Maclin having failed to live up to those 2011 expectations, I think the Cowboys' tandem is the Giants' chief competition. The way
Dez Bryant
came on last year makes you think he might be about to live up to his incredible potential and become one of the dominant receivers in the league. This would make
Miles Austin
as good a No. 2 receiver as there is anywhere in the league, except in East Rutherford, where Cruz is a ridiculously productive No. 2 when Nicks is healthy.
PODCAST
Ed Werder joins Fitzsimmons & Durrett to discuss potential past conflicts between Jason Garrett and Tony Romo regarding Romo's involvement in the offense and what changes will be made in the 2013 season.

Listen

And that's the crux of it, right? If Nicks were healthy, I'd still vote for him and Cruz over Bryant and Austin, though I say it's close and Bryant right now is the best of the four. Nicks was not healthy last season, and has not shown much of an ability to stay healthy for a full season. So you have to downgrade him a little bit, which tightens the competition. I believe he's a more complete wide receiver (again, when healthy) than Bryant is at this point in their careers, but I think Bryant's game-breaking ability and the mismatches he creates in the secondary offer him the opportunity to be the better player long-term. Whether he cashes in on that opportunity, obviously, remains to be seen.
The Redskins are here too, of course, though I struggle to tell you for certain which of their wideouts is the No. 2 behind
Pierre Garcon
. In the poll, I went with
Josh Morgan
, though it could have been
Leonard Hankerson
or even
Santana Moss
, who's more of a slot receiver. I think the questions about No. 2, and the questions about the health of Garcon's foot, push them to fourth in this debate, even behind the Eagles' guys. But obviously, based on last season, you'd take Garcon over Jackson or Maclin.
So fire away. Duke it out. Have at it. These tend to be fun.
April, 12, 2013
4/12/13
11:07
AM ET
»
NFC Eight in the Box
:
East
|
West
|
North
|
South
»
AFC
:
East
|
West
|
North
|
South
Who is one potential breakout player for the Dallas Cowboys in 2013?

Dallas Cowboys: Bruce Carter.
I was torn between Carter and
Morris Claiborne
for this distinction -- and in a way, both already broke out to some degree last season. Carter and Claiborne are fantastic talents, but I do have concerns about how Claiborne, a true man-to-man cornerback at his roots, will be used in Dallas' new 4-3 scheme, which should feature a lot of Cover 2. On the other hand, Carter is a perfect fit as a Derrick Brooks-style weakside linebacker with his extreme athletic ability to run, hit and make plays in space. Carter is coming off a season-ending elbow injury, but that shouldn't slow him down in 2013, and he played very well last season before the injury. Expect a lot of big plays from the dynamic Carter.
To see the breakout players from the other NFC East teams, click here.
March, 30, 2013
3/30/13
10:00
AM ET
»
NFC Eight in the Box
:
East
|
West
|
North
|
South
»
AFC
:
East
|
West
|
North
|
South
How do the Cowboys look at wide receiver and what still needs to be done?

Dallas Cowboys
:
Dez Bryant
broke out in a huge way in the second half of his third NFL season and finished the year with 92 catches for 1,382 yards and 12 touchdowns. If he can keep himself in one piece, he's one of the top wideouts in the league.
Miles Austin
is the perfect complement on the other side -- good enough that defenses have to pay attention to him but not the kind of guy who's going to complain if Bryant gets more catches. Austin has to keep his hamstrings healthy, and if he does the Cowboys have a top one-two wide receiver combo.
Dwayne Harris
came on strong last year as a No. 3 wide receiver, and guys such as
Cole Beasley
and
Danny Coale
could provide intriguing depth. Dallas could look to add a veteran wide receiver to its mix heading into training camp in case the young guys don't produce, but it's not a high-priority issue.
To see what the other NFC East teams look like at WR, click here.
November, 27, 2012
11/27/12
11:59
AM ET
IRVING, Texas – Washington quarterback
Robert Griffin
III stole the show with his four-touchdown performance against the Cowboys on Thanksgiving.
He made one poor decision and it resulted in an interception, but he had an answer for everything defensive coordinator Rob Ryan threw at him.
Ryan brought five guys seven times and Griffin completed six passes, including three that went for touchdowns. When the Cowboys chose to go with four-man pressure, Griffin was 12 of 17 but he was also sacked four times. Griffin went 2 of 4 against three-man pressures, including a check down to
Leonard Hankerson
, who slipped away from
Danny McCray
for a 12-yard gain late in the fourth quarter.
It was not McCray's finest hour. On the 68-yrd touchdown to
Aldrick Robinson
, McCray was flat-footed on the play-action fake and Robinson ran right by him.
It was not Brandon Carr's finest hour either, especially in the first half. On Robinson's touchdown, Carr played off coverage and dropped 7 yards before the ball was snapped, giving Robinson a free run. He had no chance in catching up. On the 59-yard TD to
Pierre Garcon
, Carr, who was playing safety for his first snap of the game, slipped as he closed on the crossing route and Garcon was off to the races. Carr set up Alfred Morris's touchdown run with a pass interference penalty in the end zone. With no help to the inside he allowed Hankerson to cross his face at the snap and get position, leading to the penalty on the Griffin throw. He was also beaten for
Santana Moss
for a 6-yard touchdown after turning the wrong way.
The Cowboys paid an awful lot to get Carr and
Morris Claiborne
. They liked their press coverage ability. They liked it so much vs. the Redskins that the Cowboys played across-the-board press only nine times, eight in the second half. Why? Is Ryan so worried about the safety play that he doesn't want to expose his corners? Let these guys play aggressively at the line and win some battles.
The Cowboys lined up in off coverage 28 times and played half-press 24 times.
But let's get to something that was overlooked because of Griffin's masterpiece. The run defense was awful. The Redskins opened the game by trying to run wide but were thwarted by
DeMarcus Ware
and
Anthony Spencer
, so they adjusted to running between the tackles. The Cowboys defensive line could not get off blocks.
Josh Brent
lost too many battles and had his shoulders turned sideways to free up lanes for blockers to get on the linebackers. Same goes for defensive ends
Tyrone Crawford
and
Marcus Spears
.
The Cowboys did a good job against the read option, but Spencer and Ware both bit in the second half that led to good runs by Griffin.
On offense, the story was the same as it's been all year. They couldn't run the ball.
Felix Jones
should be praised for his toughness, but there comes a point where he's just not effective enough. On a few plays – which are big when you have nine run calls – Jones was just unable to get to the hole. If he did, larger runs were there.
Washington came after
Tony Romo
in the first half. They brought five-man pressure on 15 of Romo's 21 throws and the line and backs did a good job handling it. Same with the wide receivers. On one five-man pressure Romo chose to hit
Dez Bryant
underneath for a first down when he had
Cole Beasley
open for a touchdown with both Washington defenders jumping Bryant. But there was no way Romo could find Beasley with the pressure coming at him.
In the second half, the Redskins relied mostly on a four-man rush, doing it 30 times and producing one sack. With such a big lead, they decided to sit back more. Bit when the Cowboys got down to the red zone late in the fourth quarter defensive coordinator Jim Haslett brought six-man pressure on three straight plays. The final time it burned him with Romo hooking up with a back shoulder throw to Bryant for a touchdown.
Dwayne Harris
did a nice job of sealing Bryant's 85-yard touchdown in the third quarter with a key downfield block. Bryant, however, did not return the favor on a 36-yard gain by Harris, allowing
Josh Wilson
to come from behind for a tackle. Harris might not have scored, but Bryant could have done more to help there.
May, 21, 2012
5/21/12
10:22
AM ET
John Clayton has a preview of some of the
hot issues teams face
as organized team activities (or OTAs) begin this week. The only NFC East mentions in his piece are about the
Philadelphia Eagles
, and they are this one:
The Eagles signed Demetress Bell to replace left tackle Jason Peters, who is out for the season after tearing his Achilles twice. Bell was previously Peters' replacement in Buffalo but didn't stand out.
and this one:
Dream Team, take two: The Eagles were the winners of the 2011 offseason but losers when they underachieved last season and didn't make the playoffs. The key to OTAs is seeing whether they are going in the right direction on defense. Last year, they brought in man-to-man specialists Nnamdi Asomugha and Dominique Rodgers-Cromartie and played them in zone. Andy Reid brought in secondary coach Todd Bowles to help defensive coordinator Juan Castillo sort out the plan in the secondary and see whether the Eagles can match up better with the talent on hand.
And yeah, as was the case when the 2011 season started, I think it's fair to say the Eagles will be the most compelling national story out of our division. Much is expected, and given the way they flopped last year, they'll be under even more scrutiny this year.
But we deal with all four teams equally here, so playing off of John's column, I figured it'd be a good idea to pick something to watch for each of our other three teams this week. Remember that these offseason workouts are voluntary, so not all of the players we're looking at will necessarily be on the field. The Redskins' OTAs begin today, the Eagles and Cowboys start theirs Tuesday and the Giants get on the field Wednesday.
Dallas Cowboys
Lining up the line:
The injury that will keep free-agent guard
Mackenzy Bernadeau
out for the spring and summer deprives the Cowboys of a chance they were expecting to see Bernadeau at center. It also removes him temporarily from the offseason competition for one of the guard spots, and will give players such as
David Arkin
,
Bill Nagy
,
Nate Livings
and
Kevin Kowalski
a head-start on him as they get an early chance to show the coaches what they can do.
New York Giants
The replacements:
The Giants have to figure some things out on the line as well, and they'll take a look this offseason at whether
Will Beatty
is making progress as the starting left tackle and whether veteran
David Diehl
is the solution at right tackle with
Kareem McKenzie
gone. But they also want to see whether first-round pick
David Wilson
can replace running back
Brandon Jacobs
, whether second-round pick
Rueben Randle
can emerge from the crowd hoping to replace wide receiver
Mario Manningham
, and whether
Terrell Thomas
and/or
Prince Amukamara
is healthy enough to replace cornerback
Aaron Ross
.
Washington Redskins
Here, catch!
We know rookie Robert Griffin III is the guy who'll be throwing the ball for the Redskins -- now and, ideally, for the long-term future. But Washington still needs to sort out who's going to catch it. Free-agent signees
Pierre Garcon
and
Josh Morgan
are obviously going to get the first shot at prominent roles in the receiving corps, and the coaching staff remains excited about 2011 rookie
Leonard Hankerson
. But veteran
Santana Moss
will also push for a role, and there are several holdovers at the wide receiver spot who will look to catch the coaches' attention this offseason so as not to get lost in the shuffle. And that doesn't even take into account tight end
Fred Davis
, who was the Redskins' best receiver last year.
November, 15, 2011
11/15/11
4:00
PM ET
»
NFC Stock Watch
:
East
|
West
|
North
|
South
»
AFC
:
East
|
West
|
North
|
South
FALLING
1. DeSean Jackson's prospects of a future in Philadelphia
. Sunday began with the startling news that Jackson had skipped an Eagles team meeting and would be benched for the game against the Cardinals. A lot of other things happened in that game, and the Eagles lost it and probably slipped out of the playoff race. But the bigger, beyond-this-season issue is that of Jackson, who wants a new long-term contract, hasn't helped his chances of getting one with the way he has played this season, and now this missed-meeting fiasco. The Eagles could apply the franchise tag to Jackson next year if they want to keep him around for another season but not make the long-term commitment. But if he's already this unhappy, and he's not producing the way he used to, this might just be a marriage that needs to end.
2. Eagles' health.
During that Arizona game, quarterback
Michael Vick
broke some ribs and wide receiver
Jeremy Maclin
hurt his shoulder and hamstring. Now it looks as though the status of both players is in question for Sunday night's game against the first-place
New York Giants
, and obviously the Eagles are at a point where they can no longer lose any more games. On the bright side, Jackson should be healthy and well-rested, right?
3. Redskins' luck.
Washington's run of injuries at key positions has been well-chronicled here, and their season was already sunk before rookie wide receiver
Leonard Hankerson
went on IR with a hip injury. But the Hankerson injury is a kick in the gut for a Redskins team that was hoping to see more of him in the second half of the season in an effort to determine what role he might have on next year's team. Hankerson had a breakout game Sunday, catching eight passes for 106 yards before his injury, and now Washington fans don't even get to enjoy watching a talented rookie develop during an otherwise lost season.
RISING
[+] Enlarge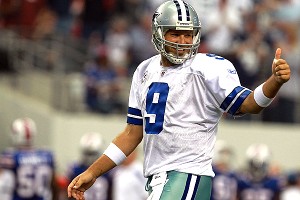 Ronald Martinez/Getty ImagesTony Romo was on top of his game Sunday against the Bills.
1. Dallas Cowboys' playoff hopes.
Dallas is one game behind the Giants now and still has two head-to-head matchups against them to come. Their first meeting will be in Dallas on Dec. 11. Between now and then, the Cowboys will play the Redskins, Dolphins and Cardinals, while the Giants play the Eagles, Saints and Packers. It's not unreasonable to think Dallas could even be in first place by the time it faces the Giants, and regardless, that game and their Week 17 matchup loom as potentially decisive games in the NFC East race. The Cowboys may have had some problems early, but the schedule favors them the rest of the way. And with the head-to-head games against New York still on the schedule, their fate is in their hands.
2. Tony Romo's health.
Finally fully recovered from the broken ribs he suffered in a Week 2 victory over the 49ers, the Cowboys' quarterback played one of the best games of his life Sunday in thrashing the
Buffalo Bills
. After the game, he said it was the first time since that San Francisco game that he felt fully healthy. And if that means he's going to play like this the rest of the way (and stay away from those pesky second-half interceptions that did him in a couple of times earlier this year), that's a scary thought.
3. Rex Grossman.
Hey, look. A week ago he wasn't one of the 32 men in the world who could call themselves a starting NFL quarterback, and this week he is. So, rising. It appears the Redskins have given Grossman the keys to their offense for the foreseeable future, and his job is to run it efficiently enough to give them a chance to win a couple more games down the stretch. They have the opportunity to play spoiler against Dallas and New York one more time each, and there are young players on offense who need to be evaluated, so Grossman isn't just taking up space in Washington. They're expecting him to do a competent job in between turnovers.