Dallas Cowboys:

Mario Williams
October, 24, 2012
10/24/12
9:27
AM ET
IRVING, Texas – The easy thing for the Cowboys to do now that they know
Sean Lee
is done for the season is to pout.
Jason Garrett will make sure it does not happen -- or attempt to make sure it doesn't happen -- but losing Lee is a huge blow for the Cowboys' defense.
It doesn't, however, have to be a fatal blow.
Last year, Houston lost
Mario Williams
to a torn pectoral muscle after just five games. Williams was a major part of the Texans' defense, but Houston was able to overcome his loss, make the playoffs and even win a postseason game.
This year, the Texans are attempting to win without inside linebacker
Brian Cushing
, who suffered a season-ending knee injury after five games.
This is how the NFL goes. The
New York Giants
are trying to win with cornerback
Terrell Thomas
out for the season and safety
Kenny Phillips
battling a sprained knee. Washington lost
Brian Orakpo
and
Adam Carriker
for the season.
It won't be easy for the Cowboys. It's not easy for any team.
In 2005,
Ray Lewis
played in only six games because of a hamstring injury and Baltimore finished 6-10. In 2002, the Ravens went 7-9 when Lewis was limited to five games with a shoulder injury. In 2009, Pittsburgh had safety
Troy Polamalu
for only five games and finished 9-7 but missed the playoffs.
Lee is the Cowboys' Lewis and Polamalu in many ways. He is their most productive defender. He fills the stat sheet like no other player.
The Cowboys, however, have to fight on and not throw a pity party. They need to steal a page from Houston.
Maybe they can ask Wade Phillips how to do it.
August, 5, 2012
8/05/12
3:12
PM ET
OXNARD, Calif. -- Rob Ryan is talking really big about
Brandon Carr
, the Cowboys' new $50 million cornerback.
"He was the best player in free agency by far, not even close," Ryan said.
Yes, Ryan clarified, the best player in free agency. Not just the best corner.
That means Ryan considers Carr, who hopes to make his first Pro Bowl in his fifth NFL season, a better player than
Peyton Manning
,
Mario Williams
,
Carl Nicks
and
Mike Wallace
among others.
Of course, Ryan's boasts about his personnel should be taken with a whole salt shaker after last year, when he bragged about having the best defensive talent in the NFL and delivered mediocre results. There is no question, however, that the Cowboys like what they've seen from Carr in his first five practices after signing a five-year deal.
"This guy has been everything we expected," Ryan said. "He's a leader, he helps the other guys around him and the other thing is he's a tough kid. He's given us everything we wanted as a team. We need smart and tough, and that's exactly what he is, and he's competitive. You see him knocking receivers off the line of scrimmage.
"This guy's not nervous about playing under the big lights. He's here in Dallas. It is a different world here. Everything you do is scrutinized, but this guy won't flinch. I can promise you that."
Ryan suddenly flipped the politically correct switch when asked whether Carr ranked among the best corners in the league, saying he doesn't see every corner. Ryan also didn't bite when asked whether Carr is the best corner he coached, which would put Carr above big-dollar Eagles corner
Nnamdi Asomugha
.
"I don't like comparing everybody else, because all I do is get ripped on anyways," said Ryan, still smarting from the backlash of bragging that Dallas had two receivers better than Detroit's
Calvin Johnson
a couple days before Megatron scored two fourth-quarter touchdowns in the Lions' comeback at Cowboys Stadium. "(Expletive), I thought our receivers were better than somebody's.
"I'm not going to say that, but I know one thing: He's a great football player. So whatever great is, he's just as great as anybody else's."
March, 14, 2012
3/14/12
3:06
PM ET
IRVING, Texas – Getting
Brandon Carr
to wear the star on his helmet was a must for the Cowboys.
The secondary needed as much help as possible. It can be debated the best way to help a secondary is to upgrade the pass rush (see
New York Giants
), but this free-agent market did not have the top-flight difference makers on the front seven except for
Mario Williams
.
The Cowboys were never going to be in the game for Williams, even if they let
Anthony Spencer
test free agency and hadn't placed the franchise tag on him. The price was just going to be too high.
That made getting Carr imperative. After
Cortland Finnegan
agreed to a deal Tuesday night with St. Louis and
Eric Wright
agreed to one in Tampa Bay on Wednesday morning, the Cowboys could not let Carr leave town without a deal.
The drop-off to the other cornerbacks available was just too great.
With Carr the Cowboys get a young player entering his prime. That's the type of free agent you want to sign. Too often teams overpay in free agency for what a player had already done in the game, not what he can do.
Carr turns 26 in May.
Orlando Scandrick
is 25.
Mike Jenkins
is 27. The Cowboys can still look to the draft to find cornerback help.
Half of Carr's eight career interceptions came last year. He has 63 pass deflections in his four seasons. He's around the ball. The Cowboys desperately need that.
The arrow on Carr is still pointing up.
March, 12, 2012
3/12/12
10:33
AM ET
IRVING, Texas – At 3:01 p.m. Tuesday, free agency begins.
Cowboys owner and general manager Jerry Jones has promised to be aggressive in pursuit of upgrading a roster that has missed the playoffs the last two seasons and three of the last four.
In order to do so, the Cowboys will have to re-work some contracts to create enough room under the $120.6 million salary cap, but it is feasible the team can add two starters and a veteran backup quarterback and re-sign wide receiver
Laurent Robinson
.
As the shopping hour approaches, here are some quick questions and answers:
** What are the Cowboys biggest needs?
We've talked about this all offseason, but they need help in the secondary (cornerback and safety) and on the interior of the offensive line. They also need a backup quarterback with Jon Kitna's retirement, and those don't come too cheaply. They could use a difference maker at defensive end, but those players aren't flying around free agency. While the Cowboys like
Bruce Carter
, there is no way to be sold he is their starting inside linebacker next to
Sean Lee
in 2012. Add inside linebacker to the list. Also add a backup tight end. The goal of free agency should be to fill enough holes to help make the draft process better so you don't overvalue certain positions in April.
** What to make of the Mario Williams talk?
I just don't see that happening. In order to sign Williams, the Cowboys would likely have to fork over in the neighborhood of $40 million guaranteed. In other words:
DeMarcus Ware
money. If they do that, then that would take them out of upgrades elsewhere. Plus, the team placed the franchise tag on
Anthony Spencer
. This isn't to debate who is better, Spencer or Williams, but to say who's the better fit at the price and the chance to fill needs elsewhere. Williams is more dynamic but is just too costly.
** What to do with Laurent Robinson?
The Cowboys have said Robinson is a priority. Robinson, who had 11 touchdowns last year, has said he would love to stay. Both sides want it to happen but if another team wants to blow away Robinson with an offer the Cowboys will not get into a bidding war. It would, however, create the need for a No. 3 receiver. Despite Jones' talk about
Andre Holmes
, the Cowboys cannot bank on untested receivers like Holmes,
Raymond Radway
and
Dwayne Harris
to pick up the slack.
** Will Jerry Jones make a splash?
In his tenure as owner and general manager, he has made three splashes in free agency in
Deion Sanders
,
Terrell Owens
and
Leonard Davis
. You can put La'Roi Glover in that mix to a degree if you want. That's it. He had a big one-day signing spree in 2005 on
Jason Ferguson
,
Anthony Henry
and
Marco Rivera
but they weren't stop-the-presses signings across the league. Jones' most productive free-agent shopping might have come in 2003 when they added
Richie Anderson
,
Dan Campbell
,
Toby Gowin
and Al Singleton to the roster. Don't hold your breath on a guy like Williams or New Orleans guard
Carl Nicks
.
** Will the Cowboys re-sign any of their free agents before the market opens?
Doubtful. League rules prevent them from re-signing Robinson before Tuesday. Mat McBriar's recent surgery means the two-time Pro Bowl punter will hit the market. They have had some talks with the agent for
Keith Brooking
but nothing substantial.
Abram Elam
will be allowed to test the market too. Same with
Montrae Holland
, who did a nice job at left guard for 10 games.
March, 9, 2012
3/09/12
8:54
AM ET
»
AFC Free-Agency Primer
:
East
|
West
|
North
|
South
»
NFC
:
East
|
West
|
North
|
South
Free agency begins Tuesday at 4 p.m. ET
Dallas Cowboys

Key free agents:
WR
Laurent Robinson
, S
Abram Elam
, LB
Keith Brooking
, LB
Anthony Spencer
(franchise)
Where they stand:
Dallas needs serious help in the secondary and will have to decide whether it wants Elam back at safety while it pursues at least one cornerback. The Cowboys are expected to release
Terence Newman
, and they could look to add depth at that position and a new starter. Franchising Spencer indicates that while they would like to improve their pass rush, they won't be players in the
Mario Williams
market. Expect their free-agent focus to be on defensive backs and possibly some upgrades on the interior of the offensive line. They would like Robinson back as their No. 3 receiver, but if he's going to get No. 2 receiver-type offers, they'll likely let him walk.
What to expect:
The top two cornerback targets are likely Kansas City's
Brandon Carr
and Tennessee's
Cortland Finnegan
. You can't rule out Dallas making a play for Saints guard
Carl Nicks
, who'd be a huge help to their offensive line. But someone like Baltimore's
Ben Grubbs
is likely to be more attainable financially. What the Cowboys really need on the line is a center, but it's not a great market for those unless they can get their hands on Houston's
Chris Myers
. The Cowboys likely will hunt for some second-tier safeties and inside linebackers to add depth, then target defensive back again early in the draft.
New York Giants

Key free agents
: WR
Mario Manningham
, OT
Kareem McKenzie
, CB
Aaron Ross
, CB
Terrell Thomas
, LB
Jonathan Goff
, P
Steve Weatherford
(franchise).
Where they stand:
The Super Bowl champs must get their own cap situation in order first, as they project to be about $7.25 million over the projected cap. That may mean tough cuts of people like
Brandon Jacobs
or
David Diehl
, or it may just mean some contract restructuring (like the big one they apparently
just did
with Eli Manning). Regardless, don't expect the Giants to spend big to keep Manningham or Ross. They're likely to bring back Thomas on a team-favorable deal as a result of the knee injury that cost him the entire 2011 season, and they'll probably let McKenzie walk and try to replace him internally (which favors Diehl's chances of sticking around).
What to expect:
Just like last year, don't expect the Giants to be big-game hunters. They like to grow their own replacements. If Manningham leaves, they won't go after the top wide receivers but might try to find a bargain or two to supplement the young players from whom they're expecting more production next season. They could find a midlevel safety if they don't bring back
Deon Grant
, and if Jacobs leaves they'll probably bring in a veteran running back or two to compete in training camp with their youngsters. They liked
Ronnie Brown
last year as a possible
Ahmad Bradshaw
replacement when Bradshaw was a pending free agent, so there's a name to watch for if you want one.
Philadelphia Eagles

Key free agents:
G Evan Mathis, DT
Trevor Laws
, DT
Antonio Dixon
(restricted), WR
DeSean Jackson
(franchise), QB
Vince Young
Where they stand:
Other than Mathis, whom they're working to try and re-sign before he his the market, the Eagles don't have many internal free-agent issues to worry about. They franchised Jackson because they're not ready to give him a long-term deal just yet. He's a candidate for a trade, but it would have to be a very nice offer. If they traded him, they'd hunt for a wide receiver, but they may do so anyway -- just at a lower level (think
Plaxico Burress
). The interior of the defensive line is in fairly good hands with
Cullen Jenkins
and
Mike Patterson
as starters, but they could stand to add depth to that rotation. And while they signed
Trent Edwards
a couple of weeks ago, they'll keep looking for a better veteran backup quarterback option with Young sure to be gone.
What to expect:
Do not -- I repeat, do not -- expect the Eagles to be the same kind of player they were in free agency a year ago. Andy Reid made it very clear several times during the 2011 offseason and season that last year was unique, and the Eagles don't like to do business that way in general. They do need linebackers, and they have the cap room to play on guys like
Stephen Tulloch
or
Curtis Lofton
or even, if they wanted to get really nutty,
London Fletcher
. But while you can expect them to add a veteran or two at the position, don't be surprised if they sit out the higher-priced auctions this time around.
Washington Redskins

Key free agents:
S
LaRon Landry
, LB London Fletcher, DE
Adam Carriker
, TE
Fred Davis
(franchise), QB
Rex Grossman
Where they stand:
Mike Shanahan said in December that Fletcher was a priority, but he remains unsigned with less than a week to go before free agency. Presumably, they'd still like to lock him up before he hits the market. If they can't, they'll have to replace a major on-field and off-field presence. Carriker is likely to be back, but the Fletcher situation has to be settled first. Landry likely is gone unless he wants to take a low-base, high-incentive deal to stay. The Redskins are sick of not knowing whether he'll be able to take the field from week to week. Grossman could return, but only as a backup to whatever quarterback upgrade they find.
What to expect:
The Redskins could have more than $40 million in cap room with which to maneuver in free agency, and they're going to need it. They need a quarterback, of course, and if they can't make the trade with the Rams to move up to No. 2 in the draft and pick
Robert Griffin III
, they'll look at
Peyton Manning
and
Kyle Orton
and possibly
Matt Flynn
, though he doesn't appear to be high on their list. What Shanahan really wants is a true playmaking No. 1 wide receiver, which is why the Redskins have their eyes on
Vincent Jackson
and
Marques Colston
, who are at the very top end of that market. They'll be able to outbid almost anyone for those guys if they want to, but they may have to get quarterback figured out first if they want to persuade one of them to take their offer over similar ones. They'll also hunt for help on the offensive line and in the secondary, as they need depth in both places.
February, 13, 2012
2/13/12
11:00
PM ET
This is the seventh installment of our 12-part series breaking down the Cowboys roster. Today we look at the defensive line.
[+] Enlarge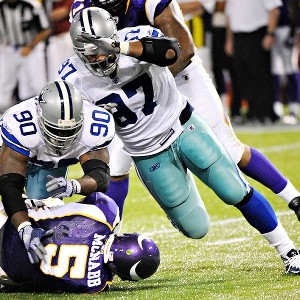 Hannah Foslien/Getty ImagesJason Hatcher (4.5) and Pro Bowler Jay Ratliff (2.0) had the lion's share of the 10.5 sacks compiled by the Cowboys' defensive line last season.
Players:
NT
Jay Ratliff
(signed through 2017), DE
Jason Hatcher
(signed through 2013), DE
Marcus Spears
(signed through 2014), DE
Kenyon Coleman
(signed through 2012), NT/DE
Sean Lissemore
(signed through 2013), NT
Josh Brent
(signed through 2013), DE
Clifton Geathers
(exclusive rights free agent), NT/DE Robert Callaway (signed futures contract)
Top free agents:
DE
Calais Campbell
,
Arizona Cardinals
; DE
Mario Williams
,
Houston Texans
; NT
Sione Pouha
,
New York Jets
; DE
Jason Jones
,
Tennessee Titans
; DE
Cliff Avril
,
Detroit Lions
.
Top draft prospects:
DE
Quinton Coples
, North Carolina; DT/DE
Michael Brockers
, LSU; NT
Brandon Thompson
, Clemson; NT
Jerel Worthy
, Michigan State; DT
Devon Still
, Penn State.
2011 review:
The defensive line performed respectably against the run for the most part. However, it left a lot to be desired in the pass-rushing department. The Cowboys' defensive line combined for only 10.5 sacks, led by Hatcher (4.5). Ratliff made his fourth consecutive Pro Bowl appearance despite his sacks total declining for the fourth consecutive year. He finished the season with two sacks, tied with reserve Lissemore for second among the team's defensive linemen. Coleman and Spears were solid against the run but nonfactors against the pass, which is particularly a problem with a secondary as vulnerable as the Cowboys'.
Offseason preview:
The Cowboys need more playmaking at this position. Maybe they get that by moving Ratliff to defensive end, a subject that gets discussed every offseason but has not been seriously considered since he established himself as the starting nose tackle. Coples and Brockers, the best 3-4 defensive end prospects in the draft, are likely to be gone by the time the Cowboys get on the clock with the 14th overall pick. Arizona's Campbell, who dominated
Doug Free
when the Cowboys played the Cardinals this season, would be a major upgrade in free agency. However, there's a decent chance that the Cardinals will use the franchise tag to prevent one of the NFL's best 3-4 ends from testing the open market this offseason.
Bryan Broaddus' Scout's Eye:
When the Cowboys played well on defense last season it was usually because the defensive line was handling the run and getting pressure on the quarterback. When things were going badly, I could usually tell on tape it was because the line wasn't getting off blocks and struggling with the pressure. The biggest problem I had with the line was at defensive end. The team lost Stephen Bowen to the Redskins and in my view, that was a tough blow for the defense. The club brought back Spears and Hatcher but also signed Coleman. Hatcher moved into Bowen's role with Spears and Coleman as the starters. As the season wore on, Coleman wore down and his play hurt the defense. Spears was up and down as well. Where there is a need of an upgrade would be at end. I am a big fan of Lissemore and I would not be surprised to see him in the starting lineup next season for Coleman or at nose if Ratliff shifts to end. Speaking of nose, Ratliff made the Pro Bowl which surprised me. I like Ratliff and respect the way he played, but there were times where he was clearly better than the centers that he was playing against and he didnt always take advantage of the matchup. Ratliff doesn't always face double teams. Where Ratliff struggles the most is when he gets wore down. That's why guys like Brent and Lissemore are key to keeping him as fresh as possible. I like the nose men on this team but the front office needs to find some upgrades at end to give the defense a chance.
Need meter (0-5):
3
March, 22, 2011
3/22/11
12:24
PM ET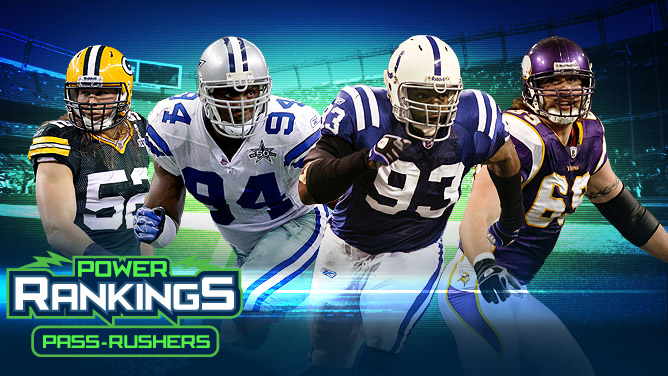 ESPN.com IllustrationDeMarcus Ware (94) was the clear choice for the top spot when our writers ranked the best pass-rushers in the game.
ESPN.com's NFL writers rank the top 10 pass-rushers in the league today. Next week: Top 10 tight ends.
ESPN.com's panel of power rankers had no trouble identifying the best pass-rusher in football. The rest of our Top 10 list? It was easily the most difficult to compile so far in what will be a 10-week project.
Dallas Cowboys
linebacker
DeMarcus Ware
received seven of eight first-place votes. AFC South blogger Paul Kuharsky ranked him No. 2, putting
Indianapolis Colts
defensive end
Dwight Freeney
at the top of his ballot. Overall, a total of 17 players received votes, and the crowd was dense enough to exclude established veterans such as
Houston Texans
defensive end
Mario Williams
,
New York Giants
defensive end
Justin Tuck
,
Baltimore Ravens
linebacker
Terrell Suggs
and Colts defensive end
Robert Mathis
.
The category was tough, explained NFC West blogger Mike Sando, because "sack numbers tend to fluctuate from year to year and it's tougher to know which pass-rushers are truly the best. I think the proliferation of 3-4 defenses also made this a tougher call. We weren't evaluating defensive ends exclusively. We were also looking at 3-4 outside linebackers. That deepened the pool while forcing us to compare players at more than one position."
Ware, for one, wasn't a difficult choice -- as long as sacks are the primary statistical representation of pass rushing. Ware led the NFL in sacks last season with 15.5, and he has also had more combined sacks over the past two, three and five seasons combined than any other NFL player. At 28, he would seem to have several ultra-productive seasons remaining in his career.
Beyond Ware, however, the debate was fierce. The
Green Bay Packers
'
Clay Matthews
received the second-most votes (61), but there wasn't much separating him from Freeney (58) or
Minnesota Vikings
defensive end
Jared Allen
(52).
[+] Enlarge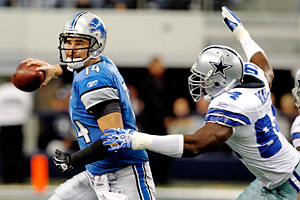 Tom Pennington/Getty ImagesDeMarcus Ware had 15.5 sacks last season and has 80 sacks in six seasons in the NFL.
Kuharsky's familiarity with Freeney gave him a unique perspective.
"I've had coaches and scouts I trust tell me, repeatedly, that Freeney is the best pure pass-rusher in the league," Kuharsky said. "They say he's the guy they'd want if they could have anyone and the most difficult guy to stop because of the way he plots out his game. That's stuck with me and was a big factor for me as I put together my ballot."
From an NFC North perspective, I think it's interesting that Ware is the only NFL player who has recorded more sacks than Allen over the past five seasons. Allen's total of 11.0 last season was his low-water mark over the last four seasons, however, and the explicit instructions for voters were to base judgments on what we can expect for the 2011 season.
Given a choice between Allen, Matthews or Freeney in building a Super Bowl team for 2011, whom would you choose? With all due respect for Freeney (and Kuharsky, such that he deserves it) Matthews, 24, seems the right answer to me.
Matthews, Allen and
Chicago Bears
defensive end
Julius Peppers
gave the NFC North a league-high three members of this exclusive group. Peppers' all-around contributions last season earned him a spot on The Associated Press' All-Pro team, but his total of eight sacks left him ranked eighth on our list.
Illustrating the difficulty of this exercise, two voters left Peppers off their ballots entirely and a third -- AFC North blogger James Walker -- ranked him No. 10. The
Atlanta Falcons
'
John Abraham
, The Associated Press' other first-team All-Pro defensive end, ranked a composite No. 7.
NFC South blogger Pat Yasinskas, who covers Abraham and until 2010 covered Peppers as well, ranked Peppers No. 5 and said: "I know the sack numbers can rise and fall, but he has the ability to completely take over a game at any time." Meanwhile, a younger Abraham would have ranked higher.
"He had 11 sacks last year but 5.5 the year before," Yasinskas said. "At 32, you have to at least question whether he would sustain 2010 numbers in 2011."
Finally, if you're outraged about the absence of Williams, Tuck, Suggs, Mathis, the
Philadelphia Eagles
'
Trent Cole
or even the
Denver Broncos
'
Elvis Dumervil
, you probably need to focus your ire at the inclusion of
Miami Dolphins
defensive end
Cameron Wake
. In his second NFL season, Wake exploded for 14 sacks.
Does one elite season merit inclusion on this list? Opinions varied widely among our voters. Wake was left off three ballots and voted No. 10 on three others. AFC East blogger Tim Graham, who saw more of Wake last season than any other voter, placed him No. 4.
"If we're ranking the best overall defensive ends or outside linebackers, then maybe Cameron Wake doesn't make my list," Graham said. "He's not a run-stuffer and is lacking when it comes to pass coverage. But we're rating pure pass-rushers, and that's the one thing Wake does on an elite level. He's a freakishly gifted athlete who creates havoc in the backfield.
"I also don't view Wake as a one-year wonder because he had a strong season in 2009 despite playing behind
Joey Porter
and
Jason Taylor
in most situations and under a different defensive coordinator. He should continue to thrive under Mike Nolan's guidance. I view Wake as a legitimate star who was overlooked on a mediocre team."
Your thoughts? I'm expecting them.
September, 29, 2010
9/29/10
8:10
AM ET
After three weeks, the Cowboys have proved they can play a little football when inspired.
We look at some keys to the Cowboys 27-13 victory over the
Houston Texans
on Sunday afternoon in our weekly Beat Writers Recap.
*One of the best drives of the season displayed all the talents of the Cowboys in the third quarter. On a seven play 90-yard drive lasting 4:02, things started with running back
Felix Jones
gaining a combined 19 yards on two delays. The Cowboys offensive line provided Jones with the room necessary to get the yards.
Dez Bryant
and
Sam Hurd
are two of the fastest receivers on the team and they showed why on consecutive plays. Bryant gained five yards on a quick slant and Hurd picked up a first down on another one. On the pass to Hurd,
Marion Barber
did a good job on the blitz pickup. Barber doesn't get enough credit for his blocking skills.
Tony Romo
raves about Bryant's ability to catch the ball in almost any situation and on a 30-yard pass, Bryant beat his defender to the ball and gave himself a little room with a pushoff. He was rewarded with a strong throw by his quarterback. Then,
Martellus Bennett
got into the act on a rollout by catching an 11-yard pass for another first down. The drive ended when
Roy E. Williams
beat his man on an inside release to catch a 15-yard touchdown to put Dallas ahead, 17-3. This was such a balanced drive where offensive coordinator
Jason Garrett
was able to use the speed in the run and pass games.
*You want to know why
Bradie James
and
Keith Brooking
are on the field so much, the backups don't make plays. The longest run of the day for the Texans, 26-yards, came with
Leon Williams
and
Jason Williams
on the field at inside linebacker
Arian Foster
rushed for 26-yards, cutting back across the grain as Williams and Williams bit on the movement to one side. The Texans are a team that likes to cutback in the run game and Williams and Williams were caught too far in one direction to do anything to stop Foster.
*On the fourth quarter goal line stand, everyone talks about what a nice job
Barry Church
, Keith Brooking and
Anthony Spencer
did to force a field goal. But safety
Gerald Sensabaugh
stopped a potential touchdown that might have turned the momentum of the game around.
Owen Daniels
caught an 11-yard pass moving the Texans from the Cowboys 12 to the 1. On the play, the Texans loaded to the left side and Daniels snuck underneath crossing to the middle of the field. Sensabaugh read the play well and didn't get crossed up with Brooking who was in front of him. Sensabaugh stayed with Daniels and tackled him short of the goal line.
Neil Rackers
field goal cut the deficit to 17-6.
*
Mario Williams
is considered one of the top pass rushers in the game and
Doug Free
handled him pretty well. Free did have some help. Bennett took Williams on in several one-on-one situations. In the fourth quarter on Romo's 63-yard touchdown pass to Roy Williams, Bennett held Williams from getting close to the quarterback. When Romo completed a 14-yard pass to
Jason Witten
to setup a last second field goal try at the half,
Kyle Kosier
knocked Williams to the ground with a hard block to help Free.
*Three weeks into the season and
Alex Barron
still leads the team in penalties with three, but Witten was called for two, a false start and a pass interference, on Sunday. Other players who have multiple penalties include Spencer, two offsides calls, each were declined, Brooking, two pass interference calls and
Miles Austin
who has a false start and an illegal block.
*The most the Cowboys blitzed on Sunday was six in the first half. After that they stuck with either a four or five man attack. One rush had defensive end
Marcus Spears
drop back into coverage where he made the tackle.
*
Notes
:
Jay Ratliff
and Kosier were the only Cowboys to leave the game with an injury. Ratliff was smiling as he was helped off the field, he returned after getting shaken up. Kosier didn't return, he tweaked his right MCL in the fourth quarter and was on the bench getting ice. ...
Sean Lee
and
Mike Hamlin
were inactive for the game. The Cowboys believe in Lee, mainly because he was a second-round pick this year. He might not be inactive for the Titans game in Week 5. Barry Church and
Danny McCray
are better special team players than Hamlin and that could mean another DNP for him. Church had a key tackle on the goal line stand in the fourth quarter and McCray had a interception. ... The last three possessions for the Texans ended with a fumble, touchdown and interception. Last three possessions for the Cowboys ended in touchdown, field goal end of game. ... Cowboys finished with a season-high eight tackles for loss.
DeMarcus Ware
led the way with five.
September, 26, 2010
9/26/10
10:36
AM ET
HOUSTON -- The Cowboys' season is on the brink at Reliant Stadium today when they take on the Texans.
If the Cowboys lose, you can bet the season is bascially over. And the AFC South might have a new king in the Texans.
Here's what's happening.
Cowboys (0-2) update:
The Cowboys had a player's-only meeting on Monday and made changes to their practice schedule and how they conducted things. Whether this works won't be determined until late this afternoon. There are some health issues with the club, including cornerback
Mike Jenkins
who has a bruised knee. Jenkins said he didn't go full speed in practice and hopes to before the game. We expect him to play. The Cowboys running game has struggled. They are near the bottom in the league in rushing and have only gone to the right side eight times this season, lowest in the league. Also, Dallas is minus four in the turnover ratio department and have given up a combined 13 points off turnovers.
Inactive:
Stephen McGee
is the third quarterback, S Michael Hamlin, LB
Sean Lee
, LB
Brandon Williams
, C
Phil Costa
, T,
Sam Young
, T
Robert Brewster
, DE
Sean Lissemore
.
Texans (2-0) update:
After beating up the Colts in Week 1, the Texans had to rally to beat the Redskins last week. Quarterback
Matt Schaub
threw for 497 yards in the victory. Houston leads the NFL in scoring, total offense and ranks second in run defense. There is some bad news. Starting left tackle
Duane Brown
was suspended four games for violating NFL policy on performance enhancing drugs. Rashard Butler will replace him. On the injury front, wide receiver
Andre Johnson
is playing with a sprained ankle and defensive end
Mario Williams
has a groin problem. Both are expected to play. ESPN's Ed Werder reports defensive end Antonio Smith suffered vertigo symptoms and went to the hospital on Saturday. He's expected to play.
Inactive:
Matt Leinart
is the third quarterback, WR
Dorin Dickerson
, CB
Jamar Wall
, LB
David Nixon
, G
Kasey Studdard
, G
Shelley Smith
, TE
Garrett Graham
and DE
Adewale Ogunleye
.
Officials:
Referee-Carl Cheffers, Umpire-Undrey Wash, Head Linesman-Kent Payne, Line judge-
Darryll Lewis
, Field judge-Boris Cheek, Side judge-Barry Anderson, Back judge--Todd Prukoop and Replay-Larry Nemmers.
Scouts scheduled to attend:
Oakland and Tennessee.
September, 24, 2010
9/24/10
3:09
PM ET
IRVING, Texans -- Cowboys cornerback
Mike Jenkins
was a full participant in practice on Friday, and he's listed as probable against the Texans with a bruised knee.
Jenkins said he hasn't gone 100 percent in practice this week and will test the knee prior to the game Sunday.
"I'm going to get out there early, definitely," Jenkins said. "I'm going on the first bus [from the hotel to the stadium]. I'm going to push it as hard as I can and we're just going to go from there. Mentally that's what I've got to get through. I'm going to go out there and push it to the limit."
*Tight end
Jason Witten
(concussion) and wide receiver
Dez Bryant
(ribs) participated in the whole practice Friday and are listed as probable.
*Linebacker
Sean Lee
(hamstring) and tackle
Sam Young
(knee) also practiced but are listed as questionable.
*
Jay Ratliff
returned to practice after missing the last two days to attend the funeral of his grandparents.
*As for the Texans, tight end
Owen Daniels
(knee) was a full participant and is listed as probable. However, wide receiver
Andre Johnson
was limited in practice and is questionable for the game.
Defensive end
Mario Williams
(groin) and defensive tackle
Amobi Okoye
(ankle) were limited in practice but are probable.
September, 24, 2010
9/24/10
8:00
AM ET
By
Bryan Broaddus
| ESPNDallas.com
Week 3 finds the Cowboys in another matchup with a team that is uses a zone-blocking scheme much like they saw in Week 1 with the Redskins.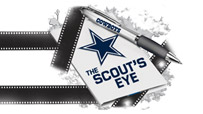 The Texans have the best offensive line that the Cowboys have faced so far this season, but there is now an interesting twist. Left tackle
Duane Brown
is the best linemen that the Texans have, but now he must sit four games because a violation of the league's substance abuse policy. This is a huge break for the Cowboys because Brown has done an outstanding job in the first two weeks handling Redskins outside linebacker
Brian Orakpo
and Colts defensive end
Dwight Freeney
as rushers.
In Brown's place is fifth-year pro
Rashad Butler
, who was originally drafted by Carolina and hasn't started a game during his NFL career. Butler doesn't play with the footwork and power that Brown has. Brown does a nice job of running his man up the field but also can be a force at the point of attack getting push.
If there is a saving grace for the Texans, it is the fact that their next best offensive lineman happens to play next to Brown and that is guard
Wade Smith
. Smith is the best athlete on the line. He is outstanding pulling and in space. Good adjust and finish. Plays with nastiness. Not afraid to dive into the legs of the defender when blocking on the backside of the zone play. Is a willing helper when blocking in the pocket, when uncovered, he will take a shot at the rushers ribs as well.
[+] Enlarge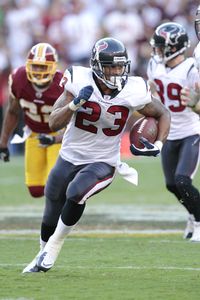 AP Photo/Bill BaptistAnother big game from running back Arian Foster could give Houston the balanced attack it will need against Dallas.
There will no doubt that Smith will be that safety net for Butler in this game and not leave him on an island for too many plays.
*Texans running back
Arian Foster
is a load and there is no way around it. He is physical breaking tackles. Foster is not a home run back, but he is the type that can wear you down the more he carries the ball.
In the first game of the season against the Colts, he took over the game. The Colts were down safety
Bob Sanders
, but as the game wore on, the more the Colts wanted nothing to do with Foster.
The most impressive thing about Foster is how he has a feel for running behind this line. He is patient in the way he takes the ball, watches the blocks develop then makes a cut through the hole.
The one area the Cowboys cannot struggle is getting off blocks. The Texans like to stretch your defense out and then cut the backside. The Texans' offensive does a really nice job of staying on their feet front-side and tying the defenders up, allowing their backs to make the reads.
If the Cowboys' defense doesn't play with their hands and play square, they will be in for a long day. Players like
Igor Olshansky
and
Marcus Spears
will play a huge role this week because if they get hooked, now the ball for the Texans is out on the edge.
Watch
Keith Brooking
and
Bradie James
in this game. It will be very important for them to be in the right place and fit correctly in the scheme. If they overshoot the play, the ball will come backside on them.
Too much stretch creates gaps in the defense and with Foster running the ball, that's a problem. Fits and finishes are the goal for the defense this week.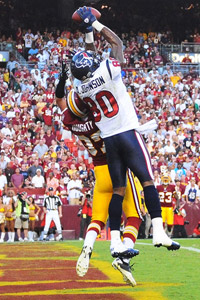 James Lang/US PresswireDon't expect the Cowboys to have much success slowing down Texans WR Andre Johnson.
*
Andre Johnson
is one of the top five receivers -- if not one of the top five players overall -- in the NFL.
How do the Cowboys go about trying to slow him down? You don't.
The Texans will line him up all over the place so you can't get a lock on him. In games this season, Johnson has lined up in the back field, in the slot and on the outside.
Johnson is an outstanding football player with rare talent. His movement is effortless and he will go all over the field to catch the ball. The defensive problem you run into when you play Johnson is that you can have him covered, but he still manages to make the play. Where the Cowboys need to be careful is not to allow Johnson to be that dominant player.
It will be interesting to see the health of
Mike Jenkins
this week. He was limited in practice on Wednesday and Thursday, which are your big work days. The Cowboys are already light at corner but need Jenkins' skill in coverage to try to slow Johnson down, which will be a tall order.
*Through the first two weeks of the 2010 season, the Cowboys are ranked first in the NFL in fewest sacks per attempt on offense. The Texans are ranked 17th in sacking the quarterback but last in the NFL in pass defense.
This is where the Cowboys need to take advantage of the Texans. If the Cowboys can protect
Tony Romo
, they can make some plays down the field.
The majority of the pass rush comes from defensive ends
Mario Williams
and
Antonio Smith
. Williams and Smith will line up all over the place along the front to try and create mismatches.
Amobi Okoye
is the defensive tackle in the scheme and he will try to beat you with quickness up the field more than power.
Rookie
Kareem Jackson
is on the outside at corner and looks like he has skill but gave up a big play to Redskins receiver
Joey Galloway
on a vertical route and some inside routes as well. When the Texans go to the nickel, they move starting left corner
Glover Quin
into the slot and put Texan (by birth)
Brice McCain
on the outside.
Against the Colts, defensive coordinator Frank Bush played his nickel package the majority of the game to combat the Colts' three-wide receiver package.
Where the Texans struggled last week was giving up the big play to the Redskins by losing their men in routes in crossing routes and down-the-field routes. The majority of the coverage is Cover 2 and with some of the success that the Bears had last week in jamming receivers, you will probably get the same look from the Texans.
If the Cowboys can handle those twist stunts, which have given them trouble in the past, they will be able to put pressure on this Texans secondary.
September, 23, 2010
9/23/10
5:05
PM ET
IRVING, Texas -- The Cowboys received some positive news Thursday regarding their injury report.
Cornerback
Mike Jenkins
(bruised knee) was limited in practice, but coach Wade Phillips said he's getting "better and better."
Wide receiver
Dez Bryant
was also limited in practice with bruised ribs. Phillips said Bryant won't wear a flack jacket to protect his ribs, but there appears to be concern about the soreness in his rib area where it continues to bother him.
Sean Lee
, the linebacker coming back from a hamstring injury, and
Sam Young
the tackle returning from a knee injury, practiced but probably won't play Sunday at Houston.
Jay Ratliff
missed a second consecutive day because of the death of his grandparents and was returning to Dallas on Thursday night. Ratliff is expected to practice on Friday.
Houston wide receiver
Andre Johnson
(ankle) and defensive end
Mario Williams
(groin) were limited in practice Thursday, but both are expected to play.
February, 26, 2010
2/26/10
4:16
PM ET
Dallas Cowboys
tight end
Jason Witten
will embark on a weeklong visit to visit U.S. troops at military bases in Southwest Asia.
NFL players have participated in the NFL-USO tours for more than 40 years.
But Witten isn't going alone.
San Francisco 49ers
tight end
Vernon Davis
,
Cleveland Browns
tackle
Joe Thomas
, and
Houston Texans
defensive end
Mario Williams
are also going.
The tours have gone to Afghanistan, Bosnia, Iraq, Korea and Somalia among other cities and countries.
Last year,
Jared Allen
,
Danny Clark
,
Larry Fitzgerald
and
Will Witherspoon
traveled to Iraq and Kuwait along with coaches Tom Coughlin, Bill Cowher, Jeff Fisher, Jon Gruden and John Harbaugh.