Dallas Cowboys:

Marvin Austin
January, 6, 2014
Jan 6
3:30
PM ET
IRVING, Texas -- No team in the NFL needed more players on defense than the
Dallas Cowboys
in 2013.
They had 41 defenders with cornerback
Brandon Carr
playing the most (1,116 snaps) and
Dez Bryant
playing the least (three). The
Indianapolis Colts
and
New Orleans Saints
had the second most with 32 players on defense.
In training camp, the Cowboys' projected defensive line was
Anthony Spencer
,
Jason Hatcher
,
Jeremiah Ratliff
and
DeMarcus Ware
. Hatcher played the most snaps (747) but that was only 66 percent of the snaps. Ware missed three games and played 628 snaps (55 percent). Spencer played 34 snaps in one game before his season ended. Ratliff, of course, played none before his release.
Nick Hayden
played the most snaps on the defensive line (821).
George Selvie
did not join the team until training camp began and played 744 snaps.
With Hatcher and Spencer set to be free agents and Ware coming off a career-low six sacks, the Cowboys need to refurbish their defensive line in a way where Hayden and Selvie are not playing as much.
The Cowboys used 20 defensive linemen during the season, although
Kyle Wilber
moved to linebacker late in the season and played 501 snaps.
It might not have seemed this way, but
Jeff Heath
played only 79 more snaps than
J.J. Wilcox
.
Defensive snaps:
1,116 – Brandon Carr
1,088 –
Orlando Scandrick
1,015 –
Barry Church
874 –
Bruce Carter
821 - Nick Hayden
747 – Jason Hatcher
744 – George Selvie
702 –
Sean Lee
628 - DeMarcus Ware
594 - Jeff Heath
515 - J.J. Wilcox
506 –
Morris Claiborne
501 – Kyle Wilber
380 –
Ernie Sims
275 –
Jarius Wynn
254 -
Drake Nevis
207 –
DeVonte Holloman
197 –
Justin Durant
178 –
B.W. Webb
163 –
Will Allen
153 –
Everette Brown
144 –
Caesar Rayford
117 –
Corvey Irvin
81 –
Sterling Moore
72 -
Edgar Jones
63 –
Cameron Lawrence
49 –
David Carter
46 –
Jason Vega
45 –
Jerome Long
38 –
Landon Cohen
34 – Anthony Spencer
34 –
Frank Kearse
24 –
Kyle Bosworth
22 –
Micah Pellerin
20 –
Everett Dawkins
20 –
Martez Wilson
16 –
Jakar Hamilton
15 –
Marvin Austin
8 –
Danny McCray
6 –
Orie Lemon
3 – Dez Bryant
November, 7, 2013
11/07/13
10:00
AM ET
IRVING, Texas -- Last week defensive tackle
Everett Dawkins
was them. Wednesday was different.
Last week he was on the
Minnesota Vikings
' practice squad helping them get ready to play the
Dallas Cowboys
. On Wednesday, he was a Cowboy.
"It was a good win for us," Dawkins said of the 27-23 outcome.
The Cowboys signed Dawkins off the Vikings' practice squad after waiving defensive tackle
Marvin Austin
. There's a strong possibility he plays on Sunday against the
New Orleans Saints
, just the way
Drake Nevis
,
Jarius Wynn
and Austin played in their first week with the Cowboys.
"I played in the preseason, but I didn't play on a Sunday yet," Dawkins said. "That's something I've always wanted to do, so it's a great feeling."
The Vikings picked Dawkins in the seventh round. The Cowboys had a third-round grade on him.
"Somebody sent me a text message of the picture," Dawkins said. "I guess it was on the internet."
Dawkins was glad to be in Dallas for another reason: It snowed in Minneapolis on Tuesday.
"It's just crazy, but that's how the NFL works though," Dawkins said. "I just have to make sure I take advantage of everything to my full potential and just go and show I'm not one of the guys that's leaving."
November, 6, 2013
11/06/13
11:50
AM ET
IRVING, Texas -- Since May 16, the
Dallas Cowboys
have signed, traded, acquired, put on injured reserve or released 28 defensive linemen. They saw another,
Josh Brent
, retire on July 18.
Everett Dawkins and
Hall Davis
are the latest additions. Dawkins was signed off the
Minnesota Vikings
' practice squad to the active roster, and Davis filled the final practice-squad vacancy.
There has been an incredible amount of movement on the Cowboys' defensive line. If you remember the Travis Chappelear era consider yourself fortunate.
Check out these transactions by date involving only the defensive line:
May 16 – Signed
Anthony Hargrove
June 5 – Waived/injured Robert Callaway
June 11 – Signed
Jeris Pendleton
June 20 – Cut Hargrove
June 25 – Signed
Jerome Long
July 18 – Josh Brent retired
July 26 – Signed
George Selvie
and
Landon Cohen
July 31 – Cut Ike Igbinosun, signed Toby Jackson
Aug. 1 – Waived/injured
Cameron Sheffield
Aug. 6 – Waived Monte Taylor, signed Jabari Fletcher
Aug. 12 – Signed Travis Chappelear
Aug. 13 – Claimed
Thaddeus Gibson
Aug. 19 – Waived Chappelear, Jackson
Aug. 21 – Signed
Jason Vega
Aug. 26 - Cut Pendleton
Aug. 27 – Placed
Tyrone Crawford
on injured reserve,
Jay Ratliff
on reserve/PUP
Aug. 31 – Cut Fletcher, Gibson, Long, Vega; acquired
Edgar Jones
from Kansas City
Sept. 1 – Traded
Sean Lissemore
to San Diego
Sept. 2 – Signed Vega to practice squad
Sept. 3 – Acquired
Caesar Rayford
from Indianapolis
Sept. 5 – Chappelear waived off injured reserve
Sept. 7 – Placed
Ben Bass
on injured reserve; re-signed Long
Sept. 17 – Cut Cohen, signed
David Carter
Sept. 24 – Cut Long, signed
Drake Nevis
Sept. 25 – Placed
Anthony Spencer
on injured reserve
Oct. 15 – Cut Carter, Signed
Jarius Wynn
Oct. 16 – Released Ratliff off reserve/PUP
Oct. 18 – Signed Vega off practice squad; placed Jones on IR to return list
Oct. 21 – Signed
Marvin Austin
Oct. 29 – Released Vega; signed
Everette Brown
Oct. 31 – Signed Vega to practice squad
Nov. 5 – Cut Austin
Nov. 6 – Signed Everett Dawkins off Minnesota practice squad; signed Hall Davis to practice squad
November, 6, 2013
11/06/13
9:30
AM ET
IRVING, Texas -- Needing defensive tackle depth after waiving
Marvin Austin
on Monday, the
Dallas Cowboys
signed Everett Dawkins off the
Minnesota Vikings
' practice squad.
Dawkins, 6-2, 292 pounds, was a seventh-round pick of the Vikings last April and had been on the practice squad for the season. He had five tackles and a half sack in the preseason. He started 41 of 57 games at Florida State.
He is the second player the Cowboys have poached from a practice squad this season. The Cowboys had cornerback
Chris Greenwood
on the roster for three games before he was released.
The Cowboys also filled their two practice-squad openings by signing guard
Phillipkeith Manley
and defensive linemen
Hall Davis
. Manley, 6-5, 309 pounds, spent parts of the past two seasons with the
Atlanta Falcons
. Davis was a fifth round pick of the
St. Louis Rams
in 2010 and has bounced around with four other teams.
November, 5, 2013
11/05/13
4:37
PM ET
IRVING, Texas -- With a back injury that will keep him out at least a few weeks, the
Dallas Cowboys
waived/injured defensive tackle
Marvin Austin
.
Austin signed with the Cowboys on Oct. 21 and played against the
Detroit Lions
. He was scratched right before kickoff of last week's game against the
Minnesota Vikings
after he was unable to finish Friday's practice. Austin had an MRI on Monday.
The Cowboys have 52 players on the roster but are looking for defensive tackle help with only
Jason Hatcher
,
Nick Hayden
and
Drake Nevis
on the 53-man roster. Hatcher has had trouble with a stinger and Hayden has a back injury.
Since the beginning of training camp the defensive line has been hit by injury. Austin is just another in the line with
Anthony Spencer
,
Jay Ratliff
,
Tyrone Crawford
and
Ben Bass
among others.
October, 28, 2013
10/28/13
11:00
PM ET
IRVING, Texas -- The
Dallas Cowboys
' defensive line shuffle continued on Monday when the team agreed to a deal with
Everette Brown
.
Brown, a former second-round pick of the
Carolina Panthers
in 2009, worked out for the Cowboys on Monday, as did defensive end
Adrian Tracy
.
It is the third straight week the Cowboys have signed a free-agent defensive linemen.
Jarius Wynn
was signed on Oct. 15 and
Marvin Austin
was signed on Oct. 21.
Brown has not played in a regular-season game since 2011 when he was with the
San Diego Chargers
. He spent time with the
Detroit Lions
(2012) and
Philadelphia Eagles
(2013). He had six sacks for the Panthers in 2009-10.
Before the deal can become official, the Cowboys have to release a player from the 53-man roster.
The Cowboys re-signed guard David Arkin to the practice squad after he was released over the weekend to make room for safety
Jakar Hamilton
. Arkin, a fourth-round pick in 2011, did not take an offensive snap in parts of three seasons.
"There's probably nobody on our football team who works harder and is more committed than David Arkin," coach Jason Garrett said. "He's the right kind of guy and he's working at it and he's getting better. I think he has improved over the last couple of years and that's why we're happy to get him back and put him back on the practice roster and continue that development."
October, 23, 2013
10/23/13
5:00
PM ET
IRVING, Texas –
Marvin Austin
received an unexpected welcome in his first day of on-field work with the
Dallas Cowboys
on Wednesday.
"One thing I can say is practice is the realest I've ever experienced in my life," Austin said.
The Cowboys signed Austin on Tuesday. He spent two seasons with the
New York Giants
and was with the
Miami Dolphins
for two games before his release earlier this month.
"It's definitely a new beginning and a lot to build on," said Austin, who is not only wearing
Jay Ratliff
's old No. 90 but also occupying Ratliff's old locker.
The Cowboys have reshaped their defensive line throughout the year. At 6-foot-2 and 312 pounds, Austin provides more size and speed on the line's interior. A former Giants second-round pick, Marvin is hoping -- as are the Cowboys -- that defensive line coach Rod Marinelli has the same effect on the 24-year-old that the coach had on the Cowboys' other no-name defensive linemen, such as
George Selvie
Nick Hayden
,
Caesar Rayford
,
Jason Vega
and
Jarius Wynn
.
"His track record speaks for itself, and coach [Monte] Kiffin's also," Austin said. "The way those guys coach and the success they've had in this league, I mean, I have no excuses."
The first thing Austin has to do is get in better shape.
"Not good enough," he said when asked how he felt. "To be honest with you, just the way they practice and the way they want you to go out there and play, I've got to keep working every day to get in shape to go out there and perform."
October, 23, 2013
10/23/13
2:15
PM ET
IRVING, Texas – Of the 10 defensive linemen the
Dallas Cowboys
have on their 53-man roster, six joined the team after training camp started.
After
DeMarcus Ware
,
Jason Hatcher
,
Kyle Wilber
and
Nick Hayden
,
George Selvie
is the veteran of the bunch, and he joined the team in Oxnard, Calif. on July 24.
Jason Vega
joined the team Aug. 21 and spent the first six weeks on the practice squad. The Cowboys traded for
Caesar Rayford
on Sept. 3. They signed
Drake Nevis
on Sept. 24. They added
Jarius Wynn
last week.
Marvin Austin
was brought on board on Monday.
This does not include guys they signed after camp and have since cut, like
Landon Cohen
(signed July 24, cut Sept. 17),
David Carter
(signed Sept. 17, cut Oct. 15) and
Edgar Jones
(acquired Aug. 31, placed on short-term injured reserve Oct. 18).
Finding players is not easy. As Bill Parcells said, you just can't go to Texaco and find one. Yet the Cowboys have had great success the last few years in finding guys off the street to perform. Two years ago it was wide receiver
Laurent Robinson
. Last year it was linebacker
Ernie Sims
. Hayden was signed in January after he did not play in 2012 and has 25 tackles and 10 quarterback pressures.
"The first thing you're looking for is the best player available," coach Jason Garrett said.
The personnel conversations are constant.
"You talk about these guys, you watch them," Garrett said. "A lot of times you have history with the player, whether it's direct history or you've spent a lot of time with him prior to the draft. You try to get all of those thoughts and impressions out there. You watch the tape and see where he is right now and what his role might be coming into our football team and how he'll be able to help us."
Garrett wants the "right kind of guy." The player needs to fit the system. And the Cowboys also prefer that they were at least in training camp with another team or playing earlier in the season to be in some semblance of conditioning.
Nevis and Wynn were with the
San Diego Chargers
earlier in the year. Austin was with the Miami.
Nevis and Wynn played in just their first week with the team after three practices. Austin will likely do the same Sunday against the
Detroit Lions
.
"You certainly have to learn scheme and technique and all of those things," Garrett said. "The one thing I would say, defensive linemen are typically used to being rotational players. The idea that they have to come in and play 65 plays in a game, like maybe an offensive linemen would, you're more used to have those guys sub in and out. That's been their mentality. That's always been their mentality."
October, 22, 2013
10/22/13
3:30
PM ET
After the
Dallas Cowboys
defeated the
Philadelphia Eagles
on Sunday, we have some thoughts heading into the Lions game.
"
Miles Austin
isn't healthy due to an irritable hamstring and he's probably just 80 percent. The Cowboys are thinking of sitting Austin for a few weeks because right now he's just a decoy. It would be wise to sit him and give
Terrance Williams
and
Cole Beasley
more snaps with the offense.
Tony Romo
has a trust in each player because as he said, they get open and he'll get them the ball. Romo has proven this over time with his receivers. As for Austin, the Cowboys could make him inactive for a few weeks until he gets healthy and make him a game-day callup for December. He could be the extra push the Cowboys need for a playoff run much like
Michael Crabtree
could be for San Francisco if he returns from a torn Achilles.
"
DeMarcus Ware
is scheduled to make $12.2 million in base salary in 2014 with a cap number of $16 million. With the Cowboys projected to be $31 million over the cap, expect Ware's contract to be restructured again. He's not alone.
Brandon Carr
has a base salary of $7.5 million in 2014 and his cap number will be $12.2 million. The Cowboys will restructure his deal to lower his cap number and move the base salary to signing bonus. This is life in the NFL, teams moving money around to clear cap space. If you remember, the Cowboys were more than $20 million over the cap last season and were able to get under it with a few moves. Same thing will happen this season.
"
The Cowboys signed defensive tackle
Marvin Austin
on Monday afternoon to play both tackle spots. Team officials love Austin's abilities but caution he's prone to take a few plays off. Jerry Jones mentioned Tuesday on his weekly radio show that line coach Rod Marinelli had a long talk with the under-achieving Austin about what's expected of him. The Cowboys use a rotation of line players, with Ware and tackle
Jason Hatcher
getting the bulk of the snaps. Austin could be asked to rotate more with
Nick Hayden
, which is the position that lines up on the center. Marinelli keeps hustle stats for his linemen and expects them to run down the field on pass plays to force possible turnovers by stripping ball carriers from behind.
"
Tight end
Gavin Escobar
just isn't strong enough to muscle past defenders. On a crossing route in the first half, Escobar was pushed to the ground by linebacker
DeMeco Ryans
. Romo threw a pass to where Escobar was supposed to be, but he was late getting there because of the push. In time, Escobar will develop more strength, especially in the offseason program, and getting knocked down by linebackers will decrease.
"
It's interesting the two interceptions thrown by Romo weren't considered his fault. Romo threw a Hail Mary pass at the end of the first half, which was picked off. His third-quarter interception was a result of Romo throwing a pass for Beasley, but with
Phillip Tanner
in the way, Ryans was able to pick it off. Romo said Tanner ran the wrong way on the route, which is fine, but the quarterback also admitted he shouldn't have thrown the pass.
October, 21, 2013
10/21/13
4:14
PM ET
IRVING, Texas -- The
Dallas Cowboys
filled their final roster spot Monday by adding defensive tackle
Marvin Austin
.
Austin
Austin, 6-2, 312 pounds, was cut by the
Miami Dolphins
on Oct. 13 after playing in two games and making one tackle. A former second-round pick by the
New York Giants
in 2011, he missed his rookie year with a pectoral muscle injury and played in eight games last year with eight tackles.
The Cowboys liked Austin coming out of the draft, but because they were a 3-4 defense at the time he was not a good fit.
"He's one of those guys we kept our eye on," coach Jason Garrett said. "Obviously our situation on the defensive line we've had a lot of different injuries up there, so you look at the landscape of personnel and see you who can bring in and try to help your football team. He was playing with Miami just a couple of weeks ago. They released him. He's in pretty decent shape because he's been in training camp and been playing. We'd like to tap into some of that ability that caused him to be such a high draft pick."
The spot became available on Friday when the Cowboys put defensive end
Edgar Jones
on short-term injured reserve. Jones had sports hernia surgery on Friday and is ineligible to play until Dec. 15 against the
Green Bay Packers
.
The Cowboys now have 10 defensive linemen on the 53-man roster and five have been added since Sept. 3.
The Cowboys also re-signed guard
Ray Dominguez
and wide receiver
Jamar Newsome
to the practice squad. They were released in a procedural move last Saturday when the Cowboys were down to 52 players on their roster.
May, 18, 2012
5/18/12
12:29
PM ET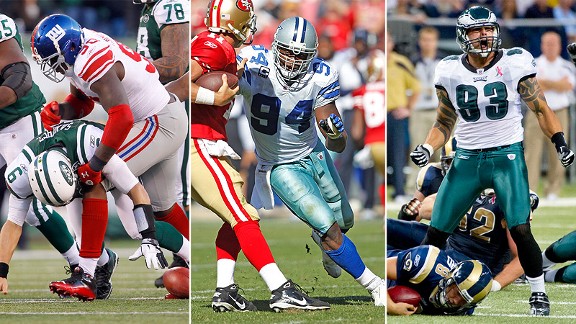 Getty Images, US PresswireJason Pierre-Paul, DeMarcus Ware and Jason Babin had 54 of the NFC East's 181 sacks in 2011.
The 2011 season was not the most, well, beastly season in NFC East history. It was the first time in a full, 16-game season that no team in the division won at least 10 games, and for much of the year the talk around the division was that it wasn't what it used to be.
Buncha baloney if you ask me. Even forgetting for a second that an NFC East team won the Super Bowl, this division still does one very important thing better than any other: rush the passer. The NFC East's 181 sacks led all NFL divisions in 2011, and by quite a bit. (The AFC North, which had three playoff teams, was second with 160). The Eagles tied for the league lead with 50. The Giants tied for third with 48. The Cowboys tied for seventh with 42, and the Redskins tied for 10th with 41.

Look deeper, into the film-based, number-crunching stats from Pro Football Focus -- stats that take into account more than just sacks when evaluating the extent to which teams rushed, hassled and affected opposing quarterbacks, and the division still rules. The Eagles rank No. 1 in PFF's 2011 team rankings, the Cowboys No. 3, the Giants No. 6 and the Redskins No. 9. No division prizes this critical aspect of the game more than the NFC East does, and it shows up in the numbers.
So, as we slug our way through a slow news month in the NFC East, I thought it'd be a good idea to check in on the pass rushes of our four teams and see how they're doing -- what they've done to get better or worse, what their 2012 prospects look like from this far out and yes, how they rank against each other. You guys asked for more polls, and I promised I'd listen, so there's one right here for you to vote on. After you finish reading, of course. I'm addressing them in order of how many sacks they got in 2011, in case you're wondering how I decided. Seemed fair.

Philadelphia Eagles
Key contributors:
DE
Trent Cole
, DE
Jason Babin
, DT
Cullen Jenkins
. PFF ranked Cole the No. 1 overall 4-3 defensive end in the league last year. Babin ranked 10th overall and third in pass rush, finishing third in the league with 18 sacks. Jenkins ranked as the No. 4 pass-rushing defensive tackle, and
Derek Landri
was No. 10. Defensive line coach Jim Washburn and defensive coordinator Juan Castillo, each of whom is entering his second season in his current position with the Eagles, believe the front four is responsible for the pass rush. And while they got a lot of publicity for how wide they like to line up their defensive ends, they like to get pressure from the defensive tackles as well.
Newcomer:
DT
Fletcher Cox
. The Eagles traded up in the first round to pick Cox because they believed he could be an impact pass-rusher from one of those interior spots right away. They need to toughen up against the run, and that will have to be part of Cox's game. But what appealed to them was his ability to get to the passer. Rookie linebacker
Mychal Kendricks
could conceivably factor in here too, but the Eagles don't ask their linebackers to rush very much in the new scheme.
Stock watch:
UP. The addition of Cox, as well as the possible return to full health of
Mike Patterson
and 2010 first-round pick
Brandon Graham
, give the Eagles incredible depth at a position at which they were already very strong in 2011. It's possible they'll rush the passer even better in 2012.

New York Giants
Key contributors:
DE
Jason Pierre-Paul
, DE
Justin Tuck
, DE
Osi Umenyiora
, DE/LB
Mathias Kiwanuka
. No one's roster goes as deep as the Giants' does in terms of star-caliber defensive ends. Pierre-Paul was fourth in the league with 16.5 sacks in just his second NFL season. Umenyiora had nine in just nine games. Tuck turned it on at the end and in the playoffs, and Kiwanuka is a defensive end playing linebacker. The Giants believe a strong pass rush is their heritage and their key to being an annual contender.
Newcomer
: DT
Marvin Austin
. The Giants didn't really bring in anyone this offseason who looks like a 2012 pass-rush contributor, but their 2011 second-round pick missed all of last season due to injury, so we'll call him a newcomer. The Giants would like to get more help from inside.
Linval Joseph
was their best pass-rushing defensive tackle in 2011, according to PFF's rankings. A healthy Austin could be a difference-maker.
Stock watch:
DOWN. Not by much, but a little, because of the loss of reliable, underrated reserve DE
Dave Tollefson
. If Tuck and Umenyiora have injury problems again, or if Umenyiora holds out, they could get kind of thin at defensive end pretty quickly without Tollefson there to fill in this time. Now, this is the Giants, and they'll probably figure it out. The addition of linebacker
Keith Rivers
could allow them to move Kiwanuka back to end in case of injury. But it's worth pointing out that they did lose a somewhat important piece of the pass rush and didn't replace him.

Dallas Cowboys
Key contributors:
LB
DeMarcus Ware
, LB
Anthony Spencer
, DE
Jason Hatcher
, NT
Jay Ratliff
. There's no one like Ware, who rang up another 19.5 sacks in 2011. That's nearly half the team total, and the conventional wisdom says he needs more help. But PFF ranked Spencer its 11th-best 3-4 outside linebacker in the pass rush and Hatcher as its eighth-best 3-4 pass-rushing defensive end. Add in Ratliff, who can generate pressure up the middle, and the Cowboys look better in this area than we tend to think.
Newcomer:
DE
Tyrone Crawford
. Dallas' third-round pick is looked at by many as a project, but as one that can eventually help with the pass rush whether he ends up as a 3-4 end or standing up as an outside linebacker. Whether he can help in 2012 remains a question, but the Cowboys didn't see a first-round or second-round pass-rusher they liked better than Spencer, so they focused on the secondary instead and picked up some down-the-road guys for the pass rush.
Stock watch:
EVEN. They're bringing back basically the same group, and while there's a theory that the improvements at defensive back will help the pass rush by giving it extra time to get sacks, we have yet to see that in action. Spencer must play with more aggressiveness if this unit is to take a step forward into the upper tier with the Eagles and Giants.

Washington Redskins
Key contributors:
LB
Brian Orakpo
, LB
Ryan Kerrigan
, DE
Stephen Bowen
. The Redskins' pass rush is all about those young outside linebackers, and they are fearsome. But with only 16.5 sacks between them in 2011, their numbers have a ways to go to get into the big-time stratosphere we're talking about in the NFC East. PFF did rank Orakpo fifth and Kerrigan ninth among pass-rushing 3-4 OLBs in 2011, so they do a lot of things well in that area. Bowen had six sacks and DE
Adam Carriker
came up with 5.5.
Newcomer:
DE
Jarvis Jenkins
. Just as we did with the Giants, we'll go with a 2011 second-round pick who missed his rookie season due to injury. Jenkins may not be a pass-rusher, but adding him to the defensive line rotation could help free up more room for the linebackers and maybe help the other linemen get to the passer more often as well.
Stock watch:
EVEN. This is really all about how much and how quickly Orakpo and especially Kerrigan continue to develop as elite pass-rushers. They've both shown flashes of incredible raw ability, and they have to continue to hone their craft so they can play at the level of the other pass-rushers in their division. Ware, Cole, Pierre-Paul and the rest of these guys are setting a high bar, and the Redskins know they have to have their own pass-rush monsters if they want to hang with them year in and year out.