Dallas Cowboys:

Matt Cassel
December, 25, 2013
12/25/13
4:00
PM ET
The
Philadelphia Eagles
are one of the NFL's hottest teams, having won six of their last seven games.
On the other hand, the
Dallas Cowboys
have dropped two of their last three games and had to rally from a nine-point deficit in the fourth quarter to extend the
Washington Redskins
' NFC-long losing streak to seven games. Oh, and their franchise quarterback (
Tony Romo
) and best defensive player (
Sean Lee
) are likely not playing Sunday night.
No wonder the Eagles are heavy favorites. How the heck could anybody give the Cowboys a chance to end their trend of losing win-or-go-home, de facto NFC East title games in Week 17?
Well, you don't have to scan the Eagles' schedule for very long to figure out that NFL matchups don't always play out the way they look on paper.
Just look at the Eagles' lone loss since the start of November. The Eagles got
blown out on their last road trip
by a
Minnesota Vikings
team that now has a 4-10-1 record.
Adrian Peterson
didn't play in that game. Somebody named
Matt Asiata
ran for three touchdowns. Backup quarterback
Matt Cassel
accounted for 401 yards and three scores.
Greg Jennings
caught 11 passes for 163 yards and a touchdown. Minnesota scored 48 points.
Perhaps the Eagles got caught looking ahead that afternoon. That clearly won't be the case Sunday night with so much at stake against a rival.
But if Cassel, Jennings and Asiata can put up such big numbers against the Philadelphia defense, the Cowboys at least have some hope with
Kyle Orton
,
DeMarco Murray
and
Dez Bryant
.
October, 31, 2013
10/31/13
12:00
PM ET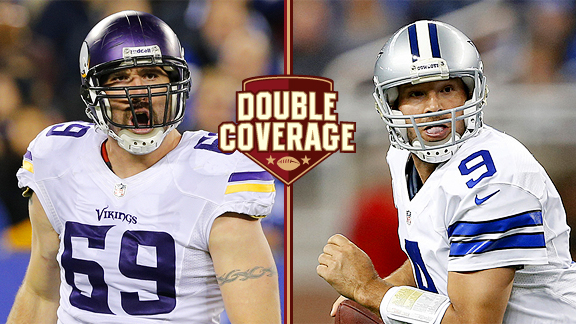 AP PhotoJared Allen's Vikings and Tony Romo's Cowboys match up on Sunday in a game where neither team looks like much of a playoff threat.
IRVING, Texas -- The
Dallas Cowboys
kick off the second half of their season at AT&T Stadium on Sunday against the
Minnesota Vikings
, who are still looking for their first win in the United States this season.
A playoff team a year ago, the Vikings have been one of the biggest disappointments in the NFL. At 4-4, the Cowboys are looking at their third straight 8-8 season under Jason Garrett.
ESPN.com Vikings reporter Ben Goessling and ESPN.com Cowboys reporter Todd Archer debate the game in this week's Double Coverage.
Archer:
I think a lot of people assumed the Vikings would be a serious playoff threat, but obviously that's not the case. How is it sitting with the veterans on the team like
Adrian Peterson
,
Jared Allen
,
Chad Greenway
and guys who have experienced success?
Goessling:
A lot of those players have been disappointed, but they all seem to be sticking behind coach Leslie Frazier, at least for now. There have been a few hints of discontent from players with the defensive scheme, but nobody seems to be quitting on the season. A lot of the problems are out of the Vikings' control, at least in the sense that they can do only so much with the roster they have. It's hard to win and have an open competition at quarterback at the same time. And the Vikings' moves in the secondary have backfired terribly. This hasn't been the same team without
Antoine Winfield
, and now that
Harrison Smith
is hurt, the Vikings have few playmakers on the back end of their defense.
Speaking of quarterbacks, it looks like
Tony Romo
is playing some of his best football this year. I suppose with him, we never really know what to think until the playoffs, but does it seem to you like he's turned any type of a corner?
Archer:
I think he's played at a higher level than most people want to say for the past few years, but he's been stuck with this tag that he can't shake until (if) the Cowboys make the playoffs and win a couple of games. This year, he has more say in the offense in terms of the game plan, so I think that has him feeling more weight to make the correct play and not be so much of a gunslinger. He's struggled the past three games with his accuracy, but he's made big plays and mostly stayed away from the bad ones. He remains creative when things break down, but he's also willing to take a sack or throw the ball away.
Peterson is coming home, so to speak. How have things been different for him this season after 2,000 yards last season?
Goessling:
He has been dealing with a minor hamstring injury for the past few weeks, but I think the biggest problem for Peterson has been the play of his offensive line. The group hasn't been anywhere near as good as it was last season at opening holes for Peterson, and fullback
Jerome Felton
has struggled to get into a rhythm after missing the first three games because of a suspension. At times, Peterson has looked impatient, wanting to make that one extra cut for a 60-yard run and winding up with a 2- or 3-yarder when the hole closes. He's also seeing more eight-man fronts than any other back in the league, and without a line that's able to handle the extra attention, Peterson isn't going to beat those defenses all the time. Even he isn't that good.
But maybe this is the week the Vikings can resurrect their passing game, playing against the worst pass defense in the league. Are the Cowboys so bad that they'll have trouble even with the Vikings' ensemble cast at quarterback?
Archer:
Unless
Christian Ponder
,
Josh Freeman
or
Matt Cassel
morph into Peyton or
Eli Manning
,
Philip Rivers
or
Matthew Stafford
, I can't see it happening, even as bad as the pass defense has been. When it has played against middling quarterbacks --
Alex Smith
(yes, I know he's 8-0, but he's not a great passer),
Sam Bradford
, a returning-to-health
Robert Griffin III
and
Nick Foles
-- the defense has looked good. When it has faced top passers, it has allowed the most 400-yard games in NFL history for a season -- in just eight games. Monte Kiffin's scheme is very basic and designed to not give up big plays, yet the Cowboys have given up a ton of big plays. They have missed
DeMarcus Ware
the past two games and will have a banged-up secondary Sunday. If Ware returns, that should help, but I think the biggest aid for the defense will be whomever Frazier picks to play quarterback.
For years, the strength of the Vikings D, to me anyway, has been the pass rush. Statistically, it's not very good, but is that a product of the secondary issues you talked about?
Goessling:
I'd say it's the other way around. The Vikings were certainly better in the secondary last year than they are this year, but they were helped out by the fact the front four was getting to the quarterback enough to keep teams from exploiting them in the passing game. This year, the Vikings have been done in by teams that can get the ball out quickly (the Lions and Packers, especially), and they just haven't gotten much push up the middle. Allen and
Brian Robison
are hustling, but they can do only so much when they're getting the bulk of opposing teams' attention. The Vikings still aren't a blitz-heavy team, but they have had to bring extra guys a little more often than usual this year and
Aaron Rodgers
burned them on a blitz Sunday. If Romo gets the ball out quickly, he should have plenty of openings. The good news for the Cowboys is A) the Vikings could have three defensive backs out with injury, and B)
Josh Robinson
will be on the field.
The week after the Vikings lost in the final seconds against the Bears, they got beat by the Browns at home. Do you expect any kind of shell shock from the Cowboys after that Matthew Stafford touchdown last week?
Archer:
I really don't. The Cowboys have had so many of these types of losses that they know how to bounce back. The bad thing is they have had to do this too often. We came up with
21 losses since 2005
that can be described as "crazy" with late-game shenanigans. The Lions loss was just another one to add to the list. The Cowboys lost a game in 2010 because they missed an extra point. They lost a game in 2008 in overtime on a blocked punt returned for a touchdown. And those both came at Arizona.
So the Cowboys somehow do a good job of compartmentalizing things and putting a bad week behind them. Garrett deserves some credit for that, I guess.
October, 28, 2013
10/28/13
10:00
AM ET
DETROIT -- Another top-flight quarterback, another shredding of the
Dallas Cowboys
' defense.
Detroit Lions
quarterback
Matthew Stafford
did to the Cowboys what
Eli Manning
,
Philip Rivers
and
Peyton Manning
did to the Cowboys, completing 33 of 48 passes for 488 yards. He only had one touchdown and was intercepted twice, but 329 of those yards went to
Calvin Johnson
.
The Cowboys are the first team to allow four 400-yard passers in a season and eight games remain. And they still have to say hello New Orleans'
Drew Brees
, Green Bay's
Aaron Rodgers
and Chicago's
Jay Cutler
, who should be healthy by the Dec. 9 meeting. There's also the rematch with the
New York Giants
and Eli Manning. And
Robert Griffin
III should be in better form for the
Washington Redskins
than he was in the first meeting of the season.
Stafford, the Manning brothers and Rivers have thrown for 1,753 yards against the Cowboys, completed 73.5 percent of their passes and averaged 438.3 yards per game.
The good news for the Cowboys is that they will see
Christian Ponder
,
Josh Freeman
or maybe even
Matt Cassel
Sunday at AT&T Stadium when the
Minnesota Vikings
visit.
March, 4, 2013
3/04/13
1:32
PM ET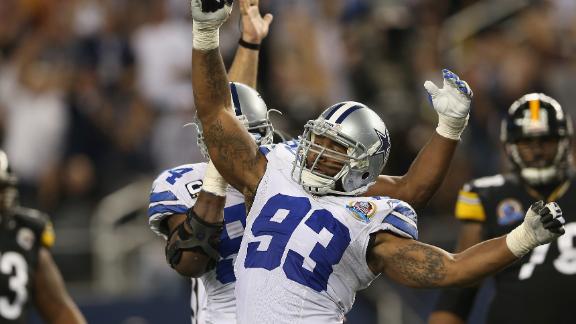 IRVING, Texas – The Cowboys decision to
place the franchise tag
on
Anthony Spencer
for the second straight year makes some sense despite the $10.6 million cost.
PODCAST
Randy Galloway and Matt Mosley discuss the Cowboys putting the franchise tag on Anthony Spencer and releasing Gerald Sensabaugh.

Listen

One of the reasons is that the Cowboys might not have to pay Spencer $10.6 million at all.
Spencer's agent, Jordan Woy, has a history of working out deals with the Cowboys, having done so with
Flozell Adams
a few years ago right before free agency started
But think about this option: trading Spencer.
Under the tag rules, a team would owe the Cowboys two first-round picks but they can work out a deal for substantially less.
Trading franchise players is not uncommon. Kansas City traded
Jared Allen
to Minnesota in 2008 for a first rounder, two third rounders and a swapped sixth round pick. Green Bay traded
Corey Williams
to Cleveland for a second rounder in 2008.
PODCAST
ESPN Dallas' Todd Archer joins Fitzsimmons & Durrett to discuss the Cowboys cutting Gerald Sensabaugh in a salary cap move.

Listen

New England traded
Matt Cassel
to Kansas City in 2009 with
Mike Vrabel
for a second round pick. In 2003, the Patriots traded
Tebucky Jones
to New Orleans for three picks: third and seventh rounder sin '03 and a fourth round in 2004.
So what can the Cowboys get for Spencer? He is coming off a career-high 11 sacks and a Pro Bowl appearance. He is durable but he is 29. Teams don't want to pay age and to get Spencer a long-term deal would have to be worked out for the new club.
Maybe they get a third-round pick in return.
It beats getting nothing - or a possible 2014 compensatory pick - in return, which is what the Cowboys would have received if they just let him walk.
At best the Cowboys get their best defensive player in 2012 on the roster in 2013 and at the worst they get a draft pick or two in return if they were to trade him.
January, 20, 2012
1/20/12
10:30
AM ET
IRVING, Texas --
A week ago we brought up the backup quarterback subject
and wondered how the Cowboys will approach that spot in 2012 with
Jon Kitna
retiring and
Stephen McGee
entering the final year of his contract.
On Thursday, Jason Garrett was asked about the possibility of bringing in a veteran backup.
"It's a very important position," Garrett said. "As we all know you want to make sure you allocate the resources necessary to that spot. Jon Kitna was great for us the last three years. He had a chance to play last year and played really well for our team and was a real leader for our team. He's retired now and in Seattle and enjoying life after football and we have to make a decision there. Stephen McGee has gotten some real good experience the last couple of years, playing in games and we'll continue to evaluate his progress. We like what he's done but it's an important decision. We've got to make sure we have enough people for no other reason than guys get hurt and you better have a suitable guy who can go in there and play."
Chicago found out the hard way after losing
Jay Cutler
to an injury. Kansas City's hopes faded after
Matt Cassel
got hurt and led them to
Kyle Orton
, whom the Cowboys also claimed on waivers.
Orton will be an unrestricted free agent and the most interesting possibility, however, he could get the chance to be a starter somewhere else (maybe even the Chiefs), which would hurt the Cowboys' chances of going after him.
The other free-agent names are less palatable (
Jason Campbell
,
Shaun Hill
,
Brady Quinn
) but Garrett's history here has shown he prefers the veteran.
Brad Johnson
was 39 when he came to the Cowboys in 2007. Kitna was 37.
April, 26, 2011
4/26/11
4:10
PM ET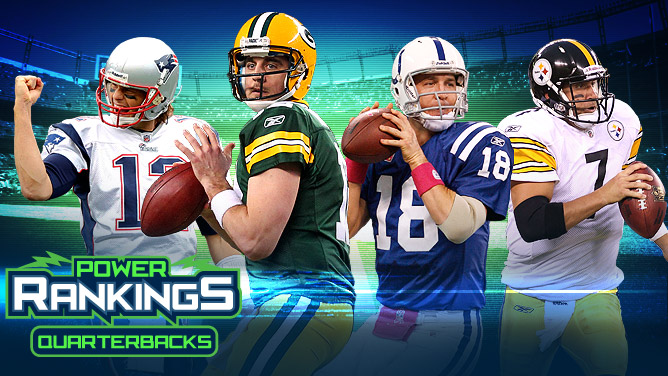 ESPN.com IllustrationNew England's Tom Brady received six of the eight first-place votes to edge out Peyton Manning.
ESPN.com's NFL writers rank the top 10 quarterbacks in the league today.
Next week: Top 10 safeties.
Take eight football writers scattered from Seattle to Tampa and ask them to come up with a list of the top 10 quarterbacks in the National Football League.
Sounds easy enough, in theory. You take the golden gunslingers,
Tom Brady
and
Peyton Manning
, and let everyone else fall naturally into order after that. Well, it didn't quite work out that simply in ESPN.com's Power Rankings for quarterbacks.
Heck, we couldn't even come up with a top 10. We're going with a top 11 because Baltimore's
Joe Flacco
and Dallas'
Tony Romo
tied for No. 10 with five points each in our voting system.
Even at the top, there was more disagreement than you might expect. Brady emerged as No. 1, but it wasn't unanimous and, although Manning finished a strong second, two ballots had a man some consider the best quarterback ever at No. 3.
But let's start analyzing the rankings by focusing on just Brady and Manning. Six voters put Brady at No. 1, but Paul Kuharsky and Mike Sando put Manning in the top spot. Let's hear them out.
"Brady's fantastic, let's start with that,'' said Kuharsky, who covers the AFC South, also known as "The Division Manning Built and Owns." "But no one is asked to do more or does more as a quarterback than Peyton Manning. He almost plays a different position. And while Brady's got three rings to Manning's one and is the reigning MVP, look at their touchdown and interception numbers in their last four playoff games. Manning's are better.''
Sando has no horse in this race, because voters unanimously agreed the NFC West is the division that forgot quarterbacks, at least until
Sam Bradford
gets another season under his belt.
"Brady has the better stats over the last couple seasons, but the Colts would undoubtedly be far worse off than the Patriots if both teams had backups under center,'' Sando said. "Once that was established, Brady's recent postseason struggles became a deciding factor. These quarterbacks have, to an extent, switched roles recently. Manning has won a championship more recently than Brady has won one. Brady has seven touchdowns, seven picks and one victory in his last four playoff games. Manning has seven touchdowns, two picks and two victories in his last four.''
For rebuttal, let's head up to the AFC East, to the man who covers Brady and the
New England Patriots
.
"I'm not sure why everybody needs to consider career achievements when filling out a Power Rankings ballot,'' Tim Graham said. "Power Rankings are a snapshot of the moment and are expected to change regularly, not encompass years of work. But if the reason for selecting Manning ahead of Brady is recent playoff performances that go back a few years, then
Ben Roethlisberger
should be ahead of Manning with that logic. Roethlisberger has been to a pair of Super Bowls and won his second title more recently than Manning's only championship.''
We'll come to Roethlisberger in just a moment, but nobody put him ahead of Manning on his ballot. Kevin Seifert and I each put a quarterback ahead of Manning.
Seifert put Green Bay's
Aaron Rodgers
at No. 2.
"Mostly, I didn't think I could face NFC North blog readers if I voted any other way,'' Seifert said. "Seriously, I think the big advantage Manning and
Drew Brees
have over Rodgers is time. They've been playing longer and therefore have mostly better career numbers and a bigger frame of reference for knowing how they will perform in the long term. But when you take out longevity, Rodgers is right there with them. All three have one Super Bowl victory. Rodgers has a higher career passer rating than any quarterback in the history of the NFL with qualified attempts, better than Manning and Brees and Brady for that matter. So to break the tie, I think you can look at what they did most recently. I think Rodgers had a better 2010 season than Manning or Brees, and that's how I would justify this order.''
I put Brees at No. 2 and don't really want to write a story in which I quote myself, so I'll just say Brees and Manning each have one Super Bowl ring and Brees' numbers over the last four years are just as good or better in most categories. Plus, Brees hasn't spent most of his career surrounded by the likes of
Marvin Harrison
,
Reggie Wayne
,
Dallas Clark
and
Edgerrin James
.
In the final analysis, Brees finished third and Rodgers fourth. Roethlisberger, who has two Super Bowl rings, came in at No. 5. San Diego's
Philip Rivers
, who has zero Super Bowl rings and some gaudy statistics, is No. 6. Relatively speaking, the order from Brees to Rivers, the guy who took his place with the Chargers, was pretty clear-cut.
After that, we had some close calls, strong differences of opinion and one very big coincidence. At No. 7, we've got a tie between Philadelphia's
Michael Vick
and Atlanta's
Matt Ryan
, who each finished with 26 points. For those who don't see the irony in that, Vick was the face of Atlanta's franchise for a long time and Ryan now holds that role.
Eli Manning
of the
New York Giants
came in at No. 9, and Flacco and Romo tied for the final spot. Only three other quarterbacks received votes. They were Tampa Bay's
Josh Freeman
, who I think could be near the top of this list in another year or two, Houston's
Matt Schaub
and Kansas City's
Matt Cassel
.
On to some other notes about the Power Rankings.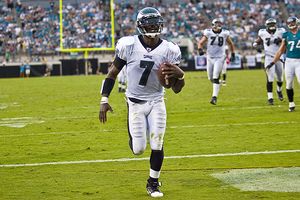 Michael DeHoog/Sports Imagery/Getty ImagesOne recent year of success wasn't enough to put Eagles quarterback Michael Vick on John Clayton's ballot.
The Vick factor
. Despite a hugely productive season last year, Vick was left off one very important ballot. John Clayton, the dean of all of us, didn't have the Philadelphia quarterback on his ballot and was the only one of us who didn't.
"The only reason Michael Vick didn't make my top 10 is because I, after an offseason of thinking, have Michael Vick as my No. 11 quarterback,'' Clayton said. "That still makes him elite. I have 12 elite quarterbacks. Vick moved into the elite category with his performance last year, but it's just one year. He can clearly move up the list this season, but he's in the mix and knocking on the door of the top 10. A year ago, he wasn't a consideration.''
Fighting the Eli fight.
Speaking of Clayton, let's continue to ride that train as we discuss Eli Manning. Seifert, Sando, Graham and I didn't even include Manning in our top 10, but he still made the list.
"I will continue to fight the argument Eli Manning is an elite quarterback,'' Clayton said. "I moved him to No. 8 above Tony Romo, but if Romo had a full season last year, he might have been ahead of Eli. Remember that
Carson Palmer
,
Brett Favre
and
Donovan McNabb
dropped from my elite quarterback categories, which moved guys like Eli up in the mix. Eli has a Super Bowl ring. He's a 4,000-yard quarterback. He wins.''
No tiebreaking here.
Speaking of Romo: Clayton and Sando each had him at No. 9. AFC North blogger James Walker had Romo at No. 10. That was good enough to get Romo five points and a tie with Flacco. One interesting note here: Flacco wasn't on Walker's ballot. I respect James for not doing the easy thing and being a "homer," although I'm sure some Baltimore fans might have different opinions.
"Joe Flacco is a good quarterback, but I don't consider him an elite, top-10 quarterback just yet,'' Walker said. "I need to see more consistency, especially in the playoffs and other big games against the Steelers. Flacco has a lot of natural ability, and I believe he's ready to break through. But, in my book, Flacco needs to first prove it on the field in the biggest games to be elite."
The final analysis.
If you look at this list from a distance, you could say the
Atlanta Falcons
,
San Diego Chargers
and New England Patriots are the big winners. The Patriots, of course, have Brady, but they also drafted Cassel, whom they later traded to Kansas City. If you want to get really technical, the Chargers drafted Brees and Eli Manning and worked a draft-day trade with the Giants to end up with Rivers. If you count the few minutes Manning and Rivers were crossing paths, you could say the Chargers, at one time or another, had three guys on this list. You also could say the Falcons drafted Vick, Ryan and Schaub, who finished in a tie with Freeman for No. 12.