Dallas Cowboys:

Matt Stover
September, 21, 2010
9/21/10
3:08
PM ET
IRVING, Texas – One of the reasons Wade Phillips is willing to exercise a little patience with
David Buehler
is because he doesn't see any great kicking options on the open market.
"Once you get over 40, there are some kickers out there, but I'm not so sure they could kick it that far," Phillips said.
Three names pop to mind when it comes to proven, unemployed kickers. None of the three could be relied upon from 40-plus last season.
Matt Stover
, the 42-year-old Lake Highlands product, attempted only three field goals from 40-plus for the Colts last season. He made two, missing from 52 yards. He was 13-of-23 from 40-plus for the Ravens the previous two seasons. But Stover is money from inside 40, hitting 87 of 90 from that range
John Carney
, 46, made 13 of 17 field goals for the Saints before they opted to go with
Garrett Hartley
last season. He was 2 of 3 from 40-plus and has attempted only two field goals from 50-plus in the last six seasons.
Kris Brown
, who lost the Texans' camp kicking competition, had his worst season as a pro last year. He converted only 21 of 32 attempts, which doesn't look too terrible considering the Cowboys' recent kicking woes. He made only 4 of 10 from beyond 40 yards.
But Brown, 33, is only two years removed from a 29-of-33 season. He made 8 of 10 from 40-49 and 2 of 3 from 50-plus in 2008. He was 5 of 5 from 50-plus the previous season.
Buehler is obviously a better kickoff man, but it's definitely debatable whether he'd be a better option than Brown on long field goals.
A side benefit of signing Brown: He'd team with Buehler to make what must be the most athletic kicking combo in NFL history. Brown won a couple of Class 3A state titles as an option quarterback at Southlake Carroll.
September, 19, 2010
9/19/10
4:41
PM ET
ARLINGTON, Texas -- As concerned as Jerry Jones is about the Cowboys' kicking situation, his gut tells him to stick with
David Buehler
.
For the second straight week, Buehler had a key miss that significantly affected the Cowboys' strategy late in the game. He was wide left on a 44-yard attempt midway through the third quarter that would have tied the score.
Buehler made a 48-yard field goal with 1:17 remaining, but that was too little, too late in the 27-20 loss. Buehler has missed half of his four field goal attempts.
Unlike a week ago in Washington, Jones didn't immediately dismiss the idea of signing another kicker. However, Jones did indicate that he wasn't quite ready to give Buehler the boot.
"It's not the time to do that right after a ballgame," Jones said of making that decision. "Certainly, the last two field goals have been very meaningful that have been missed, but my inclination is to be very patient there."
Why be patient with an unproven kicker whose misses have greatly contributed to an 0-2 start?
"Because I want to," Jones said. "That's what my instincts tell me."
There are proven options who are available.
Matt Stover
and
John Carney
are a couple of unemployed fortysomething kickers if the Cowboys opt to go the
Eddie Murray
route.
Kris Brown
, who lost the Texans' kicking competition, is a younger option with a proven track record.
Buehler understands that his misses have put the front office and coaching staff is position to make a difficult decision.
"They make those decisions," Buehler said. "I have to live with them."
July, 23, 2010
7/23/10
6:09
PM ET
SAN ANTONIO – When asked about his comfort level with the Cowboys' kicking situation, the owner/general manager seemed to launch into classic Jerryspeak.
Jerry Jones rambled something about "burning the boats," which a quick Google search reveals is a reference to Spanish captain Hernando Cortes' orders after arriving in Mexico in the 16th century. The captain apparently wanted to eliminate the possibility of retreat in the minds of his men.
That's quite a long-winded way of saying that Jerry has no backup plan in mind if unproven but strong-legged
David Buehler
fails as a field goal kicker.
However, Jerry admitted after his press conference that the Cowboys do have a life raft of sorts if Buehler doesn't look reliable in the preseason.
"Buehler is capable," Jerry said before taking a jab at ex-Cowboys kicking bust
Mike Vanderjagt
. "Unlike the $2 million kicker I paid that came in and didn't hit anything but squib kicks for field goals, but we still went with him, we're going to go with how it looks and how he's feeling. We're going to have these preseason games to work on it and we don't want to clutter the water. We want to go in that direction and if we have a concern toward the end of the things, then you'd look at it differently."
So just to be clear, the boats aren't burned and the Cowboys won't clutter the water. They're confident in Buehler, but guys like
John Carney
and
Matt Stover
are just a phone call away in early September if the kicking situation is a concern at that point.
June, 16, 2010
6/16/10
11:43
AM ET
Many of you are concerned about the kicking game.
It's understandable after the
Nick Folk
(NFL-high 10 missed field goals) meltdown and how
Shaun Suisham
missed two field goal tries in the postseason that finding a placekicker is a high priority.
David Buehler
is going to get a chance to win the job this summer.
Connor Hughes
is also getting his shot as well, but the job is Buehler's to lose. It should be noted during last week's three-day mandatory minicamp, Buehler didn't attempt a field goal in front of reporters.
That's not to say Buehler didn't try any before we were allowed to watch practice. And we're not saying he didn't attempt any kicks, but it's just interesting.
You could also say the Cowboys might not want to pay a kicker good money and Jerry Jones will tell you that's pretty close to the truth because he pushed out big money (three years close to $6 million with a $2.5 million signing bonus) to
Mike Vanderjagt
in 2006, and he didn't last the season.
All of this brings us to
Matt Stover
.
He's a Lake Highlands product, who would love to play for the Cowboys.
Some negatives: Age: he's 42.
He's missed his last three field goal tries from 50 plus yards and in the last three seasons he's 15 of 23 from between 40-49 yards.
Some positives: In the last five years, a span of 74 games, Stover has made 86.4 percent of his field goals including 93.8 percent in the fourth quarter.
If Buehler doesn't work out, Stover, an unrestricted free agent, is on the market and hasn't announced his retirement. He should get a phone call, if Buehler can't make it happen.
March, 3, 2010
3/03/10
12:22
AM ET
Today is Day 3 of our free agent series. We look at an area that is a concern: kicking.
[+] Enlarge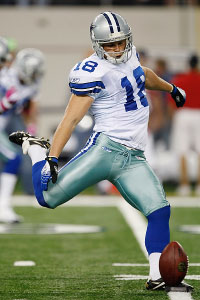 Scott Boehm/Getty ImagesDavid Buehler will try to add field goals to his kickoff duties.
The Cowboys struggled in the kicking game last season. They cut
Nick Folk
after he led the NFL with 10 missed kicks.
Shaun Suisham
was signed and went 2-for-3 during the regular season, but Suisham missed two field goal attempts in the playoff loss to Minnesota. The Cowboys are back to square one with
David Buehler
and
Connor Hughes
, who will battle for the job.
The free agents:
Shaun Suisham is a restricted free agent.
Should they bring him back?
The team has no plans to do so. When Suisham left Valley Ranch following the season he said he wasn't sure if he would return.
What the Cowboys should do?
Dallas is going to hope Buehler or Hughes can take over the field goal duties.
Chris Boniol
was hired as a consulant for Buehler, who was a kickoff specalist last year.
Who else is out there?
Jerry Jones basically said the team won't go into free agency and sign a kicker.
Matt Stover
, a Lake Highlands High School grad, is an unrestricted free agent and could finish his career in Dallas. It appears doubtful.
February, 9, 2010
2/09/10
3:55
PM ET
Now that the Super Bowl is over, it's time to worry about the offseason regarding the Cowboys.
First things first: the parties. With the NBA All-Star Game in town this week, several players will attend parties across the area.
Miles Austin
,
Jason Hatcher
,
Patrick Crayton
,
DeMarcus Ware
and
Bradie James
are among those who will host parties this week.
Now, the business at hand.
Injuries
Jay Ratliff (elbows) and Ware (bone spur) were slated to undergo surgeries. Neither has done so.
Free agents
The Cowboys have 13 restricted free agents and one unrestriced free agent. The four biggest names on this list, Austin, Hatcher, Marcus Spears and Stephen Bowen, are restricted.
I would suspect Spears would receive either a first-round tender offer of $2.6 million or a first- and third-round tender offer of $3.2 million. Spears would like a new deal, since his rookie contract just expired, but with the owners opting out of the current CBA, Spears becomes restricted instead of unrestricted.
Hatcher, meanwhile could get a second-round tender of $1.7 million or even the first-round tender of $2.5 million. Hatcher's reps think he will get a tender instead of a new contract.
Bowen is in the same boat as Hatcher financially but had a better year. He should get a first-round tender of $2.5 million.
What should you do with Austin?
Do you offer him a first- and third-round tender deal of $3.1 million? Jerry Jones has said he would like to work out a longterm deal for Austin. Is the tender offer too small, considering he's coming off a career year which earned him a Pro Bowl berth?
You could put the exclusive franchise tag on Austin, which costs you $9.5 million, and if he produces in the 2010 season then work out a longterm deal with him.
Kicker
Something needs to be done at placekicker. Do you sign Matt Stover, the 42-year-old Lake Highlands grad. His last kick was a 51-yard miss for the Colts in the Super Bowl. He had the distance, but it went wide left.
February, 7, 2010
2/07/10
11:07
PM ET
MIAMI -- Colts kicker
Matt Stover
is 42 years old and looked like it Sunday in the loss to the Saints in Super Bowl XLIV.
Stover, a Lake Highlands product, is thinking of retirement. He wasn't on the Colts roster at the start of the regular season because he was unemployed.
When
Adam Vinatieri
needed knee surgery, that was the only reason he was signed. However, the Jets, Giants and Browns expressed interest in Stover.
But now Stover is a free agent after a Super Bowl in which he went 1-for-2 on field goal tries. His miss from 51 yards was wide left.
When Stover attempted the kick, his foot hit the ground first then the ball. Stover turned away and pointed his index fingers up, as he always does -- good or bad.
This one wasn't good.
The fourth-quarter decision to attempt such a long kick was interesting.
The Colts led, 17-16, and were faced with a fourth-and-11 at the Saints 33. After the miss, the Saints got the ball, scored a touchdown and converted a two-point conversion to take a 24-17 lead they would not give up.
"There's no reason to believe that he wouldn't make it; he just happened to miss it," Colts coach Jim Caldwell said.
Stover hadn't made a kick from beyond 50 yards since the 2006 season. If a kicker can't make it from that range on a consistent basis, finding employment for the next year could be difficult.
February, 7, 2010
2/07/10
8:14
PM ET
MIAMI -- Surprised the Colts attempted a 51 yard field goal with Lake Highlands
Matt Stover
. He hasn't made a kick of over 50 yards since 2006.
It was 4th-and-11 and maybe the Colts Jim Caldwell overruled
Peyton Manning
on going for it. But Stover, who is 42-years old, doesn't have the big leg he used to have. His leg is average at best.
The miss kept the score at 17-16 but now the Saints are driving into Colts territory.
February, 7, 2010
2/07/10
6:59
PM ET
MIAMI --
Garrett Hartley
ended the first half with a 44-yard field goal to bring the Saints within 10-6 here at Sun Life Stadium.
Hartley has made two field goals tonight and is 4-for-4 from 40-49 yards in the postseason. Hartley, from Southlake Carroll, has said he won't get caught up in the moment of the Super Bowl.
While Colts kicker
Matt Stover
is the oldest man playing in this Super Bowl at 42 years old, Hartley is a just a baby at 23.
He said that doesn't bother him, because he hasn't thought about it. Hartley said he thinks he should ponder being so young and playing in the biggest game of his career. But he won't for now.
Hartley, if you remember, kicked the winning field goal in overtime of the NFC title game against the Vikings to send the Saints to the Super Bowl.
What if it comes down to another kick to win a game?
"If it came down to it, so be it, I'll be ready," Hartley said.
February, 7, 2010
2/07/10
5:46
PM ET
MIAMI -- Colts 42 year old kicker
Matt Stover
, a Lake Highlands product, scored the first points of the game, a 38-yard field goal with 7:29 to play in the opening quarter here at Super Bowl XLIV.
It's been an emotional ride for Stover, who's mother is in a Dallas hospital recovering from surgery from a brain tumor. Stover said he's dedicating the postseason run to his 76-year old mom, Tasia Stover.
Tasia Stover underwent surgery in early January during the Colts' playoff run.
"It's been an opportunity for me as a son, just to bring some happiness," Stover said this week. "To me, just for them to say, 'That's my son up there on TV. That's Ok. I know what my mom wants. She wants me to kick well and she doesn't want me to be a distraction to her, and I made peace with her a long time ago. Meaning, we're very close and we stay together. Very close. It's a privilege for me to kick for her."
Stover's future with the team is in doubt because he's a free agent after the season and the Colts have
Adam Vinatieri
recovering from knee surgery.
February, 4, 2010
2/04/10
5:08
PM ET
FORT LAUDERDALE, Fla. -- The Cowboys need a kicker.
Like, today.
Nick Folk
was cut after missing an NFL-high 10 kicks in 2009. The team signed
Shaun Suisham
, but his return to the Cowboys is doubtful after he missed two attempts in the playoff loss to the Vikings. Suisham is a restricted free agent.
But there are some interesting names on the unrestricted free agent list for the Cowboys to sign.
Neil Rackers
,
Shayne Graham
,
Matt Stover
,
Jay Feely
,
Sebastian Janikowski
,
Jeff Reed
and
Olindo Mare
are a few.
Stover is playing in the Super Bowl on Sunday and is from Lake Highlands. He said it's always been a dream to play for the Cowboys. But age, 42, and the fact he doesn't have a strong leg, raises some concerns.
The Cowboys could also bring Folk back, but that appears doubtful. He blamed his holder,
Mat McBriar
for his problems, when clearly it was Folk who lost confidence in himself. If he regains it, he will be solid. Coming into the 2009 season, Folk made 86.8 percent of his kicks. But this season, Folk made just 64.3 percent of his kicks, good for 20th in the league.
February, 2, 2010
2/02/10
2:46
PM ET
MIAMI -- Colts kicker and Lake Highlands High School graduate
Matt Stover
is a free agent after the Super Bowl.
Stover, 42, has been with four NFL teams, getting Super Bowl rings with the Giants and Ravens, so he might get one with the Colts should they win over the Saints on Sunday.
Yet, Stover has always wondered why he hasn't kicked for his hometown Cowboys.
"I've tried to kick for the Cowboys but that hadn't worked out," Stover said at Media Day on Tuesday. "Bill Parcells, when he was there, he drafted me [in New York] tried to get me, but I was still under contract with the Ravens, but that is all in humor and in fun."
Stover, a 20-year veteran who has made 83.7 percent of his field goals during his career could be a solution to the Cowboys kicking woes.
Nick Folk
was released late in the season after missing a NFL high 10 kicks.
Shaun Suisham
was signed to replace Folk, but his two misses in the playoff loss to the Vikings could signal his departure from the team.
That could leave Stover, who is on the backside of his career, to finish up with the team he grew up watching.
"I haven't thought about it," Stover said regarding retirement. "One of my dreams is to play for the
Dallas Cowboys
. I was a Punt, Pass and Kick champion [in 1979] and I was a Dallas Cowboy in the YMCA. It was always a dream of mine [to play for them]."